Sorry for the delay in providing the last installment of my Scandinavia trip, but here it is...
My final morning in Scandinavia began with me lugging my suitcase (which had grown pretty heavy with everything I'd bought) through the streets of Stockholm, en route to the main train station. The weather in Stockholm had been amazing for the previous two days – sunny and clear, unlike the gloomy conditions I'd had in Copenhagen and Helsinki – and my final day appeared set to continue the trend.
Stockholm's main station isn't quite as cavernous and confusing as the stations in cities like Frankfurt, Amsterdam or Milan, but it's still a busy place, with fast trains leaving for cities in Sweden's interior and commuter lines fanning out to the city suburbs, and the T-bana or subway running underneath. Arlanda Express trains leave from one side of the platform, every 20 or 30 minutes during busy times. I hopped a train, and soon we were speeding out of town.
**********************************************************
Stockholm Arlanda Airport
Monday, November 27, 2006
The Arlanda Express makes two stops at the airport – one for Terminals 2, 3 and 4 (Arlanda South) and one for Terminal 5 and Sky City (Arlanda North). All SAS international flights use Terminal 5, so I got off at Arlanda North and headed up to the ticketing hall: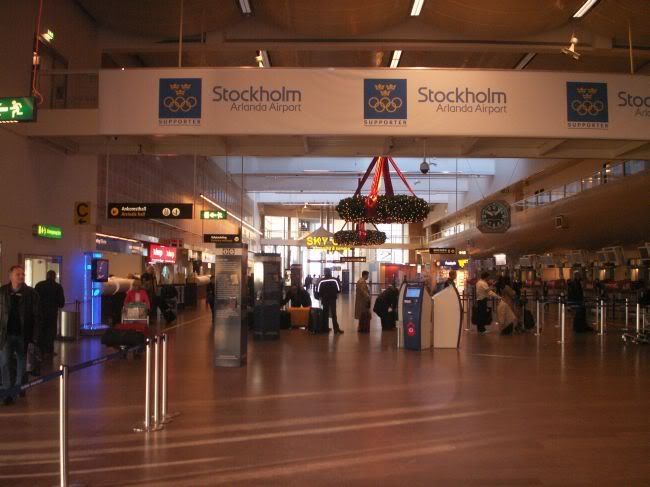 Another view of the departure hall – T5 was built in the late 1970s as Arlanda's first permanent terminal, but it's still quite modern and spacious:
I checked in using one of the kiosks and selected my seat… like most other European airlines, SAS didn't appear to allow seat selection until the day before the flight. Interestingly, the kiosk printed up both my boarding pass and my luggage tag, which I attached to my bag myself (in the US, the ticket agent tags your bag even if you check in electronically.) From there I walked over to Terminal 5's new wing, where SAS baggage drop is located.
With check-in taken care of, I spent some time exploring the airport. The Arlanda terminal complex is quite large for the volume of traffic it handles – ARN is a busy airport, but the terminal seemed a little bit overbuilt. From what I could see, almost no aircraft were using remote stands (usually common in Europe) since there are more than enough jetbridges to go around. Between Terminals 4 and 5 is Sky City, a large shopping and dining area with good views of the apron and runway 1L-19R. A Thai 747-400 from Bangkok was parked at Terminal 5:
SAS birds parked on the north side of the domestic Terminal 4: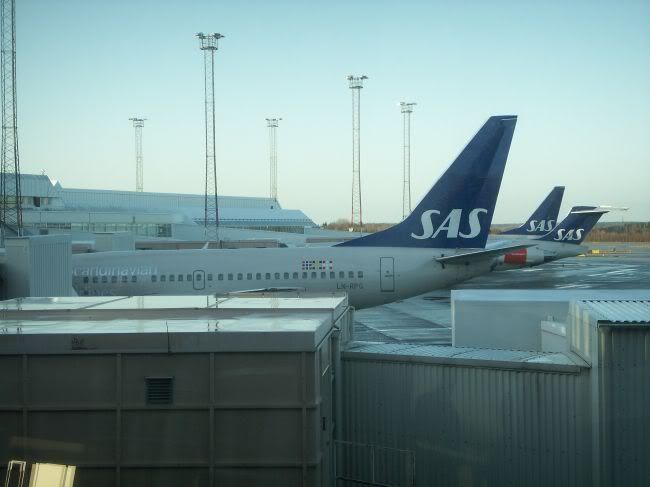 Terminal 4 was built in the 1980s to handle domestic traffic, of which Sweden has a surprising amount. The national railway operator SJ has introduced high-speed trains on some routes, but from what I could tell, flying remains the best way to get to most northern cities and many of the southern ones as well. The departure board listed a number of cities I'd never heard of – Kalmar, Luleå, Karlstad, Jönköping, Umeå, Skellefteå – in addition to shuttle flights to Goteborg and Malmo. T4 is much smaller than the international terminals (check-in is along one wall and baggage claim is along the other) but since it's only used by a handful of airlines (SAS, FlyNordic and FlyMe) that's not really a problem. The interior a nice example of early 1980s modern architecture: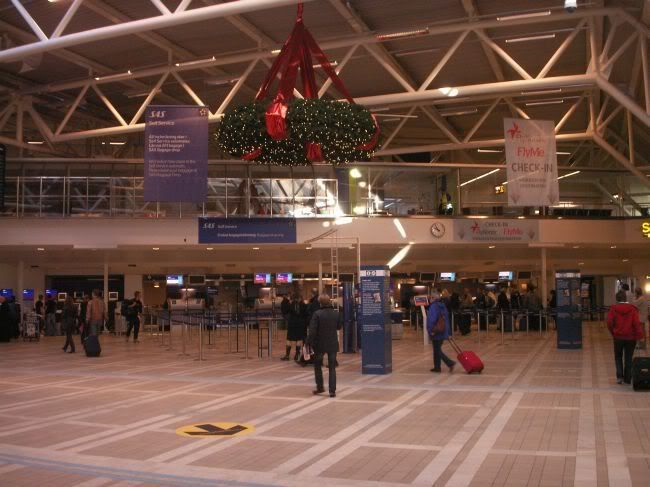 More SAS aircraft and FlyNordic MDs parked on the south side of Terminal 4: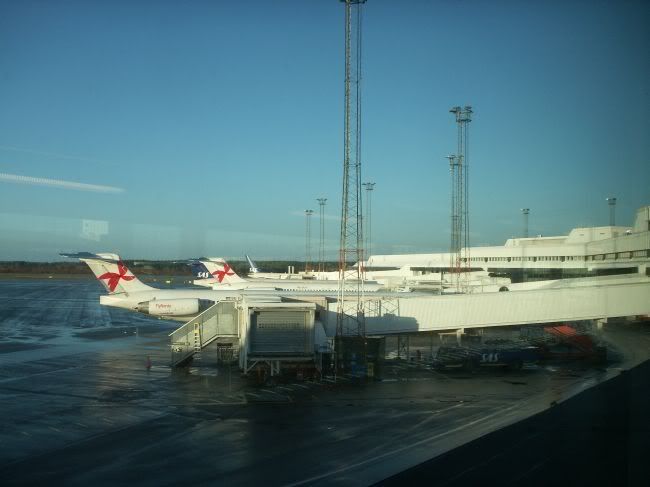 Terminals 2 and 3 are pretty much attached – T2 accommodates intra-European flights from selected airlines like Finnair, British Airways, Air France, etc., while T3 serves charters and commuter flights to smaller cities (which are operated by SAS partner Skyways.) I didn't bother walking to T2 since I'd arrived there on my flight from Helsinki, and from there it was going to be a long walk back to T5 anyhow.
Once back at T5 I cleared security – at Arlanda they have lots of helpful people in green shirts passing out baggies for your shoes and toiletries – and found myself in the newest wing of the terminal, which connects to Pier F and the terminal's two original piers.
Adjoining the wing is Pier F, which opened a few years ago and handles non-Schengen traffic, including this SAS 737: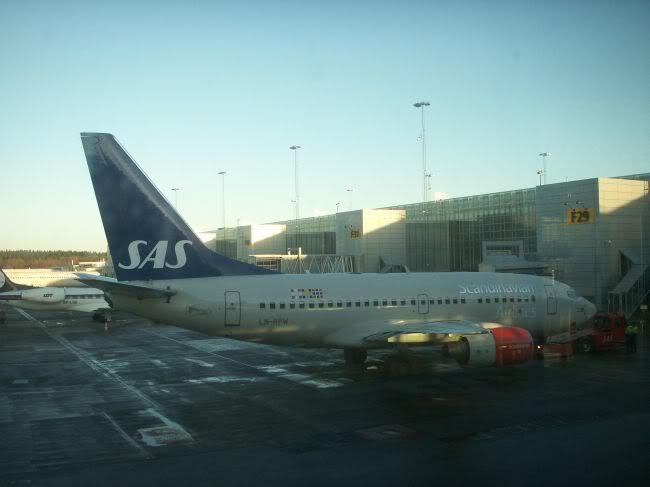 A Blue1 ARJ boarding at one of Terminal 5's older gates:
No matter where you go in Scandinavia, there's no escaping SAS and their MD80s:
A pair of Lufthansa aircraft – the A321 is heading to Frankfurt, while the CRJ is getting ready for a flight to Dusseldorf. All Star Alliance carriers use Terminal 5, since it's home to SAS, while most other European carriers use T2:
My flight to Copenhagen was leaving from the far end of one of the older piers. The piers are double-decked to separate arriving and departing traffic, with departing passengers using the lower level. The piers show their age a little bit, although they've been renovated and are basically comfortable:
There were a lot of people crowded around my gate – the Lufthansa flight to Frankfurt was boarding next door and we had some spillover crowd. Our MD80 was parked at the gate, but there was no gate agent or crew visible until about five minutes before our scheduled departure time. Boarding finally started about 20 minutes late, with no explanation given.
**********************************************************
Scandinavian Airlines Flight SK
Stockholm Arlanda (ARN) – Copenhagen Kastrup (CPH)
Departs ARN 10:30am, arrives CPH 11:30am
McDonnell-Douglas MD80, seat 26F
Flying time: 50 minutes
The flight was almost completely full… I didn't see any open seats, although there may have been some behind me in the cabin. The aircraft was clean and furnished smartly, with seat covers in shades of gray and blue. I love everything about SAS' corporate identity – it seems so fresh and clean, and the aircraft interior definitely followed the trend. My seatmates were two teenage boys wearing track suits and a LOT of cologne and hair gel, who talked loudly in Swedish for most of the flight.
We pushed back at about 10:55, passing a 737 (still wearing Snowflake colors) that had just pulled into the next gate: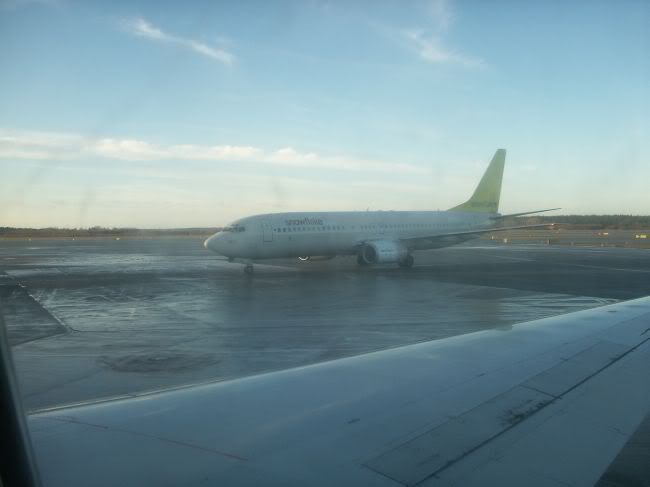 The safety demonstration was given manually (SAS' MD80s don't have television monitors), first in Swedish, then in Danish and finally English. The cabin crew were a more mature bunch of blond women, very Scandinavian-looking but a little bit brusque and businesslike. At least SAS had four flight attendants on the MD80, rather than the very barebones crew of three that American and Delta put on their Mad Dogs.
From what I had seen through the terminal windows, this morning all aircraft were departing Arlanda from runway 19R, while arrivals were mostly on 27 with a few aircraft (including an SAS A330 that I saw as we pushed back) coming in on the newer 19L. We turned out of the terminal and trundled out toward 19R:
Our MD80 didn't taxi all the way to the end of the runway; instead, we turned on from the second-to-last taxiway intersection and took off to the south:
We turned off the runway heading shortly afterward, passing over the town of Märsta and its industrial area: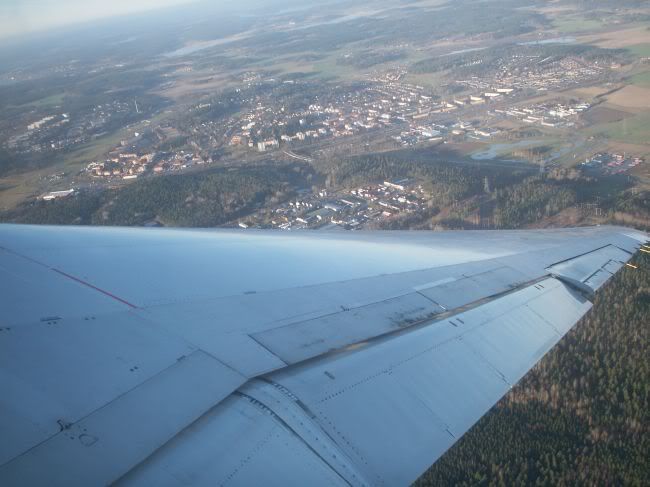 Climbing above more Stockholm suburbs – lots of lookalike houses and blocks of flats: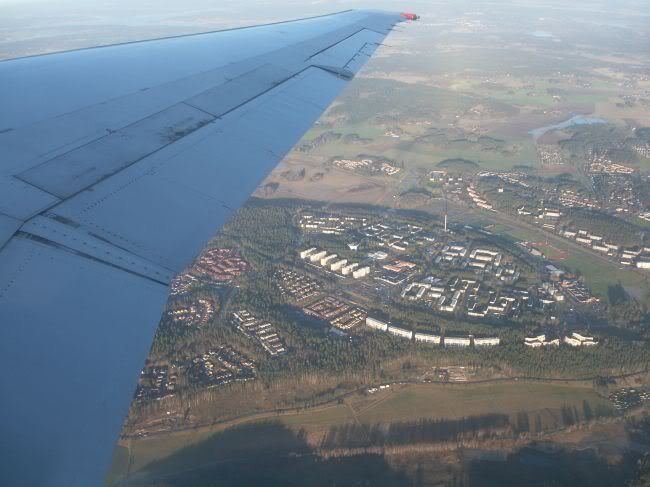 It was a beautiful morning and the Swedish countryside was stunning as we climbed out. I was surprised by how green everything was, considering it was winter. The numerous lakes and rivers stood out against the landscape: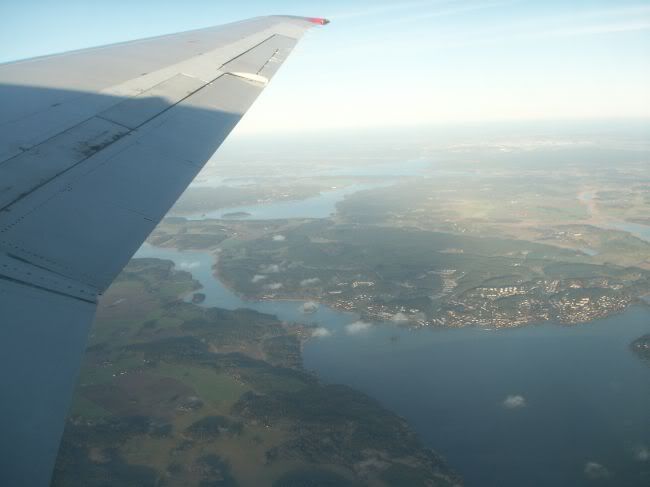 When we got up to cruising altitude, the inflight service began. On early-morning flights within Scandinavia SAS still offers a free breakfast, but my flight had missed the cut-off, so we got the buy-on-board service. There were no menus or BOB guides in our seat pockets; instead, one of the cabin crew read all of our choices over the intercom in three languages, which meant we had to listen to her talk overhead for about five minutes. I was thirsty and had some leftover Swedish money, so I shelled out ten kronor for a full-size can of Coca-Cola Light. It was fine, although it's disappointing that an airline like SAS no longer offers complimentary service while almost every other European carrier (apart from the LCCs, Aer Lingus and Iberia) still does.
A cabin view during the service:
I wasn't really sure of our route of flight, since my grasp of Swedish geography isn't too strong, but we didn't appear to pass over any large cities or even significantly large towns before we crossed the coastline and left Sweden behind: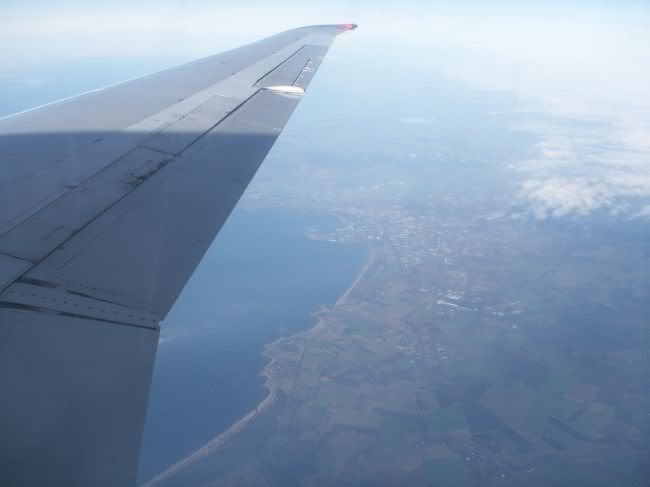 The captain came overhead and made a single announcement in English, saying we'd started our descent into Copenhagen, which was reporting generally sunny skies but a lot of low fog and haze on the ground. The nose angled down and the engines became more audible (I love sitting in the back of an MD80 and listening to the engines during landing) and we headed toward the ground, which was covered in low clouds and fog.
Landing was pretty disorienting – we entered the haze, but I could still the sun shining, so I didn't really have any concept of how low we were. The captain called out "ten minutes to landing" and we made a few turns in the mist, but I didn't realize how low we were until suddenly I heard the landing gear come thumping down. Suddenly through a break in the haze I could see the line of windmills spinning in Copenhagen harbor, and I realized we were on short final into Kastrup Airport.
A video of the landing:
As we rolled out on CPH's runway 22L I could see the daily Delta 767 to Atlanta heading for the threshold of 22R, along with numerous SAS MD80s and Dash 800s. We turned off the runway and took the same route back to the terminal that I'd taken when I arrived at CPH five days earlier, passing the forlorn little Christmas tree that the airport has set up between the taxiways.
The morning rush of heavies was in full effect at Pier C, including an SAS A340 and (behind it) a Thai 747, plus a Maersk-turned-Sterling 737: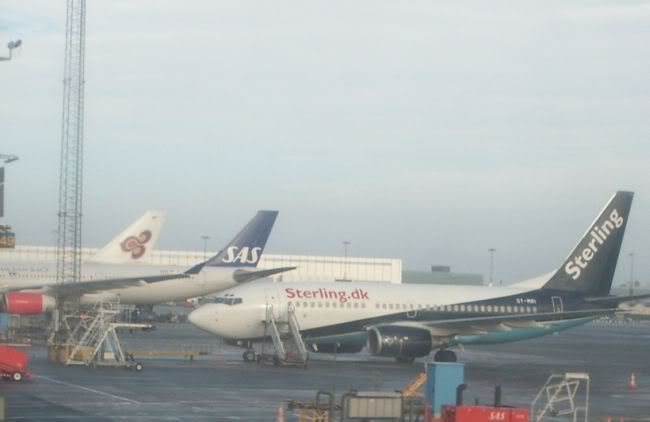 Another SAS A340 and A330 on the opposite side of the pier: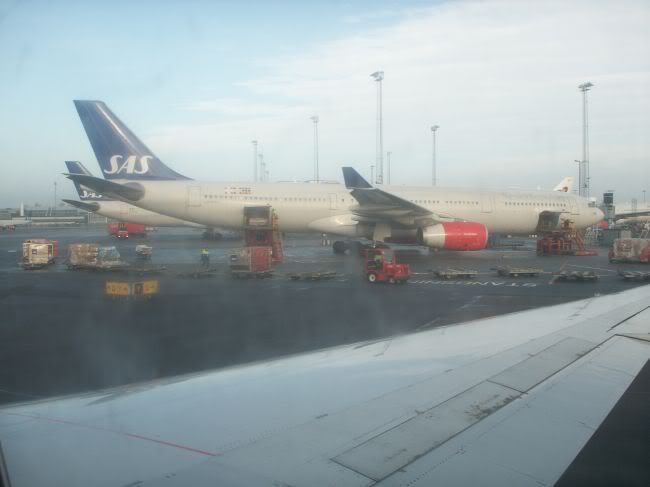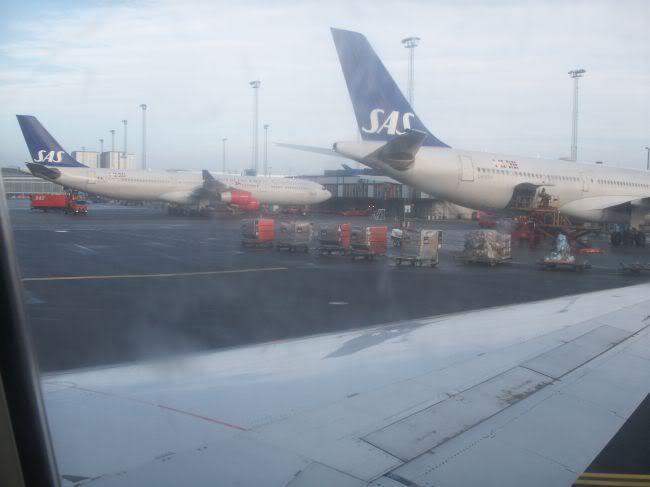 Pulling into our gate on Pier C: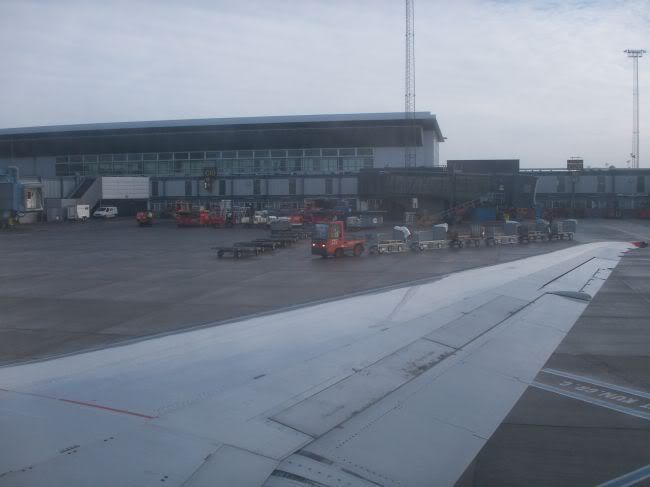 I was surprised that we arrived onto Pier C, since it tends to handle mostly overseas carriers, plus SAS flights to Newark, Chicago, Seattle, Washington, Tokyo, Beijing, Shanghai and Bangkok. Although our gate was configured to feed passengers down into a sterile arrivals corridor, we turned and deplaned straight into the main concourse.
**********************************************************
Copenhagen Kastrup Airport
I had about two hours before I needed to catch my British Airways flight to London (where I would connect to my American Airlines flight back to Chicago), but since I had booked the ARN-CPH leg on a different ticket, I first had to go to baggage claim, get my luggage, leave security, and recheck my bags with BA. I had been worried that two hours might be cutting things close, but the ever-efficient Danes had luggage on the carousel within ten minutes of our arrival. I walked over to Terminal 2, where there was no line at the British Airways check-in desk, dropped off my bag, received new boarding passes, and re-cleared security – all within 25 minutes of landing at CPH! Incredible.
I had been through CPH twice in the last week, but I still took some time to walk around and snap pictures. It really is a beautiful airport… very modern and clean, with good views of the aircraft and lots of shopping. It's proof that you can still have a shopping area without covering up every single window – something our friends in the United Kingdom don't seem to realize, even though Copenhagen and Amsterdam do it quite well.
An SAS A319 parked on Pier B:
SAS, Sterling and Cimber Air definitely make up the lion's share of traffic at Copenhagen, but this Air One 737 made an appearance as well: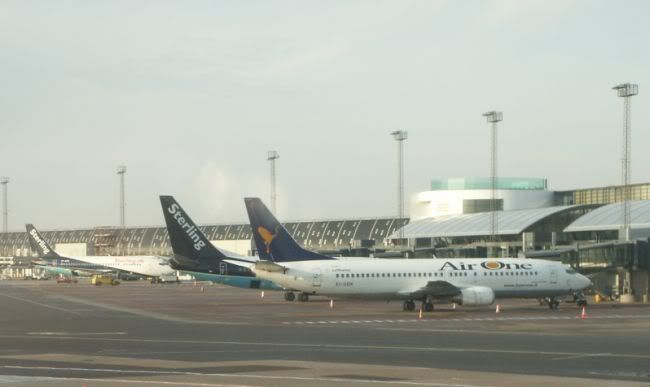 **********************************************************
That's it for my Scandinavian adventure. It was a great time, and all three airports lived up to expectations, particularly CPH. Finnair and SAS both provided reliable service and comfortable aircraft, although only Finnair still has complimentary on-board service. I wasn't crazy about Helsinki, but I highly recommend Copenhagen and Stockholm – they're beautiful cities with lots to see, good food and good shopping. Don't let the rumors of high prices scare you off… Scandinavia is expensive, yes, but there are bargains to be found too. In general I didn't find it to be much more expensive than Germany or the Netherlands, even though both Denmark and Sweden have retained their own currencies.
This is the final report in the series… I've got two work trips coming up this month to Raleigh/Durham and Pittsburgh, although I don't know that I'll go to the trouble of writing up trip reports. Thanks for reading this far, and I hope you enjoyed my (brief) Scandinavian trip!