Having been a tough year for all of us for many reasons, we decided to take a Christmas break, and after considering a number of places such as Toronto, New York, we finally came to an agreement on Seattle.
So, we booked the flights, fast forward 3 weeks, and we are packing.
Date: Tuesday 26th December 2006
Route: LHR-SEA
Airline: British Airways
Flight number: BA049
Aircraft: B777-236ER
Registration: G-VIIH
Seat: 02K (First)
Flight duration: approximately 9hrs 10mins.
We arrived at LHR around 11am, and while dad went an parked the car, we just did some bits and bobs in the terminal. Once dad came back, we proceeded to the staff travel area. There, once we had battled through the busy waiting area full of people, we got to the check-in, and waited, our bags were loaded weighed and had some tags put on them (which is always a good sign) before we got our tickets. We left the staff travel area, and I took a look at the tickets. First class window seat ! Both times I've written a trip report, we've got in first class, so expect more trip reports !
We dropped our bags off and went through security, which was at an ordinary pace, and once we were in the departures area, we just wondered around, getting some drinks and going to the book shop.
Finally, after what seemed an age, we got to the gate, caught a bus and got the aircraft. Looking from below, the 777 does look a magnificent aircraft, although I do still slightly prefer the 747.
Anyway, we went up the steps and were directed to our seats, in a, at the time, empty F cabin. I settled down in my seat, and took a look around the seat. One of the first things I noticed was that this aircraft had the old 'small screen' 12 channel Marconi IFE system, D'oh !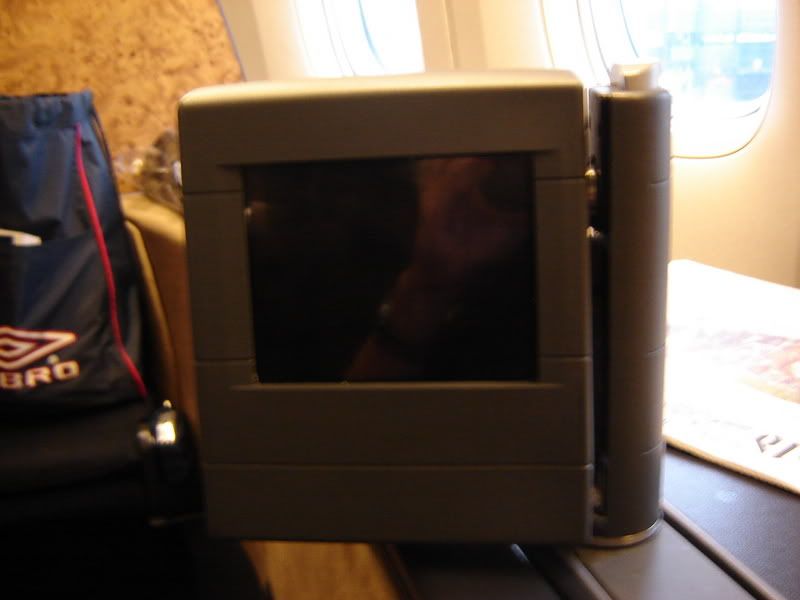 My IFE screen.
The cabin crew quickly came round, offering pre flight drinks, and some more passengers came aboard.
Soon enough, the doors were closed, and we were pushed back from the stand.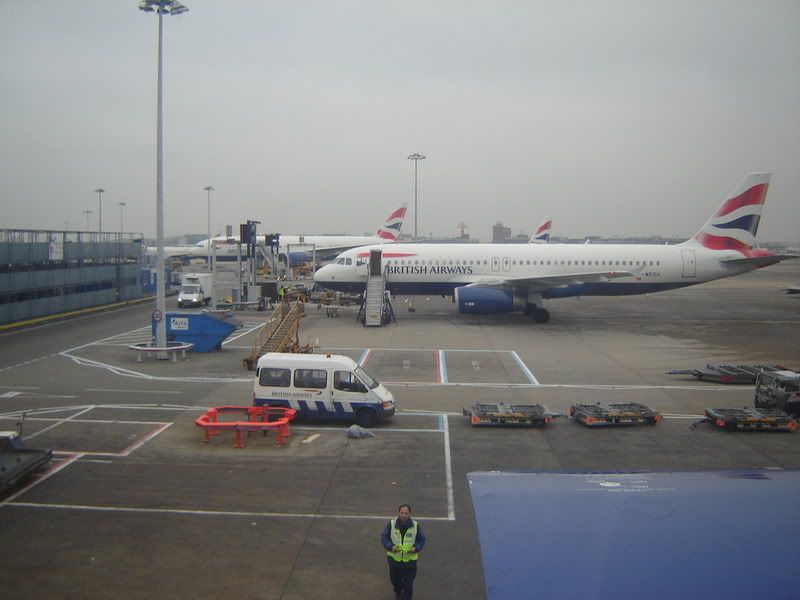 A look out of my window.
We taxied to the runway, which for take offs on that days at that time was 09R.
There was a normal size queue for the runway, and there were views of Terminal 5 works.
T5 in the background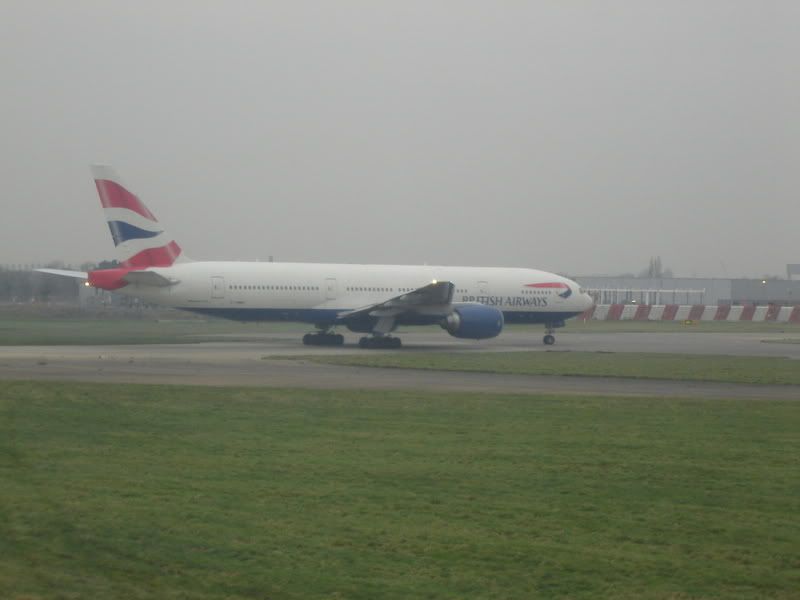 BA 777 waiting.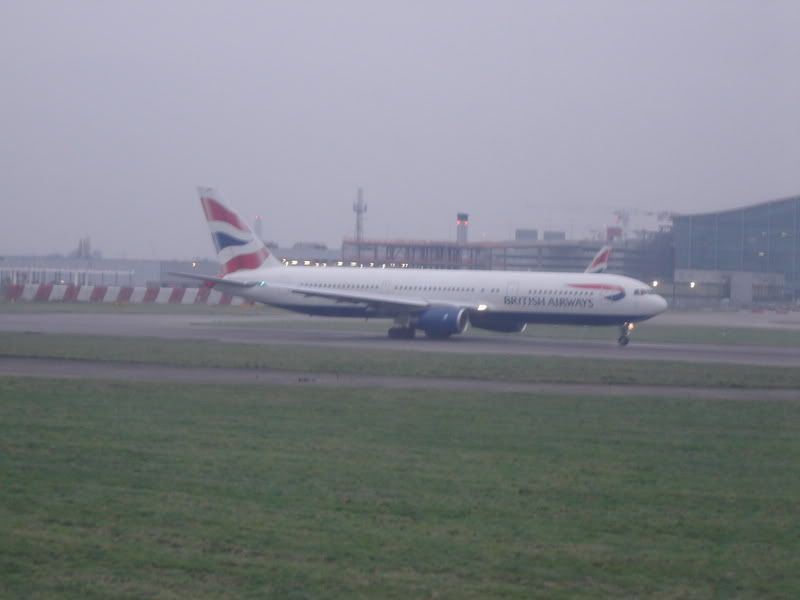 BA 767 rolling.
AI 744.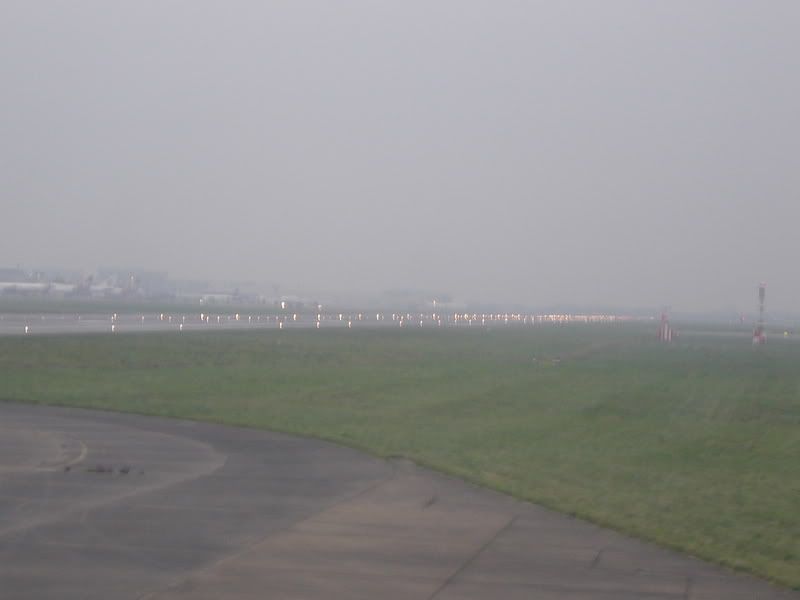 The airport was still fogged up, luckily my flight wasn't delayed due to fog.
The runway.
The mighty 777 engines powered up, and we rolled forward, although I did notice that the take off didn't have the same 'push you back in your seat' type power, but the take off was short, so I'm guessing they didn't need to use lots of power.
We climbed up and out of the dull British weather, and into the sunshine above the clouds.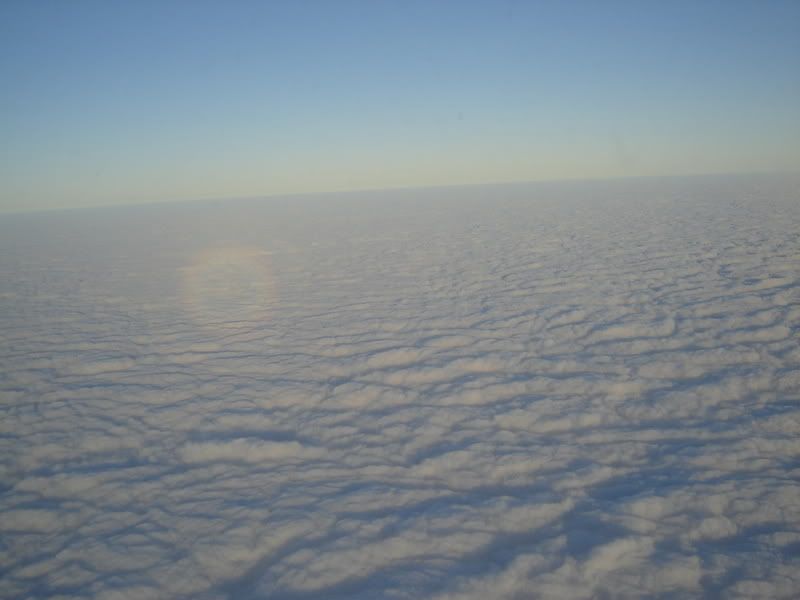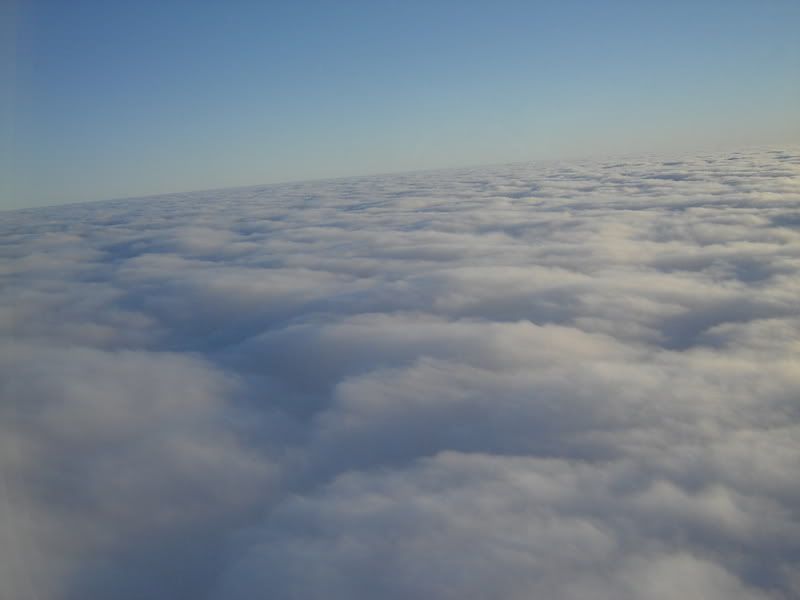 Soon enough, the cabin crew got out of their seats, and came round with the menus and choices for the DVD player (which is used because there isn't a in-seat video player on this IFE system). This actually meant that I could watch a film and the moving map at the same time !
We headed North-west, over Manchester and out onto the Irish sea, at an altitude of 34,500ft.
I reclined my seat a little and took out my book, which was Geroge Orwell's '1984'. It's a good read for anyone with an interest in cold-war history, as you'll be able to understand it much better.
Along with that, I read the days 'Hearald Tribune' International edition newspaper. I also took my usual coke with ice for a drink.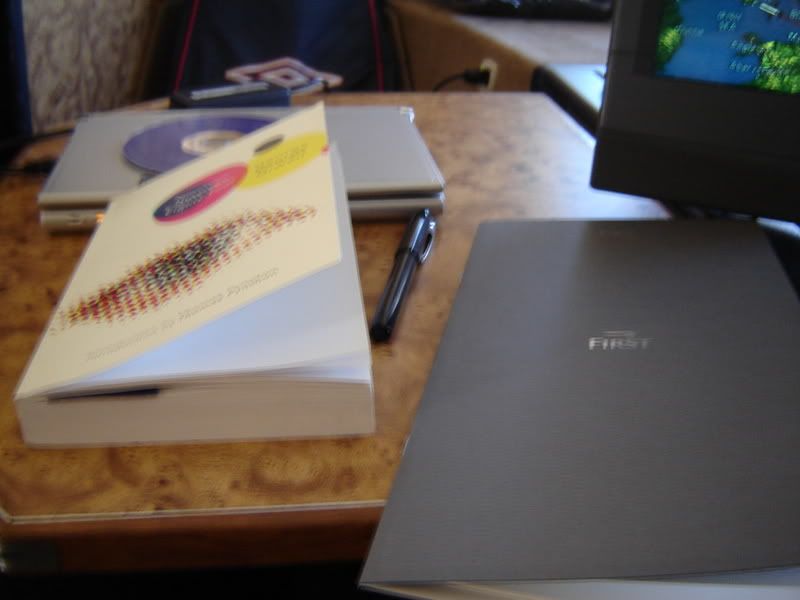 About an ours or 2 into the flight, lunch was, served, and there was a decent selection to choose from:
Lunch:
Starters-
Lobster, mango and pink grapefruit salad with honey and coriander dressing.
Roast Tomato and vegetable frittata with rocket leaves, basil and tomato dressing.
White bean and oregano soup with truffle oil and fresh herb croutons.
Fresh salad leaves with your choice of Roquefort cheese and pine nut dressing or spiced lemon and soy dressing.
Main-
Grilled fillet of beef with grilled marinated courgettes, foie gras crouton and Anna potatoes
Catch of the day-Please ask your crew for details of todays fresh fish selection served with your choice of watercress sauce or red pepper citrus coulis, seasonal vegetables and parsley potatoes.
Vineet Bhatia's chicken in green masala, green pea and cumin rice with stir-fried asparagus and enoki mushrooms
Main cource Greek salas with herd dressing
Dessert-
Michel roux's blancmange with roast pineapple
Warm treacle tart with Vanilla ice cream
Cheese plate-
Coastal Cheddar
Cashel Blue cheese
Tornegus cheese
A basket of fresh fruit
Snacks-
Bacon roll served with tomato ketchup/b]
[b]Penne pasta with your choice of char-grilled red pepper sauce or porcini mushrooms and parmesan cheese sauce served with garlic herb croute
Duchy of Cornwall biscuits
A selection of cheese and fruit
I had just plain Grilled fillet of beef with Anna potatoes and ice cream for dessert, as I knew that BA's portions were pretty generous.
The meal ! I must say, BA do go the whole way on their food, the meat was cooked just right, and was very filling !
The sun began to set to the North, and the aircraft climbed up to 36,000ft and the sky got darker, although the other side of the aircraft had a reasonable amount of light because it was facing southwards.
Somewhere over Greenland.
I flicked through the IFE channels, nothing great was on, and so mostly listened to my MP3 player, read my book and the newspaper, as-well as trying to watch 'Garfield-a tail of two kitties' on the DVD player, but gave up because the sound was dodgy. Oh, and of-course, having a look every now and then at the moving map.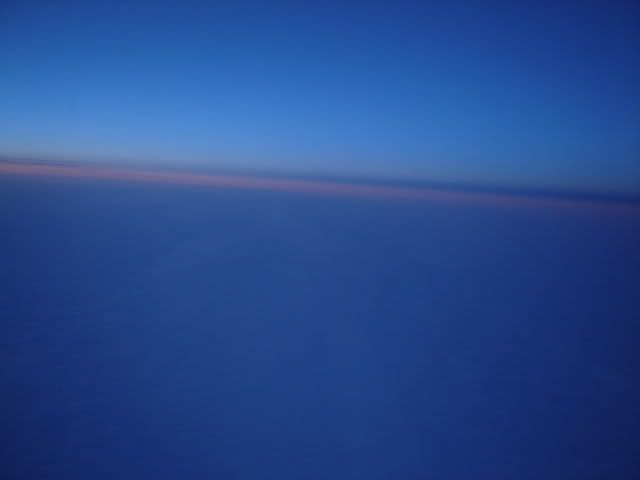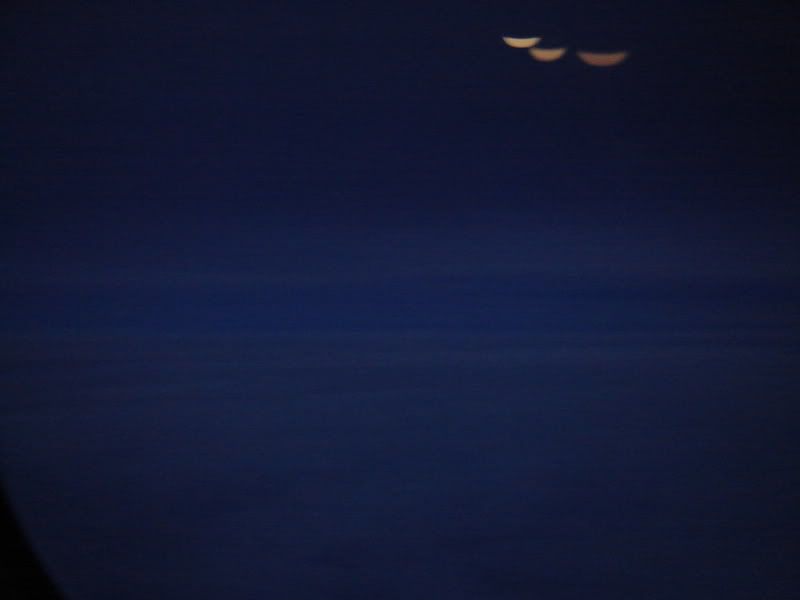 The plane carried on over Greenland and Eastern Canada, and at about 1/2 way through the flight, a great thing happened.
The cabin crew member who was serving my side of the cabin, knew I had a strong interest in planes, and so when the first officer came out, invited me to talk to him ! I was pretty surprised at first, but the first officer was a great chap, and talked to me and my brother (who's training to be a pilot) about the aviation world, the flight and other things. A brief hello turned into a 30min conversation, but he was more than happy to talk, and he greatly impressed me in the fact that there are still flight crew who do things like this !
Once the conversation ended, me and my brother went back to our seats, and the plane climbed up to 38,000ft.
Somewhere between Baffin bay and Hudson strait, came the the most stunning scenery I've ever seen, snow covered mountains in the dim blue light, fantastic !
About an hours or so later, the other first officer came out for a chat with me and my brother. He was a very interesting man, who seemed to love his job and aviation in general. This conversation carried on for an hours or so, and again, we covered just about everything ! I must say, the 2 first officers, and the great cabin crew really were stars, and this is why BA is the great airline it is !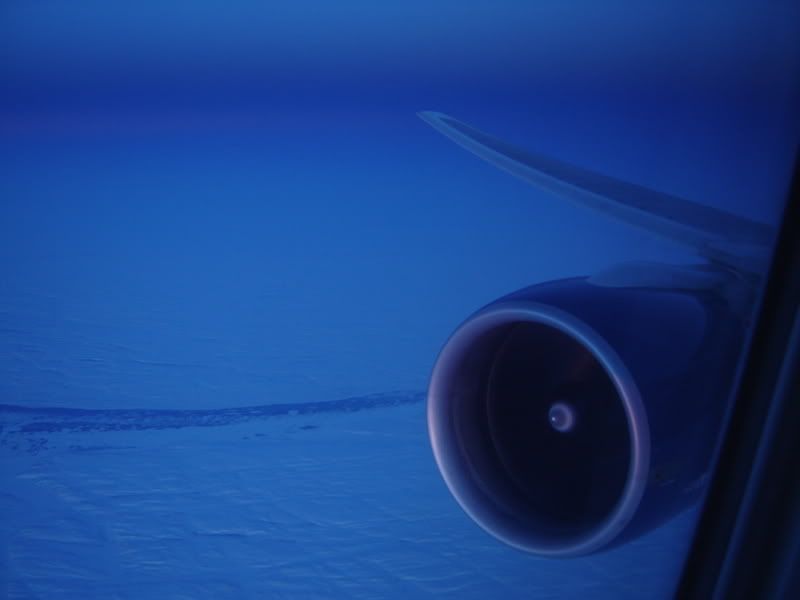 Possibly my favourite picture. No words needed.
The flight crew were using a spare seat in F as their crew rest, but there were only about 7 actually passengers, including us 4, so there were plenty seats free.
The sun began to rise as we got more westerly and got near the America-Canada border.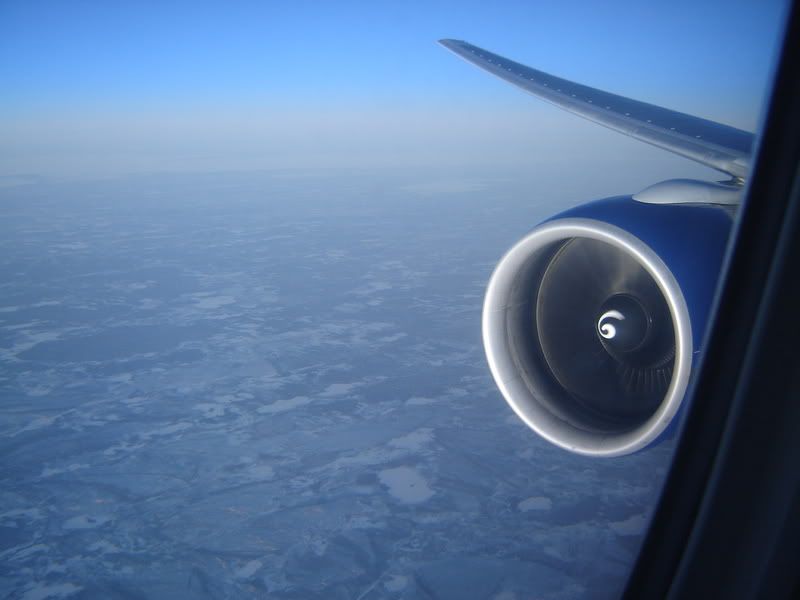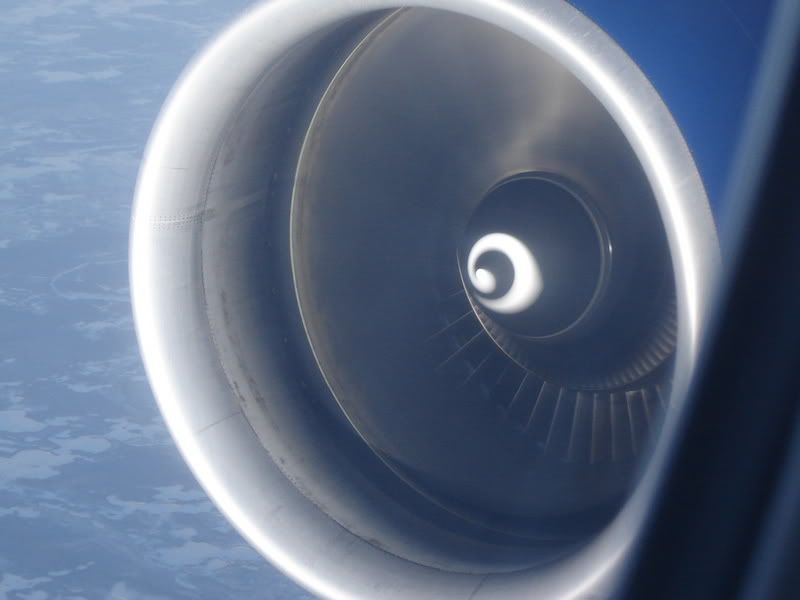 The huge 777 GE90 engines.
About and hour and a half from landing, afternoon tea was served with a selection of:
Afternoon tea
Snacks-
A selection of sandwiches featuring
smoked salmon with black pepper
Chunky egg and spinach
Coronation Chicken
Roast vegetables and cream cheese
OR
Salmon, leek and mushroom quiche
Patisserie-
Plain or fruit scones served with warm clotted cream and strawberry jam
Farmhouse fruit cake, rhubarb custard tart with nutmeg and macaroon
I had the warm scones, which were just delicious ! I ate it up pretty quickly, and the cabin crew member on my side, offered me another plate....well, how could I refuse !?
Just another example of the crew going out of their way to make my flight enjoyable, and trust me, it was more than enjoyable.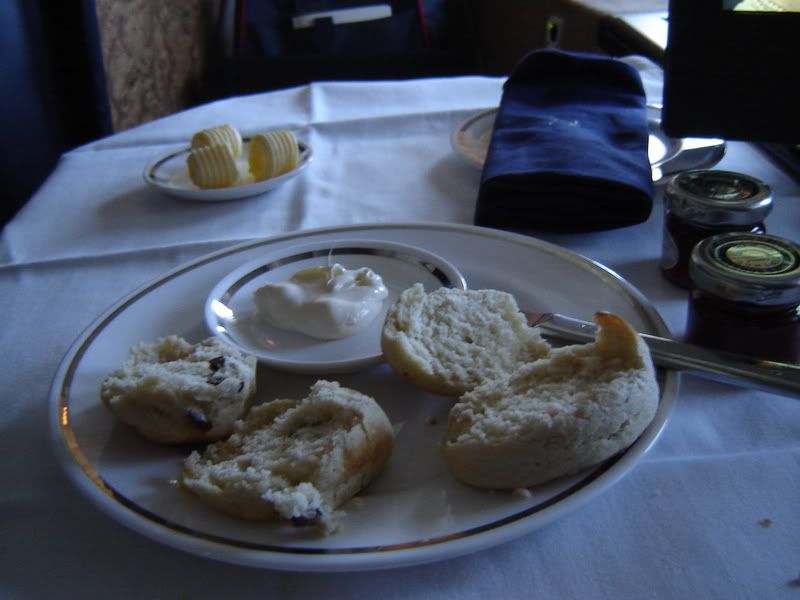 A second serving of scones sir ?
We descended past the border, and started our decent into Seattle.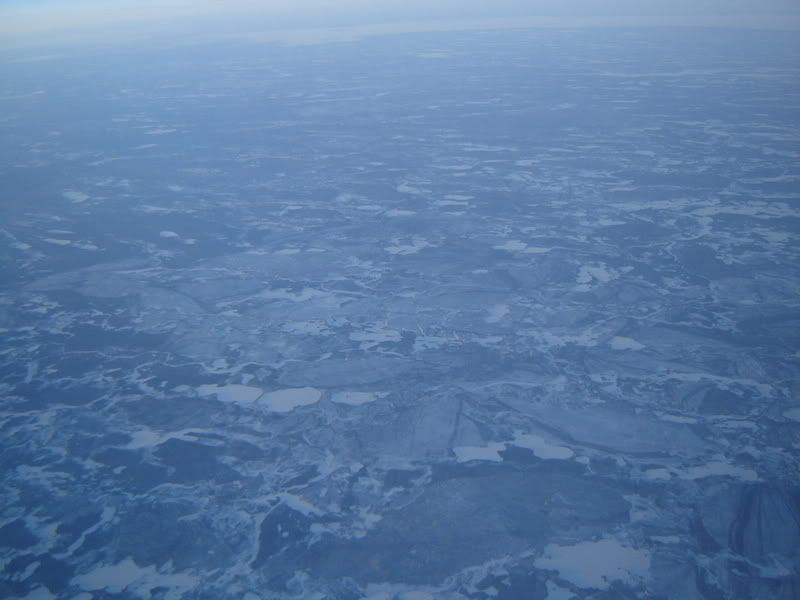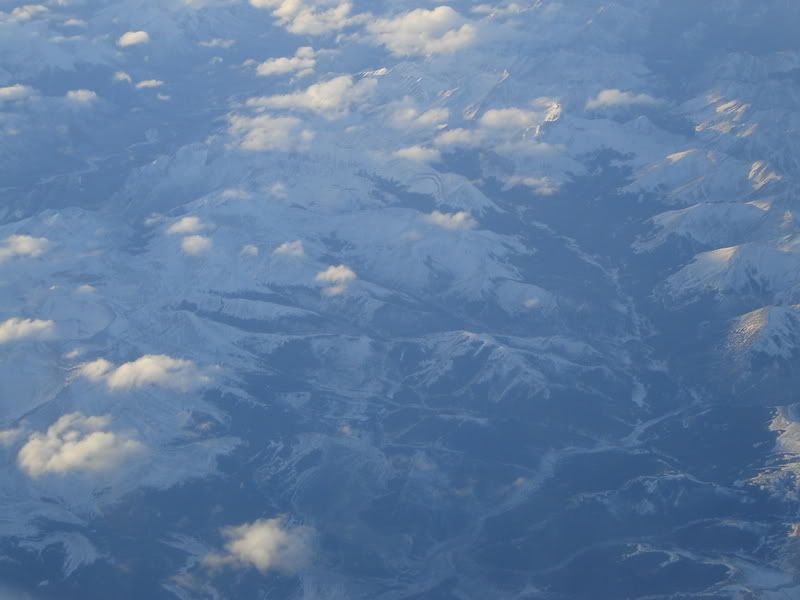 We had a bumpy approach, but landed smoothly enough at SEA-TAC about 16:00 local time.
The aircraft proceeded to the stand, where I took up the first officers offer of visiting the flight-deck. Like I would refuse !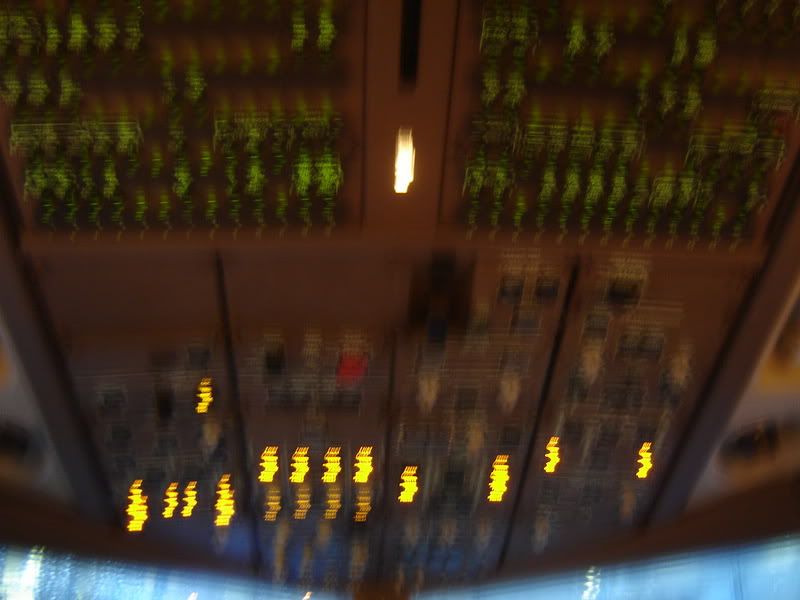 Some photos of the 777 flightdeck. Sorry for the blurriness.
There, I had an nice chat with the captain and good some flight info in the form of routing's ,charts etc on paper for that flight, what more could have asked for ?
We said good bye to the crew and made our way to immigration.
Well, in conclusion:
The crew were just amazing, they were hospitable, and treated a non-rev just like a commercial passenger.
Cabin crew: 10/10
flight-crew: 10/10
Seat: 9/10 (still top notch, but some improvements could happen)
Food: 9/10
Overall: 10/10
Thank you to the flight-crew, cabin crew, the powers that let us ly in F and, because I don't think they get enough recognition, a big thanks to the great guys at BA engineering.
And thank you to you for reading !
wrighbrothers