Dear readers,
One and a half year ago, when I joined a.net, my first post was a trip report.
Since then I posted some more but today's report is a consecration: my first 'FIRST CLASS' experience report.
For sure it won't reach the heights of fellow member Door5Right and his memorable TR about his first class trip on MH, or the hilarious but nonetheless very informative reports of dear a.netter Singapore_Air but I do hope you'll be able to enjoy it as much as I did enjoy the trip.
Everything began in November. I had traveled enough to re-qualify on NH, and had to travel once more in December to go back home in France for Christmas. However, the last trip wouldn't give me enough miles to qualify for a higher status, so I was planning to go for an award ticket.
When you consider that a first class round trip is ten times more expensive than an economy ticket, but only a bit more than twice the amount of miles needed to get an award ticket, I understood very quickly that it was now or never to experience NH's first class. For some reasons, I opted for a one-way First and return in business award as I was expecting to travel with someone else on the way back. A quick check on NH's online award tool showed me that F and C awards were already fully booked. One phone call later, I was on the waiting list, but being told that there were already 14 people on it, I quickly changed my mind to economy mode and kind of forgot about it.
One week later, the surprise came by email. For some reason, the waiting list had cleared, and after confirmation with the reservation center and I had my seat confirmed, 2A. 1A was my first choice, but this seat seems to be always blocked and 1K was already taken.
The deal was made for 105'000 FFP and around 40'000JPY of taxes.
From then, I had to wait almost one month before the flight and the excitation grew little by little as the date approached. I was checking the seat map everyday and until the last minute I left home, 4 seats were blocked out of the 10 available.
The bus ride to Narita was rather smooth and soon I was in NRT with a lot of time to spare.
Now the First Class experience is about to begin. First step: Check-In.
I go to the First class counter; my feet are one the thick red carpet. The lady at the counter bows and welcomes me. I hand out my E-ticket and my passport and a clerk is taking care of my luggage. I dare to ask:
"Do you know is 1A is available? I couldn't book it."
"Let me check, yes it is available. Would you like to switch?"
"Sure"
As simple as it is. After 3 minutes my boarding pass is printed with the magnificent seat number: 01A. Sitting in 1A because it's the farthest seat available was not a goal in itself. 1K would have been fine too, but today's flight being in a 744, I really wanted to experience the only seats in any aircraft were the window shape actually allows you to look slightly forward. As 744s are getting rarer and rarer, I didn't want to miss that chance.
Next step was immigration, security and duty free shopping, before the very very long walk to the First Class lounge. The gate was schedule gate 41, all the way to the end of the south wing. The lounge is located a bit farther on the fourth floor. The staff welcomed me (some more bowing) and here I'm in the first class antechamber.
The lounge is very clear and wide; the staff is very helpful and offered me a hot towel right after I got a seat. I decided to sneak at the food and drinks. Alcohol was not really on option at 10:30am, especially as I knew the trip was going to be very demanding wine-wise, but a coffee to wake me up and a Perrier were good to start with. The food on offer could have been a bit more, how can I say, original. It's good, the choice is wider than in the normal business class lounge, but I was expecting more, something to remember.
Anyway I tried some smoke salmon, roast beef salad and club sandwich (very tiny piece)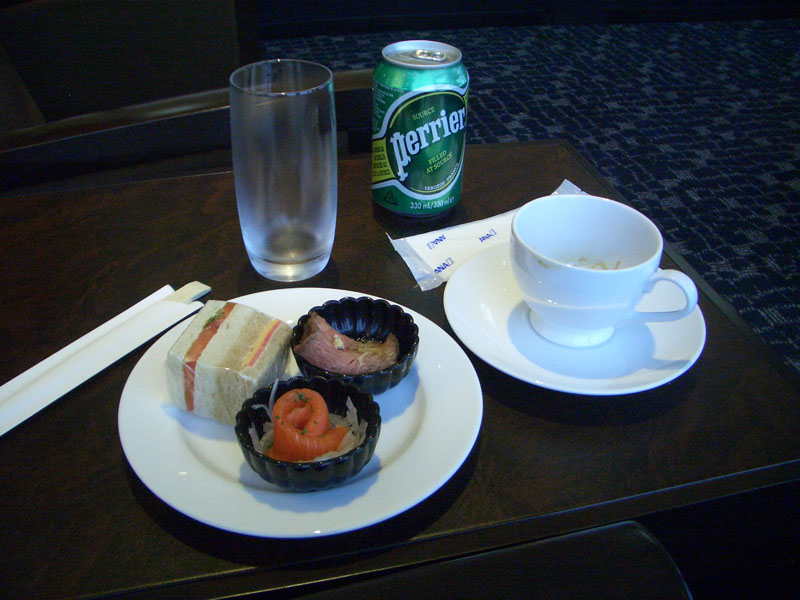 Then some sushi
And some udon (very good bouillon by the way). Note the refinement of the kamaboko (fish cake) with the ANA symbol on it.
While eating, I was reading a very interesting book I found in the lounge about a Japanese chef using Japanese techniques applied to western food. Time then went by rather quickly and soon one of the staff came to inform me boarding was going to start soon. As I was about to gave her back the book, she told me to keep it to enjoy it later. A very nice touch.
Back to the gate, the boarding was actually starting for first and biz pax. My heart started to beat loudly, in less than a minute I'll board a plane and turn LEFT. While walking down the Jetway, I started to think on how I should act once I board the plane. As biz and first passengers are sharing the same entrance, should I show go directly to my seat or should I show my boarding pass first, would I look stupid if I do so? I actually sort of did both. I turned left while showing my boarding pass and FA #2 immediately took my hand luggage and showed me my way to 1A, which is a rather short walk anyway. FA#1 was there to welcome me too.
I already had some sneaks at the first class cabin while deplaning on some previous flights, but at first, the cabin looked rather small to me. Don't get me wrong, you don't feel cramped at all there, but there are only ten seats, and as it's on the nose of the main deck, you don't really feel the spaciousness of the 747. I soon was in my seat, my coat was taken, and I was already offered some newspapers and a very nice pajama by FA#1, who was going to be my nanny for the next 12 hours. No welcome drinks as usual on NH, but I'm sure I could have asked for one.
Once the boarding was complete, I could here the chief purser passing the head count to the gate agent. 4 in F, 36 in C and 162 in Y (capacity is 10 in F, 61 in C, 24 in Y+ and 228 in Y, so a 62% load factor). Not so crowded today, but I left Japan earlier than the normal holiday season, and I wouldn't complain about having 2 FA for just 4 of us!
A little word on my 3 others first class companions. One Japanese woman in her 40s sitting in 1K, rather talkative and I'm 99% sure she was a full fare passenger. One British guy is sitting in 2A. He was suppose to fly NH 201 to LHR but preferred to fly via Paris as his connection was most likely to be cancelled due to the fog. And finally one French lady in 2K. I talked a bit with her too and she was the wife of a wealthy expat living in Tokyo and traveling on an F upgrade from C (and I guess on her husband mileage account).
So let's face it, I'm probably the lowest yielded F passenger today. But who cares, it's all my hard-earned mileage and status which brought me here today, so I was not going to let this interfere with my pleasure.
Push back soon began, and we started to taxi to runway 34L. There is one thing interesting to notice when sitting in First class while taxiing. You're actually seated front of the wheels, and far away from the rotation axis of the plane. Then you really feel the lateral forces during the turn. It's also funny to think that I was actually in front of the pilot. It's really too bad the 744 is going to be retired from ANA's fleet. I really hope they order the 748i but it doesn't seem likely.
Another thing about the taxi; as we were about to reach the end of the taxiway to runway 34L, we made a left turn instead of a right one (those familiar with NRT will understand). Actually, it looks like we did this in order to let 2 planes (a JL772 and a FX MD11) go in front of us. I'm not sure if our pilot wanted some more time for final preparation or if ground instructed us to do so. If someone has some comments about this, I'd be pleased to know.
Meanwhile, the chief purser had come to welcome me on board, to thank me for flying with ANA and to tell me not to hesitate to call her for any reason, everything with some more bowing. FA#1 also came, thanked me too (some more bowing), and then apologized for not being able to call me by my name until then as she was unsure on how to pronounce it. I'm used to Japanese people not being able to say my name, so I told her she could either call me by my last name (much easier), call me by a nickname, or simply not call me at all. Since then, I had been called Sir for the rest of the flight.
We then entered the runway and the GE powered engines roared to get us in the sky. Actually the sound is much quieter than in economy, and the pitch is higher too. We then followed the SEKIYADO 4 departure. The flight plan would take us to Niigata north of Japan, then the Japan Sea, then north to the far east of Russia until Khabarovsk at the limit between China and Russia where we turned left for the long crossing over Siberia before reaching the west part of Russia. After a while, the seatbelt sign was turned off and the service promptly began. My seatmate in 1A went immediately to the toilets to change into her PJ, and when she came back we started to chat for what was going to be almost the whole lunch time.
Even if seats 1A and 1K are rather close due to the curvature of the nose of the 744, she was still about 1.5 meter away from me and this is not the best configuration to chat without disturbing the whole cabin.
The discussion started this way, when she came back from the toilets.
Her: You should really try this PJ, they are really great
Me: Well I'm not sure because I'd prefer not to sleep too much, otherwise I'd be jetlagged when arriving in Paris. But for sure with theses seats it will be difficult not to.
Her: You know I travel a lot, I'm sure you do too, but I can sleep anywhere on a plane, even in economy, even though it has been a while since I haven't sit there hahaha
Me: Really, well unfortunately I can't really say the same. I don't sleep really well in economy, but still I do travel there more than in first.
Her: Well I'm sure you'll get used to it one day.
Me: Get used to what? Sit in first or sleep in economy? Hahaha
Her: Haha, sleep in Y of course. Anyway I think NH's first class seats are ageing a bit, how long since they introduced them, 4 years maybe?
Me: Something like this I guess.
Her: Have you seen Singapore new first class seats? I so want to try them, but don't you think it's a kind of discrimination to have them on the Paris route? I do travel on SQ sometimes and it's a shame they're not available on the whole fleet yet.
Me: Sure it is...
Then FA#1 made a salutary appearance to take our drink order. A bit more and I would have been unmasked as a First Class first-timer. Maybe I was already.
At the same time, FA#1 put a hot towel and a classy folder containing today's menu on the side tray.
My drink order was plain simple: Krug please
.
I could ear in the back a very soft sound of the cork popping out of the bottle, and then FA#1 came next to me, showed me the bottle and poured the divine beverage into my glass. Soon FA#2 placed some finger food (ANA's Signature Amuse) next to it.
I was contemplating this vision of heaven; the clean light from above the clouds was underlining the purity of the Champagne, the subtle bubbles were shinning. I was feeling great. I emptied the first glass to quench my thirst; I then enjoyed the second one for the taste.
While enjoying my Krug, I was half chatting with my new friend from 1K, half looking at the menu. I already knew what was on offer and my choice was made as I had checked NH's website almost everyday the month before departure. I'll try to scan it and post it later.
You can still have a look here for the detail:
NRT_CDG/meal/meal.html" target=_blank>http://intsvc.aspwb.com/E/F/200701/NRT_CDG/meal/meal.html
FA#1 came, I asked for Caviar first, then the Fugu sashimi from the Japanese course, then the Pan-fried wagyu beef tenderloin with jumbo shiitake mushrooms and Marsala reduction. As I also really wanted to try the Warm pan-roasted anglerfish with winter shellfish jus, I asked her what she was thinking about it quantity-wise. She offered to let me choose after the sashimi or even later during the flight. 'You don't have to rush sir'.
About the F menu, if you look carefully you can see that most of the dishes of the western course are shared between C and F. When I talked with FA#1 later, she told me that there are some subtle differences though: the presentation and ingredients, like for example, the tenderloin you get in F is from Japanese wagyu beef while it's a more common meat in C. Also there is one extra choice for each appetizer, entrée and desert in F compared to C. Plus the caviar of course. The Japanese course also presents some similarities between C and F.
Now that my choice was done, FA#2 came to set my table and asked for my drink order. For the Caviar, the purist would go with Vodka, but I decided to go on with the Krug. Here is the plate with the traditional garnish.
And also a close-up on the caviar.
Then for the Fugu sashimi I choose the Plantiers de Haut-Brion, a nice and aromatic white Pessac-Léognan from Bordeaux. Great sashimi with great white wine is always nice.
As I was feeling that I could push a little bit more, I asked to get the anglerfish before the beef. I went for the Puligny-Montrachet. Great combination. The winter shellfish jus was stunning. And the two different kinds of bread were helping to get the very last drop of it.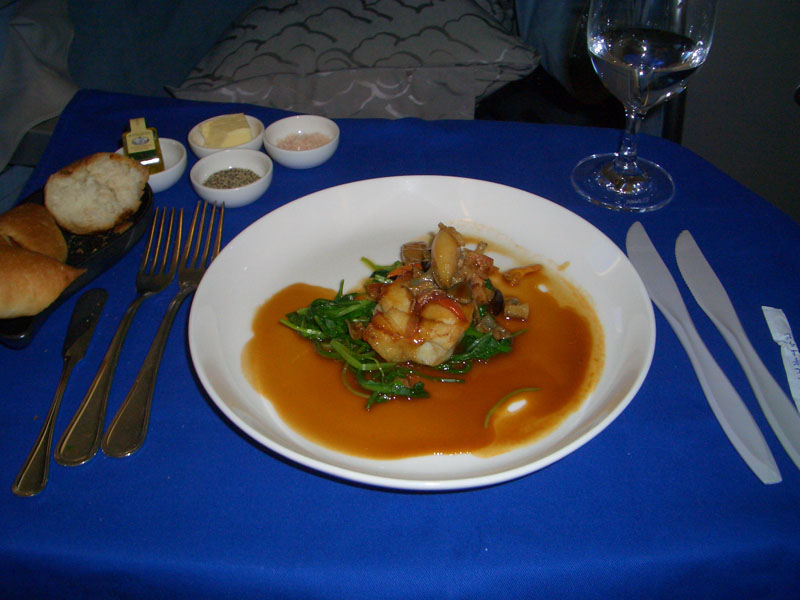 In between came a little salad with Yuzu dressing, with a glass of water to refresh me.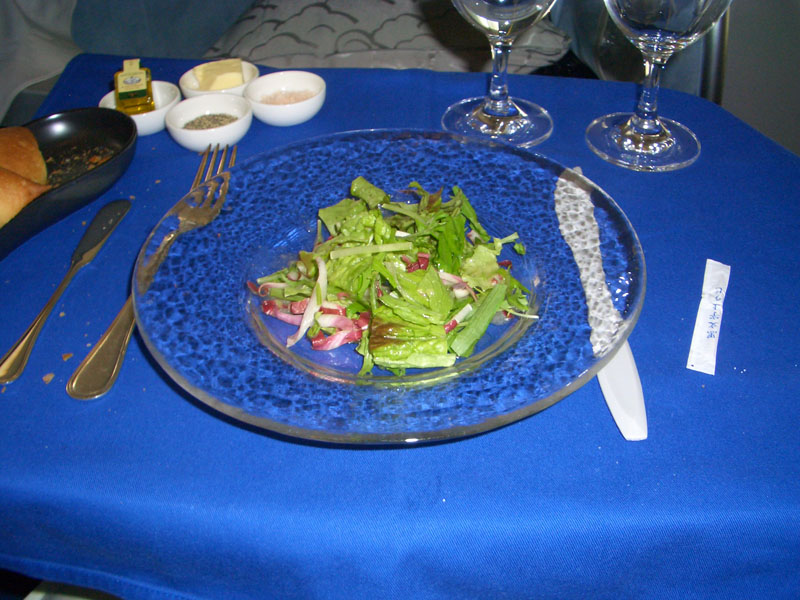 Then it was time for the steak. A red was a must for this delicate wagyu beef, and I went for the Brane-Cantenac Margaux, but I was decided to give the other Bordeaux (Château Petit-Village, a very nice Pomerol that I had already tried on earth) another chance later.
The beef was amazing, and the Marsala reduction added a great depth to the flavor. Look at it a bit closer.
Some of you might have noticed that the knives are plastic ones. I was a bit disappointed at it as from what I remembered, NH does now offer real knifes in C. Later, I asked FA#1 for the reason. Her answer was surprising but actually made some sense. One of the entrée available in F and not in C is lamb, which needs some sharp cutting knives. She told me that even if the knives are in metal in C, that actually don't cut well (and it's made on purpose of course) because the blade isn't sharp at all. Plastic ones cut much better, and that's the best compromise they could get until now. I was satisfied with the answer. I could check by myself on the way back the C knives, and indeed, they look more like butter knife than anything else.
At this point, I was full. Hopefully I was still chatting with 1K otherwise I might have slept right away. When FA#1 asked if I wanted some cheese or desert I asked for something light, so she offered me the Lime sorbet with crisp olive biscuit. It was good and the lime sorbet was very refreshing, but I was too full for the olive biscuit.
1K also advised me to try the green tea. Very nice too. After that I went for a coffee. There was a lot of different coffees available so I took the Blue Mountain blend, with some chocolates (one is never too full for chocolates) and a slip of Henessy Paradis XO cognac. What a great end for a wonderful lunch.
2A and 2K were already sleeping; we got late by chatting with 1K. At this point, I decided to have a walk around the aircraft as I do on most of my flight to have some exercise. Not as easy as one might think. With 2 FA for 4 people (2 of them are sleeping), FA#1 came next to me right after I stood up. Her main concern: do I want to have my seat turned into bed. Yes sure, why not.
While she's busy, I walked toward the curtain between F and C. I don't know if you've ever been through this curtain, but while it's rather easy to go through from Y to C, this very curtain is closed by many press-studs (one every 30cm or so). After releasing a couple of them, I'm in the C cabin. There the meal service seemed over for a while and most of the people were either sleeping or watching TV. Next curtain and I'm in Y. A bit more crowded but nothing awful. Some FAs were busy with in-flight duty-free service. I walked down the entire aisle to the toilet at the aft of the aircraft and start my way back to the front of the plane.
As soon as I reached the premium economy section, a FA goes out of the galley and I can feel she starts following me. I don't care at first. I go through the curtain by to C, and then I know she is actually following me. I don't walk that fast and I can feel her getting closer. The F curtain is there, some more press-studs to open and I'm in F when she finally said:
-May I help you sir? (translation: you've nothing to do here sir).
Hopefully FA#1 is behind the curtain and welcomes me back. I'm a bit confused. Definitely, I don't look like an F pax. I can tell FA#1 is smiling. I smile back to her, and now she is actually almost laughing. Right away she says:
-A bit more champagne sir?
-Sure I will, sure I will
Now my bed is ready and looks very comfortable.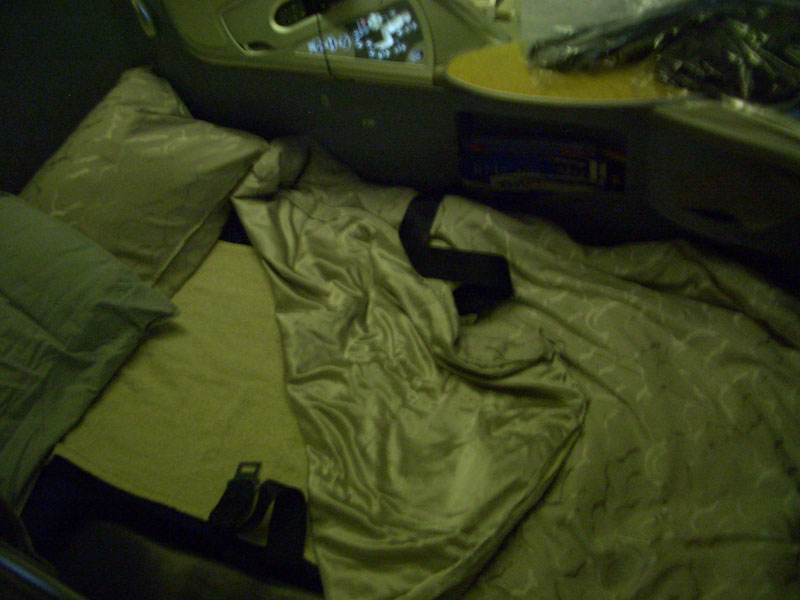 I step into it, turn on a movie (The Devil wears Prada; I love Meryl Strip), and enjoy the Krug.
Half of the movie and some more Krug later, I'm sleeping...
When I wake up a bottle of water is already next to me. I go to the bathroom, and ask FA#1 to turn back my bed to seat. Back to my seat, I have a look at my watch. Humm, 9:40PM Japan so it means, oh My God, I slept for that long! A quick calculation and I realize it is 1:40PM in France, so I have something like, two and a half hour before landing. This can't be; such a waste of time. Quickly I take my laptop and turn it on. I promised some friend to send them some emails with pictures from within the plane.
Connexion by Boeing is available for this flight, and as the service was going to end by December 27th, it's free of use. FA#1 came, ask if I want something to eat or drink. I asked for some Japanese pickles and a Super Cheeseburger.
Too bad I couldn't take a picture of it as it was rather good. It was served with potato chips, but I felt like eating some French fries with it. As I'm about to ask for a Coke to go with it, I start to think of it. Where on earth would I be able to drink Krug with a cheeseburger? Let's go for it, this is also a once in a lifetime chance. FA#1 is back with everything, and I start to enjoy while surfing and writing emails.
Well believe me or not, but even with a cheeseburger, the Krug is matching very very well. I can't help but laughing. Isn't it what real luxury is? To have a burger with some Krug. At this point, I really start to regret not to have a full F roundtrip award. Indeed this was a poor choice as I ended up alone in C on the way back, but I didn't know it at this time.
My time is counted now. I take a fruit plate with a Perrier to finish.
Here I'm watching some good old episode of Full House.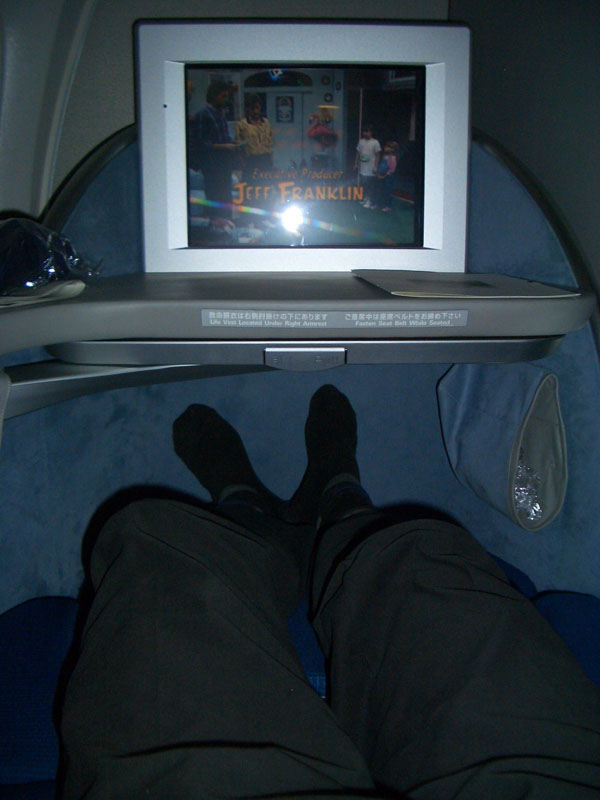 In this one, Uncle Jessie is upset because he's planning to have a nice week-end with his girlfriend while the whole family is going to Disney Land, but the plane is cancelled because of fog, so they are all back. At this time, I was wishing for fog in Paris.
Here are some pictures of the toilets, look at the blue basin.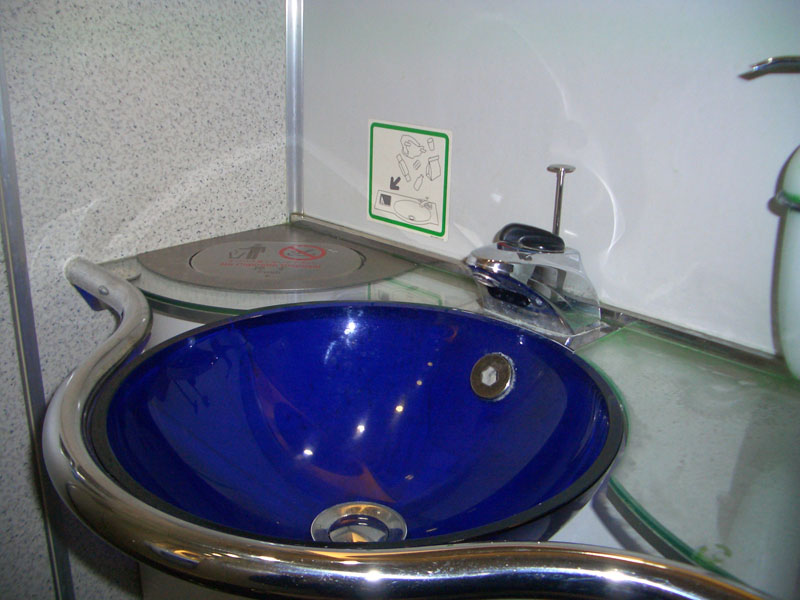 Mirror and amenities.
Another picture some people might like, the soon to be dead Connexion by Boeing box.
A small chit-chat with FA#1 later (and yes she offered me some Champagne, but I declined this time), and we are beginning our descent.
One last picture of the seat.
Side note on the seat. It is really comfortable and well designed. Actually before SQ's new outrageous first class, this was the widest first class seat in the industry with 84cm. I missed the opportunity to be in the widest seat in the world for two weeks. How well...
View Large
View Medium


Photo © Sam Chui
I put back my shoes on, the seat is in position for landing, and a smooth touchdown later we are in Paris. This trip is over. Soon I'll be out of the plane. FA#1 comes for a last time with my coat. She asks me for a last time if I had enough drink and food throughout the flight. I politely thank her as well as FA#2. I turn back to thank them once again before leaving. I say good bye to 1K. CDG here I am.
All overall this was a truly wonderful flight. First class is really a step above C. Especially when there are only 4 pax for 2 FA. Now is it worth the price? Honestly I don't think so. Around 10'000€ for a round trip is obscene if you ask me, but if traveling with FFP, yes, it is really worth it compared to C.
Last year I knew I would travel in F one day. This is done. What's my next dream now? I'd say to travel in F once again...
Dear readers, I'm sorry for this long report. It's probably full of mistakes. I hope you didn't feel bored too much.
I have some pictures of the return in C, but I'm not sure it'll be interesting after this. If many people ask, I might write a short report about it.
Very best regards,
JumboForever
If you are interested, my previous reports:
JumboForEver Gets Upgraded To C! NRT-CDG On NH
(by
JumboForever
May 18 2006 in Trip Reports)
NRT-CDG-NRT On ANA's Business Class
(by
JumboForever
Mar 6 2006 in Trip Reports)
NRT-IAH Via SFO In Y On UA
(by
JumboForever
Jan 9 2006 in Trip Reports)
NRT-CDG And Back On NH In C (w/pics)
(by
JumboForever
Jul 21 2005 in Trip Reports)
As well as my all-time favorite trip report on A.net, by the great Mr Door5Right:
Finally First At Last!
(by
Door5Right
Jan 2 2006 in Trip Reports)