Jet Star to Hawaii – JQ 1 and JQ2
Having heard about Jet Star's release of cheap fares from MEL to HNL, my friend and I decided to take it up and spend New Years in Hawaii. Jet Star was offering $249 one way + tax. When booking, we opted for the 'Feed Me' option which included 2 meals one way for $25. We purchased the 'Comfort Me' pack which included the blanket, blow up neck cushion etc. and we bought the 'Entertain Me' unit to watch movies and TV during the flight.
Since being from BNE, we had to book domestic flights to meet the JQ flight in MEL. Since I have relatives in HBA, I decided to spend a few days there after HNL and before my return to BNE.
Our flight details are below:
29th December
BNE MEL QF
MEL HNL JQ 1
30th December
HNL LIH HA
LIH HNL HA
3rd January
HNL KOA AQ
KOA HNL HA
5th January
HNL MEL JQ 2
6th January
MEL HBA JQ
10th January
HBA MEL JQ
MEL SYD QF Business
SYD BNE QF Business
The 29th December came around and we made our way to BNE domestic to catch our flight to MEL. Unfortunately, we only had the option of morning flights using our frequent flyer points so our flight departed at 6:50am to catch our JQ flight which left at 5:15pm.
After the agent booked us through from BNE to MEL and then on JQ to HNL. I was happy to see that I was given the Sequence Number 1 for the inaugural JQ flight! I was the first passenger to check into the flight!
The QF flight to MEL was uneventful. After arrival we met a friend of mine. At around 1:00pm, we decided to make our way through customs to check out the shops and eateries.
After clearing secondary screening (looking for any liquids and gels), we made our way into the waiting lounge. Looking at the aircraft, the registration was VH-EBB, the jet waiting to take us to HNL for new years!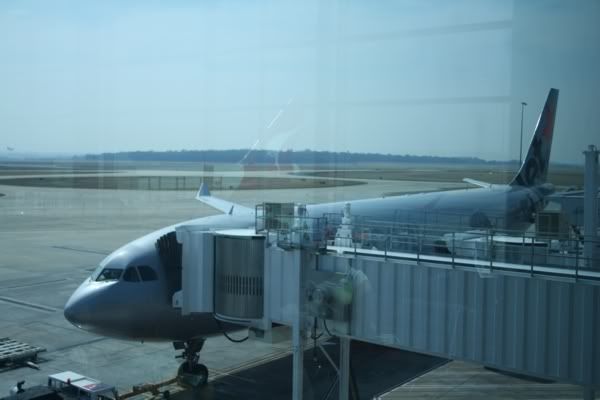 Boarding time came and we were herded down the escalators to the check in area where people were slowly going through. Approximately 20 passengers boarded the plane and a further 20 had had their boarding passes scanned but had to wait to the side as the captain radioed through to the customer service agents to stop boarding.
I heard this as I was next to have my boarding pass scanned and the customer service agent had already ripped off the stub. About 15 minutes later, we were asked to move back up to the first waiting area as it had seats for passengers to use. Most people, including myself sat and waited as we presumed we'd be flying soon.
After a 45 minute wait down below, after a further radio through from the aircraft, all passengers were told to make their way upstairs to collect $16.00 of meal vouchers to be used in the terminal. After lining up to collect these, a further line up was had at the small amount of food eateries in the terminal. So far, this holiday was all about waiting in lines.
After purchasing food and drinks, we made our way back to the boarding gate. Jet Star agents were working frantically at their computers and on radio with one another. At around 8:30pm – 9:00pm, we were finally told that the aircraft had to be towed back to the hangar due to engineering problems and that we had to make our way down to baggage collection for further information.
After the walk to baggage collection, we waited for another 15 minutes until the Jet Star agents finally came along. They then told us to collect our baggage (from a different baggage carousel) and then make our way to a service desk to arrange accommodation. We were subsequently told that even though the aircraft would be ready by 1am the following morning, due to crew hours, the earliest we could depart would be 7:00am.
Yet again there was another line up with people all over the place. Star Class passengers were told to go to the front of the line. At around 10:30pm, we had our accommodation, collected our bags and walked 5 minutes to the Holiday Inn across the road from MEL airport.
Wake up call rang at 3:30am the following morning to give us time to get prepared and over to the airport for our flight. Upon arriving at the airport, there would have been around 50 passengers before us. Thankfully, I was still issued with Sequence Number 1 on my boarding pass. Boarding was through gate D11 which the agent wrote on my boarding pass.
Yesterday, all passengers who check in at MEL were given a Jet Star pack which included a towel, World Music CD and a Hawaiian lei. Because we check in at BNE, we missed out. The agent took our details to send us one (which we are still waiting for).
We finally boarded the aircraft on time and were all waiting to go for a 7am departure. We were given a small bottle of Brut champagne and children were given a Jet Star pilot toy. We made our way to seats 52 J and K. Economy class configuration was set at 2 x 4 x 2, all in grey leather seats.
Jet Star leg room. (I am 6 foot)
Star Class seat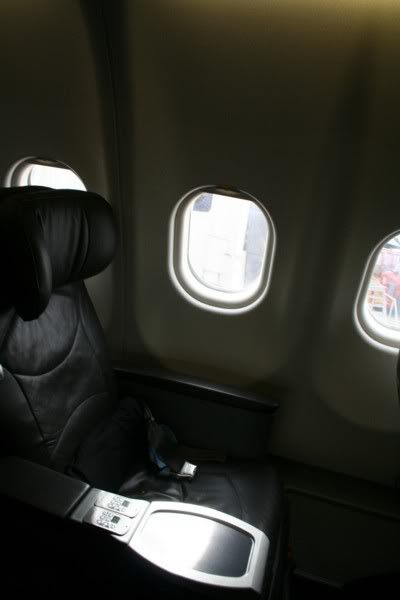 At around 7:45am, we finally departed as we had to wait for final clearance from the USA. Every passenger had to provide their passport details and address and phone number of the accommodation you will be staying at on the first night in the USA.
Flight attendants did their safety procedures manually which could also be seen on the TV screens. If you are familiar with QF's safety procedures, the same lady does both. "Ladies and gentlemen, today you are flying on a Jet Star Airbus 330 aircraft".
Shortly after take off, the flight attendants came through the cabin handing out the comfort packs to those who had ordered them. Comfort packs included a blanket, inflatable head rest pillow, eye mask, tooth brush and tooth paste, socks and ear plugs.
Shortly after that, the VOD units came out. The units have a batter life of approximately 6 hours so on our 10 hour flight, this did not sound too good. Thankfully, on the MEL to HNL run, the unit lasted the entire duration.
The VOD units were simple to operate. There's not a big selection of movies (approx 8) and about 6 TV shows. You could also watch music videos and listen to music. If you were young at heart, cartoons where also available to watch. The same ear phones used for main cabin viewing (set movie and some TV programs) are used for the VOD units.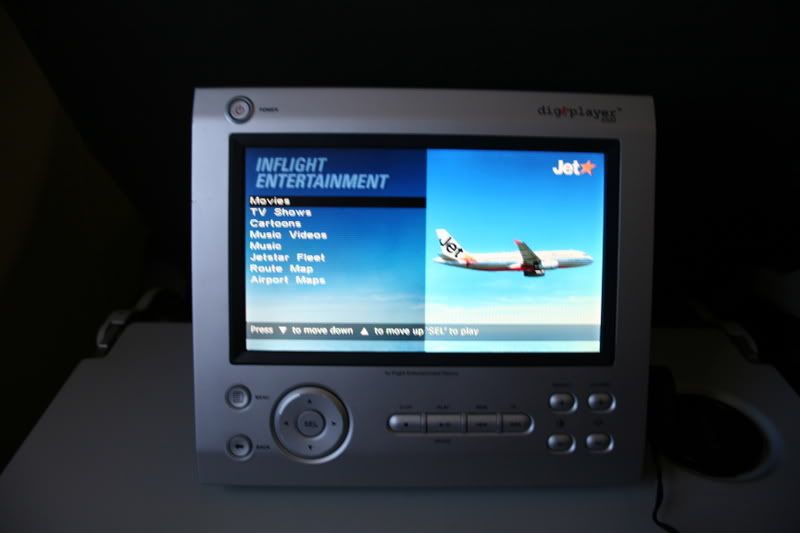 After everyone had received their comfort pack and VOD units, out came the food. Because of the flight delays, everyone was given a complimentary meal. Those passengers who had pre-purchased their food (which was me) can write to Jet Star's head office for a refund. We had a choice of two meals. I opted for beef and noodles which came with a small salad, bread roll, mini chocolate and a beverage. The beef and noodles was average. Not much taste at all. The meals also came with a small refresher towel which was great!
Second meal came a few hours before landing in HNL. Today we were offered a meat pie or a vegetable frittata. I opted for the meat pie which came with salsa (why???) and a mini Weiss ice cream bar. A beverage was also offered.
In between the meal services, passengers had the option of purchasing snacks during the 'snack service'. This included noodles, crisps, chocolates and a range of beverages.
Picture during flight
The flight landed a little after schedule. We departed from the plane and waited, yet again for the Wiki Wiki bus to take us to the main terminal. Bags were collected; we caught our transfer bus to the hotel and slept!
5th January 2007
JQ2 HNL MEL
The morning of the 5th came around, very fast mind you and we caught the airport transfer to the airport. Check in wasn't open when we arrived so we had to wait for 15 minutes. Our time finally came to check in and we asked the JQ agent if we could check in all the way to HBA as we were flying JQ once we landed on MEL there. She said she had no idea how to as it was a new service. I presumed we couldn't anyway as it's JQ after all.
Boarding was harmless and we were only 20 minutes behind schedule this time which was a miracle! We taxied a long way to the runway and were followed by a couple of Air Force jets who took off shortly after us.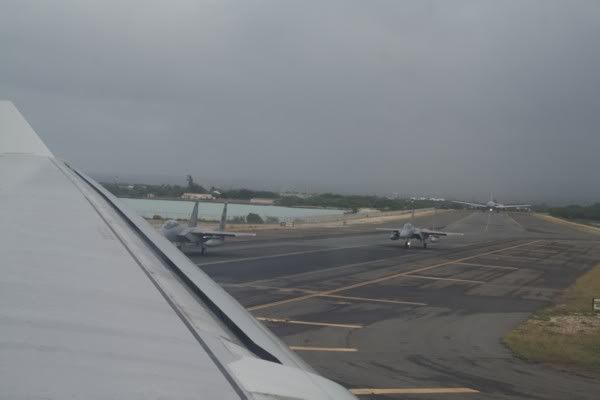 View after take off of Waikiki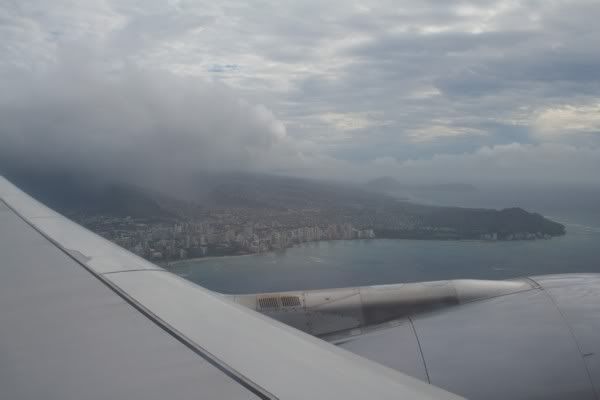 The flight was uneventful. It seems we had majority of BKK based crew. Is this standard practice for JQ?
Meals were provided and comfort packs handed out again. Snack service was open again for further food and beverage purchases.
Breakfast – Ham and egg roll with fruit and yoghurt
Lunch/dinner – Beef and pasta with salad, bread roll, mini Twix bar and a beverage.
Overall, the flights were average. Service was okay and the food was edible. Apart from the fuel leak on the first day of our trip the rest of the holiday was great. Would I fly with Jet Star International again? I guess once they iron out the problems then probably. Give it a few months and I hope they turn into a smoothly run airline.
After looking at the Jet Star website for any news about this flight, all I found was the original document stating that we took off on time and that everything was rosy!
http://www.jetstar.com/pdf/news/20061229.pdf
Thanks for finding the time to read the report.
Safs