AMERICAN AIRLINES - BOSTON LOGAN TO MIAMI
After spending Christmas in Boston it was time to head down to Florida for some sun. We had arrived from London Heathrow onboard AA109 which was operated by the 777-200ER. Report here:
American Airlines - London To Boston (Pics/Vids)
(by
B742
Jan 5 2007 in Trip Reports)

It was now time to continue our journey down to South Florida and into Miami. We headed to the airport and arrived at Terminal B. Terminal B is strange to locate certain airlines as the terminal is curled around as shown in the picture before:
Another diagram, provided by AS:
BOS.gif" width="509" height="368" border=0>
We firstly arrived at US Airways part of the terminal; there are realy a lack of signs within the terminal. We then walked across to the American Eagle part of the terminal; before eventualy finding the American Airlines part of the terminal. The terminal is pretty dingy and is small. The terminal is split up into two sides. One side houses US Airways, US Airways Shuttle, US Airways Express, Alaska Airlines and Spirit Airlines. On the other side there are two airlines; American Eagle and American Airlines. The check-in area is realy quite different compared to Terminal E. The terminal has a section for American Eagle and another section for American Airlines.
We checked in and browsed around the very limited amount of shops in the terminal. We then proceeded through the security check. They checked our passports and asked us to place our shoes, bags and hand luggauge on the x-ray belt. They were also carrying out random checks on certain people. The security here was very organised. I felt very safe at BOS, there were also lots of cops around the terminal (mostly eating and drinking
)!!
We eventualy made it through the security check and I began taking photo's of aircraft on the ramp before it got dark.
One of the many MD-82's in the AA fleet, I think this one was heading to ORD! Notice it looks very shiny!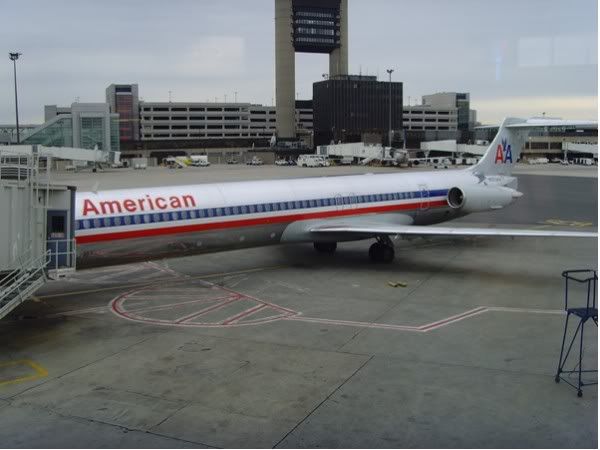 An AA B772ER preparing for the return flight back to London Heathrow later this evening
The huge AA logo which is located at the end of Terminal B (AA side).
N292AT (Boeing 737-700) passing Terminal B; without winglets currently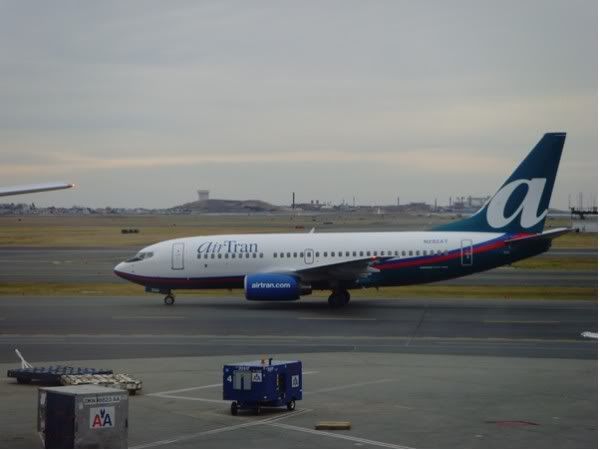 Looking across the American Eagle gates; with the US Airways area of Terminal B in the background
DL Shuttle (N909DE) heading for the runway for a departure to LGA
Swiss A330-200 arriving from ZRH and now heading to Terminal E
A beautiful NWA A330-300 arriving from Amsterdam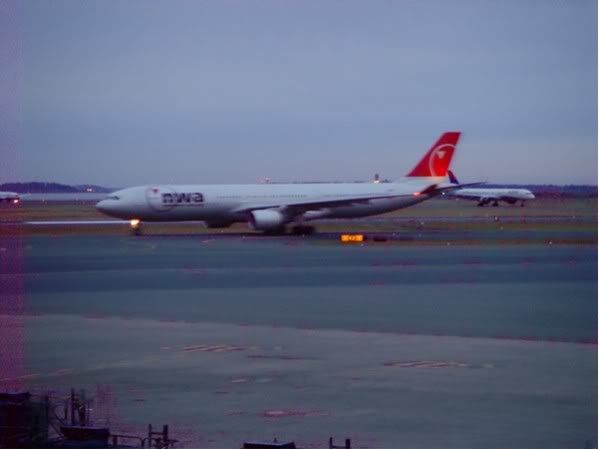 It began to get dark now and our flight was showing a slight delay. This was because the aircraft was delayed coming in from Aruba. The terminal seemed to be nicer at one end (where our flight departed). There was plenty of seating areas for passengers aswell as a small selection of food areas and shops. I decided to have a Pizza Hut Express before my flight as you have to pay for food onboard this domestic flight. The terminal wasn't to full at this time and there were flights operating to ORD, DFW, LAX and MIA at this time.
Finaly our aircraft arrives from Aruba in Boston darkness:
The rear of the aircraft as it pulls into the stand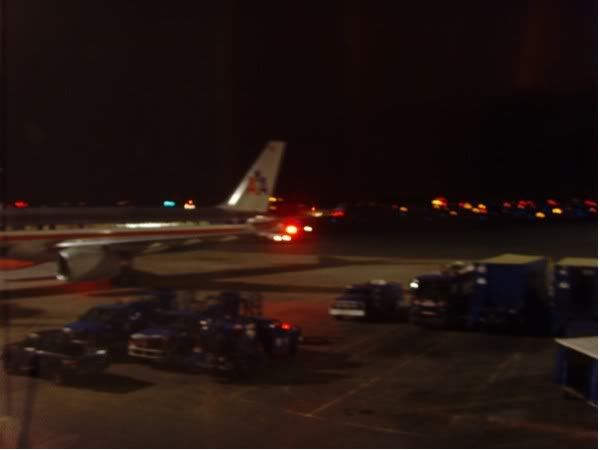 Route:
Boston Logan to Miami (KBOS/BOS-KMIA/MIA)
Flight Number:
AA365
Carrier:
American Airlines
Aircraft:
Boeing 757-223
Aircraft Registration No:
N637AM
Scheduled Departure Time:
18:23 EST (GMT -5)
Actual Departure Time:
18:37 EST (GMT -5)
Scheduled Arrival Time:
21:45 EST (GMT-5)
Actual Arrival Time:
21:53 EST (GMT-5)
Seat Number:
26F (Window Seat)
Journey:
3hr 30m
Cruising Altitude:
34,000ft
Class of Travel:
Main Cabin
Flight Loads:
J100% and Y100%
The flight today was overbooked and they were offering a $300 plus a hotel package reward for passengers willing to fly on tomorrows earliest flight. We declinied as we were dying to get to Miami. The LA flight opposite were offering $500 to passengers with the same package, again overbooked.
Boarding was called a little late than scheduled and again by groups. We were called and we boarded the aircraft. As we entered the aircraft we were greeted by AA F/A's. We boarded through door 1L and made our way through the Business Class cabin and into the Main Class cabin. The aircraft was typically an AA workhorse of the fleet. The overhead bins were slowly turning yellow and the aircraft was worn. The Main Cabin was in a typical 757 configuration; 3-3. The aircraft (N637AM) was clearly warn both inside and out and was operated by RR engines. The aircraft was delivered in 1990 and now as 17 years old. I was hoping for one of PW's as they would soon be leaving the AA fleet.
The cabin configuration on the 757-223: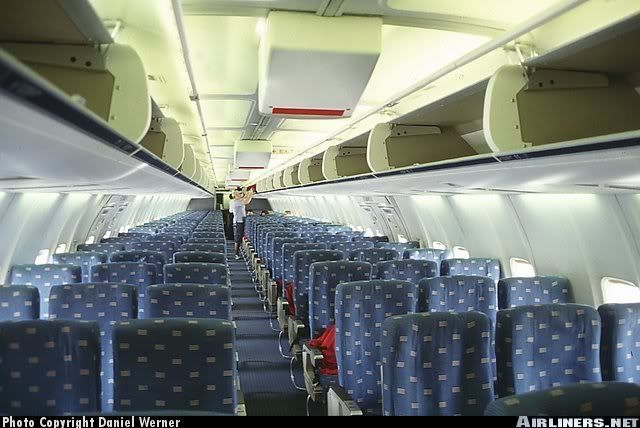 Soon after the captain announced that pushback would be soon and that all passengers were on board. The boarding process seemed to be very fast and we had no problems at all.
We pushbacked and headed toward the runway, there were a few aircraft in the lineup for takeoff including a company MD82 and 757 (to LAX) aswell as an AirTran 73G.
I compiled a video of our takeoff, although it is quite hard to see as it was dark outside. We took off from Runway 22R as shown below:
BOS_airport_map.png" width="420" height="600" border=0>
http://i5.photobucket.com/albums/y16...canada/th_SNV30117.jpg[/IMG][/URL]
As we soared into the Boston skies we headed over the city and down the East US coast. The captain announced that the flight would be slightly bumpy and we would travel at an alltitude of 34,000ft. Our flight routing on todays flight is shown below: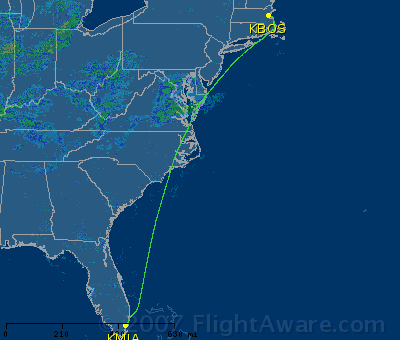 The inflight service offered was pretty basic on this flight. We were offered drinks (soft drinks free of charge) and alchohic drinks at a cost. We were also offered snack boxes for $3 each. They comprimised of various delecious snacks. We were also offered another drinks service 3/4 of the way through the flight. The captain also updated us a few times inflight. The crew were not as good as my LHR-BOS flight, but did the job fine.
As our flight map above showed us courtesy of Flight Aware we took a curl around the coast and headed down the East US coast. We then headed off the mainland and then down across the Atlantic and into South Florida, over FLL and then into Miami over the city.
Decent was announced as we kissed the Florida coast. We continued parallel on the coast before heading out towards sea and intowards Miami.
The captain then announced we were now landing and the cabin crew made their final checks for landing. They seemed to rush the process on this flight. On finals the flight was very bumpy and shakey. There was quite a bit of turbelence on decent also.
I also have a landing video, but that is quite large so I cannot post this yet
We landed on Runway 26L, on the right was some Cargo Heavies and on the left were some American Airlines heavies parked at the remote stands. We passed the terminals which were on the left side of the aircraft. The airport didn't seem to have much traffic at this time, another company 737-800 landed after us (with winglets). The airport diagram is located below, which shows which runway we used: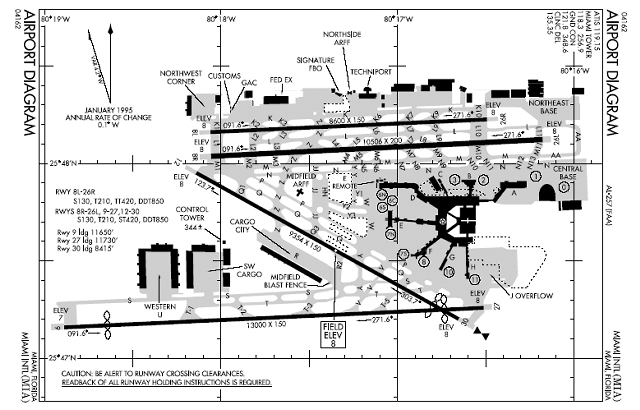 We taxiied to the terminal of arrival, which today would be Concourse D which was a fairly new terminal. (I have pictues of it in my next trip report).
We pulled up by a company 757 (PW powered).
Whilst on taxi the F/A wished the best to the troops in Iraq to which everyone clapped.
We disembarked the aircraft after the usual delay from the airbridge and made our way into the terminal building. The terminal was very nice, although it was a very long walk to the baggaige collection area. The terminal was very easy to navigate around, although very large.
We then collected our baggaige and made our way to the Embassy Suites where we would spend the night, the hotel was very nice and was overviewing the runway.
Embassy Suites, Miami Airport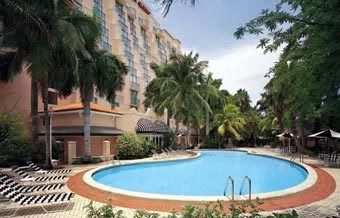 The view from the balcony on a very gloomy day with no zoom used:
From our room we could see across the North side of the airport and we had a great view of departing and arrving traffic.
Another view from our balcony, I will post some better shots from my Digital Rebel (300D) soon: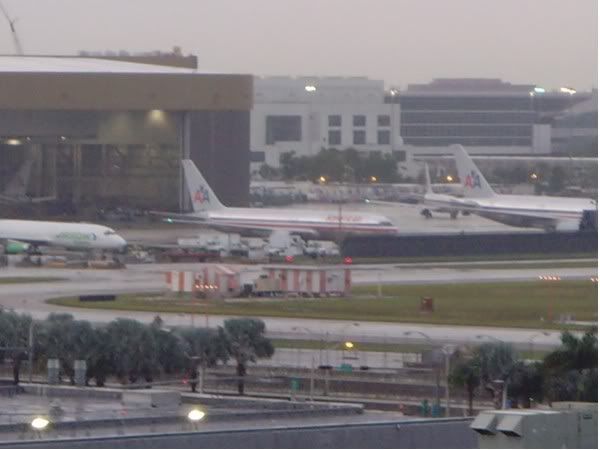 ------------
Ratings
Boston Ground Crew -
The Boston ground crew were very nice and were very polite when checking in and boarding. 8/10
AA Cabin Crew -
The crew were hardly to be seen on this flight, nevertheless they were polite when serving passengers. 6/10
Boston Terminal B -
Although its not the best terminal I've been to; its a lot nicer than other US Terminals. The terminal was very clean and parts of it seemed newer than others. There were a lack of shops and I wouldn't of loved to spend lots of time in there. 6/10
Aircraft -
The aircraft was a workhorse and it was clearly visable. Although I do love the style and cabin of the 757. The seats were very comfortable although they were worn. The takeoff of the 757 is simply amazing. 5/10
Food and Beverages -
The food and beverages offered today were very basic. They are the basic service offered by AA on domestic services. The snack boxes were selling fast and there was not enough for all passengers. Drinks services were offered two times, which was enough for me.
In-Flight Entertainment -
On today's flight there was no inflight entertainment shown. AA did not even have an airshow map showing on this flight. I was quite dissapointed with no IFE on a 3hr+ service. 2/10
Verdict -
Yes, I would fly AA again on a domestic flight. They do they job fine and are very reliable. Although not as good as CO on Domestic Flights, they are certainly alot better than UA. 6/10
Thanks for reading this, comments always welcome
My next trip report of MIA-JFK-LHR on AA will follow on from this and will be posted shortly. The first part of my report (LHR-BOS) on AA can be found here:
American Airlines - London To Boston (Pics/Vids)
(by
B742
Jan 5 2007 in Trip Reports)
I will also add the video of the landing and some more MIA spotting photos shortly
Before I would like to thanks Hugo (TACAAA320) for his help regarding spotting and hotels in Miami.
Rob!