TRIP REPORT
Background
Since September, my parents and I were planning a short trip to South Florida for the winter vacation period. First, it seems that they simply cannot stand staying here in the city during vacations, and second, our US VISAs expire shortly, so we decided to travel one last time before having to renew them.
By the time we decided to look for flight availability, all nonstop services to Miami from Medellin (city where we live) were fully-booked on the dates we wanted to travel, both on Avianca and on American. Nothing surprising. Therefore, we had to search for alternative options, and the wisest ones were traveling either via Bogota with Avianca, or via Panama City with Copa Airlines. The pocket made the final choice.
Avianca was offering a very tempting fare to Fort Lauderdale via Bogota by that time. Heck, it was even the only fare we could find below USD600 anyway, so we decided to book it immediately, and we would have the chance to compare the difference between Miami and Fort Lauderdale's airport at the same time. I didn't mind having to connect in Bogota either: it means two flights for the price of one after all!
So, making a long story short, our routing would be Medellín-Bogotá on a 757-200 in the first place, and then Bogota-Fort Lauderdale on a 757-200 as well; both flights operated by Avianca on Decemeber 27.
First Flight: Medellín-Bogotá
I packed my belongings the day before the trip in a small suitcase. We were traveling with light luggage this time; after all, we were only going to spend a week in Florida, so no need to pack too many things. We left everything ready before going to bed the night before, and arranged a taxi cab to pick us up at exactly 4:45 a.m for our 6:30 a.m. departure.
I went to bed rather early, but only had 3 full hours of good night sleep. Result: I beat the alarm-clock in waking everybody up. I took a shower, got everything ready, double-checked if I had packed the tooth brush, and took the three suitcases downstairs. The taxi cab arrived on-time. The ride to the airport normally takes 40 minutes, but with empty highways we made it to the terminal in half an hour.
We entered Avianca's domestic check-in area a couple of minutes before 5:20. The queue for Avianca domestic check-in was surprisingly short, despite having several domestic departures out of MDE around 6 a.m.

There were 4 check-in positions opened for AviancaPlus Gold/Platinum members and Business Class travelers. More than 10 additional counters for regular economy check-in were available as well.
We joined the line, and in no-time we made our way to one of the counters. A very young, petite girl with a subtle Asian look greeted us with a smile and asked for our tickets and passports. As Avianca operates hourly flights to Bogota, she offered us the possibility of flying on the 6:00 a.m departure to BOG, which was a MD-83. My father and I preferred to go for the 757 as originally planned, so we opted to keep our 6:30 a.m. departure unchanged. We had plenty of time to connect in Bogota anyway, regardless of which flight we took.
She started to type in the usual bunch of information from our passports and VISAs, and proceeded to print our boarding passes for our MDE-BOG leg, and then for our BOG-FLL flight as well. She also tagged our luggage all the way to Fort Lauderdale, which would secure an easy connection for us in BOG.
It was still dark outside, and the airport was rather empty at that hour, except for the international check-in area. People were already in line and waiting to be checked-in for the international flights that would depart later on to Miami (AA), Caracas (VH) and Panama City (CM). How ironic, all those people probably booked their tickets much earlier than we did, and they probably paid higher fares for flying to Miami than what we paid. Nevertheless, they were stuck there, inside an astronomic line for check-in, while we, "low-yielding passengers" in a.net terms, already had our boarding passes all the way to Fort Lauderdale and were enjoying a cup of the best coffee in the world. I love being a low-yield passenger.
We decided to take a walk along the terminal, and watch some departures through the glass before going through security. It was still pretty dark outside, so still no photos available. During that time of the day, the domestic part of the airport looked pretty much likes this (photo not mine):
MyAviation.net photo:


Photo © Andrés Ramírez
After viewing a couple of Avianca planes depart to destinations across the country, we decided to enter the sterile zone about 5 minutes past 6 a.m. The well-known metal detector and a quick hand-luggage scan was all our security check for today. It was a breeze, to say the least. We made our way to gate 11, and our 757 was being prepared at the gate for our short hop to Bogota.
December 27, 2006
Operator: Avianca
Flight: AV9303
Origin: Medellin – Jose Maria Cordova International Airport (MDE)
Destination: Bogota – Eldorado International Airport (BOG)
Equipment: Boeing 757-2Y0
Registration: EI-CEY
Seats: 16A, B and C
Scheduled Departure Hour: 0630
Scheduled Arrival Hour: 0725
Actual Departure Hour: 0621
Actual Arrival Hour: 0705
We hadn't even found a chair to sit down when the gate agent welcomed us and announced the start of our flight. Meanwhile, it was getting clearer outside. It had rained a lot during the night and thus the runways were pretty wet. The sky, though, looked very promising.
The gate agent invited onboard people who needed special assistance or those traveling with children. Only one family stood up and headed to the jetway. Almost immediately she proceeded to invite onboard those traveling on Business Class and Platinum/Gold AviancaPlus members. Business travelers usually prefer this flight over the 6:00 a.m. one because the 757 offers a larger and better Business Class cabin. And indeed, Business Class was full on our flight.
Boarding continued by row numbers from rear to front, as usual. The flight wasn't too full today, so the boarding process was developing pretty easily. We walked down the jetway and two flight attendants were standing on door 1L welcoming everybody onboard. The cold air could be felt upon entering the aircraft; nothing to do with winter though, just the result of altitude (the airport is located at 7000 feet/ 2100 meters above sea level)
We made our way through business class which looked quite nice, and then to row 16 to settle down on our seats. My first impression was that pitch was more generous than anything I had imagined, and it definitely felt more spacious than economy on American or Copa. Seat width wasn't the best though, but it was fine for economy. Here's a picture taken on my BOG-FLL flight.
Pitch in Avianca Economy Class
While people kept boarding, flight attendants started their routine announcements, and by 6:20 a.m. everybody was on their seats and we were ready to go. We pushed back one minute later and we started our flight almost ten minutes before schedule. So far, so good.
Medellin-Bogota is the most traveled air-route within Colombia (up to 40 daily flights adding all airlines), but it is also one of the shortest (only
25 minutes
from take-off to landing. Yes, 25), and it is even shorter if take-off is done from MDE's runway 18, instead of the usual 36. This is exactly what happened this morning. We started taxiing to runway 18, which guaranteed this would be an even shorter hop.
While taxiing, they played the safety video on the central screens. Taxi time was short, and we waited for a few minutes on the holding point before entering the active runway. Once on the runway, power was gradually applied and we started rocketing down the runway for a take-off to the south at 6:28 a.m. It felt powerful, but not as powerful as many times before. We were rather lightly loaded anyway.
Immediately after our initial climb, we started turning towards the southeast, heading directly to Bogota.
View of the mountains while climbing out of MDE
We were climbing very fast. We broke through several thin layers of clouds, which tickled our almighty 757 quite a bit. Once the "fasten seat belt" signs were off, service started.
Ladies racing to serve this 757
Those girls were going really fast, almost putting up a race against the plane. They had only 10 minutes to do their job, as the flight is very short.
We were offered a small sandwich which came inside a silver plastic bag. It was actually pretty good. We could also choose between orange juice, coffee or water as a side drink. I would like to hear what US carriers have to say about this type of service in domestic flights.
Sandwich and drink on MDE-BOG
Meanwhile, the captain came on and welcomed everybody onboard. He announced that we were already leveled at 21,000 feet, and that conditions ahead were totally on our side. He announced that we would commence our descent to Bogota shortly and that we would be arriving as early as 30 minutes before schedule into BOG, subject to ATC clearance.
The flight attendants hurried to complete today's inflight service. Meanwhile we flew straight over the central mountains of Colombia, and several snowy peaks were visible in the horizon through the other side of the aircraft.
Flight attendants quickly walked down picking up the trash. And literally in seconds, we were lowering power and beginning our way down to the capital city of the country.
Starting our way down to Bogota over clouds
Approach over 8300ft-high plains in outer Bogota
Bogota's high altitude made our descent very quick. The process of lowering flaps and gear was pretty standard. No spoilers were applied during descent at all. We performed the typical approach from the west, initially over mountains, and then over the high plains were Bogota is located. A smooth approach ended in a soft landing on runway 13L at 6:55.
Spoilers and reverse thrust doing their job
We used little reverse thrust, and brakes were smoothly applied. We rolled all the way down the runway vacating through the very last taxiway. There wasn't any traffic approaching behind, and this allowed us to exit the runway very near to Avianca's domestic terminal.
Domestic activity in Avianca's terminal
Last year, Avianca invested 7.5 million dollars in renewing this terminal in an effort to ease the experience of flying with them. The results are visible: spacious terminal, pleasant environment and an overall efficient process. The terminal handles Avianca's entire domestic operation: around 200 arrivals and departures to 18 domestic destinations served by Avianca per day, and accommodates Fokker-50, Fokker-100, MD-83 and 757s. 767s are dedicated for international purposes exclusively, and do not use this terminal.
Reaching our stand next to a Cartagena-bound MD-83
We slowly made our way to the stand next to the MD-83 pictured above, in the eastern wing of the terminal. As we stopped, everybody jumped out of their seats and into the aisle to wait for several minutes until door 1L was opened. It was a cold morning in Bogota.
Connection
As I reached the ground, I turned back to grab pictures of the aircraft.
EI-CEY, resting after arrival
Side by side, being prepared for domestic flights
I later discovered that the neighboring MD-83 was being prepared for a flight to Cartagena. There were numerous domestic flights arriving from places all over the country.
We continued walking with the crowd down the hall that would take us directly into the terminal.
While walking, I had the opportunity to take a couple of pictures through the glass. It is clear, without a doubt, that Avianca is the tough guy in town.
Avianca presence at Bogota
We entered the arrivals hall where many people from inbound flights were waiting for their luggage. We proceeded to the bus station, which is a few steps away, where we would take the ride to the international terminal. The bus arrived in an instant, painted in the Avianca livery just like the airplanes.
Unfortunately we couldn't manage to grab seats, and much less a decent window view, which meant no pictures on this segment. The bus took us straight through Avianca's maintenance center, where several aircraft, including a couple of types from sister-company OceanAir, were being serviced.
Immediately after that, the bus made its first stop: the main domestic terminal, where airlines different than Avianca operate their domestic flights. For those who are not familiar with Colombian aviation, the main operator in this terminal is AeroRepublica, second largest airline in the country. It was physically impossible for me to take pictures during the bus ride, so I'll use a photograph I took on a past trip.
View of the main domestic terminal, with AeroRepublica as the major player
Very few people got off in this stop. A couple of confused American tourists almost accidentally got off. Fortunately for them, a man seated near the exit was kind enough to inform them that Delta departures were on the next stop.
The bus continued on, and we slowly approached the international terminal. There were several foreign carriers being readied for their outbound flights, especially a good bunch of US carriers.
All remaining passengers got off the bus in this final stop, ourselves included, and the bus returned empty to Avianca's domestic terminal to bring more people. Another bus arrived behind us. We entered the building through the ground level near a Mexicana A319 bound for Mexico City, and into the passport control area. There were several Avianca agents in the room helping everybody out with doubts about their connections. After an uneventful passport control, we continued on to security inspection. Nothing extraordinary to describe in this stage either. Everything was going pretty smooth, and as a result, we were in the gate area on the second floor at 8:30, more than one hour before our 9:50 scheduled departure.
Once in the sterile area, we approached one of the monitors to check if our flight had already been assigned a gate; and indeed, it was gate C5.
Continental 73G ready for a trip to Houston
By the time we reached gate C5, the room was absolutely empty, there were still no agents in the desk, and no aircraft parked in the corresponding position either. It was still very early anyways. We decided to wander a while around the terminal.
Several flights were departing at that hour: An Avianca MD-83 to Caracas, an Avianca MD-83 to Quito, an Avianca 767-300ER to Miami, an Avianca 767-200ER to Mexico City, a Mexicana A319 to Mexico City, a Delta 767-300 to Atlanta, an Aeropostal MD-83 to Caracas, two Continental 73Gs to Houston and Newark respectively and our Avianca 757-200 to Fort Lauderdale.
Second Flight: Bogotá-Fort Lauderdale
We decided to head to our gate at 9:10. There were already several Avianca agents in the room, and a small bunch of passengers waiting inside. There was yet another passport control at the gate entrance done by a company worker. After she was done checking our passports and boarding passes, she informed us that our assigned aircraft had a minor technical difficulty in Caracas, and as a result, our flight would be delayed for forty minutes. Oh well.
We entered the room and sat near the windows to catch a good view of the apron activity while we waited. The Delta 767-300 bound for Atlanta was parked next to us. Unfortunately runway 13L is located a bit far, and is partly blocked by the domestic terminal. The Avianca MD-83 in the right side of the picture below is rolling on the above mentioned runway.
I kept staring through the window for quite some time, while more people kept arriving into the room. By 9:30, barely twenty minutes before our original departure time, the room was full, and still no aircraft in sight.
There were several details to comment by then:
If something is working properly in Bogota's airport, it's the air conditioning system. The room was ABNORMALLY cold, freezing cold, basically the most intense artificial cold I've ever experienced in my entire life. My mother eventually approached the main desk and asked the agent if something could be done about the situation. The lady said that several people in the room had already complained and that they were now going to do something about it.
There were a couple of aspects that made the delay a lot more bearable. For instance, by 9:50, time when the flight was supposed to depart, the gate agent came on the speaker and invited everybody to approach the main desk for a complimentary snack. It was a small ham sandwich, followed by a choice of either orange or mango juice. What a surprise, and a nice touch from Avianca's side to try and make up for the delay, particularly being such a short one.
By 10:00, a 757-200 registered N513NA pulled up to the gate. There was apparently a last-minute change in our assigned aircraft since nobody got off the plane, and instead, catering for our flight immediately began. I simply decided to watch the whole process from the window.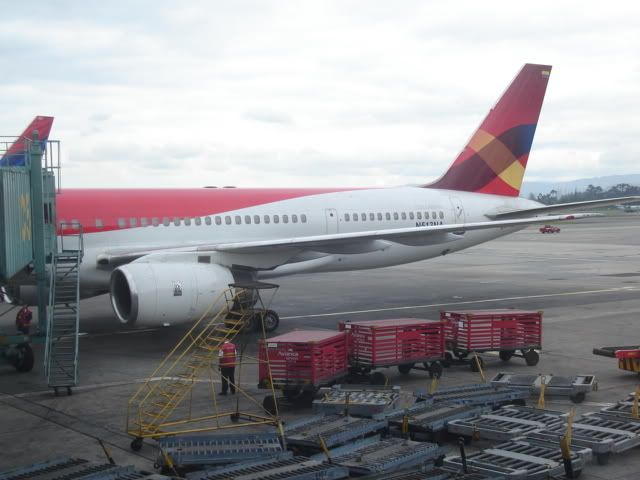 December 26, 2006
Operator: Avianca
Flight: AV036
Origin: Bogota – Eldorado International Airport (BOG)
Destination: Fort Lauderdale – Hollywood International Airport (FLL)
Equipment: Boeing 757-2T7
Registration: N513NA
Seats: 18A, B and C
Scheduled Departure Hour: 0950
Scheduled Arrival Hour: 1330
Actual Departure Hour: 1050
Actual Arrival Hour: 1415
View Large
View Medium


Photo © Jorge Meneses - APM
By 10:35, the gate agent announced the start of our flight. Boarding was done without variations: passengers traveling with kids, or those who needed special assistance proceeded first. There were many families with younger children, so this process took a bit longer than usual.
Then Business Class travelers and AviancaPlus Gold/Platinum members were invited onboard. After that, Economy boarding started by rows, from rear to front. We were on the second group to board. This time we entered the plane through door 2L, so I only caught a glimpse of Business Class. This aircraft, unlike EI-CEY, still had the old Business Class seats, which most definitely could use a facelift. The Economy Class seats were exactly the same though.
People kept boarding quicker than usual. Meanwhile, I saw the Delta 763 beside us push back, and depart for Atlanta. In no-time everybody had settled down. The flight was basically full; a quick view of the aircraft didn't allow me to see any empty seat, confirming that this is indeed one of the best-filling flights of Avianca's network.
We pushed back almost by 10:50, one hour after our original departure time. While doing so, the captain himself came on the speaker, welcomed everybody onboard, and apologized for the delay. He claimed that the situation was out of their hands, and that there was indeed a last minute change of crew and aircraft. He then promised to have us safely in FLL as fast as possible.
Then a male flight attendant started to give all the usual announcements before departure both in Spanish and in English. I've noticed an increasing number of male attendants on Avianca's flights. Their English skills have vastly improved as well.
We began to taxi rather quickly to runway 13L. There was an Avianca MD-83 taxiing behind us for departure. We had zero traffic in front, which allowed us to enter the active runway without holding, and without further delay we began rolling down the runway with notably more power than the previous flight. It was a rather long take-off run; eventually we got airborne and began overflying the city of Bogota. Seconds after take-off we turned left towards the north, and flew right into a layer of clouds that had formed over the city. After a bumpy climb, we broke through the clouds.
The seat belt signs were turned off, and flight attendants began moving around preparing today's onboard service.
First, one of the flight attendants walked down offering the onboard duty-free magazine for those interested.
Minutes later, a different flight attendant passed by distributing complimentary head-sets in order to enjoy today's in-flight entertainment. Meanwhile, I decided to take a look at the December edition of Avianca's in-flight magazine, which usually contains interesting articles.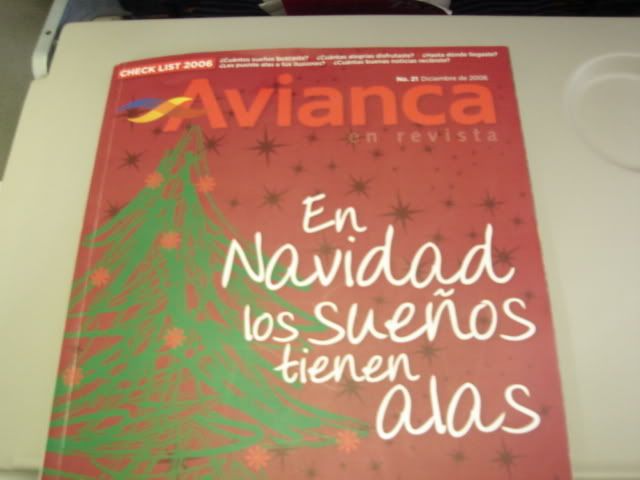 Clouds below made it difficult to catch a view of the Colombian coast. It only cleared up a bit once we were already flying over the Caribbean, well over one hour into the flight.
It was announced that today's movie would be "Flicka", and that we could choose between ten additional music channels. Pretty standard IFE for Economy Class between Latin America and the United States.
Later on, one of the flight attendants walked down giving out hot towels. This crew was kind and professional, but the ones on our previous leg were certainly much more cheerful. After picking up the towels, lunch service began.
One could choose between beef or chicken. I went for the latter. A choice of sodas, juices or alcoholic drinks was also offered.
I didn't expect anything special really, but it was actually pretty good. I was satisfied with the food.
When we finished lunch, we were already flying over Jamaica, and only had one hour to go. US Immigration and customs forms were then delivered to all passengers.
Until then, the flight had been basically uneventful; a very smooth ride with little to no turbulence at all. Over half an hour before arriving, one last beverage service was offered. I chose good old coffee.
After overflying Cuban airspace, we began our descent into Fort Lauderdale. The initial descent over the sea was slow and peaceful with several turns to the east and west. We eventually entered the coast of Florida directly from the east.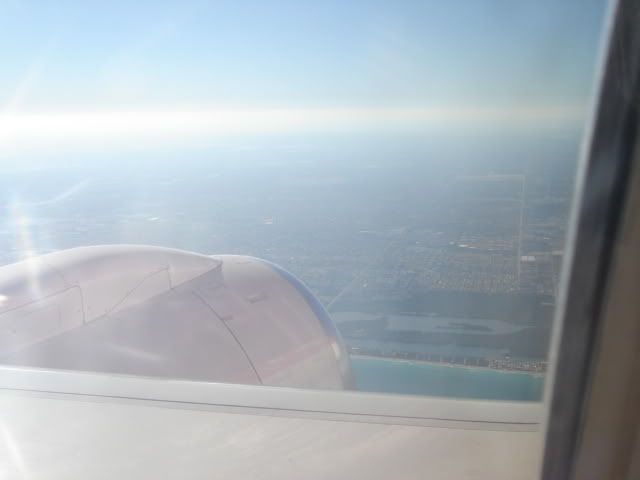 We flew over downtown Fort Lauderdale as we headed downwind. Once we were far enough away from the airport, we starting performing a U turn in order to line up with the main runway.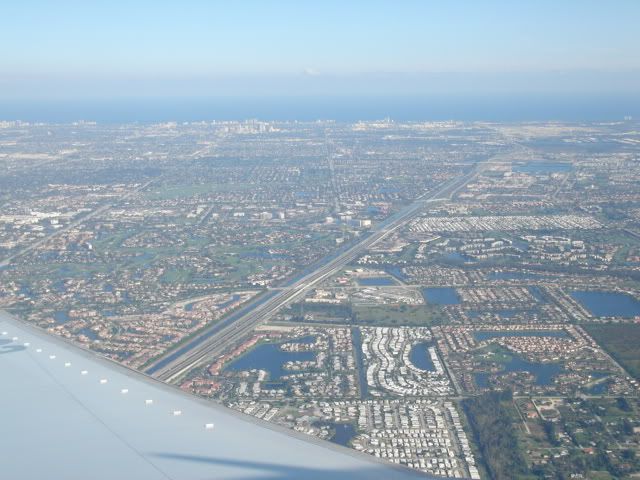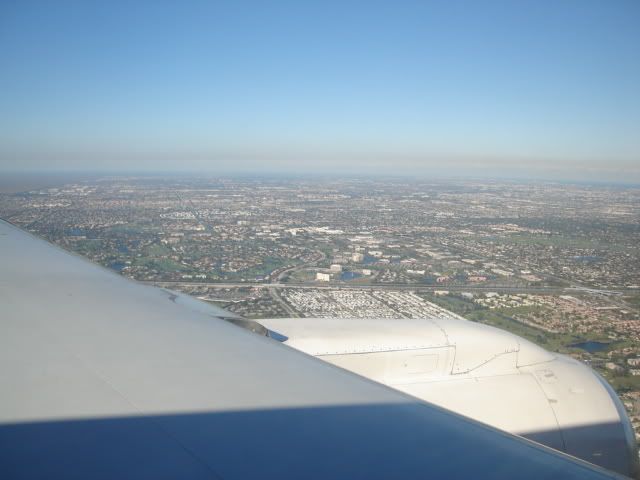 We slowly approached, initially flying over the suburbs near the Everglades, and then into the city. We crossed the I-95, and entered the airport area smoothly glaring over the runway. Power was cut rather harshly and our flight ended with a rough touch down and hard braking.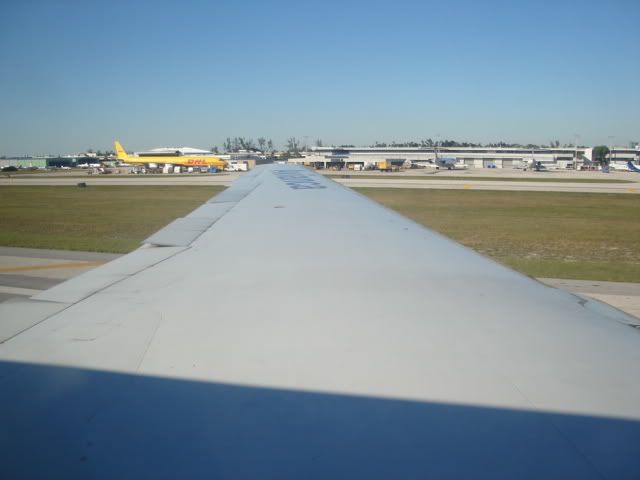 We vacated the runway through the taxiway in front of Terminal 1, and made our way to Terminal 4, where most international flights arrive. Plenty of domestic traffic as expected. On the international level, there were 2 Air Canada aircraft and 1 Air Jamaica A321 parked in T4 also.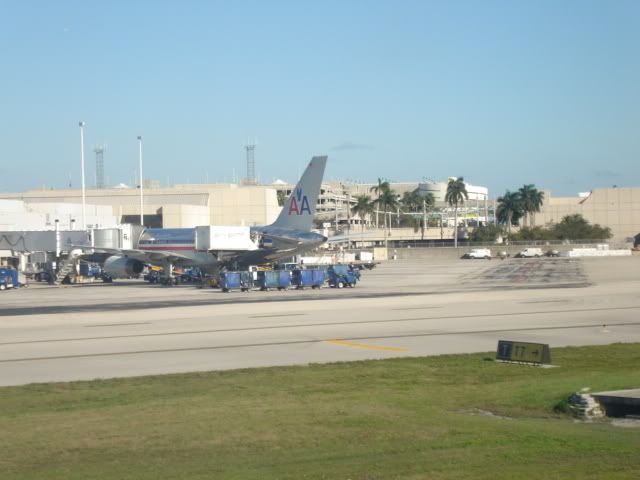 We arrived at gate 8, I believe, and got off the aircraft once door 2L was opened. The walk to Immigration was short, and of course, much shorter than it would ever be at Miami. There was a pretty long line at Immigration, but it moved quickly and in no-time we were through. When we arrived at the baggage claim area, our three suitcases were already there waiting for us, and in a few minutes we were out of the airport.
That's it. Thank you for taking the time and reading the report. If you have any questions or comments, please don't hesitate in posting them. All replies are welcomed.
SOUTHAMERICA