First of all, I apologize for some of the pictures in this Trip Report. I know that they aren't the best, but I think it's still better to include them than not. Also, this report is quite long, but I don't like chopping the TRs up. Enjoy!
A little more than a year after I left South Africa and Cape Town, after living there for six months, I was on my way down there again. I really love that country and that city so I was very glad when I got an invitation for a wedding in Stellenbosch and was able to accept it. The wedding was the day before New Years Eve and even though I knew it was going to be difficult to find an affordable during the tourist season I was appalled when I saw the prices. The last time I flew with Lufthansa and their A343s from FRA (See my profile for those TRs). I have nothing against LH, or the A343, but it would be nice to try something different, especially something with a little IFE for a 12 hour flight... However everything was extremely expensive. Then, after hitting "Refresh" a couple of times at a travel agency's web-page it came up with a routing via LHR with three airlines; BA, VS and SK. The price was good and it was also quite a lot of "firsts" for me; First time to connect at LHR (and find out if it was going to be that horrible as everyone says), first time with VS, the first time with PTV, the first time with the A346 and first time with BA, even though I've flown BA before... (more about this later).
My sister drove me to the airport and Terminal 2 was quite empty. I was requested to use the self-service machines even though I pointed put that I'm changing airline at LHR. Of course it didn't work out so I had to stand in line for the check-in counters. It didn't bother me since I had plenty of time. A was able to check my luggage all the way to CPT, but not myself. Well, I had plenty of time in London so this wasn't a problem. Security went very smoothly (of course I hadn't packed any dangerous weapons in my carry on, like a bottle of water or -- even worse -- a nail-scissors).
I don't like Terminal 2 at ARN. There isn't much to do and it's quite small. I knew there was going to be breakfast on the airplane so I didn't eat anything (it turned out to be a bad decision). I bought a book which I had been looking for to have as a present since I was invited to a barbecue at New Years Eve and then sat down and red a magazine. Passport control and boarding went smoothly.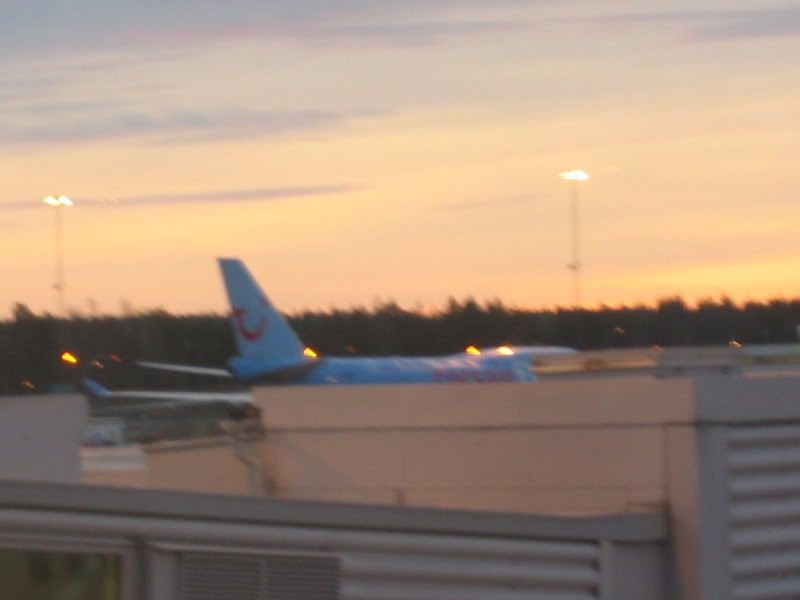 This 744 from TUI actually takes more passenger than most A380 will take
Date:
December 27th 2006
Departure airport:
Stockholm, Arlanda [ARN]
Arriving airport:
London, Heathrow [LHR]
Airline:
British Airways [BA]
Flight:
BA773 [Booked as AY5923]
Equipment:
Boeing 757-200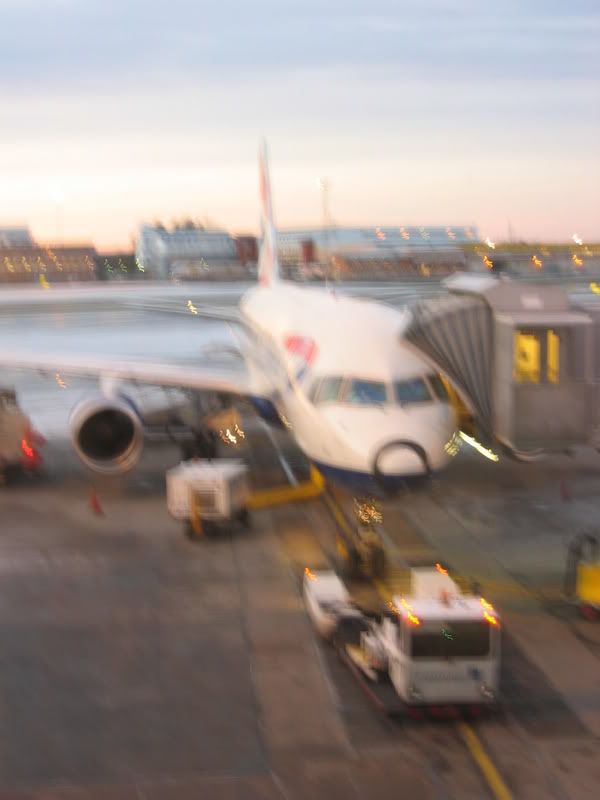 The 757 that took me to LHR. Why the black ring on the nose?
I like the 757, but this one was very old. Perhaps BA is starting to replace them? The leather seat would have been comfortable if the headrest had been working properly, but mine wasn't and I wasn't able to fix it. The plane was almost full so I couldn't switch seats either. Well, well it was only a short flight.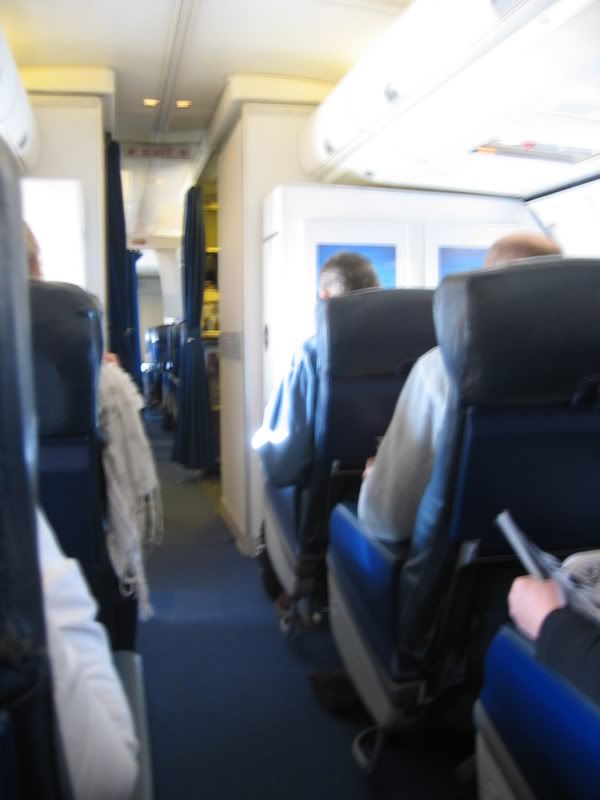 I was in an aisle seat so I wasn't able to see much through the windows, but I assume we took of from 19L. Then breakfast service came, which was only a tiny sandwich with cream cheese and ham and a small drink. I took an extra diet Coke to have for later.
After breakfast I red an article in the in-flight magazine about Siberia and the coldest inhabited place on earth and after that I watched Friends on my iPod until it was time for our descend into LHR. The captain said that due to traffic we had to wait approximately 15 minutes before we could land, but suddenly we were given some kind of shortcut and landed within five minutes. That shortcut didn't save us any time, since we than had to wait for our gate at Terminal 1 to be available.
As I wrote earlier I've flown BA before, but this was my first time with BA. The two times before was two domestic flight, one within Norway and one within South Africa so this was my first "real" BA flight with at least one part of the flight at a British airport. I really like them. The plane was old, but in good condition, the crew very friendly and professional and the bad food service is something you have to live with these days (it was still better than SK, see below).
I had a long wait in London before my redeye to CPT, so I went straight to Terminal 3 to check in and then took the Heathrow Express in to London. The transit safety control was very thorough, but efficient and at check-in I was assigned my pre-booked seat; 40 D. After that I took the expensive, but comfortable Heathrow Express. They have now introduced First Class on that train. I don't know who would pay extra for a wider seat for those 15 minutes. Anyway, I walked around in London for a while, had a burger at Mc Donald's, walked around some more and made sure I was really tired for the flight. I came back to the airport with plenty of time for my flight. Cleared security after some waiting in line and then strolled around and looked in all the shops at Terminal 3. Despite from the many stores it isn't the most fun place to be at; no windows and crowded. After buying a perfume for my self I sat down and just waited, watched some more Friends and suddenly realised that for some reason my phone hadn't automatically roamed in to a British network. I manually did that and a lot of SMSes about missed calls came in. I answered those messages and also send some SMSes to Clogman and described how his fellow countrymen put themselves to bed with blankets, pillows and everything on the floor in the middle of the waiting area at Terminal 3 at LHR
Finally my flight was assigned a gate and since it was only 30 minutes until departure I went straight for gate 19.
Date:
December 27th -- 28th 2006
Departure airport:
London Heathrow [LHR]
Arriving airport:
Cape Town International [CPT]
Airline:
Virgin Atlantic [VS]
Flight:
VS 603
Equipment:
Airbus A340-600 [Mystic Maiden]
I boarded the shiny Airbus, which looked almost brand new (I know it wasn't). The seats in Economy was randomly blue, red, orange and some other color, but it wasn't too disturbing. After all, when you sit down all you see is the white plastic cap on top of the seats. Boarding went smoothly but we pushed back some 30 minutes late. I don't know why. The safety onboard movie were quite different from the stiff and boring ones other airlines have (see below). We taxied to the runway and after a 757 from Icelandair landed we took off. The big Airbus was remarkably quiet, yet powerful. I think it was a big difference compared to the -300 I had flown a year ago.
When we were airborne the cabin crew announced that there had been a change of aircraft in the last minute and due to this the cabin crew in Economy was four people short. We were guaranteed that this didn't affect the security in any way, however the service might be a little slower. I knew that there had been a change of equipment, because when I booked the flight in August it was listed as an A343, but changed to a A346 several months before departure. Couldn't exactly say I was disappointed about that change . Well, nothing to do about that now. A short time later the cabin crew asked the passengers if there was a doctor or a nurse onboard. I turned out one of the (few) remaining FAs had hurt her foot and wasn't able to work... I think it's unnecessary to say that the service was slow, but the crew did a remarkable effort during the flight and served everything expected.
First they came around with drinks. I've always been curios what you'll get if you ask for a coke at VS, so that's what I did. I wasn't surprised when I got a Virgin Cola and some pretzels. After that came dinner. I had the beef and red wine. It was a nice surprise to get potatoes to the meat instead of the usual rice or pasta. The food tasted good, but the portions were quite small. This was the only thing I could "complain" about regarding VS.
Before the food I had started to discover the magic world of V:Port, VS' on demand IFE that they have on the A346 and some, if not all, 744. This was the first time I was on a flight with PTV and from the Trip Reports I've red I think I started with one of the best on the market. Although a bit slow sometimes it was GREAT. Over 50 movies, 40 TV-shows, I don't know how many CDs, games etc, etc. and it was, of course, on demand. You could even use the phone/control to play multi players games and call another seat
. The only thing that didn't work for med was the map. I got the map, but wasn't able to make it interactive. I watched "The Devil Wears Prada" for dinner and than I used Simpsons and some sitcom help me fall asleep.
Also nice was the little toilet bag with toothbrush, tooth paste, etc that was on every seat. The red VS blankets were also nice and quite thick to be airplane blankets. It's a shame it said "I'm a flying blanket, don't make me walk" on them
As usual on planes I don't sleep very well, but this time it was SA Czech Airlines">OK. The seats were extremely uncomfortable with the back rest up, but when tilted the seat cushion slid forward and up and it became really comfortable. I slept a couple of hours at the time, woke up and watched something on V:Port. I also got up (this is why I always chose an aisle seat and due to a fully booked flight I had a "center-aisle" instead of "window-aisle" seat) and took the long walk to the aft galley and went to the bathroom and had some water. The toilets were really nice, roomy and with blue lights shining at the sink and lights in the mirror.
Before landing breakfast was served. I should have taken the vegetarian choice instead of the English breakfast, but it was SA Czech Airlines">OK.
We landed about 20 minutes late (which was 20 minutes to much for me since I had a bachelor's party to get to and the margins were zero). We didn't have an air bridge so we went down the stairs to the bus and went through passport control, baggage claim and customs. Everything went very well, but when I came to the rental car desk there were a lot of people there talking about that they didn't had any cars to rent. I had pre booked one a month earlier, but started to get a little worried. After some waiting I finally got one, although a smaller one than I had order, but I got it for a cheaper price. I rushed to my hotel (no one cares if you break the speed limit in Africa
) and got to the bachelors party in time.
View Large
View Medium


Photo © Otto Benischek
After a great week in Cape Town, a beautiful wedding and some reunions it was time to fly back home. The flight was scheduled to leave at 22:45, but I was at the airport at half past six to have plenty of time to return the car and get a tax-refund of a radio that I bought.
Check-in went well and security was a breeze compared to LHR. I don't think I saw any plastic bags for people to put their liquids in, so I don't think the cared if we had liquids or not.
CPT is not a very busy airport. This evening three flights to LHR (SA, BA and VS) and one flight to AMS (KL) was scheduled. In fact all international flights for the next 24 hours was listed on one single screen. But it's very elegant, nice and clean.
All international flight out of CPT for the next 24 hours
Three heavies that would meet up at LHR some twelve hours later. After the SA 744 had left, our A346 was towed to that gate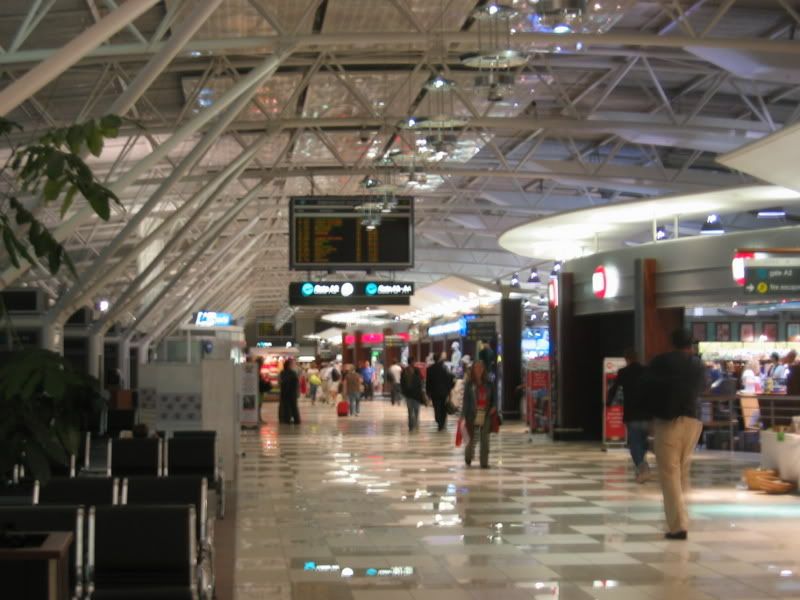 CPT international departure terminal
I strolled around a bit and looked in the shops, bought some chocolates for my last Rands and called home to tell them I was on my way.
Date:
January 4th -- 5th 2007
Departure airport:
Cape Town International [CPT]
Arriving airport:
London, Heathrow [LHR]
Airline:
Virgin Atlantic [VS]
Flight:
VS 604
Equipment:
Airbus A340-600 [Dancing Queen]
The Airbus was towed into position and we boarded through Gate A3. This one was really nice inside with the centre seats in red and the window seats in beige. This time I had pre-booked a window seat, 37K, just to confirm my theory that an aisle seat is better if you don't know the person sitting next to you, but it was SA Czech Airlines">OK. The seats were quite nice, although again a bit uncomfortable with the back rest in the upright position. These seats had lumbar support that you could adjust with a button and that was nice. This Airbus was delivered in May 2006 and was really shiny and nice inside. Does VS take extra good care of their planes? Again we were about half an hour late due to a passenger that had checked in and never boarded so they had to find his/hers baggage and unload it. We were then off and took off with remarkably much flaps. CPT has a short runway, but we were also heavy, 319 Pax, if I remember correctly. We took off and left a beautiful Cape Town below us with a not so steep climb.
This time V:Port was old news to me so I just put on a movie and watched it (Al Gores "Climate-film")..., nah I still love V:Port
But I didn't got the interactive map to work this time either.
Drink service came by and I got a glass of red wine (to help me sleep later). After that dinner. Some minced meat with rice and green beans. Again a very small portion.
Right after dinner I went up to go to the bathroom and to not disturb my neighbour during the night. The middle toilets were occupied, but the aft had a green light, so I started the long walk back there only to be stopped by a medical emergency. A nurse was working with a passenger and oxygen tubes (that's three out of four flights between Europe and CPT for me with a medical emergency). No problem, I just took the other aisle back and when I came back to my seat I watched the remaining of the movie, and luckily fell asleep. I slept for several hours this time. When I woke up I played a little with V:Port and the map. I watched "best of Top Gear" and then breakfast was served. Not the best, scrambled eggs, tomato and a grey sausage. Not even bread, but only a banana muffin.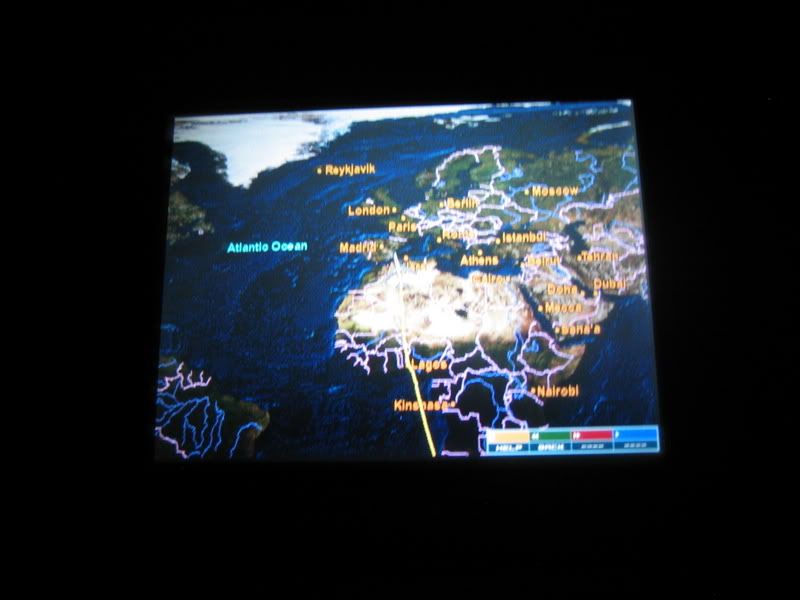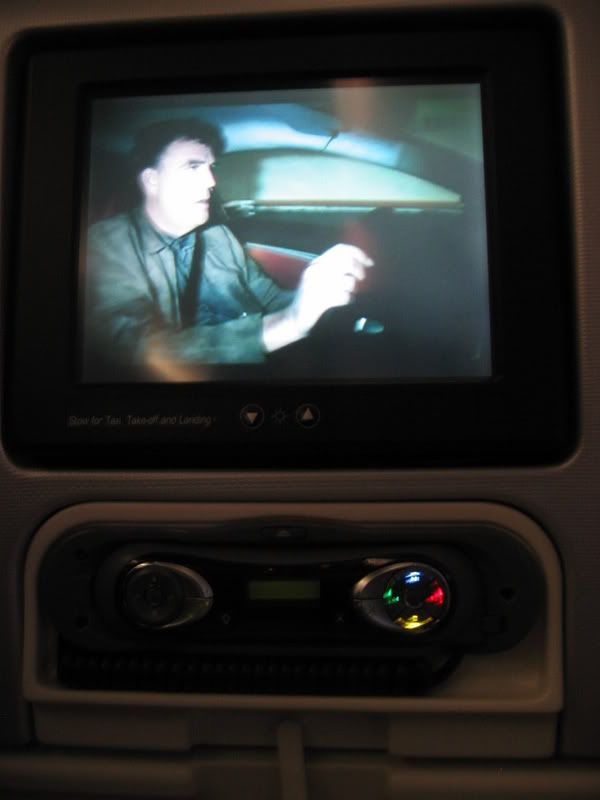 The legroom in economy was really nice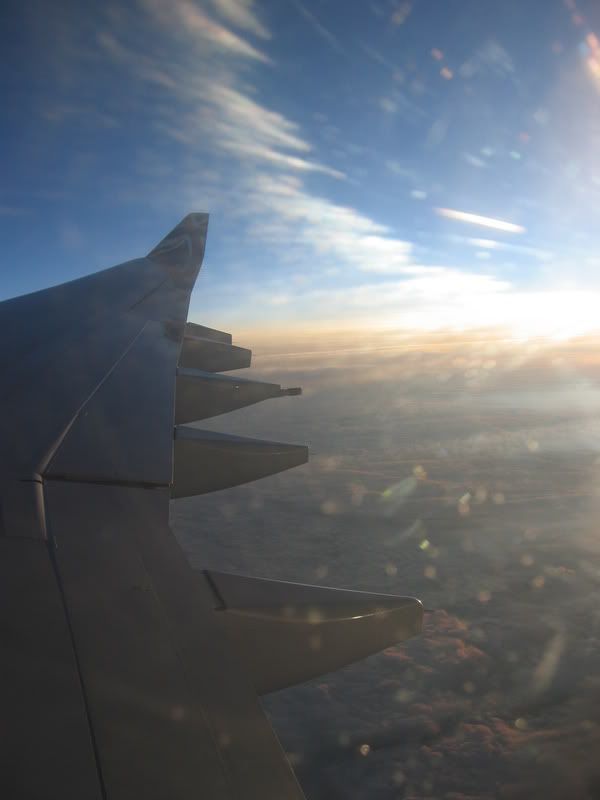 Nice view to wake up to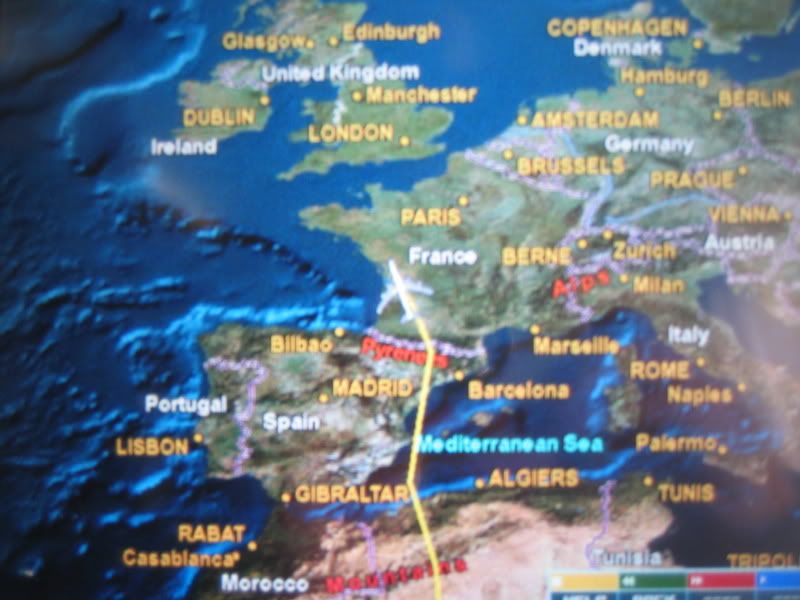 Criss-crossing over Europe
Before landing at LHR we had to circle around for about half an hour but we weren't alone. I saw at least seven other planes. We finally made the approach over down town London and landed.
Starting the descend
Touch Down!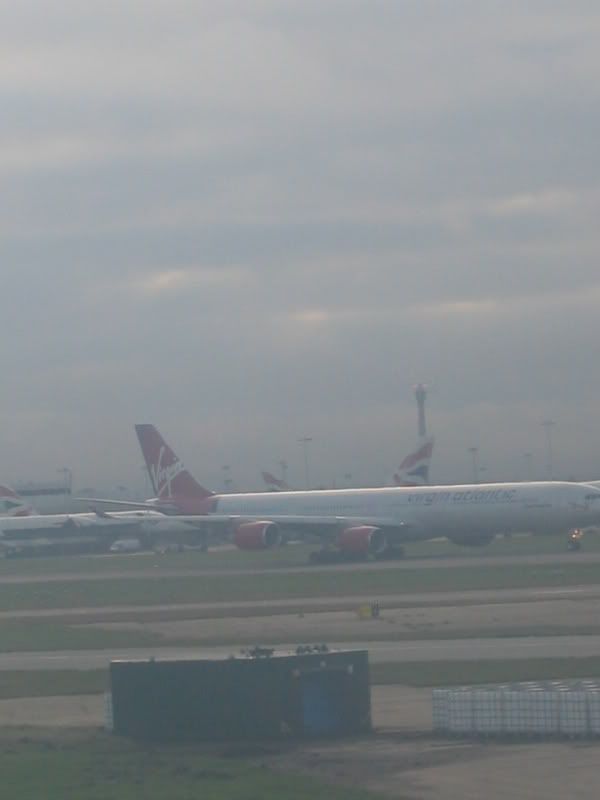 We were followed by a company A346 from somewhere
Before we were allowed to disembark the cabin crew had to spray the whole cabin with insecticide. All aircrafts arriving from Africa to Britain have to go through this procedure. This wasn't the case when I flew with LH to FRA or when my parents flew with SA to FRA. However, the cabin crew just walked through the cabin with some small aerosol cans. They didn't even open the over head bins, so I wonder if the chemicals did anything good (well, there aren't any dangerous bugs in Cape Town anyway).
View Large
View Medium


Photo © Jaco du Plessis
After that I went to the departure area at Terminal 3 and waited. I had been able to check in all the way to ARN at CPT, but they wasn't able to swipe my Eurobonus card so I went to the Star Alliance transfer desk and did that.
After a long wait, some shopping and some more waiting the gate for my SK flight to ARN finally came up and I went to the gate.
Date:
January 5th 2007
Departure airport:
London, Heathrow [LHR]
Arriving airport:
Stockholm, Arlanda [ARN]
Airline:
Scandinavian Airlines [SK]
Flight:
SK 532 [Booked as BD3844]
Equipment:
McDonnell Douglas MD-8?
I knew it was going to be an old Mad Dog, no food service and I was quite tired (which I think you are too if you've been reading this far) so I didn't take much notice of this flight. I think it was a MD 82, reg. LN-???. I took my seat, 22D and listen to the Safety instructions (I always do) and fell asleep before we got to the runway. I woke up when we took off, but fell asleep shortly after again.
SAS serves breakfast in Y, but that's it. Everything else you have to pay extra for, which I think is quite greedy. First Class and Economy Extra of course got meals. Hot meal in First and cold in E. Extra. I didn't order anything and was asleep for most of the flight. When I woke up, I went to the bathroom and then watched Friends until it was time to prepare to land.
We parked at gate F67 at ARN. I really like the "new" Pier F, but it's so empty. I went straight to the baggage claim, got my baggage and was met by my sister, who drove me home.
To sum up; a great vacation and VS was really nice. The only thing they could do better was the food, but to be honest; how much do you need to eat when you are just sitting still for twelve hours? Although, SK you have to shape up your product in order to be able to compete. Look at AY's intra European service!
I Hope you have enjoyed reading this TR. Please, make comments!
The Safety on board movie VS have
/Micke