I had the good fortune to be in Brunei for a conference in late November and seeing I was for once on the beautiful island of Borneo with no real prospect of going back anytime soon, I thought I should take a day off and do some sightseeing around the region.
Now, "sightseeing" in my books is seeing things from the window of an RPT aircraft, and what better way to add a Twin Otter and Fokker 50 to my expanding logbook than to fly around Borneo on the FlyAsianXpress' (FAX) fleet of aircraft?
For those who aren't fully up with the history of FAX, they only recently commenced services, picking up the rural and regional air services on Borneo off Malaysia Airlines in the recent shake-up of Malaysian domestic routes. The aircraft and most routes are the same as when they were under MH, and indeed many of the aircraft are still in mostly Malaysia Airlines colours.
Whilst I'm not entirely sure of the financial details, FAX are part owned by Air Asia, with the Air Asia MD, Tony Fernandes having a substantial stake in the airline. Of course, recent news is that little FAX, with their Twin Otters and F50s are going to grow just a little bit, picking up close to 20 long haul aircraft, operating under the Air Asia X brand!
I planned this day's flying before leaving Australia. Booking was easy as, in the Air Asia fashion, it's all easily done online. Further, the fares are really dirt cheap by Australian standards, so it didn't impact my wallet in the slightest (from memory the three flights I took in total cost me about A$80 including all taxes and charges).
The complication was getting from Brunei to Limbang (my start point) given that FAX don't operate into Brunei itself. Looking at a map, it appears easy (it's not far), but things in Borneo don't necessarily happen at a fast pace, and with the region covered in rivers and dense rainforest, roads aren't always that reliable and don't always go where you want.
But thankfully I found a local travel agent who at least pretended to understand my aviation nerdyness (!) and arranged transfers to/from Limbang for me. But it wasn't easy…
The first trip of the day, after a half hour ride from my hotel to the Bandar Seri Begawan (capital city) wharf, was a water-taxi ride to Temborang, which is the other little enclave of Brunei, separated from the main part of Brunei by a bit of Malaysia (Limbang). The ride took almost an hour and after going past Bandar's famed water village (an entire town built on stilts in the river – houses, schools, shops etc), we continued along numerous narrow river and streams (glad the 'taxi driver' knew where to go!) bordered on all sides by dense jungle. The scenery was quite stunning and it was worth a trip on its own.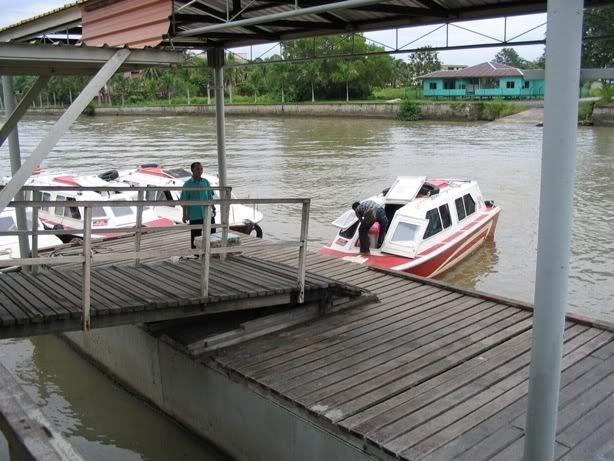 My water taxi
Inside the water taxi
On arrival at Temborang, another car met me took me over the Malaysian border (with full customs and immigration requirements) into Malaysia and finally to Limbang. To get an idea of the complications involved, I was picked up from my hotel at 6am and only made it to the airport just after 9am (for a 10am flight).
Temborang town
Limbang Airport is brand new, with the old facility a few kilometres away unable to handle the F50 aircraft that Malaysian/FAX wanted to operate there. And they certainly have spared no expense in building their new airport – my driver commented on it being a total waste of money, with a large modern terminal built to handle 5-6 flights a day on a mix of Twin Otters and F50s.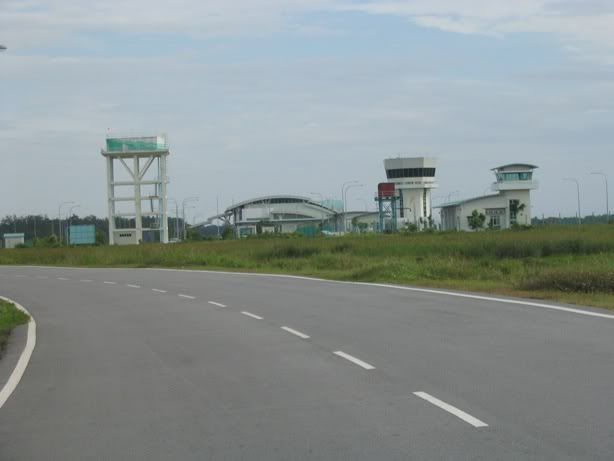 Driving into Limbang Airport
Check-in was easy, though I did get a strange look checking in for a flight with a block time of just 20mins. Boarding passes were hand written and my name was ticked off a print-out of the passenger list for the day. The list wasn't long!
Checking in at Limbang
It wasn't long before I was sitting in the departure lounge, waiting for the aircraft to arrive. In what is sadly a rare occurrence these days, the plane arrived very early, and with all ticketed passengers already checked in, there was no reason to wait around. So we departed early, off the blocks 14mins before the scheduled time. And in an occurrence that I have never heard of before, and will probably never hear of again (I'm excluding situations where time zone changes can do this), we had landed and were on the blocks at our destination before the scheduled time of departure!!
My aircraft taxiing into Limbang
The aircraft 9M-MDL was in full FAX colours, which surprised me, as I had heard that only one F50 had been painted in the new livery and that to keep costs down, there was not intention to paint most of the fleet other than to white out the "Malaysia Airlines" lettering.
Time to board!
Flight: FlyAsianXpress D7 1558, Limbang (LMN)-Lawas (LWY)
Scheduled block time: 1000-1020
Actual block time: 0946-0959
Flying time: 12 minutes
Aircraft: DHC 6-310 (Twin Otter)
Registration: 9M-MDL (full FAX livery)
POB: 2 crew, 4 passengers
FAX is a low-cost airline, so even if we were on a longer flight and even if there were Flight Attendants to serve us, nothing would be served. Not that there is any need. I sat myself in the second row at the window, to allow the best combination of a view outside and a view into the cockpit. What's more, I was close to the little electric fan that provides the only "air conditioning" in this little unpressurised plane operating in the tropical heat!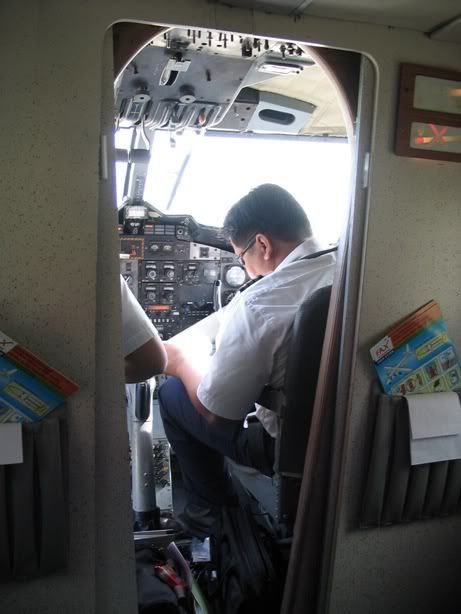 Great views into the cockpit!
Heavy load on today's flight - NOT!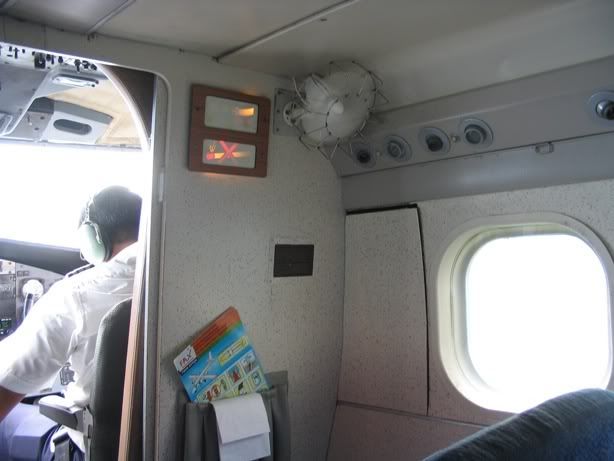 Air conditioning with a difference!
The scenery on this flight (as with all the others), especially given the low altitude the Twin Otter operates at, and the extremely short duration of the flight, was simply stunning.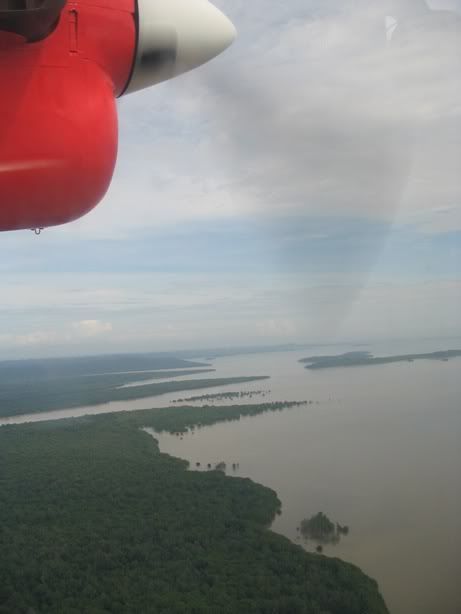 Landing at Lawas was a bit more like what I expected for this day's trip. The runway is tiny, and just big enough for the Twin Otter. The terminal is also antiquated and somewhat cute – especially the mini control tower, though given the level of traffic at the airport (ie: very little), one wonders about the need. Perhaps: "Tower to ABC123, beware monkeys crossing the runway!"???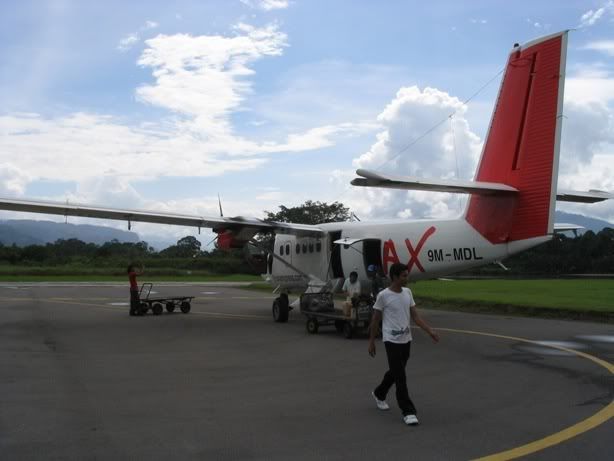 Disembarking at Lawas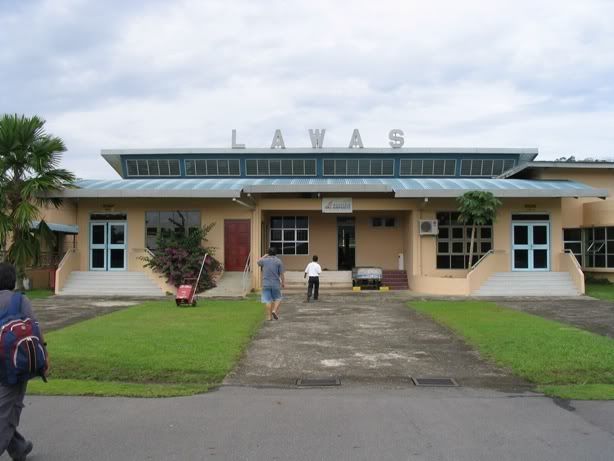 The terminal...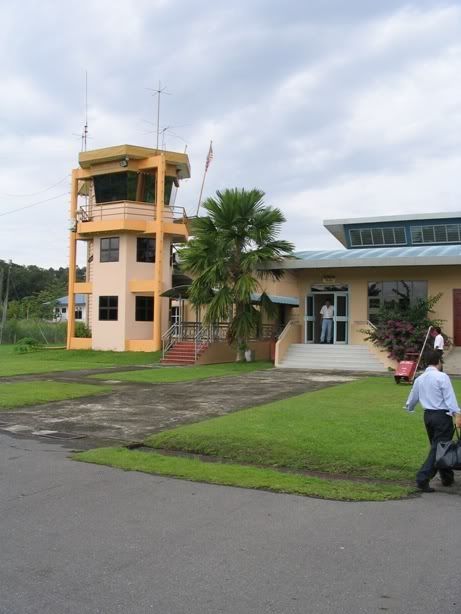 ...and Control Tower!
I had a couple of hours to spare, so I decided to head out of the airport, which as can be seen in the photo didn't offer too much in the form of facilities! I took the road towards town, and about 15mins later found myself in the centre of the city. I just sat a bit in the shade outside the intense midday tropical heat, read a book for a while then walked back to the airport. There didn't appear to be too much more to see in Lawas.
Lawas town
I returned to check-in, receiving a couple of raised eyebrows about my reasonably short trip to their town, but once again, it was a 20-second affair – crossing my name off the list and giving me a handwritten boarding card.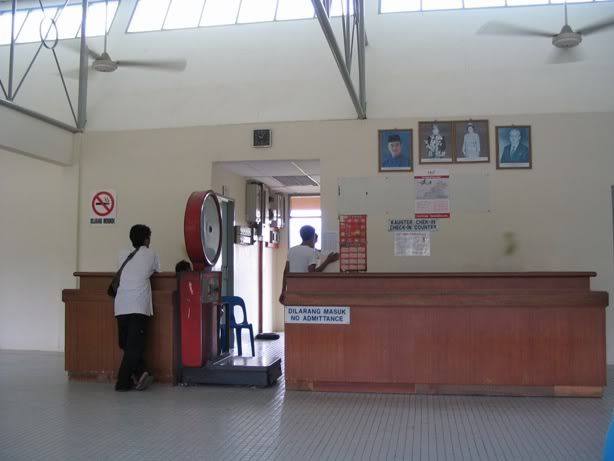 Check-in is a sophisticated affair in Lawas!
Our plane turned up on schedule, and this time the aircraft PM-MDN was in the former Malaysia Airlines colours, with titles removed, as I had been expecting. And once again we were off early.
I love this photo - a Twotter in lush tropical surrounds!
Flight: FlyAsianXpress D7 1545, Lawas (LWY)-Miri (MYY)
Scheduled block time: 1310-1355
Actual block time: 1302-1345
Flying time: 38 minutes
Aircraft: DHC 6-310 (Twin Otter)
Registration: 9M-MDN (hybrid MH livery)
POB: 2 crew, 11 passengers
By departure time, the sunny skies had begun to cloud up and not far into our flight it looked like a storm was brewing. Our somewhat fuller aircraft then proceeded to bump its way through heavy cloud (the good old twotters can't climb all that high) and navigate its way around a few mountains in the area. Whilst the turbulence wasn't the worst I have experienced, it can be a little nerve-wracking flying around remote Borneo in a little twotter in bad weather. But the weather did make the whole experience and scenery all the more atmospheric – nothing can beat flying in little aircraft such as these!
I had expected Miri Airport to be a bit larger than its regional cousins, but I didn't expect the large and ultra-modern facility that awaited us. We pulled in next to a couple of Malaysia Airlines B737-400s and soon after our arrival an Air Asia B737-300 pulled in. Not to mention quite a percentage of the FAX fleet on the stand-off bays.
A MH 737-400 at the gate
It was nice to enter the multi-level air-conditioned terminal, where I quickly obtained my (electronic – they have computers here!) boarding pass and sit and watch the planes come and go in comfort.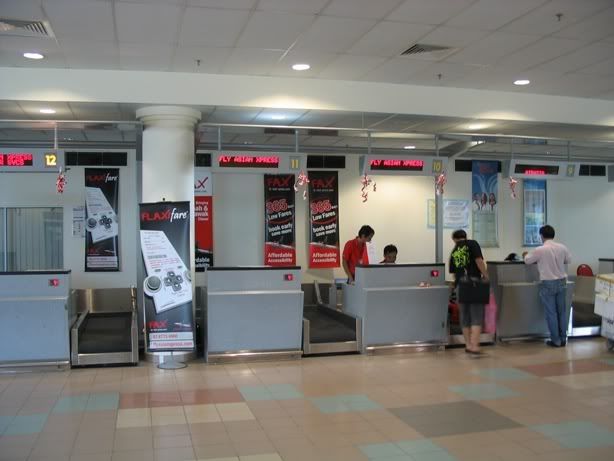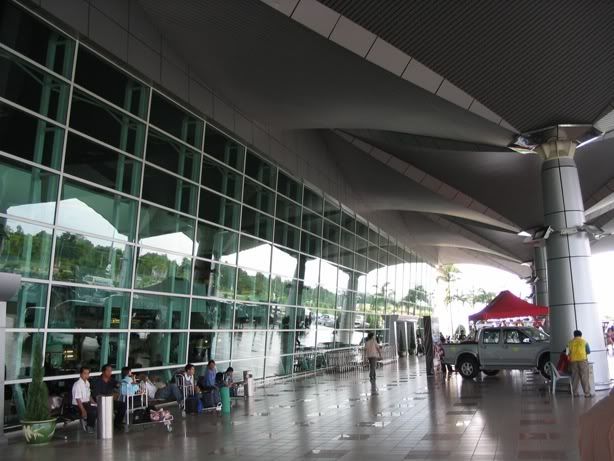 My last flight was scheduled to be a F50 and it didn't disappoint. A couple of the hybrid MH F50s came and went, but for my flight, the newly repainted 9M-MGG turned up. It was amusing to later see this same aircraft (photographed in its previous hybrid scheme) highlighted in one of the global aviation magazine with the caption stating there was no timeframe for repainting and that it was expected to stay in MH colours for a fair while. Well the below photos are proof they got it wrong!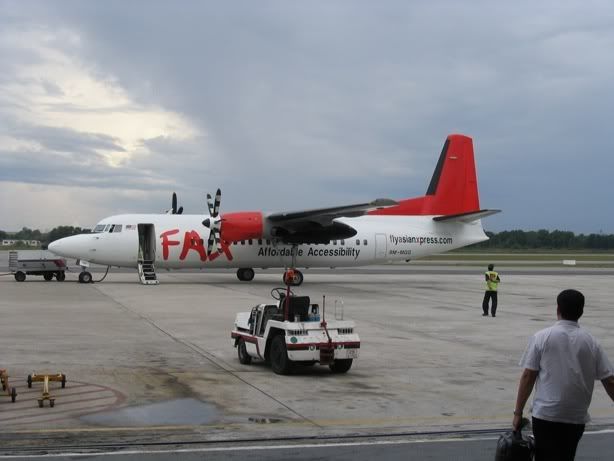 My F50 for the last flight of the day!
Flight: FlyAsianXpress D7 2256, Miri (MYY)-Limbang (LMN)
Scheduled block time: 1540-1610
Actual block time: 1541-1608
Flying time: 20 minutes
Aircraft: Fokker 50
Registration: 9M-MGG (full FAX livery)
POB: 4 crew, 47 passengers
This flight had every feel about a jet flight, and whilst it was a new aircraft type for me (always very welcome), the flight itself wasn't exceptional. This time we had a couple of flight attendants on board and even allocated seating (2F - window), which ensured a smooth boarding for what was a very full flight.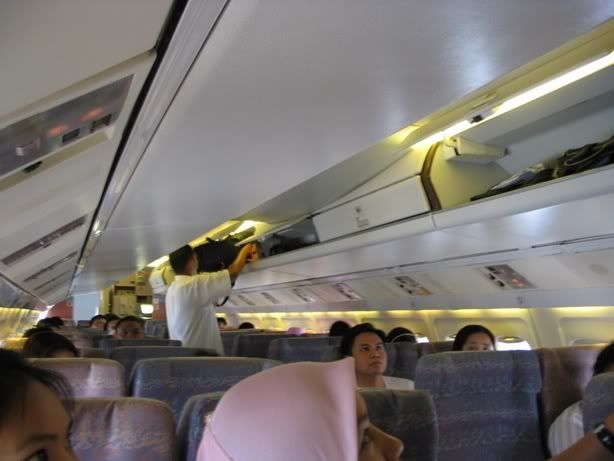 F50 interior during boarding
The seats were still covered in the distinctive cloth of Malaysia Airlines (at least as I remember it from my flights on them some years ago) and the bulkhead certainly looked like MH. I guess there's no point in spending large amounts of money when the interior is fine and you are aiming to run a low-cost carrier!
After the usual safety demo, we took off quickly and despite the short airborne time, the crew managed to do a quick run up and down the aisle selling snacks and drinks. I don't think there were many takers.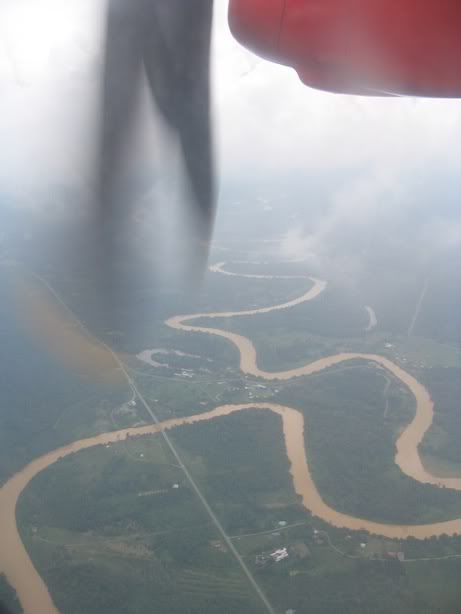 Who needs IFE when you get views like this?
All too soon we were descending into Limbang again, and had a real sense of déjà vu on disembarking at the airport I had left barely six hours before. Everything had gone exactly to plan, with no delays (I had been a little worried about being stranded along the way) and soon my driver was there to pick me up.
Back in Limbang, 3 flights and barely six hours later
My return to the hotel was a little different – this time we aimed to go by road the whole way, a much longer proposition, but it allowed me to see a bit more of the lovely countryside. Plus we stopped for dinner at Kuala Lurah (sp?) on the border – quite a unique experience where all the expats and non-muslims in Brunei congregate to drink (very cheap) beer and wineand eat pork (both of which are banned and very hard to come by in the strict muslim country of Brunei). An interesting aside is that it is cheaper to buy bottles of Australian wine here than it is to get the same brand in Australia! In fact this is where the only hiccup of the day occurred – I was supposed to meet my next (Brunei) driver at the border, but due to long delays in vehicles exiting Brunei to get their beer and pork, I had to wait almost 2 hours before he arrived. While waiting, I enjoyed a very tasty Pork Mi Goreng, a couple of bottles of Tiger Beer before going to the border and waiting a good half hour whilst they sorted out a transit visa for me into Brunei (I was flying out the next day from Bandar Seri Begawan – a much cheaper option than to buy another single entry visa or to have previously bought a multiple-entry one on arrival).
By about 8pm I was back at the hotel, exhausted by happy with my flying day!
[Edited 2007-01-18 03:14:19]