As I never had the chance to fly on a Saab 2000 and heard that it´s an interesting plane, I took the chance to fly it on the short OLT leg HAM-BRE, which is the last leg of their Airbus-shuttle flight BRS-HAM-BRE. It used to be only for Airbus employees, but now it is available to anyone for a fixed price of 64 Euros including taxes. I booked it only one day in advance as I had a day off and thought this would be a good chance to fly this bird.
So in the morning I went to the airport and already on my way there I was wondering whether any other fool would join me on this leg. At the airport, I looked at the screens to find out where the check-in would be, but flight OL 888 to BRE was the only one without a gate number. So I went to the OLT/Swissport ticket desk and asked. I was indeed the only passenger and a nice lady took me to the check-in counter which she opened just for me. She assigned me seat 2A and asked me to meet her at Gate 27 after 15 minutes. So I went through the security check - and also, for just this intra-German flight, through passport control. I was wondering what that was supposed to mean but then I realised that the passengers from BRS who went on to BRE would need to show their passports in BRE, and as I joined the flight I would need to do so as well. Then I took some pictures of the HAM apron, for example this one: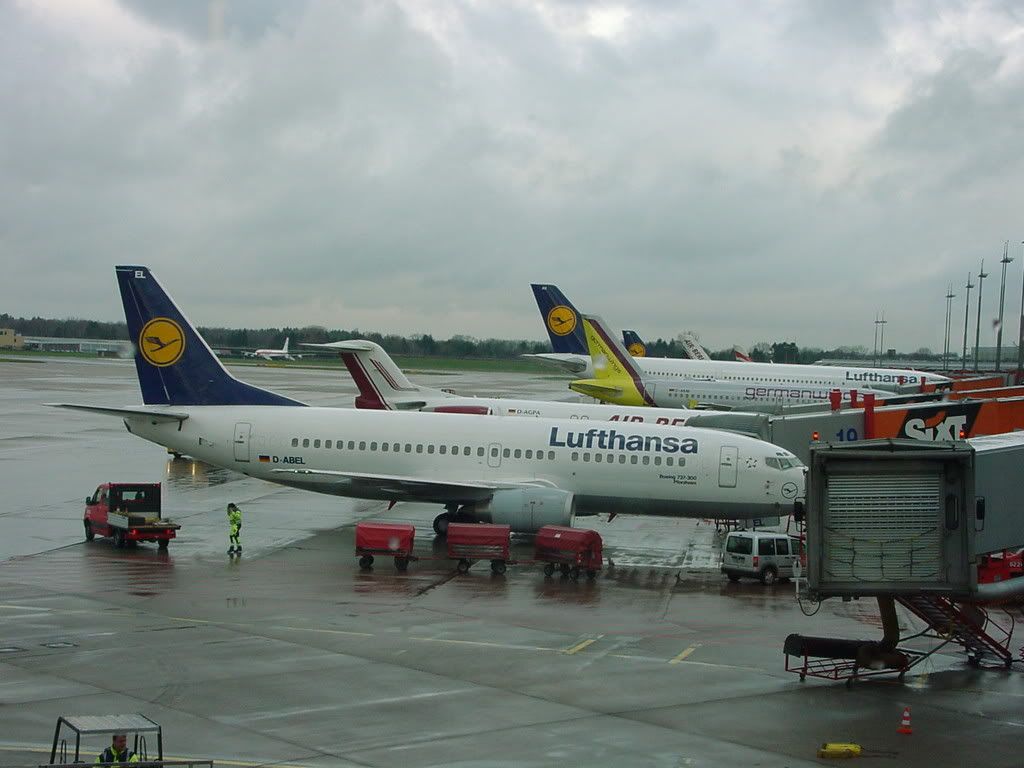 After a while, I saw my plane land and then boarded at the gate and the lady took me to my personal bus which took me to the apron. I saw about 10-15 pax disembark from the plane. Now I boarded and I was met by the surprised faces of the other pax on board of which I counted 11. The flight attendant closed the door and the engines were started (I love that sound of prop engines on startup).
Date: Monday, January 22, 2007 / 11.00 h
Flight No.: OL 888, (BRS)-HAM-BRE
Airline: OLT (Ostfriesische Lufttransport-Gesellschaft)
Aircraft: Saab 2000
Registration: D-AOLA
Flight time: 20 minutes
Seat: 2A
During the short taxi, the flight attendant came to me and gave me some personal safety instructions. As I have flown a lot of times, I was super cool and acted like a very experienced guy who knows all that stuff. After she finished without me listening and thinking how pointless this was, I noticed that I had forgotten to turn my cellphone off.... We lined up for takeoff, and after a SN Avro, we departed. The Saab 2000 has lots of power and took off like a rocket. Here´s a picture I took right after takeoff: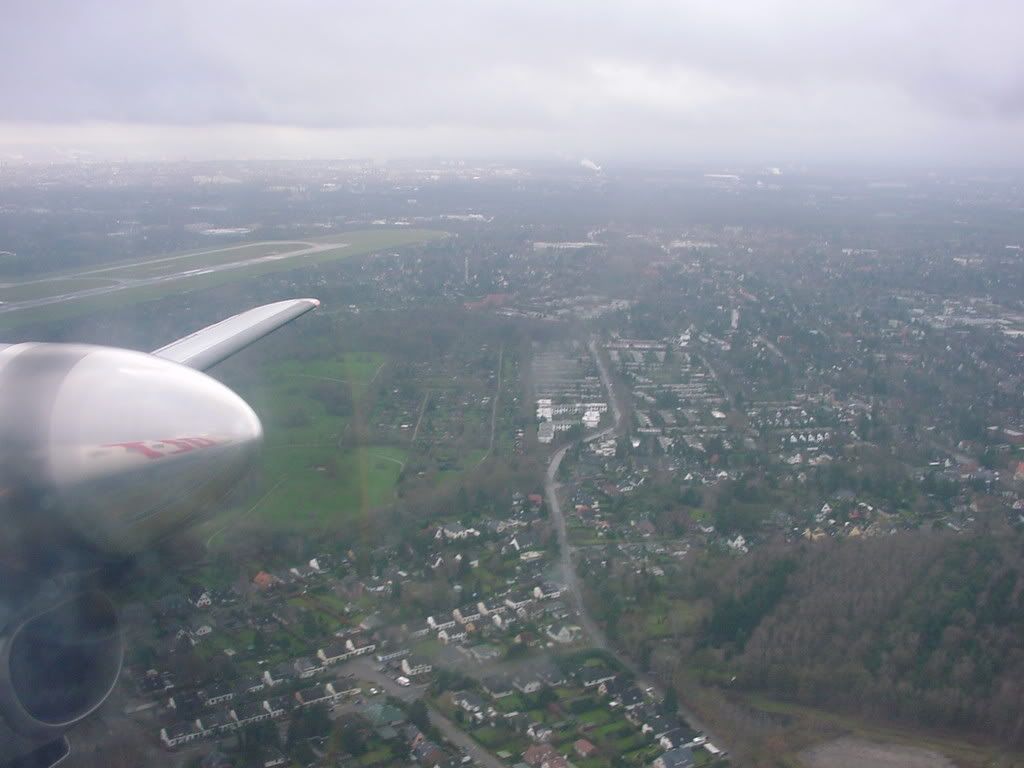 After a quick climb, the plane remained at a rather low cruising altitude. As we were flying close to the clouds, the speed seemed incredibly high. This is the view from my window:
The Saab 2000 is rather quiet and the flight was smooth. Such a shame that this high-tech bird never achieved the success it could have had. The interior (I think the OLT Saabs are ex-Crossair) was good, with those blue leather seats. Then, after a short cruise, the descent began, with only a few bumps. We flew over the Weser river:
Landing was smooth, too. It seemed very fast, and the pilots deccelerated very fiercely, using both the brakes and the thrust reversers. When I deboarded, I took a Wirtschaftswoche magazine with me for the train ride back home. From the apron, I took some more pictures:
The impressive engine:
D-AOLA, viewed from the bus: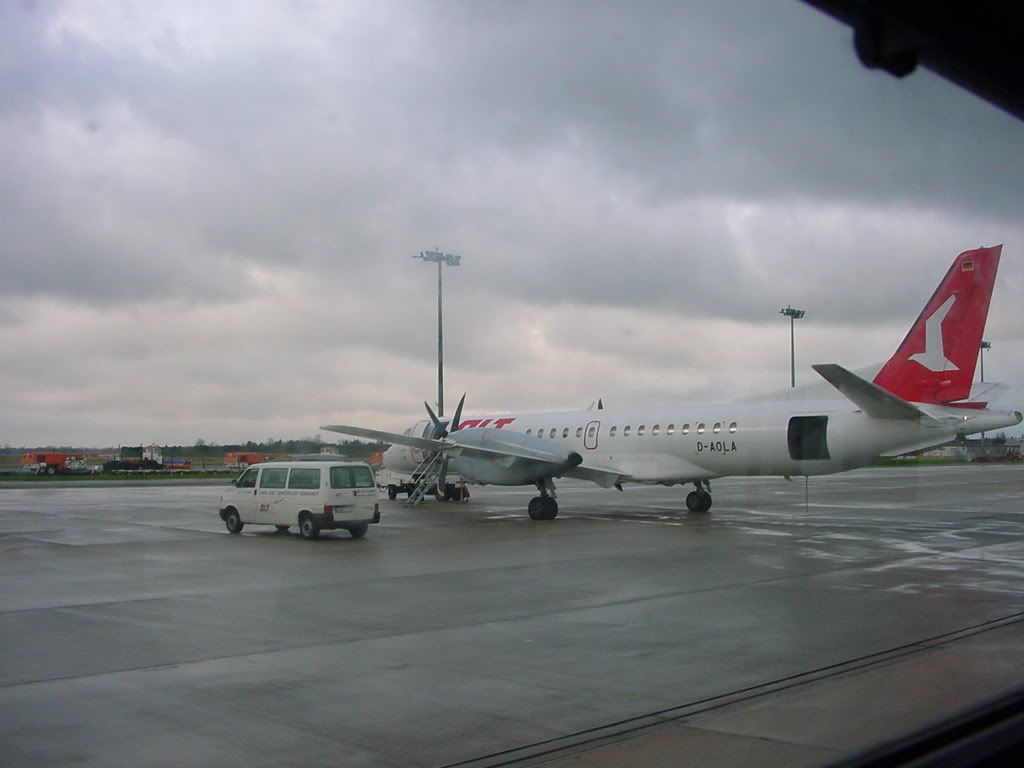 Then I went through passport control to finish this short international but intra-German flight. I saw that the next tram to the central station would leave in 7 minutes, so I went to the visitors´ terrace (free entry, nice view) for some pictures:
Here´s D-COLT, an OLT Metro III which I flew on ZRH-BRE last year (see my trip report for that flight:
ZRH-BRE trip report
Then I took the tram to the central station and from there the regional "metronom" train back to Hamburg.
Overall, this little trip was interesting and added both a new aircraft type and a new, exotic route to my flight statistics.