Two months ago, I was invited to a party at the home of close friends who live outside Indianapolis. Fares in the MSP-IND market tend to be on the pricey side, because it isn't served by a low fare airline. When I first checked fares, NW wanted $330 round trip to fly nonstop, which was more than I was willing to pay. YX was just $198 round trip via MKE, but I would have had to depart at 6:00 AM. I decided to wait, to see if fares came down for flights at better times. After two or three weeks, some seats on AA opened up, for $208 round trip.
The trip got off to a rough start, when my car stalled in the alley behind my house as I was on my way to the airport. I immediately called AAA, and told their road service operator I needed urgent help because my flight was due to leave in less than two hours. Fortunately, AAA had a tow truck driver at my house within fifteen minutes, and it took him less than a minute to get my car running again. This is why I've been an AAA member since I got my driver's license! Traffic to the airport was light, so I was able to make up some of the time I'd lost. Normally, I would have parked in the Humphrey Terminal deck, then taken the shuttle bus to the Lindbergh Terminal, to save on parking, but because I was running late, I splurged and parked in the Lindbergh deck, where I was able to find a parking space close to the terminal.
20 Jan AA 1655 MSP - ORD MD-80 N476AA Seat 11F
The one virtue of running late was that almost everyone else on my flight had already checked in by the time I got to AA's ticket counter around 8:45, so I didn't have to wait in line. The agent who gave me my boarding passes and checked my bag couldn't have been friendlier. Security lines were also very short; I was able to get through within five minutes.
Two USAirways jets at MSP's E concourse. Downtown Minneapolis is visible between the jets' tails.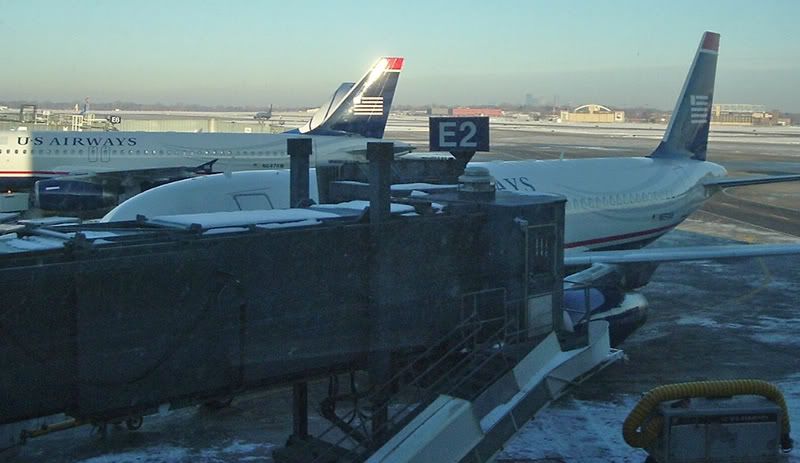 A CO Canadair RJ at E7
My MD-80 awaits me at E16
My flight left from gate E16, an ex-Western Airlines gate at the tip of the E concourse. We pushed back right on time, at 9:40 AM. We were taking off after most of Northwest's 9:15 AM bank had left, so we only had to wait for a Pinnacle CRJ and a Mesaba Saab 340 before it was our turn on 12L.
A Minnesota Air National Guard C130 on the east side of MSP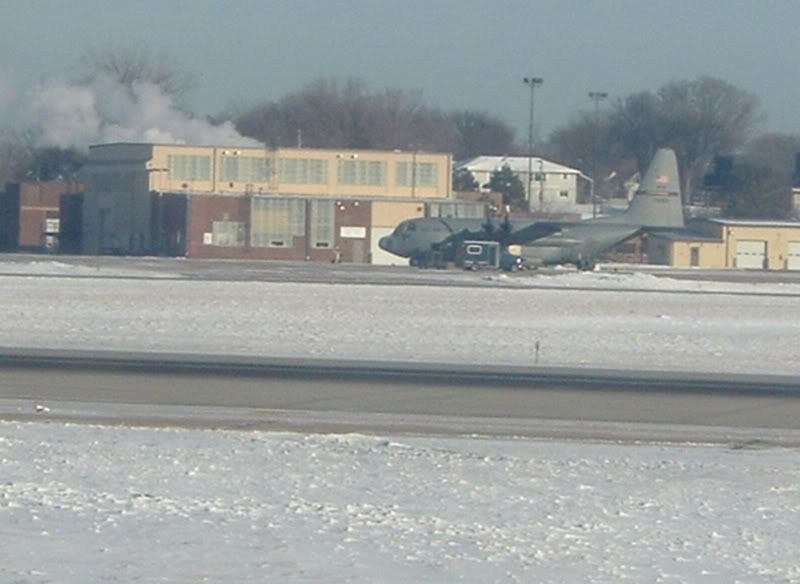 A Mesaba Saab 340 begins its roll. We're next in line!
Our takeoff roll was on the long side, probably because the flight was full; we weren't airborne until we were most of the way down the C concourse. After takeoff, we made a gentle turn to the east, passing just north of NW's headquarters and training complex, before turning southeast again to follow the Mississippi River down to Illinois.
NWA's training center is at the lower left; their world headquarters is at the lower right.
It was crystal clear, so I was able to have a nice view of the hills along both sides of the Mississippi that are very reminiscent of the Rhine (no wonder this area was so popular with German immigrants!), Lake Pepin, which was completely frozen, and Winona, Minnesota.
The (frozen) Misissippi River is at the center of this photo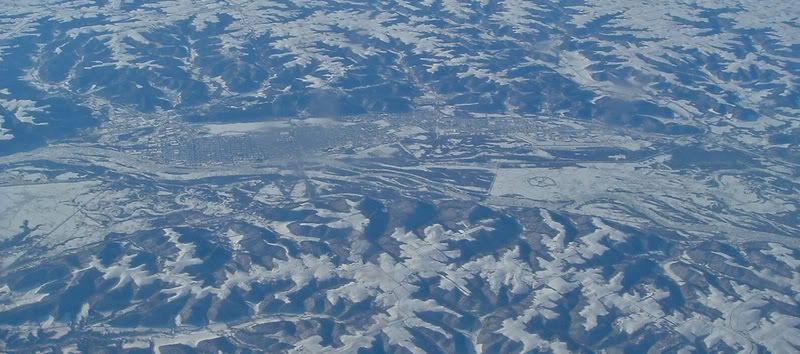 Past Winona, we left the river behind and headed across Wisconsin's southwest corner. We past just east of Madison, Wisconsin, easy to spot between Lake Mendota and Lake Monona. It was so clear I could make out the dome of the Wisconsin State Capitol far below us.
Madison, Wisconsin. Can you spot the dome of the Wisconsin State Capital?
Past Madison, we began our descent. Winds were out of the east in Chicago, so we stayed west of town, before making our turn to line up with 9R. Our on time departure from MSP, and the good weather enroute, meant we landed an incredible 30 minutes ahead of schedule. Predictably, our gate was occupied when we landed, so we were sent to the ramp just south of the International Terminal for about five minutes, before turning around and heading back to the AA terminal. Many of the passengers on this flight were inexperienced flyers; when a Polar Air 747F taxiied around us as we waited for our gate, several passengers said "My, that's a big airplane!" We pulled into gate K10 around 10:50 AM, still 15 minutes early.
The international terminal at ORD, with JAL and Korean Air 747s at the gates, and a Polar 747F taxiing past.

Pulling into our gate at ORD. The 757 is going to Jackson Hole, Wyoming; the 777 is Shanghai-bound.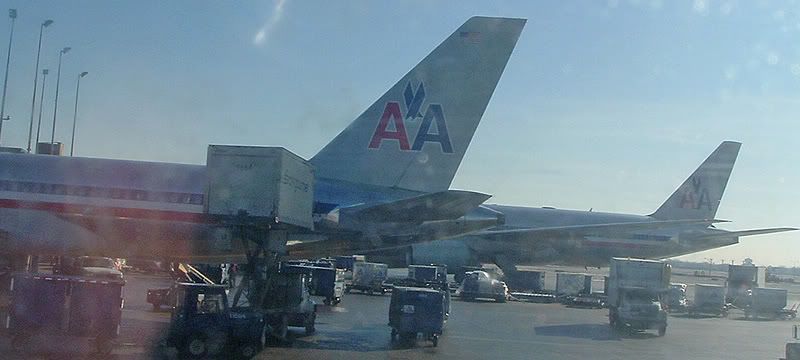 The passenger next to me was unfamiliar with ORD, and his flight to PNS was due to go out of a gate near mine, so I offered to walk with him to his gate. As we walked past the junction of the H and K concourses, I pointed out to him where Macauley Culkin got separated from his family in the movie "Home Alone 2". After leaving him off at G10, I headed on to G21, where my flight to IND awaited. Even though AA took this concourse over from TWA more than 15 years ago, this concourse will always be the "TWA Concourse" to me.
20 Jan AA Eagle 4232 ORD-IND Embraer 145 N644AE Seat 4C
I'm about to board my ERJ for Indianapolis
Another ERJ at G19. Downtown Chicago is faintly visible behind the ERJ's APU exhaust

The door to my "Jungle Jet" was closed right on time, at 12:15 PM. Gate G21 is at the very tip of the G Concourse, so the pilot did not need a pushback tractor. After the jetway was retracted, he simply started his engines, and made a hard right turn away from the terminal. We were assigned 4L, so I was able to have a nice view of Terminals 2 and 1 as we went 1/3 of the way around the airport to its threshold.
Two UA 757s await clearance to the runway, while a Jet Blue A320 heads to its gate
Two AA MD-80s in line ahead of us for 4L
There were only three or four aircraft in line ahead of us, so we were able to get airborne after only a brief wait. We began a hard turn to the southeast almost before we were to the airport fence, passing over the hotels and offices of Rosemount as we turned toward a 180 degree heading. I was on the wrong side of the airplane to see downtown Chicago, but the ERJ is narrow enough that I could easily see it out the windows on the other side of the airplane.
Turning toward IND just after takeoff. The O'Hare Hyatt is at the lower left of the picture; ORD is at the upper right.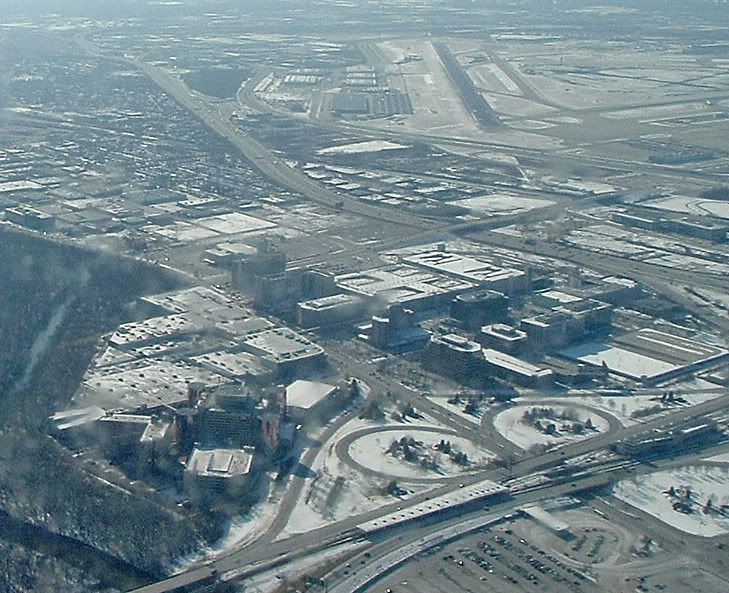 Past Chicago, we made a gentle turn to the southeast. It was so clear that I could easily see the Wabash River near Lafayette, Indiana.
We turned due east for ATC sequencing just west of Indianapolis' Eagle Creek Airpark, as we were well into our descent, before turning southwest toward IND over Carmel. As we were on final approach, I got a nice view of Indianapolis Motor Speedway, and was also able to see downtown Indianapolis out the windows on the other side.
Indianapolis Motor Speedway
We landed on Runway 23R, turning off the runway just past the former United Airlines overhaul base.

The taxi back to the terminal took nearly ten minutes; as we were taxiing, we went past IND's badly needed new terminal, which is due to open next year.

We pulled into gate B1 at 2:05 PM, ten minutes ahead of schedule. Luggage from my flight reached baggage claim a minute or two after I got there, and my bag came out almost immediately.
At gate B1, just after I'd deplaned
After having a wonderful time at the party on Saturday night, I woke up on Sunday morning to 3 inches of snow that had fallen overnight. The snow had largely tapered off by the time I left for the airport, and I was able to get to IND with plenty of time to spare. After checking in at an AA E Ticket machine, I cleared security quickly, and headed for the B rotunda, where I found a scene that could best be described as "organized chaos". One of AA's two podiums said "Chicago", the other said "Miami", and the agents at both podiums were clueless about which gate my flight would actually depart from, or whether it would leave on time. Only after I saw an AA Connection ERJ pull into gate B1 around 3:05 PM did I know that B1 would be my gate.
Waiting to board for STL. Look how much worse the weather is today!
21 Jan AA Eagle / Trans States 5482 IND-STL Embraer 145 N827HK Seat 4C
Even though my aircraft had arrived late from STL, it was turned around quickly. The door was closed only a minute or two after the scheduled 3:30 PM, then were deiced at our gate before pushback. As we waited at the gate for deicing, I could easily see the former Chicago Express hold room on the lower level of Concourse C; I had flown out of that holdroom two years ago, on the weekend C8's shutdown had been announced. After pushback, we began the very long taxi past the new terminal site to Runway 5R.
Another view of the new terminal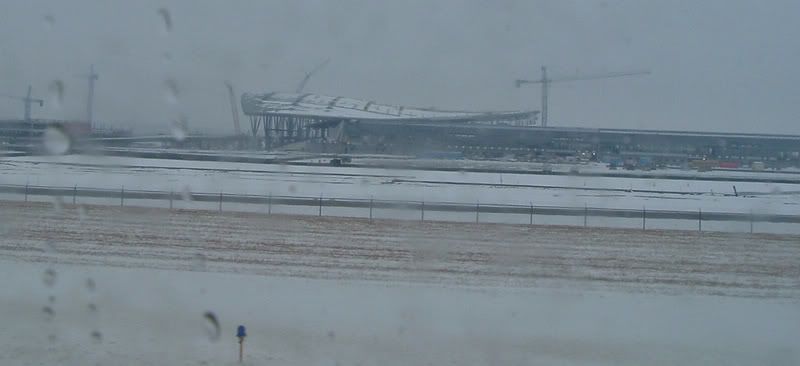 We had to wait for an NW A320 to depart, and a Canadair Challenger to land, before it was our turn. We were in the clouds almost immediately after rotation, and stayed in or above them until we were on approach for STL's Runway 30R 45 minutes later. After landing, we held short of 30L for a Champion Air 727 to take off, before taxiing into the Concourse C/D alley for gate C9. We pulled in around 3:40 PM, only 5 minutes late despite the delays taking off from IND. Because I was on RJs on both flights today, I'd gate checked my suitcase so I wouldn't have to go to baggage claim at MSP; the rampers brought it to me about ten minutes after I'd deplaned.
Landing at STL. The tall black building in the center of the photo is the former McDonnell Douglas headquarters
Taxiing in at STL, with a USA 3000 A320, a Futura / Funjet Vacations 737, and a Champion 727 at the gates.
Nice tail on the USA 3000 A320!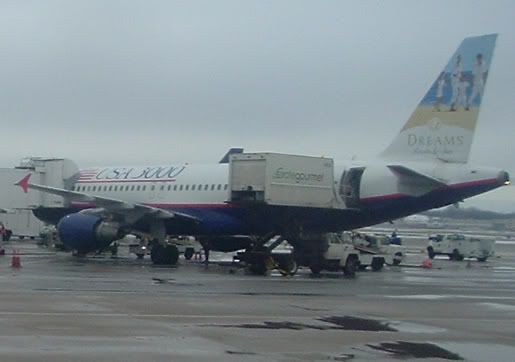 We're almost at the gate!
Deplaning. Note the Ozark decal on the jetway controls
I had been advised that my flight to MSP, AA / Chautauqua 5380, was oversold, so I walked quickly to its gate, C23, and asked the gate agent if he needed any volunteers. He said he already had four volunteers, but he would take my name "just in case". The aircraft did not arrive from ICT until 4:30, five minutes after we'd been scheduled to leave for MSP. As the gate agent requested, I (and the other volunteers) waited near the podium until all other passengers had boarded. Around 4:50 PM, the agent turned to me and said "today is your lucky day!" Even though there were still empty seats, the pilot had decided to leave all five volunteers behind "for weight and balance reasons".
Because I was the last volunteer, I was the last person to be reacommodated. The agent had protected all five of us on a 7:55 PM NW flight to MSP. I asked if I could be booked instead on AA via DFW (to get extra AAdvantage miles), but the agent said the flights I wanted were full. As I was waiting to be reacommodated, I called a friend who works for NW, to ask how NW's STL-MSP flights looked. He said the flight I was booked on was running late, but NW had a 6:15 PM flight that was also running late. After the agent had reacommodated me, and given me my $250 AA voucher and a $10 meal voucher, I called Northwest reservations. The agent I spoke with said "there's one seat left on the 6:15 PM flight", then gave it to me. I knew from past experiences as a volunteer that I would be a selectee on NW because my reservation on NW had been made so close to departure, so I tried to find a way to get from AA's gates to NW's gates on the A concourse without leaving security. Unfortunately, the A concourse is not linked to the other concourses inside security, so I had to leave security to get my NW boarding pass. The agent at NW's ticket counter was just as friendly as AA's agents at MSP had been the day before. He apologized for not having any aisle seats left before asking about my seating preferences, and asked if I would be happy with an exit row window. He seemed happy when I smiled and said "that's my favorite seat on the airplane!" After getting my boarding pass, I headed down to the A concourse security checkpoint. Nobody was in line ahead of me, and the screeners were unusually friendly as they gave me the usual selectee inspection. After clearing security, I had only a brief walk to gate A5. After I got to the gate, I ate the tasty, but overpriced, ham and cheese sandwich on focacchia I'd bought at Wolfgang Puck's with my meal voucher.
21 Jan NW Airlink / Pinnacle 2812 STL-MSP Canadair RJ N???? Seat 8A
As my friend had said, the inbound aircraft for my flight arrived late. We finally pushed back around 6:30 PM, about fifteen minutes behind schedule. NW's gates are deep in the A concourse alley, so we had a long taxi all the way around the A to the runways. As we were near the A/B concourse junction, we stopped, then turned around. The pilot came on the air and said we would be stopping on the taxiway so some additional ballast could be loaded in the baggage compartment for weight and balance. We taxied all the way to the ramp west of the tip of the A concourse, where we parked for nearly ten minutes while the ballast was added. Finally, the baggage compartment was closed, the engines were restarted, and we resumed our taxi to 30L. We only had a brief wait, before it was our turn to take off. After takeoff, we were in clouds almost immediately.
Past readers of my trip reports know I despise flying on Canadair RJs, because their windows are poorly spaced, and located very close to the floor. I often wind up with "CRJ Neck" (extreme soreness at the joint between my neck and my shoulders) from twisting my neck at an awkward angle to try to see out the windows, after a long CRJ flight. I was almost relieved that the clouds (and darkness) obscured the ground, so I wouldn't have CRJ Neck at the end of this flight.
We broke out of the clouds over St Paul Park, as we were well into our approach for MSP. Our landing was on Runway 30L; after landing, we had a very long taxi to gate C19. We pulled in around 8:10 PM, about xx minutes late. After I deplaned, I had to wait another ten minutes for my gate checked bag to be delivered.
The biggest takeaway from this trip is that it reaffirmed what most of us already know: always call reservations when you're about to be reacommodated, instead of relying on the gate agent. The AA agent reacommodated all five of us on the later flight, because the later flight had room for all of us, and the earlier flight didn't. Because I was proactive and called NW reservations, I was able to shorten my layover at STL by two hours, and was back at my house before any of the other passengers who'd been moved from AA had arrived at MSP.
Despite the relentless AA bashing in this forum, I was very impressed with AA, and I would gladly fly on them again. With the exception of the gate agents at IND, every AA or AA Eagle employee I came in contact with was friendly. I particularly appreciated the ability of AA's ground staff to get my IND-STL flight out on time despite the late arrival of the inbound aircraft. I was less impressed with Pinnacle, mainly because it would have been faster to wait at the gate prior to pushback for the weight and balance check to be completed, and the ballast to be loaded, than it was for the aircraft to have to turn around, taxi back, then shut down engines until the ballast could be brought out. Finally, this was probably one of my last visits to IND before the new terminal opens, and it is sorely needed The existing terminal was last modernized in 1987 for the Pan American Games (and Airliners International 1987, which was held in IND the week before the games), when Concourse C was added. Many of the hold rooms are too small for today's aircraft, and the terminal's location at the far northeast corner of the airport well away from the runways adds ten minutes to block to block times. The new terminal looks beautiful – I can't wait to use it on future trips to IND!