NOTE:
I have read numerous members on this website criticize Korean Air due to their rather bad safety record in the past. Truth be told, I had some apprehension about booking Korean Air due to their spotty record. However, when the Flying Blue desk told me the only award tickets available for my dates were on Alitalia and Aeroflot, I immediately sent my travel agent looking for alternatives and this was what we came up with.
Flash forward to now and two Korean Air flights later, I can honestly say that at no time did I feel the slightest bit uneasy about my safety. The cabin crew performed their safety duties impeccably and the cockpit announcements were abundant regarding flight status. In fact, I felt safer flying Korean Air than I do on some well reputable US air carriers where I have noticed time and time again cabin crew slacking on safety. I want to congratulate Korean Air on the progress they have made in the last couple of years and I look forward to more hours of flying with the airline.

Korean Air 656
Mumbai – Seoul Incheon
Airbus A330-323X (HL7585)
Seat: 8A
Scheduled Departure Time: 4:30
Actual Departure Time: 4:35
Scheduled Arrival Time: 15:15
Actual Arrival Time: 15:20
Check In:
I arrived at the Air India Terminal just shy of 2am and was greeted by a huge queue for baggage x-ray. After a grueling 15 minutes in line, I noticed a sign right in front of the x-ray machine on an Air France board. "Due to strict policies that have been implemented recently by Airport security, only one hand bag is allowed, that includes lap top cases and purses." A rather foul four letter word went through my mind at that moment as I had planned on carrying another hand bag in addition to my laptop case. Even so, I decided not to take a chance and have those both screened.
Once that ordeal was done, I proceeded to the little Korean Air booth that had been set up in front of the check in counter. I was greeted by a young Indian girl dressed in the rather elegant creamish-brown Korean Air uniform. The aqua blue scarf around her neck really looked stylish and for a brief moment thought I was talking to a model who was about to walk down a catwalk.
"Good morning sir. Welcome to Korean Air. I see you are flying to New York. Will you please fill this paper out for me with your address and contact information in the United States."
Once the paper had been filled I was escorted by her over to the First Class desk where a gentleman greeted me. I asked him about the hand baggage situation and he smiled with an "I am sorry sir, these are the new rules implemented by the airport. If you take more than one hang bag, they will send you back out here to check it back in. I am afraid they have done that with a number of our passengers. We advise against trying to take two bags onboard." Therefore, I began to empty the important contents into my laptop case and basically check in a rather empty unlocked hand bag. When that was accomplished, my bags were tagged all the way to JFK and my boarding pass to ICN was issued on Air India stock.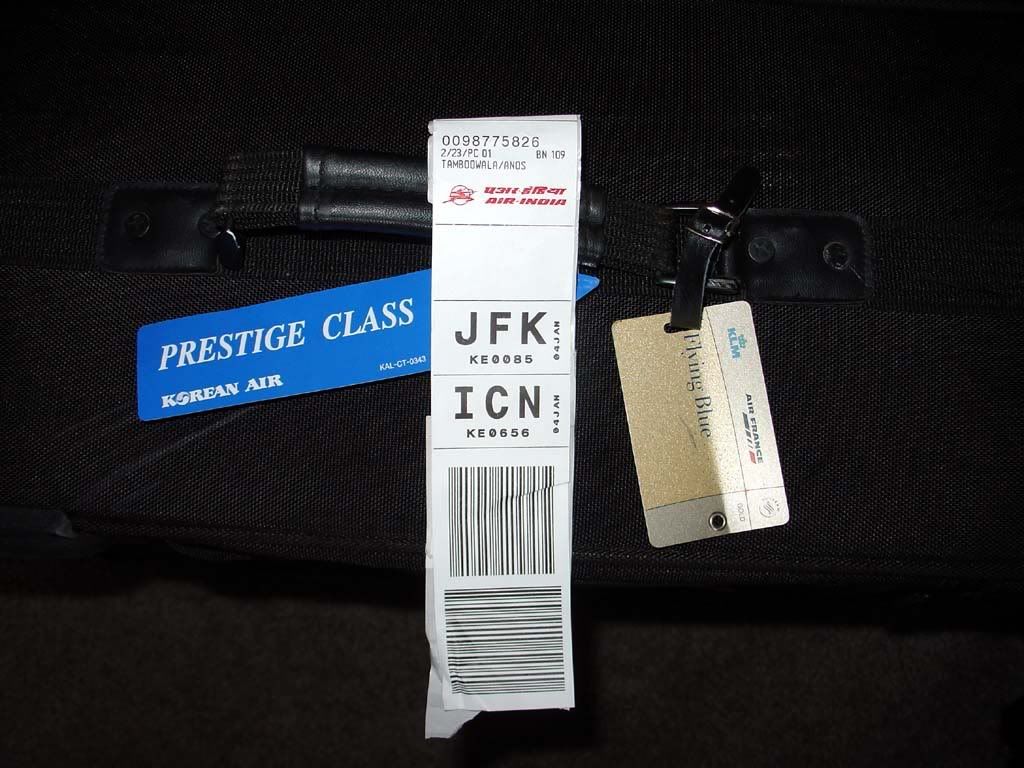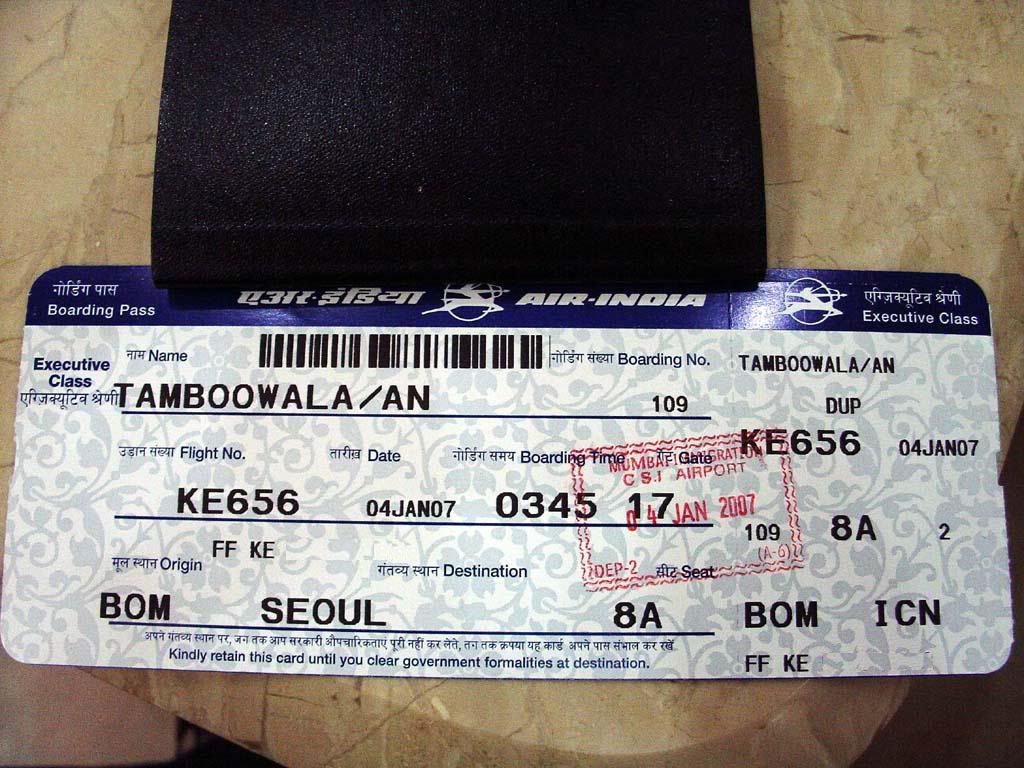 I then proceeded towards immigration with my lap top bag which had gained a significant amount of weight since I arrived. Clearing Immigration was a breeze and I headed over to the Clipper Lounge located at the corner of the terminal. I entered the lounge which was annoyingly full. The two guys behind the desk asked if I would not mind heading on over to the other lounge located across the hall. With a sigh I agreed to their request. For those of you familiar with my trip reports will know this lounge as the "red room." I had written a rather unflattering commentary about it in my Malaysian Airlines trip report back in 2005.
Lounge:After a quick walk down the hall I entered the lounge and handed my invitation to the receptionist and sat down at an empty seat with a Fanta. Looking around, I realized the lounge had not changed much since January 2005. It still looks like someone threw a bunch of red paint all over the place which made it look rather dreary and rundown. At this point in time the lounge was packed, but soon enough boarding was announced for Air Mauritius followed closely by Ethiopian Airlines. The only passengers in the lounge at this point were Korean Air and Air France which were departing at 4:00 today. At 3:20, the Air France passengers were ushered to their gate and the lounge virtually became deserted.



Boarding: Around 3:50 I decided to take a leisurely stroll to the gate. Security was rather hassle-free except for the person in front of me arguing about having to go back outside to check in one of his bags. I guess the check-in agent was right. Would anyone care to explain the logic behind this idiotic rule that the airport has put in place? I have flown all over the world and this is the first time I have seen such a rule enforced by the airport and not the airline.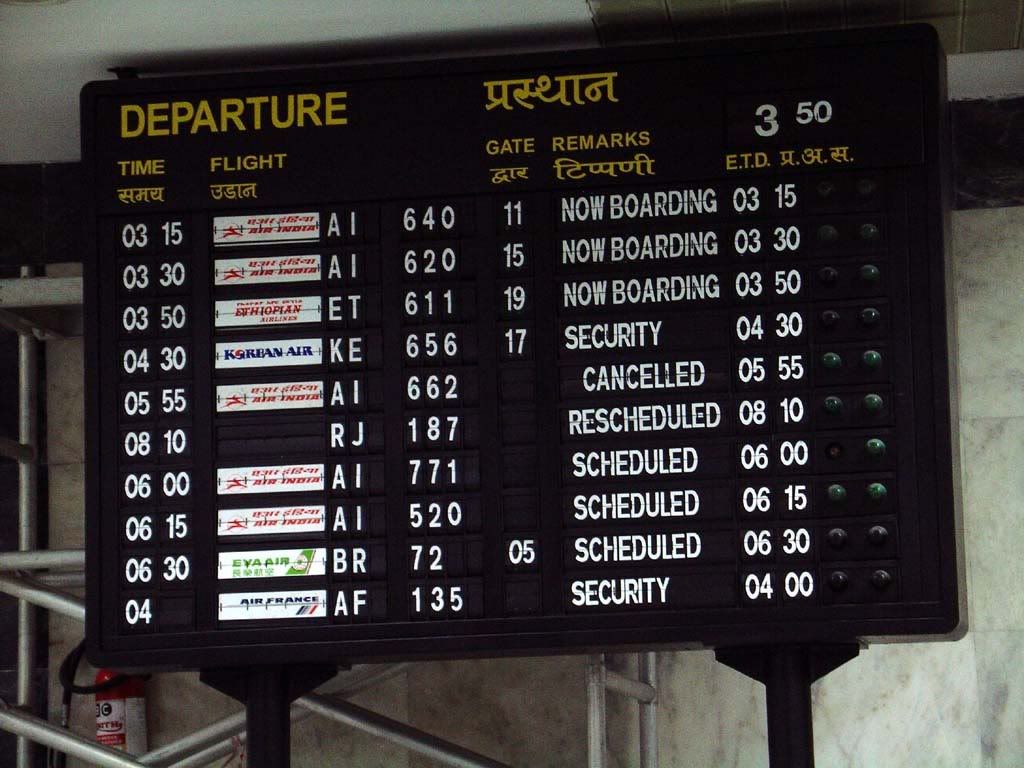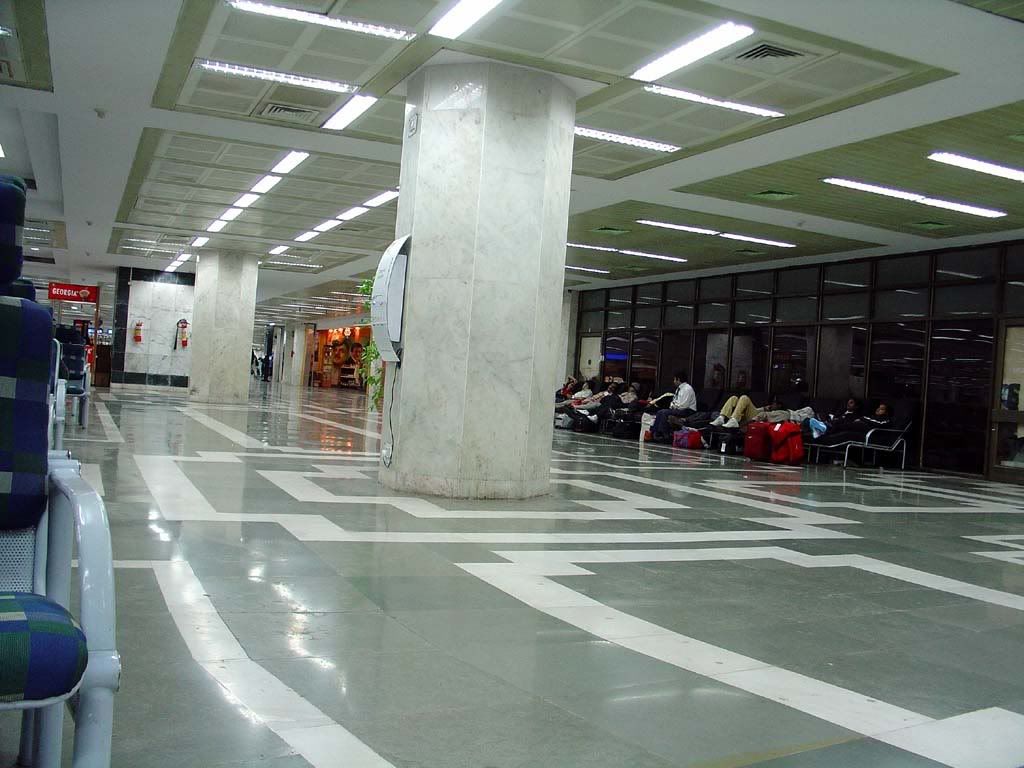 I approached the glass frame at 4:00 just as the doors were opened and wheel chair passengers were allowed down the Jetway. Following that, the huddled masses in the gate instantly got up from their chairs and charged towards the glass door despite the fact that boarding had not even been announced. This prompted the announcement of "Please form an orderly queue, we are not ready for boarding." by the gate agent. All of the business class passengers stood to the side with our blue boarding passes trying to stay clear of the vicious crowd who seemed ready to tear anyone to pieces to get aboard. A minute later the agent looked at us in the corner and said, "Business and First Class, come on." We proceeded down the jetway where the boarding passes were scanned, ripped and handed back.

I was greeted at door one by a male and female flight attendant. Both of them smiled, bowed, looked at my boarding pass and said "this way sir." I proceeded through the First Class cabin which looked identical to the Business Class seats except with more legroom. Soon I had found my seat and sat down where a menu, ear phones, and a pair or slippers had already been placed in my seat pocket. A F/A then approached me, took my coat and welcomed me on board with a genuine smile that I have not seen since the last time I flew an Asian carrier. A tray of water, orange juice, and champagne was brought over almost instantly by another cabin crew member with a smile extending from ear to ear. Through out the flight, this F/A was smiling when she was performing her duties, her expression never faltered for one second. She seemed to have genuine enthusiasm for her job, something I have never seen displayed by any F/A, this was made even more amazing by the fact that it was early in the morning. I selected a glass of orange juice to go with my packet of peanuts.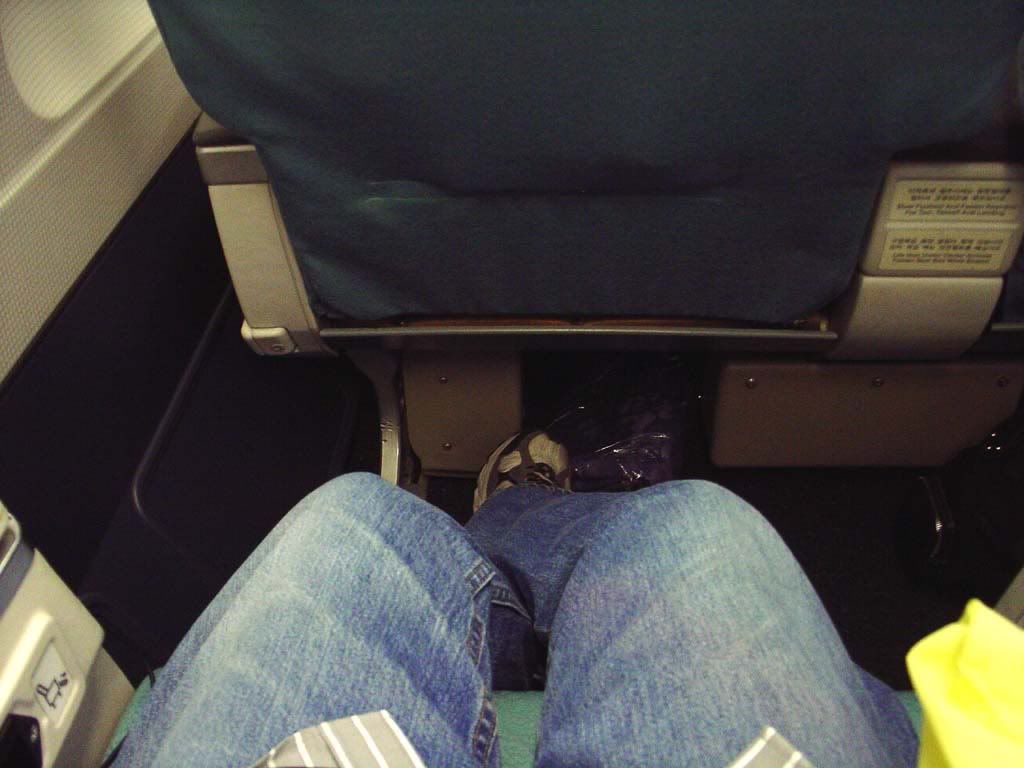 I started chatting with my seat mate for a bit who seemed a bit disgruntled at the fact that boarding was through door 1L. "Someone should tell them that we pay a premium amount not to be disturbed like this." I laughed and just pretended to agree with her. The original F/A that had taken my jacket came by to see if I had made a choice regarding lunch. She knelt down in the aisle so she was at eye level with both me and my seat mate and asked her in a very gentle voice "Have you had a chance to look over the menu? What would you like for lunch?"

The boarding door was closed and pilot welcomed us in a rather heavy Korean accent. My seatmate and I looked at each other to see if we could understand him, sadly we were both a bit lost with what he was saying. I think the lead F/A realized this and made an announcement almost immediately after him in English stating a lot of the same item things such as our route, flying time, etc…

We pushed back just as the safety video was played. Each cabin crew member stood in front of each aisle and bowed just before the video was played. I found that to be a nice little unique touch. Just as the engine was started there was a surge and the cabin went pitch black. The lights came on about ten seconds later but the TV's screen did not and the safety video had not been finished. I saw the cabin crew scrambling and running around talking to each other in Korean. I can only assume they were having problems with the IFE. We then started taxing to the runway and the cabin crew commenced a manual safety presentation. The F/A that had served us the drinks with that beaming smile stood in front of the bulkhead directly in front of us. She looked at me, I smiled back and her smile grew even larger. I cannot tell you how happy she looked doing the safety demonstration, her grin never once wavering. It was as if her pearly whites could be seen all the way to the rear of the aircraft.


After the manual safety demonstration the cabin lights were dimmed and we lined up for the runway. Take off was quick and quiet, just like any other A330.

The Flight: Once we reached cruising altitude I pulled out my PTV and decided to see what was on offer today:

Channel 10:Gridiron Gang
Channel 11: School for Scoundrels
Channel 12: The Departed
Channel 13: Step Up
Channel 14: Invincible
Channel 15: Scoop
Channel 16: Hearty Paws
Channel 17: KBS Daily News
Channel 18: Band du Lac – One Night Only

After careful deliberation, I decided to watch "School for Scoundrels." As the screen flicked on, a hot towel was passed around to anyone who was awake. About ten minutes into the movie the cabin crew came around to serve breakfast. This is what was listed in the menu today: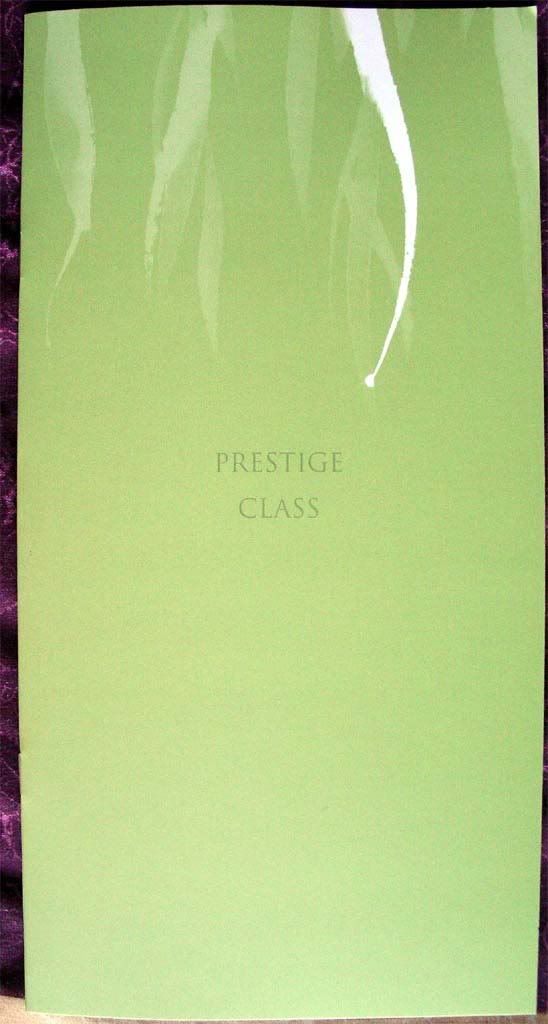 I think the continental breakfast was a perfect idea. By the time it was served, it was past 5am and most of the cabin was sleeping. Only about four passengers including myself had breakfast. I first selected a bun from the bread basket followed by a croissant the second time. The basket was offered once more, but I declined as I wanted to stay light till lunch. The service during the meal was conducted with elegance and style, something that can only be found on Asian airlines.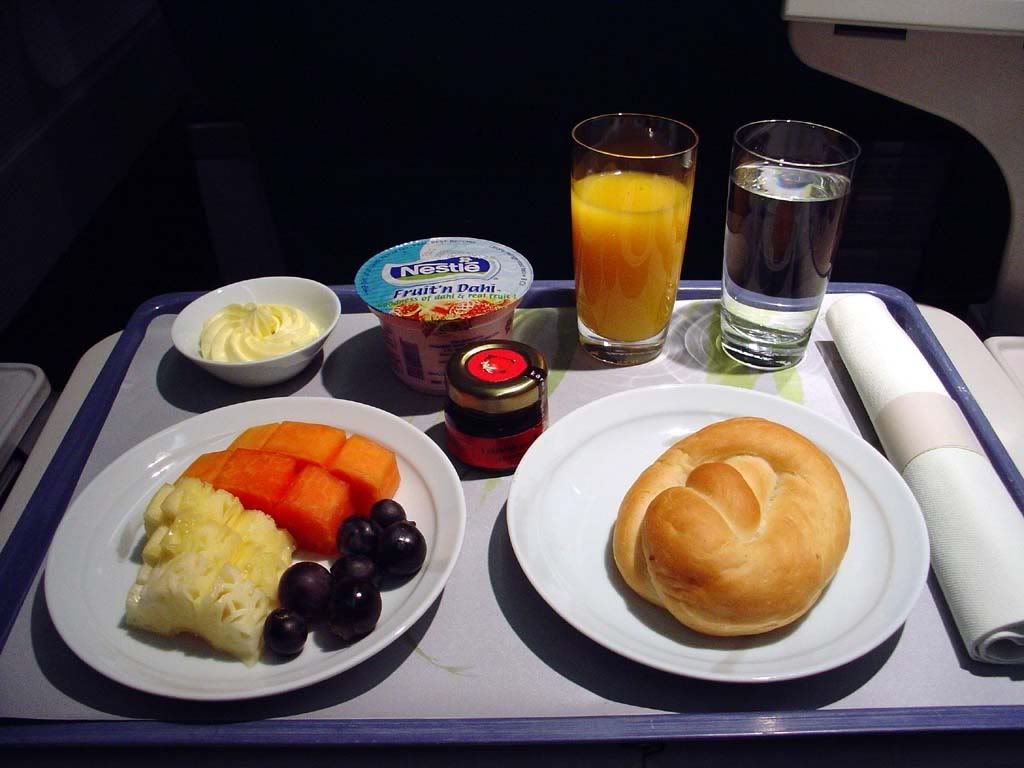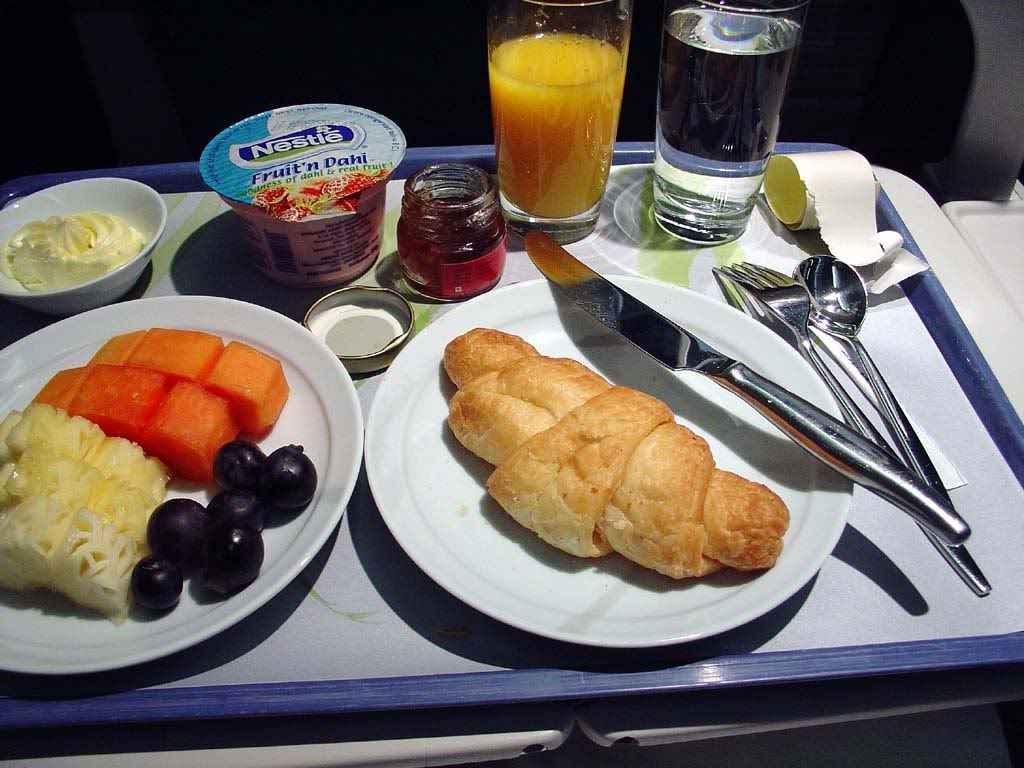 Once the meal service was completed, I put my seat all the way back and watched the rest of the movie. While the seat was the old generation "cradle seat," it was comfortable for this seven hour journey. I however would be rather displeased with the seat if I had to fly in it to Australia or Cairo which are over 10 hours long and are also served by the A330-300. As I watched my movie, a bottle of water was placed on my armrest with a smile once again. Once the movie was over I pulled the blanket over me and went into a comatose state.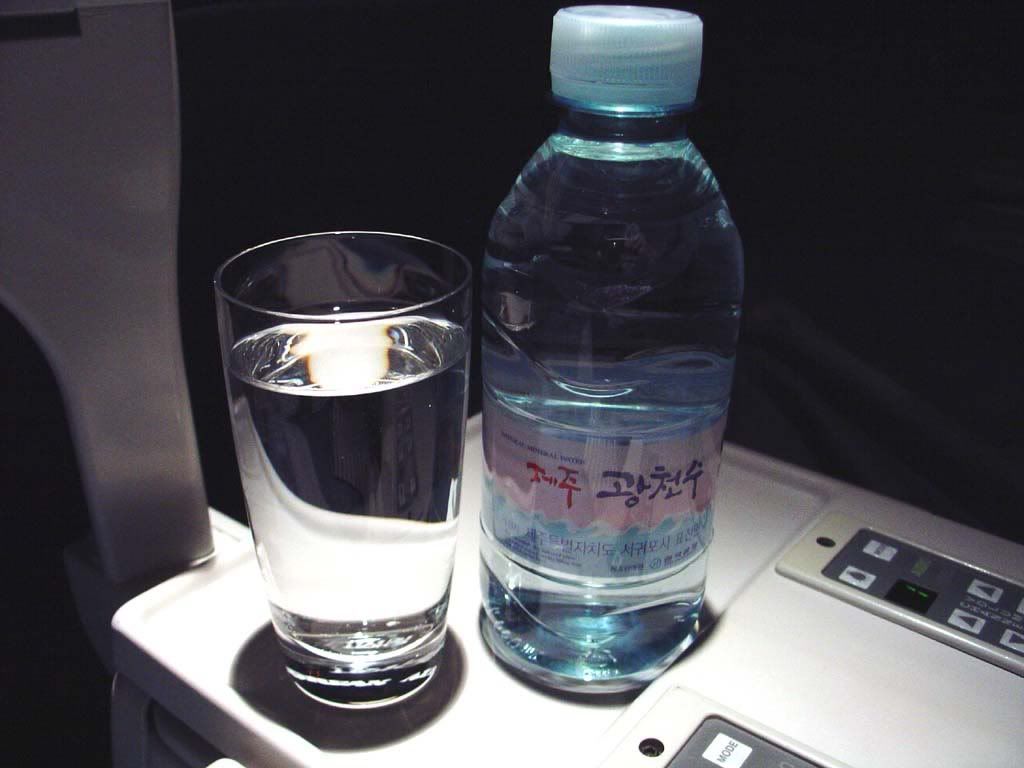 I woke up somewhere over China with the smell of bread emanating from the galley. The moment the cabin crew saw me awake, they rushed over with a tray full of drinks and a hot towel.

After sipping my drink for a while, the cabin crew appeared with white table cloths for our tray table. One was placed on my tray table with a "good morning sir, I hope you had a pleasant sleep." The flight attendants first came around with a tray full of small "nibblers". I declined this service as I cannot eat bell peppers and am not too fond of eggplant. A few minutes later a tray gently placed in front of me with a smile. The menu for lunch today:


At first glance, there were no shrimp in the plate and I looked at the flight attendant.
"Excuse me, is this the vegetarian option?"
"Sir this is what we serve everyone, you are getting your chicken for the main course later."
"No I understand about the chicken, I was wondering if I could get the shrimp instead."
"Yes, sir you are getting your non vegetarian chicken after this."
At this point I grabbed the menu out of my seat pocket and pointed to the vegetarian appetizer followed by the shrimp and said
"This is what I have here, I want this."
She looked at me for a second and her face went beet red.
"Oh my sir, I am so sorry. I did not know we had two appetizers. Please let me change that for you."
The poor thing was so embarrassed at her mistake despite my numerous "its all right, its not a problem."
She then offered me a bread basket which had multiple rolls of bread, naan, and garlic bread. Once I pointed to my selection it was placed in my bread plate with a "please enjoy sir."


The shrimp was excellently seasoned and the garlic bread was piping hot and really crispy. Once I was done with the appetizer, a bowl of soup was brought over.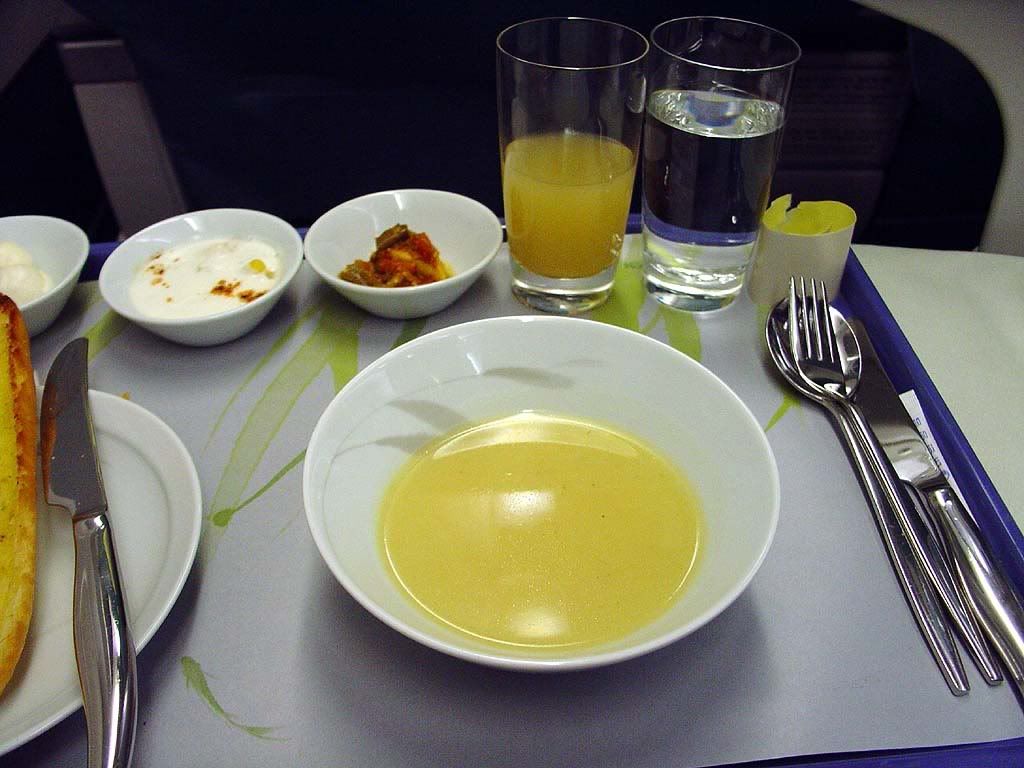 The soup was warm and full of flavor. I am normally not a fan of pumpkin but I could not taste it in this soup as the spices added a lot of flavor.

A trolley was brought around with everyone's pre-ordered dishes on display. My empty soup bowl was exchanged for a casserole like dish containing chicken, pasta, and vegetables.


Sadly this is where the meal took a turn for the worse. The two pieces of chicken were rather dry and tasteless despite the mushroom sauce. The pasta was over heated to the point that it was crispy from the top and soggy from the middle. This meal was lacking in taste, texture and inspiration leaving me disappointed. My tray was cleared with a smile and the dessert/cheese trolley was rolled around. Despite the attempts by the cabin crew to offer me everything, I settled on the ice cream.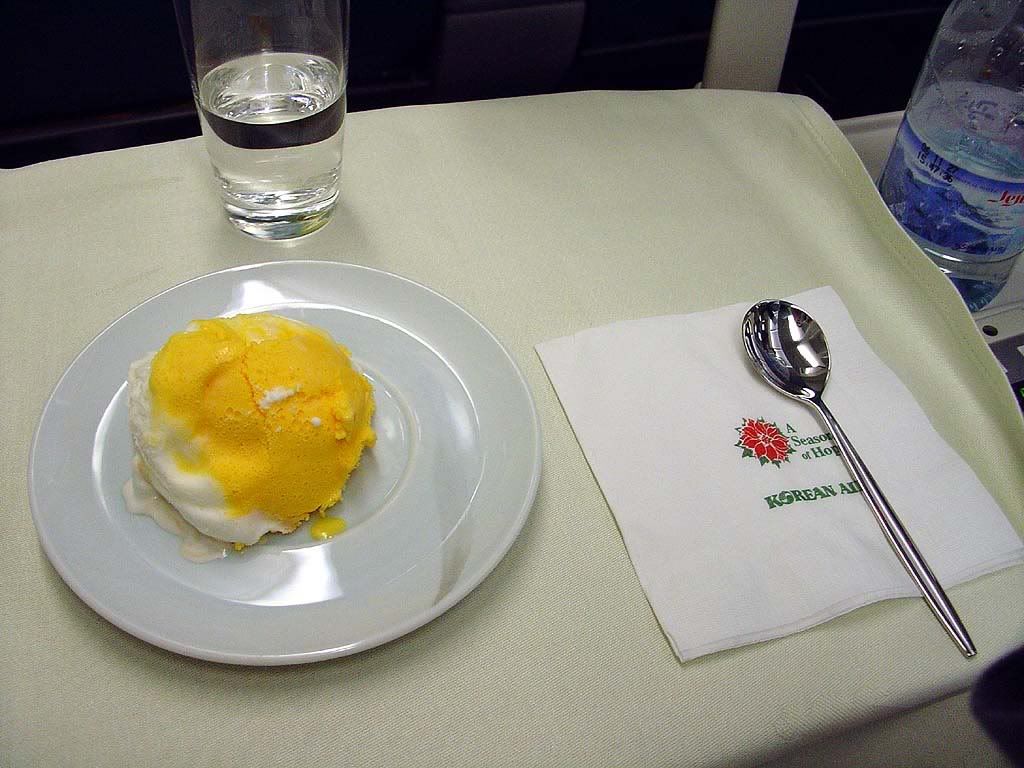 The ice cream, a mesh of vanilla and mango, was simply delightful. Much to my enjoyment it was not frozen like a rock but instead smooth and creamy.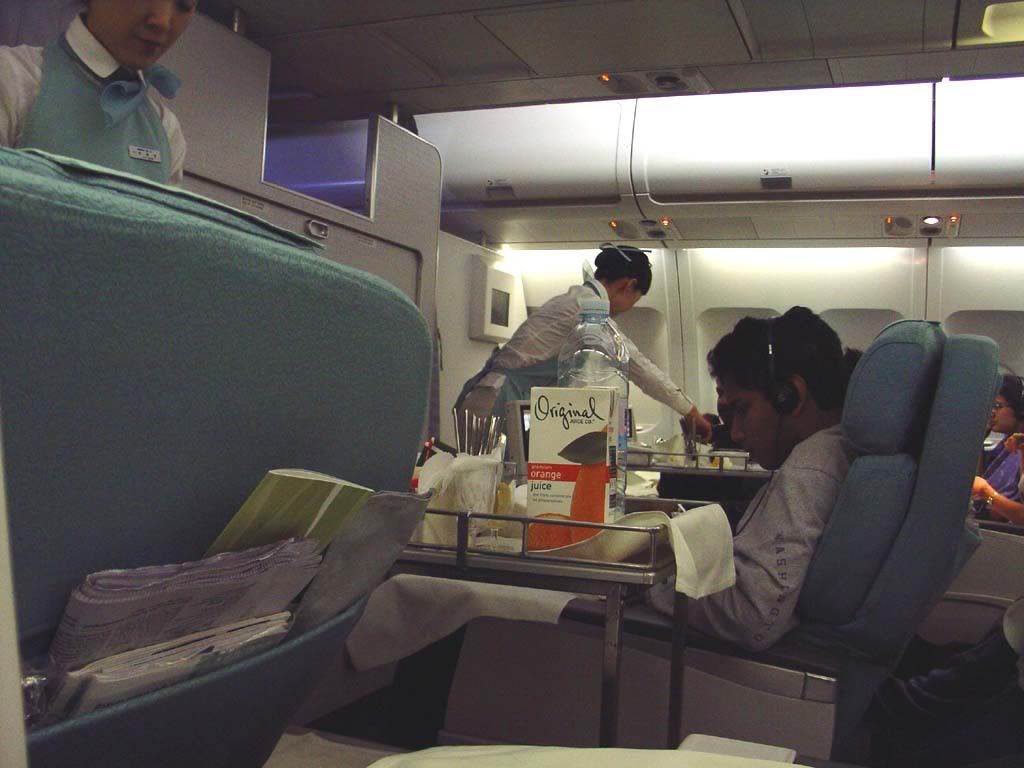 The crew then came around once again with a coffee and tea cart. I settled on a much needed cup of coffee.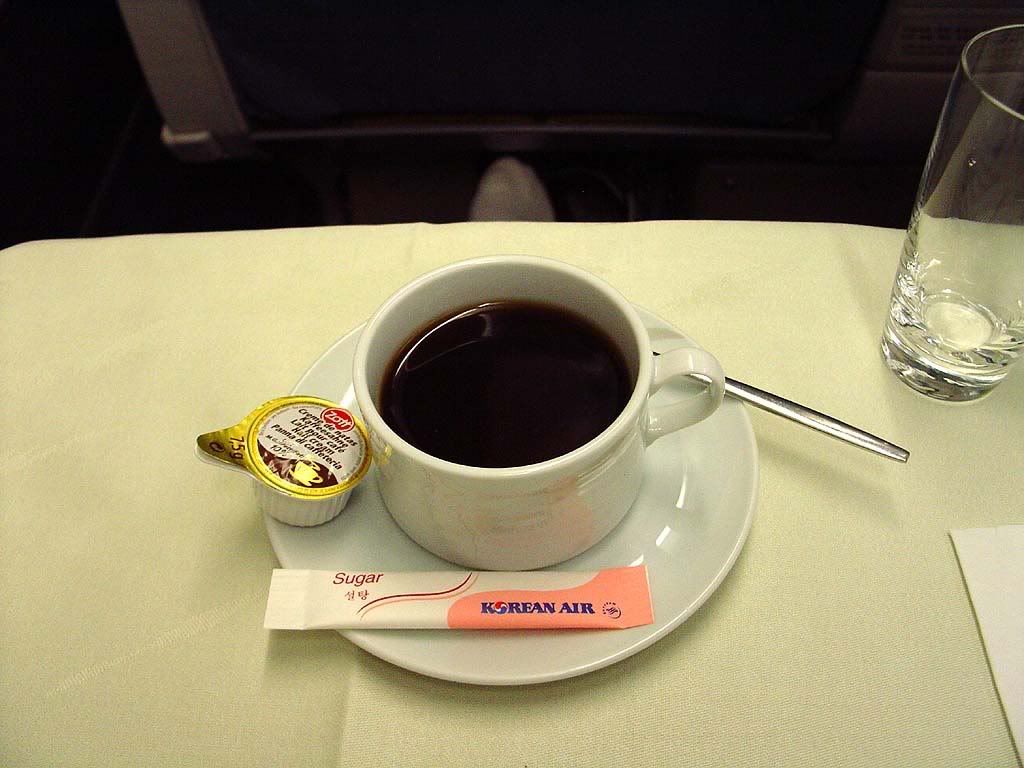 Just as I lifted the cup to my lips, the captain came on to inform us that we would begin our descent into Seoul shortly and that we would be landing early. Hot towels were passed around once more and the lead flight attendant came around with a list in her hand and talking to each passengers individually.
"Mr Tamboowala, you are connecting to New York John F Kennedy airport, yes?"
"Yes, I am."
"Your flight will be leaving from Gate 30 and boarding will begin at 7 O'clock. I hope you had a great flight today to Seoul. It was my pleasure serving you, thank you for flying with us."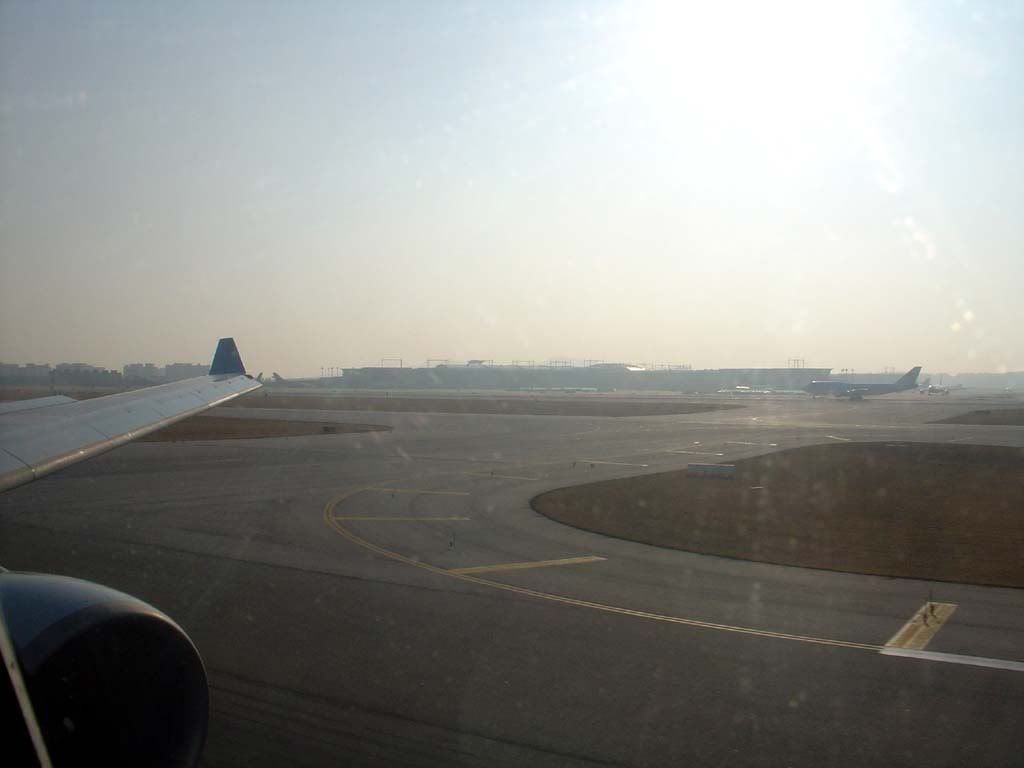 Arrival & Transit: Touchdown was one of the smoothest ones I have experienced in a long time. We taxied to the terminal where we docked at the gate around 15:20. I collected all my stuff and proceeded towards the door where the cabin crew were bowing with a "good bye." Once in the terminal there was a representative just off the jetway asking where everyone was connecting to.
"JFK."
"Los Angeles?"
"No, New York."
"Ah, Kennedy, go to the left line."
I proceeded towards the left line which was made up of all North American connections. The first representative checked all my paper work, making sure everything including my visa was in order. I then waited my turn to get to the makeshift table that had been set up with a bunch of boarding passes.
"New York, Prestige Class?"
"Mr. Tamboowala, here is your boarding pass. Boarding will start at 7 O'clock and will be at gate 30. Please proceed to the transfer desk, go upstairs and then find an escalator to one more level. The lounge is located on the fourth floor. Thank you."


I proceeded towards the security transfer area where my boarding pass was checked. I then emptied the contents of my pocket out and placed my lap top case through the x-ray machine. Once the security personnel were satisfied that I had nothing hide, I continued up the escalator towards the departure level. Almost immediately I spotted a sign for the Korean Air Lounge and proceeded up another level.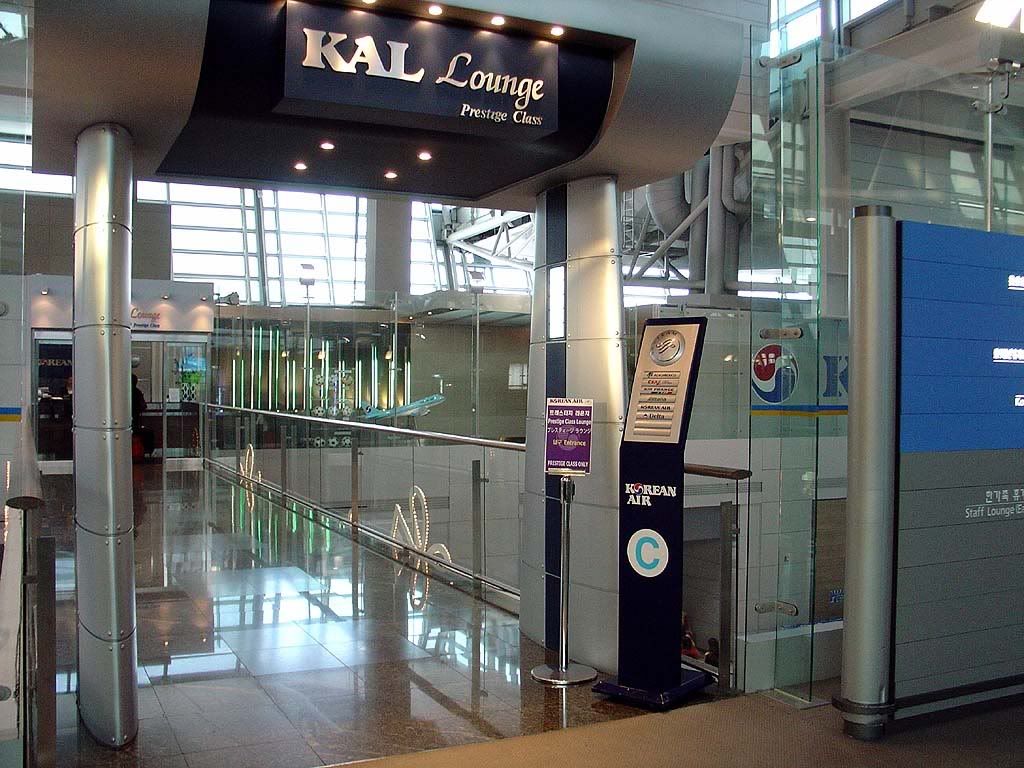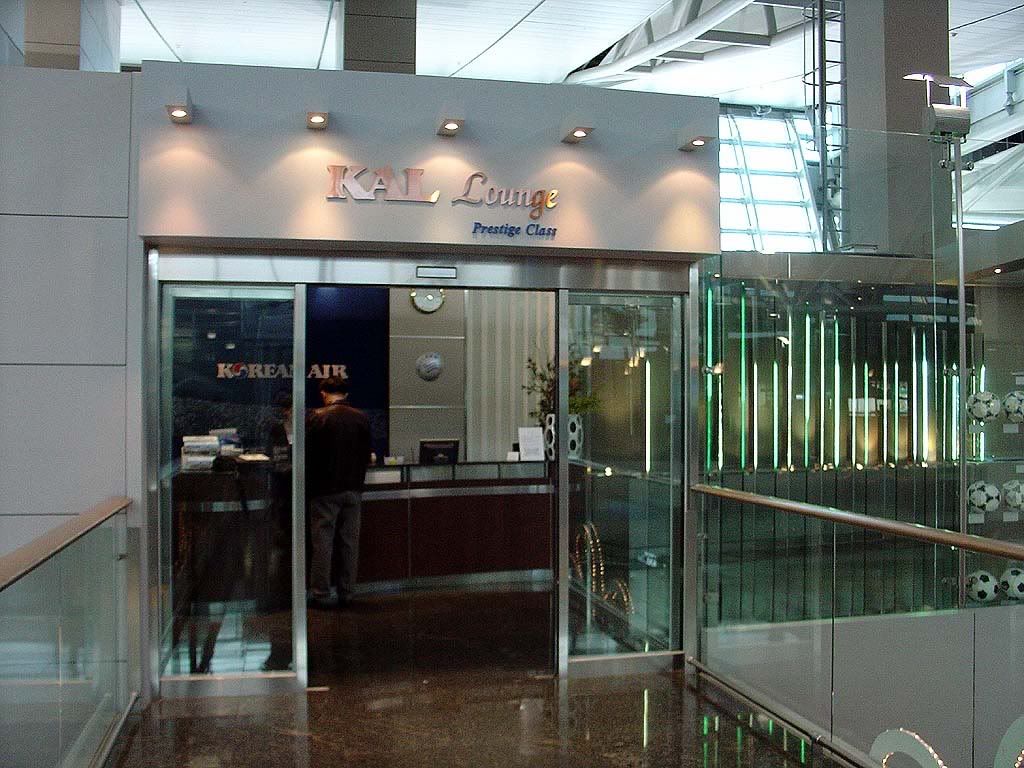 As I approached the podium I was greeted by a smile and a "welcome sir, can I see your boarding pass? Your flight will begin boarding at 7 O'clock at gate 30. Please enjoy yourself till then." I passed a large scale model of a 747-400 with a see through side, something I have not seen in years, I thought it added a bit of nostalgia to the atmosphere.


Upon entering, I found a seat on the side bar table set up for use with laptops where at I plugged my lap top in and enjoyed the view out of the window. Almost immediately an Asiana 767-300 in the new livery pulled into the closest gate to the lounge. Accompanying it were two Korean Air 747-400's and a single Korean Air A330-330; the aircraft I had just flown from Mumbai.


After attempting to log onto the wireless network, I approached an agent who very happily handed me a tiny piece of paper with the password. I then proceeded towards the snack area and was impressed with what was on offer. There was an abundance of sandwiches, cheese, breads, cakes and hot food. Having just had lunch I settled on a two sandwiches containing crab and ham and a Coke.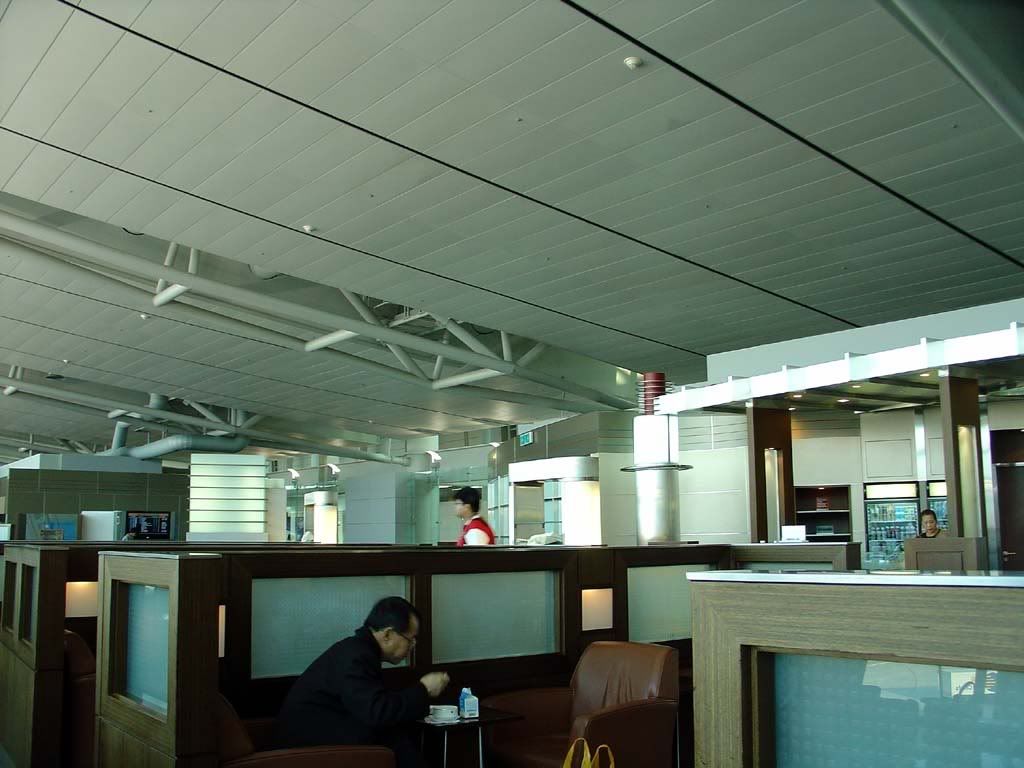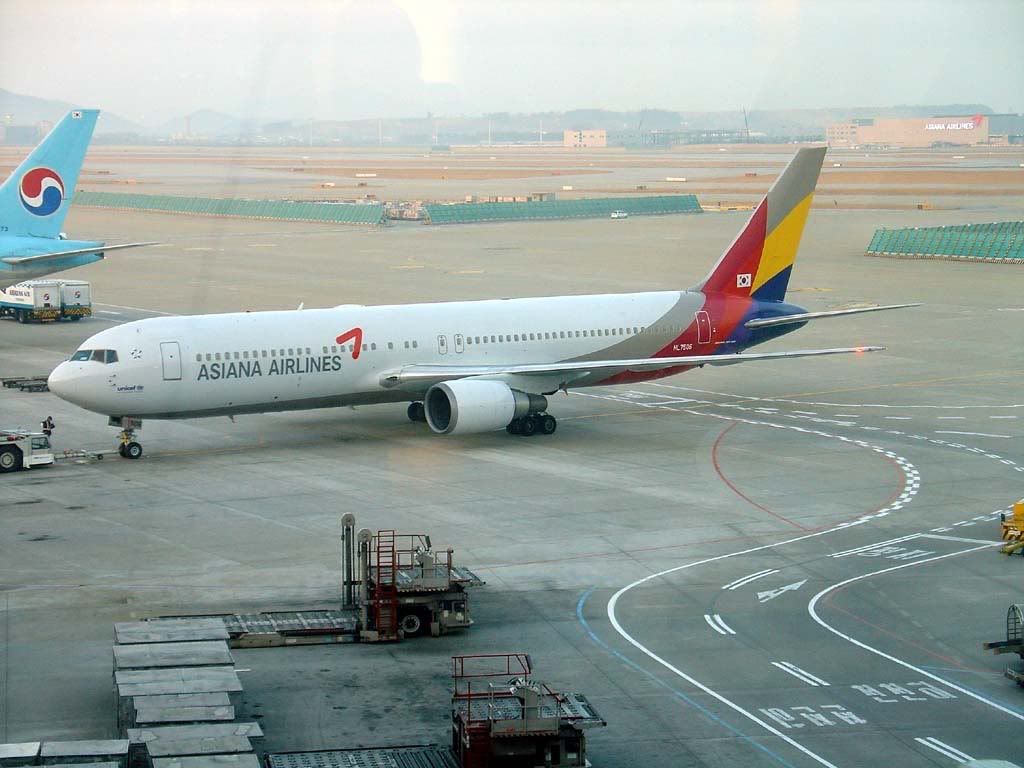 After about an hour I decided to use the shower facilities. I proceeded to the same agent that had given me the password for the free wireless internet.
"Are any of the showers available?"
"Yes sir, we have one open. Can I please have your boarding pass?"
I exchanged my boarding pass for a towel with a key and I was on my way in no time.

The shower room was not overly large but it was more than adequate for what was needed. Baskets had already been set up with everyday amenities that we are no longer permitted to carry including toothpaste, hair gel, hand cream, after shave and much more. Two bottles had been places in the shower, one contained Dove body wash and the other one was Pantene shampoo.


The shower felt amazing, all those hours I had spent at the KLM Crown Lounge in Amsterdam just seemed like torture in retrospect. Feeling somewhat more human once again, I decided to head out and explore the airport and see if it was up to the challenge of Hong Kong and Kuala Lumpur.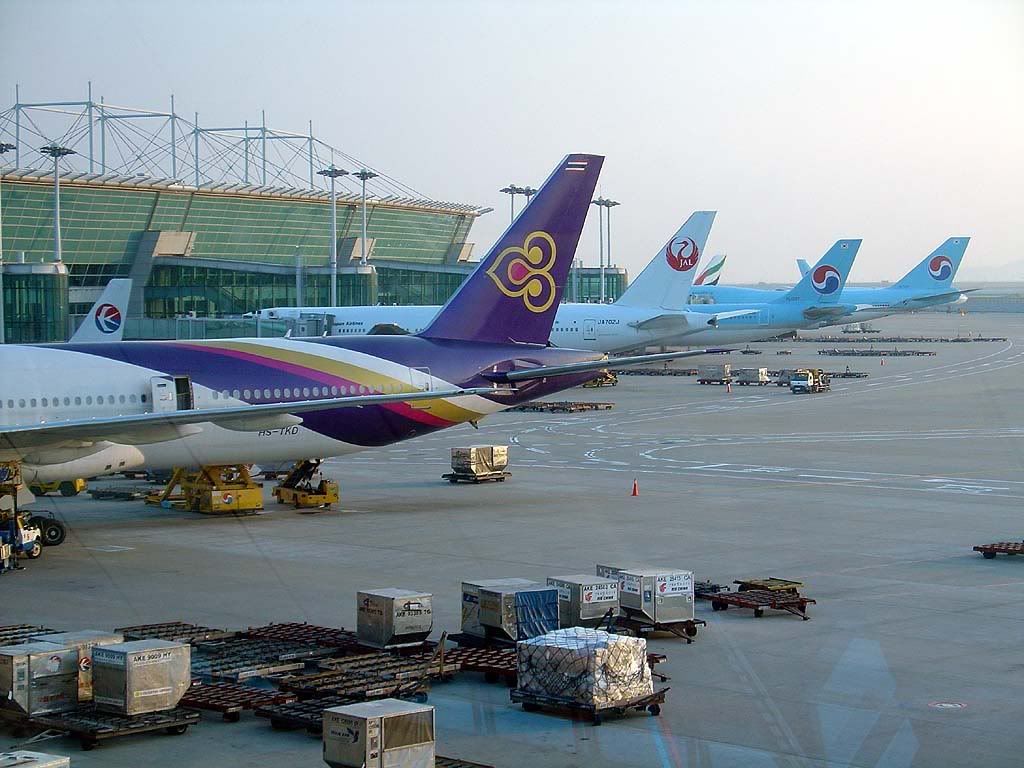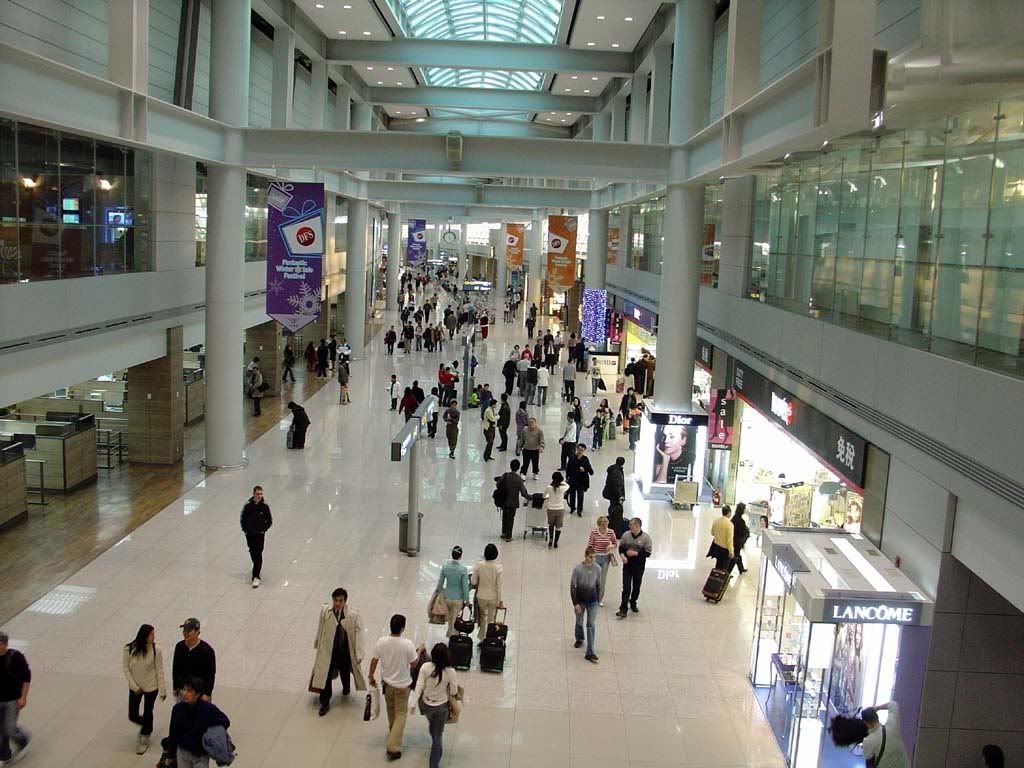 I walked from one end to the other and can honestly say that I was impressed. The airport is bright and full of shops. The layout is very easy to use and there is an abundance of restaurants and food shops, not that I needed any. During my walk I happened upon the Northwest WorldClubs lounge and for a brief second contemplated visiting it. I however decided that the Prestige Lounge would suffice for today; I would be in a WorldClub within four days anyway.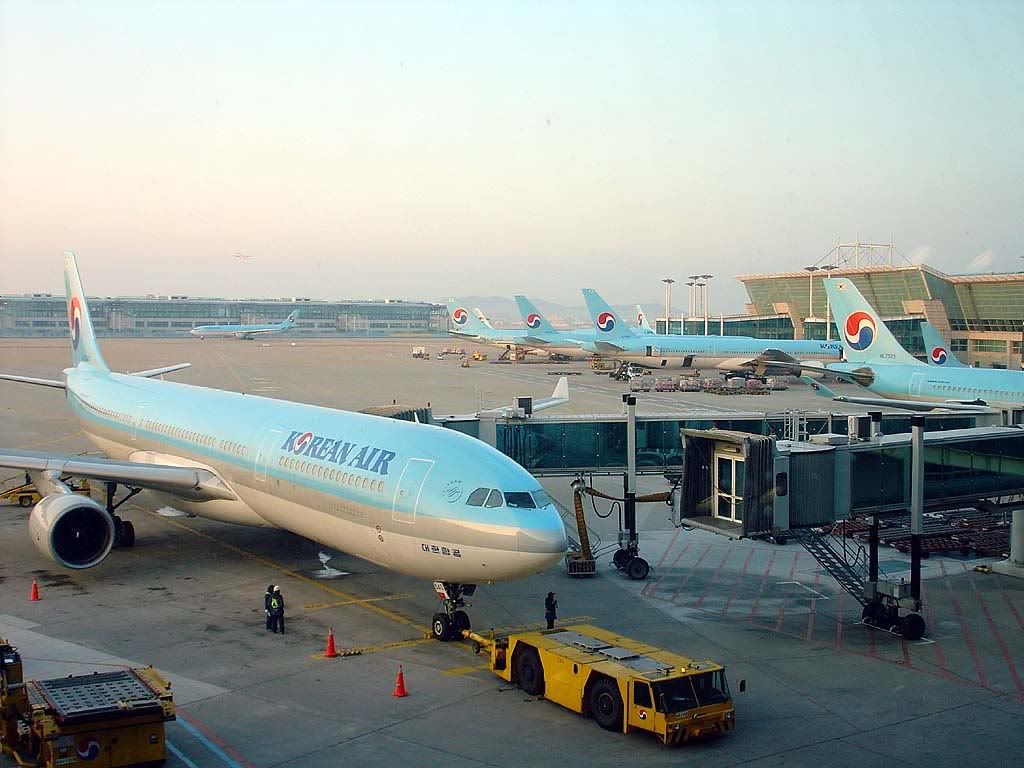 In summary the terminal was nice, one of the nicest I have ever had the pleasure to travel through, however it felt rather cramped. I was bumping elbows with people as I walked through the hallways and that is something that never happens at Hong Kong, Kuala Lumpur or even Detroit. I headed back towards the Prestige Lounge to rile away the time till boarding started.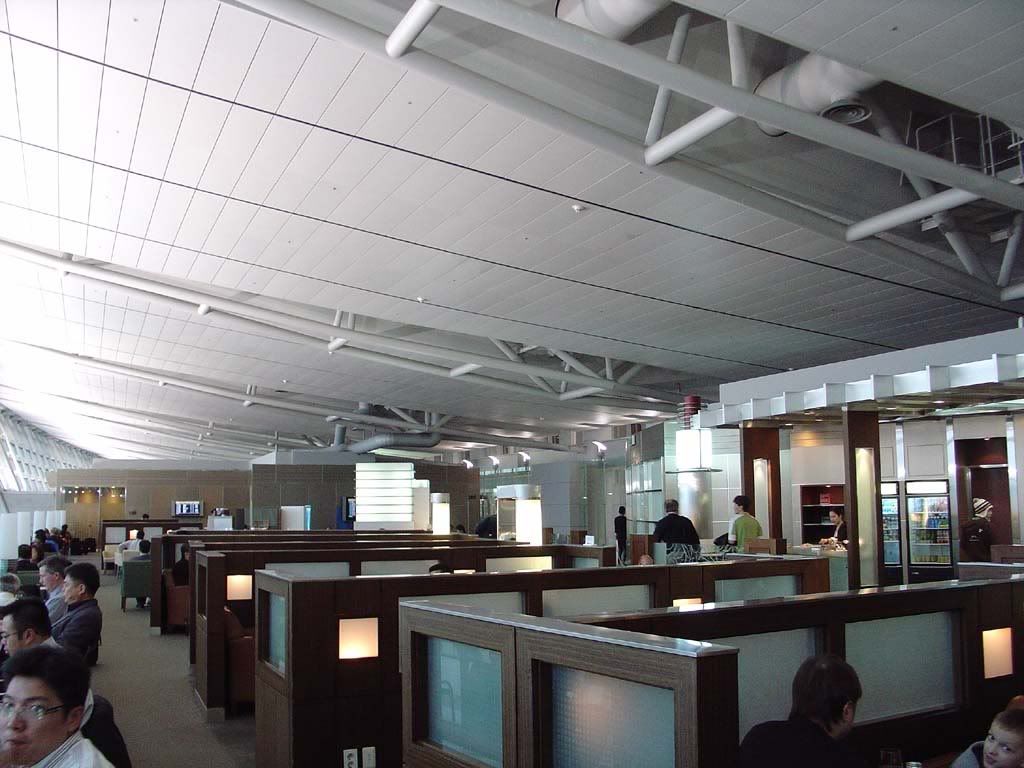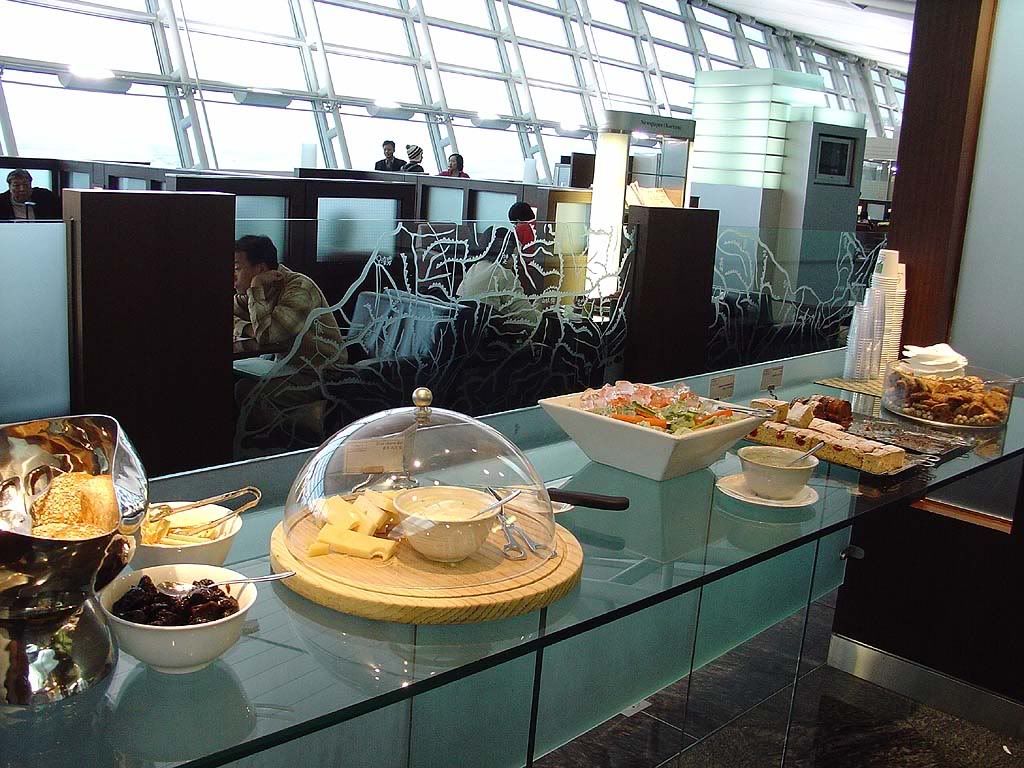 Once back, I grabbed a plate of shrimp in chive aioli along with an ice tea and surfed the web until about 18:40 when I headed towards the gate.