Ryanair Trip Report ~ January 2007 ~ Boeing 737-800W ~ PART 2
Dublin to Edinburgh ~ FR818 ~ SAT 27 JAN 07
Well after a long day, shopping, eating and walking I have had enough of good old O'Connell Street and the City itself so I feel it is time to head back to the airport. I head to the bus stop for the "airLink" No. 747. I get on the bus with my €5 day ticket for Dublin Bus, and take up a seat on the upper deck. After such a tiresome day it is rather hard not to fall asleep on the bus, so that is what I done, luckily waking up as we approach the terminal entrance… hehe.
It's only 4.45pm when I arrive at the terminal, but to be honest I was all up for having a nosey around the aging terminal. I went in through the arrivals area and up the stairs to the Check-In area, which was full with a sea of Ryanair passengers. It was far too busy to hang around their, so I decided it was best to just head through security and see what I could find Airside. I headed over to some airport staff handing out bags for liquids etc. where I had to give up my bottle of coke. The rather amusing staff member happened to inform me that my coke would "go to a good home". Not soon after she enquired where I was from as apparently I have "a funny accent"…lol.
Anyway, after my brush past her I proceed to security where thankfully my boarding pass was accepted by the scanner first time. No fiddling required this time round. I see no difference in this one. Do you?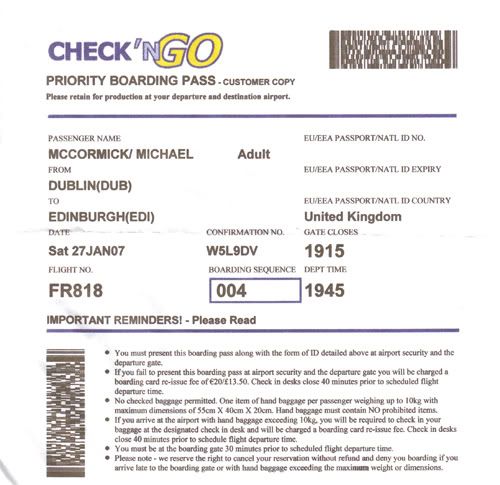 So I head off to the end queue and as usual, take my jacket and bag off and put in one of the larger black plastic containers. Then my change, you'd think I had been collecting along with the beggars on O'Connell Street with the amount of change that came from my pocket, and mobile phone goes into a smaller container. Now through the Metal Detector and to my astonishment there is no 'beep'. Thankfully though, due to the fact I had been handled already that day however I did have a watch on and it never beeped which was weird. I could have had anything inside that.
Security cleared, now I get to a sign that is telling me to go to the right for Pier A and to allow 10mins to walk to the gate. Then Pier B and C were to the Left and to allow 10mins for Pier C and 5mins for Pier B. So having plenty of time to spare I head down Pier C. I walk to the end where I find a vending machine. Parched from my walk I decide to insert the €1.70 it is asking for the bottle of Diet Coke, only to find that the machine is not working and it gives me my money back… in €0.05 coins! Oh fabulous, 34 x €0.05 coins to add to the collection in my pocket. There was no way I was walking all the way back to the sandwich bar or shops, so I just park myself at the Internet area. A lovely A320 of BMI sits behind me, glistening in the pinkie sunset. Shortly afterwards her flight is called, BD183 to Heathrow.
Before long, it turns 6.30pm and I decide it is perhaps best to start making my way towards Pier A, a delightful 15 minute walk from where I was. By now it was pitch black outside, and the lights and sounds of aircraft is all that could be seen and heard from outside. I stop off at one of the shops to grab a Diet Coke, handing Dublin Airport back their €0.05 coins which their machine kindly handed me earlier on. As I walk on, I take a quick nosey down Pier B but not much was to be seen their so I continued on my way to Pier A and heading along the corridor that earlier I had been turned away from upon my arrival. Down the escalators into the Portakabins I go, starting my long walk towards Gate A70. Sadly due to the light inside and the darkness outside I could not capture any pictures for you, not that there was much to be seen anyway.
Finally I arrive just outside Gate A70, parking myself on a metal seat and begin to read my book again, the boredom saver of my trip. After getting through another forty or so pages, suddenly, over the loudspeaker came an announcement "All passengers on Ryanair flight FR818 to Edinburgh, please make your way to Gate A70 where your flight will be boarding shortly". Now in that announcement I heard absolutely no announcement that all passengers should run to Gate A70 like a herd of elephants stampeding. However, everyone done so and I thought "what the hell, why not join them. I am flying Low-Cost after all"…lol.
So standing in queue for 25 minutes due to the delayed arrival of the inbound aircraft to operate the Edinburgh sector was rather tiresome. I was surrounded by a bunch of halfwits. Three women standing in front of me chattering as if it was the end of the world and they had to get every last detail out, and a foreign gentleman behind me that was so obviously getting impatient of waiting in the queue he started to pout and grumble under his breath. I was about to enquire if he was in need of a Strepsil. Finally the aircraft arrived, and the hordes of passengers came scrambling off. One wonders if they were being pushed off or being offered a cash incentive for being first at Baggage Reclaim.
Well at last one of the female members of Cabin Crew came into the Terminal to announce our flight ready for boarding. We in the web check-in queue had priority so we were being boarded first. Walking down the queue, past those who had checked in around 2 hours to 40mins ago, giving us evil stares for being allowed on first. Why do people have a problem with this?
I walk down the ramp towards the tarmac, slowly due to the fact I have to follow the pair of gabbing women down the extremely narrow winding ramp. Finally I get down to the bottom of the ramp and swiftly over take the 'social walkers' and across the road towards the aircraft steps. Entering the aircraft I was greeted by a rather smiley female cabin member, to whom I showed my boarding pass and then moved down the aisle to take up my seat. I chose the 'F' seat again, two rows behind from where I sat on the Outbound. I sat down and got comfy, removing my jacket and placing it under the seat in front along with my rucksack. I got some pictures of us sitting on the Tarmac before pushback: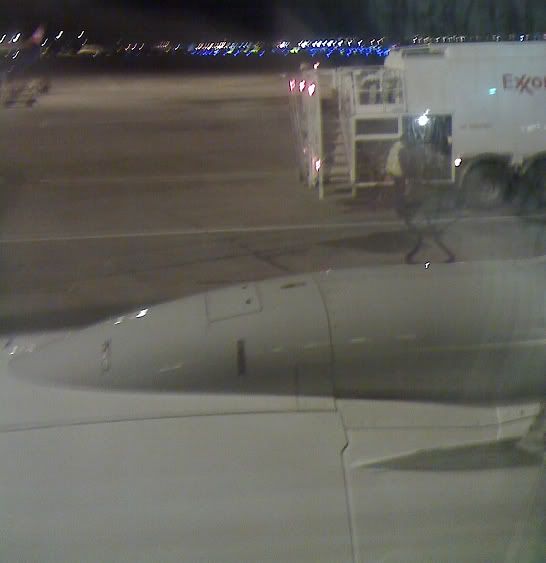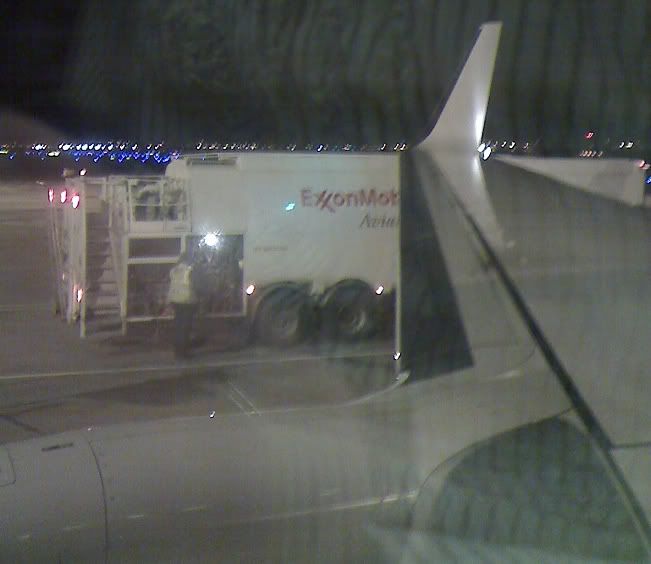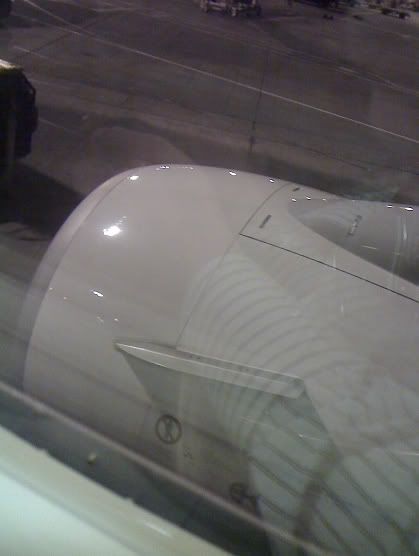 We pushed back around 30mins delayed, however was not very noticeable. I think the standing was the most wearing part of the delay. Seated, buckled in and the safety demo done. All of the cabin lights go out, and we are approaching Runway 28 for our departure to Edinburgh.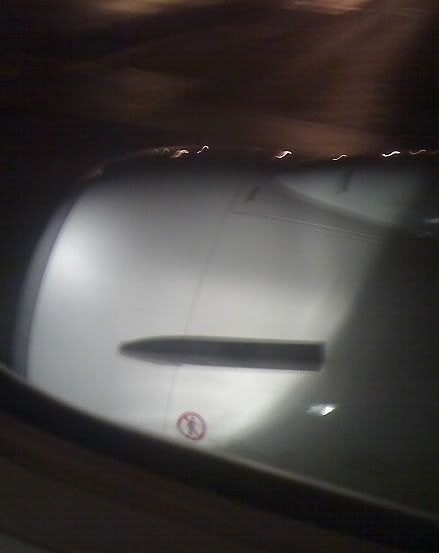 An Aer Arran ATR lands just before we turn onto Runway 28. We slowly position ourselves on the centreline, and within seconds the engines start spooling up. FR818 is rolling, bound for Edinburgh. We rotate around ¾ the way down the runway, accelerating away from Dublin Airport and into the sky's above. Soon after take-off there is nothing to be seen but darkness as we turn towards the Irish Sea and of course, Scotland. I take the time from ascent to descent, to get through another few pages of my book. And not long afterwards "Passengers please return to your seats, the captain has switched on the fasten seatbelt signs for landing in Edinburgh".
We were getting ever so slightly bounced around by the wind as we approached Runway 24. Trees and Houses getting larger by the second, we were on Final approach. "Cabin crew seats for landing". We touched down with a great thud, screams could be heard a few rows backwards. I was about to join them, I honestly had no idea if we landed or we were indeed shot down!
Again thrown forward as we braked heavily, we taxied off the runway and commenced our taxi towards the terminal. Passing the Edinburgh Airport Fire Station, which was lit inside and dark outside, I happened to notice a few aircraft parked for the night. Amongst them were BMI Regional and BA Connect ERJ jets. As we slowly proceed into Gate 1C, I take a couple of bad shots off a Globespan B737 parked beside us.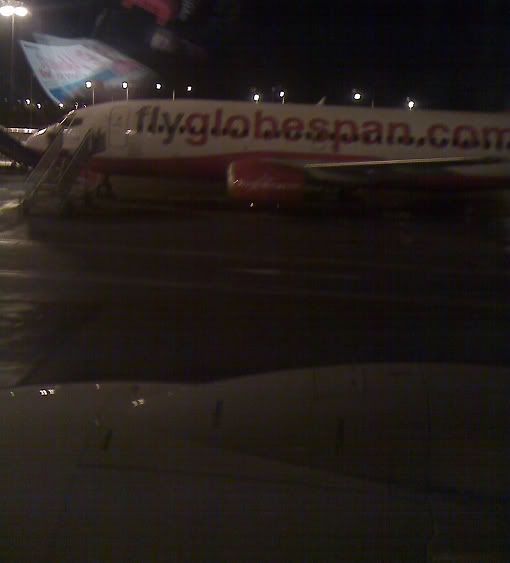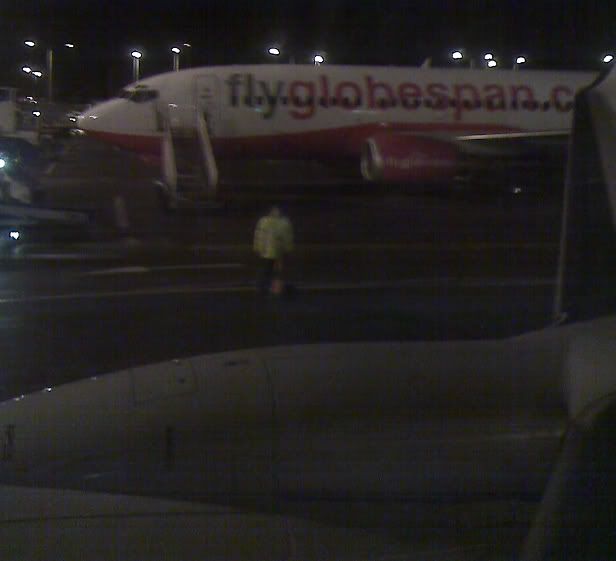 I make my way down the steps and walk towards the terminal. Above are passengers about to embark on the return flight to Dublin. I head inside and move towards the baggage reclaim area. Firstly I pass the British Police check point, which is unusually unmanned. I was awaiting someone to check passports but I just sailed right through to the baggage reclaim area. It is very quiet however it soon gets busy around the carousels. Luckily, again no checked baggage so I head through the Green Channel at Customs and make my way through the Check-In area in order to catch my bus to Edinburgh City Centre from outside the Departures area. So their goes one of many Saturdays, the only way I could imagine fun!
Overall I found that Ryanair has an excellent service on-board. Staff were very pleasant and honestly I could find no fault with them, except for one thing… The seats were looking slightly worn. Other than that, they are as close to 1st class as you can get. I would fly them again any day. If you do everything correct, i.e. turn up to check-in on time, turn up to gate on time etc. then you will have absolutely no problems with Ryanair.
I hope you enjoyed reading and looking at the pictures, please leave comments
Regards
Mike