Hi All
Well I decided to go to MAN to visit my uncle so took advantage of using staff travel as the flights were empty due to the threatend cabin crew strike. 17 pax on outbound 16 pax on inbound flt!
31st Jan 2007
LGW-MAN
G-DOCT 737-436
BA2902
24A
Cruising Altitude 24,00ft
Flight time 40 mins
Checked in and asked nicely for a window seat because the flight was empty it was towards the rear of the aircraft due to weight and balance. Never mind I had the whole row to myself!
Pushed back a few minuites late but it wasnt going to affect our arrial time in MAN
As it was such a light load when the time came for the crew to do the service they came round and brought the breakfast straight from the galley which i though was a nice personal touch!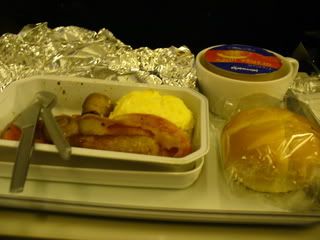 Had a lovely cooked breakfast, and as soon as I had finished eating it we were making our descent into MAN.
Touched down a few minutes ahead of schedule seemed a very fast landing and taxied into terminal 3 stand 43.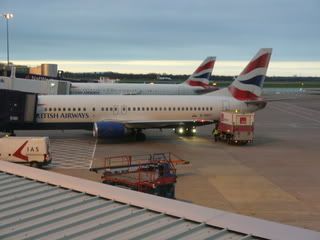 Spent the morning at the aviation viewing park watching the planes but then it was time to return to London.
31st Jan 2007
MAN-LGW
G-DOCZ 737-436
BA2907
24F
Cruising altitude 19,000ft
Flying time 40 mins
Checked in and again was given a window seat and again at the back because of wieght issues.
Spent some time landside watching many BMI EMB's coming and going, then decided to go airside as I noticed that G-DOCZ had just touched down.
Again the flight was empty and I had the whole row to myself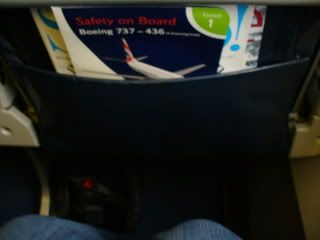 Leg room on the 737.
The flight was quick on this service we were offered a drink and a packet of nuts.
Touched down ahead of schedule nice smooth landing and taxied into gate 57B
All in all I had a fab day out once again the crews were superb on these short flights. I would definatly choose BA for the early morning domestic flights cos of the lovely cooked brekkie!!
Comments welcome.
[Edited 2007-01-31 19:32:27]