LAX-DEN-DFW-ORD-MSP, First, UA
Route—Outbound Only
Dates—January 26th, 2007
Airline—United
Class of Service—First
Flights—576 (757), 304 (757), 464 (320), 463 (733)
Reason for trip:
I wanted to get away and instead of doing my usual SBA/SMX-BDL trip, I decided to go to MSP and stay with some family and have some fun! The very odd routing was of course my prerogative. I had not been to Dallas in a very long time (since I stopped using AA a couple years back), and wanted to go there for more fun and to accrue more miles (not to mention just one more flight in F).
Pre Flight:
I live in the northern Santa Barbara County in California and wanted to leave from LAX instead of flying to LAX for a connection out of SMX. My first flight left at 7:10 am, so I had to wake at 1:45 am, and leave by 2:30. I took Malibu on my way to the airport even thought there was not much to see at 4:00. I had breakfast outside the airport at a Denny's outside of Los Angeles, and lets just say I did not have much of a pleasant experience. From this point, I proceeded to the terminal without even getting lost at the maze of LAX.
Flight 1
United 576
Route--- LAX-DEN
Equipment--- Boeing 757 (Non PS)
Configuration--- 2x2, 6 rows
Registration--- unknown
Class--- First
Seat--- 03B (Aisle)
Scheduled Departure--- 7:10a
Actual Departure--- 7:11a
Scheduled Arrival--- 10:32a
Actual Arrival--- 10:33a
Outside LAX: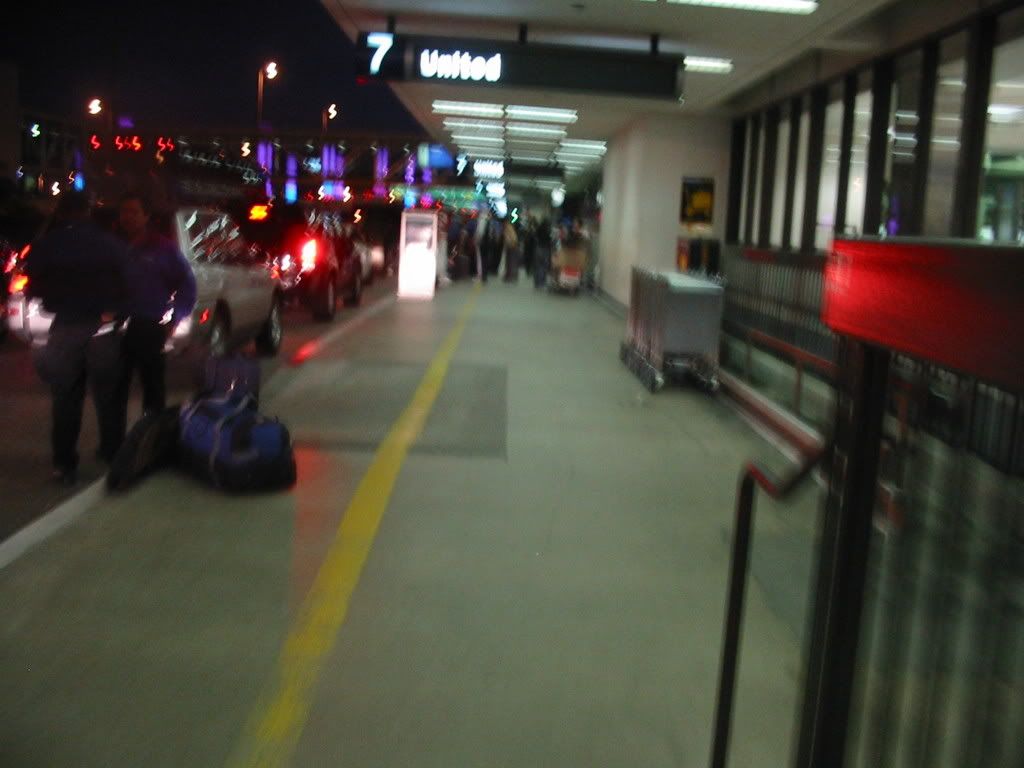 Flight 576 is historically late, but this one was right on time, leaving the gate one minute late and arriving at the gate in DEN (B29) one minute late. Our wheels up time at LAX was 7:24a. Our taxi was pretty long because of our 24L departure was on the way other side of the airport than terminal 6, 7, and 8. Something very surprising happened upon our departure; the separation between departing aircraft was extremely small. This is how the ATC went:
Tower: Southwest xxxx, turn heading 270, cleared for takeoff, 24L.
WN xxxx: 270, cleared for takeoff 24L.
Tower: [3 seconds later] Southwest yyyy, turn 270, cleared for takeoff 24L.
WN yyyy: [approaching 24L while WN xxxx just started rolling] Okay, to 270, we are cleared to go on 24L.
Tower: Skywest xxxx (EMB-120 B), turn 310, cleared for takeoff 24L, caution wake turbulence (By this time, WN xxxx has just started to rotate, and WN yyyy, just began to roll, so there are three a/c still on the runway all cleared for takeoff).
That was the worst it got, but even at other times, the separation was nothing. The controller rarely ever even said "position and hold", he just skipped that step. Nonetheless, he actually did a good job of keeping the line moving, but still, if an a/c had to abort takeoff, he would be screwed, and out of a job.
Our takeoff roll was really not too impressive for the type of aircraft. Our climb was very smooth as was the entire flight. This was the first of four flights for that day, and it really started everything out on a good note. We flew out over the Pacific for about 10-15 miles (up to 4000 feet), before making the right U-Turn towards the east.
We flew high at FL390 which made for a nice ride. We were up there for the entire flight until getting close to DEN when we started our descent pretty early because of the high altitude of DEN
The load in F was about 75%. The flight attendants did a very good job by always making sure we were okay, and by always having a drink next to us. The meal was served at a perfect time which is about when 40% of the flight is complete. I had the ham and egg croissant which was very good as it always is. Even though the load was small, I did have a seatmate and the only words we shared was, "This thing is like a Ritz cracker", talking about our breakfast.
Even though the flight was pretty dull, I did listen to Channel nine most of the flight which just makes the flight go by much quicker, and plus, you get to be in the know of things.
What I did notice about the flight was that the F/A's kind of shared the job. There was not a set First Class F/A which I have never seen too much of before. But, there was always at least 3 F/A's in the F cabin which I though was pretty good and professional (Speaking of F/A's, the five or six of them on board was the most diverse group of people I have ever seen: One young blonde, one Asian man, one Spanish girl, one British woman, and one darker skinned Middle Eastern man).
I was happy with my Mountain Dew and Ginger Ale to get my caffeine to stay awake. The flight was very uneventful, and not even a dose of turbulence. Our route flew us due-south of the airport, so we could take the left turn north, to put us down nicely on 35L.
We taxied to B28 and deplaned. I was hoping for more eventful day in LAX and maybe a little light chop on the flight, but nothing even close to any of that happened.
Overall I will say this flight was very well done, and everything was in place. I did not even have to watch the safety video because my video screen was not working (which might have been a bad thing if there had been any video IFE)!
The 757 I took from LAX-DEN, taken at DEN:
Flight 2
United 304
Route--- DEN-DFW
Equipment--- Boeing 757 (Non PS)
Configuration--- 2x2, 6 rows
Registration--- unknown
Class--- First
Seat--- 04B (Aisle)
Scheduled Departure--- 12:20p
Actual Departure--- 1:18p
Scheduled Arrival--- 3:07
Actual Arrival--- 3:48
While in Denver, I took some pictures, got a bite to eat, left the airport for some fresh air (not to smoke, I am not a smoker, but just for the nice cool air of Denver). I went back in the terminal and got lost. I had never been outside the secure area there, and the west and east terminal thing just confused me. I saw where security was, but I was looking for United ticketing and check-in. Finally I found it and went to a kiosk to see if I wanted to change my seat, which I did not because 4B was fine because 4A was empty.
The train area:
Spotting at DEN: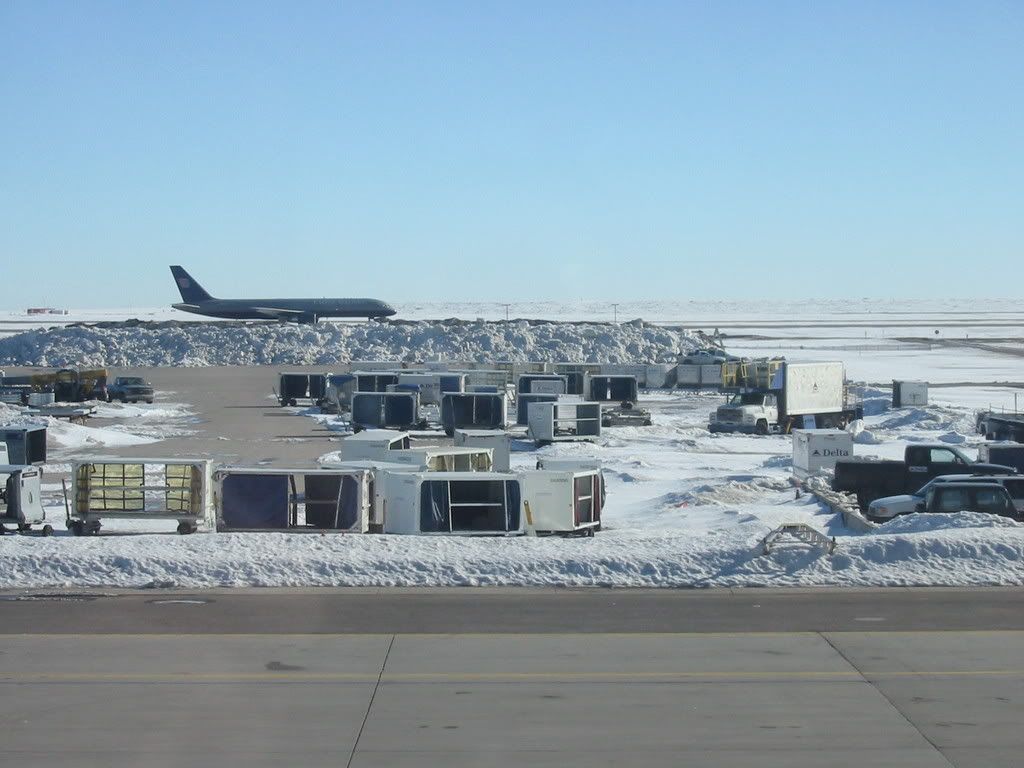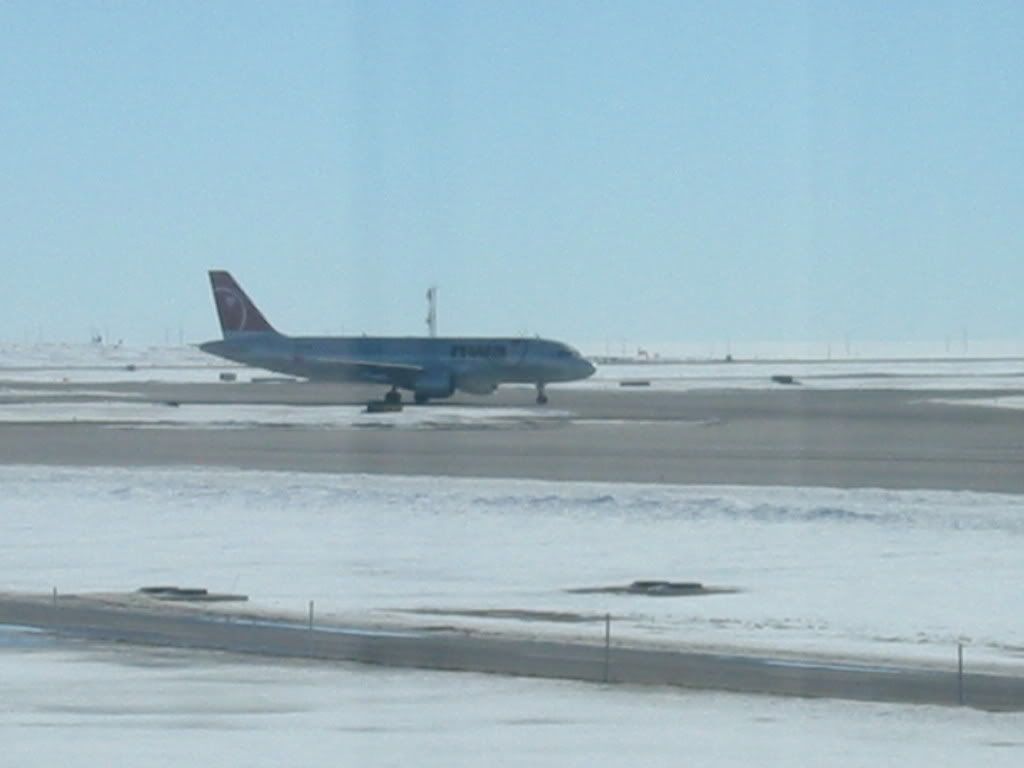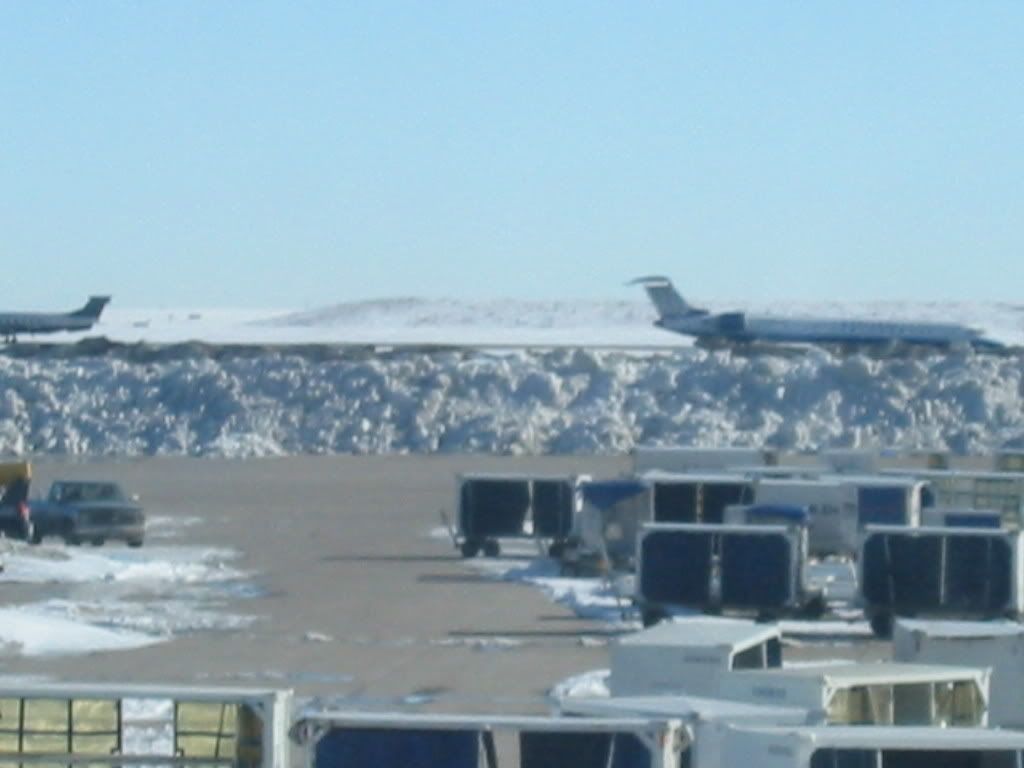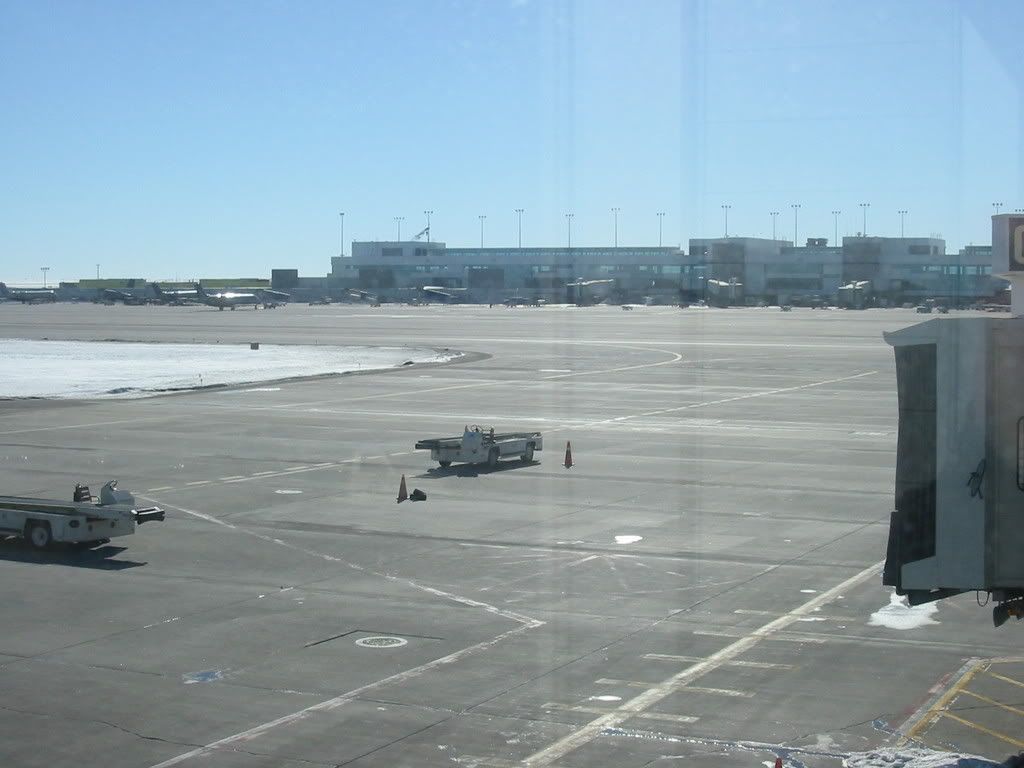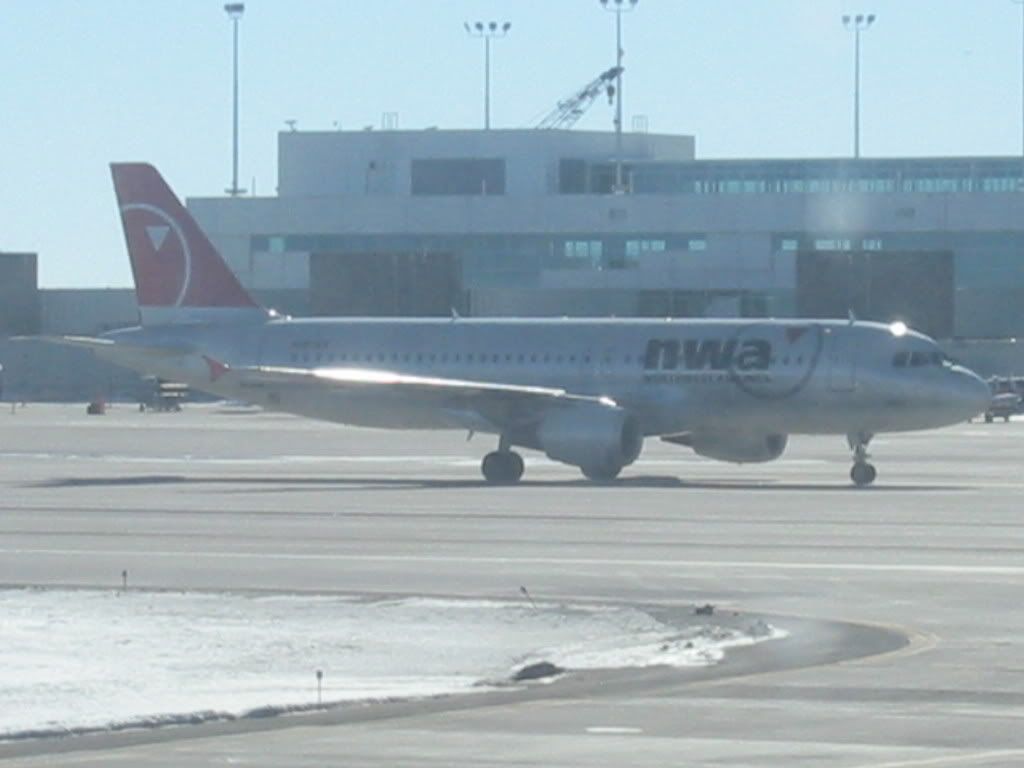 Outside at DEN: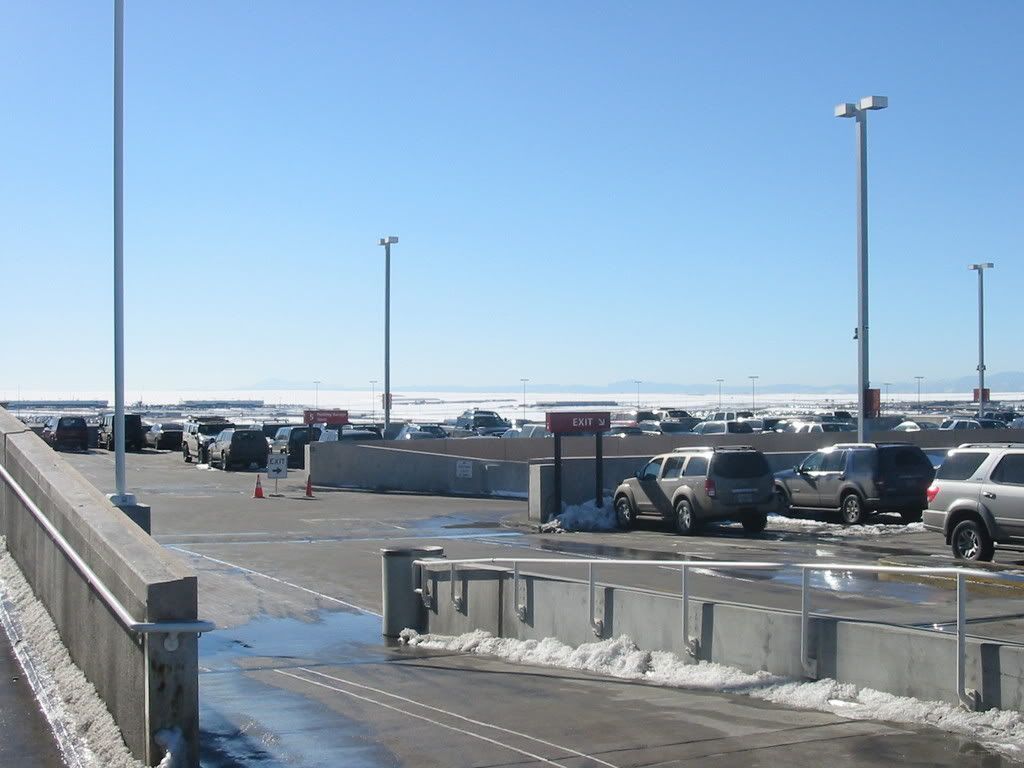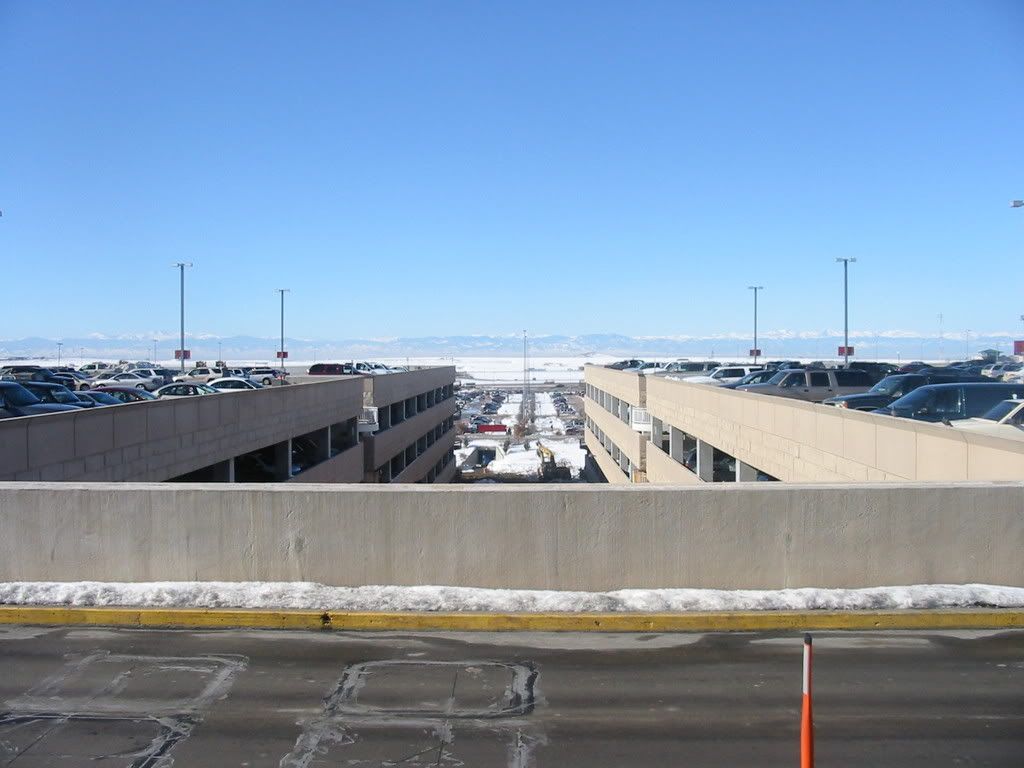 I went through the priority security line and got back to the concourse. I bought some Mentos and proceeded to gate B24.
I got on board the B757 that looked identical to the one before and took my seat. I was of course offered my pre-flight drink as we waited for everyone to board. Once we were all done boarding, the Captain informed us that there was a problem with the a/c and there would be a wait. The good news was, that I had a long layover in DFW, and the even better news was that the F/A's started some IFE (or OGE [on ground entertainment]) which was "NBC In Flight", as well as an episode of "CSI:", and a story about golf on Tiger Woods.
Our Captain also opened up the cockpit door and invited anyone to go and check out the cockpit. We were offered some drinks as we waited. Since it was an episode of CSI that I have never seen before, I chose to watch it! The wait ended up to be 45 minutes past the scheduled departure time. Since I boarded first, and with the delay and taxi time, I had been on the ground over an hour before we got airborne.
Our wheels up time was 1:18p. Our takeoff roll was much more impressive than the prior. The climb was smooth opposed to what DEN usually has to offer. We flew southeast before turning due-south, and then continuing southeast in a straight shot to DFW. We reached a final cruise of FL390 again which made for another smooth flight.
This flight in my mind, was not "up to par". They never again put the IFE on so I could not finish watching CSI, there was supposed to be a lunch service, but there was not, and the drink service was not as frequent as it should be when you pay for or upgrade to a First Class.
I was in seat 04B and was the only one in that row as well as the most aft person in F. F was about 40% full, and because of that, they dumped one F/A to coach for most of the flight, which makes sense to me. It was kind of was awkward being alone in row 4 when everyone else is in1 or 2. I did have the window and aisle to myself though, and that is a real big plus!
The flight crew tried to make up some time from the delay but they ended up only making up three minutes. Usually a good twenty or so minutes can be made up if you fly at "maximum speed" as the Captain said.
The approach was smooth, and the landing was pretty good. I believe the Captain landed for this leg of flight 304 (one of four legs). He was the one who saved this flight for me, right from the beginning when he opened the cockpit door to all visitors. Because I was almost alone in the aft part of F, I tried to take some pics of our approach into DFW, and a few of them, I am kind of proud of!
Our taxi was pretty short to gate B30. Since UA only has a few gates at DFW, my next flight was bound to be a short walk away.
View from the B757 on approach into DFW: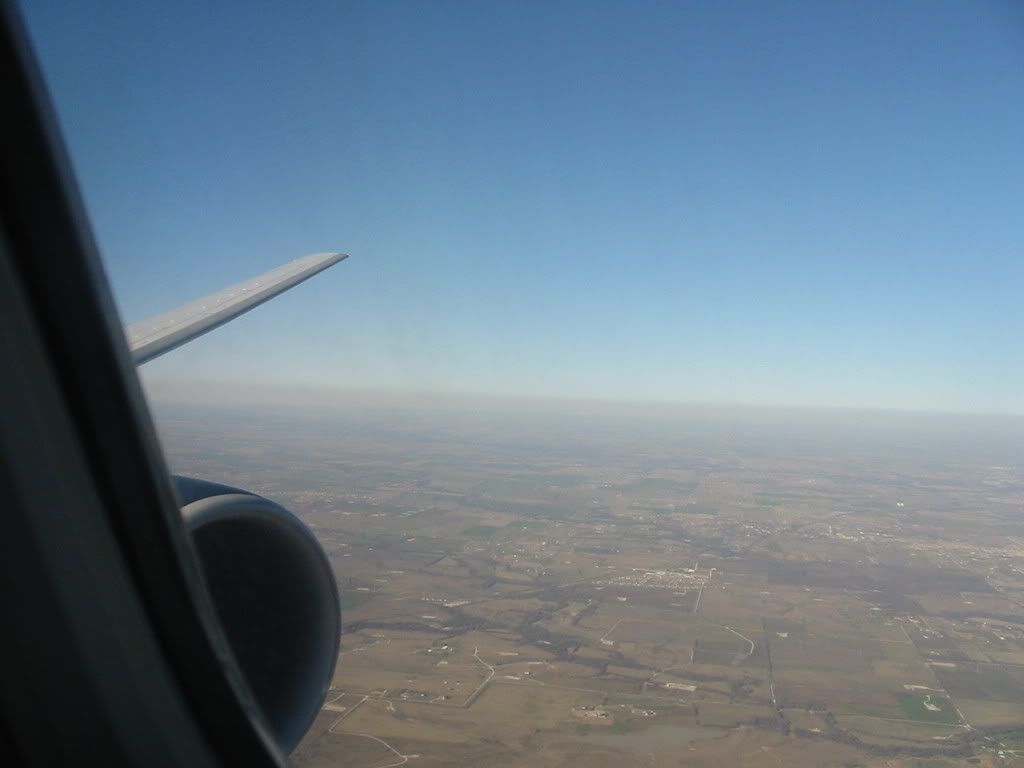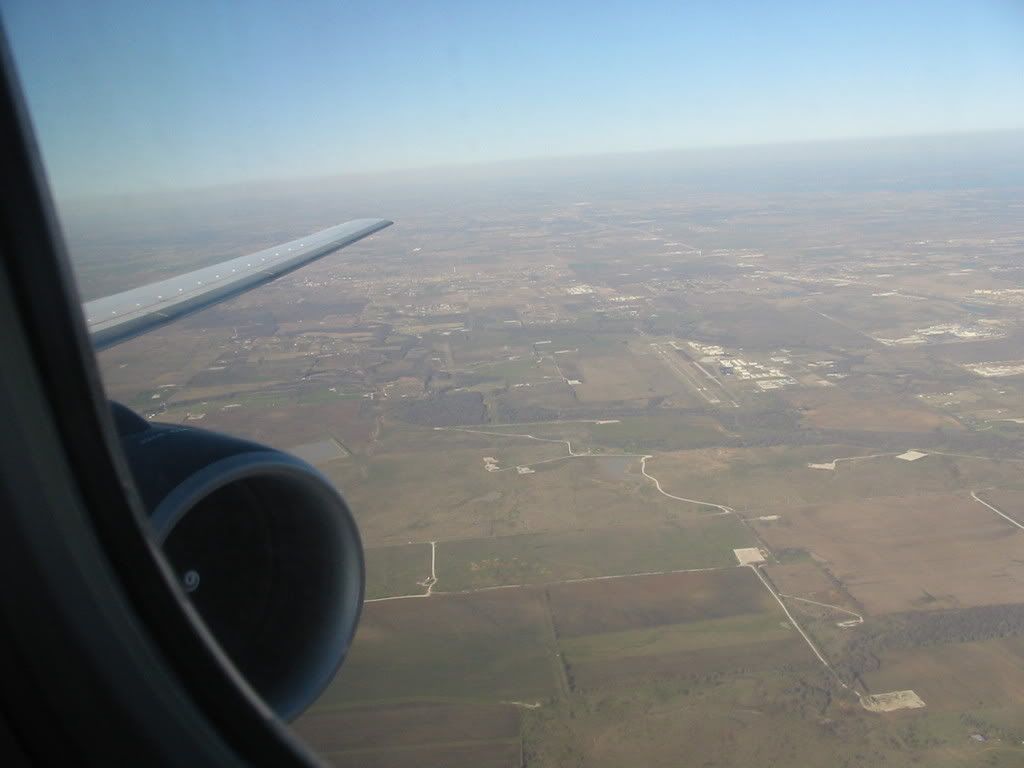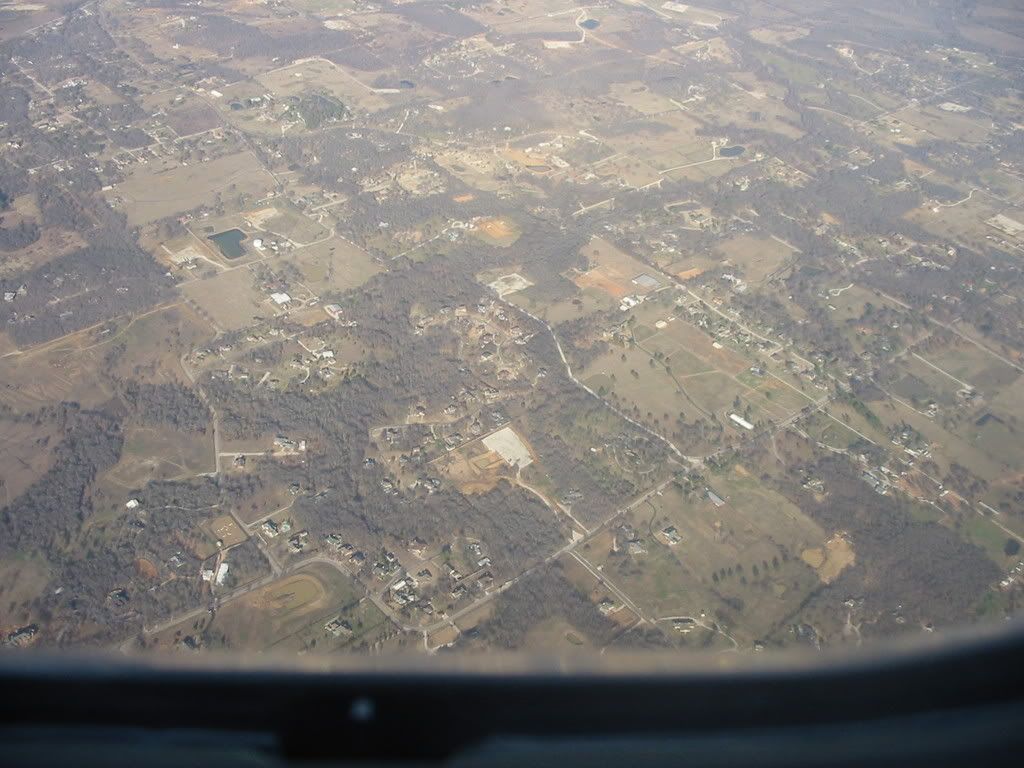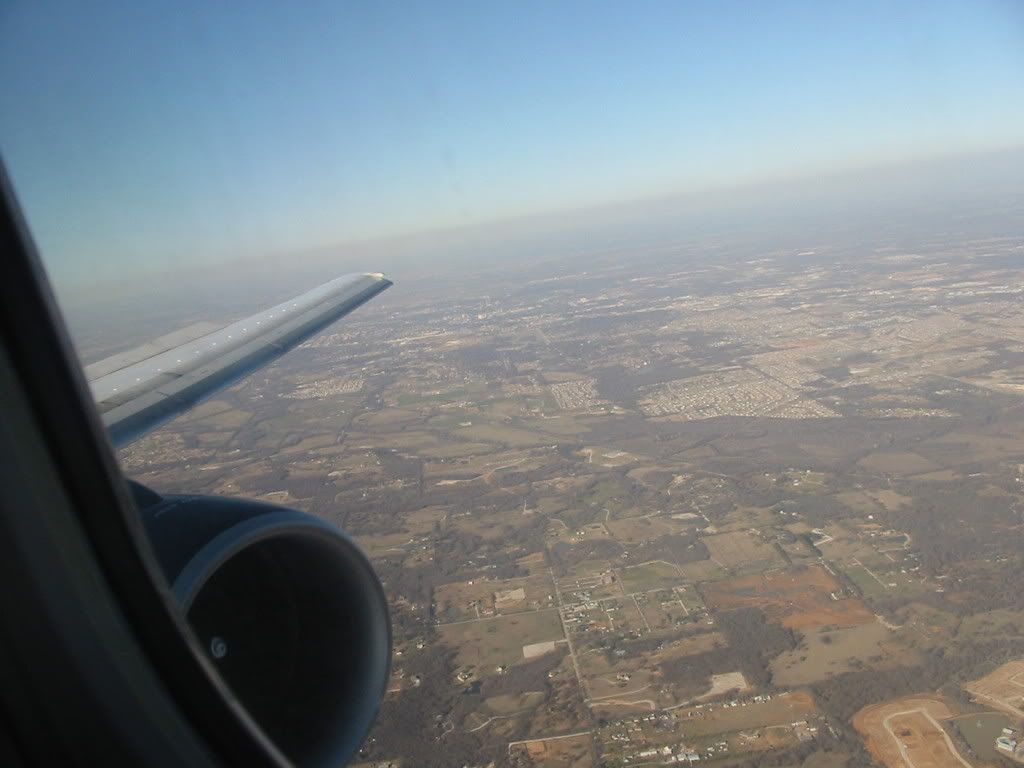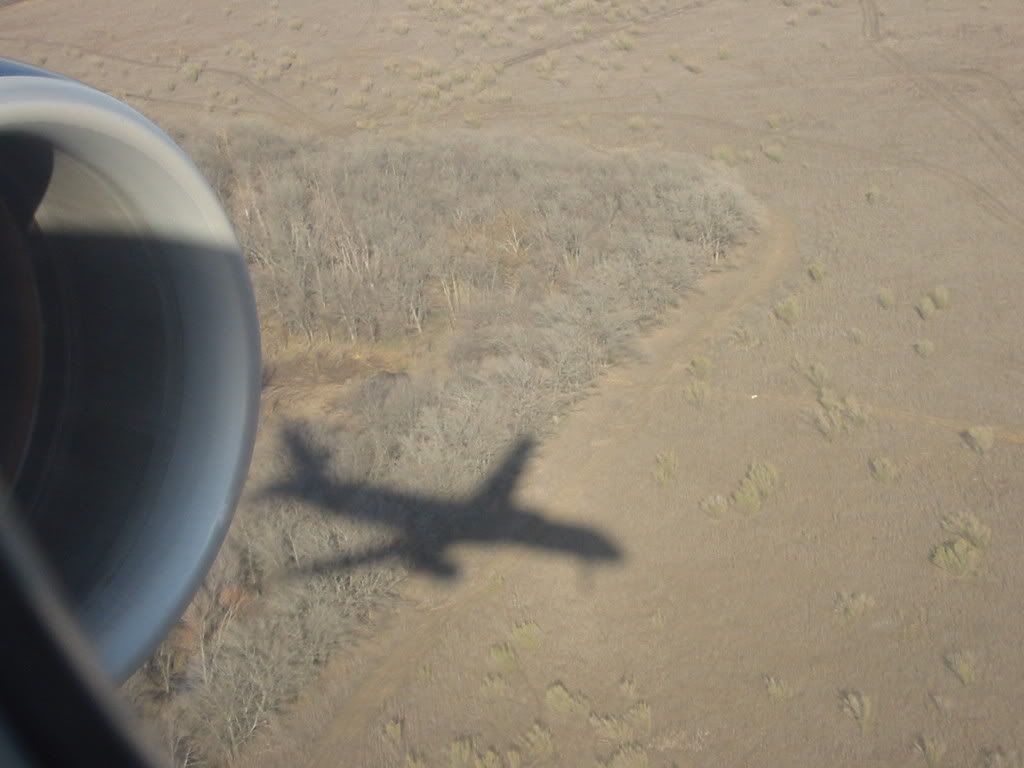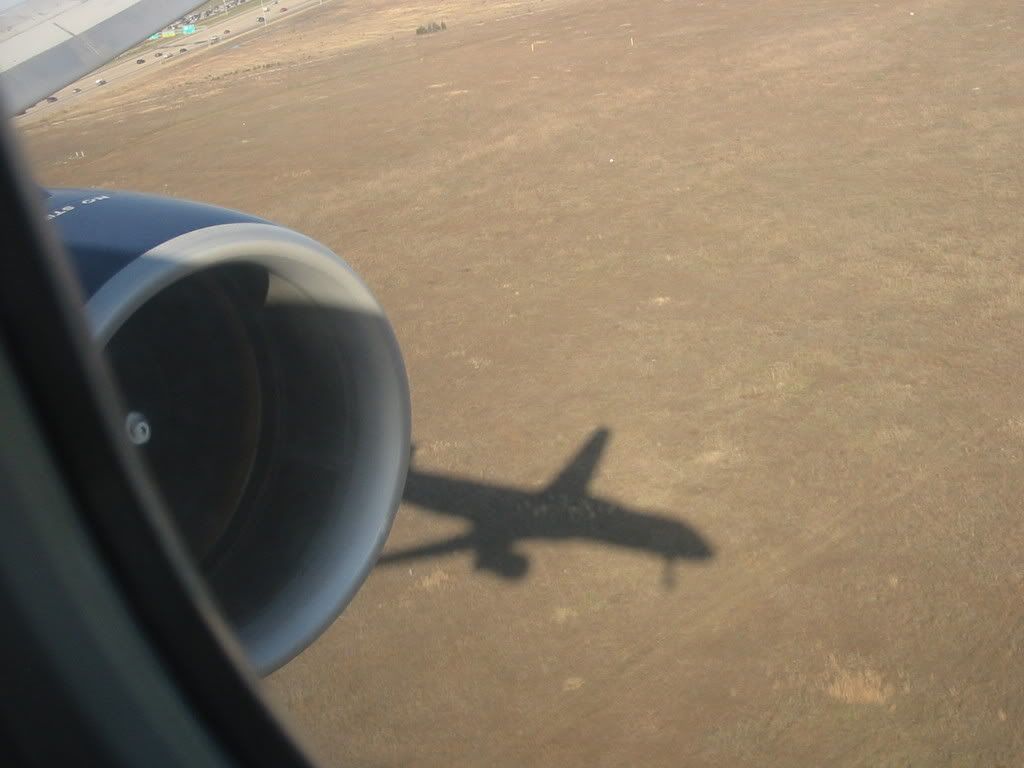 Before touchdown at DFW: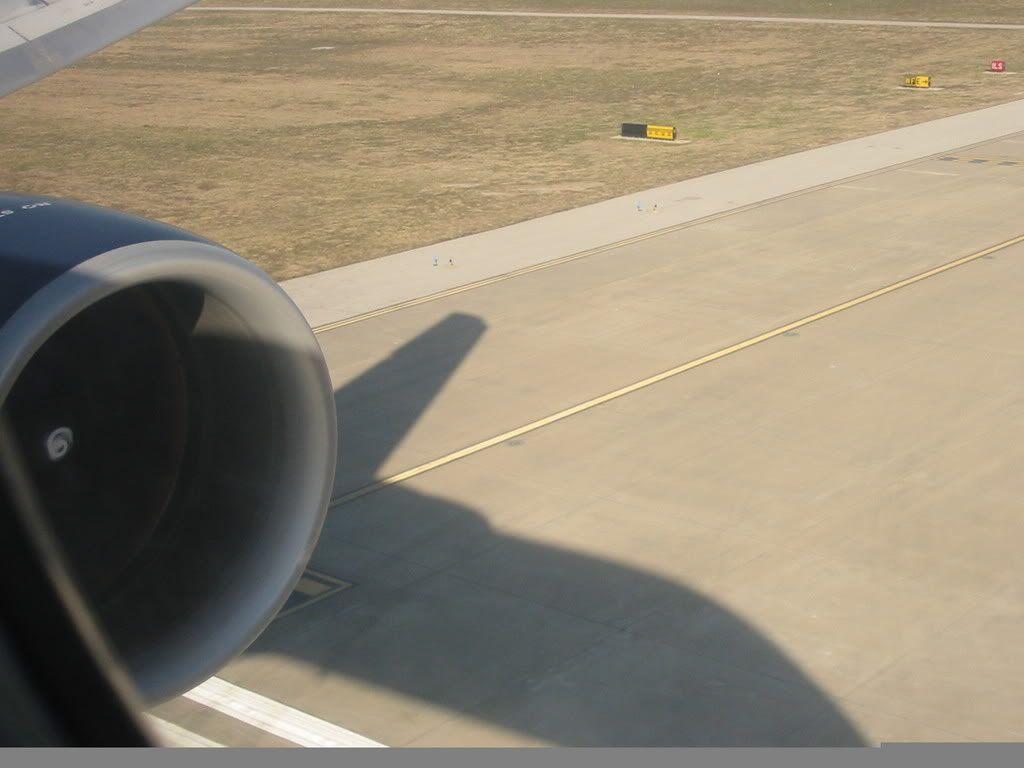 After touchdown: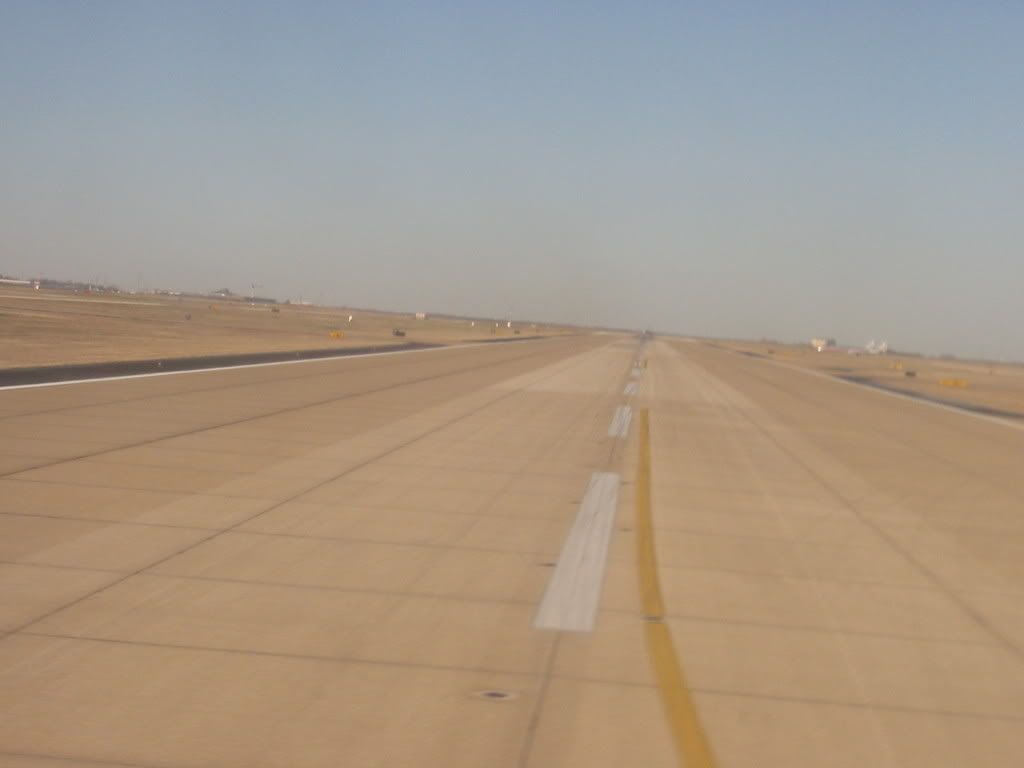 Flight 3
United 464
Route--- DFW-ORD
Equipment--- Airbus A320
Configuration--- 2x2, 3 rows
Registration--- unknown
Class--- First
Seat--- 02C (Aisle)
Scheduled Departure--- 5:07p
Actual Departure--- 5:50p
Scheduled Arrival--- 7:30
Actual Arrival--- 7:55p
Spotting: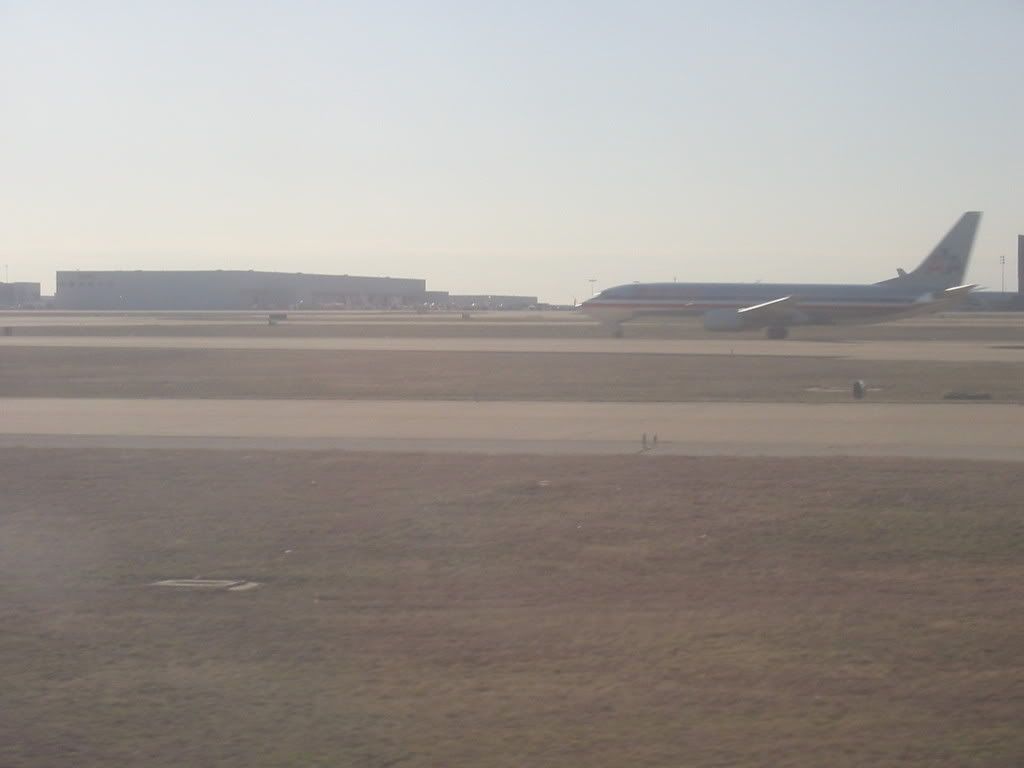 While in DFW, I did not have much to do. I first walked over to Starbucks to get something to keep me awake while I was there. I then left the airport, and quickly walked back in because there is not much to do outside of an airport.
I walked back over to a check in kiosk, and decided to change my seat from 02B to 02C. I then walked through security for the third time that day, and this one had to be the most ridiculous for reasons I don't even remember. Honestly, I do not remember why.
I went to a McDonalds inside and had a Big Mac and a milkshake. I did not have much else to do but simply sit and wait. We finally did board the A320 and soon found out that the F cabin was going to have a load of 100% as small narrow-bodies usually do.
This flight was also going to be delayed for reasons at ORD. I guess there was gusty winds (15-25mph) that was causing some arrival mishaps which led to widespread delay. ATC gave us a wheels-up time about 30 minutes late. We sat on the apron for the entire time.
Me and my seatmate (probably also an a.netter) looked out at DFW operations which were not all too exciting.
We did get going on time and had a smooth departure as all have been this day. Our route was not very direct as we were pretty much all over the map, but I don't think our route should have changed to get us there faster because that was the whole reason of waiting in DFW, to get there later so why should we try to make up time? Right?
This flight did have a meal service and the choices were between a shrimp Caesar salad, or a turkey sandwich. I went for the salad, because it sounded pretty good at that time of day. When it came, I was very impressed. They gave me two dressings, and needless to say, half of them ended up on my jacket. I put the dressing on the salad, but because the salad was so large in a small bowl/plate, I could not easily toss the salad, so once the top layer of lettuce was gone, I was stuck with this plate of lettuce with no dressing. It really was not good without dressing as nothing is in the United States. So instead of asking for more dressing, I just washed each bite down with some bread or Bloody Mary mix which actually made it quite good.
The rest of the F service was quite good (maybe a bit better than average!), and because of the gusty winds in ORD, I was actually expecting a bumpy approach.
Our descent was smooth, and we flew at about 7000 for the longest time. We were at 5000-7000 as we flew over Lake Michigan, took the right U-Turn to meet up to 22R. Our final was quite long and this is where the only winds were felt. You could feel the tail and aft of the craft vary from the front but that was pretty much it. No airspeed or altitude variations that were too major.
We touched down 22R, and quickly got off the active for other traffic.
Our taxi was short and I was approaching about 18 hours without sleep at that point, and my night was far from over.
Flight 4
United 463
Route--- ORD-MSP
Equipment--- Boeing 737-300
Configuration--- 2x2, 2 rows
Registration--- unknown
Class--- First
Seat--- 02A (Window)
Schedules Departure--- 10:10p
Actual Departure--- 10:05p
Scheduled Arrival--- 11:30p
Actual Arrival--- 11:14p
United Shuttle at ORD:
My time at ORD was pretty long. I started by taking the shuttle to the UAX terminal to go "explore". I ended up just using the restroom there because it was packed, even at 9:00p. The arrival delays led to larger departure delays. Over half of all United departures were delayed or cancelled, but mine was not one of them.
I decided to walk back to terminal B and had a cinnebon first as I always do in ORD. This time I had a bit of a toothache so eating the sweet frosting was kind of painful, but I took the pain and finished every last bite.
I walked back to the mainline terminals and just started walking. I took a few pics and went to Starbucks and got some double shot espressos and some mocha frapps.
It was late at ORD and everything was closing. I killed some more time by doing, uhh, nothing, and decided to make one more round at Starbucks before I left for the gate. This actually has a nice story to it:
I walk up to the counter with my pre made bottled coffee in hand and the lady said, "Sorry, we are closed." Me being half asleep just said okay and started to put the drink back. She then revealed she was just kidding and I went back to the counter with my one drink. I said that was all I wanted, and she said, "Okay that will be fifteen dollars." Me, playing along gave her my Starbucks card and then I walked away. Little did she know that the card had a whopping 18 cents on it. She flagged me back and made be pay for the rest of the $2.49 with cash.
Now that I am awake again (Now I am at 22 hours with no sleep), I go to the gate and board the 737-300. The load had been just me up to an hour before the flight left. By the time we boarded, the F load was 100%. Some really big, cool-looking black guy was my seatmate, and we talked for a bit. This was my fourth flight of the day, and he just got in from London, so we were both looking a bit tired.
We departed from 32L and had a nice departure. The service was pretty average for a 50 minute flight. Nothing happened on this flight at all. We were flying at FL300 and Channel Nine was not on, so I was pretty bored and tired.
We started our descent shortly after reaching cruising alt., and had a nice long approach into MSP. We flew over St Paul and quickly touched down to 30L, and taxied to the gate about 15 minutes early.
I deplaned and went directly to baggage claim and waiting for my bag that never even showed up. I waited a bit longer before going to the baggage customer service. I give him my claim check, and does something on his computer and then asks me if I am somebody that I am not, I say no. He does more work on his computer, and then asks me is it is the bag in the box behind me. I say oh yes. I guess it found an easier way to get from LAX-MSP than the way I chose!
Overall, F class was worth it. In the past, I usually travel coach with F once in a while (20% of the time). But now, I think I will upgrade to F by any means possible because of my large body frame, and that the F seats are more comfy, not because of the free drinks or better service but that does not hurt!. 6'4", 230lbs is just too big for the coach seats.