Being a junior in high school my parents and I though it would be a good time to tour the university I am most interested in: Embry-Riddle in DAB. Last fall is when I received most of my information about ERAU during a college fair at MKE. I thought the university looked perfect for my interests and future goals so in December we booked our flights to DAB on DL. We had to choose between FL and DL and DL was our best option because they had better flight times for us even though the prices were slightly higher. As the trip approached I frequently checked our flight's seats on Delta.com to see how full the they would be and about a week or two in advance they were all full.
1/25/07
Delta connection (ASA) 4475
MKE-ATL
CRJ-700
100% load factor
departure time: 4:35pm
arrival time: 7:20pm
On that Thursday I had my last two exams to take at school so I got to go home early. We planned the trip accordingly so I would not miss any school. That afternoon I finished getting ready and once my parents came home we left our house for MKE about two hours before our departure. When we were standing in line to check-in there was a large group in front of us on their way to Honduras for a mission trip so to save time we checked in curbside instead. That didn't take long and we proceeded directly to concourse C. The security line was not that long, but it still took some time to get through. I was very eager to enter C because it was recently renovated and this was my first glimpse of the inside.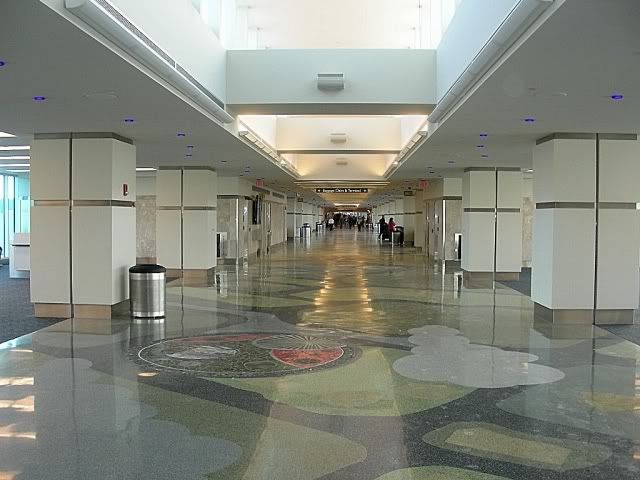 The concourse looked excellent! I almost couldn't believe I was in MKE it looked so nice. There was plenty of natural lighting and nice tile work. In general it was very comfortable and modern.
With some time to spare I grabbed some food and walked around. At the end of C I peered through the window to check out the new hammerhead addition currently in progress and it seemed to be going very well. C was not terribly busy; just a few regional jets at the gates.
American Eagle ERJ-145 to ORD with a Funjet 738 in the background at the international gate.
DL CRJ-200 pulling in from CVG
Two nice looking liveries! United express erj145 to ORD and a YX 717 being backed out across at a D gate
front of the YX 717
awesome looking tail.
After spotting I returned to out gate (C-15) and awaited boarding which began shortly after 4pm.
our sleek CRJ700 at the gate
We were some of the last people to board because we were in zone 6. As we walked into the aircraft we were accompanied with a friendly greeting. The plane was very full and I made my way to my seat which was 6A. In a few minutes we pushed back from the gate and I was able to take a nice shot of the hammerhead being built on C...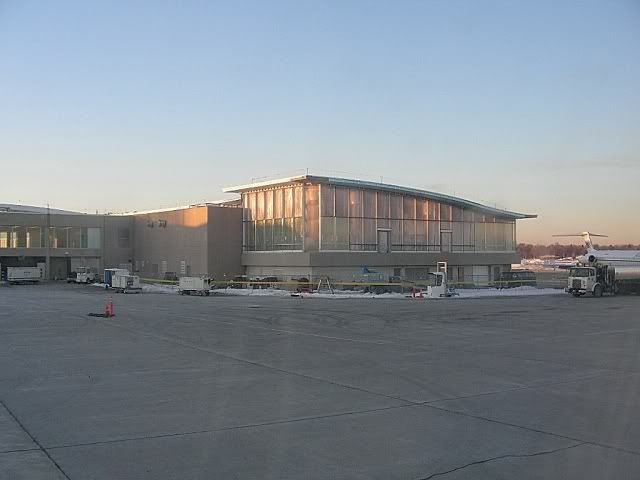 I can't wait till it opens!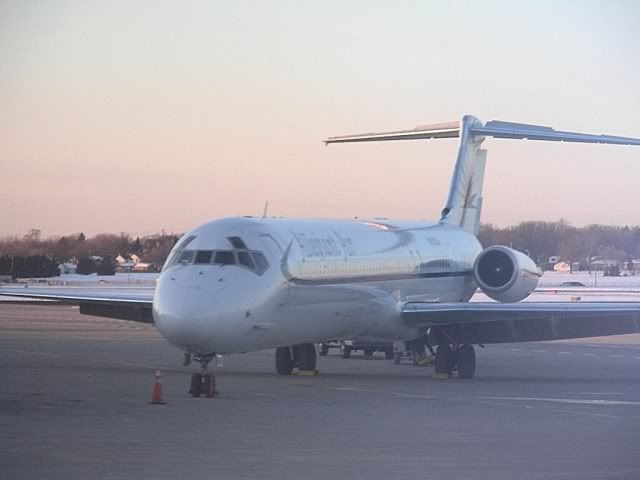 an Allegiant Md80 parked in an unusual spot at the end of C. I don't know why the flaps are completely extended. maybe they were checking something out.
As we continued taxiing to the runway I soon realized how relaxed and humorous our flight attendants were. There was one young man and another young lady and they made everyone laugh several times. The man kept referring to ATL as "hotlanta" but that's not the funny part. The best part was when the FA said "ladies and gentleman we have a man up hear celebrating his 99th birthday with us today and its his first time flying (applause) when we land peek into the cockpit and say high to your captain."
The whole cabin broke out into a laugh. I've never heard anything like that before.
We would be departing runway 25L and were 3rd for takeoff. As many of you probably recall, a NW DC9 had just slid off the end of a runway at MKE when it blew an engine and aborted takeoff in the snow, well here is where it happened at the end of 7R...
There wasn't much room left so fortunately the incident wasn't any worse. Ironically nearby there was a large painted sign that said fire training area.
powerfull, smooth takeoff... the "hush house" on the right
very snowy in Wisconsin... I was glad to be leaving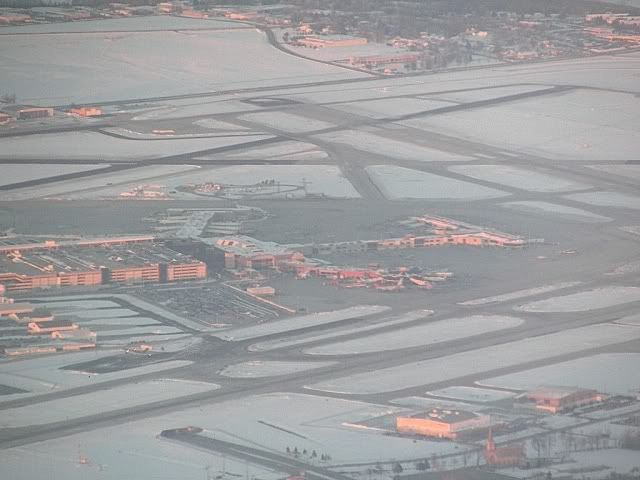 An aerial shot of MKE as we turned eastward after takeoff
Our route took us along lake Michigan and over ORD. I saw several planes landing beneath us and it was awesome watching many of them position to line up for approach over the lake. As we continued going south it began to get dark and drink and snack soon came around. It was very simple of course. I had a soda and some crackers and cheese. Throughout the flight the crew was still very kind and generous. For the remainder of the flight I listened to my ipod. When we were somewhere near BNA we made an odd right turn to the west to avoid some nasty turbulence in the area according to the pilots. 20-30 minutes later we were descending into the busy ATL airspace. Everywhere I looked I saw planes as we flew passed the airport to make a turn to land to the west and we landed exactly parallel to a FL 737. To get to the terminal it took a few minutes because we had to cross another runway and many planes were departing and landing continuously. Once we got a gap to cross we went to our gate at terminal E but had to wait because every stand was occupied. Within a few minutes a fellow DL connection CRJ700 left and we took the spot at E31. When we were walking off the plane I asked the pilot if I could take a picture of the cockpit and he said sure. The other pilot was sitting in his seat when I entered and we began talking, and I told him I was going down to ERAU and he was actually a graduate from there as well as the other pilot. I thought that was cool. So we talked about the school, the job, and other general airplane topics.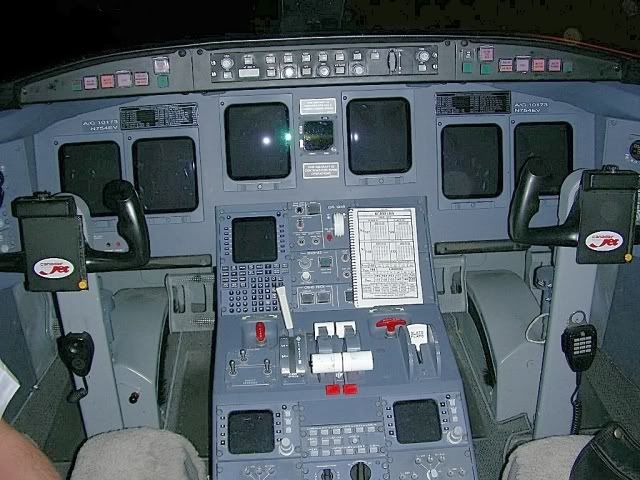 the CRJ700 cockpit
After our little talk I got off the plane and walked outside because we were not at a gate. It felt very strange because I was the only person around as everyone else was already inside and there was quite a distance between the plane and the gate. Inside I found my parents and we took the tram to concourse B where our flight to DAB would be leaving.
Delta 1487
ATL-DAB
MD88
loadfactor: 95-100%
departure: 8:55pm
arrival: 10:05pm
Seat: 20A
Upon reaching our gate our aircraft was already there. We had about an hour layover so I sat by the window watched all the aircraft movement and played some PSP. Boarding began with ample time before departure and I took my seat in row 20. The new DL MD80 cabins were really nice with the new leather seats. In little time our full plane taxied to the runway and took-off behind a few other DL aircraft. Shortly into the flight I got some soda and peanuts and again listened to my ipod. The flight was very short and in no time we were descending into Florida. We flew along the coast and then turned out to sea to line up for 25R at DAB. When we pulled up to our gate their were several other planes parked for the night. To save some time I got our luggage while my parents got the rental car which was an '06 grand prix.
To conclude our first day we drove with ease to our hotel The Daytona Beach Resort and Conference Center.
Friday
After some much needed rest we woke up around 7 because the ERAU tour was at 9am. We stopped at McDonald's for a quick breakfast and headed over to the campus.
When we checked in we waited for a few other families to arrive and then we began our great tour. Our tourguide was a junior and he was very informative. It didn't take long to notice the damage the campus received from the tornado on christmas day. I liked the atmosphere the campus provided and really enjoyed checking out the flight center, the aviation building, and the engineering and technology center. My favorite part of the tour was when we passed through the 3rd floor of the aviation building which was the location of the air traffic management classes, ATC simulator, and meteorology classes.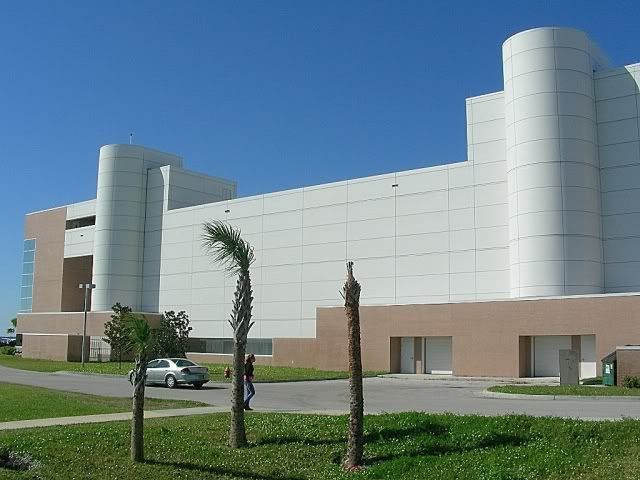 I am very interested in studying aeronautical science, air traffic management, and applied meteorology and the admissions lady said I could minor in all three if I wanted. I still have some time to decide forsure though I guess. This was my first university visit and I am very satisfied with ERAU and intend on going there in the fall of '08.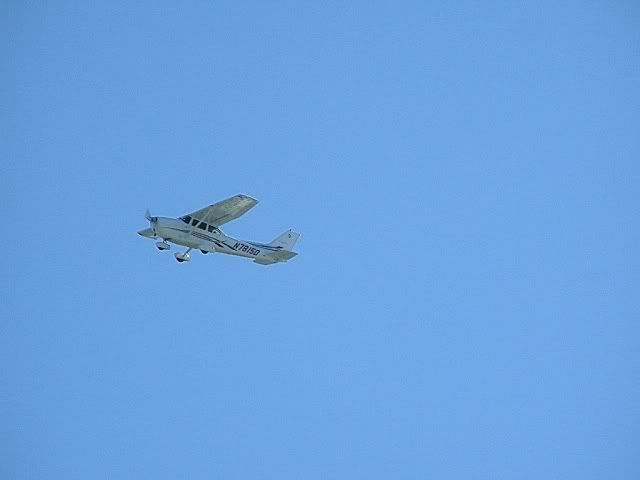 lots of these little props flying around DAB
With the Daytona International Speedway in such close proximity to the airport we decided after our tour to go there and it was cool since the Rolex 24 endurance race was that weekend.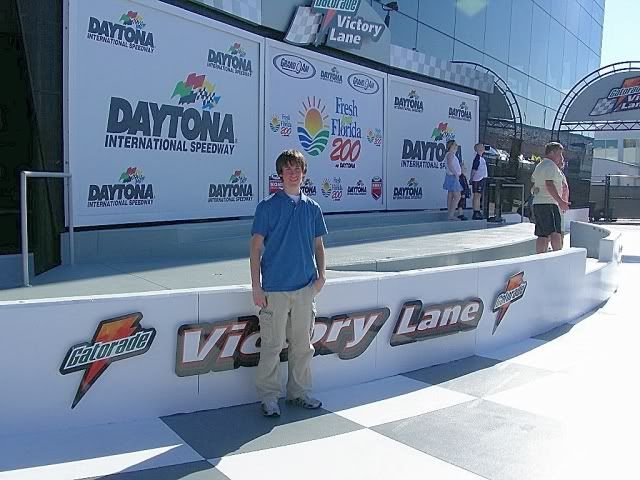 me standing in victory lane.
To get back to our hotel we drove up a portion of the beach
I still think its so cool how you can do that. Daytona beach is truly unique.
As you can see from that picture the beach was dead because it was so cold... for Florida that is. Daytime highs were in the low 60's and night time lows were in the 30s close to freezing. I don't know for sure if this is a winter thing related to cold water temperatures or not, but there were dead jelly fish everywhere on the beach. It was pretty sick, and they were fairly decent sized ones. I thought it was funny when a few little kids were picking them up and trying to through them back into the water,in attempt to save them?