We've been experiencing the coldest winter in over 10 years in the Northeastern US. Monday, the low temperature was -3 degrees Fahrenheit (-19 degrees Celsius). The local schools are closed because the school buses use a gas mixture that gels at 10 degrees Fahrenheit, and they won't start. I couldn't start my car and ended up having to buying a new battery. Fortunately I had a business trip on Tuesday scheduled to sunny and WARM Orlando, Florida!!!!
I booked my flight on US Airways. Since Southwest Airlines came to town, the fares to Orlando have dropped dramatically. In fact, my flight on US Airways was less expensive that Southwest... plus I have top status and was automatically upgraded to First Class.
To catch a 7:30 AM flight, I had to leave my home at 5:30. Even though my car was parked in the garage, my water bottle froze inside my car. As I drove to the airport, my car thermometer at one point registered -9 degrees F (-22 C). I made it to the airport in good time, but as usual, found myself in the slowest security line. The security line 7 has extra security. I had to go through the air-blast machine with my shoes on, then remove my shoes and go through the metal detector. I didn't have my liquids and gels in a one quart plastic bag, so I was given a lecture by the TSA. The x-ray screener was a trainee and scrutinized every bag that went through. By the time I made it through, I had just enough time to grab some yogurt and a chocolate croissant before they started boarding the plane
Boarding commenced precisely at 7:00 AM. I boarded the airplane and got settled into my seat, 3A. Boarding went smoothly and the door was closed two minutes early. Leaving on time!!!... It was too good to be true. The pilot came on the intercom and announced that while it had not snowed the night before, because of the extremely cold temperatures, there was some frost on the wings and so we would have to de-ice before taking off, so our departure would be delayed by 15 minute.
Views from my window...
We de-iced and immediately proceeded to the runway and were first in line for takeoff. Here are some pictures of the de-icing procedure in Pittsburgh...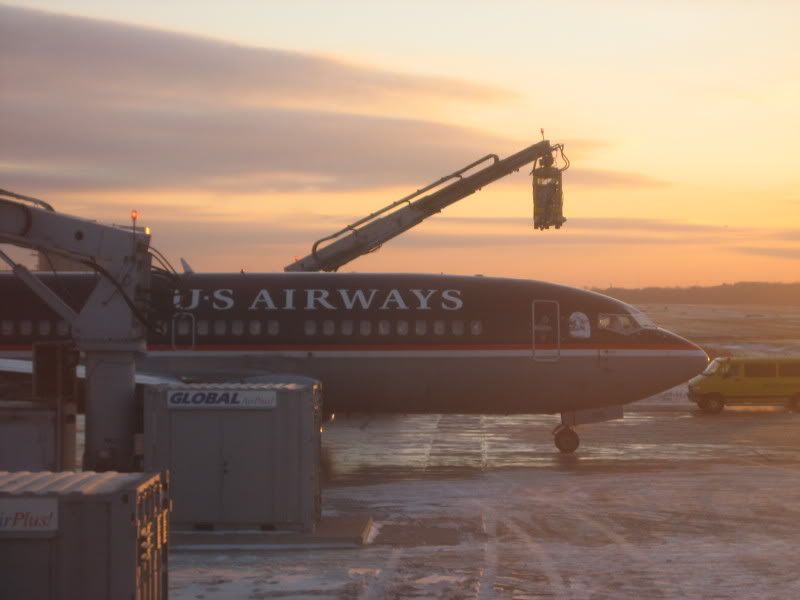 Another plane being de-iced
A cold sunrise and the de-icing equipment
Close-up of the de-icer. Notice the can of "Red Bull"
Within a few minutes we were airborne. The sunrise over the city was beautiful.
Ice covered roads and ground... only two hours to the sun and green grass
The tall buildings in downtown Pittsburgh can be seen behind the haze
At this point I would love to show you the delicious breakfast that was served in First Class. The only problem is that since this flight was less than two hours (1 hour and 50 minutes) no breakfast was served. US Airways does not serve food on flights less that two hours. There have been some comments recently on US Airways First Class. They are pretty much correct. I ended up sleeping for an hour. When I woke up, I got my PocketPC out and watched a movie. (I use a software program I found that converts DVDs to a minimized MPEG format that can be played on Windows Media Player.)
Since I had slept for an hour, the trip seemed to go be fast. The ground had turned from white to green and we descended into Orlando to 63 degrees. We arrived at the gate only a few minutes late. When I deplaned, I overheard the gate agent complain about how cold it was outside. I had no sympathy!
Approach to Orlando. Disney is in the background
The business trip was successful, and the weather got nicer and nicer as the week progressed. I even got a sunburn! I wasn't looking forward to returning to the sub-zero temperatures of Pittsburgh. Here are some photos of my return trip.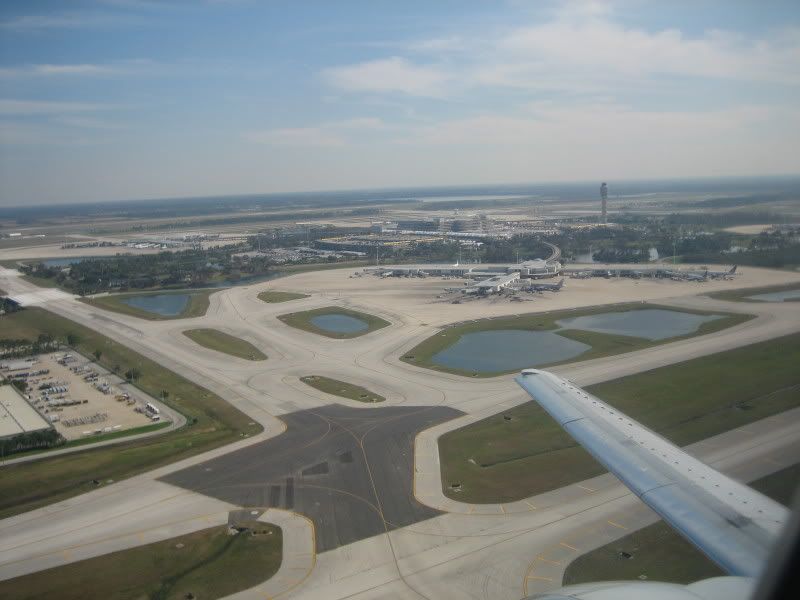 Leaving Orlando
Back in Pittsburgh. View of the University of Pittsburgh and Carnegie Mellon University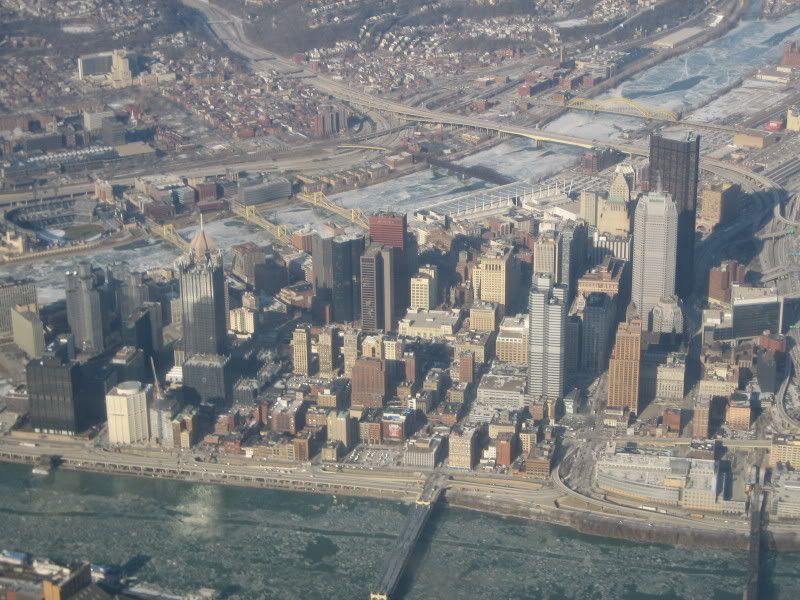 Downtown Pittburgh. Notice the ice in the river.
This morning the temperature was 9 degrees. I'm heading south again next week, this time to South Carolina. I can't wait.