Hi there and thank you for reading my trip-report.
The journey was taken in the summer of 2006 but I did not find time to write a trip report before now.
The whole report contains 5 flights with AF and DL and actually one surprise flight with a helicopter.
PREPERATIONS:
My girlfriend and me decided to make a trip to the U.S.A. since she has never been there before.
Due to the fact, that my aunt lives in Syracuse, I contacted her and she told me that she would be more than happy to take us.
We looked for a cheap flight and the best fare was offered by AF for 850 Euros per person for all 5 flights.
I reserved our seats and vegetarian meals for my girlfriend and we could not wait for the day to come.
Check in and boarding:
We arrived at Hamburg Airport two and a half hours before the scheduled departure of the AF flight to Paris.
Check in was very fast, there was almost no line and we were done in about 5 minutes.
We got our boarding passes for the flight to Washington as well and I was happy, that we got our reserved seats (window and next to it).
We had some breakfast at the Moevenpick restaurant in Terminal 1 and after that we made our way to security.
We passed through it quickly and with 30 minutes before scheduled boarding, we separated, since my girlfriend wanted to have a look at the duty free shops and I wanted to see the traffic on the apron.
After about 20 minutes we made our way to the gate, just to see, that our plane had a delay of 30 minutes.
We read some magazines while waiting for the plane to arrive, and when it came it was exactly the time, we were supposed to take off.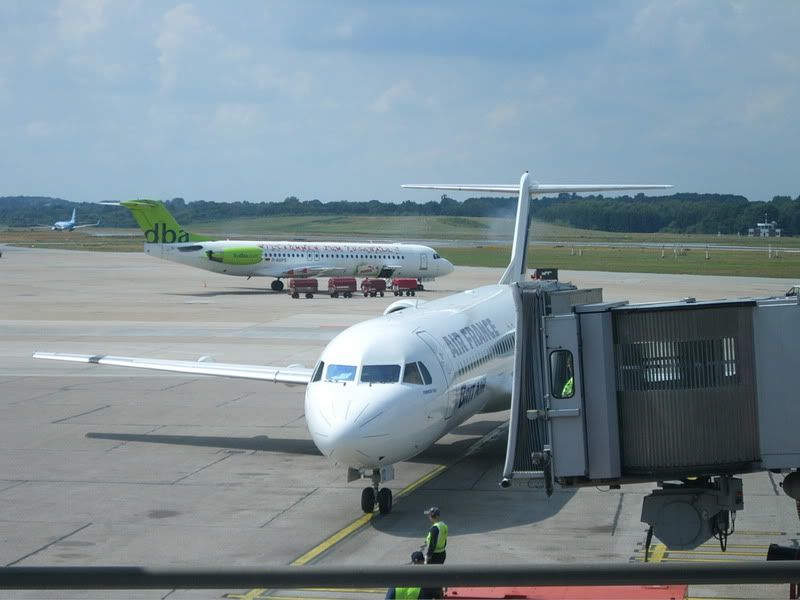 Boarding, however, was called soon and since the flight was not very full, we were ready to go quite fast.
Airline: Air France (operated by BritAir)
Equipment: Fokker100
Load Factor: about 70%
Registration: F-GPXD
FLIGHT:
The Fokker 100 was pushed back and we reached our runway in a matter of 5 minutes.
We were given immediate take off clearance and soon we were off into a bright blue sky.
When the seat belt sign was turned off, the crew prepared the cabin service, which consisted of a small bag of pretzels, which is even less than the food you get on Lufthansa.
The choice of drinks was limited, since they did not have any Cola Fanta or Sprite.
But that did not bother me too much, since I only wanted a glass of water.
The rest of the flight was uneventful and soon we started our descend.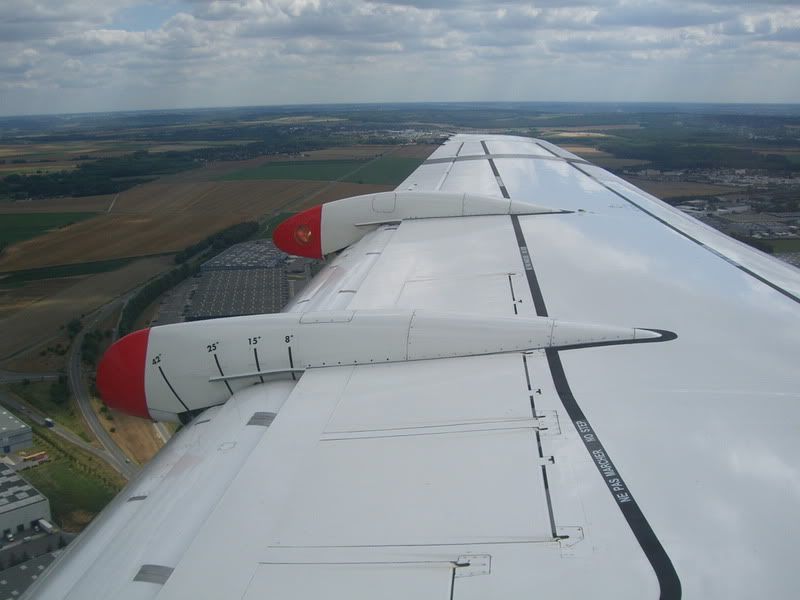 We flew over some fields and touched down quite hard in Paris Charles-de-Gaulle with a 20 minute delay.
We parked on the apron and had to wait for more ten minutes for the busses to arrive.
The crew (which was quite friendly throughout the flight) thanked us for flying with them and after going down the stairs we boarded the bus which brought us into the terminal.
Charles-De-Gaulle:
We had to switch terminals, which took about 15 minutes.
When we reached our gate, it was packed with people who were waiting for boarding.
The 777-200 was full today and as I looked out of the window, I noticed, that some work was done at one of the mighty GE-90 engines.
Boarding time came and went and after 20 minutes the boarding agent announced that boarding would start in ten minutes.
When boarding was called every ones ticket and passport was checked, before he/she was allowed to enter the jet-bridge.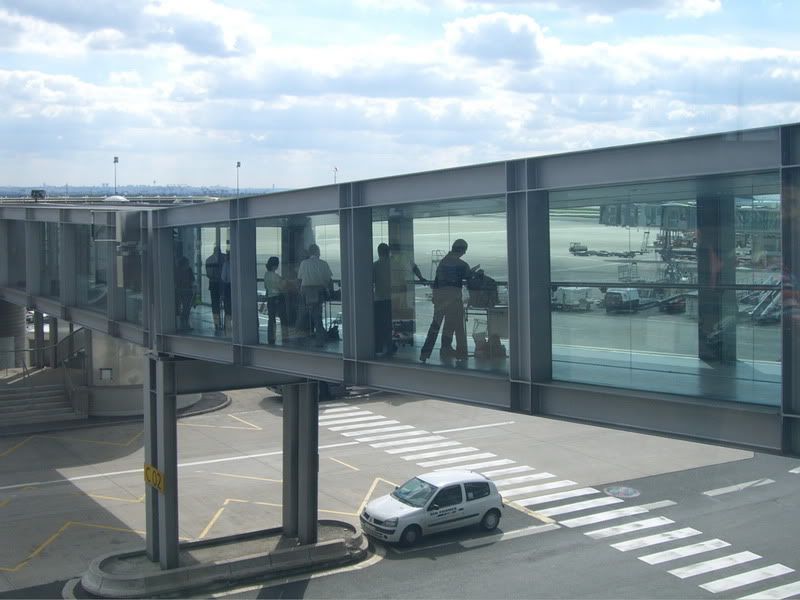 security point in the jetbridge
That slowed the process down big time and if this was not enough, there was also a second security point inside if the jet-bridge.
People were searched at random, but my girlfriend and me were lucky enough to get waved through.
Airline: Air France
Equipment: Boeing 777-200
Load Factor: 100%
Registration: F-GSPJ
We entered the plane and were greeted by two nice FA´s. We settled into our seats and I put my camera into the seat-pocket.
Inside the seat pocket was an refreshment kit and the menu for the flight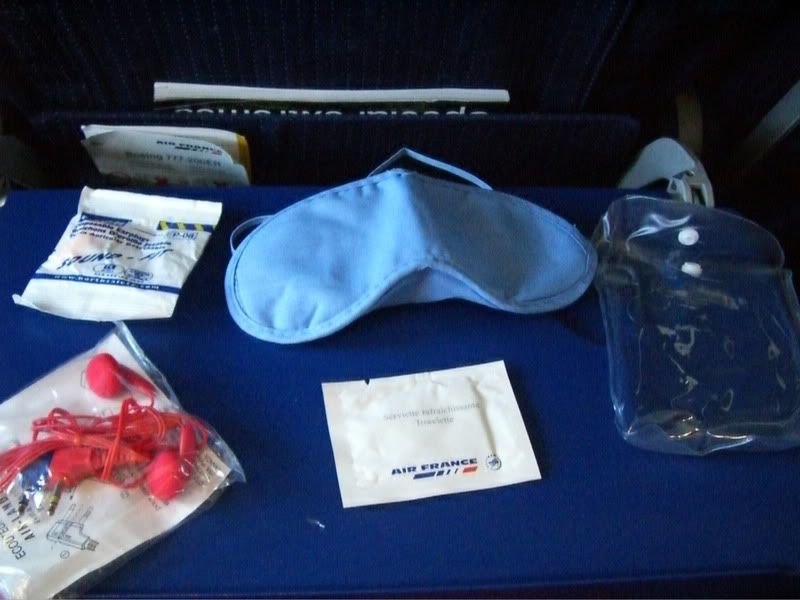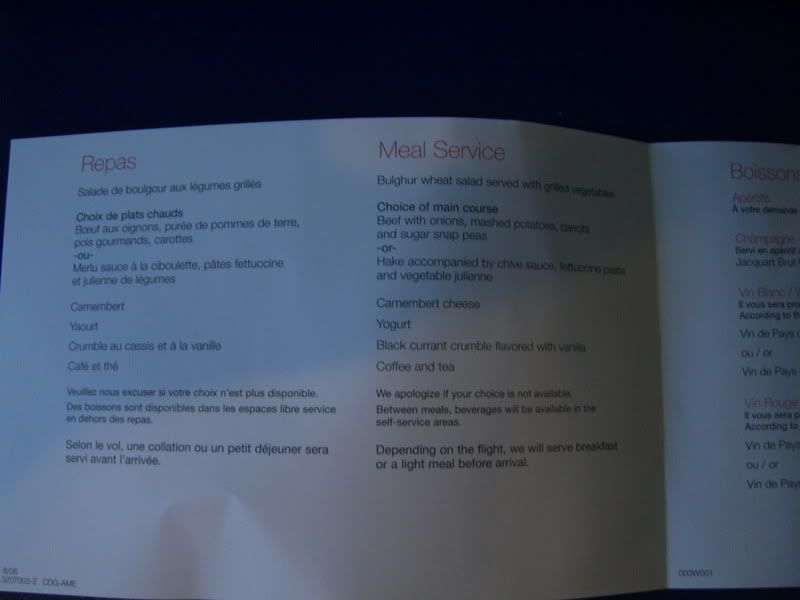 When the plane was finally full we had a delay of over an hour.
We pushed back and the safety video was shown.
We taxied for about ten minutes, waited for an A320 to land and then we aligned on the runway.
After about 15 seconds, the pilot applied take off thrust and soon we rocketed into the cloudy sky.
The view over Paris was marvelous, we saw the Eifel tower and I tried to snap a good picture.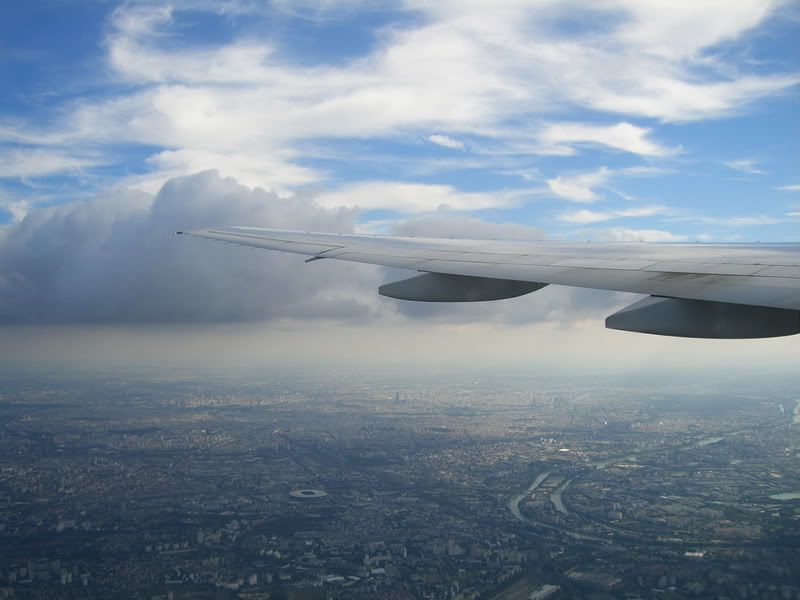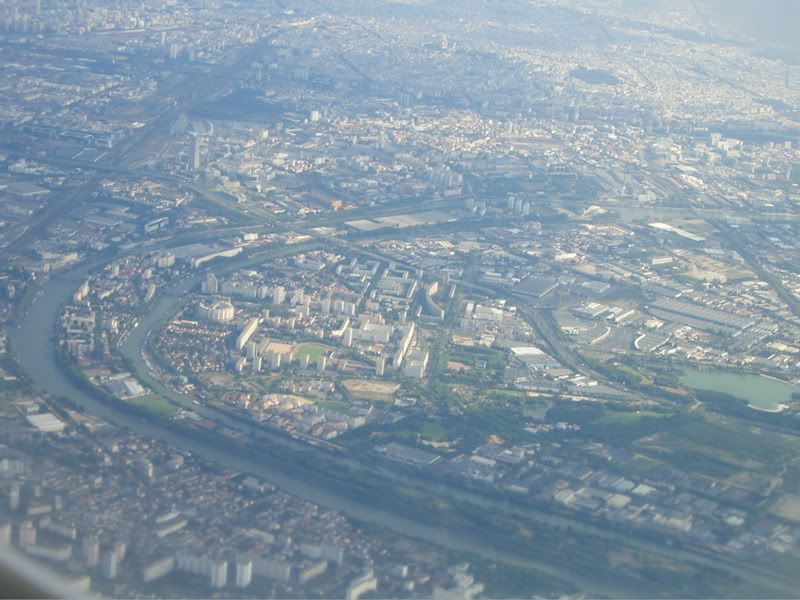 Paris
When the seat-belt sign was turned off, the cabin crew distributed water and tea and soon after that, the meals were prepared.
I played a quiz on my screen about aviation and got every question right. The question were like: How many passengers fit into an A340 a)about 200 b)about 300 c)about 400 d)about 450?
It was a nice feature and when I was finished, the meals were given out.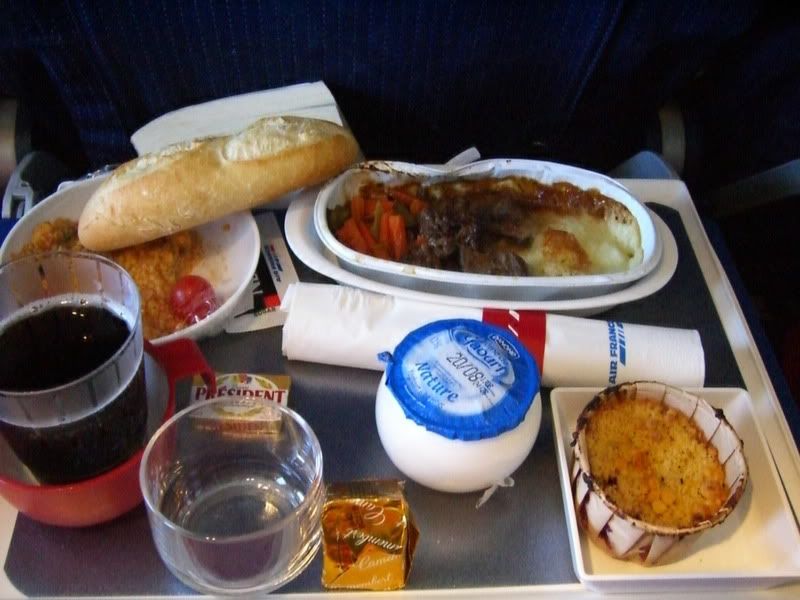 I chose the beef and a coke.
The beef came with a baguette (what else
) some Camembert cheese and an apple pie.
It was all very tasty and certainly filling enough.
When the meal was finished, the nice FA´s came around and distributed some chocolates.
After the trash was collected, I made myself comfortable by watching a movie and reading a book.
I also tried to sleep a bit but was not successful, since the guy in front of me reclined his seat and squeezed my legs.
Therefore I watched some documentaries about aviation and did the aviation quiz again (The questions were different).
I had to laugh when the question read: How often are planes washed? a)every 2-3 days b)every 2-3 weeks c) every 6month d)once per year
The right answer was actually 2-3 weeks but since this 777 was very dirty and most other AF planes were at Charles-de-gaulle were quite dirty as well I doubted this to be true (at least in the case of AF). However, even though the plane was dirty from the outside, it was spotless from the inside and the service was very good.
After some more uneventful hours, we started our descend into Washington, while the sun started to set.
The view was beautiful, but unfortunately, my window had lots of condensation, which did not allow any good pics.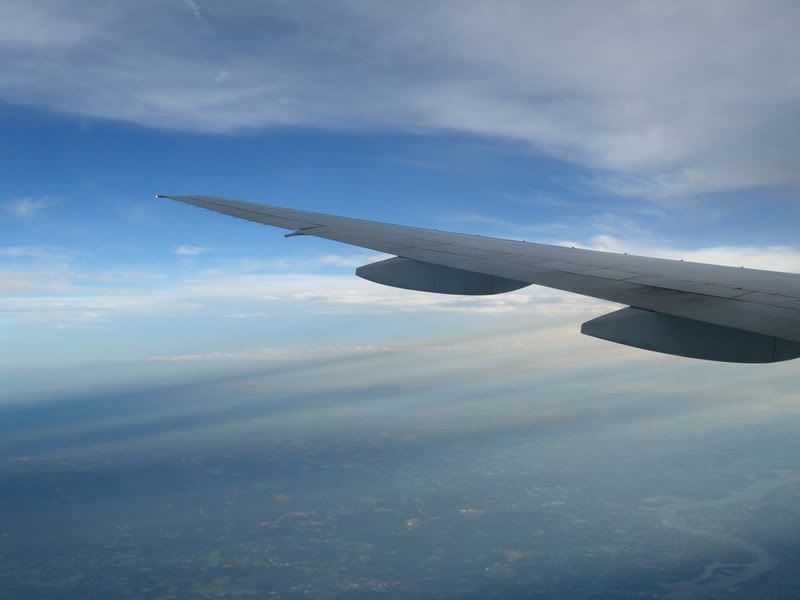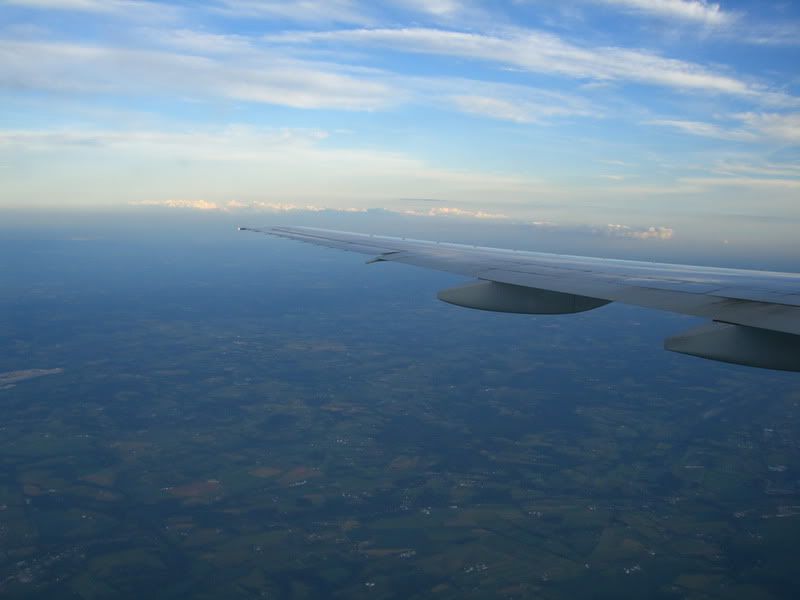 The landing itself was alright, a little bumpy, but not too hard. All in all, we had a delay of 45 minutes.
We taxied to our gate and had to switch terminals by boarding an airport bus.
I got a glimpse at our airplane again and a beautiful view upon an LH A340 departing to MUC and taxiing into the sunset.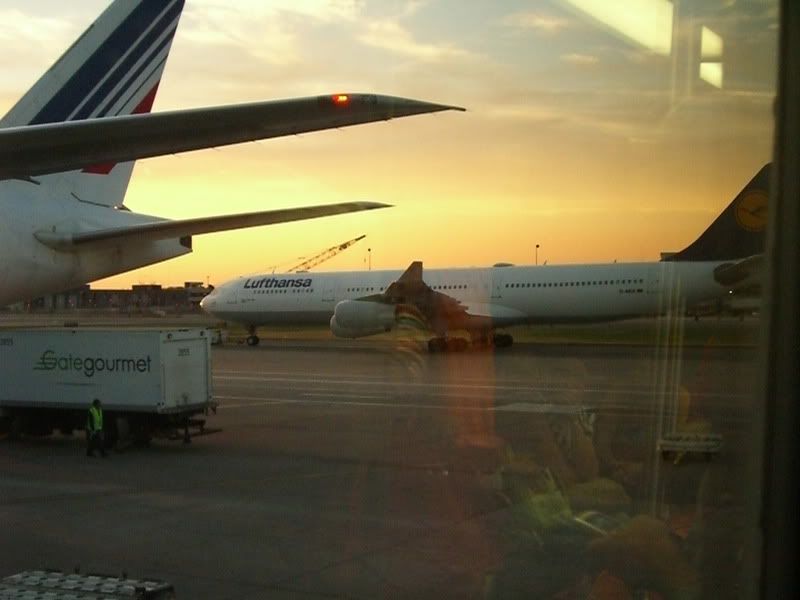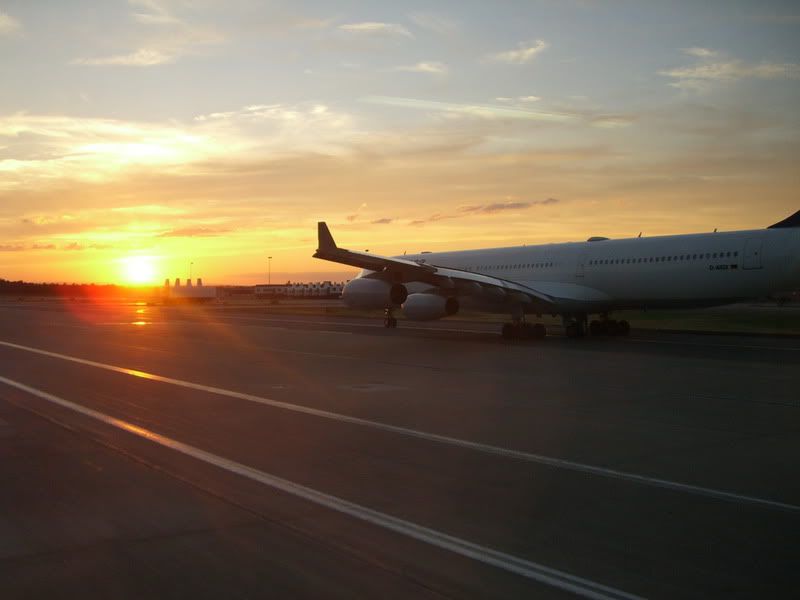 Immigration was horrible, we stood 45 minutes in the line, even though all counters were open. After we cleared immigration, we collected our luggage and met my aunt and her boyfriend.
We had some nice days and while we visited the Niagara Falls, they had a big surprise for us.
We were going to fly with a helicopter on a sightseeing flight!!!
I was so excited, since the last time I flew in a helicopter was when I was four.
We were all strapped into our seats and headsets were given out, which provided information about the Niagara Falls.
Take off was very powerful and soon we were on our way towards the Niagara Falls.
Some pictures about the flight:
Our helicopter arriving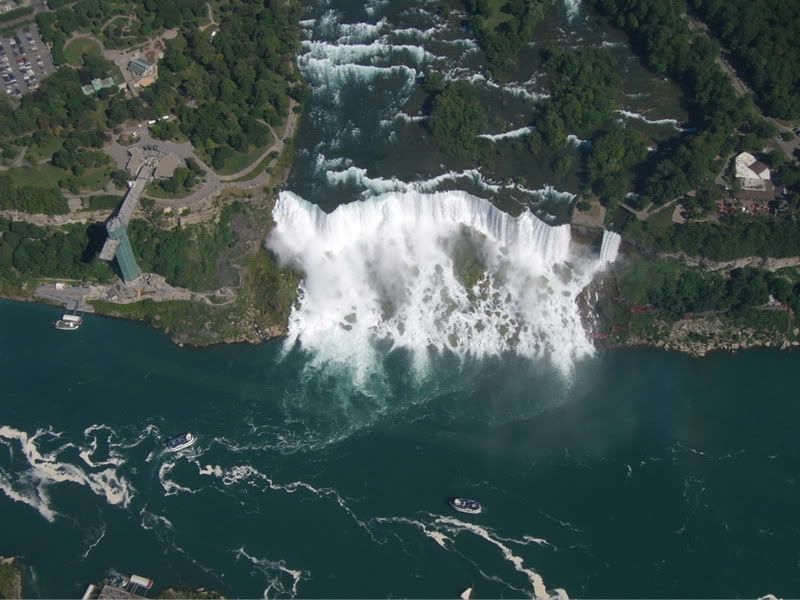 Niagara Falls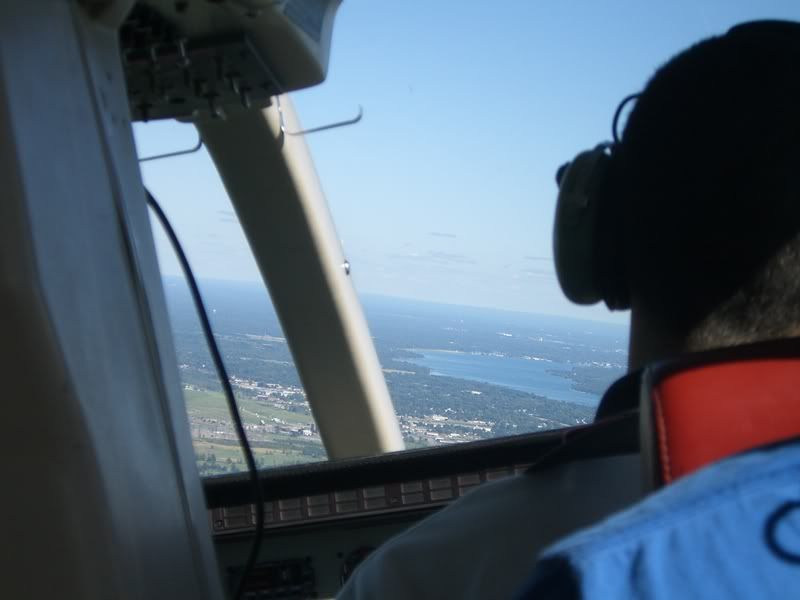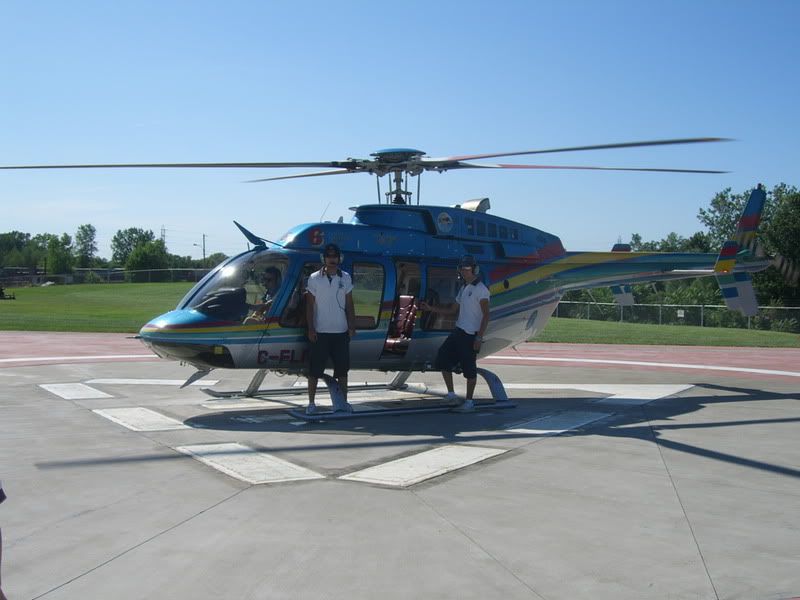 This flight was doubtless one of the highlights of the journey.
After two weeks, we had to prepare our journey back home.
We would fly from Syracuse to New York (JFK), then to Paris and in the end back to Hamburg.
When the day came, we drove to the airport some three hours prior to scheduled boarding.
Check in took quite a while and the whole airport was very chaotic.
We said goodbye to my aunt and her friend and thanked them for these awesome two weeks.
Then we went through security, which was a mere chaos. Three days before, the terrorists in England where caught and it was one of the first days were taking liquids onboard was forbidden.
Many people did not seem to know that and we stood about 20 minutes in the line for security.
When we were through, we had about 20 minutes before scheduled boarding. However, when the boarding time approached, the gate agent announced, that the flight would be delayed for about 30 minutes.
When boarding was called, we had to walk to the plane, which meant that we got soaked by the rain.
Airline: Delta Airlines (operated by Freedom Airlines)
Equipment: Dash 8
Load Factor: 100%
Registration: N804LR
The Dash 8 was in a pitiful condition, the seats were worn out and very narrow.
The propellers sprang into life and we taxied to the runway, where we had to wait for a landing FedEx A300.
Then we accelerated and soon we took off into a rainy sky.
The seat-belt sign was on for quite a while, since we encountered moderate turbulence.
When it was switched off, the single FA distributed some drinks.
We did not see much during the flight, since heavy clouds were hanging low over the land.
Shortly before descend, the view became better and I was able to snap some pictures.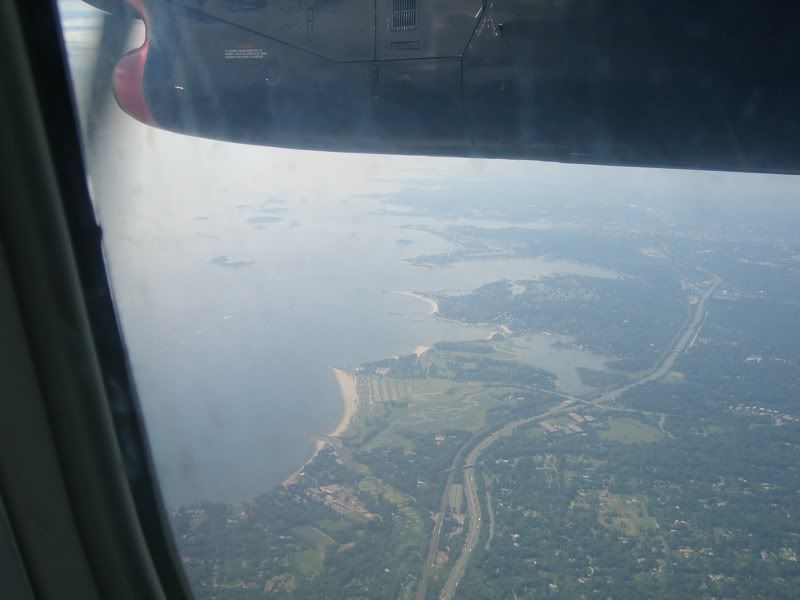 some airport shortly before landing in JFK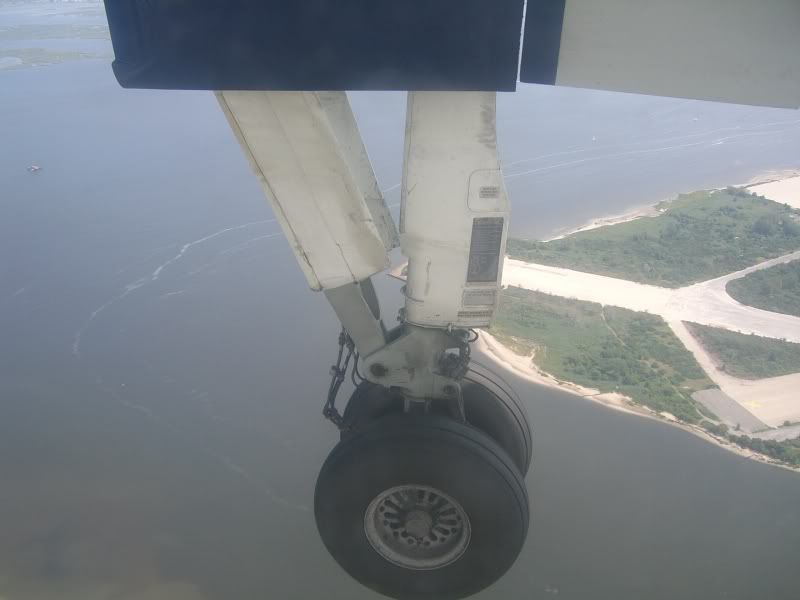 We had to fly many circles due to heavy traffic in JFK, and when we touched down (quite roughly) we had a delay of about one hour.
We had 8 hours of connection time in JFK, but I wont write about that, since its not very interesting.
We proceeded through security and this time, boarding was on time.
Airline: Air France
Equipment: Boeing 747-400
Load Factor: 100%
Registration: F-GITH
I was happy to see, that this 747 had the new economy seats, since the 777 did have the old ones.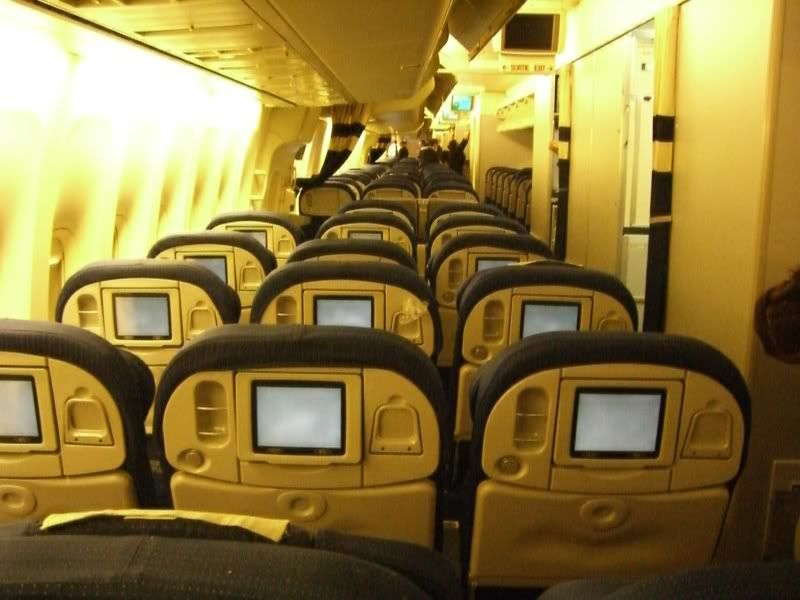 Boarding was done in about 30 minutes and we pushed back right on time.
We had to wait for some flights to take off before us and then it was our turn.
Take off was quite powerful and we leveled out at FL 320.
Soon dinner was given out, which was quite good.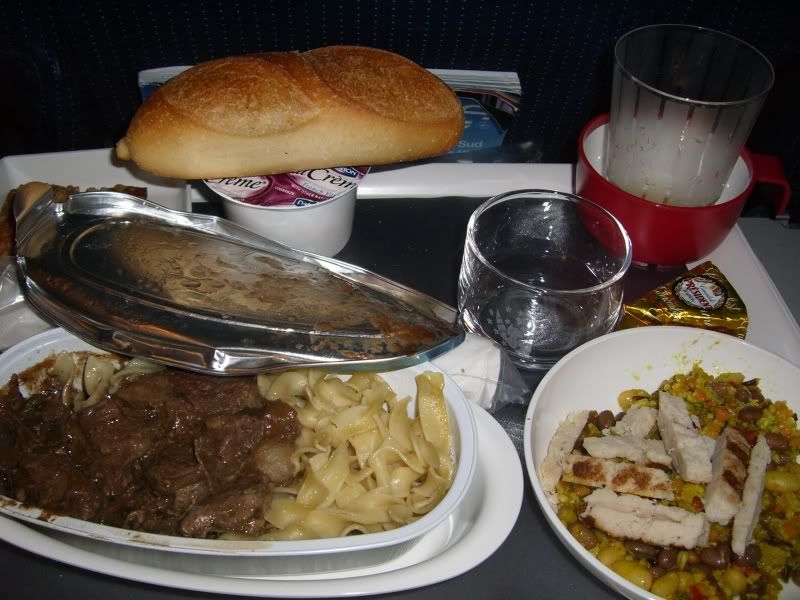 After the trash was collected, I felt asleep and slept for about 7 hours.
When I woke up, we had a little less than two hours to go and breakfast was given out.
It consisted of a croissant with egg and cheese and some fruit.
When it was finished the pilot came on ans advised passengers to use the lavatories now, since the seat-belt sign will be switched on shortly.
And sure enough, after about ten more minutes we started our descend and the seat-belt sign was switched on.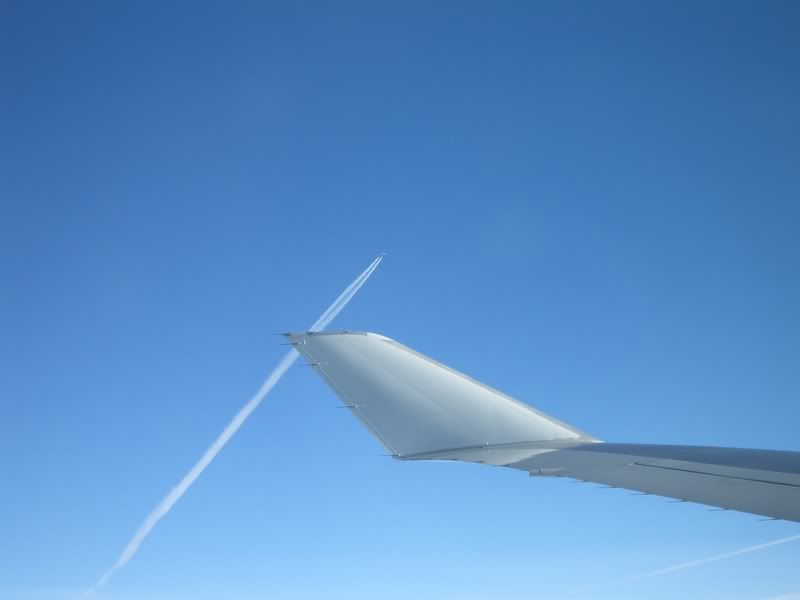 some traffic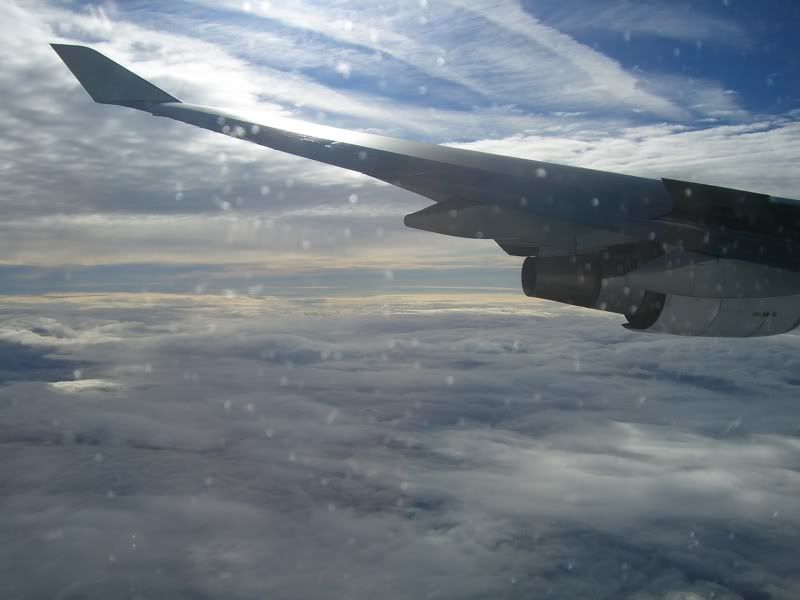 condensation forming at the wing
We encountered some turbulence but nothing too big.
The view during the descend was limited, since there were many clouds over France.
The landing itself was quite smooth and we arrived 15 minutes ahead of shedule.
We parked on the apron and left the plane via stairs.
I took some pictures of the queen of the sky and then we were driven to the terminal.
Airline: Air France (operated by BritAir)
Equipment: Fokker100
Load Factor: 50%
Registration: ???
When we arrived at our gate for the flight to Hamburg, the screen showed a delay of 40 minutes.
When the time came, we were brought to the plane by bus again and we boarded it via a pair of stairs.
We settled into our seats and since the flight was only half full, we were ready to go in a matter of ten minutes.
Taxiing took 10 minutes and soon we were in the air again.
Drinks and pretzels were given out again nd after I was done, I slept for the remainder of the flight.
The approach into Hamburg was smooth, just as the landing itself.
We deboarded the plane and collected out luggage.
One of the best vacations I ever had just came to an end...
THOUGHTS:
Overall I have to say, that AF did a good job, their planes were in good conditions (even though the 777 was VERY dirty from the outside). The cabin crew was nice and professional and the entertainment was good.
What I disliked was the fact, that four out of five flights were delayed, but that can happen with every airline.
I hope you liked this trip report and any comments or suggestions a welcomed.
Cheers,
Philipp