9V-SYE (Star Alliance Livery)
Boeing 777-300
STD: 1620
STA: 1920
ETD: Approximately 10-20 min delay
ETA: 1920 +- 10 mins
Departure: 09 December
Economy Class
60K
We arrived at the airport at around 2.00pm for the departure. I was flying out with my mother with my father and my brother coming soon after as his schools were still on during our departure.
Check in took some time as we were unable to find the bag drop as we had already checked in 48hours before departure. We booked 60 H/K as they were only two seats on that row and traveling with my mother it would be inconvenient if we had a three seater. Our baggage was approximately 70kilos between us. We were way over our 40 maximum, but with some talking we managed to get through 55, and we took 15 with us inside the cabin. Generally we would not do it, but all the suitcases were important for it to go on that flight so we did like mostly all the others did.
I was in a hurry to go to the sunflower garden, and see if one of my mothers credit card allows us into a lounge in Singapore. My father said there MIGHT be one. Immigration is a two minute process for everyone.
We waved goodbye and we were off to see the Christmas decorations in Changi. My mother enjoyed it but I said lets go to the sunflower garden. After touring the airport we finally found the Plaza Premium Lounge and the sunflower garden. A quick check revealed that we can get 15% discount but we went against that option. We spent quite some time at the sunflower garden.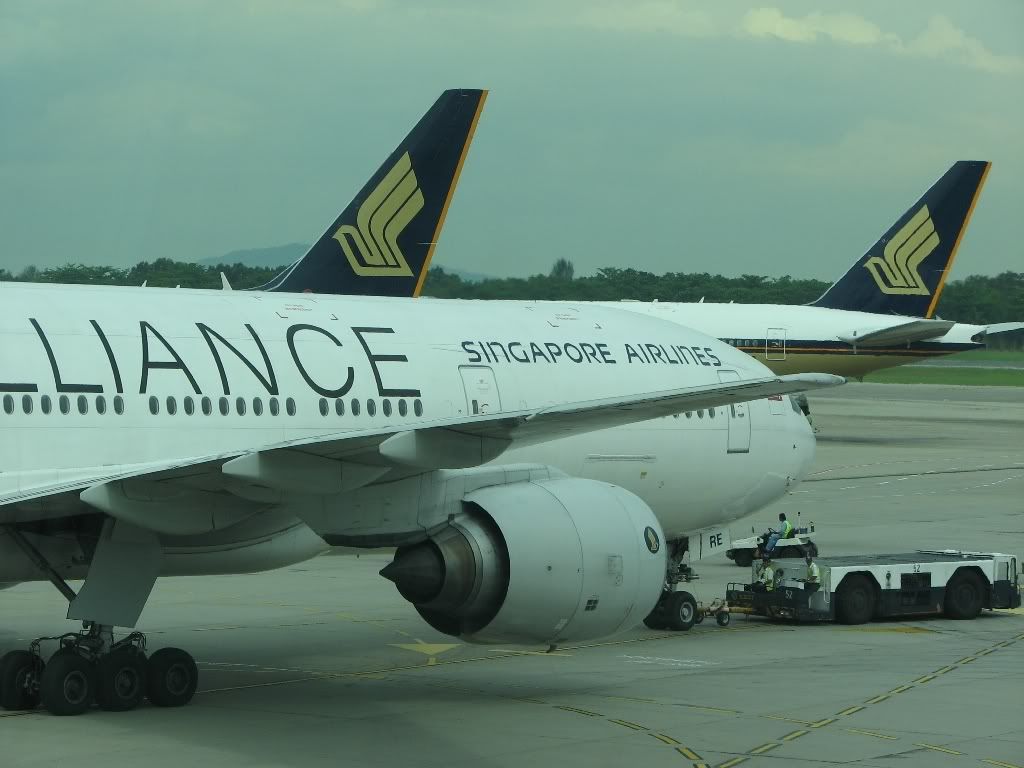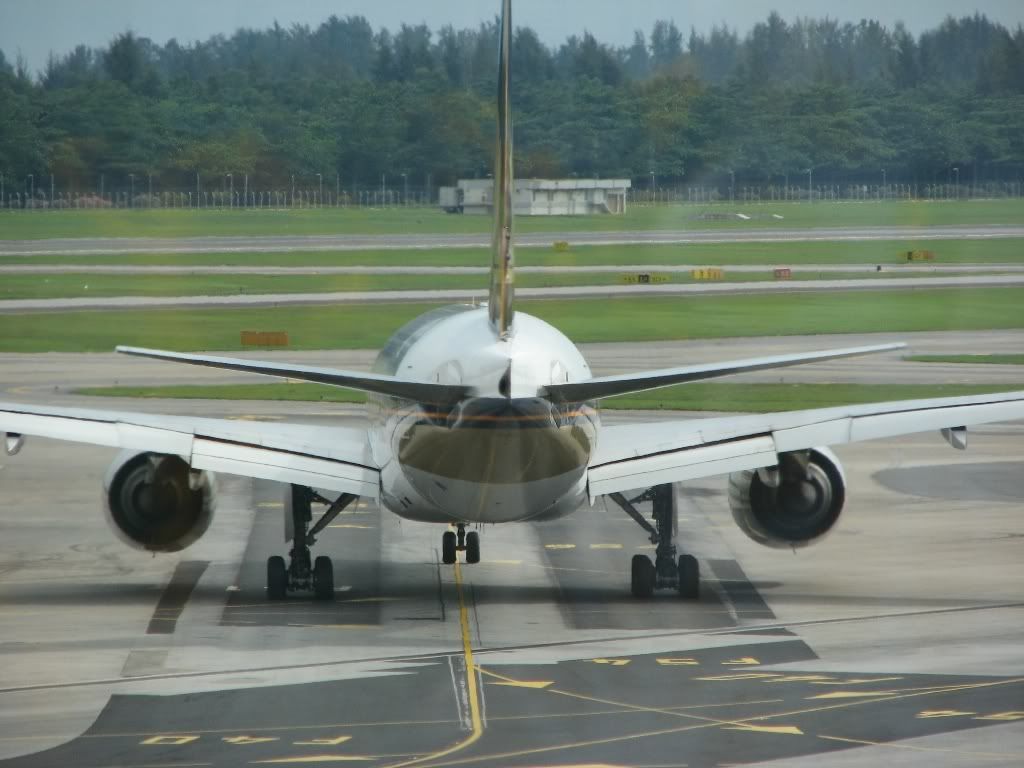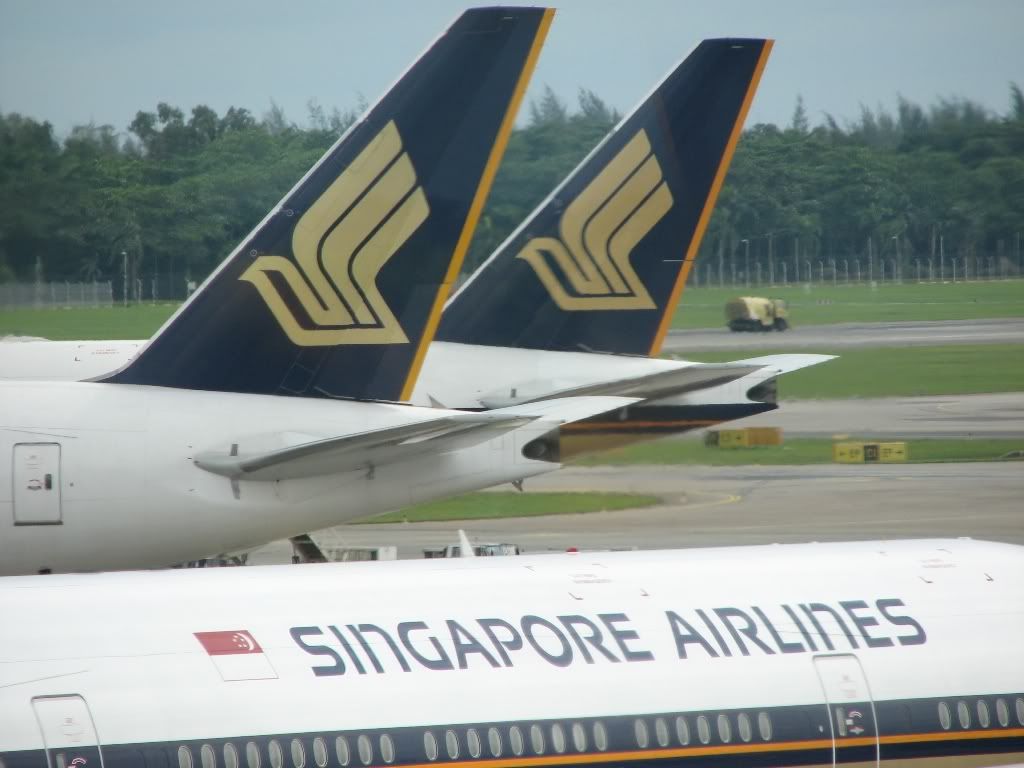 The middle aircraft of the three parked aircraft was my flight to Delhi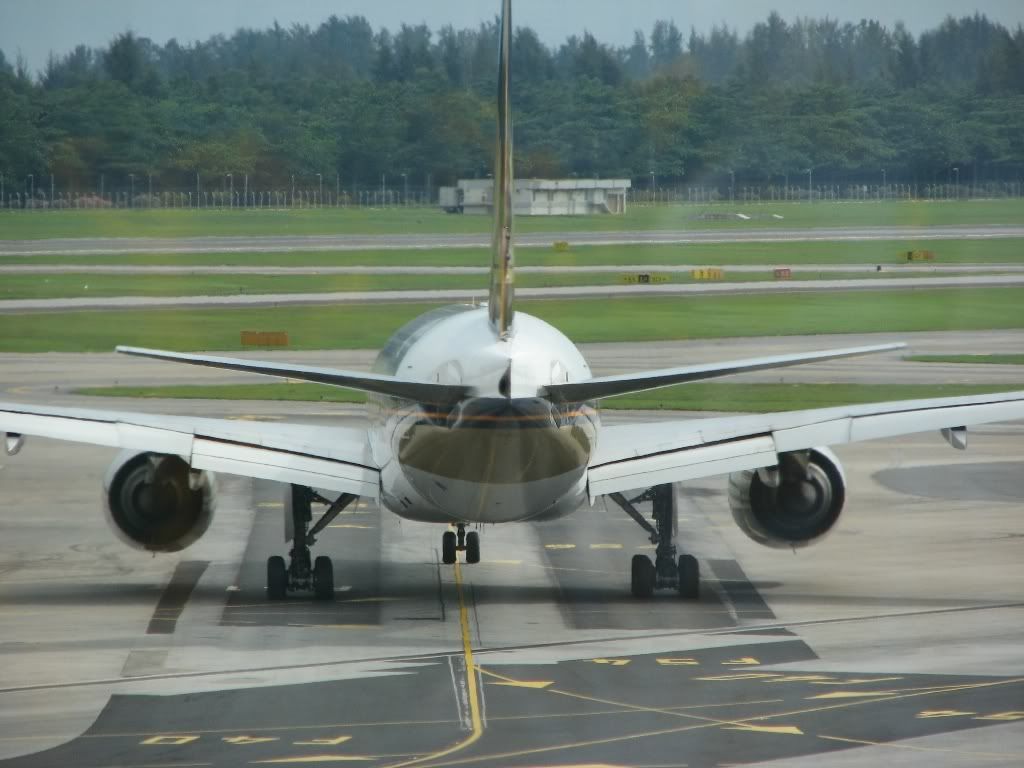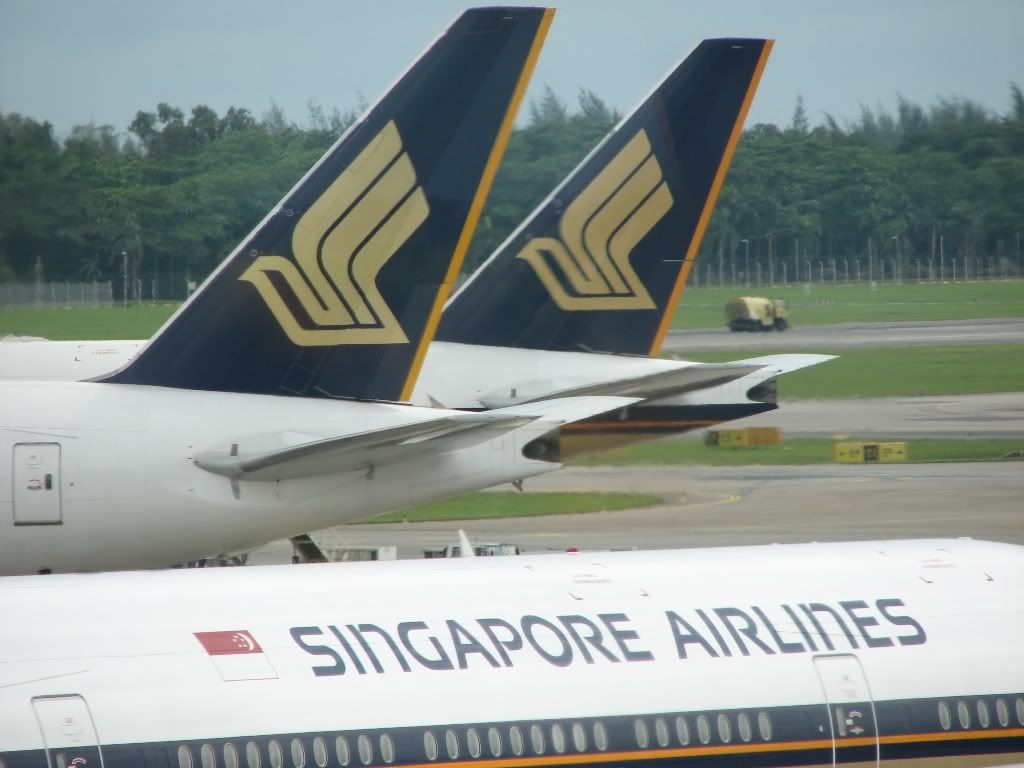 Only SQ movement around Sunflower garden that day
When I saw the watch it stated 1550, so I thought lets go to the gate and see if boarding has started. I was hoping not, otherwise we would have to go to the back of the huge queue.
While at the security check this guy cried out that he was in First Class and he needed to get to the front of the long line at security. He pissed me off really bad, that just because he has paid 5 times more than me, that doesn't mean he can skip security when it is not controlled by SQ. It is by CAAS. Anyway some SQ employee took him anyway. End of Story.
It turned out it had started and it took us 5-10 mins for us to get on board. I made myself comfortable while my mother went to look for magazines and also started to see what was on sale at the duty free. I was quite upset when I sat at my seat as I had thought that within a few years all the 777 would have AVOD, and also my hopes were sky high as we had the Star Alliance aircraft. We got the old seats and this aircraft was clearly showing its wear and tear. My armrest was broken and my IFE didn't work to well which was a bugga.
While she was doing all that, I was enjoying myself and taking pictures. We had a full flight today on all classes. We started to taxi late and these are some of the pics. During this time the safety video was played, menus were offered and hot towels.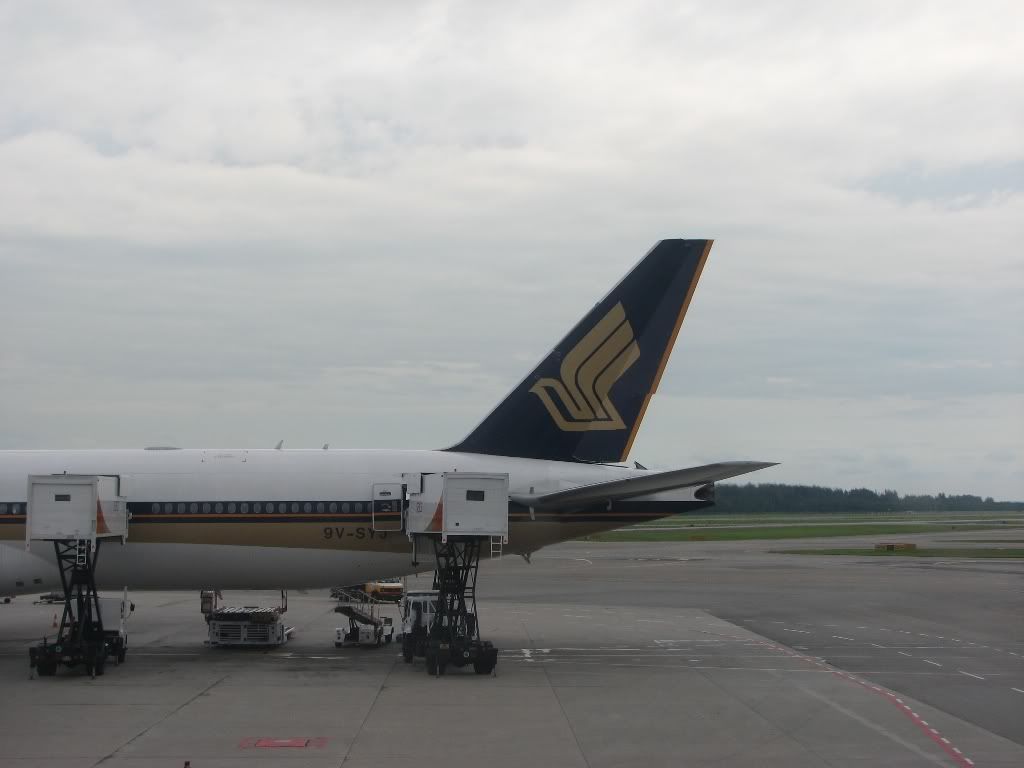 A view from my window
A Turkish airlines taxing away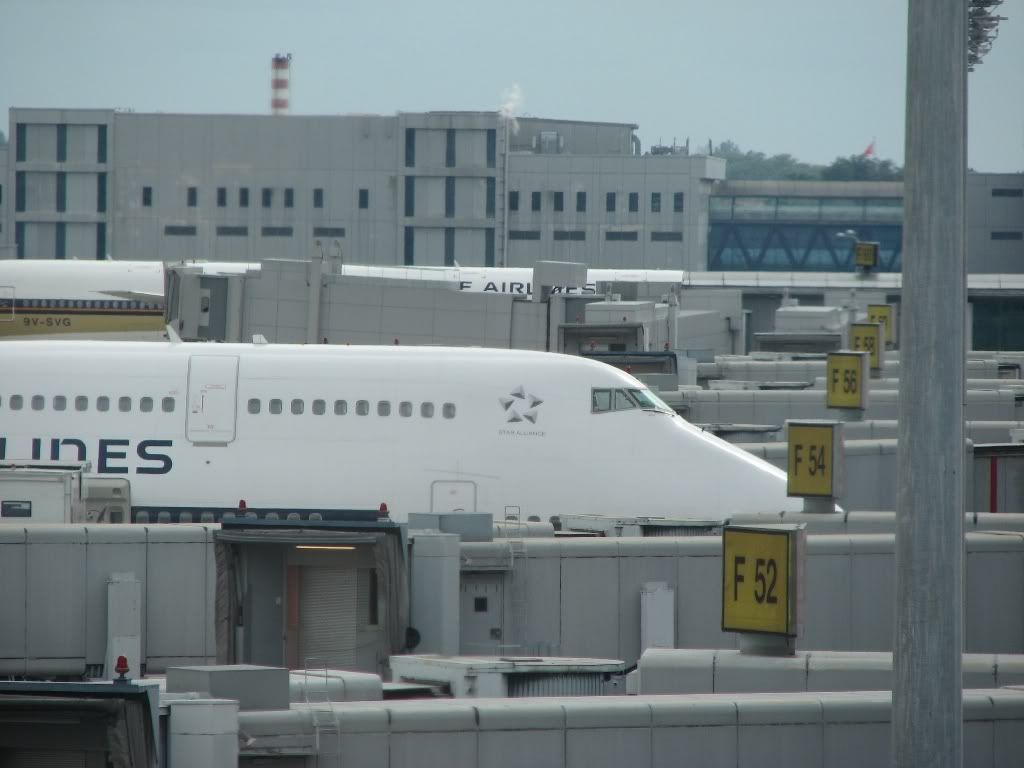 Just the top of SQ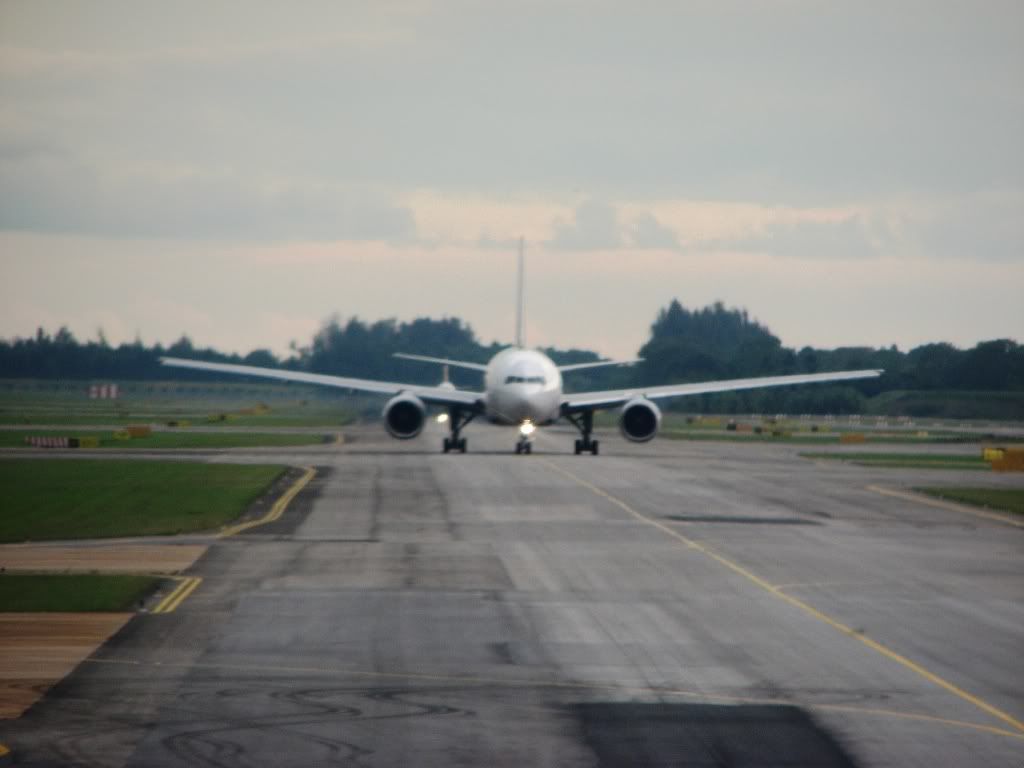 A SQ right behind us
http://i170.photobucket.com/albums/u270/sqb773er/GarudaonTakeoff-1.jpg
The Garuda before us
The take-off roll was quite long and we were straight after the Garuda. As soon as the seat belt signs were off, the cabin crew started to serve drinks and muruku. My mother asked for a few more, and the cabin crew happily gave her 3 packets more. Now that is great service.
Meals came soon after and the options were Veg. or non veg. As vege's we took the vegetarian meal. The meal was disgusting to look at and to eat. I had expected more from SQ.
I then settled in to watch a movie, but I just couldn't manage to watch a movie on those screens without AVOD. I then tuned into the flight map when a Flight Steward told me that the flight map is not working on this flight
I then tuned into my PDA and listened to songs for a while, while I was playing SuDoKu. I managed to complete a master level. YIPEE. When I got bored I thought I would watch Krrish, which I had seen twice. I had no other movie which I would understand, because of the IFE not being clear at all. I ended watching that twice.
Finally after what seemed like ages in the air, we landed. I was shocked that we landed without having to wait. That never happens in Delhi, but we did it. On the way to the gate we saw many different types of aircraft also the Air Sahara B763. Didn't they wet lease it to someone?
We docked into our gate and as the last ones out we were the last one to the immigration. I was looking for someone who would meet us at the gate to skip the large queue but he never waited for the last passenger. He was told we were traveling in Business and once all business class passengers disembarked he went off.
We had a long wait, but luckily our bags were waiting at the belt. Another unexpected surprise because last time we flew into Delhi with SQ and my father who USED to be a PPS, we had to wait for 1 hour upon coming to the belt. One of our bags didn't have the priority tag so we had to wait ages and that's what I had expected this trip as well. That was not to be.
We were called over the intercom to come to counter number 4. He told us to collect our bags and come with us. We got our bags after some people trying to get us to take their taxi. We were out within minutes because of the people working at IGIA.
45 minutes later I was with my cousins and trying to tell them how we know that we have landed at IGIA. That was TOUGH. They have never flown in their lives. Can anyone help as they only have travelled on trains and for that you have to listen to the announcements or ask the conductor
I wont give you as much details for the return trip.
I was traveling alone for this trip as my family went earlier
•tThe flight was delayed by 90 minutes because of ATC and weather. Before I was planning to travel with TG because of BKK, but went against it after hearing horror stories.
•tI was really happy I didn't take the TG flight as it had been delayed for over 15 hours.
•tI took seat 60 A and at 60C was one of my mother's friend. We chatted quite a bit till dinner when she went to sleep and I played games on the AVOD equipped system.
•tI watched Stormbreaker.
•tThe meal was MUCH better than the inbound flight. That was the first time I finished my whole meal on an airplane.
•tAround two hours before touchdown I went to sleep. I was woken up by 3 flight attendants and the person sitting next to me. I was in a DEEP sleep, and was told to prepare for landing.
•tI put my seat upright and asked for some water.
•tI was having a body ache after my nap, for some reason. It was damn painful and I had to ask for a painkiller
•tI landed at Singapore and was one of the last to leave again. The immigration was a 30 second affair this time, and I proceeded to the gate.
•tI had a priority tag on my luggage because we knew someone there, thus my bags were out within minutes. It took like 15 minutes for me to go from seat to arrival hall.
•tOn arrival my family was no where in sight, and I had no cash. I was not traveling as an Unaccompanied minor and was by myself for half an hour. I didn't mind as this was Singapore.
•tI though worst comes to worst I will get my mother's friend to lend me her mobile and ask for status on the whereabouts
•tMy dad came 25 mins later shocked to see I was out in no time
That is the end of the trip report
I didn't take any photos for the second segment as the cabin had lights off since take-off the arrival, and flash would bother everyone
Overall, after my experience on SQ in previous years I am safe to say that its service standard has decreased dramatically. In my opinion I don't think it deserves its 5Star rating given by skytrax. Their aircraft are certainly showing age and I dont think it has one of the youngest fleet in the world after going into that aircraft
The cabin crew were avg. but that may be the case because lots of passengers were demanding lots from them. That is the reputation that SQ has gotten itself into which it cant seem to leave
My next trip report is to Perth with a school trip coming soon
My previous trip report was where I went to Adelaide for a cricket tour
http://www.airliners.net/discussions/trip_reports/read.main/88868
Ill give you more pics later as I am having troubles uploading them
I will post in same thread
Feedback always appreciated
Regards,
Ag92