This is the first part of my F class trip to Sydney last week, Gulf Air GF 150 BKK-HKG. To have a comfortably long connection (separate tickets) at Hong Kong, my options for BKK-HKG were TG/CX/GF. The latter sold First for the price of full Y on TG/CX, so it was a no-brainer really. Unfortunately, as usual, it's a case of you get what you pay for...
06 February 2007
Bangkok Suvarnabhumi Intl (BKK/VTBS) – Hong Kong Chek Lap Kok (HKG/VHHH)
Gulf Air Company GF/GFA 150
Airbus A340-312
A4O-LF
1015-1405 – On Time
First Class, Seat 2A
I was a bit late getting to Suvarnabhumi as usual since it was an early morning when I left our apartment. Door 4 had a Gulf Air sign, so I told the driver to stop there, just to discover GF check-in was at the very other end of this so-called largest passenger terminal in the world. AOT can't even get the signs right, so it's no surprise it's a packed, disorganized madhouse inside.
An agent wearing a GF uniform greeted me at the First Class counter, looking at my AA Platinum card like she had never seen one before. Good thing she noticed I had an F ticket, and checked me in. I was given my pre-assigned seat 1A, a generic GF boarding pass (no separate F stock) and an invite to the Louis Tavern First Class Lounge. Considering Priority Pass cardholders have access to this particular lounge, it's obvious the place is a far cry from a proper F lounge.
Departure tax is nowadays included, and had been a week by this point. Yet, nobody had bothered to remove those tacky looking booths from near the passport control, taking space in the crowded terminal. There were rather long lines at passport control, but they moved rather quickly, so no major complaints. But as ridiculous as the whole Suvarnabhumi Airport fiasco, what's of the point of bragging about having the most counters in Asia when half of them are not staffed? A new sign, such a beautiful Xerox copy, was posted instructing people to fill in the immigration form before reaching the counter. Tacky, extremely tacky.
I quickly made my way to the Louis Tavern, and truth to be told it was the worst lounge experience ever, anywhere. Last time it was empty, but this time absolutely packed with GF Economy passengers, shouting at the top of their lungs and behaving like pigs. They looked Chinese, spoke Thai and all had a crapload of high end duty free like Hennessy XO with them. It's obviously not to hard to get access to this F lounge... None of these people were in Business, let alone First. I downed a glass of good old Black Label, and left early despite the lounge agent telling me the flight wasn't boarding. The E gates were a quiet haven in comparison. Now, that isn't much of a surprise considering half of them were unusable due to cracks on the tarmac...
Inedible pastries available in the Louis Tavern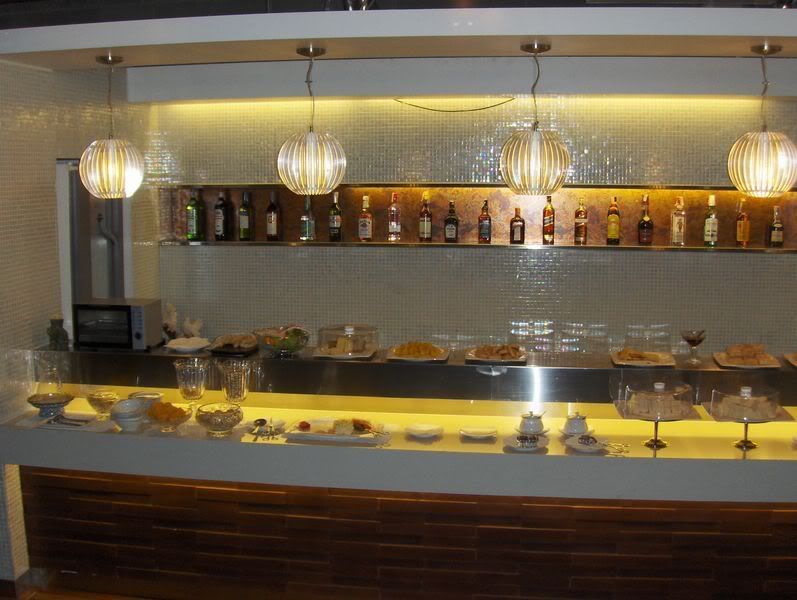 The beautiful surroundings of a serene First Class Lounge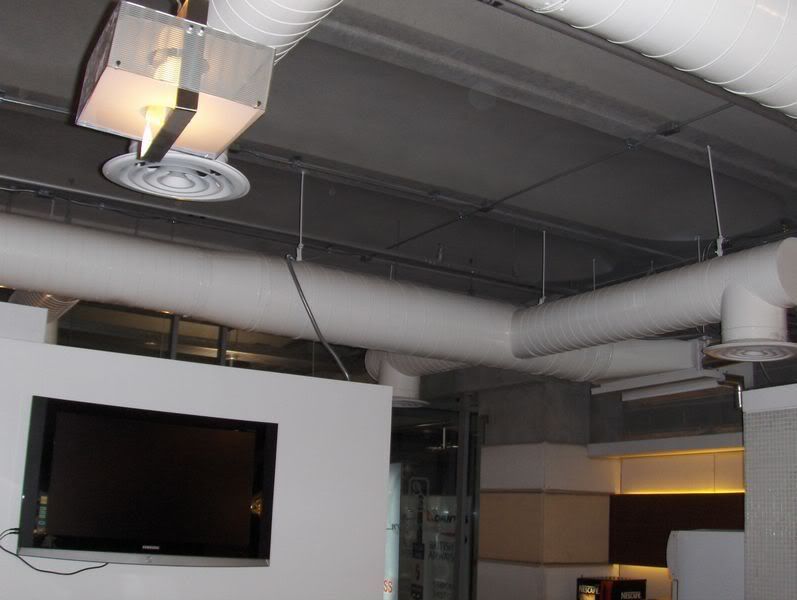 Deserted E-concourse, mostly unusable due to cracks found on the tarmac
Gulf Air Boarding Gate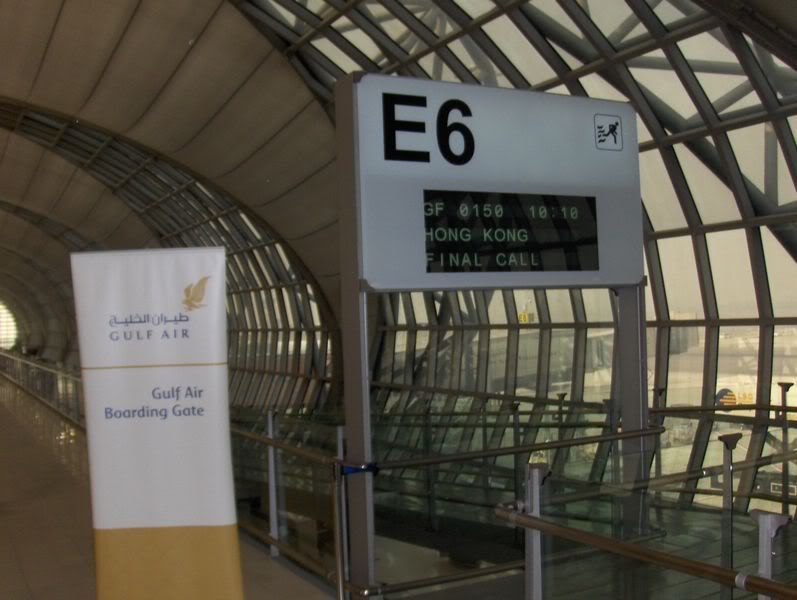 I was greeted by the sight of an old-coloured GF A340, the website has only seatmaps of ex-SQ and newly refurbished machines available. Boarding was free for all, and I was greeted by the sight of an original Gulf Air F cabin with those ancient blue seats with silver stripes. An Asian F/A greeted me and said seat 1A is "right there". No escorting to seats. Legroom was shocking to say the least, so I moved to 2A as soon as boarding was completed. In 1A, I couldn't stretch my legs without hitting the bulkhead.
A very friendly Australian male F/A soon appeared with menus and offered a pre-departure drink. I opted for champagne as usual. A nicely presented hot towel and some dates were offered later, nice touch. Champagne was only refilled after I asked for it.
Champagne and some nuts/crackers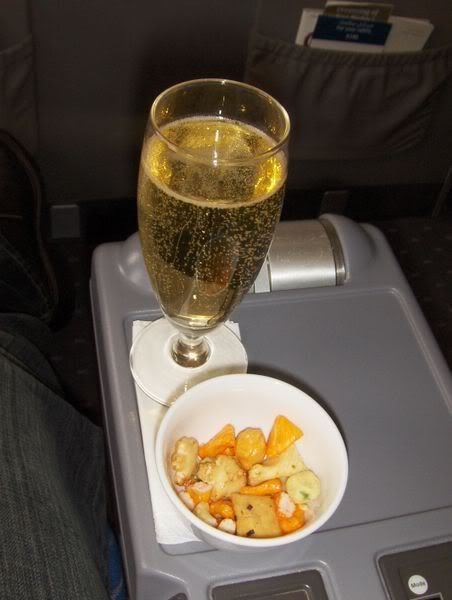 Hot Towel
Arabic coffee and the empty champagne glass
A Kuwaiti A340 next to us, going to either MNL or CGK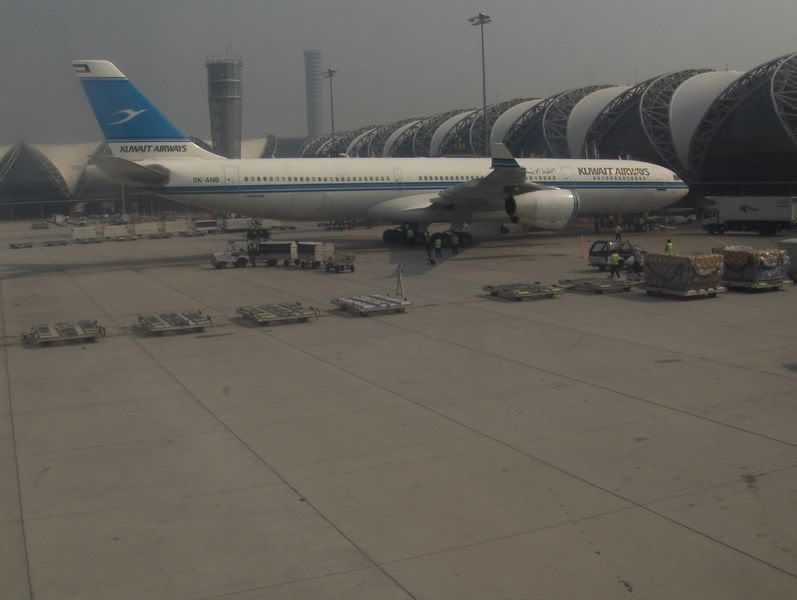 We were pushed back a few minutes early; this flight seems to be quite often late though. Takeoff was without much delay, all these daily appearing newspaper reports about Suvarnabhumi delays seem to be inaccurate in my experience.
A highway junction after takeoff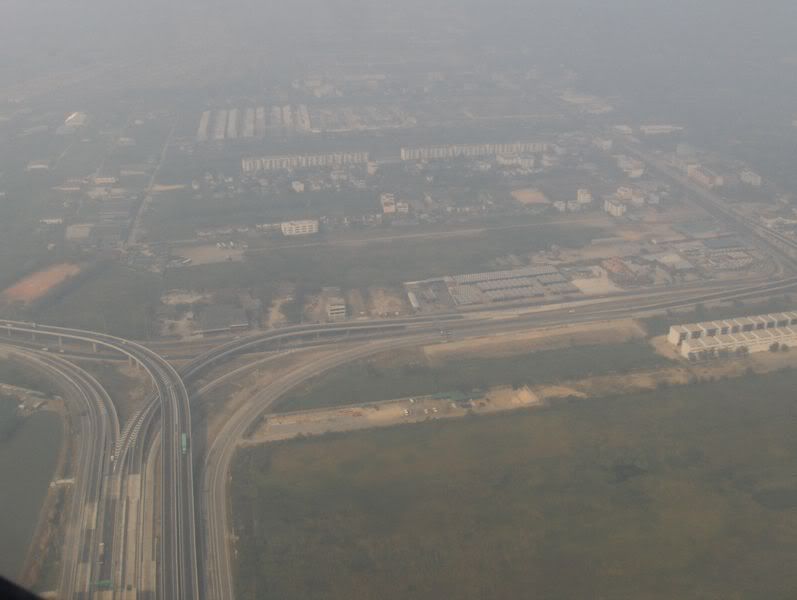 Snapped a few pics of the cabin after takeoff, load was 5/12 despite me having the only assigned seat the day before.
A pair of GF F seats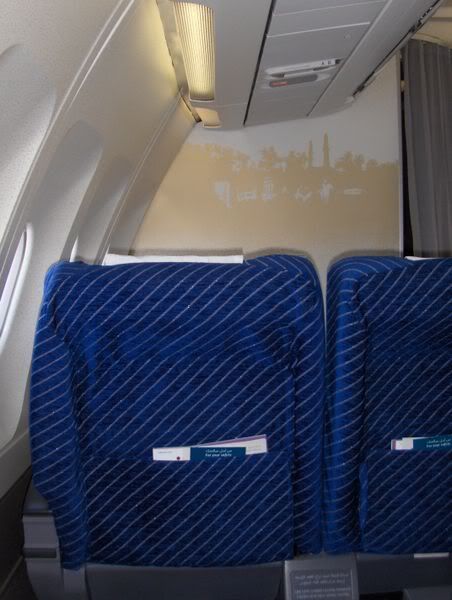 Cabin view – looks ancient IMHO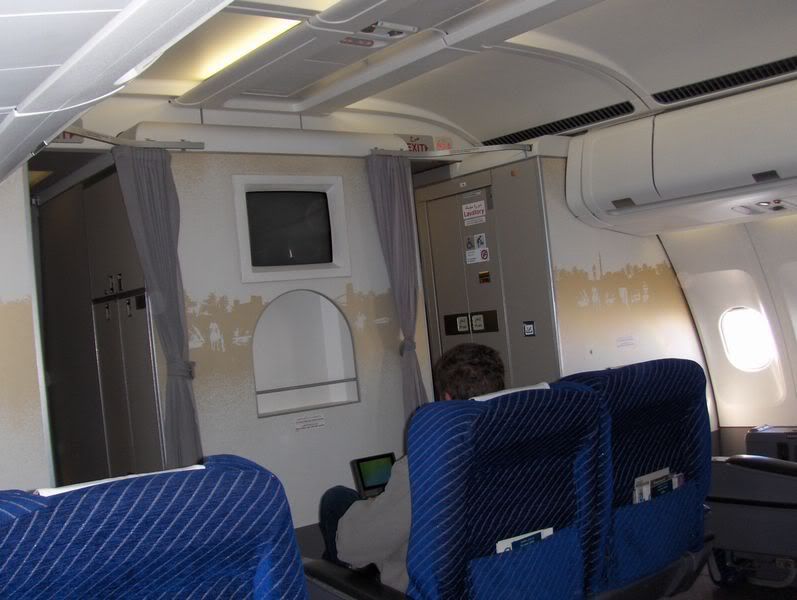 Old entertainment controls, not even headsets were given in First Class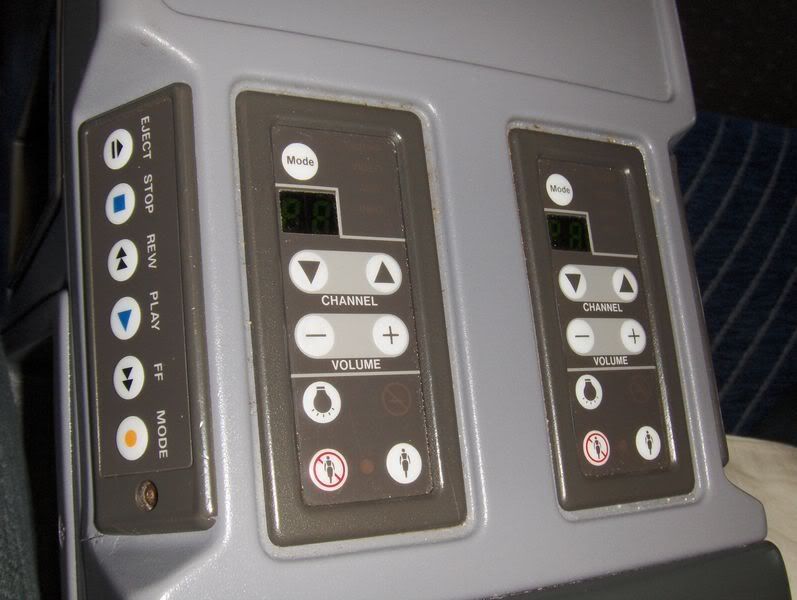 Seat controls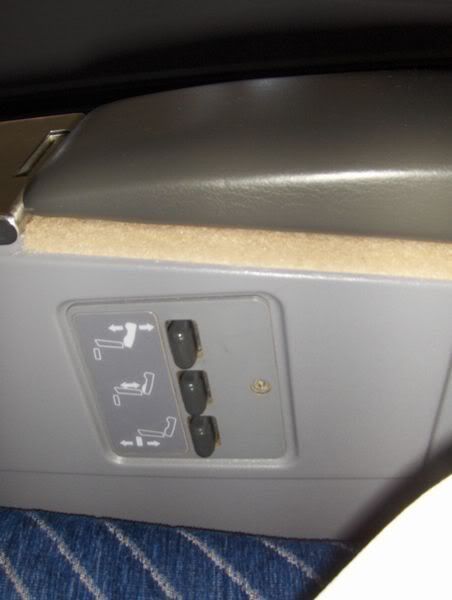 Sabre's Vitruallythere indicated a breakfast service for this flight, but thankfully it was actually a lunch as I very much dislike eating those rubbery eggs in premium cabins. Here's the menu and wine list.
BANGKOK – HONG KONG

A selection to start
Asian delight
A variety of South East Asian hot dishes
of vegetable spring rolls, marinated prawns and fish parcels
served with chilli sauce
Fresh garden greens
green leaves, lollo rosso, endive and radicchio
combined with tomato, mixed bell peppers and cucumber
tossed in virgin olive oil and balsamic vinegar
Main course
Poached fillet of garoupa
with sweet red chilli, ginger, spring onions, soya sauce
bok choy and steamed rice
Stir fried Pak-khing chicken
Chinese style casserole
with yellow bamee noodles and steamed asparagus
Vegetarian Massaman
potato, pumpkin and carrots in coconut curry sauce
rice and fried onions
A sweet to round off
White chocolate pannacotta
on sweet sticky rice
served with mango and mint salsa
Seasonal fresh fruit selected from the local market
To finish
Assorted teas
Camomile, English breakfast, Moroccan mint, Earl Grey, Ceylon black tea
Freshly brewed or decaffeinated coffee
WINE LIST

Champagne
Brut Mosaic Vintage 1998
White Wine
Poilly-Fume Les Genievres 2005, Guy Saget
Chablis 1er Cru Vaillons 2005, Bouchard Anne
Bellingham Spitz Chardonnay 2003
Red Wine
Chassagne-Montrachet Rouge 2003, Bouchard Anne
Chateau Haut Lagrange, AC Pessat-Leognan 2000
Delheim Shiraz, Simonsberg 2003
Dessert Wine
De Bortoli Noble One 2004
From the bar
Aperitifs
Martini Sweet Vermouth
Harveys Bristol Cream Sherry
Spirits
Beefeater Gin
Smirnoff Red Label Vodka
Smirnoff Silver Label Vodka
William Grant Whisky
Johnnie Walker Black Label 12 year old Scotch Whisky
Jack Daniels Tennessee Whisky
Bacardi Rum
Napoleon Brandy VSOP
Liqueurs
Cointreau
Drambuie
Tia Maria
Cognac
Camus VSOP
Port
Cockburns (Portugal0
Beer
Tuborg (Denmark)
Carlsberg (Denmark)
Heineken (Holland)
Amstel Light (Holland)
Soft Drinks
Coca Cola
Coca Cola Light
Schweppes lemonade
Schweppes Soda Water
Schweppes Tonic Water
Schweppes Ginger Ale
Schweppes Sparkling Mineral Water
Juices
Orange
Tomato
Apple
The menus were nicely presented, but gone as soon as orders were taken... I managed to snag a pair for myself later. IMHO it's ridiculous to collect menus in C, let alone in F to reuse them. Leather covers a la SQ I understand but paper menus not. Unfortunately, the menu looks like they ordered just about the cheapest stuff you can get from a local Bangkok caterer, and it tasted just that. I had the Asian delight, fish and the pannacotta which was actually decent. I was offered either the dessert or fruit, not both.
Service from the Asian F/A was poor, I had to order a set of cutlery in First Class because she didn't bother to bring any cutlery whatsoever after clearing the starter. No drink refills either, and the bread selection consisted of simply one type of bread rolls. Presentation was fantastic I must say, and the Aussie guy tried to provide some service.
Table setup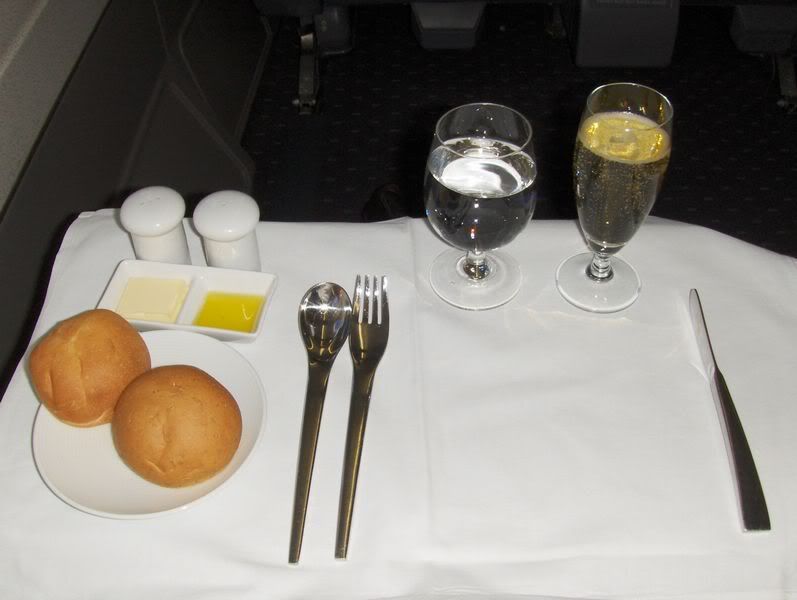 Starter – try hard and you might find that one tiny prawn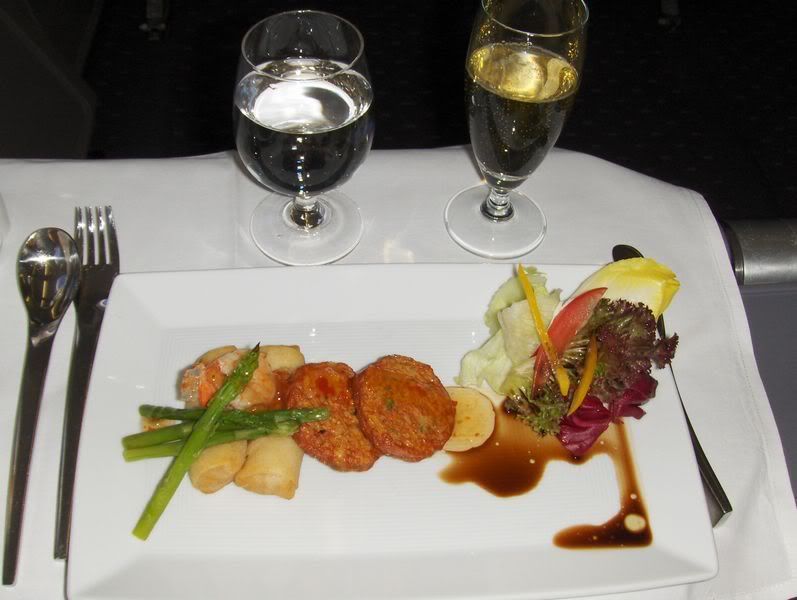 Main course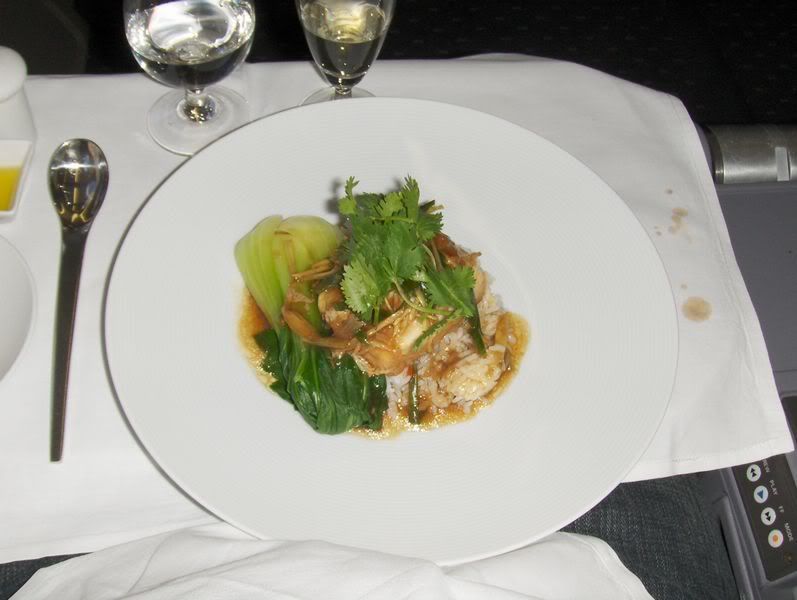 Dessert
The champagne was decent, didn't try the wines. The drink list has nothing to do with First, just for laughs TG for example offers JW Gold and Hennessy XO in Business. There was not even Perrier available.
After the meal, I reclined the seat and it was fairly comfortable at perhaps 170 degrees recline. Legroom in row 2 was pretty nice, but I wouldn't suggest row 1 to my worst enemy if paying for First, legroom was less/equal than usual old Business Class such as AY in bulkhead rows.
View of the A340-300 engines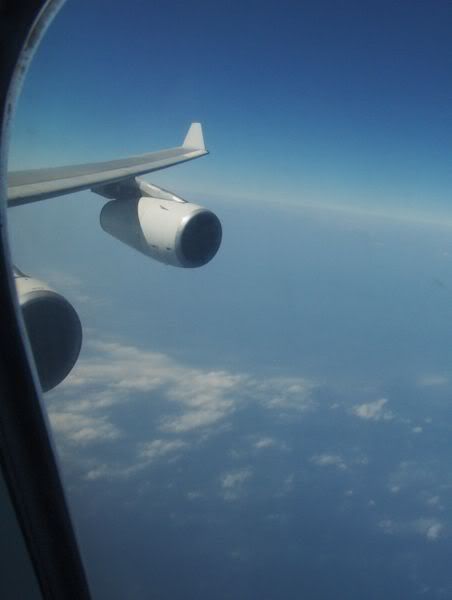 Airshow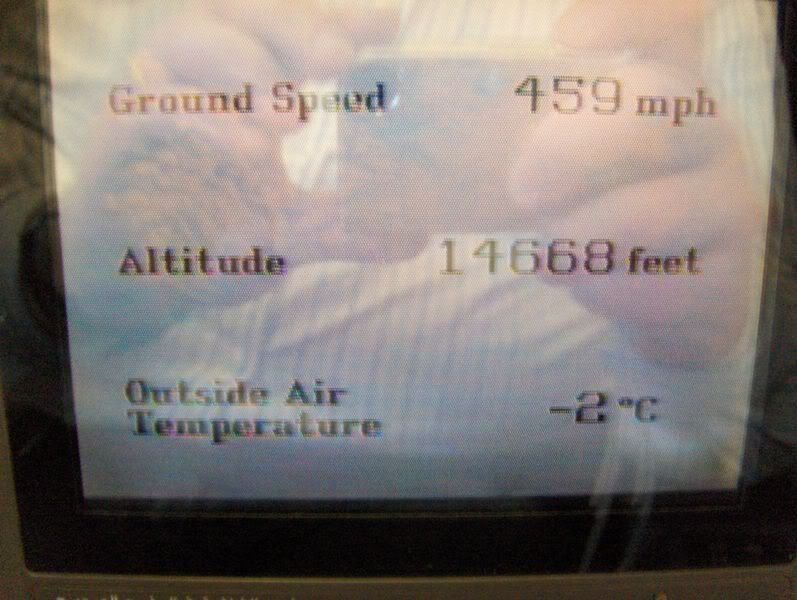 Descent to Hong Kong started early, cabin prepared for landing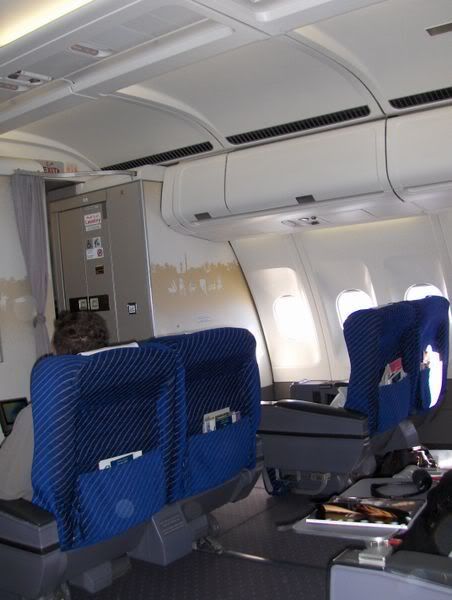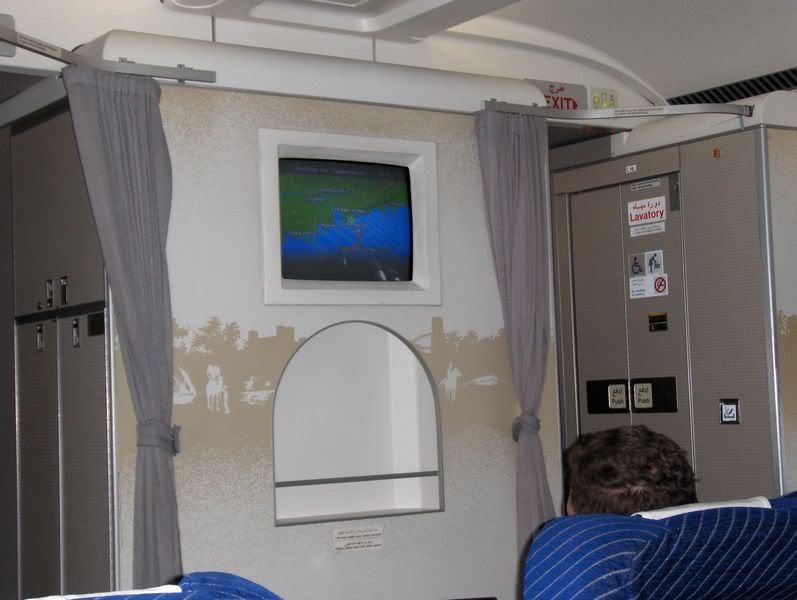 Nice views of parts of Hong Kong during descent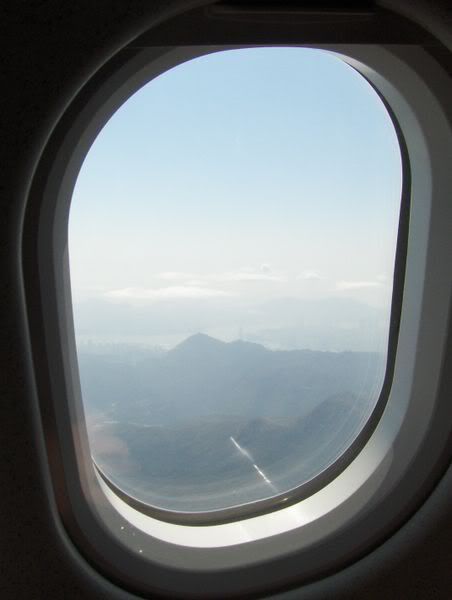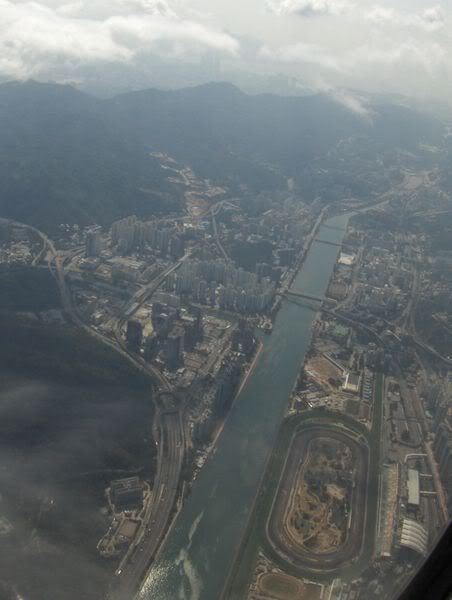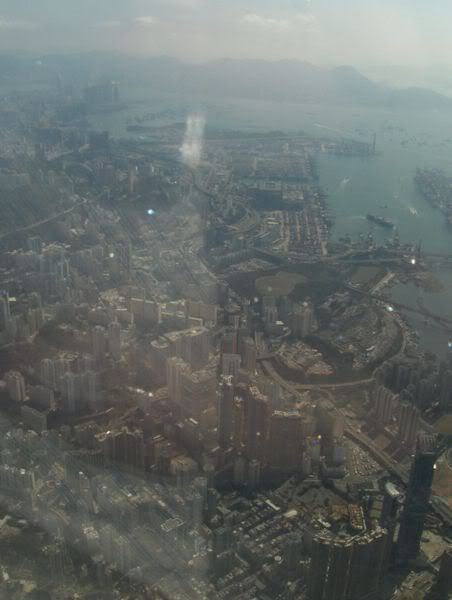 Final approach (Regal Airport Hotel IIRC)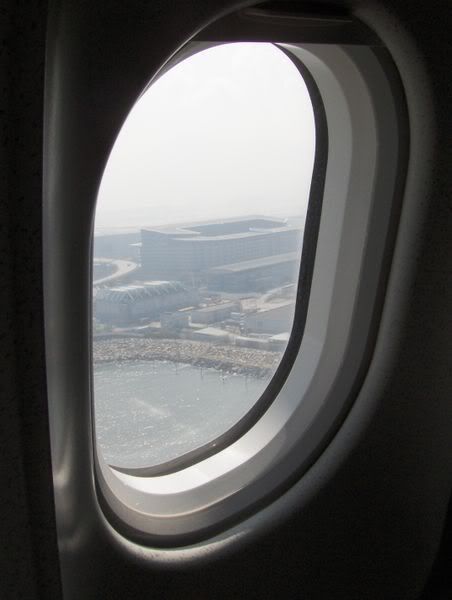 Turning to gate
A shot of the almost empty Business Class cabin, legroom is very poor at about 40"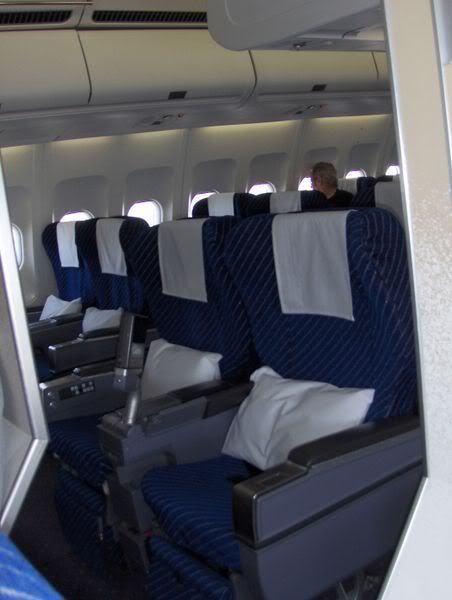 Overall, considering the ticket cost me same as full fare Y, I suppose I can't complain too much. But this is clearly not an F product, and I'm not surprised anymore to see those ever-ongoing buy 1 get 1 free GF deals in Bangkok. The male F/A provided decent service, but there is only so much you can do with this sort of hardware/menu offerings.
Next reports (of some
very
nice flights...)
CX 111 HKG-SYD F A330-300 B-HLS
CX 100 SYD-HKG F A330-300 B-LAC
EK 387 HKG-BKK J B777-300ER A6-EBS