Introduction
This is my first trip report, so please be easy on me. I wanted to spend some nice days away from Caracas on Carnival holidays. I wanted something cheap, yet interesting to visit. As an airplane enthusiastic, I tried to make as many flights as possible. So Puerto Ordaz came into mind. Puerto Ordaz is an important city on the south of Venezuela, in Bolivar State. It is called the Iron City of Venezuela since many iron, gold, steel and diamond industries are located there.I searched online for some cheap fares. Aeropostal was offering USD 186 R/T, Aserca USD 201 R/T both of them nonstop. However, I always look for Avior's website, even though they only offer a flight with a stop in Barcelona (BLA). Well, the round trip fare was USD 147 so I went for that one.
Saturday, 17 February 2007
Caracas (CCS) -- Barcelona (BLA)
Airline: Avior
Flight number: 9V 2021
Scheduled departure time: 8:00
Scheduled arrival time: 8:45
Type of aircraft: B 737-200
Registration: YV-1361
My taxi was schedule to pick me up at 5:30 am. I didn't want to take any chances with the alternate road (La trocha). We arrive at the airport at 6:15. The Avior's checking counter was already with people. The agent who was in charge was incredible slow, but after 20 minutes I was ready to go to the security check point.
As you can see on the board my flight wasn't listed since it was too early. I took a picture of the checking counter, although it didn't go well: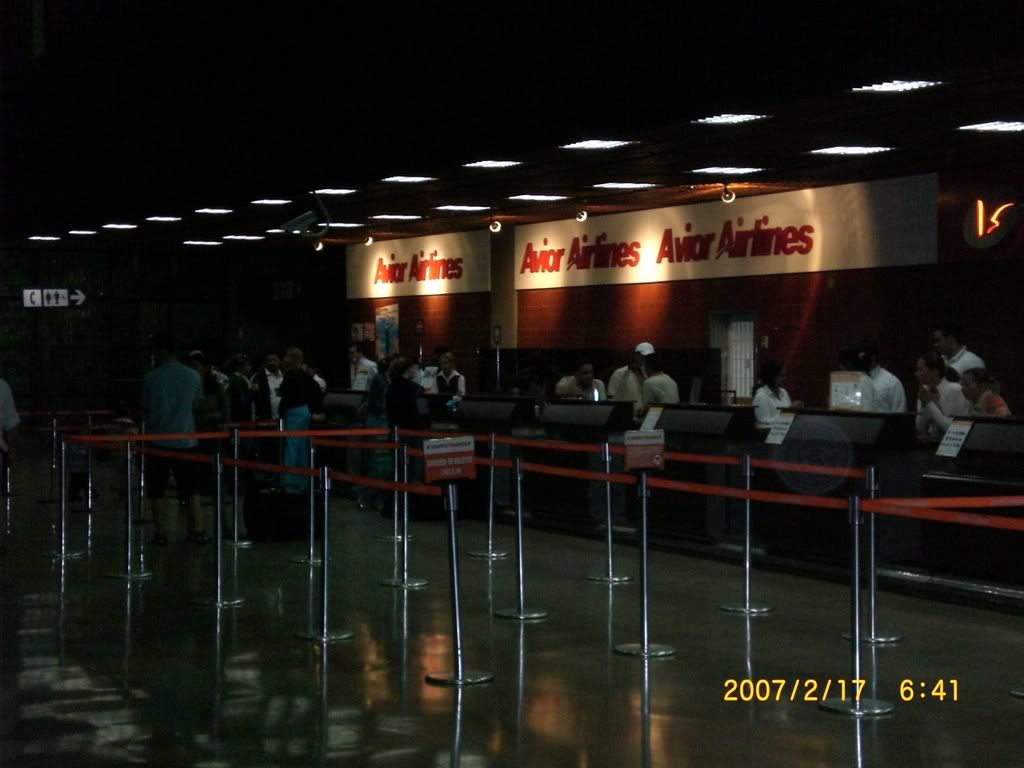 After the security check I was ready to do some spotting. This morning was really busy, full of people going on vacation. The most popular destination for the carnival holidays are Margarita, Merida and Barcelona, but that morning you could see flights to everywhere in Venezuela. I walked from gate 1 to gate 11, and these are the best pictures I got:
Even though the domestic terminal is old, still looks nice and clean.
You can see the two new paint scheme of Aserca.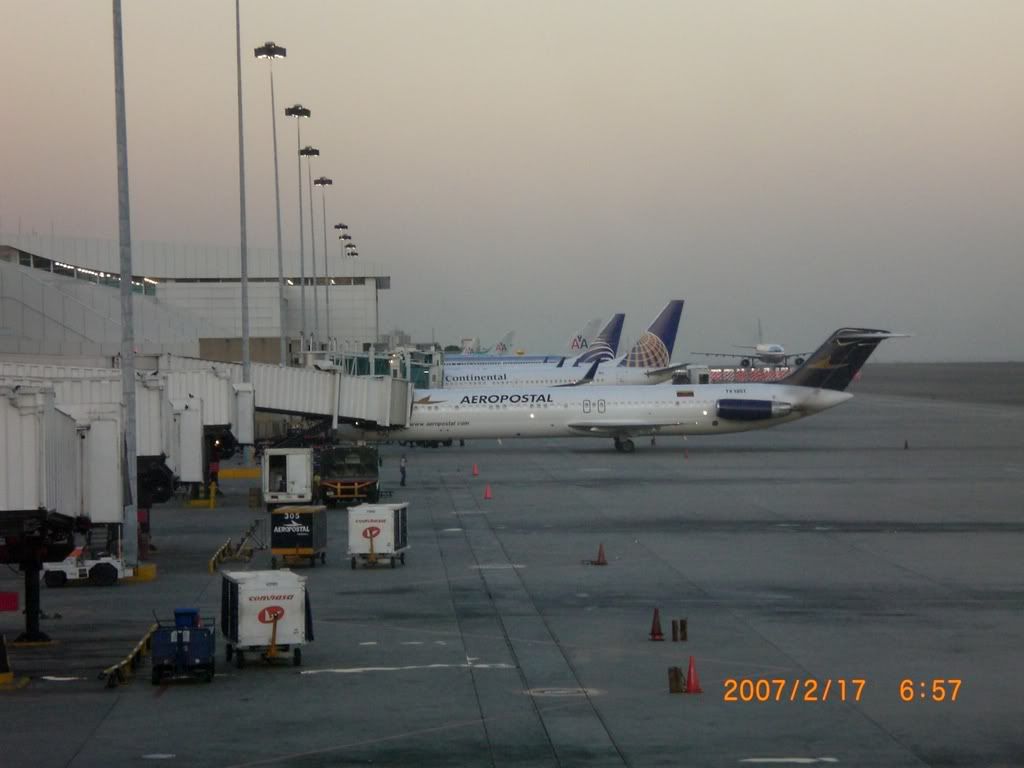 Busy morning on the international terminal.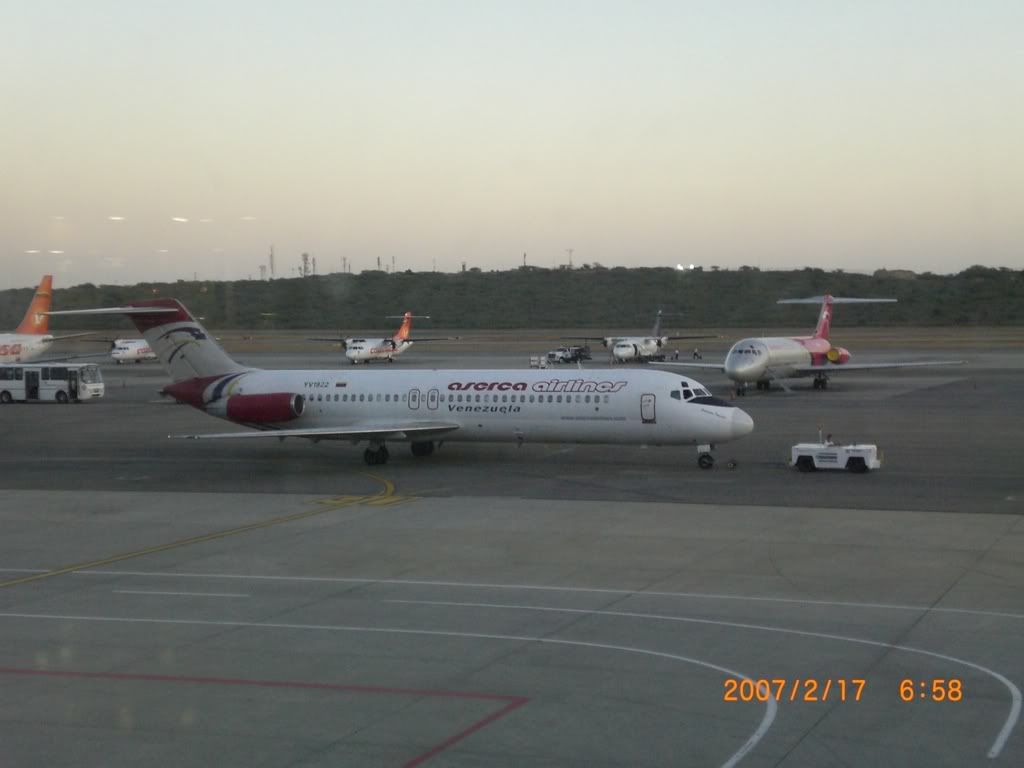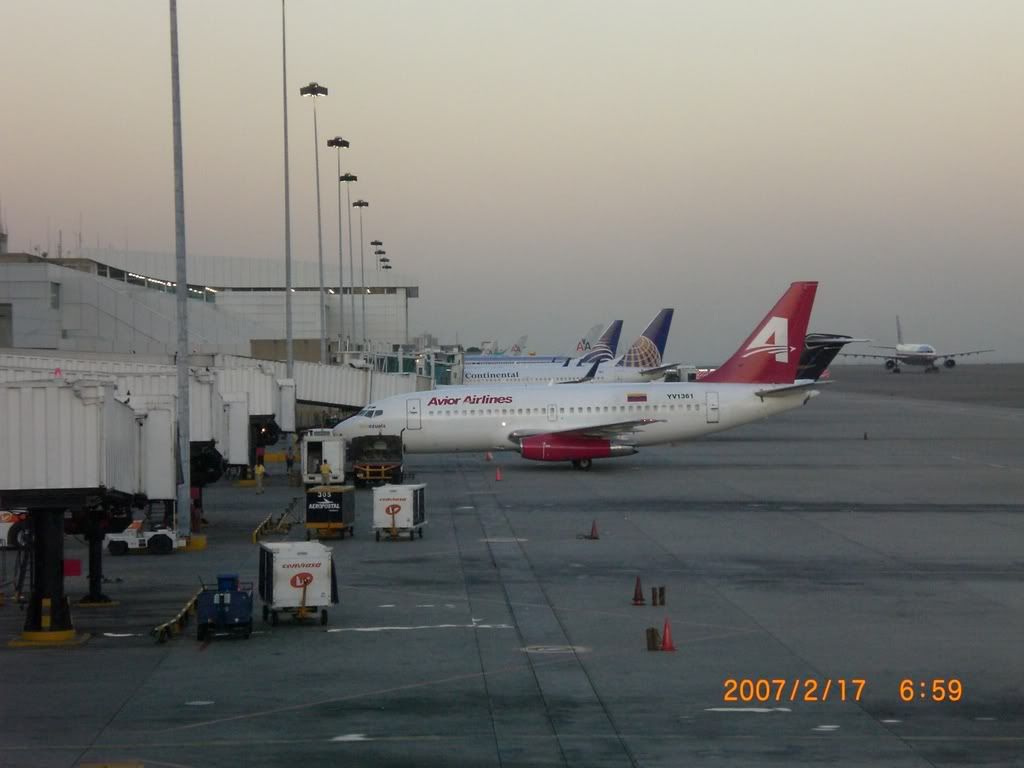 My plane arriving from BLA
Aeropostal getting ready for a new domestic flight.
My plane at gate 10
Santa Barbara new 757 along with Vensecar's (DHL) 727
MX coming from MEX
Rutaca taxing to gate
Boarding started at 7:45. This airplane is equipped with 12 business seats and 96 coach seats. The plane felt incredible comfortable. This 737-200 was built in 1982 and was delivered to Avior in 2006. The flight was 95% full in coach, however only two seats occupied in business. I was greeted by two female flight attendants. They were smiling and were really nice. We pushed back at 8:07 and the safety procedures were executed soon after. As we taxied, I took these pictures: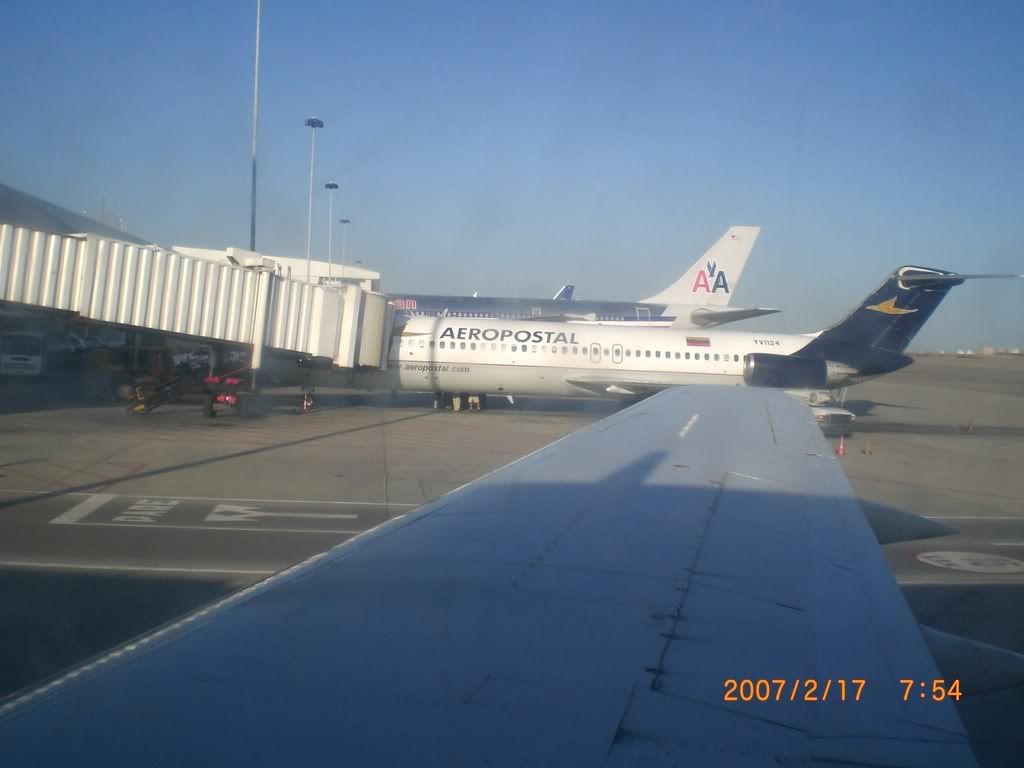 After a short taxi we took off from runway 9. It was a powerful takeoff, follow by a nice roaring of these 737 engines. We flew near Cerro Avila before turning left to the Caribbean Sea.
Afterwards we flew close to the coastline the entire flight. After reaching cruising altitude drink service began. Between apple juice, peach juice and coffee I chose the first one. The service was performed fast and professionally. This was my shortest flight ever (only 30 min.)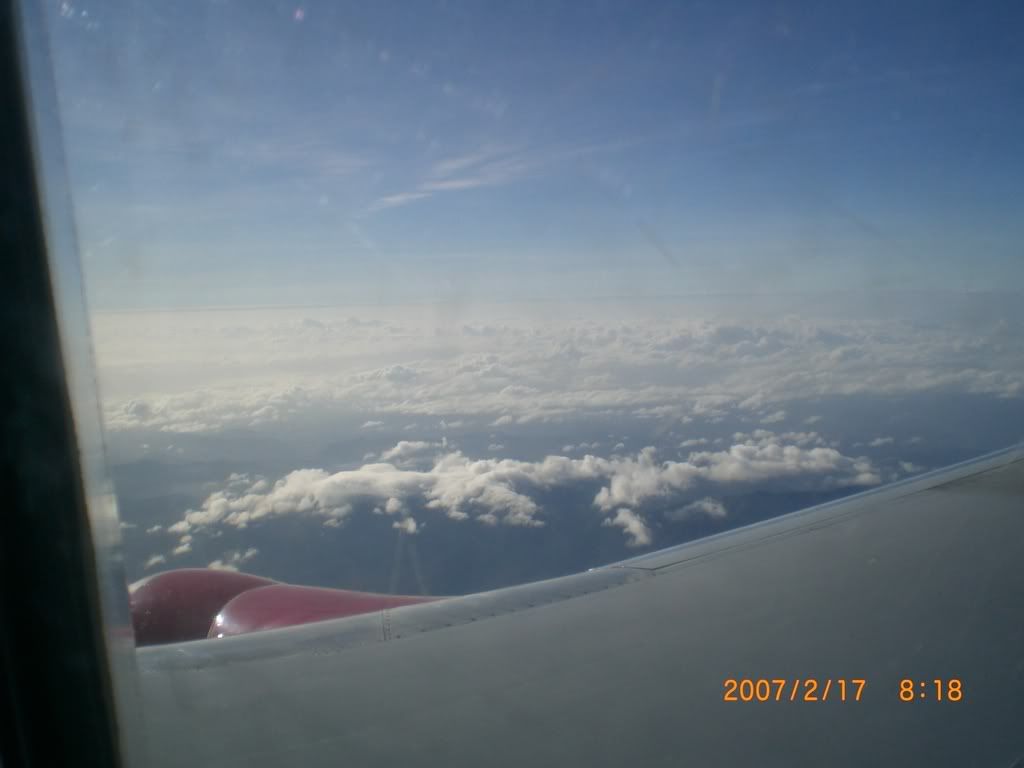 Venezuela coastline (the east side)
Some airbraking action.
Descending started at 8:30. We made a sharp left turn and then landed on BLA's main runway.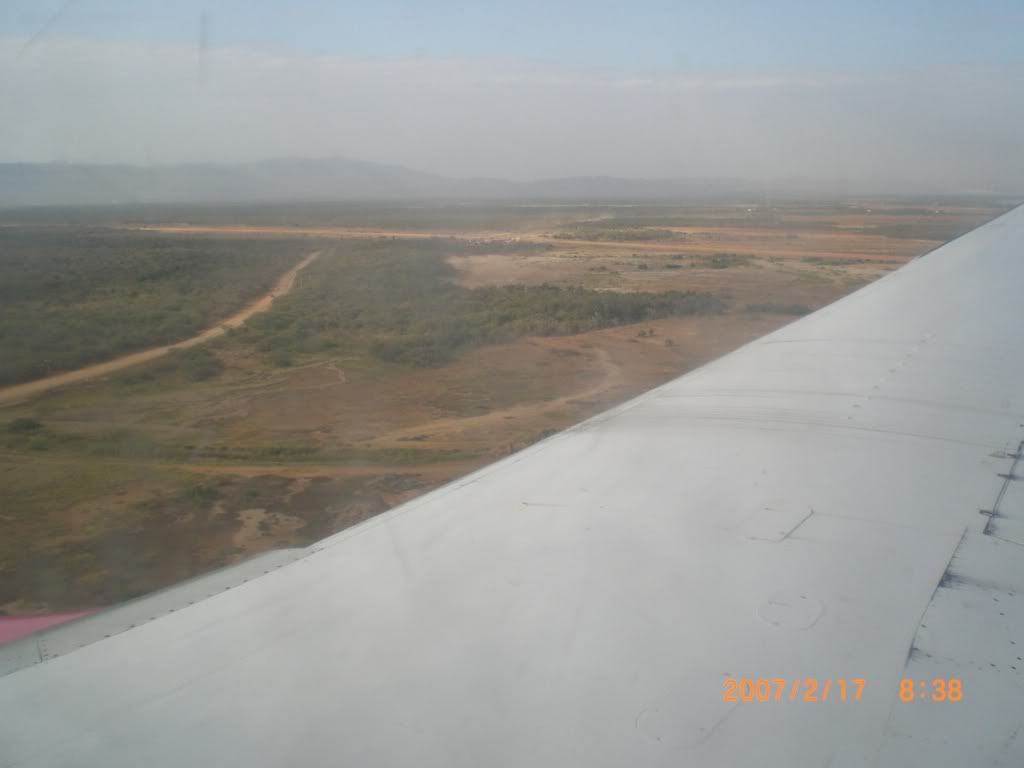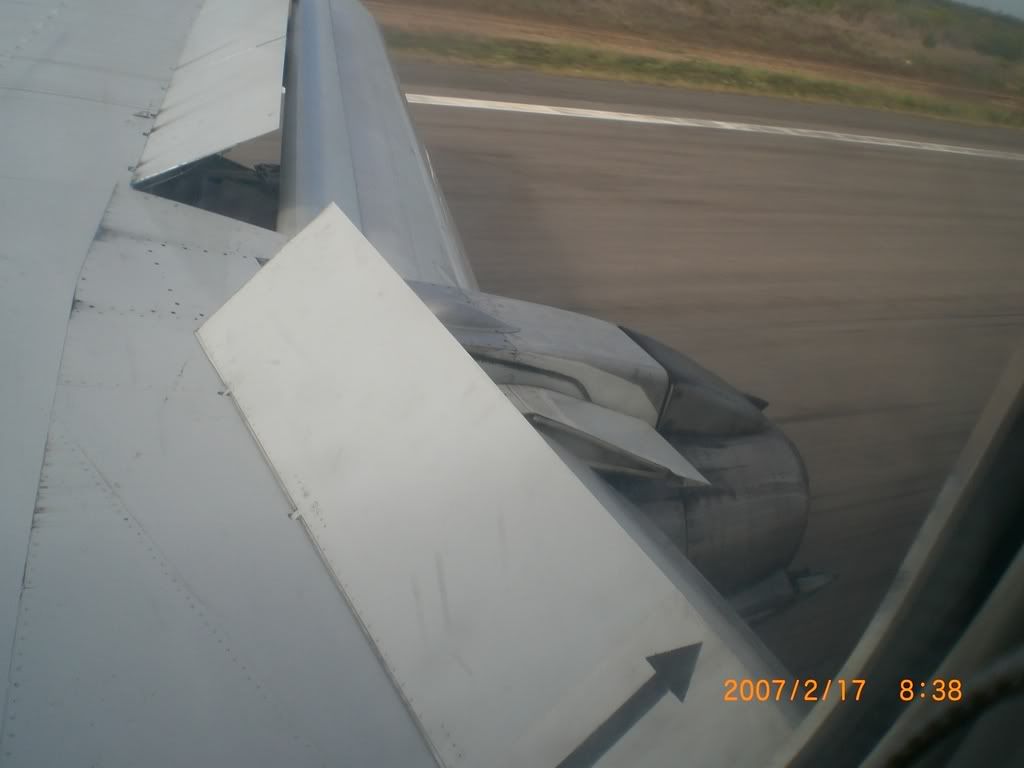 No trust reverse deployed.
We were positioned to a remote stand (No jet-bridges on this airport, however this airport is been revamped). As I was walking outside the plane I asked the pilot if I could take a picture of the cockpit. He agreed. I got so excited!
Beautiful cockpit of this old bird.
As I disembarked, I took some pictures on the apron.
Getting ready to depart to San Tome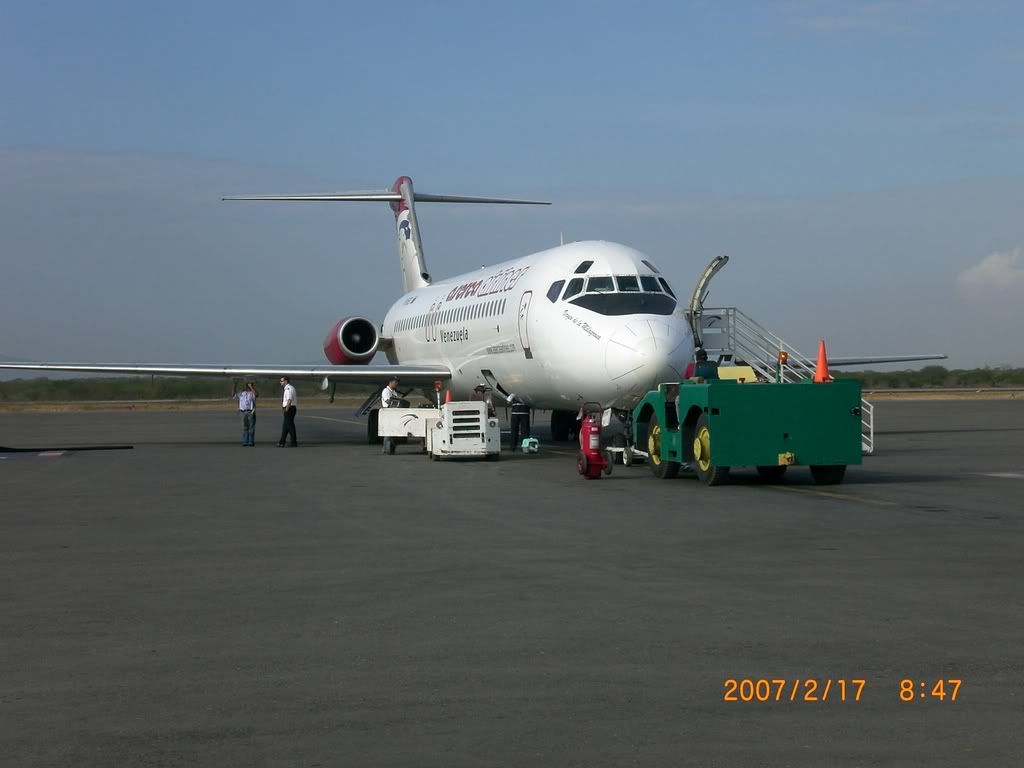 Getting ready to go to Puerto Ordaz
As I have mentioned before, Avior has created a nice hub in BLA. There were many connecting people to PMV, MIA, PZO (Puerto Ordaz), and San Tome. My connecting flight didn't leave until 9:20 am so I had some good minutes in BLA. This airport is really small, but I believe that after the work is done, it will improve a lot, to reinforce Avior's operations. My next flight was delayed 30 minutes and was operated by a Beechcraft 1900D and since it was my first time on this airplane I was excited.
Saturday, 17 February 2007
Barcelona (BLA) -- Puerto Ordaz (PZO)
Airline: Avior
Flight number: 9V 1100
Scheduled departure time: 9:20
Scheduled arrival time: 10:15
Type of aircraft: Beechcraft 1900D
At 9:40 we were called for boarding. This flight was 78% full.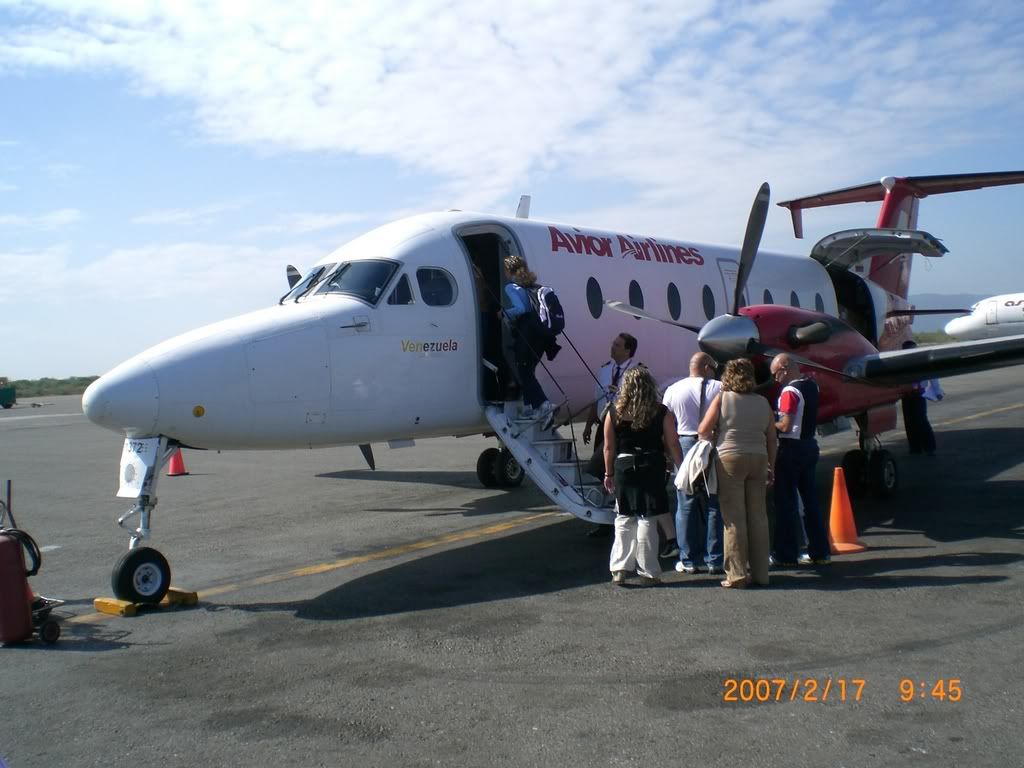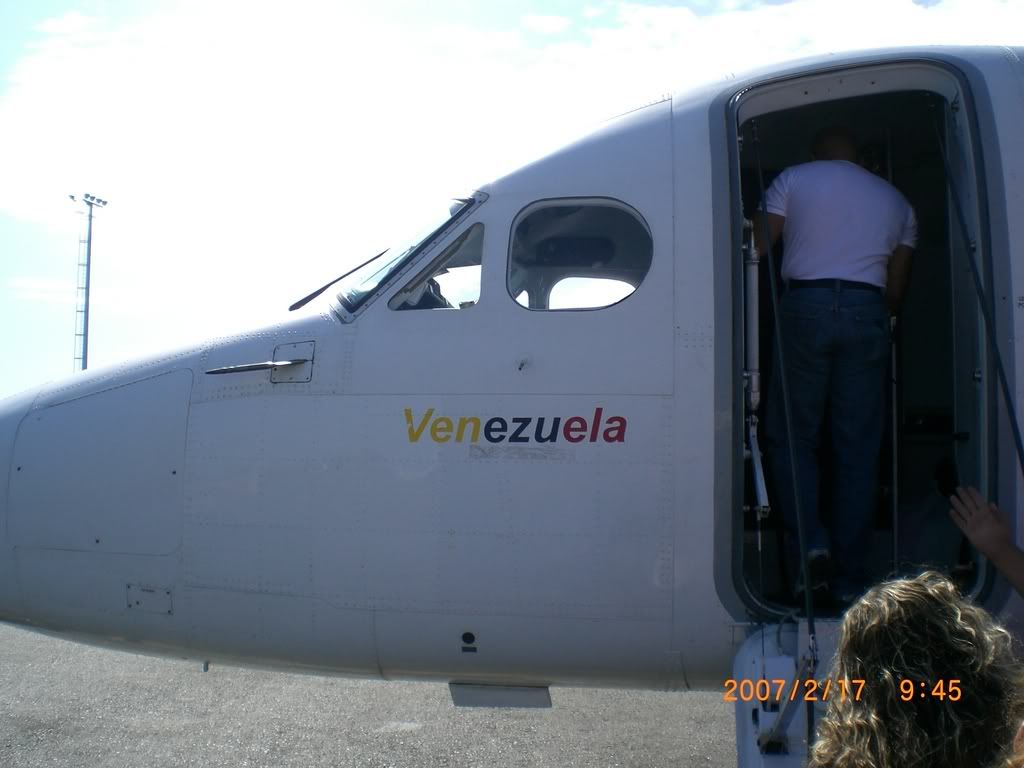 At 9:50 pushback started. We made a 3 minutes taxi and then took off from the runway. It was by far the smoothest take off of my life; however this little airplane was noisy.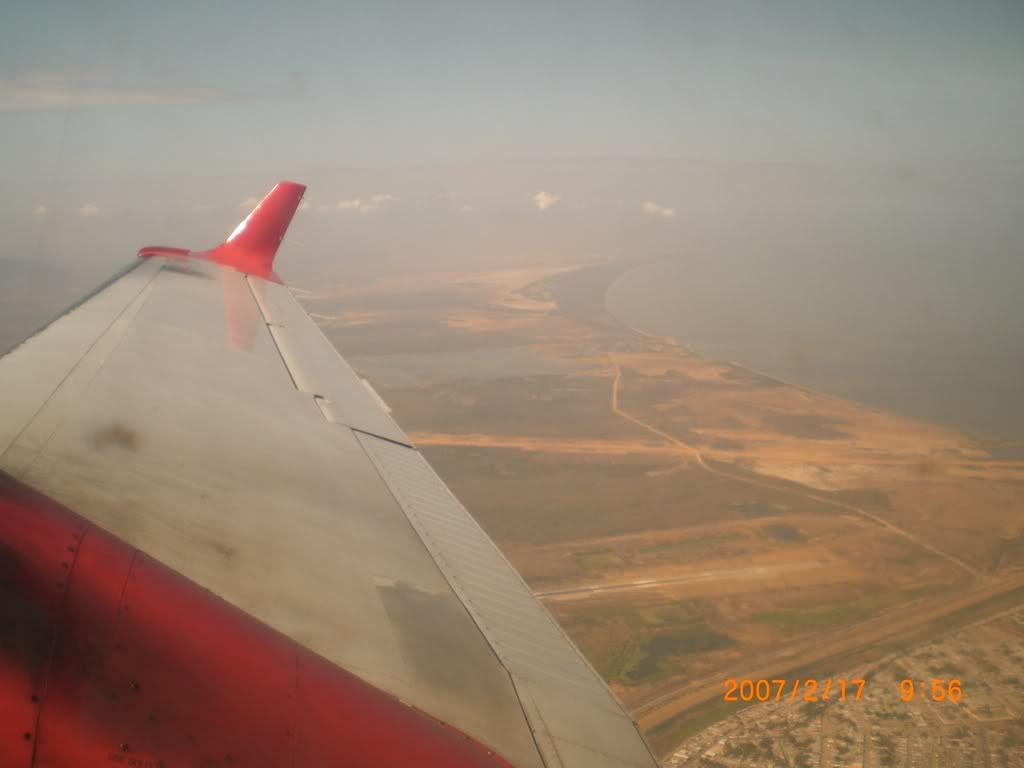 Even though the cabin is small, the tall ceiling helps a bit.
The flight was uneventful. But, when descending began we hit some rough turbulence that shook this little airplane. As we were approaching PZO I took these pictures: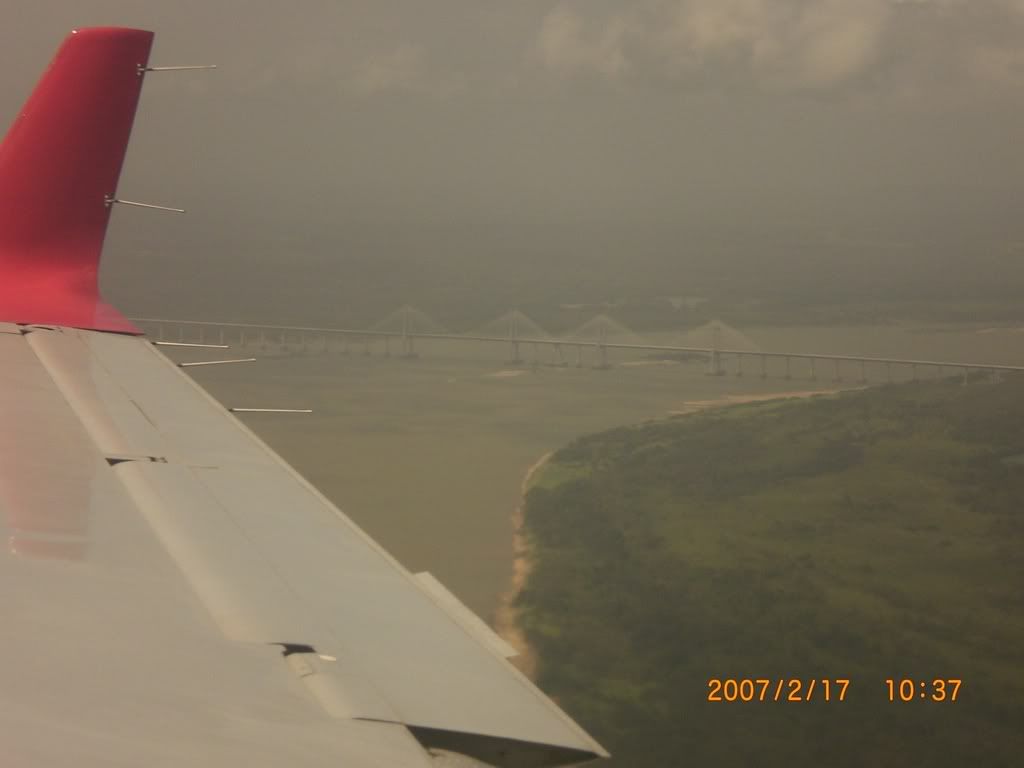 This is the new Orinoco Bridge, a modern marvel
Touchdown was at 10:43, and then vacated the runway and we were positioned on a remote stand. There is some revamp going on in PZO as well. The government will install jet-bridges and other stuff. Puerto Ordaz is going to be one of the Copa America (American Cup) cities.
Disembarkation was made soon after the engines were turned off. While I was walking to the terminal, I saw the "Camastron", the old presidential aircraft of Venezuela: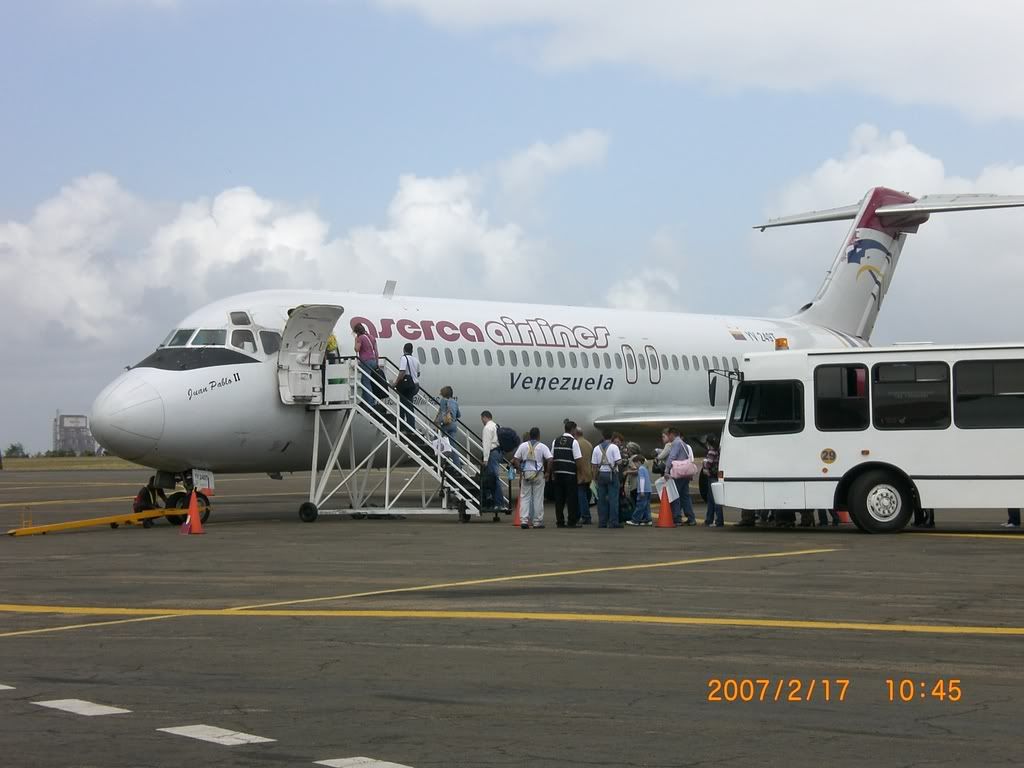 I am not sure if this flight was going to BLA or CCS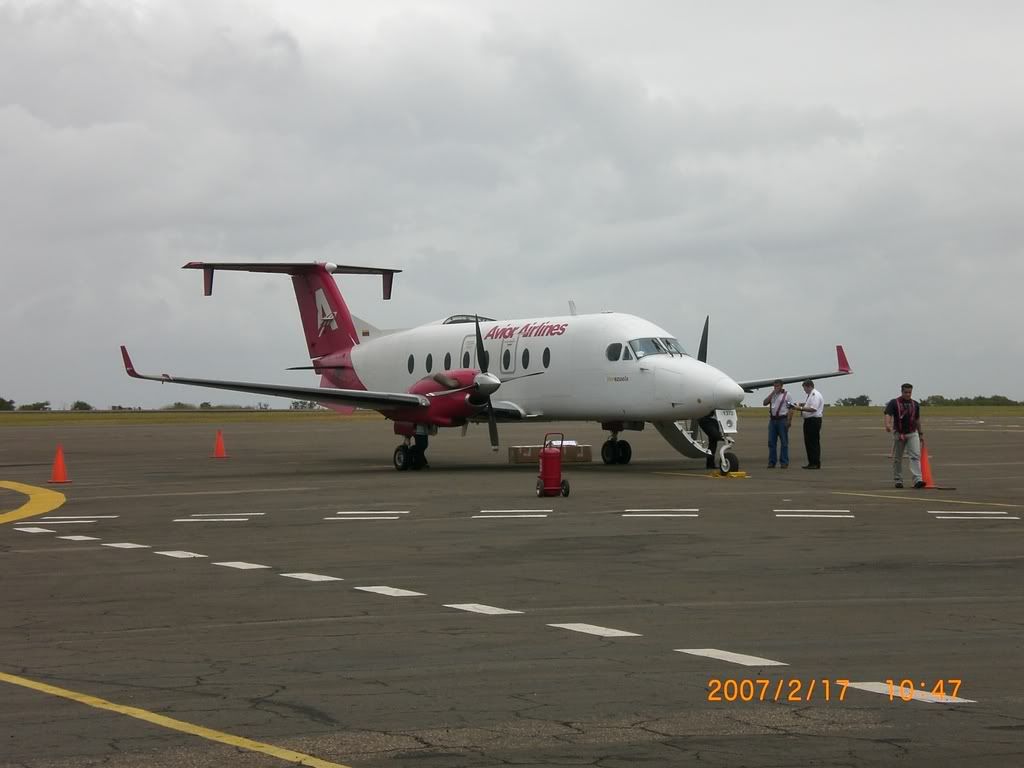 This beautiful little bird is a sweet ride.
We didn't go to the terminal. Instead, we waited just outside, close to the plane for the luggage. Then, I went outside and rented a car. I really liked this airport. It looks really modern, even though the revamp isn't done yet.
Well, this is it. Avior is one of the best airlines in Venezuela. Their online booking and call center is just great. I know they have an old fleet, but for a 40 min. flight it's ok. I woulnd't hesitate flying then again. I hope you enjoyed this report, and please, bare in mind that english is not my first language. Feel free to add any comments.
[Edited 2007-02-19 03:56:48]