Bella Napoli with Air Dolomiti and the CRJ900
Hello, dear readers, nearly three months without any leisure travel.
Theat means, immediate need for a short trip as soon as possible.
LH offered to his Miles-and-More customers a special fare, 11000 miles to some mediteranean destinations without the usual sunday rule.
Wheather forecast was good, so I booked only a week in advance this trip to sunny Campania.
(1.)
Friday, 16.02.2007
STR (Stuttgart-Echterdingen) - MUC (Munich-Franz-Josef-Strauss)
LH 1371 operated by Contact Air Interregional ATR 42-500 D-BQQQ
Scheduled: 06.15 // 07.10
Actual: 06.25 // 07.05
Gate: 164 Seat: 9A
Load factor: Around 50%
Fare: 11.000 Miles and 126,74 EUR taxes and fees
Delivered to Eurowings: 29.10.1999
In service for ContactAir since: 17.03.2004
Leisure flight no. 3 on the ATR 42-500 and the first on this machine.
Well, as far as I dislike these early departures, no airport action outside, as easy was it this time to reach the airport ontime.
Arrived around 05.00 am, parked my car at P8, the cheapest opinion nowadays.
LH offered internet check-in, no way IMO, you can only select between window and aisle seats and your boardingpasses will be printed
at the self-service machines or at the desk.
Around 40 to 50 people queueing at the desks, no one at the machines. So I checked myself in, choose my seats and was sent to a special
bag drop-off counter. No staff there. I asked a LH guy what to do with my bag and he opened a separate screener for me and seconds later a
lady arrived at the counter and send my bag to Naples. No longer than two minutes for the whole thing, the others queueing further at the desks.
Also no time to wait at security, a quick shop stop at the former duty free store and downstairs to my gate short before the announced boarding time, 05.55 am. .
Bus boarding, as usual started than on-time, a nightly run to the eastern part of the apron.
Quickly boarding, a friendly welcome and settled down in my seat, the place beneath remained empty.
Clean machine, dark-blue comfortable leather seats. Two friendly female FBs on this service.
Another friendly welcome from the cockpit, the captain, Klaus Labensky, announced a soon to follow start of the engines and later some minutes to wait while a
Cirrus EMB145 in operation for Swiss to ZRH was at our deicing position.
Deiced short thereafter, number three to take off and airborne from runway 07 direction STR-Ulm-Augsburg-MUC.
Interesting, we used not the full runway lenght for takeoff, waited at a side entrance for the Malev F70 to BUD and departed short behind.
Free water, coffee, tea on this short flight. No further information from the flightdeck.
Sunrise between STR and MUC:
Flight level only 11.000 ft and a direct apporach to MUC´s runway 08L after minutes of cruising.
Parked and deboarded behind T2, bus shuttle to the terminal.
Deboarding at MUC:
Nice tail: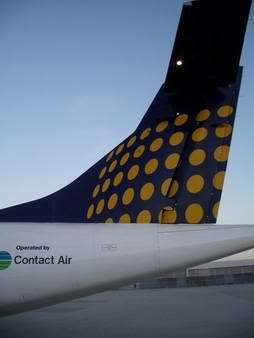 (2.)
Friday, 16.02.2007
MUC (Munich-Franz-Josef-Strauss) - NAP (Naples-Capodichino)
LH 4050 operated by Air Dolomiti BAE 146-300 I-ADJI
Scheduled: 09.20 // 11.10
Actual: 09.30 // 11.00
Gate: G62 Seat: 13A
Load factor: Around 80%
Delivered to Thai Airways: 12.01.1990
Stored: 14.01.1992
Leased to LAP Paraguay: 12.12.1992
Stored: 10.06.1993
Leased to British World: 13.04.1994
And further to AerLingus: 17.04.1997
Stored: 15.04.2003
In service with AirDolomiti: 22.08.2005
Leisure flight no.7 on the BAE 146-300 and the first on this machine.
LH operate its own terminal at MUC, IMO one of the best conecting places ever, large, spacious, clean, enough restrooms, good views.
Furthermore the free coffee machines and free newspapers at different places in the whole building, not bad.
My gate to NAP was on the ground floor, so I walked around and searched for a good place to view the action outside, no problem there.
Interesting traffic, Privatair B737 Biz included: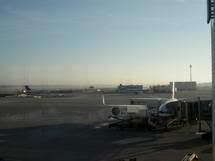 Boarding was called for 08.50 am and started ontime. Again by bus shuttle to the regional apron.
The nose...:
The tail...:
and the engines: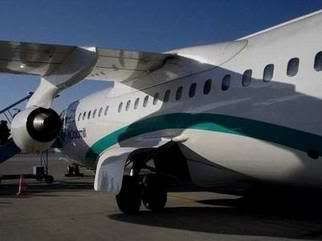 Also two friendly female FBs on this leg, again a clean machine, no sign about the age for the first view, dark green leather seats.
3/3 abrest seating, but very good legroom, the middle seat remained empty so a comfortable place.
Fresh towels after boarding, still on the ground, later on during the flight free water/coffee and a snack box with fresh fruits, a biscotti and a chocolate bar,
not bad.
Departure after some minutes to wait for approaching traffic from runway 08R to Verona-Bologna-Roma and NAP.
The captain, italian named Pietro informed as about the flight details and later the Co, also italian, about cruise level, 30000 feet and the wheather in naples,
ok so far.
Northern italy was mostly cloudy, clear sky from around Rome.
Near Rome: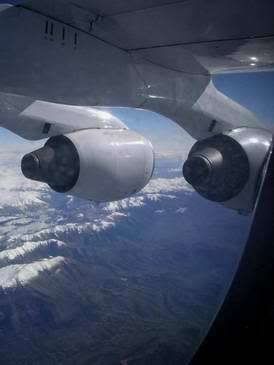 An interesting approach from the landside along the airport out to the sea, a sharp turn and landing on runway 06. .
We taxied past the militay apron, a C130 Hercules was parked there, only a AZ MD80 at the civil apron.
Finally arrived in sunny Naples:
Nearly no time to wait for my bag and off to the rental car counter.
53.-- EUROS by Holidayautos was the cheapest opinion after some search at home, the car was from Europcar.
A chaotic organisation, the not to friendly female send me outside the small terminal for the shuttle, nothing arrived withhin 15 minutes.
Later I walked to the entrance road and found a shuttle stop where short thereafter a small bus without any car rental company sign arrived, I asked and yes it was my shuttle. The car park was only around the corner, if I walked there it was faster, but ok. Checked the car, a Fiat Grande Punto and found the drivers door broken, asked a Europcar guy there at the car park and he told me that only Pandas are available. If I want another car I had to shuttle back to the terminal and deal with the girl there.
So back to the terminal, this time a nearly new Grande Punto without further problems and on the way to my hotel in Caserta.
Driving in Naples, is let me say, more chaotic than expected but I reached my hotel ontime.
I´ve booked the Grand Hotel Vanvitelli in Caserta as it was near the motorway and was not to expensive, 85.-- EURos B&B, good quality four star, recommendable.
Hotel lobby: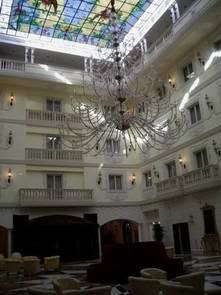 Pompeji, the Sorrentina coast and the Reggia di Caserta was on my to do list.
The magic Vesuv: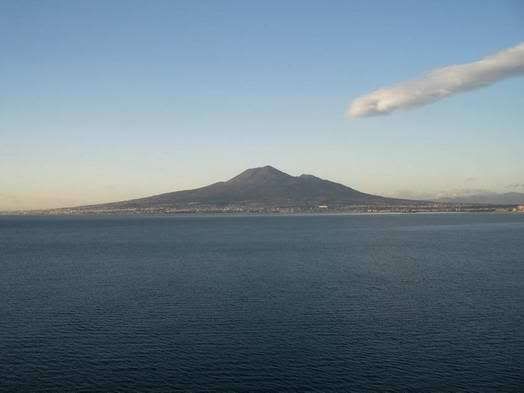 First view inside amazing Pompeji: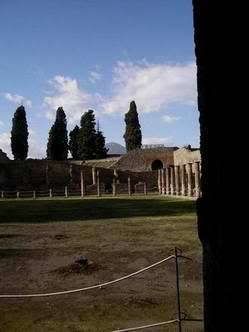 One of the main roads in Pompeji:
Forum: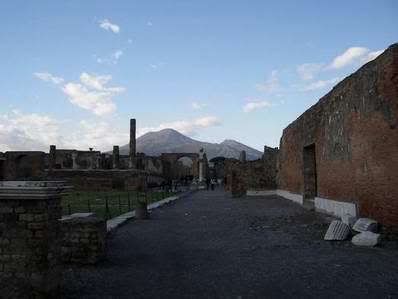 Roman Villa:
(3.)
Saturday, 17.02.2007
NAP (Naples-Capodichino) - MUC (Munich-Franz-Josef-Strauss)
LH 4051 operated by Cityline CRJ900 D-ACKE
Scheduled: 12.05 // 13.50
Actual: 12.30 // 14.00
Gate: A01 Seat: 23A
Load factor: Around 90 %
Delivered to Cityline: 05.08.2006
Premiere, leisure flight no.1 on the CRJ 900.
After a short visit to the Reggia I checked out from the Vanvitelli and returned the car at the airport without further problems.
Naples airport is a small outdated building, unbelievable, dealers offered flowers on the main entrance road, no gas station at all, cars parked on the road,
chaos.
No time to wait at check-in, a really good looking female waved me to the empty, biz desk, checked me in for my two flights today
and wished me a good flight, nice.
Only seconds to wait at security, the gate area also small and oldfashioned, positive was a good place to view at the apron from the bar at the upper level.
Smart and new: Air One Cityliner:
Just arrived from MUC:
My plane arrived ontime from MUC and boarding started as announced only some minutes thereafter by bus, no airbridges there at NAP.
Close up:
A long machine: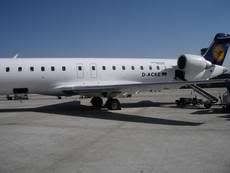 A clean, goodlooking plane with bright grey leather seats.
Departure from runway 06 ,a very short take-off run, impressive.
Captain Monika Frankenberger welcomed us onboard with the first informations, later more from the FO, Michael Zirl.
Route: NAP-Rome-Florence-Bologna-Innsbruck-MUC.
Flight level 38.000 feet.
Two real friendly female FBs. Service: A fresh bread roll and a chocoloate bar, free drinks.
Departed NAP, Isola di Ischia in the background: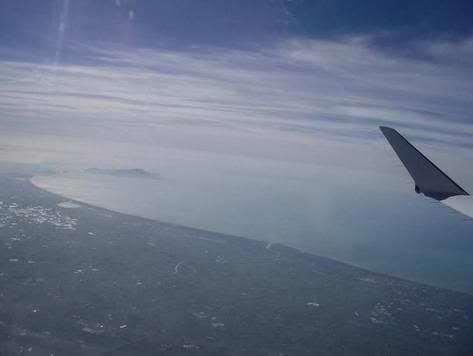 Passing Florence: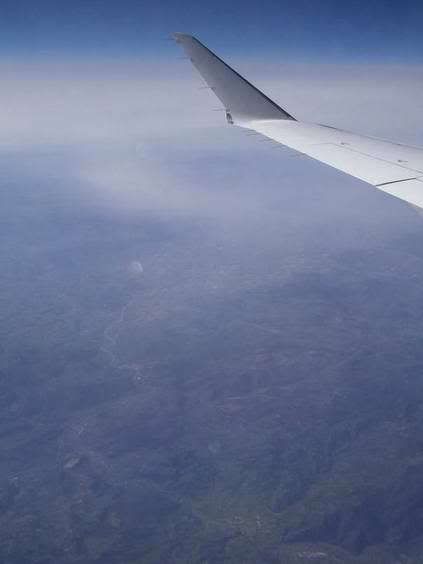 Calm flight, good views along the whole route.
Some circles over MUC and approach on runway 08R, parked again on the regional apron and deboarding by bus.
Five hours to kill at MUC, so I decided to leave T2 for a walk outside, the wheather was sunny but with a cold eastern wind, so I decided
around 4 pm to cross security at T2 and wait inside for my last leg today.
Free LH coffee and newspapers shortend the time!.
(4.)
Saturday, 17.02.2007
MUC (Munich-Franz-Josef-Strauss) - STR (Stuttgart-Echterdingen)
LH 1370 operated by Contact Air Interregional ATR 42-500 D-BSSS
Scheduled: 19.40 // 20.35
Actual: 19.50 // 20.30
Gate: G31 Seat: 12A
Load factor: Around 80%
Delivered to Eurowings: 08.12.1999
In service with Contact Air: 24.10.2003
Leisure flight no. 4 on the AT42-500 and the first on this machine.
Boarding was called as announced at 07.10 pm , some time to wait in the bus for late pax.
The plane was parked near the same place as yesterday morning, a good load for this flight, so some time to wait till boarding was finished.
MUC at night:
Nightly boarding: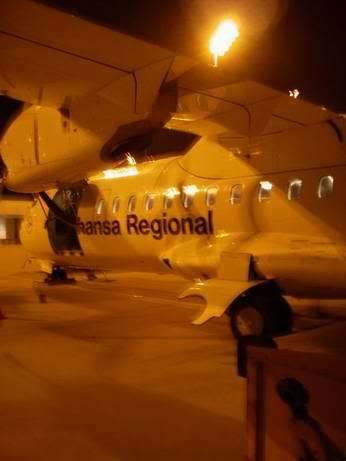 Two friendly female FBs, again a clean plane, dark blue leather seats.
A welcome on the ground from Captain Thomas Mainhardt, a quick taxi, no time to wait at 08 L for departure.
Route: MUC-Augsburg-Ulm-STR.
Service free drinks and coffee/tea.
Approach ontime to STR runway 07.
Deboarded by bus and again my bag was one of the first to arrive.
Two interesting and fullfilled days of travel fixed and a new airport and a new plane type for my log, IMO not bad.
Conclusion:
LH offers a quality regional product, friendly FBs especially on the NAP-MUC sector operated by Cityline.
Detailed informations from the flightdeck, nearly all ontime flights, a good place to connect at MUC.
No question for me to fly LH again.
Questions and comments always welcome,
Markus (FLIEGER67)