February 17, 2007
Alaska Airlines Flight 348
McDonnell Douglas MD80 (N962AS)
Depart: SEA-Seattle International Airport
Scheduled Departure Time: 9:35am, Gate
Actual Departure Time: 9:55am, Runway 16L
Seat: 24C, Load Factor: 100%
Cruising Altitude: Flight Level 330
Arrive: SMF-Sacramento International Airport
Scheduled Arrival Time: 11:25am, Gate B(26)
Actual Arrival Time: 11:24am, Runway 16R
View Large
View Medium


Photo © Zhang Yun Zhe
We woke up at 6:30am to drive to the airport. I had a funny little feeling about the flight, because it was the first day of midwinter break, and everyone would be traveling with baggage to see Mickey Mouse or go to the sunshine. I was right. We parked our car in Master Park Lot B, and they were amazingly helpful and easy to get to the airport with. On the way to the airport, we passed the N satellite, with an Air Canada E190, a few UA 757s, one UA 763, and one UA 735.
We checked in with Alaska, but seeing as we already printed out our boarding passes, we had to go to the bag check line, which snakes around two corners and took us 25 minutes to get through. Kind of discourages one from checking in online, huh? People without boarding passes got quick lines, better seats, and were probably through the checkpoint by the time we got our bags checked. Needless to say, I was not a fan of this system.
We found out our gate was N7, so we proceeded to the N concourse, through a relatively easy security checkpoint. They threw away all my mom%u2019s water bottles, and she wasn%u2019t too happy about that. But once we cleared, we took the tram to the N concourse, and settled down near N8, right in front of the B763 I alluded to earlier. We were just in time to watch it push back, and that was fun to watch. We quickly trotted over to the Hudson Book company, where my mother bought Barack Obama%u2019s %u201CThe Audacity of Hope,%u201D which I recommend everyone reads. It is amazing to read his writing. Also, I got a nice photo of the E190. Beautiful plane, that.
Just then, shocking news. Britney Spears shaved her head. %u201CBreaking news,%u201D according to CNN. Please inset the give a fuck meter here. However, to my delight, two Dachshunds in carry on cases parked behind us, and those exuberant puppies were so happy to have my attention. They must have thought they were going to the Westminster Dog Show. I love watching that. Who doesn%u2019t?
Then, they called for boarding of the soon to be gone MD80s, and I was in the back, so I boarded. Walked onto the plane, smiled at the flight attendant (very pretty), and settled into seat 24C. Desperately wanting a window seat, I said to the lady in 24A, %u201CExcuse me ma%u2019am, would you like to switch seats?%u201D %u201CNo, I wouldn%u2019t.%u201D %u201COk.%u201D A little bummed, I settled into my seat and began reading %u201CFlying%u201D magazine, and a great article about the King Air 350. Great plane.
So, we push back, and the F/As said a few interesting things. %u201CTampering with, disabling, or destroying smoke detectors is prohibited. Tampering with, disabling, or destroying the flight attendants is equally discouraged. If you need to smoke we will ask you to kindly step outside. Your seat back can be used as a flotation device. When we are clear of the aircraft, please keep your seat as a gift from Alaska Airlines. After that, the lady in 24A says to the lady in 24B, %u201CYeah I teach at a Waldorf school in Whidbey Island.%u201D I perk up. I went to Seattle Waldorf School for ten years, and then she mentions my mother%u2019s name. How coincidental is that? So I lean over and said, %u201CYeah, I went to Waldorf School for ten years. And by the way, Mrs. Gardner in my mother.%u201D He jaw hit the floor. After rudely rejecting my request to change seats (she had every right to keep her seat, I don%u2019t blame her for that, but she responded to me very rudely), she figures out she actually knows who I am! First thing she says %u201CI am so sorry I didn%u2019t switch seats with you.%u201D I smiled.
For almost the whole flight, we talked and the lady between us was quite interested in what we were saying. We talked about Waldorf, my flying experience (I mentioned I was a pilot), and I tried to calm her aviophobia. She ended up being very nice, and when my mom came back, she was very surprised to see one of her colleagues sitting in the same row as me. We took off on 16L, and flew the SUMMA 6 departure, which is a lot like a straight out departure. We got a great view of Mt. Rainier and Mt. St. Helens.
The F/As came by once, and I got some apple juice with a small bag of peanuts. This was a quick flight, and less than an hour later, we are already descending into SMF. We flew the straight in approach to runway 16R, with a smooth touchdown. We used up all 8,000 feet for landing, passing the terminal and a FedEx Airbus A310 on the cargo ramp. After a quick taxi to gate 26, we deplaned. Here is where the fun begins.
I walked up to the F/A on the way out, and said, flashing my private pilot%u2019s license, %u201CExcuse me ma%u2019am, I%u2019m a pilot and an aviation photographer, and I was wondering if I could get a few pictures of the flight deck.%u201D
%u201CHang on, let me check with the captain.%u201D
A few moments later they said, %u201CCome on in.%u201D So I walked into the cramped MD80 cockpit where the captain was busy turning the plane around to go back to SEA. We said hello, and I got a few shots before asking him a few questions about the retirement of the MD80s. I had gotten my shots, so I caught up with my mom, and we walked out of terminal B.
PICTURES!!!!
The Beautiful E190, off to YYZ. This is part of the twice daily service, the other with an A319.
The E190 with an AS 737-700 with wingets. I tried to get a DL 767-300, but I was seconds too late. You can see its tail in the picture.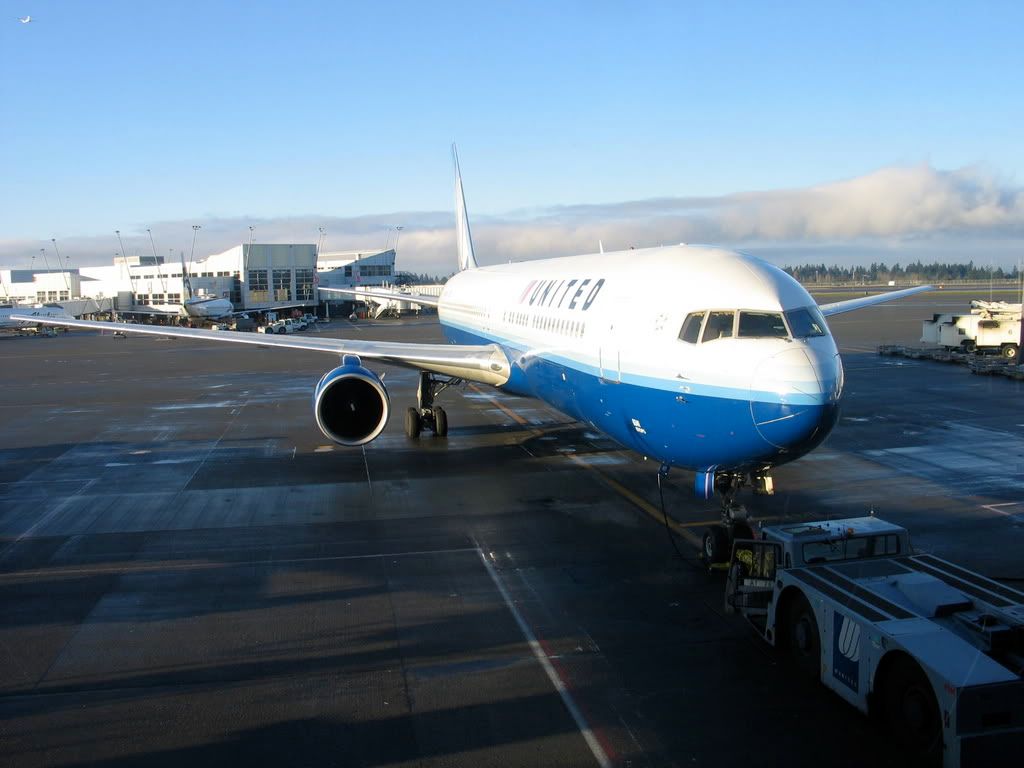 Beautiful UA 767-300, off to ORD. This will continue on to LHR, I think.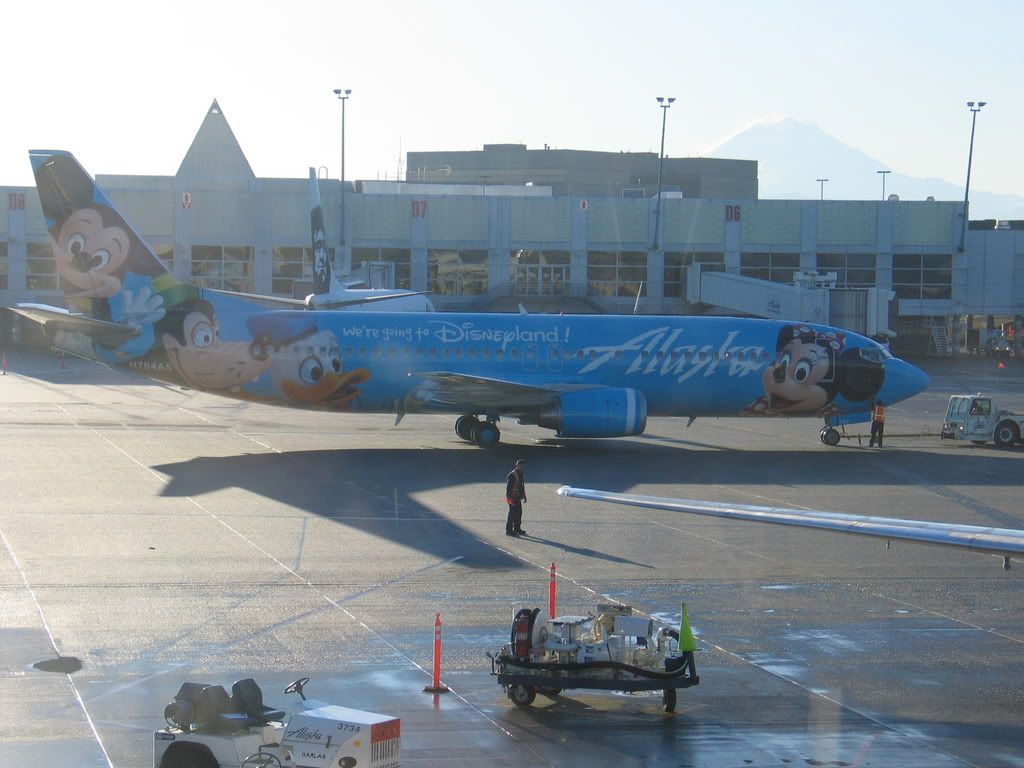 Mickey Mouse AS 734. Off to Disney World (where else?)
Our plane, N962AS, off to SMF.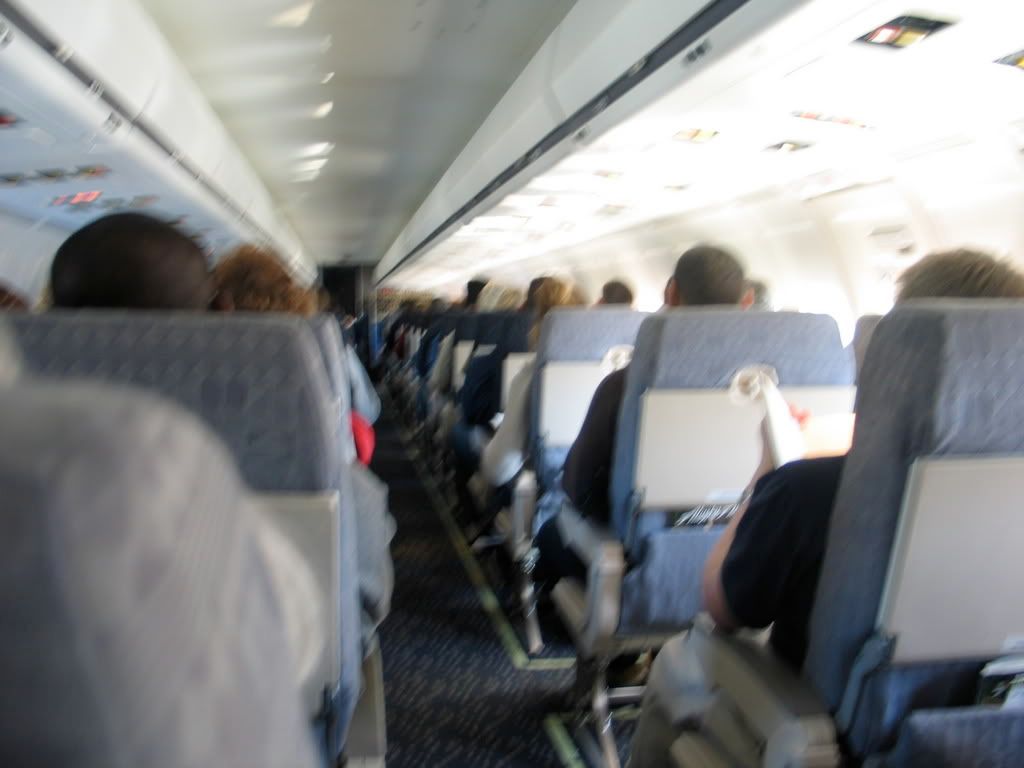 Cabin view, from seat 24C.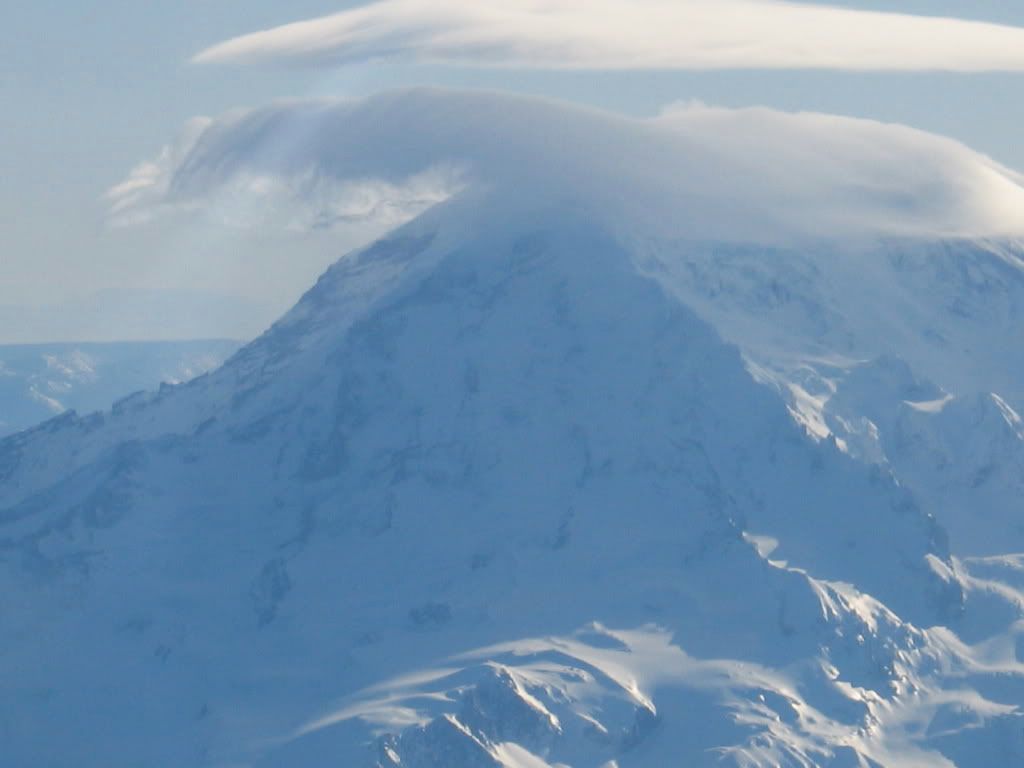 A beautiful lenticular cloud over Mt. Rainier. Pilots, stay away from those!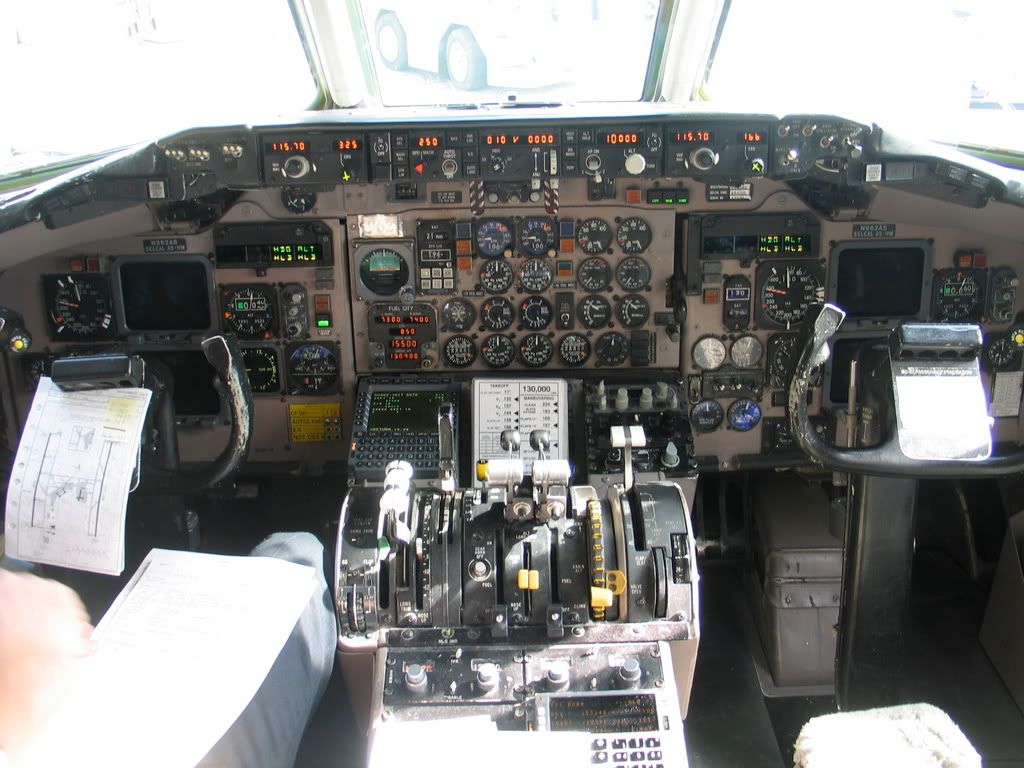 Cockpit shots of N962AS. Got to get these pictures, these guys won't be around much longer.
February 17, 2007
America West Flight 530
Airbus A319 (N823AW)
Depart: SMF-Sacramento International Airport
Scheduled Departure Time: 12:39pm, Gate A2
Actual Departure Time: 12:55pm, Runway
Seat: 7F, Load Factor: 100%
Cruising Altitude: Flight Level 330
Arrive: PHX-Phoenix Sky Harbor International Airport
Scheduled Arrival Time: 3:15pm, Gate A23
Actual Arrival Time: 3:35pm, Runway 8
View Large
View Medium


Photo © Ralph Duenas - Jetwash Images
The transfer between terminal B and terminal A at SMF isn%u2019t horribly difficult, and it is a nice little walk. We left the older terminal B for the newer terminal A, and security was a breeze. There was a really cute German Shepherd on duty, and he smiled at me when I passed. After security, we walked over to the California Pizza Kitchen, where I got a personal Hawaiian pizza. Damn, CPK is good!
A few minutes later, our America West A319 (in new US colors), taxies up to gate A2, and my mother and I walk to it. Once again, we were separate, so I boarded and once again smiled at the flight attendant. Then, as I look over at my seat, I saw every pilot/male straight passenger%u2019s dream%u2026A drop dead gorgeous young blonde F/A deadheading to PHX. Smiling inside, I politely told her I was in 7F, and lifted her bag up into the overhead bin. She smiled at me. That was nice.
We started talking relatively quickly, and I had my airliners.net T-Shirt on. She said SHE LOVED THE SITE!!! I mentioned within 30 seconds of starting the conversation that I was a pilot, and she enjoyed hearing that. We shared flight stories, and I asked her about her routing. Very nice young lady to talk to, and candy for the eyes. I was a perfect gentlemen though.
Nice takeoff from 16L, as we climbed out over the city. We climbed slowly up to FL330, and I talked with the F/A up until cruise. Cranium came on, which was a fun game to play, and kept me entertained while I wasn%u2019t watching %u201CPrison Break%u201D on my Mac. Good show. Once again, we started our descent soon, circling around the city lining up for runway 8. Nice firm touchdown, and as we parked at the gate, we were asked to kindly wait in our seats as those with tight flight connections needed to leave first. After handing the F/A her bag and receiving a wink and a smile that stole my heart, I repeated the same process over again.
%u201CExcuse me ma%u2019am (flashing the PPL), I am a pilot and an aviation photographer, would it be possible to take a few pictures of the flight deck?%u201D
%u201CLet me ask the captain.%u201D
Just then, a funny male F/A comes up to me and said, %u201Cyou%u2019re not a terrorist, are you?%u201D %u201COh god no,%u201D I replied, %u201CJust a pilot. I guess you never can be too sure huh?%u201D %u201CGot that damn right son.%u201D
So a few seconds later, I climbed into the much more comfortable and specious cockpit of the A319, with both pilots beaming at me. The F/O said %u201Cone joke about Airbus pilots having nothing between there legs you%u2019re out of here mister.%u201D %u201CFair trade%u201D I said, laughing my ass off. %u201CGet in that seat%u201D said the FO, let me get your picture. I complied. %u201CSay cheese! I%u2019m not joking, say it!%u201D I laughed again, right in the middle of the picture. After getting a shot of the overhead panel, the lower panel, and the circuit breaker board, I climbed out and joined my mom in terminal 4 at PHX. Off to baggage claim and then to Budget!
PICTURES!!!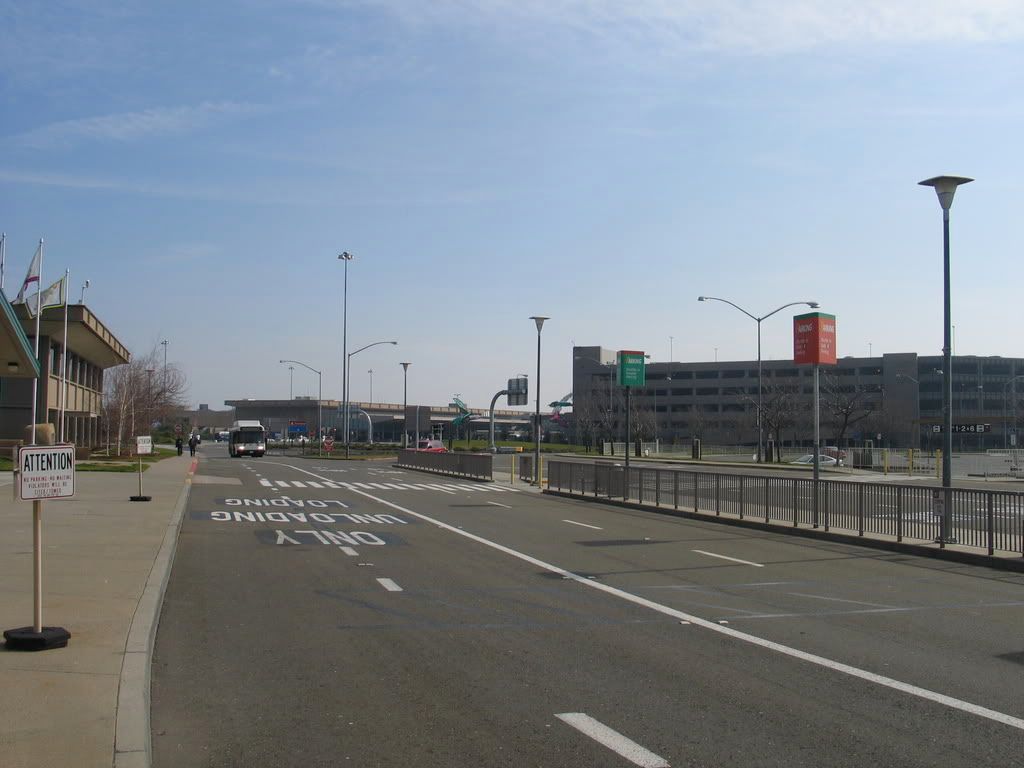 Walk between terminal B and terminal A. It was an easy walk.
N823AW at gate A2.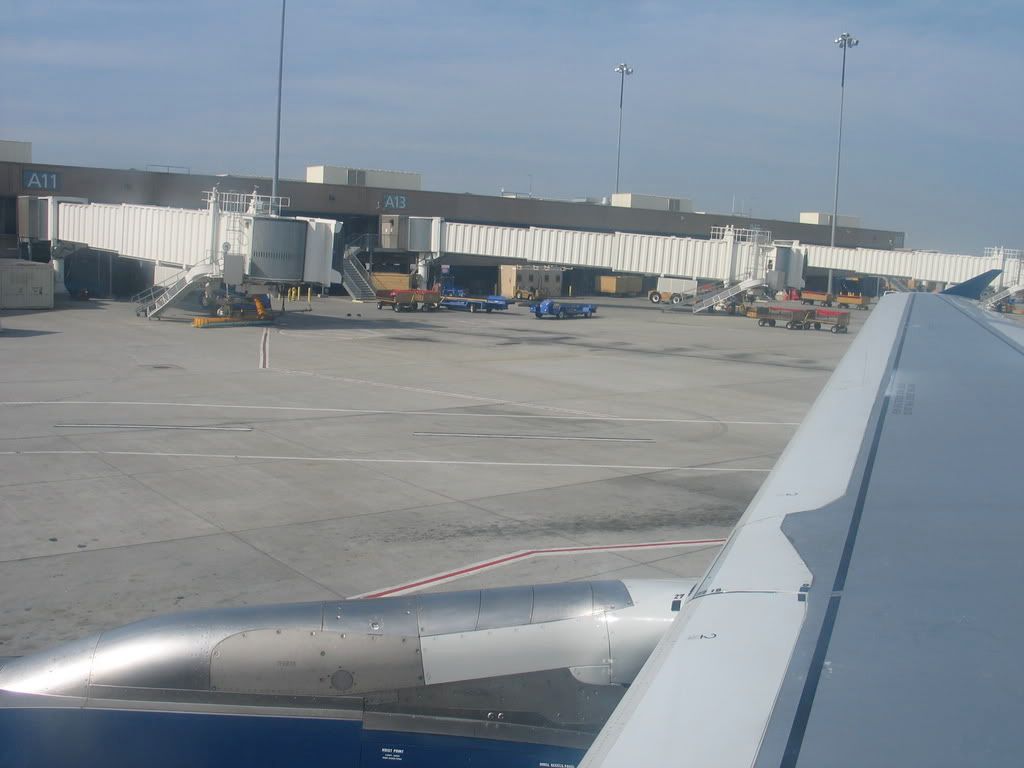 Taxiing to runway 16L at SMF.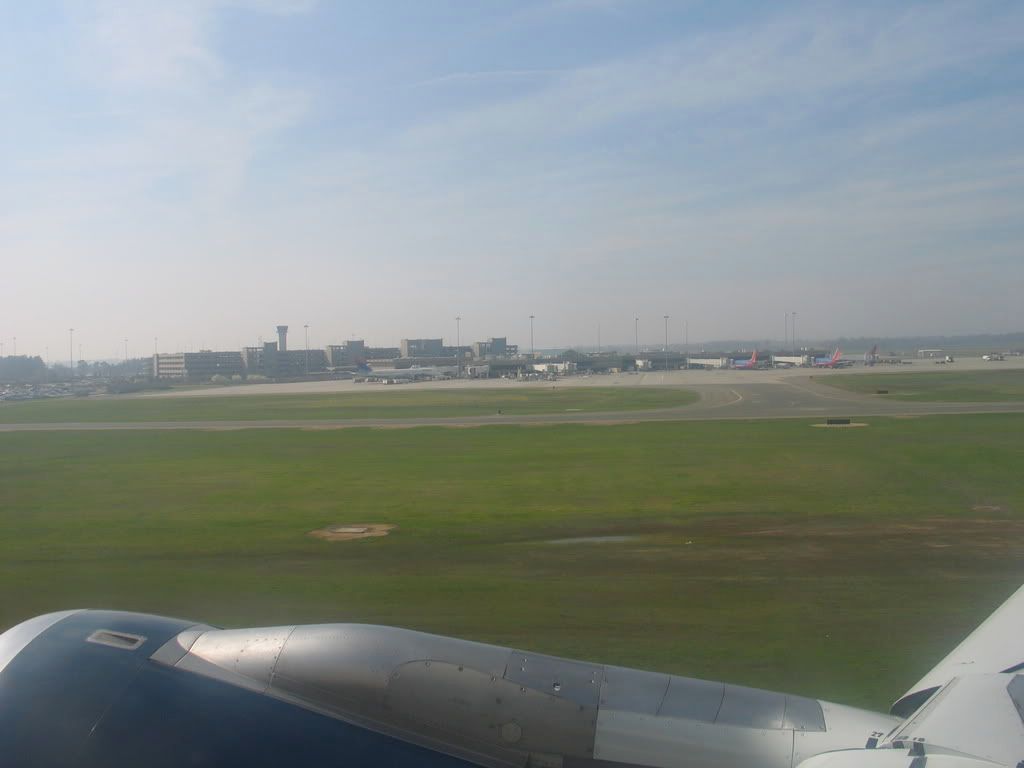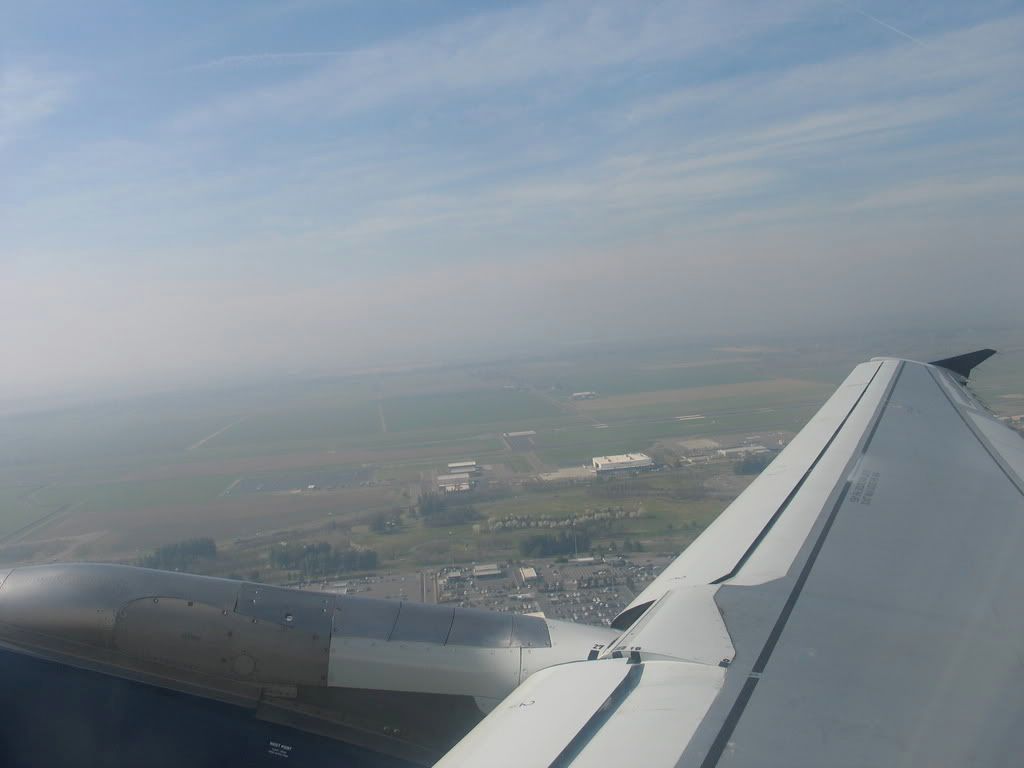 Climbing out of SMF.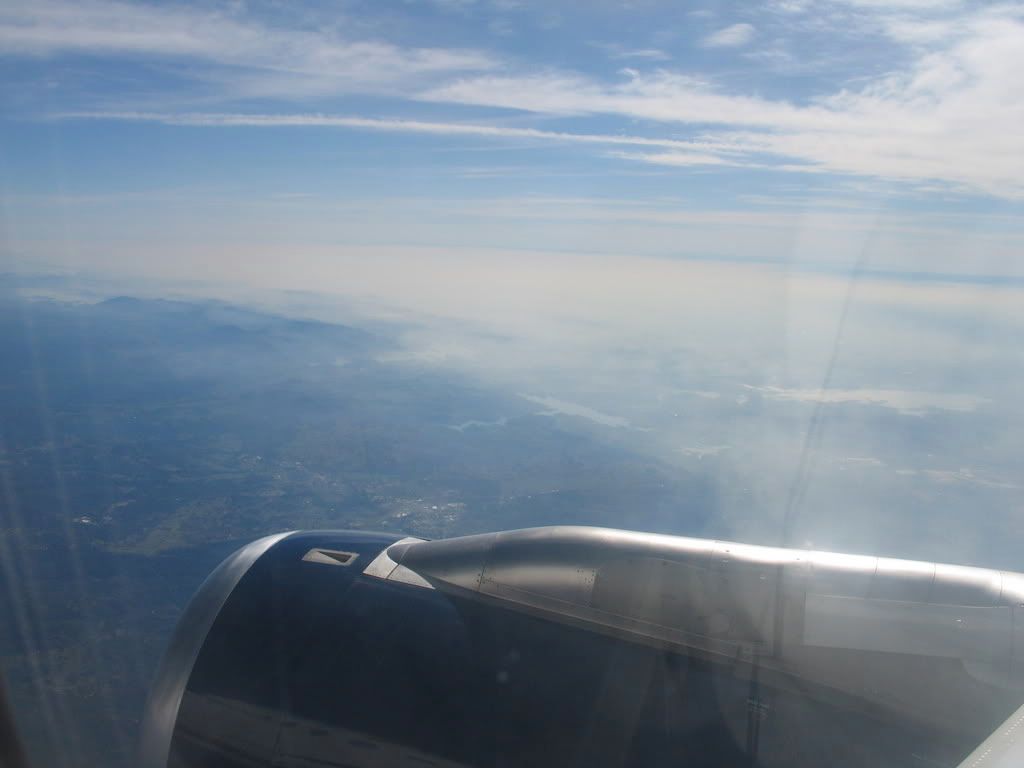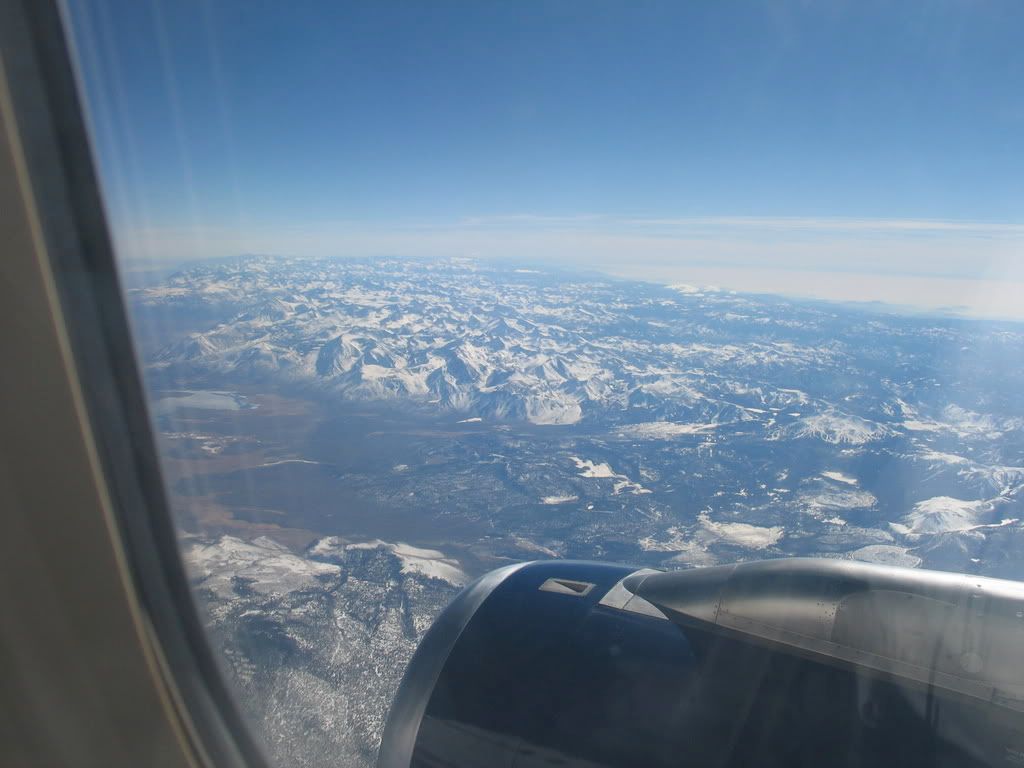 Some cruise shots over the Cascade mountains. This was absolutely beautiful.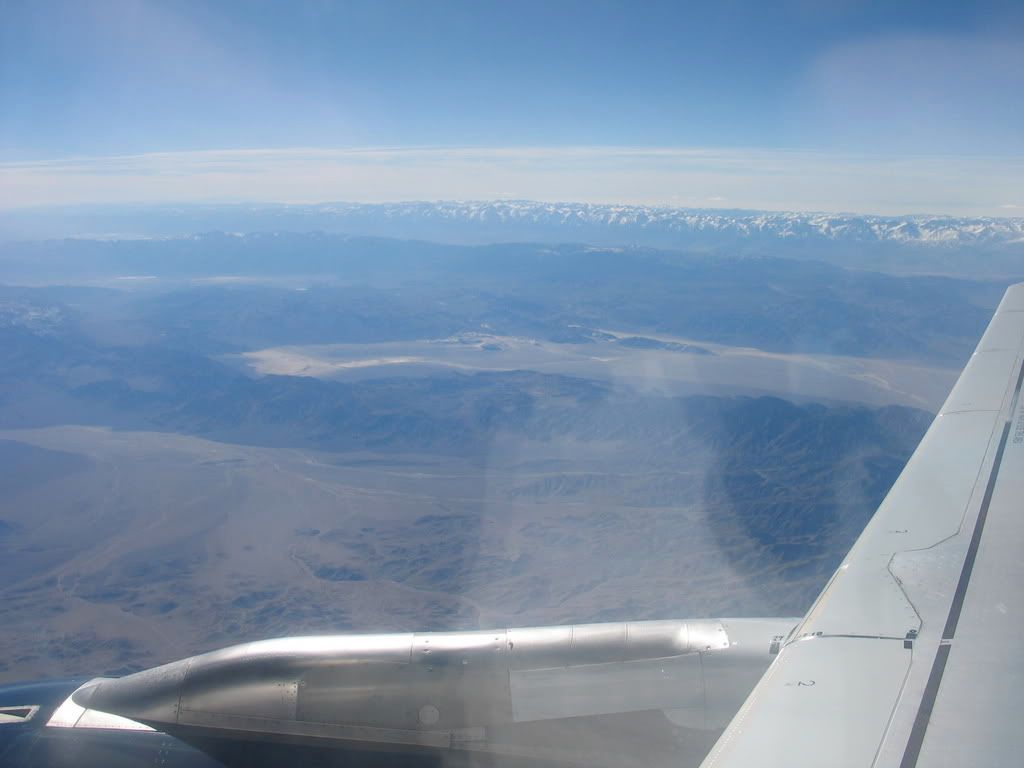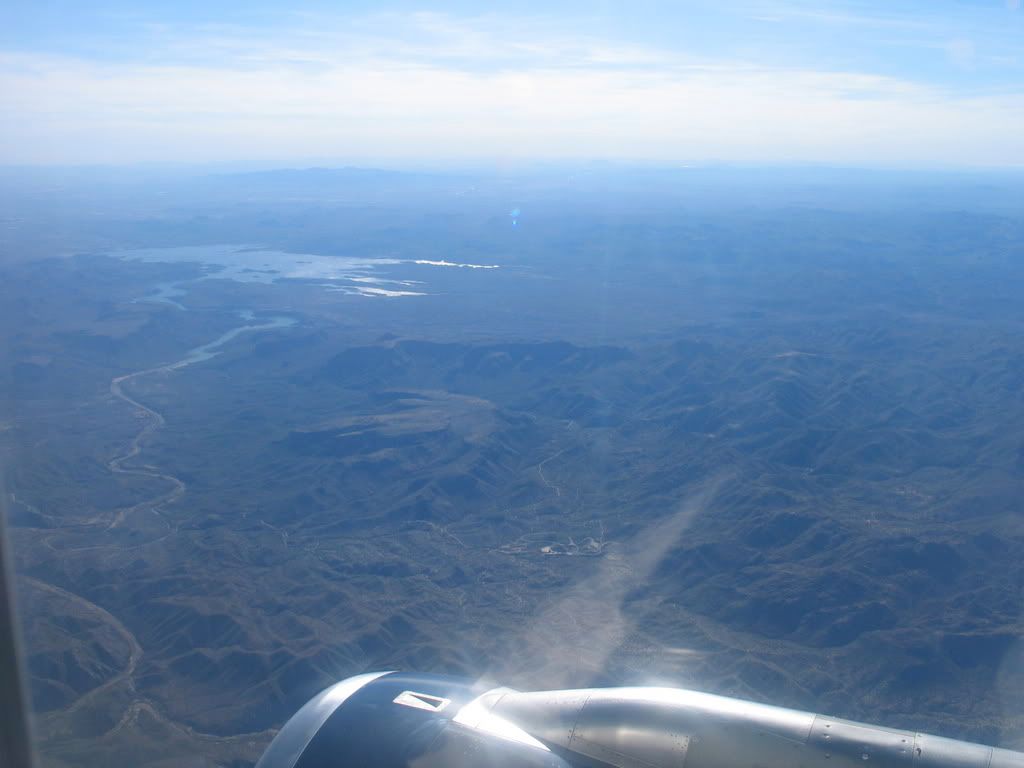 Approaching PHX...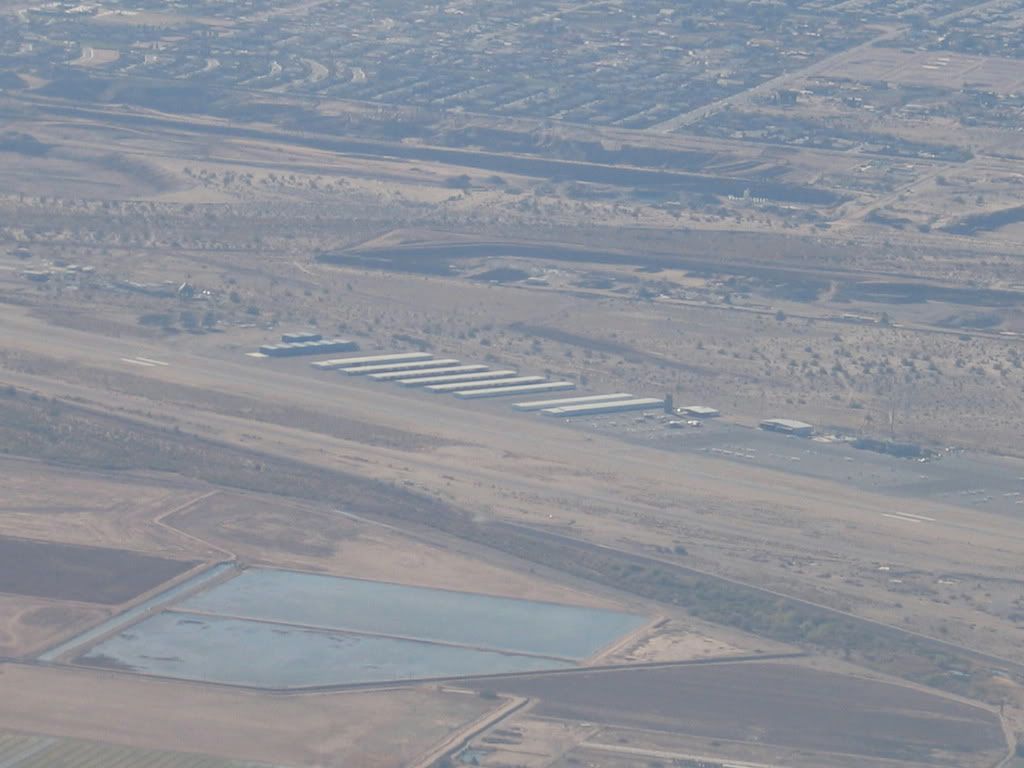 Some airports around PHX. Unfortunetely, I do not know their names.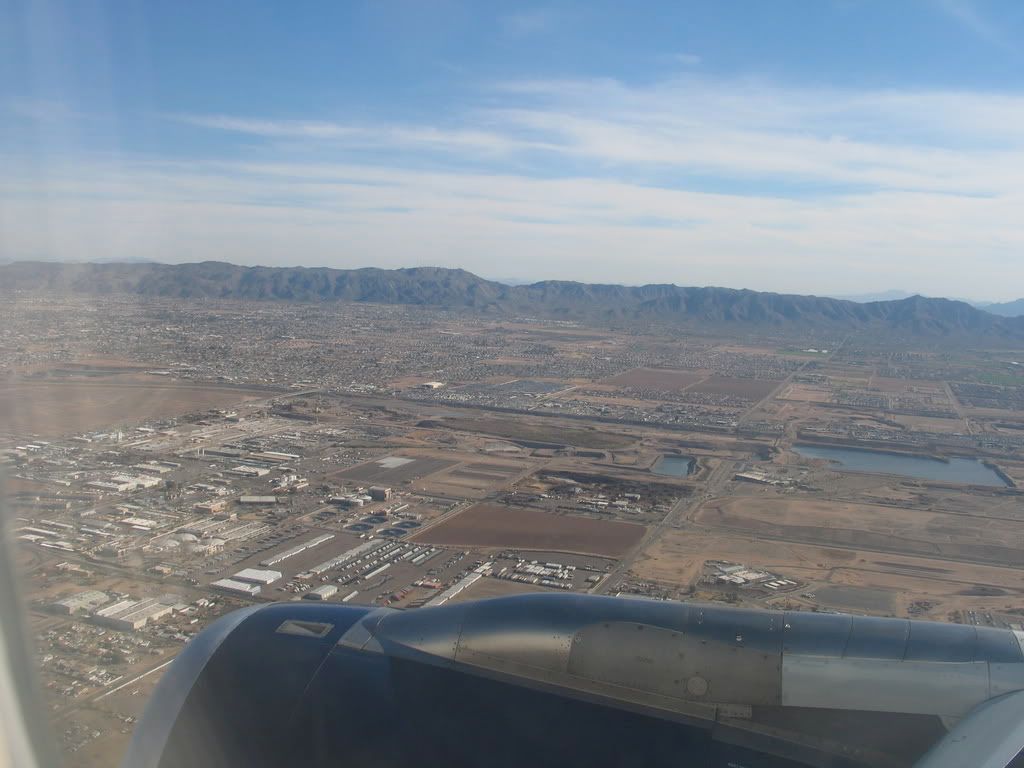 Landing...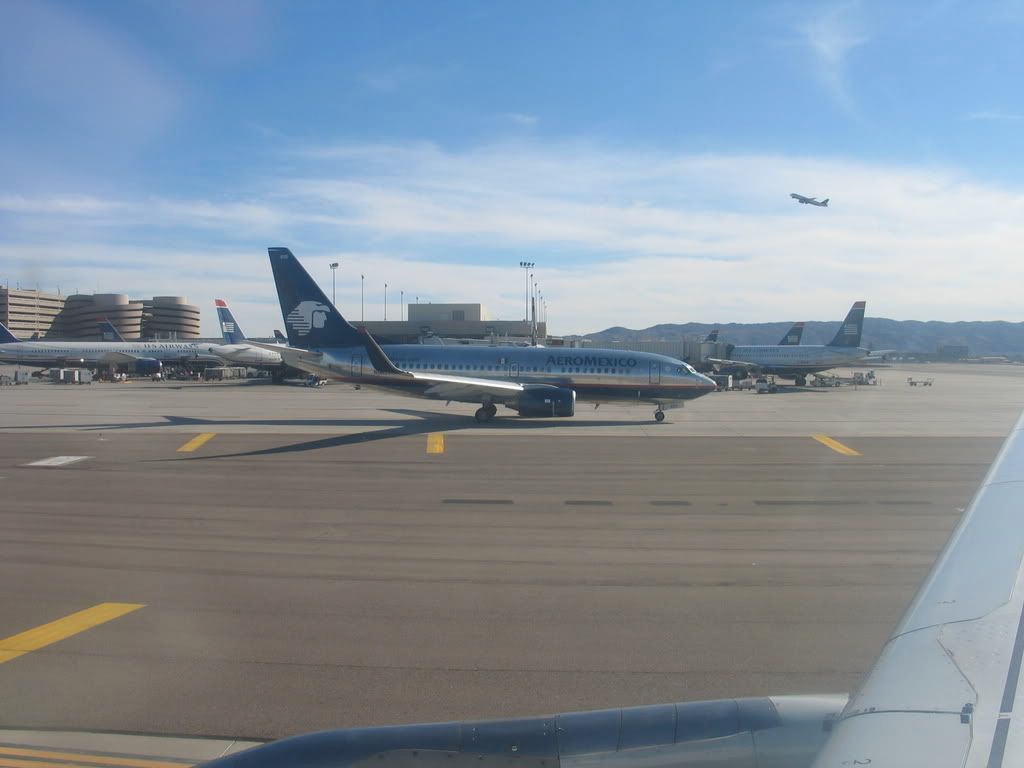 AM 73G off to MEX.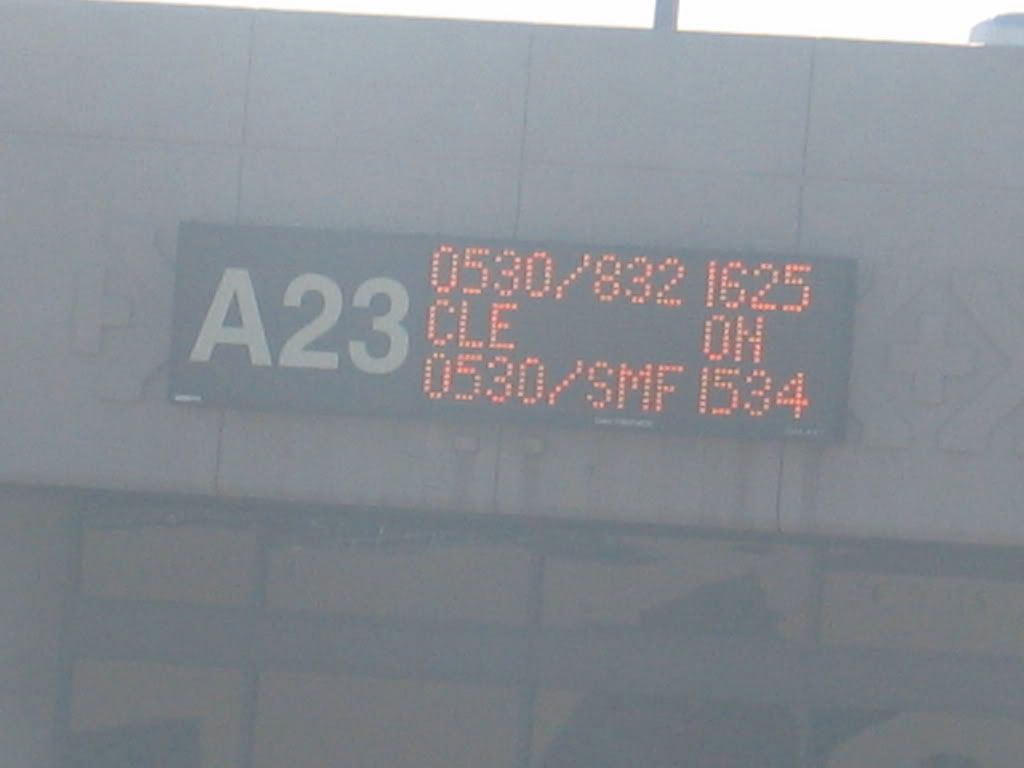 These monitors are outside most of the gates at terminal 4.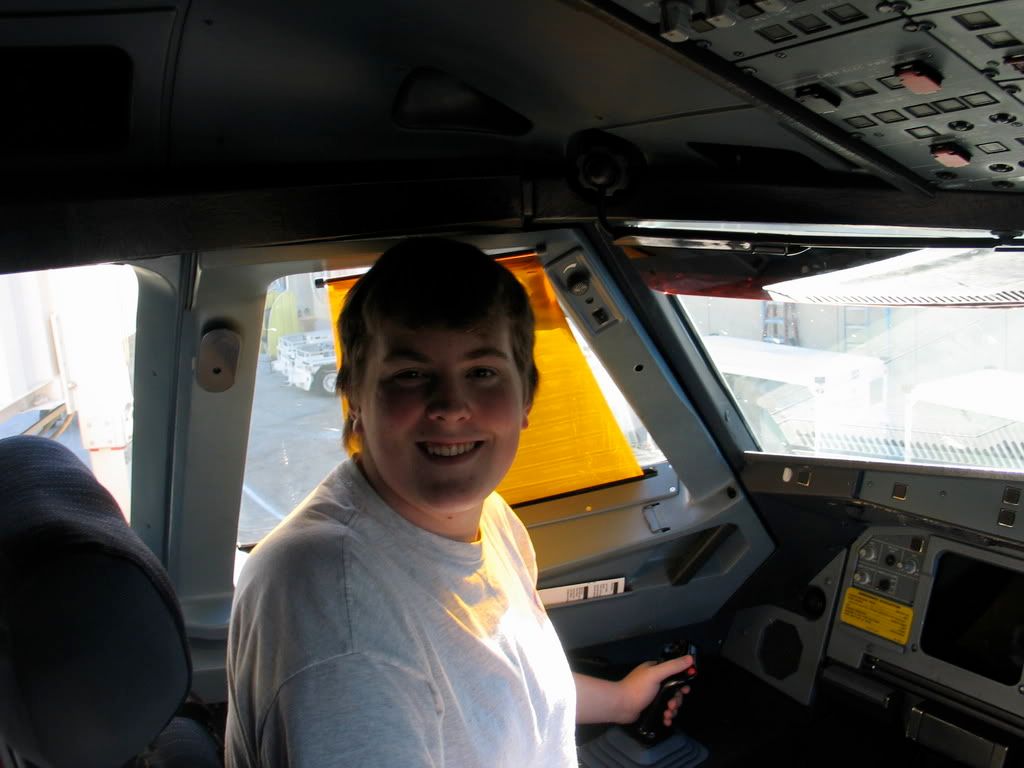 The big man up front. Only a few years away...
Circuit breakers on this beautiful piece of work.
Upper panel...
View of the office.
February 20, 2007
America West Flight 79
Airbus A320 (N678AW)
Depart: PHX-Phoenix Sky Harbor International Airport
Scheduled Departure Time: 8:21am, Gate A26
Actual Departure Time: 9:15am, Runway 7L
Seat: 19F, Load Factor: 100%
Cruising Altitude: FL340
Arrive: SEA-Seattle International Airport
Scheduled Arrival Time: 10:21am, Gate A2
Actual Arrival Time: 11:02am, Runway 16C
View Large
View Medium


Photo © Radek Oneksiak
I had a wonderful stay in the Phoenix area (Scottsdale, to be specific). The only downside was that I was supposed to go flying out of SDL Monday (yesterday), but there were thunderstorms in the area and low Cumulonimbus clouds. But I got to see my family, play loads of great tennis, and I saw the movie Breach last night (with Chris Cooper and Ryan Phillipe), which I fully recommend. Anyway, onto the day of the flight.
I woke up at 5:50am for my supposed 8:21am flight to Seattle. I had printed out my boarding pass and packed the day before, so I was ready to walk straight out that door. I walked to the lobby, where I was to meet the airport shuttle. It wasn%u2019t there yet, so I sat and waited for it near an African Grey Parrot named Newman. The following is what took place, and I swear to god it is real. No joke.
Parrot: Hello
Me: Hey Newman, what up
Parrot: Arg, what are you up to?
Me (laughing): Just waiting for the airport shuttle
Parrot: I only speak on Saturdays
Me (almost falling down laughing): It%u2019s Tuesday, big man
Parrot (I kid you not): Crap! Welcome to Chaparral Suites!
Me: What else can you say?
(Parrot starts imitating the phone ringer very accurately)
Receptionist: Watch this (walks over to parrot) Newman, what time is it?
Parrot (I kid you not): Miller Time!!
This was one of the funniest moments in my entire life. This parrot was brilliant, and I could understand everything it said. Just then, the shuttle arrived.
The driver was a pleasant ASU student, who wanted to be a pilot but couldn%u2019t afford it. I told him some of my flying stories, and we chatted about absurd passengers. He dropped me off at Terminal 4 (the nice one, with HP/US), and I bypassed checking in (didn%u2019t have any bags this time), and walked straight into the security line for the %u201CA%u201D gates. The line wasn%u2019t horribly long, but there was some unpleasantness surrounding it. There was a man in front of me who was a student from London (I heard him explaining), but was of Middle Eastern descent. The TSA agent (a Vietnam veteran), stopped him and was bullying him. Another agent checked my ticket, but I felt bad for the guy. In this day and age though, the TSA is very cautious of passengers.
After clearing security at around 7:00am with an hour to burn, I decided to walk through terminal 4. For those unfamiliar, PHX terminal 4 is four parallel piers (concourses) connected by above ground corridors with moving walkways. I decided to explore these concourses. I walked to the furthest one from me, B15-28, which consists mostly of America West Express, but is also the home of BA and the BA club. Other than that and a Quiznos, the concourse was very dead. Same was true of B1-14, which was both HP/US and AWExpress. I did get some pictures of the HP B733s now in new US colors. Next was A1-14, where more action was. This concourse mostly consisted of mainline US/HP heading east. There was one 757 (new US colors), and more newly painted 737s. Finally, I headed over to A15-28, where the most action was. There were a few 757s to LAS and SNA respectively, and flights to ONT, BUR, ORD, SFO, and SEA.
Our plane arrived about the exact time we were supposed to depart. It was an Airbus A320 in America West colors. They turned it around very quickly, and I settled into 19F. Just then, the Nevada Flag 757 pulled in next to us, and the Arizona Cardinals A319 pulled in on the other side. After a slight delay with one of the computers up front, we pushed and taxied to runway 7L. There was the Arizona Flag 757 on short final, and I knew we would power up around the time it was over the threshold. So as soon as we powered up, the 757 ripped past my window and a got a picture. We had a very powerful takeoff as we roared into the sky, and with a few left turns, we were cruising at FL340 towards SEA.
I then pulled out my laptop and watched two episodes of Prison Break (horribly addictive show). We were served three little briscuits and I got some apple juice. That was all that we saw of the F/As. The movie show was Copying Beethoven with Ed Harris, which I didn%u2019t watch. We passed over some snow capped mountains and up through Nevada, Utah, and Oregon. As we approached Washington, it got very bumpy and everyone had to sit down. This was the jetstream coming over the Cascade Mountains. After many bumps (and a few screams), we popped out of the clouds over Lake Sammamish. The captain had reported winds gusting to 30 kts out of the southwest, and the video of an NW 757 dancing in the Seattle wind came to my mind. The captain held the bumpy approach very smoothly, and touched down smoothly like it was nothing.
We taxied back to A2 past a KE 772, an NW A332, 753, and 752, and we parked next to Maya the Jaguar, N947FR. Once again, I went up to the front, flashed the PPL, and asked if I could get a picture of the flight deck. The captain granted that request, and the friendly F/O took my picture. From there, I caught a shuttle to Master Park, picked up my 1967 VW bug, and drove home!
PICTURES!!!
An HP B733 in new US colors. There were a few around, but this was the first I saw of them.
A hybrid US/HP A319. I like these.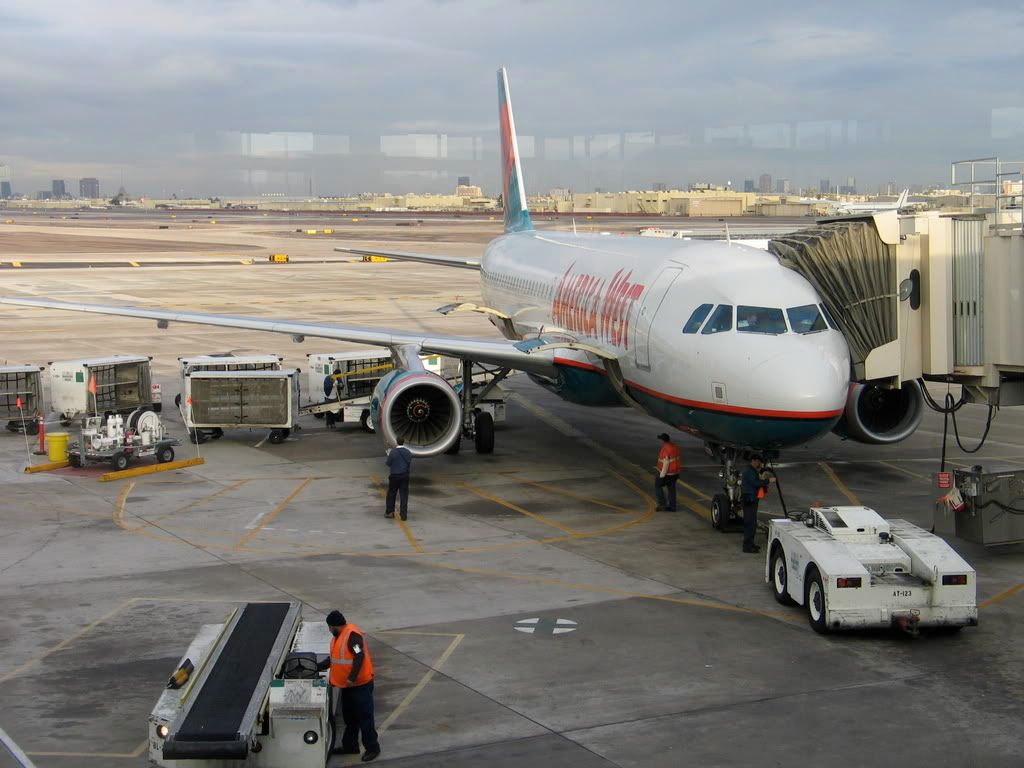 Our guy at gate A26.
Nevada flag 757. I love these special paint jobs.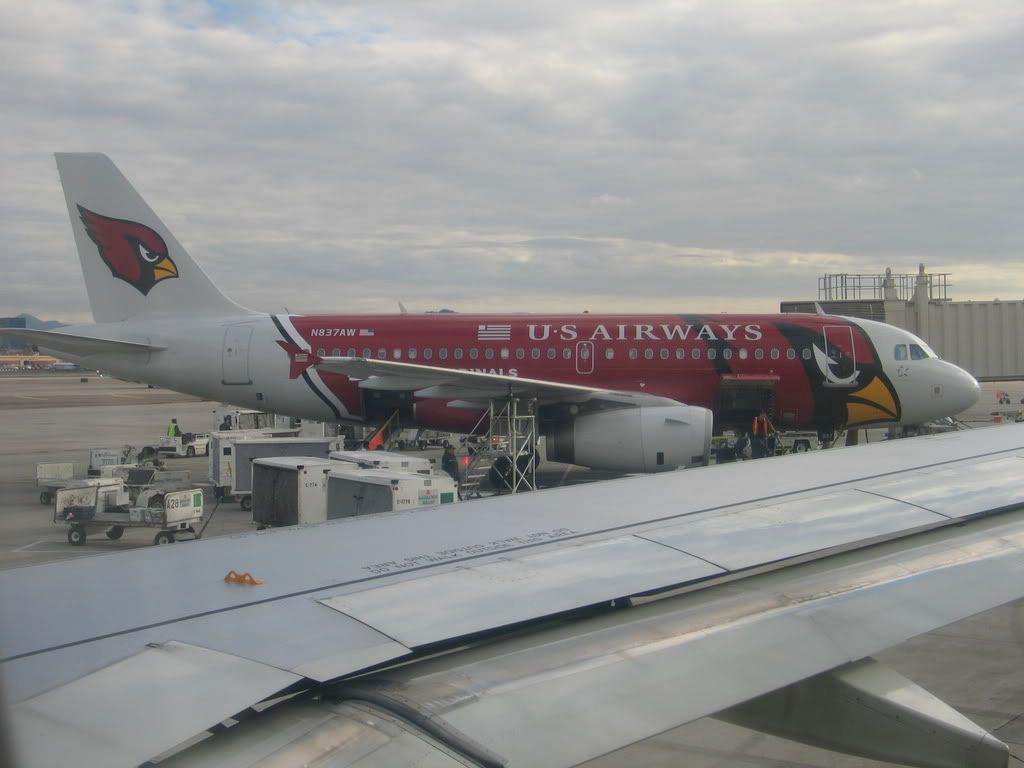 Another great livery.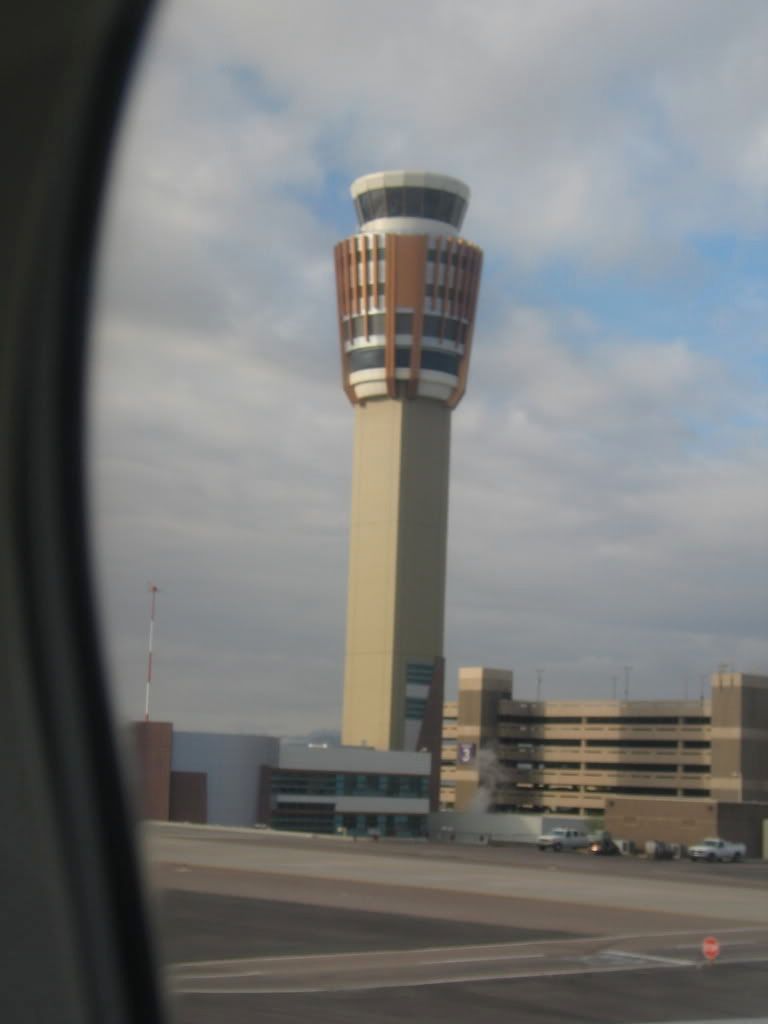 New control tower.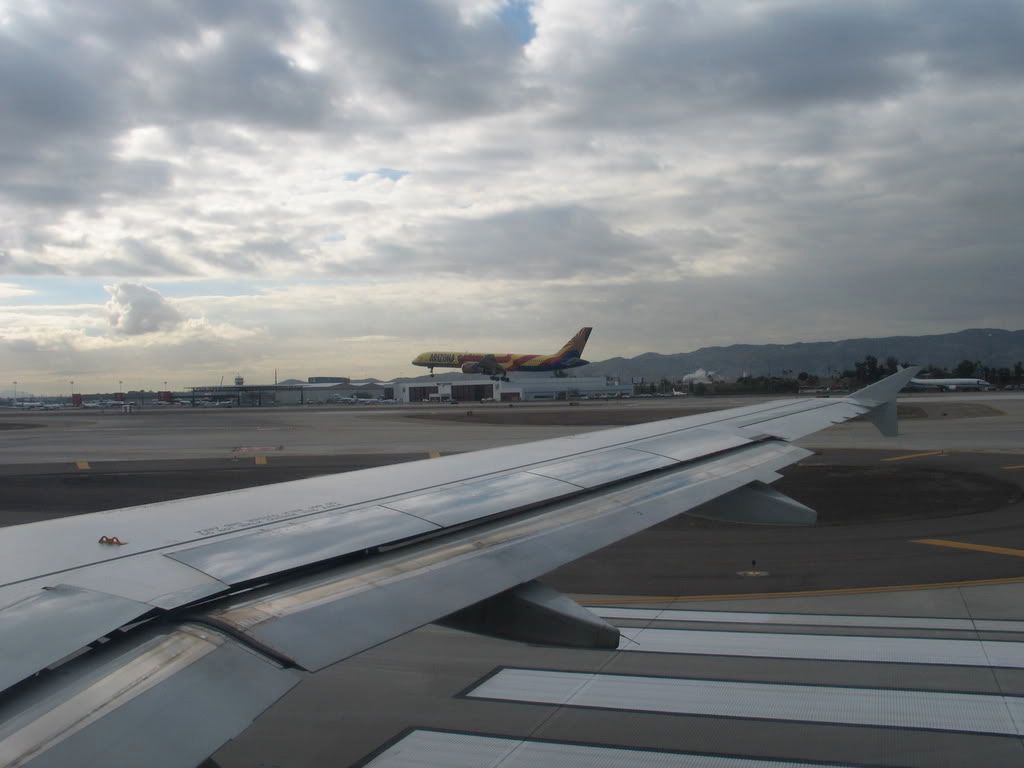 Just starting our takeoff roll with the Arizona Flag HP coming from Hawaii, I think. If anyone was wondering, the aircraft start their takeoff roll as the other aircraft is flaring to avoid wake turbulence problems.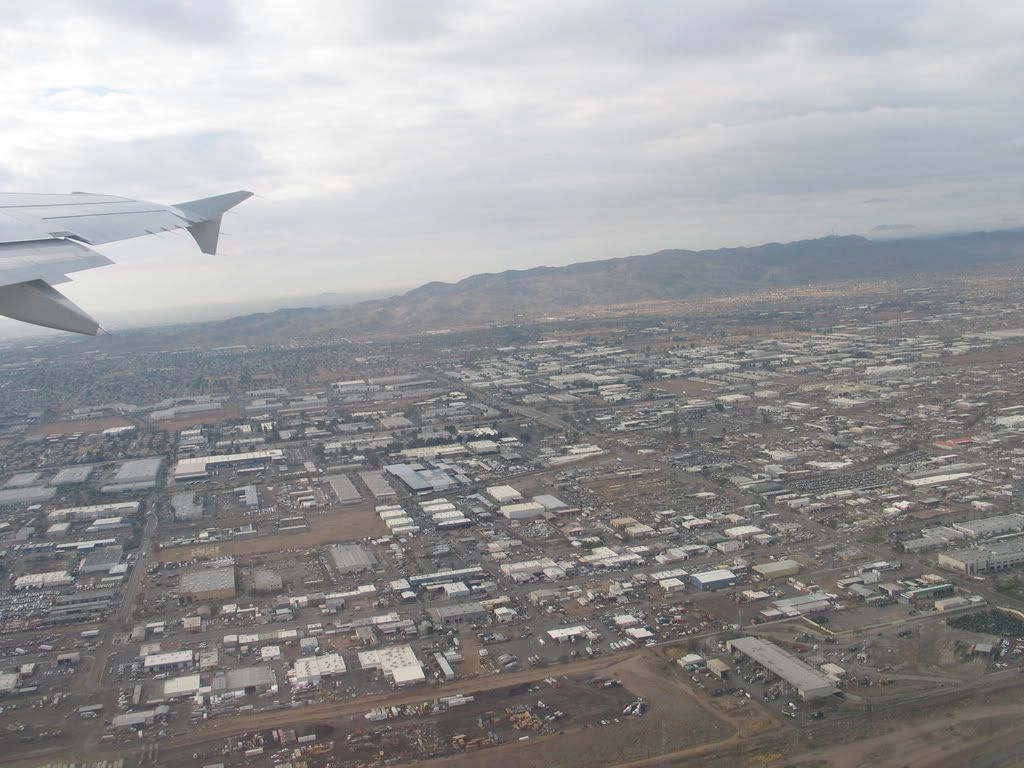 Climbing out. This was a very powerful climb, much more than those other flights.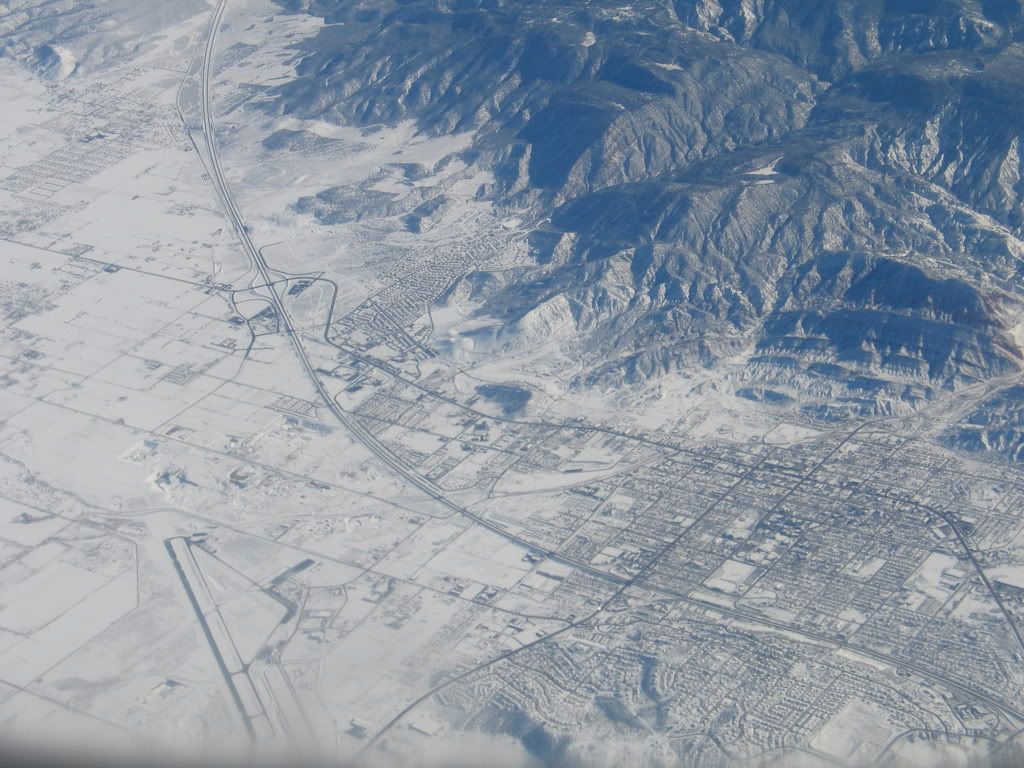 Not sure what city/airport this is.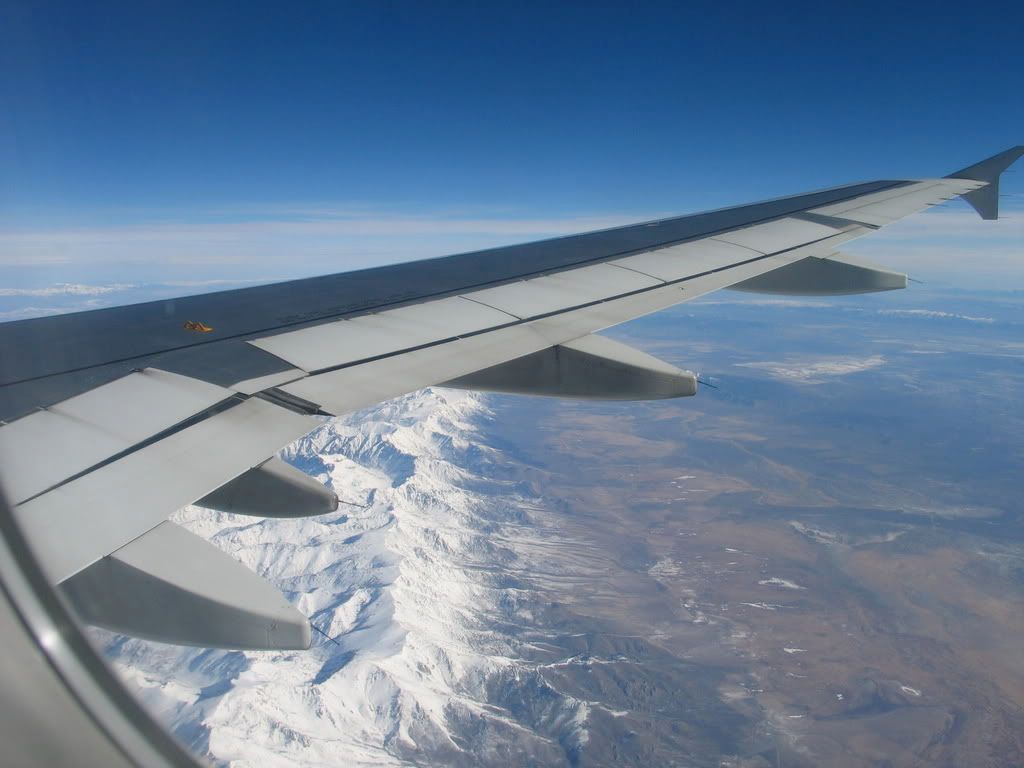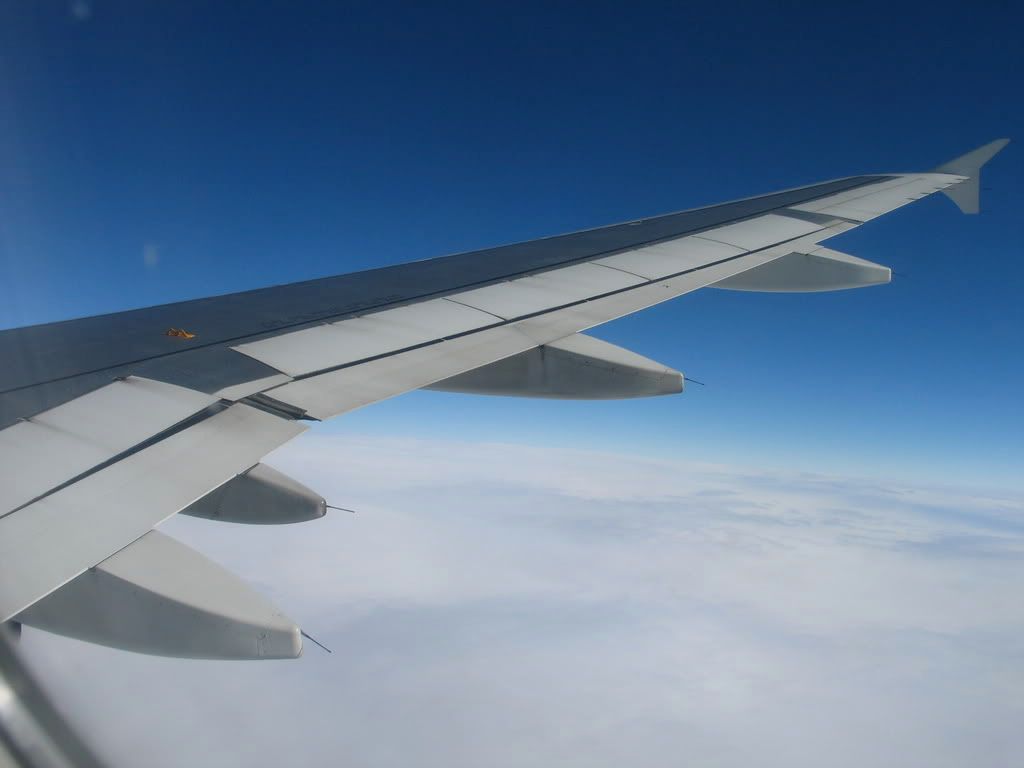 Cruising...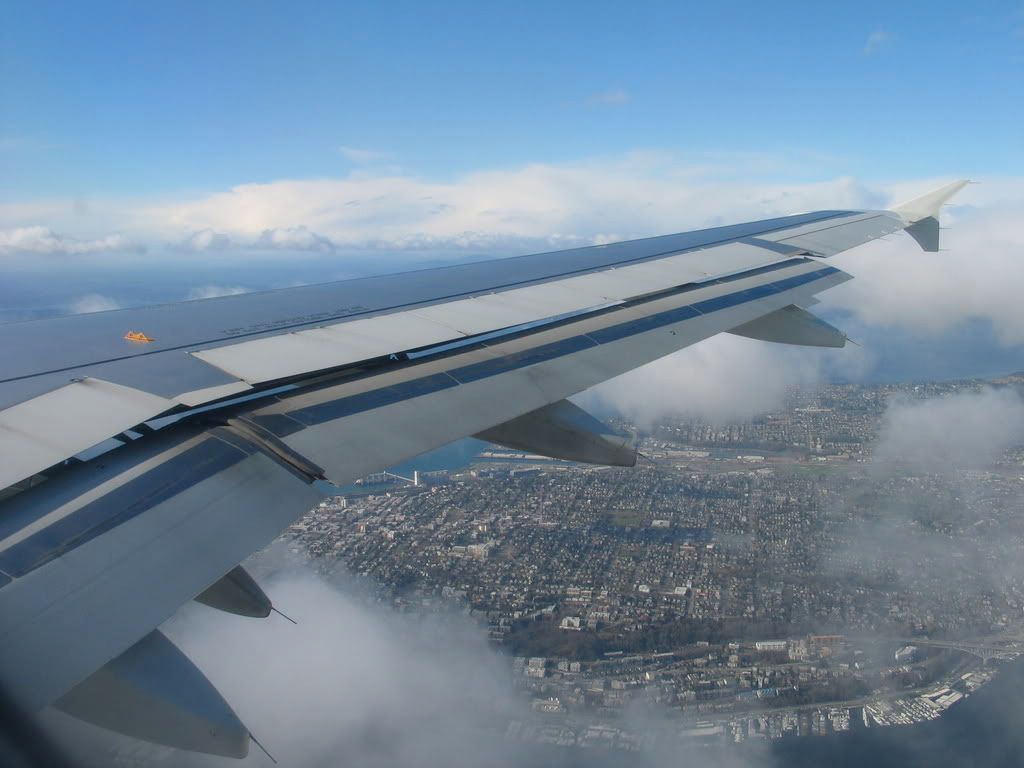 Approaching SEA. This was a very bumpy approach.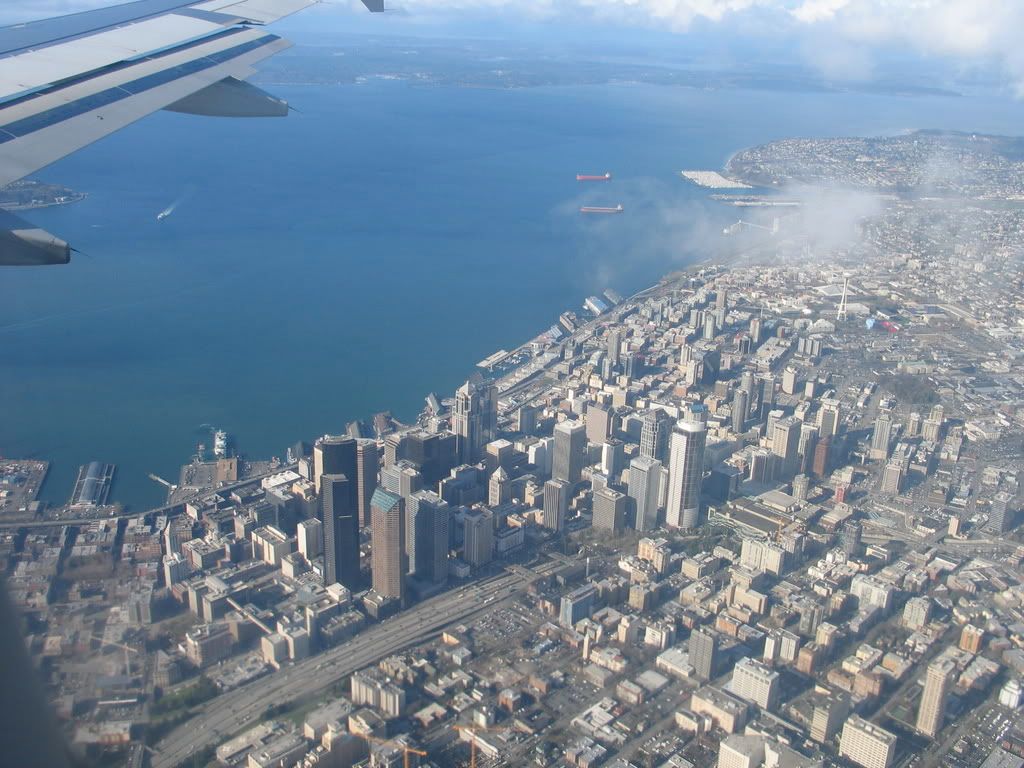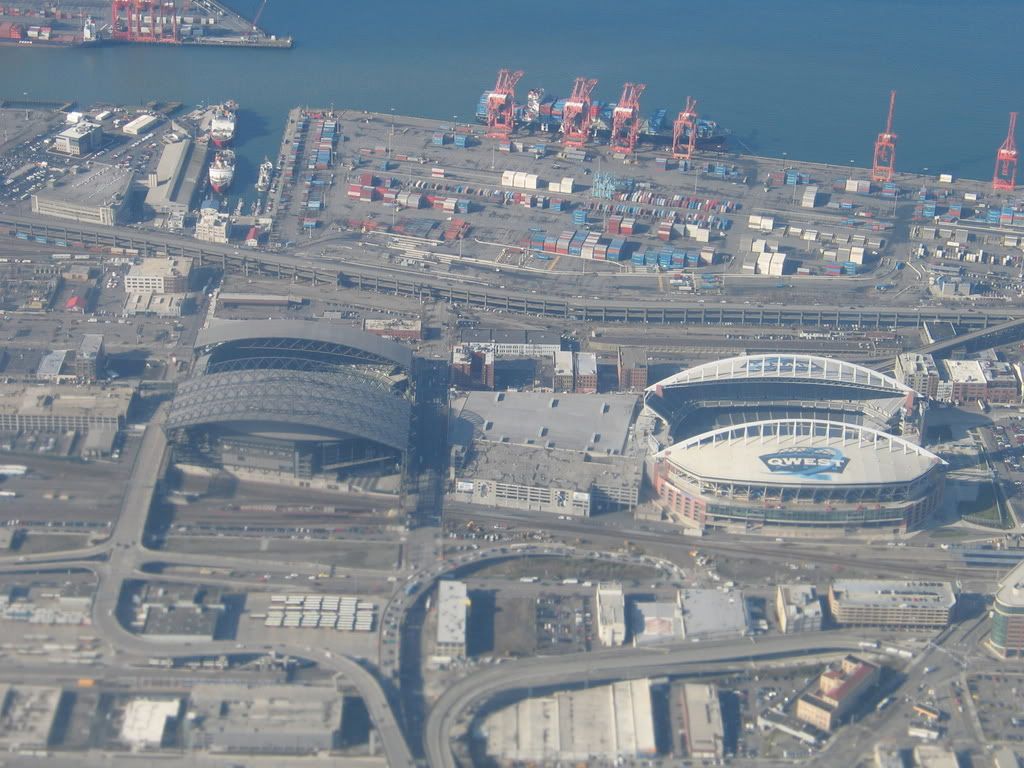 Downtown Seattle.
Landing runway 16C. Sorry for the quality.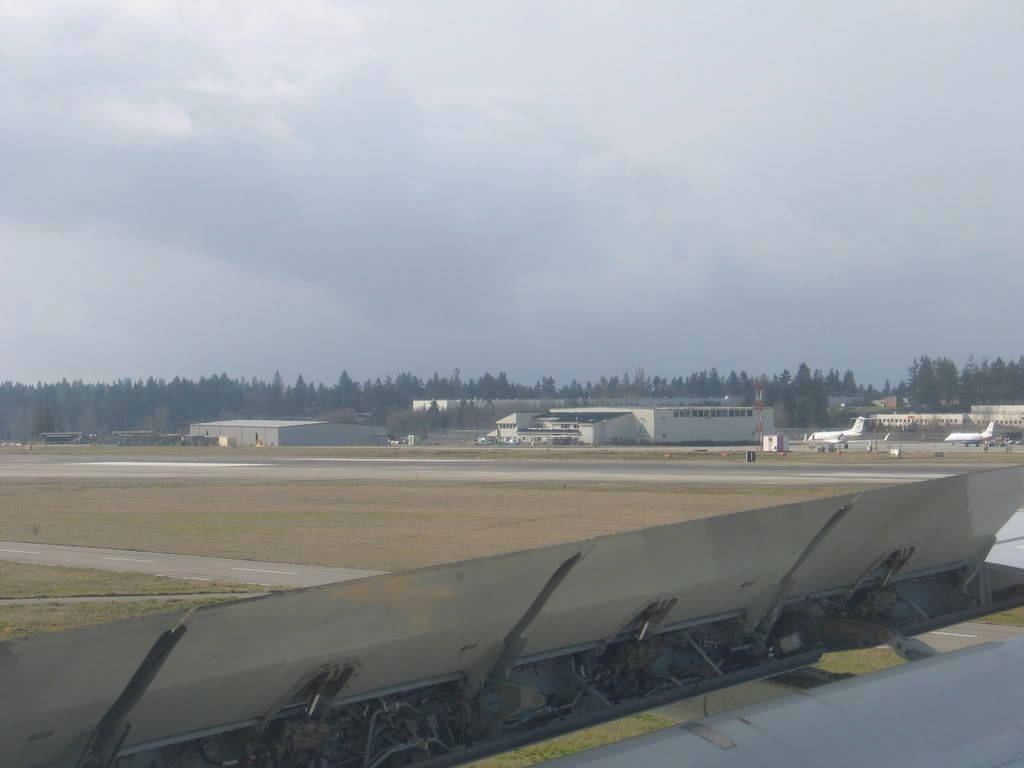 Corporate ramp as we approach taxiway November.
NWA A332 off to NRT.
Maya, the Jaguar.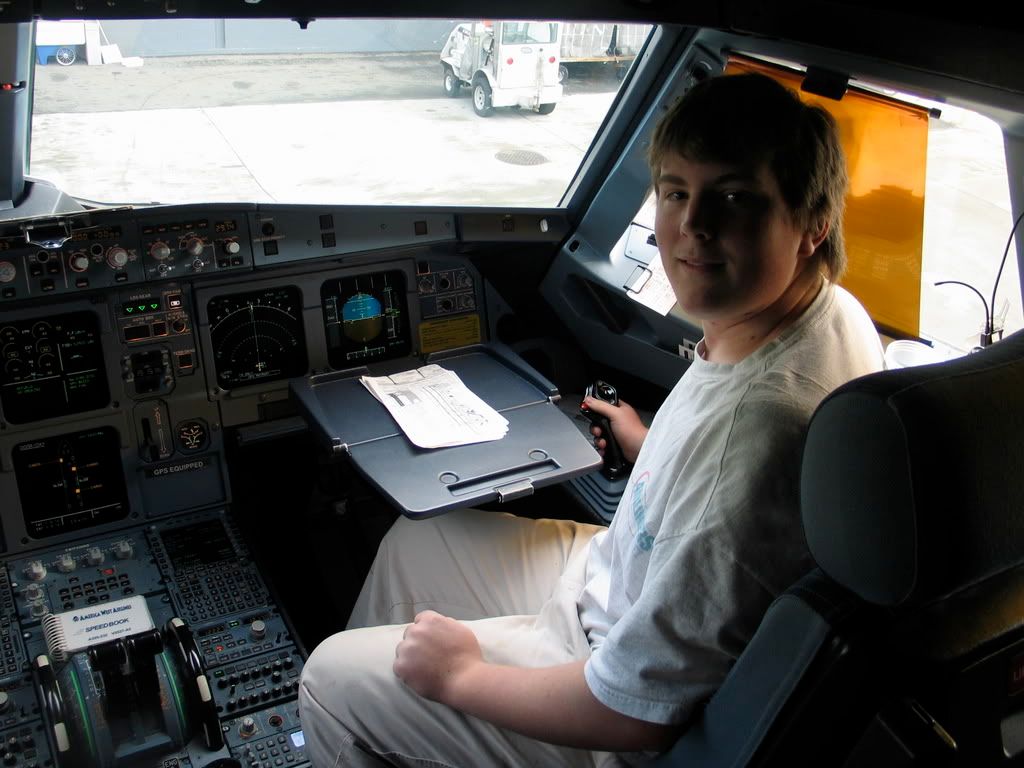 Big man up front again.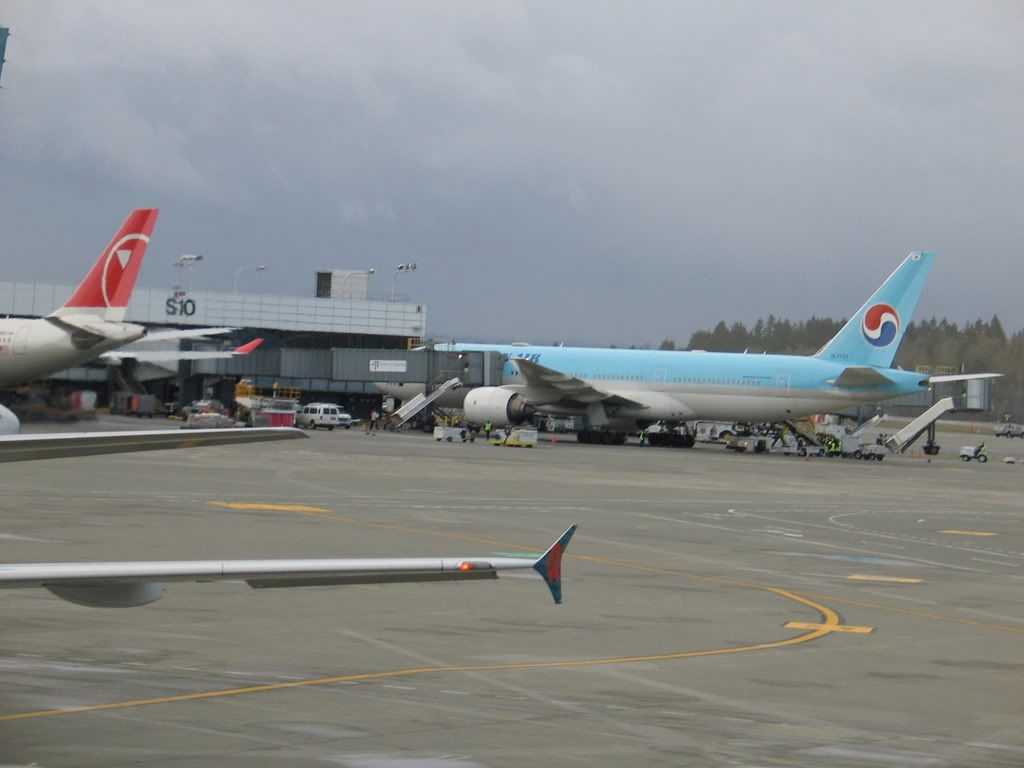 KE 772 from ICN with winglet of our plane.
Well that concludes my trip report. Hope you enjoyed it. I don't have any commercial flights planned, but when I do, you can be sure I will post a trip report. Thanks again for reading.
thepilot