Singapore Airlines SQ 173
Cang Hang Khong Quoc Te Tan Son Nhat (SGN) - Changi International Airport (SIN)
Boeing 777-212 (9V-SVC)
ATD: 1650H
ATA: 1950H
Duration: Approx 2 hr
Ho Chi Minh City / Saigon
You can skip this portion and go to the trip report if you only want to read about the flight.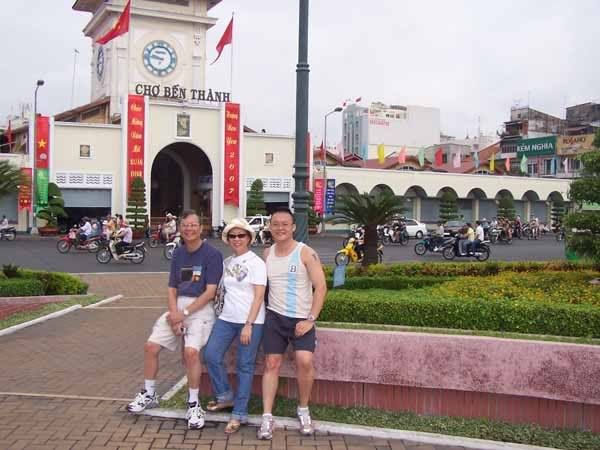 The start of the Vietnamese Lunar New Year (Tet) begins a day earlier than the Chinese Lunar New Year. So we technically arrived on the eve of Tet on 16 February. The city was abuzz with lights and decorations and in a dwelling where the motorcycles are the vehicle of choice; they were everywhere crowding every nook and cranny imaginable.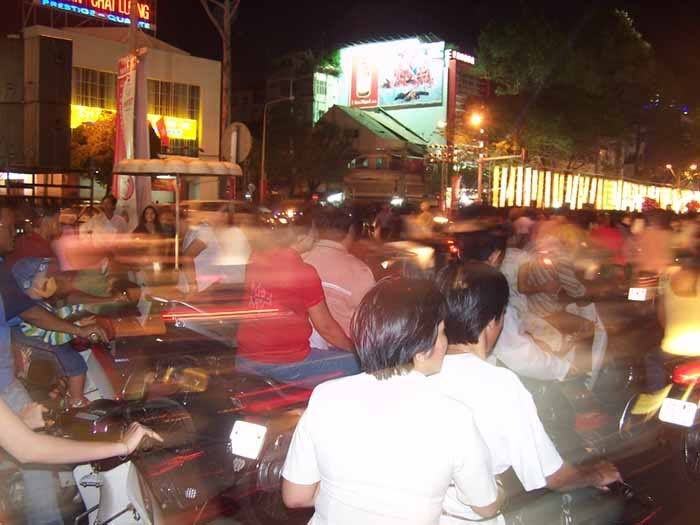 Traffic in Saigon does not seem to have any law and order. Everyone just weaves about the intersections and cross junctions - with the help of blaring horns, seamlessly without the guidance of a traffic police. Surprisingly, despite the less than ideal traffic scene, I did not witness a single road accident.
Vietnam welcomed their first tourist only in 1990. The trade embargo with the US was lifted in 1995. As such, much of the tourist infrastructure is still in its infancy. English is still very much a foreign language – very foreign, and not very widely spoken. Even at the hotels and airport, the English spoken was very basic at best and had to be repeated a few times before being transpired correctly.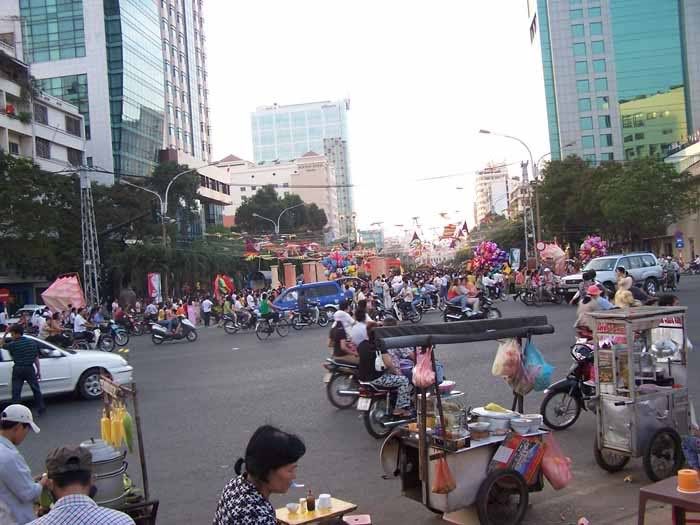 Somehow, I felt like those silly contestants on Amazing Race raising my voice and speaking slower "D O Y O U K N O W W H A T I A M S A Y I N G?' like as if that would help the situation. This is probably the first time in a long time in my travels that I have had a language problem. You see other than English; my family also speaks Thai, Malay, Indonesian, Mandarin, Hokkien and Cantonese.
That being said, Saigon is seeing the first signs of the encroachment of American culture with the one and only fast food chain, KFC. There isn't any McDonald's or Starbucks yet so I hope it remains this way.
The city of Saigon is HUGE. It has 24 districts giving it a total of an area the size of roughly 200sqkm. However, development seemed to have stopped in the 1960s and suddenly there are these modern building sticking out in the middle of nowhere. Thus, there is this time gap that the buildings in the city are either very old, or was built only in the last decade.
Korean brands – Oh how the Vietnamese love them. Samsung and LG LCD screens all over, Kia and Daewoo taxicabs buzzing about that you would be forgiven for thinking you have stepped off into a very dirty and undeveloped Seoul.
We also ventured out into the rural provinces of Cu Chi, My Tho and Ben Tre. Not forgetting the must do cruise along the Mekong River. Vietnam as a country resonates a very over powering vibe of a glorious past, something that would never again be seen in our modern day society. It is a very sad thought.
19 February 2007 - Departure day
Despite the fact that 90% of the shops were closed for Tet, we still managed to fill our bags with bargains from the trickle of street vendors that remained open during our stay. Thus, 1 luggage suddenly became 2 for me. 2 soon became 3…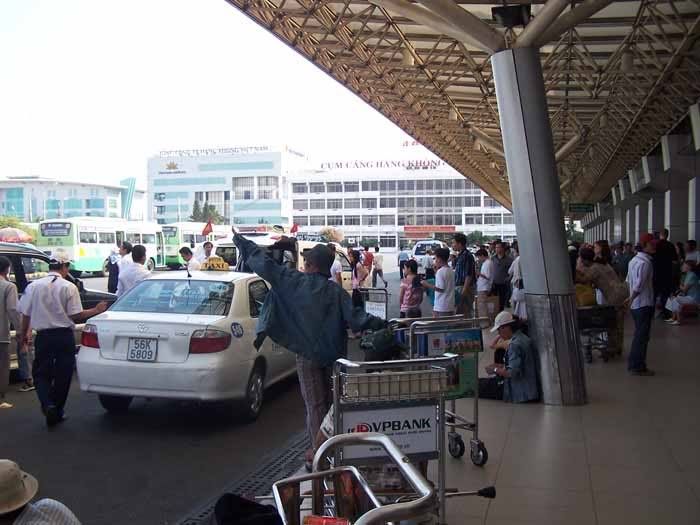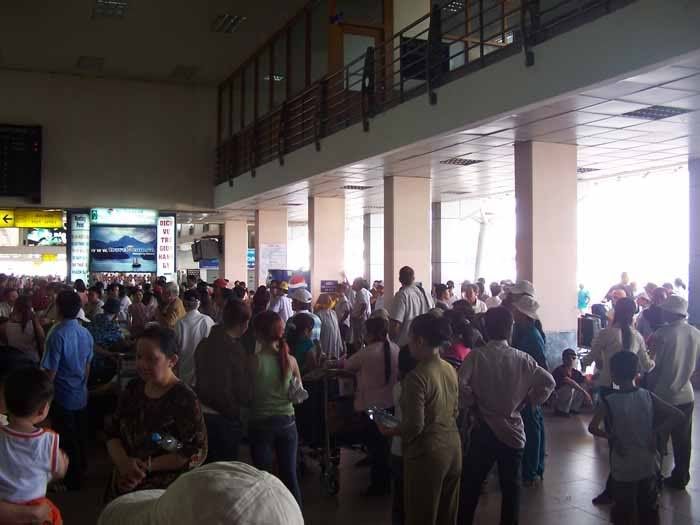 Arrival at the airport, we were greeted by the usual chaos with people shouting, car horns blaring, and crowds seemingly milling about for the sake of just being there. As we unloaded out luggage from the cab, we were being bumped about on the kerbside by the crowds spilling over from within.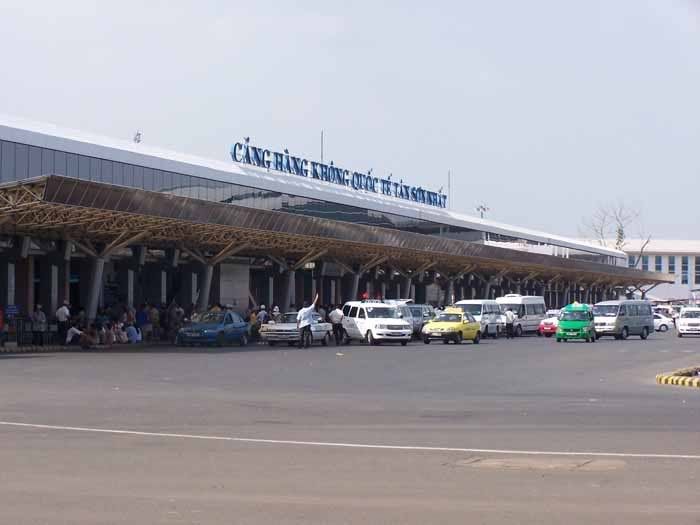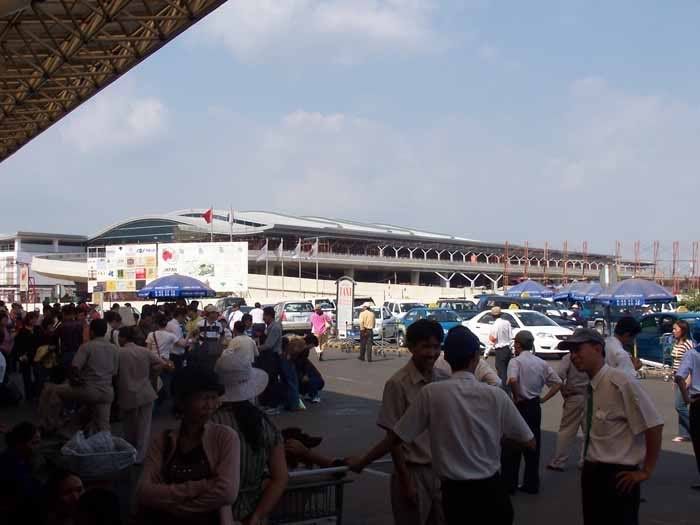 Chaos in the foreground, new terminal in the background.
I mentioned about how this airport was becoming very inadequate for Saigon. True enough, a new and bigger terminal was near completion nearby and I hope that would ease this crowding problem I faced.
Only ticketed passengers are allowed to walk past the metal barriers and into the air conditioned terminal building to complete their check in. The serene interior is a stark contrast to what was happening outside. It was like a riot!
US$14 was my airport tax that was paid at a separate counter before heading to Row H where Singapore Airlines is situated. I explained to the lady at check in that I DO NOT WANT 35K. She managed to get me a seat at 55K and blocked out the next 2 seats for me so I though to myself, "Wow, this girl is something else!"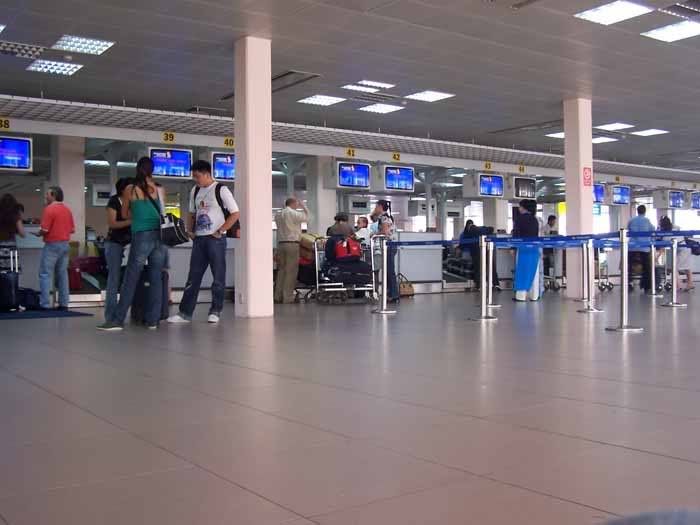 Boarding passes were handed back to us together with our passports and baggage tag receipts and off we went to airside. I failed to check my boarding pass for the details and in hindsight, I know I should have. More on this as we move along in this report.
Immigration was thankfully empty!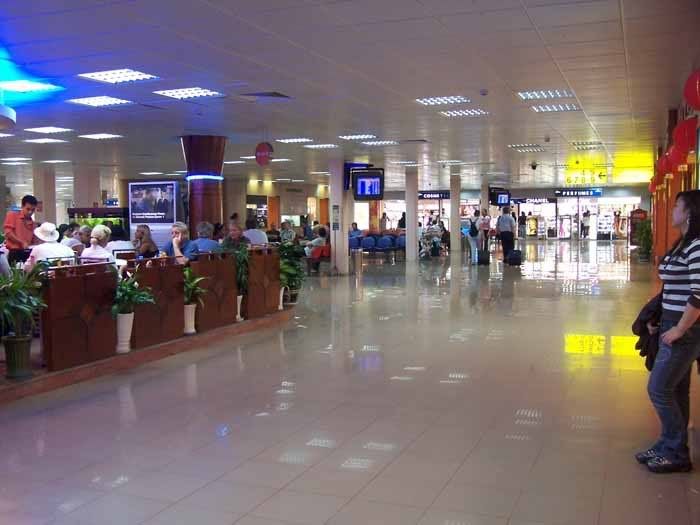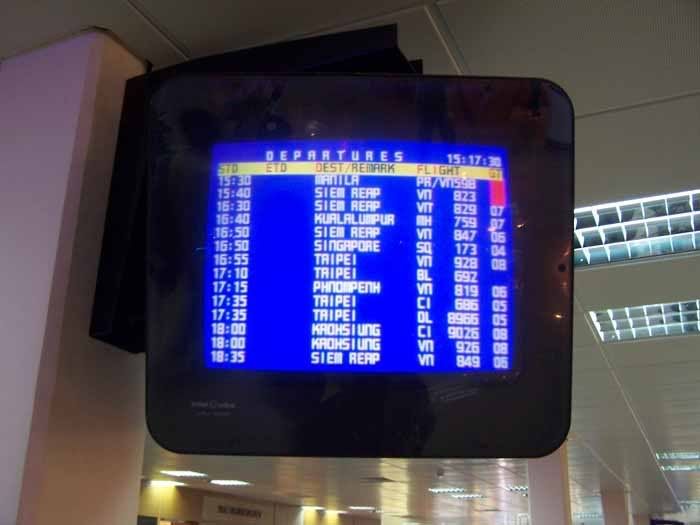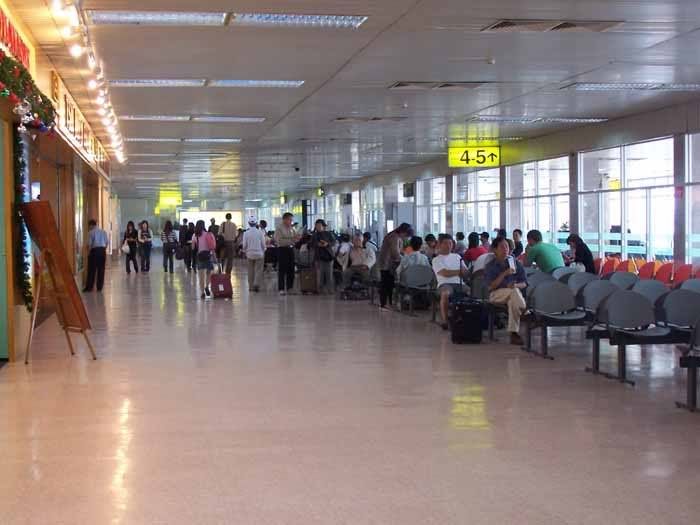 Airside in Tan Son Nhat is very basic and is not exactly the most beautiful airport in the world, but it does its job. However, there isn't an uninterrupted view of the planes outside so photography is out of the question. Gate 4 was assigned for my flight back home today.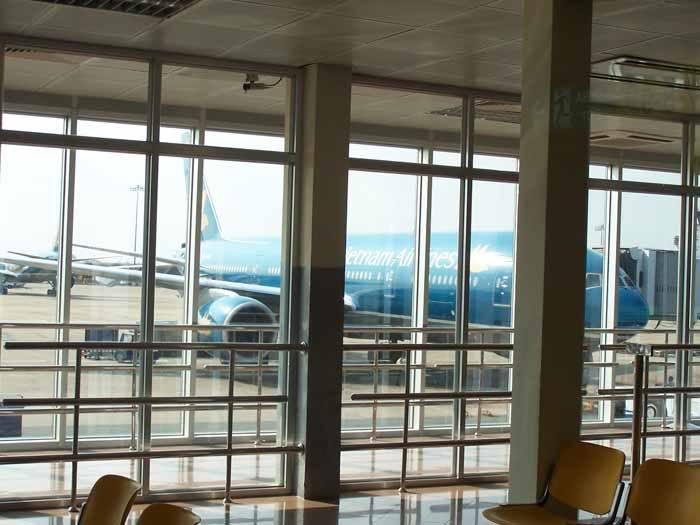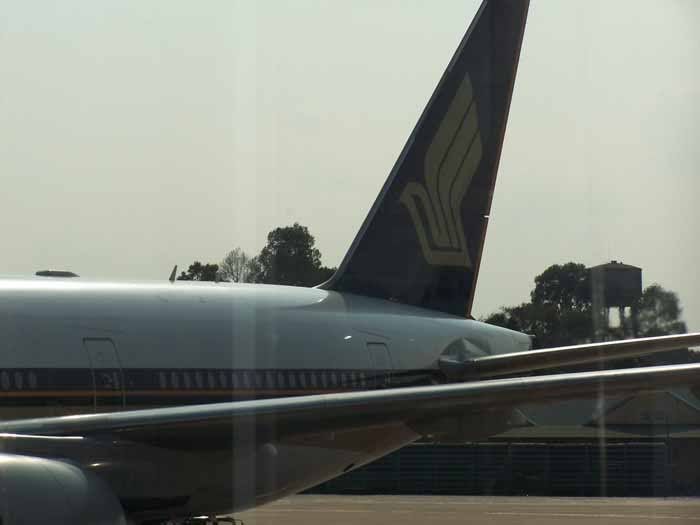 The boarding lounge was very small. It was barely enough to hold the entire load of the 777 so some waited in the main area of the departure hall.
You see, the holding room was separated into 3 by ropes. The one nearest to the gate held the Raffles Class pax, followed by pax in rows 50 and above, and finally the section furthest away were the rest of the pax. There were airport personnel stationed at these different areas to ensure that the people in the room belonged to the correct section but somehow they weren't very strict in enforcing the rule. This caused a very messy boarding process which took a long time to complete. Maybe that was why boarding was called at 1615H.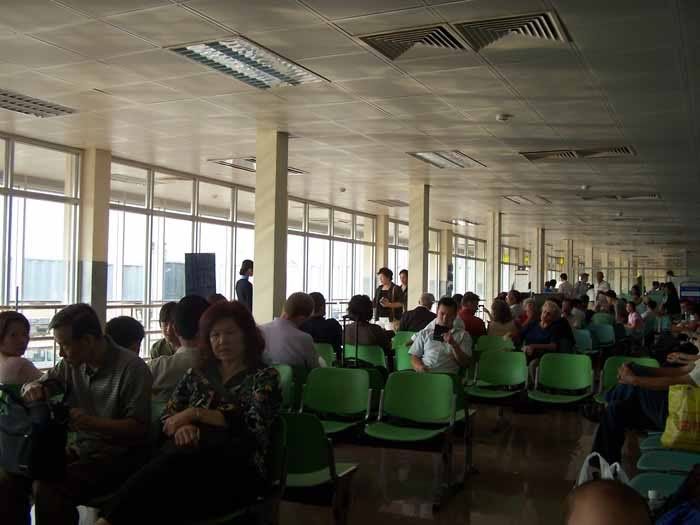 "Raffeht Khhaaat, Pee Pee Eeeht" passengers were invited to board the aircraft while the gate agents were trying to sort out the row numbers still.
Seating mess
After waiting in the boarding lounge for the crowd to ease, my parents and I stepped into the aerobridge towards 9V-SVC, also another long haul configured 777-212. A Chief Steward and a Flight Steward beamed their warmest welcome and addressed us by our name and beckoned into the now familiar cabin of SQ's YCL.
As I headed to the inner aisle, my parents took their window seats in row 33 and I headed further aft towards a steward FS Leonard Tan…
"Welcome on board, Sir"
"Hello" and I hand him my boarding pass…
"Mr Soh, you are in 35K, over here."
What? No, no, no, this cannot be happening. I took my boarding stub back and to my horror, the check in agent who promised me 55K made a mistake and assigned me back to my original seat I flew up on, the windowless window seat of 35K!
There was no way I was going to take this lying down. I calmly explain to FS Leonard that I specifically asked not to be out in that seat at check in and that I was claustrophobic. So he pursed his lips and told me to wait while he referred to his supervisor, which turned out to be the Chief Steward at the door.
FS Leonard returned and asked me to follow him to the galley where I met the Chief Steward (I shall leave out his name at the request of the forum members due to my last report).
"Mr Soh, would you follow me please?" And off I went behind the curtains and into the Raffles Class cabin.
My heart stopped for a moment and I thought I was in for a miracle. I thought that the aircraft was so full that they had no choice but to give me a seat in the very comfy looking Spacebed!
"Mr Soh, sorry for the trouble but if you wait here for a while; they will sort this out ok?"
So I stood outside the aft lavatory of the Raffles Class cabin while the IFS, who was standing at Door 1L, was given the low down of what was happening to me (the claustrophobic pax from 35K) by the Chief Steward.
The IFS then walks up to me holding a glass of orange juice and he gently whispers, "Mr. Soh, I am so sorry for what is happening. Sometimes there can be mix ups and I hope it will be sorted out soon. You don't have any special dietary requirements do you, like special meals? Care to some juice?"
And voila, I was holding a Raffles Class branded glass in my hands and for that brief moment, the IFS and I stood there and chatted before the station manager came on board.
"Ok, Mr. Soh, sorry for the mix up. 55 has already been taken so I will put you in 33G."
So much for wanting a window seat, the assigned seat given to me was across the aisle from my parents who were in 33K/J. Strangely enough, the aisle seat of 33H wasn't occupied. So I ended up sitting together with them after the doors closed.
1645H: Despite all this, we were still very much on time and the welcome announcement came on with the sweet voice of LSS Jennifer welcoming us on board. Flying time was announced to be 1 hour 50min. Pushback was right on time 5 min later.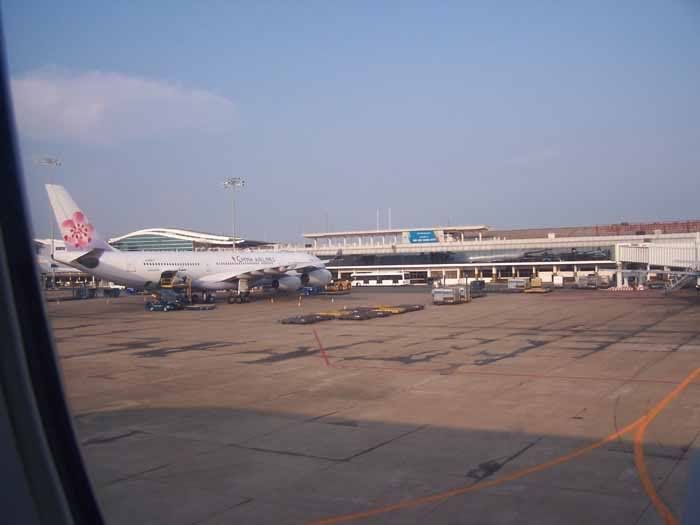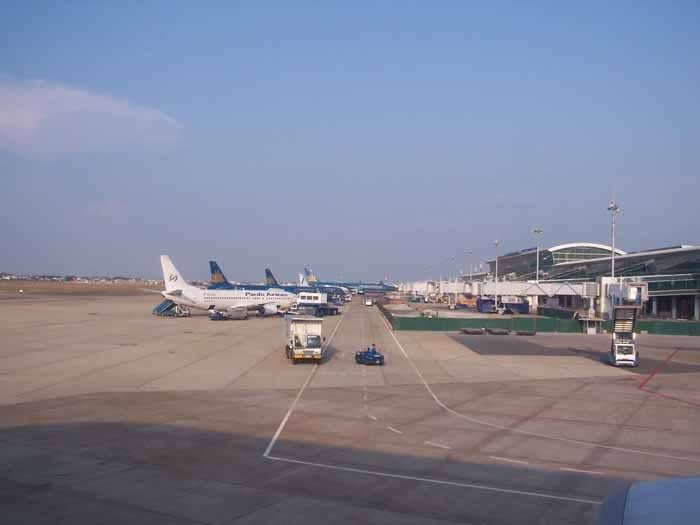 1703H: We enter the runway and power off above the sprawling suburbs that seem to extend into the misty horizon.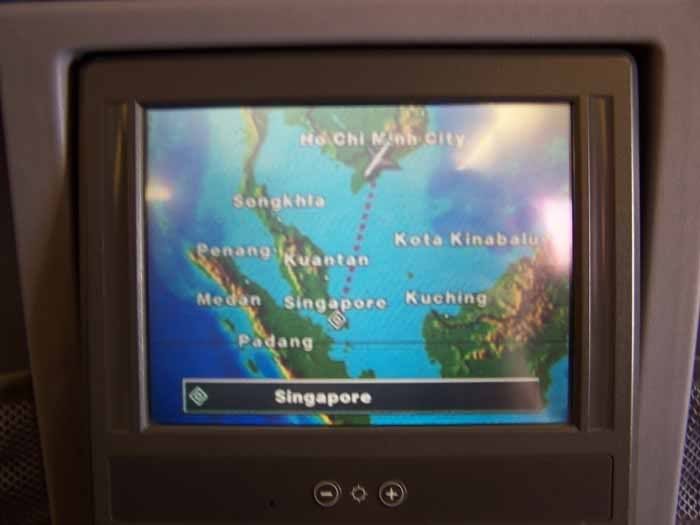 1712H: Seatbelt sign pinged off and FSS Choo Phui Kuan magically appears from behind the curtains, "Headsets? Sir you like a headset? Mdm, headset?"
After she disappeared behind my row, the IFS comes to 33 and asks if I am comfortable and told me not to hesitate to ask for anything else. He then sashayed behind the curtains into the yonder that I was not worthy of being, Raffles Class; and he was never seen again for the duration of the flight.
1730H: FSS Choo Phui Kuan is now pushing the carts from the front galley and soon reaches us in 33.
"Sir, Mdm, we have the pork with rice, or the fish with potatoes. What would you like?"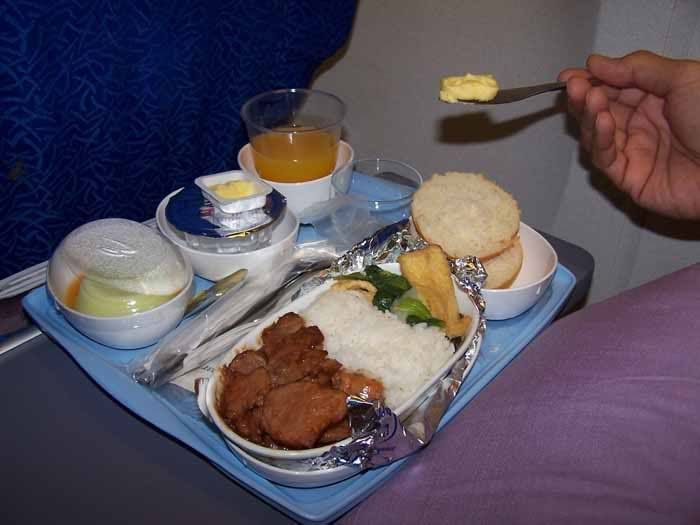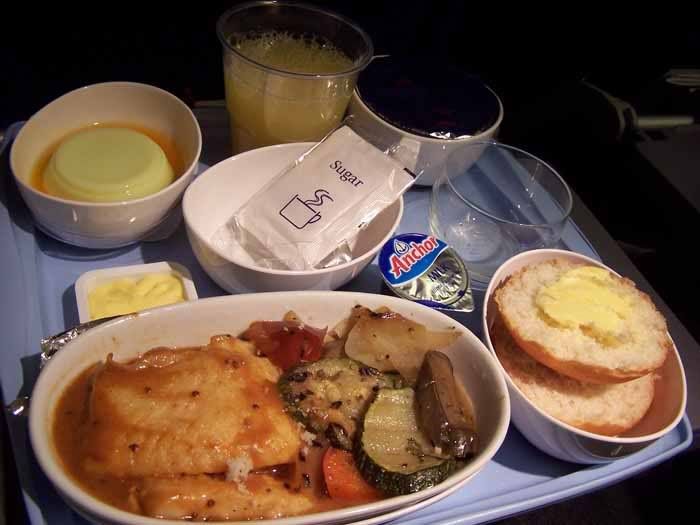 I had the fish while my parents decided pork would be the better choice. Mum and I asked for pineapple juice but she didn't have it with her on the cart.
I then said," You know what? Just give us what you have on the cart lah, like OJ or something. I don't want to trouble you."
However she insisted it was no trouble at all and that she would be back with the juices once she finished serving the meals. She then took down our seat number and continued her way aft. As we were about to start eating our lovely meals – both options were awesome and I finished my mum's entrée, FSS Choo Phui Kuan popped by with our pineapple juices "Sorry to make you wait. Here you go."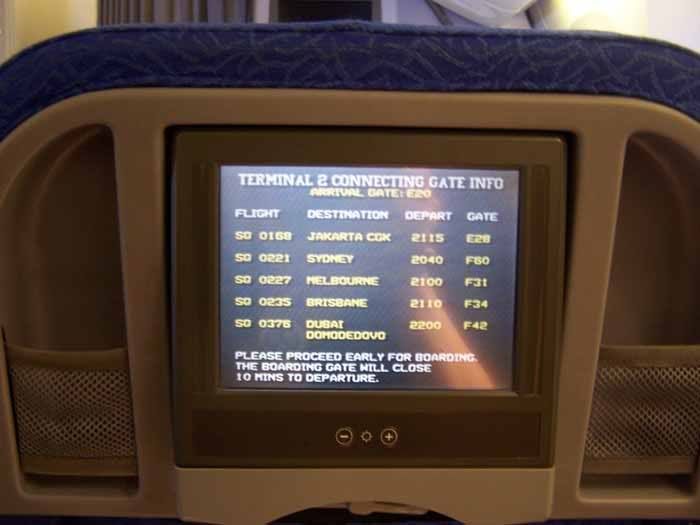 1800H: While the meal trays were still out and most of us were in the midst of chomping the chow, flight deck came on the PA and said we were arriving soon and asked the crew to prepare the cabin for arrival.
10 min later, the first signs of descend was felt. And boy, you could see the SQ girls literally running out of the galley with the meal carts trying to load the trays back. Meanwhile, FSS Choo Phui Kuan still found the time to give out coffee and tea while she was quickly clearing the remnants of the meal service.
"Sir, Mdm, coffee or tea?"
And this is what my mum said, "Dear, you still have time for coffee tea coffee tea ah? Plane is going down already! Poor thing…"
And she just laughed as she said, "What to do, short flight full meal? We are used to it. You sure you don't want coffee or tea?"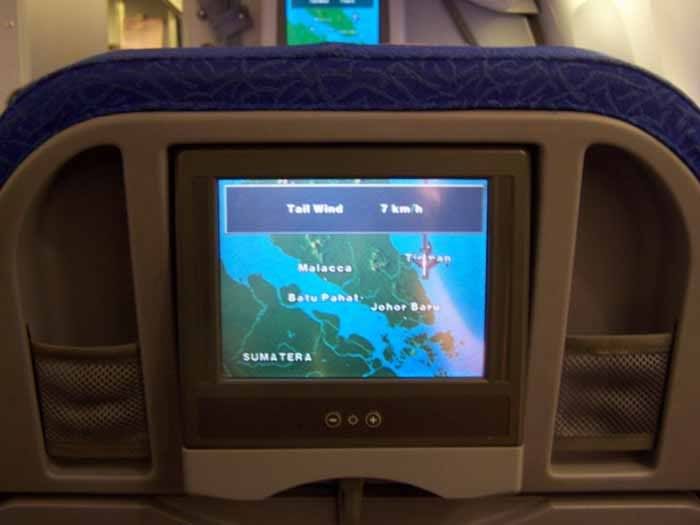 We declined altogether and just relaxed in our seats for the remainder of the flight. The sunset outside was a beautiful one but was soon replaced by angry storm clouds as we got closer to Singapore.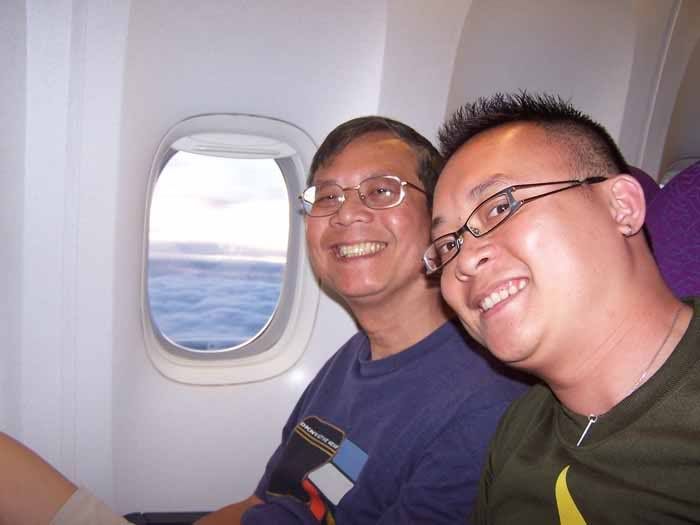 In the madness of clearing the trays and giving out coffee and tea, headsets were also collected quickly.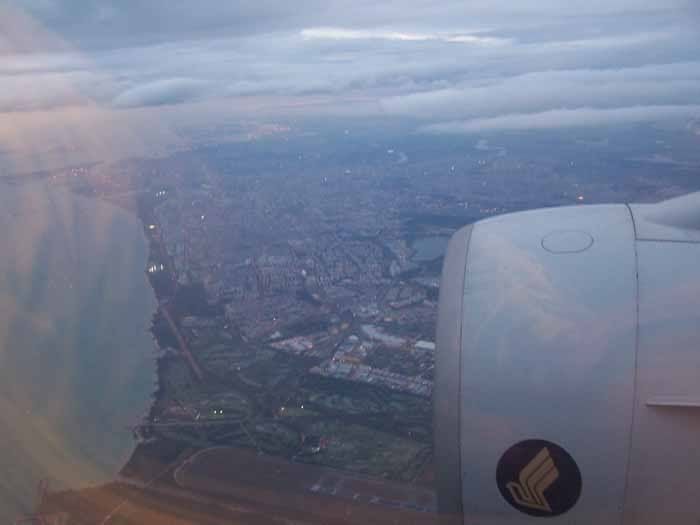 Overflying Singapore with Changi Airport slightly visible at the bottom of the photo. At this point, some people were still consuming their hot beverages.
1825H: The cabin is darkened for the approach while many of us are still having the coffee and tea. The FSS's begin to scutter about the cabin like atoms in a hot vessel trying to look out for cups to clear as the seatbelt sign comes on.
"Cabin crew to your landing stations, please"
What I saw was like a game of musical chair when the participants freeze momentarily after the music stops. After that announcement, the 2 cabin crew on both aisles stopped midway with the coffee cups in their hands for a few seconds as if to let that command sink in…. Then consciousness returned and they ran into the galley and dropped the cups before strapping themselves into their respective jumpseats.
1840H: Touchdown on runway 20L.
Ah… back on home turf. The taxi to gate E20 was about another 10 min before the plane finally stopped and the cabin lights came on.
Local time is now 1950H.
On the way out, I walked by the Raffles Class cabin and there was the IFS again.
"Mr. Soh, welcome home. Did you enjoy the flight?"
Departure: 4/10… My request not to be put in 35K again was lost in translation. But strangely enough, I was even told that 55 was available and was given that seat. Guess it was my fault for not checking my boarding pass after check in was completed.
Inflight service: 10/10… This flight won me over. It shows that the SQ staff is ever competent in dealing with a difficult situation. The Chief Steward and the IFS both showed genuine concerned about my seat mishap. FSS Choo was jovial and not at all daunted or fazed by the "short flight full meal" situation and was ever ready with a natural smile.
Meal: 9/10… If I am not wrong, this meal was catered out of Singapore by SATS. Since my mum didn't touch her meal, I had the honor of clearing up her meal as well as mine. Both choices were great. Ingredients and flavor was all top notch and if altitude numbs my tongue, I wonder how they would have tasted at ground level?
Arrival: 10/10… It's Changi Airport, what complains can I have? Normally after a trip like this makes me appreciate my home airport much more. I fly out of Changi so many times a year that I sometimes take their efficiency for granted. So this score is dedicated to the myriad of workers at Changi that, together, make that airport truly one of the best in the world.
Overall: 82.5%
Mum and I thought it would be fun to be dressed up as Vietnamese Flags for the day.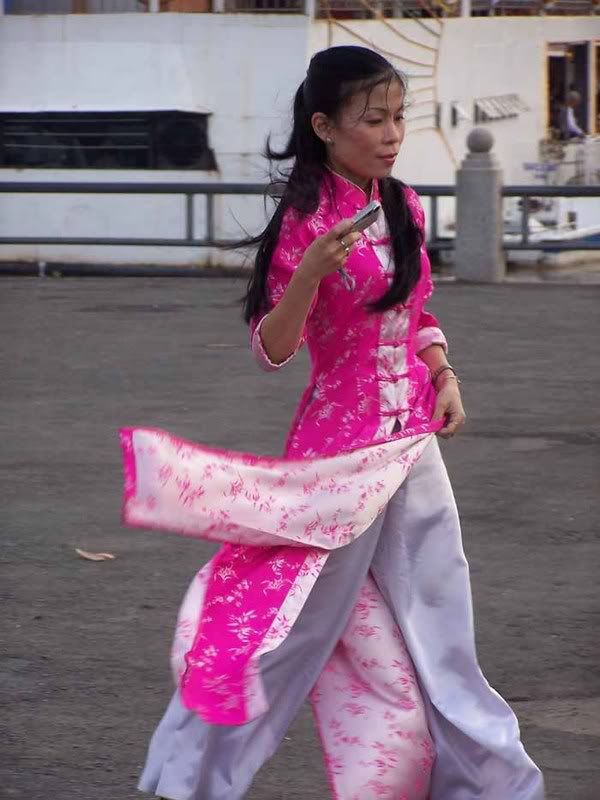 A Vietnamese lady in ao dai will always be a sight for sore eyes…