Hi,
Just returned from a trip to New York, so here's a trip report for you all. It's rather long, but I hope you enjoy!
I was travelling with Virgin Atlantic from Heathrow to JFK, but had to connect from Manchester. I chose Bmi, purely as they were cheap. Nothing much to say about this flight, other than that Bmi really have lost the plot and that airline is being run into the ground in my opinion. The staff looked so unhappy and there's no service at all, it's more like a bus operation these days. That aside the flights were on time and for about £30 I cannot ask for more. I flew onboard G-MIDX, the filthy A320 with the old style Star Alliance livery on it.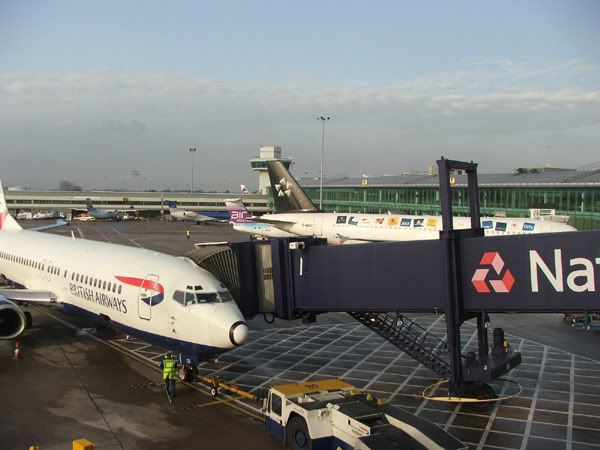 I arrived into Heathrow at midday after the short flight from Manchester and after reclaiming my baggage from T1 domestic arrivals I proceeded over to Terminal 3 to check in for my onward flight with Virgin Atlantic to New York JFK.
Airline: Virgin Atlantic
Flight: VS 9 London Heathrow (LHR) to New York JFK (JFK)
Date: 17 February 2007
Aircraft: Airbus A340-600 G-VWIN (Lady Luck)
Departure Time: 1600
Arrival Time: 1855

I arrived at Terminal 3 departures just before 1pm for the 4pm flight to New York. The Virgin Atlantic check in area was just pure chaos; luckily I was booked into Premium Economy so after battling through the crowds I arrived at the calm that was the dedicated Premium Economy check in area. Whilst checking in I was given my £40 APD voucher which gave me £40 off a future Virgin Atlantic flight due to the fact I booked my flights the week before Gordon Brown announced that Air Passenger Duty would be doubled. This was Virgin's way of trying to soften the blow to passengers who had to pay extra after the flights had been booked. I was assigned my prebooked seat of 20K.
Once checked in it was off to airside departures, UK security was tight as usual, and its so annoying not being able to take any liquids through departures, not even a bottle of water (which I had had confiscated earlier on my way through Manchester). With a few hours to kill it was a case of going to TGI Friday's for a bit of lunch and a look around the shops. Terminal 3 at Heathrow is full of shops and no windows, so I soon got fed up of waiting around.
An hour before departure we were called to gate 36, so we headed off and got the first sight of an aircraft! After the long walk we arrived at the gate area and were one of the first to arrive. I handed my boarding card to the gate agent, when it scanned it beeped and the light went red, didn't like the sound of that. After a word with a colleague she handed my boarding pass back and told me I would now be in seat 16A, which had now been written on my boarding stubb. Again the same thing happened to my mate who I was travelling with and she was now seated in row 17A. I was sure that this wasn't in Premium Economy, and this was confirmed when the gate agent said, both your seats are now in Upper Class.
I couldn't believe it, and walked over to sit down and look at our awaiting aircraft feeling rather smug inside. Lady Luck was on my side today and quite apt that we were flying onboard G-VWIN, named Lady Luck and airborne February 2006.
View Large
View Medium


Photo © Mark Ralph
The gate soon filled up with passengers and we didn't have to wait long until boarding was announced. Upper Class, Premium Economy and Gold and Silver Card holders were invited to board first, along with passengers with small children etc. There was no rush so we decided to be the first to get onboard, it was all very relaxed, not the usual rush I'm used to!
On entering the lengthy A340-600 the crew welcomed us and showed me to my seat, a nice window seat towards the rear of the Upper Class cabin, and near to the onboard bar which Virgin have. The crew took our coats to hang up and then offered me a glass of Champagne, which I of course didn't refuse. The crew seemed very happy and all through boarding was the background sound of champagne corks popping at the bar. Once seated a member of crew greeted me and showed me how to use the Upper Class Suite.
View Large
View Medium


Photo © Filip Koska
Slowly the upper class cabin filled up and it was obvious quite a few people had been upgraded on this flight, what I was shocked about was that some people in larger groups were complaining as they had some people still seated in another cabin. I thought well I'm sure five passengers seated in economy would gladly take your place. They of course didn't turn down the offer of free champagne though, and they soon settled down.
Whilst boarding continued I had a look at the snooze pack which was on my seat, which included a useful shoe bag, toothbrush, toothpaste, socks and eyeshades.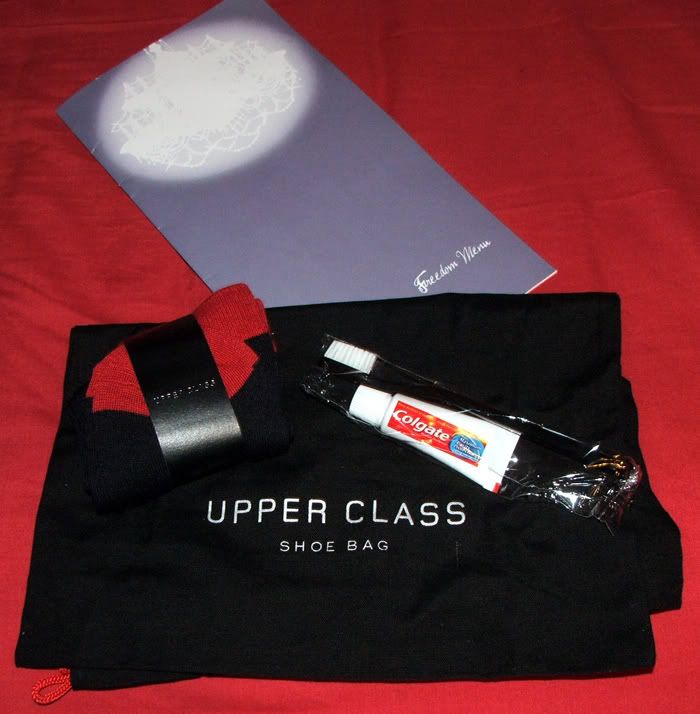 I also had a look at the menu to see what I would be eating this evening.
With boarding almost complete, I had been sat in my suite for nearly an hour now and it was approaching the departure time of 4pm, not that I complaining. The flight crew welcomed us onboard and informed us of our flight time of 7 hours 15 minutes with an on schedule arrival of 18:55 at JFK airport. Our dedicated cabin steward, who I later found out was called David, came round to take a drinks order for after take off. It was nice to have someone greet me personally by name, little things like that make upper class stand out as something a bit different.
Departure time arrived and we suffered a slight delay due to 2 passengers missing the flight and having their baggage off loaded, but we pushed back at about 4:15pm and headed to the departure runway, 09R today. Heathrow was busy as usual but we didn't have to wait too long in the queue for take off and overtook a few of the others in the queue.
We then powered down the runway with the help of the mighty Rolls Royce engines and lifted into the air and then turned northwards, initially heading over Manchester, then onto Ireland and over the Atlantic Ocean.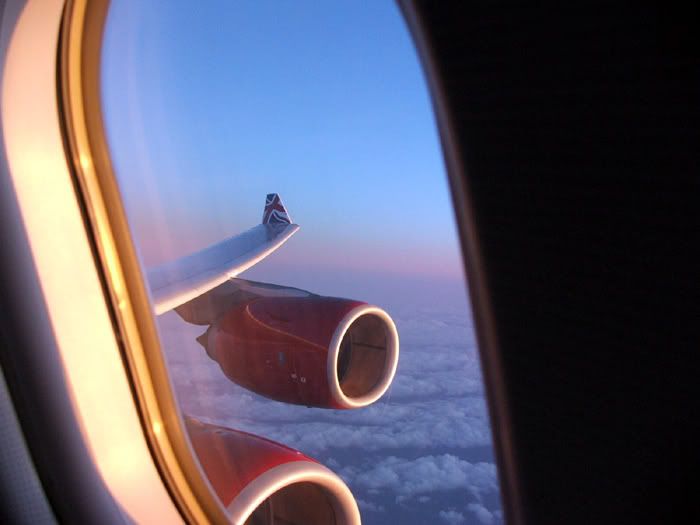 The crew announced that the V:Port inflight entertainment system would shortly be starting and that if anyone had any problems using it to just ask a member of crew. The noise cancelling headphones really work, even though I found the A340-600 cabin quiet anyway. My drink, a Gin and Tonic, was soon delivered to my seat by the friendly crew, along with a dish of crisps, Walkers Sensations actually as I had seen them all being dished out on the bar, cheese and chive I think they were, they were nice anyway and so was the Gin and Tonic!
Orders for dinner were then taken by the crew and I chose the soup to start followed by the Beef Hotpot.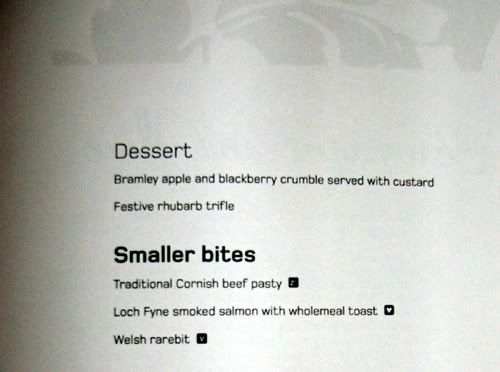 Virgin are having a 'British Classics' menu during February so all the choices had a British influence. So with G&T in hand I turned my attention to V:Port and had a play around with all the features and on demand entertainment. The I:Map moving map was good to check on the status of the flight, though I never did figure out how to do the 'interactive' feature where you can zoom in and out all over the globe! I then watched a bit of 'That Mitchell and Webb Look' and then settled down to watch Borat the movie.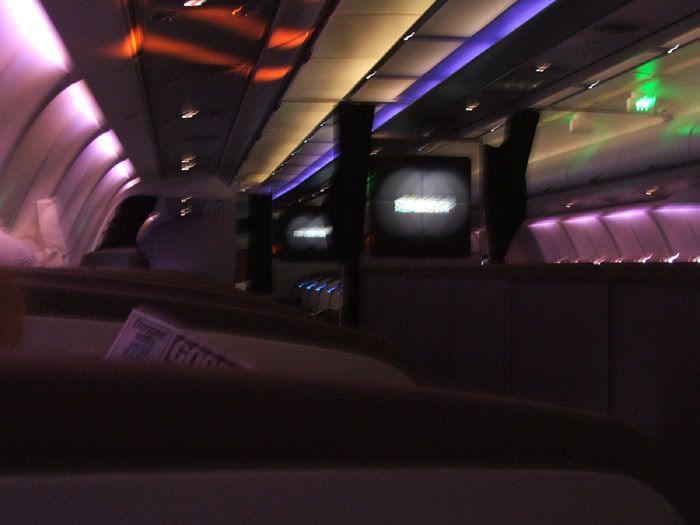 Dinner was then served and the crew came round with table cloths and then laid everyone's table. My Broccoli and Stilton soup arrived, along with a choice of warm bread rolls. A choice of still or sparkling water and wines was also offered, and I opted for a glass of water and a glass of Chardonnay.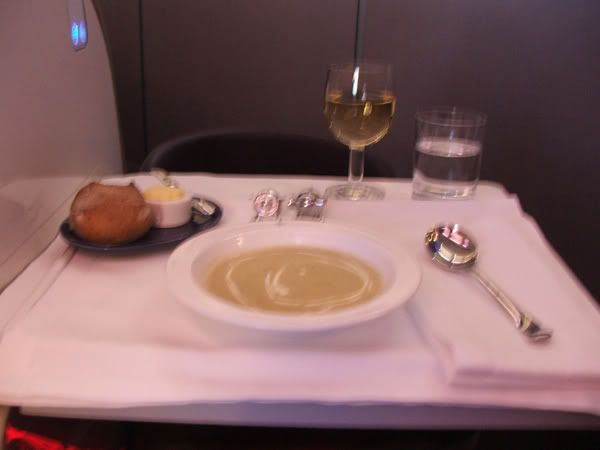 The soup was really tasty and luckily there was hardly any turbulence so I didn't make a mess!
Next up was the Beef Hotpot, wonderfully presented and just as tasty.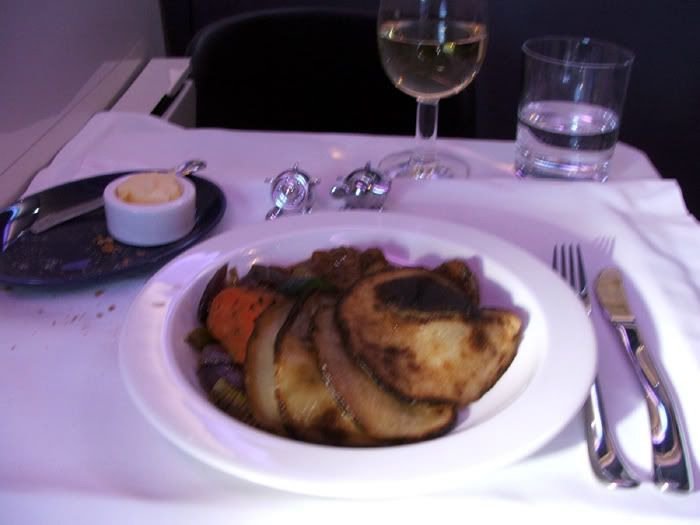 After I had finished the main course I then chose the apple and blackberry crumble served with custard. This was lovely and the portion size was nice and big too. My mate only wanted the custard for some reason I will never work out, but this wasn't a problem. Even though our cabin steward told her it wasn't the nicest of custards, not like home made. She got her bowl of custard and she said it was very nice so she was happy!
Dinner was then cleared away and I settled down to the rest of my movie. After that had finished I had been sat down for a few hours and felt like a leg stretch and change of scenery so we walked over to the upper class bar area as no one else was there.
View Large
View Medium


Photo © John Thompson
I got chatting to our cabin steward David over a Gin and Tonic, he was on virgin cola of course lol. It was nice to find out he was also originally from Manchester and had been working for Virgin for 3 years and really loved his job, though he said you have days when your "so tired you could vomit and you think god what am I doing!". He was encouraging me to apply for cabin crew with Virgin, maybe if I fancy a career change perhaps! My drink was constantly kept topped up with more gin and tonic, and then I was offered an ice cream which I ate sat at the bar. Also they had put out a dish of kids sweets including my fave drumstick lollies, think they were there more for the crew than the kids!
The crew on this flight were superb and all very attentive yet still had fun at the same time and it was good to have a bit of banter with them sat at the bar. David our cabin steward told us that originally there was only 20 people booked in upper class for this flight but that everyone else had shown up so the rest of the aircraft was full hence about 25 people had been upgraded to Upper Class and there was now 45 people in the cabin, he was looking forward to a quiet flight, unlucky!
Also Mariah Carey was due to be on this flight but as it was so full and Upper Class subsequently full she had to wait for the following flight! The crew suggested a few good night spots to check out in New York, though the crew were staying in Long Island after the flight tonight and so weren't hitting the town. Some of the stories they had told me about going out with passengers on a night out were hilarious, I'll spare the details here! A bit more info from the crew was that it looks like Virgin Atlantic might be looking to start New York flights from Manchester in the near future, a few of the crew said this was looking likely.
After around an hour or so of fun sat at the bar the seatbelt sign was turned on and we had to return to our seats due to some turbulence, though we were told to come back once it had been turned off again. I took a few more drumstick lollies, refreshers and love hearts to tide me over back at my seat!
We were now flying over north eastern Canada, chasing the final glimpses of daylight.
Our new friend David came over to ask if we would like a drink before arrival into New York, to which we decided on Baileys. A few minutes later a glass almost full of baileys arrived at my seat, anyone would think he was trying to get me drunk!
As the sun set we began our descent into JFK airport. Looking out of the window I could begin to see the snow covered streets of New York and Queens. The weather in New York had been bitterly cold and snowy recently. We touched down perfectly at JFK on scheduled at 18:50 to be greeted by snow all over the place, pilled up at the side of the runways and frozen solid over the taxi ways, you could hear it crunching as the plane taxied over it. During this time the crew came through the cabin handing back coats from the cloakroom.
Once on stand there was a bit of a delay due to problems manoeuvring the airbridge due to the ice and snow on the stand. Once sorted we were the first people off the aircraft and so didn't have to queue for immigration, and as our bags had been checked in as Premium Economy which now have priority luggage, we didn't have to wait long for our bags either.
All in all this was the most amazing flight I've taken so far. Not only did I somehow get lucky and get an upgrade to upper class but the crew and service onboard were outstanding. Had a really good laugh with the crew, and that's what makes the flight I think, you can have a standard product across the board but if the crew just aren't in the right mood then it just sours the whole experience, as I found out on the return flight a few days later. I was lucky on this occasion, can't fault any part of this flight and it certainly acted as an excellent incentive to try Virgin Atlantic again, though Upper Class is still just outside of my budget at the moment!
Hope you enjoyed my trip report, any questions or anything then ask away!
Mark