Feedback always appreciated.
Trip Report: 020
Flight Category: Y-DSR (See Report End)
Date: 15-Feb-07
Dep.Arr.Time: 1740/2015/01:35hrs
Flight:
VIVA AEROBUS VIV 171
, 557 miles
Routing: CJS-MTY
Aircraft: 733
Seat: Economy, 19F (Free Seating)
I > Background:
I have been living in Mexico for 3 weeks on an assignment and finally got some time to explore some of the domestic new-comers. Since I was in the very glamour-less town of Ciudad Juarez, I decided to escape to the epitome of all things "fresa" city of Monterrey to eat some good food, party hard, and generally spend lots of cash. It also helps that I have a friend living in Chipinque with a swim pool that has views to die for
flew Viva Aerobus on both outbound and inbound flights; this is the first Viva Aerobus trip report with pictures (hehe) and the first to have pics from CJS. I will have some comments on the return flight later, but no trip report.
II > Pre-Flight:
a) Before Airport:
Booking for the entire trip was made using Viva Aerobus' website at
www.vivaaerobus.com.
The website is fast and booking is done in a jiffy. You also have the ability to view/edit/modify your reservation as well as check-in online. However, the online check-in process is meaningless as you still have to go to the airport check-in counter and be assigned a boarding group. Since VIV has free seating, choosing a seat is of course not an option.
b) At Airport:
CJS Airport is small, efficient, and adequate for the community it serves. However, the process to check-in is far more complicated than it needs to be. Despite having check-in online, you still have to go through to the counter to obtain the "real boarding pass" and be assigned a boarding group. Prior to entering the check-in area, you press the green/red button (sort of what exists at customs on arrival at many Latin airports) and have your hold luggage opened and screened by a representative. I found this pretty retarded given that prior to the actual check-in, a representative from the airline opens and checks EVERY hold luggage. However, both checks are extremely sloppy and I got the impression that it was cursory. All my bag got was a touch-and-go.
The explosion of airlines in Mexico is evident as Viva Aerobus does not have its own counter (see picture), but a stall in front of the other airlines. Check-in was quick; people with over 1 hold luggage had to pay an expensive fee. The boarding pass was a printed paper (ex-Monterrey-their hub, check-in is grocery receipt styled, sort of like NK) and had a yellow marker highlight "A" (my boarding group). Counter staff were professional and seemed in a rush to get through the boarding process. Not rude, but not cheery either.
After check-in, I had another Tecate light at the pre-boarding café and then headed to the boarding area (2 jet bridge gates and 2 walk-to-plane gates) after clearing security. Now security was interesting as they ask for your passport and your arrivals card. As usual, my Liectenstein passport got many confused looks; further compounded by my ability to speak Spanish
.
Ok, the boarding area has another small café/bar and a little newsstand. What I found absolutely bizarre was the complete lack of any visual-flight-display-units to tell passengers the status of their flight, gate information, etc. Until the last minute, it was a guessing game to figure out which gate would be for what flight.
Boarding was announced as soon as the arrival aircraft was seen and I was very impressed at the expedited ability to turn-around the aircraft for the return flight. It seems that Ryan Air management has done a good job. Perhaps Air Deccan could learn a few things here! However, boarding was absolutely chaotic! First, the gate agent made an announcement that she would collect the stubs of the boarding passes. After she had done so, minutes later, she made another announcement to form lines (A/B/C/D) based on the boarding pass. Now this made for an interesting thought in my head … what if I gave my boarding stub in and then simply walked out of the airport … how would the crew ever verify that I was not on board? Its not like they checked the names against a manifest either at the gate or did a count inside the plane … anyways. The lines were more like mob and my group A had this particularly annoying lady who kept on pushing people aside to get to the front of the pack. It was pretty bad. In the rush of pushing and shoving, I forgot to take a picture. The lines were probably the worst I have encountered in a very long time. I must say though, the line management on the return flight ex-MTY was far superior.
Anyways, after embarking on the aircraft, passengers made a mad dash to the seats via jet-bridge. Since I was at the tail end of group A, I managed to only end up in 19F. What I found annoying was that both the exit row seats (those in 733 with no one in front) were taken by unformed VIV staff (red polo + khakis; unlike green for the FAs).
While the cabin of the B-733 was clean, seat pockets were filthy and the aircraft was definitely showing its age. The crew greeted us with a smile and assisted some passengers to their seats. Load was around 75%.
Airport - External:
(Ciudad Juarez Airport)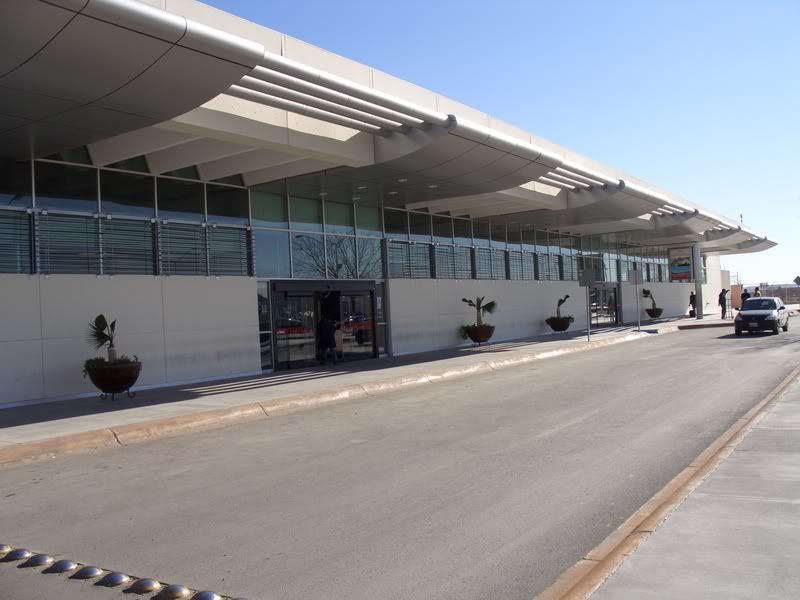 Check-In:
(Notice the make-shift counter)
Airport - Internal:
(Pre security area)
(Post security area)
Scenes of the tarmac:
(Aviacsa; they must have one of the more interesting liveries out there)
Lounge
NONE
Boarding:
NONE
III> In-Flight:
a) Service Schedule + Impressions:
Immediately post take off, inflight sales of food and beverages began. VIV offers nothing complimentary.
b) Aircraft + Seats:
This was probably the most rickety aircraft I had flown since Adam Air's B735 on the SIN-CGK sector in Sep 2006 (http://www.airliners.net/discussions/trip_reports/read.main/87737/). The aircrafts clearly showed their age, made loud and weird noises at take-off, and had bins open mid-air. Seat pocket was filthy; thankfully the bathroom was clean. Oh, the seat was probably the most cramped seat I have
EVER
sat on in my life (disclaimer: I have never flown Ryan Air). The seat was cramped and I could barely fit my legs (I am 5-9). In fact, even with the middle seat empty, I found it hard to position myself. Finally, the seats did not recline and the width seemed way below norm. Overall, it made for an extremely uncomfortable flight and a reminder on why I should not experiment with super LCCs.
Aircraft:
Views from Aircraft:
(At Monterrey airport, another Viva Aerobus 733. Given how much I like the Aladia and Interjet logos, the VIV logo is just BLAH)
Seat Leg-Room:
(Try fitting in)
Seat Recline + Angle View:
(No recline)
Cabin: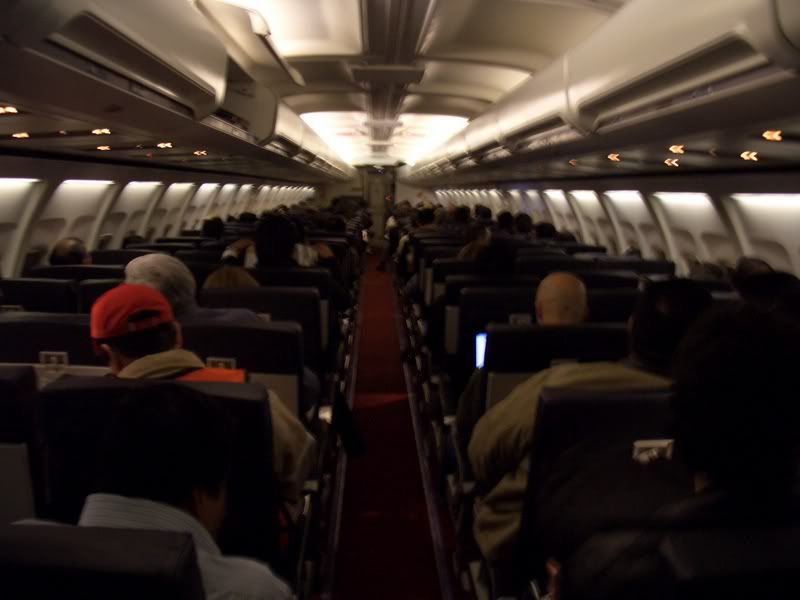 c) Meal + Beverage:
Everything on board VIV is for sale; this includes water. Given that I was going to the ritzy Senor Tanakas in Monterrey, I decided not to eat anything. However, the flight did have good sales and people were getting all kinds of beer and liquor. I am sure, VIV will make good money on this.
(Purchase Menu)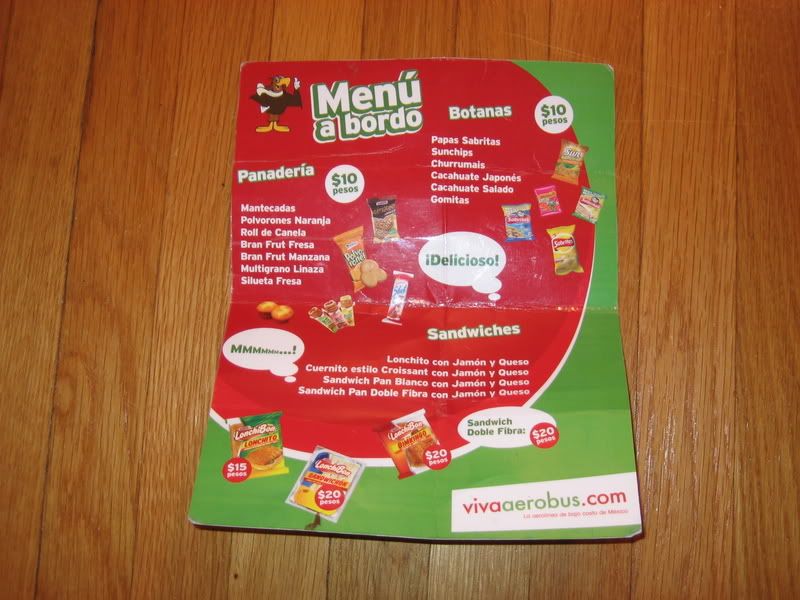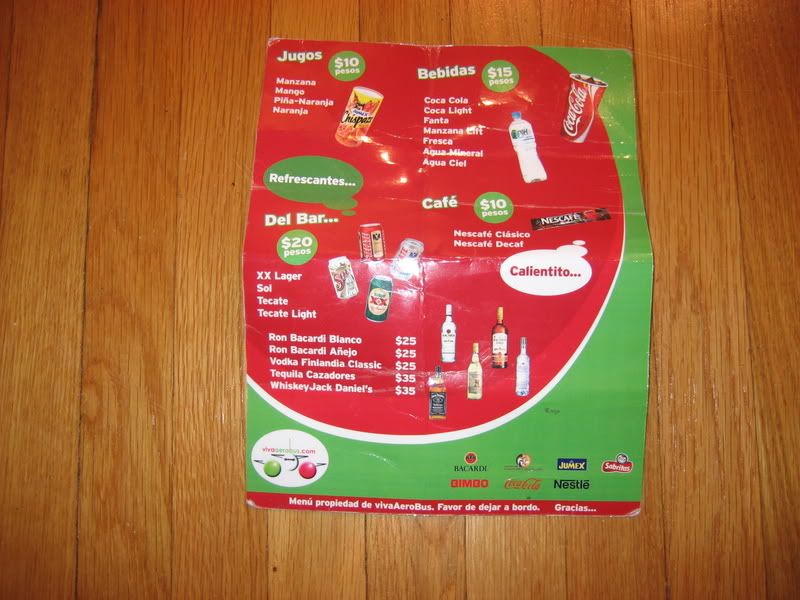 d) Inflight Entertainment:
No IFE. No inflight magazine. Nothing.
(In-flight magazines, Boarding Passes, etc. – featured here is the cheapish boarding pass)
e) Crew:
Blah. One of the crew member was this 18 year old guy who was over-zealous in telling me that photography was banned in-flight. Of course, when challenged, he could not bring backup documentation. I could not understand any of the announcements made in English. However, to their credit, they were fast and efficient with having the food+beverage sale cart move down the aisle and also seemed to have develop a sign language to communicate with the galley on what a passenger would want (and what was missing from the cart).
IV> Post-Flight:
Bags came out in 20 minutes; this was better than on the return when bags took an unbelievable 45 minutes to arrive at the small CJS! Viva Aerobus exclusively uses the ware-house called "terminal C" which follows a minimalist IKEA design. Can some of my "REGIO" friends tell me why there is a terminal A and a C, but not a B? Interestingly, many of my local friends did not know how to get to this terminal and some thought there was no access for regular cars.
(Terminal C "warehouse"-Monterrey Airport)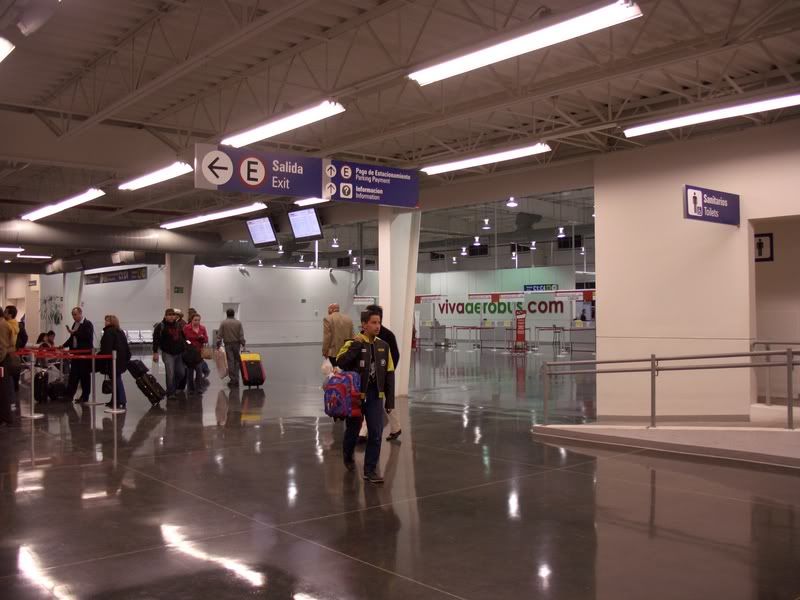 V> Impressions + Scores:
Everything about Viva Aerobus is cheap. Their aircrafts are rickety; the boarding pass is shabby; their crew is unrefined; and there is not even free water on board. All this translates to their (rightful) claim as the low cost airline of Mexico. Despite my negative review, it needs to be made clear that VIV is not in existence to win accolades. Its established to bring air travel to the very price sensitive Mexican market and I am sure it will do well. I would recommend the airline for those on a tight budget and remind them that the low fare means bare-bone service. Personally, I would not fly with them as I did not feel safe. Their aircraft was poorly maintained and I am wary that the crew onboard lacks experience to deal with a situation. Hopefully, I will never have to be proved wrong/right on this. Finally, I strongly maintain that even the cheapest LCCs can offer some basic water and other provisions. Viva Aerobus could do the same and can continue to polish their product. Given my recent experience in India, perhaps they can send their staff to learn a few things about being professional from Spice Jet or Indigo.
Reservation: 8.0
Check-In: 5.0
Lounge: n/a
Boarding: 3.0
Seat: 1.0 (Worst Review)
Aircraft Overall Ambience: 2.0
IFE: 2.0
Crew Service: 4.0
Food: 4.0
Beverages: 5.0
Amenity Kits + Others Freebies: 5.0
Disembarkation: 6.0
On-Time Record: 10.0
OVERALL IMPRESSION: 4.58
(Pre-flight average of all-reviews: 6.53/New Calculation based on feedback from this report onwards)
(Scores are based on comparison with other airlines in THAT class of service – No comparison of Y vs. F for example)
VI> Other Trip Reports:
1/
Avianca: BOG-LIM: 07/06/06: 7.09pts: Y-IMR
2/
Air Tran: EWR-MDW: 08/02/06: 6.73pts: Y-DMR
3/
West Jet: YYC-YVR: 09/05/06: 7.14pts: Y-DMR
4/
Air Canada: YYZ-YVR: 09/02/06: 5.92pts: Y-DLR
5/
Air Canada: ALB-YYZ: 09/01/06: 5.88pts: Y-ISR
6/
Singapore Airlines: EWR-SIN: 09/20/06: 7.81pts: J-ILR
7/
Adam Air: SIN-CGK: 09/22/06: 6.04: Y-ISR
8/
Valuair: CGK-SIN: 09/22/06: 5.04: Y-ISR
9/
Spice Jet: CCU-DEL: 09/25/06: 6.67: Y-DMR
10/
Indian: DEL-CCU: 09/26/06: 7.25: Y-DMR
11/
Air Sahara: CCU-BOM: 09/28/06: 4.42: Y-DMR
12/
Air Deccan: IXZ-CCU: 10/07/06: 5.75: Y-DMR
13/
Alliance: CCU-IXA: 10/08/06: 7.54: Y-DSR
14/
Kingfisher: IXA-GAU: 10/08/06: 8.21: Y-DSR
15/
Indigo: GAU-CCU: 10/08/06: 6.54: Y-DSR
16/
Singapore Airlines: CCU-SIN: 10/11/06: 5.88: J-IMR
17/
Air Canada: ICN-YYZ: 10/12/06: 7.13: J-ILR
18/
Delta AirLines: SEA-JFK: 11/24/06: 7.17: F-DLR
19
USA 3000: PUJ-BDL: 01/06/07: 5.96: Y-IMR
(Note on Codes: Y – Economy, J – Business, F – First :: I/D – International/Domestic :: SR/MR/LR – Short/Medium/Long Haul :: I have designed these codes so people don't believe my scores are comparing apples and oranges)
VII> Other Pictures:
NONE