Hi,
This is the return leg of my trip to New York, the outbound trip report in Upper Class can be read here
Virgin Atlantic - Upper Class - LHR-JFK (+ Pics)
(by
Demoose
Feb 23 2007 in Trip Reports)
Airline: Virgin Atlantic
Flight: VS 46 New York JFK (JFK) to London Heathrow (LHR)
Date: 21 February 2007
Aircraft: Boeing 747-400 G-VROC (Mustang Sally)
Departure Time: 2000
Arrival Time: 0740*

Well after a fantastic few days in New York it was time to begin the journey home to the UK. The cab dropped us off at Terminal 4 departures outside the Virgin Atlantic check in area around 4:30pm for the 8pm departure to Heathrow.
I was surprised how light and spacious Terminal 4 was, it had a bit of a Stansted feel to it. I spotted the Virgin desks quickly and headed over to check in at the Premium Economy / Upper Class desks. There was no queue and we were soon checked in with my assigned seat of 72A on the upper deck of our 747.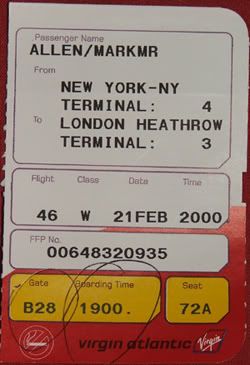 I then spent about an hour looking around the shops of Terminal 4 and then found a seat which looked out at the busy apron.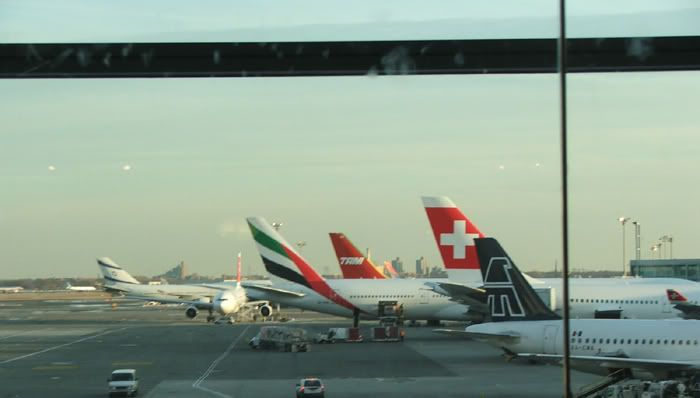 I noticed the later Virgin flight had a delay of 2 hours, and the last inbound Virgin flight had been cancelled, so I was glad our flight was looking like it was getting away on time.
I then headed through to the gate area and our flight would be departing from gate B28. Surprisingly I found the US security a lot more organised and smoother than I had gone through in the UK on my outbound journey. Maybe I had just got used to the US security and knew I'd have to take my belt, watch, jacket and shoes off at the x-ray check point. I was soon through to the departure gate and walked up to the gate.
Our 747-400, G-VROC was parked up being prepared for its flight back to London. At the next gate along A340-600 G-VBLU was about to depart on the earlier flight to Heathrow. Opposite was an Emirates 777-300ER being prepared for its flight to Dubai.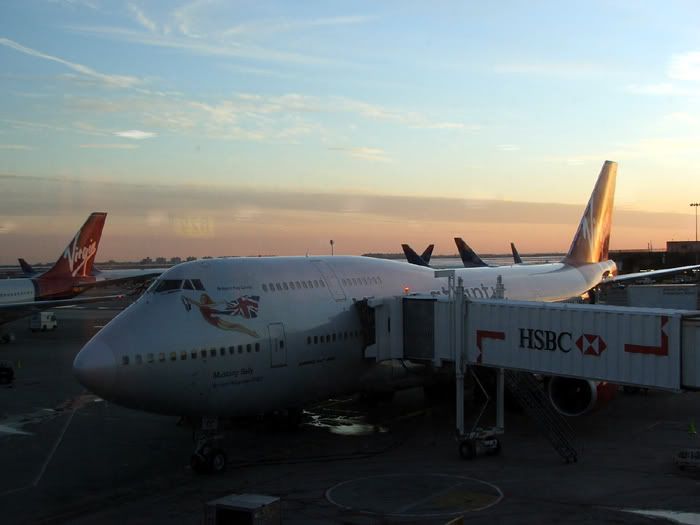 The gate slowly filled up, and there were some right characters on this flight it seemed, people constantly going up to the gate agent trying to swap seats and get upgrades, even people going up to the flight crew when they arrived to operate the flight! Boarding was announced an hour before departure, with Upper Class and Premium Economy passengers invited for boarding first. I headed to the gate and was on my way down the pier to the awaiting 747. On arrival I showed my boarding card to the crew, and the steward told me 'yes turn right', to which I replied 'upstairs right?' and he said no, turn 'right just down there'. So me not wanting to cause a fuss did as I was told, knowing my seat was upstairs. Even though it was my first time on a 747 I wasn't aware there were two staircases onboard...so I stood around like a lemon and what a surprise no row 72 on the lower deck so I had to then show my boarding pass to another member of crew who actually knew the layout of the plane and was then directed upstairs, at least she said sorry for the mix up.
View Large
View Medium


Photo © Dan Valentine
I found my seat on the upper deck, which is split half upper class towards the front of the bubble, and the rear of it being Premium Economy. The 747-400's have yet to be fitted with the new purple leather seating in Premium Economy and so it was the standard old seating on this aircraft but it wasn't so bad.
Once seated a member of the crew came round offering orange juice and champagne before departure, of course I chose the champagne. I stowed my luggage along with the blanket and pillow, bottle of water and amenity kit which had been placed on my seat.
Once everyone had boarded the crew handed out menus and took drinks orders for after take off. I went for my usual gin and tonic. Our departure time of 8pm approached and the flight crew gave us some information about the flight, our flying time would be just over 6 hours and we should arrive on schedule at Heathrow. However, we were later informed that a passenger had been taken ill and had to be taken off the flight along with her baggage and hence we didn't leave the gate until 8:40pm.
We then taxied towards the runway and joined the long queue. The long wait meant some people had started using laptops and blackberry's again, but this was spotted by the eagle eyed crew who promptly told a passenger to turn it off. This was followed by a stern warning announcement throughout the aircraft, this crew meant business, they weren't standing for any trouble and had already warned everyone that no alcohol would be served to under 18's and that it was illegal to be drunk onboard an aircraft, oh and that some programmes on V:Port were unsuitable for children. Anyway we weren't lined up for take off until 9pm. As soon as we turned onto the runway we began our take off roll, no more waiting around. Skies were clear and we got our final look at the New York skyline all lit up, with a lot less snow on the ground than had been there on my inbound flight a few days ago.
We climbed to our cruising altitude of 34,000 feet and the cabin crew came round with the drinks orders and took orders for the evening meal. I settled down to use the V:Port system which took ages to get going.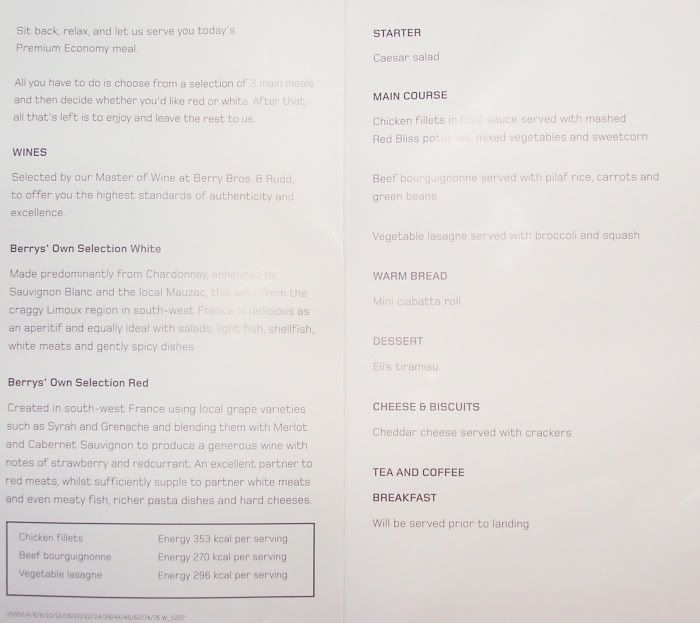 It wasn't long before the meals were served, with the kids meals being served first. I got the impression the crew were rushing to get everything done as quickly as possible. I know people want to get some sleep but they were rushing through the cabin and took my drink away before I'd even finished it!
I was then served with my evening meal, which was some southern fried chicken fillets with sweetcorn, mashed potato and sweetcorn with a BBQ sauce. Virgin have recently upgraded their whole Premium Economy service and the meal is now served in china plates with metal cutlery and glasses. The glasses had the new Virgin Atlantic logo on it which looked good. Wine and bread rolls were offered also. The meal was very nice actually and was followed with the choice of tea and coffee.
Again the eagle eyed crew were quick to clear anyone's tray away if they hadn't touched it for more than 20 seconds. A baileys and brandy service was then offered and I had a baileys. I was going with the theory that if I drank enough it should help me sleep for the rest of the flight! By now I'd had a glass of champagne, a gin and tonic, 2 glasses of wine and a baileys and we'd only been in the air for about an hour and a half!
The cabin lights were switched off and I reclined my seat and had a snooze for a few hours, I don't think I actually slept though.
A few hours later and daylight was slowly visible on the horizon and the crew came round with tea and coffee and the choice of a cereal bar or muffin.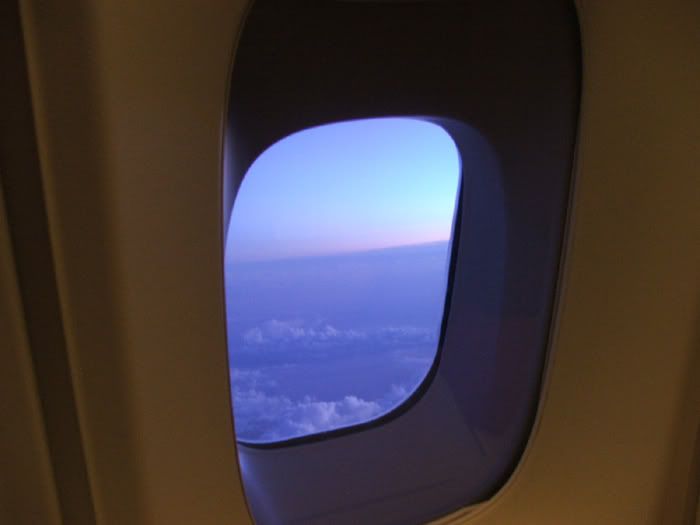 After this I wanted to purchase some Duty Free, so I asked our crew member who replied with 'oh sorry duty free is closed now, its been closed a while'. So I was like oh right, I didn't know it had come round. To which she replied 'oh yes its my fault as I forgot to come round and see if anyone wanted anything'. How rubbish I thought, so no souvenir Virgin 747 model for me then, was a little bit annoyed with this and the fact that the stewardess made no effort to rectify the situation, it wasn't as if I even wanted to buy alcohol. So if anyone knows where I can get hold of the souvenir Virgin 747 which comes in the metal presentation box please let me know!
The flight crew informed us of the final leg of our flight, flying over the south coast of England over Cornwall and over Southampton before turning towards London. The UK was covered in low cloud so there was nothing to see out of the window during approach. We then entered a hold for about 15 minutes, adding further delay to our arrival. Eventually we left the hold and headed for finals to runway 27R and slowly signs of London emerged beneath us, a dull and wet Thursday morning rush hour. We touched down and braked quite sharply with reverse thrust before taxiing off the runway and into the assault course of taxiway works going on at Heathrow at the moment, so it took us a while to eventually reach our gate. We arrived at 8:30, an hour late, but this wasn't even mentioned and no apology from the crew. My connecting flight wasn't until 11am so it wasn't a problem for me.
Disembarking was a bit chaotic on the 747 due to the mix of upper class and premium economy passengers on both decks, however once everyone got moving it didn't take long. I said goodbye to the crew, who sadly were no way near as good as the outbound crew.
Overall not a bad flight, I like the improved Premium Economy service, I imagine with the new seats, which are only on the A340-600's at present, the whole experience is a little bit better too. Virgin give you a lot more than the likes of British Airways' Premium Economy equivalent. The only downfall would be the crew on this flight, who seemed more intent on getting everything done as quickly as possible and didn't want any inconvenience from passengers.
One thing which was annoying was my connecting flight with Bmi, a partner airline of Virgin Atlantic. Now Virgin give you a nice generous baggage allowance however Bmi is one piece per passenger and 20kg maximum. So when I came to check in after my Virgin Flight we were overweight and had to pay excess for the sake of 4kg's. Most other people in the queue had to do the same. One more reason to avoid Bmi, it's like they are trying their best to turn customers away.
Anyway I Hope you enjoyed reading my experience with Virgin Atlantic, any comments are greatly appreciated.
Thanks,
Mark