Hello everybody, this part 2 of my trip to Puerto Ordaz. You can read part 1 here:
My Trip To The Iron City (Venezuela)
(by
Erikgnoha
Feb 19 2007 in Trip Reports)
Well, after spending 4 wonderful days in Puerto Ordaz it was time to come back. My return trip was on Carnaval Tuesday, and I supposed the airport was going to be crowded. My Avior flight to CCS with a stop in BLA was supposed to depart at 5:10 pm. I went to the airport around 10 am to leave my rented car and someone told me that all the flights between 2 p and 8 pm were canceled since the visit of the president of Argentina. I freaked out big time and ran to Avior's counter. I handed out my ticket to the agent and he began to do his things. After a while he tells me the flight is cancelled due to the visit of Mr Kirchner. The funny thing was that Aeropostal's counter and Aserca's counter were full with people and I went there and asked if their afternoon flights were going to be canceled and they told me that they were going to have normal operations. I came back to Avior's counter and demanded some explanation. The agent called his supervisor and he told me the my flight was canceled 1 month ago. I bought my ticket 1 and half month ago and I didn't receive any information about this. Furthermore, when I was at CCS for my flight to PZO, (4 days before) the slow agent printed my itinerary with the flight that I was suppose to take this Tuesday, with no change!! C'mon, something weird happened here. The supervisor said he would find me a non-stop flight to CCS with Aeropostal this afternoon. I accepted, since I wasn't going to pay something extra. I went back to the hotel to get ready for my departure.
My new flight would depart at 4:45 pm, so I arranged a taxi to pick me up at 2:30. I was at the airport at 2:45 pm. Once again I went to Avior's counter and the supervisor told me that there was a problem.... Oh no, what happend now I thought. It turns out that VH said that I had to pay my ticket. In exchange, I would have credit with Avior on my next flight. I was so pissed... but, anyways, I didn't have any other choice so I had to pay the darn ticket. I checked my bag I went to the waiting hall. Puerto Ordaz's airport is going trough a nice revamp. Two jetways are been builded and the terminal is already finished.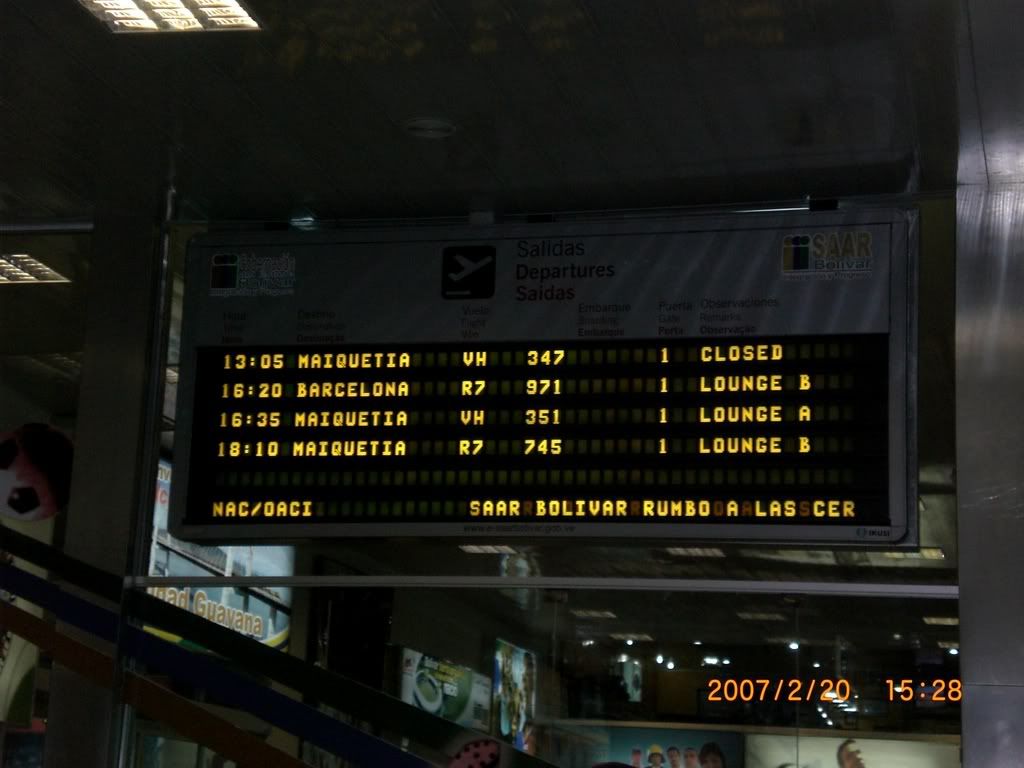 The main board for this afternoon.
After I took this picture I went to security checkpoint. PZO has to waiting halls, my flight was going to depart from hall A. I looks new and comfortable. While waiting I took more pictures on the apron.
VH 347 to CCS was delayed a couple hours.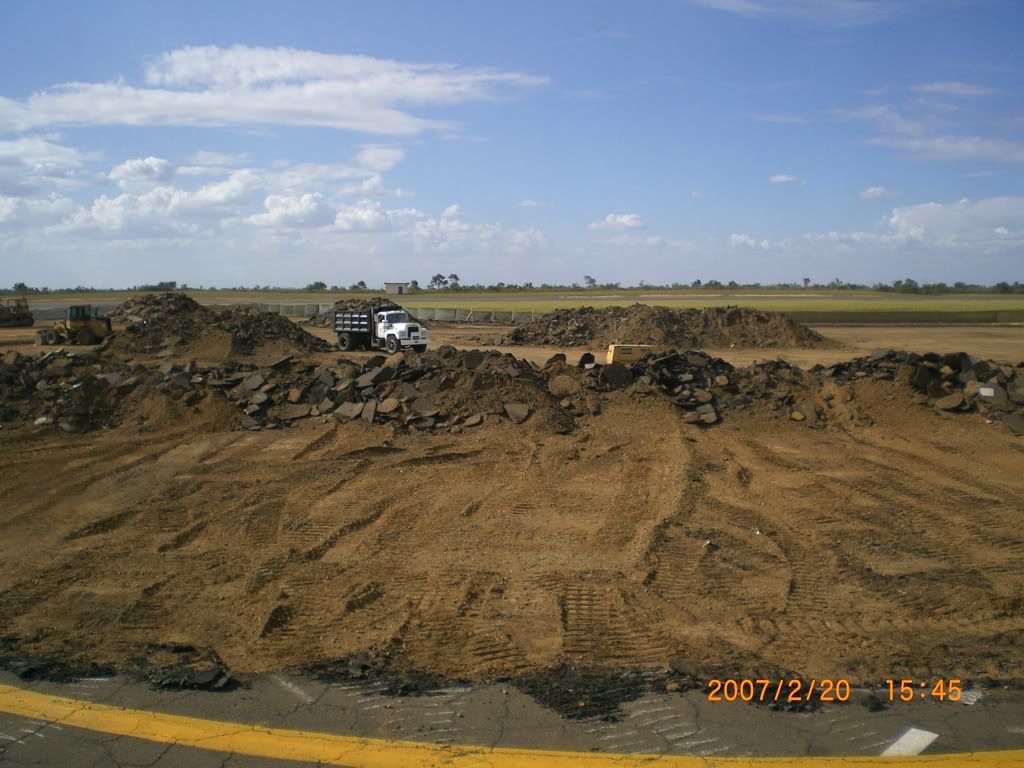 This is the work I mentioned before.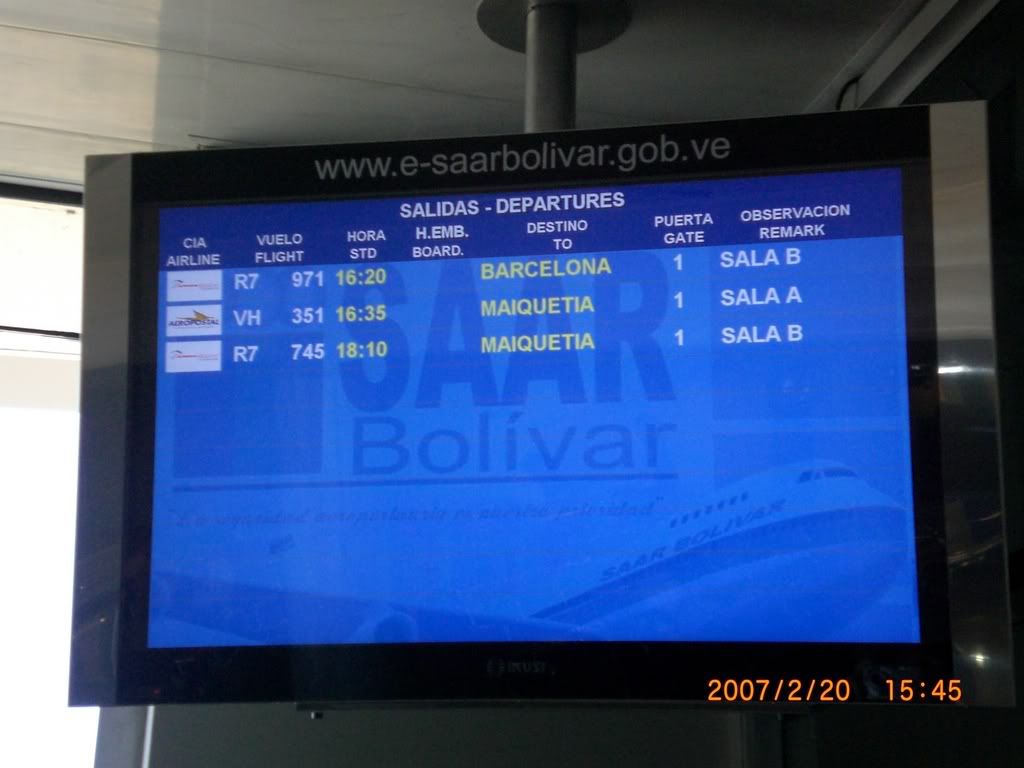 The board inside the waiting hall.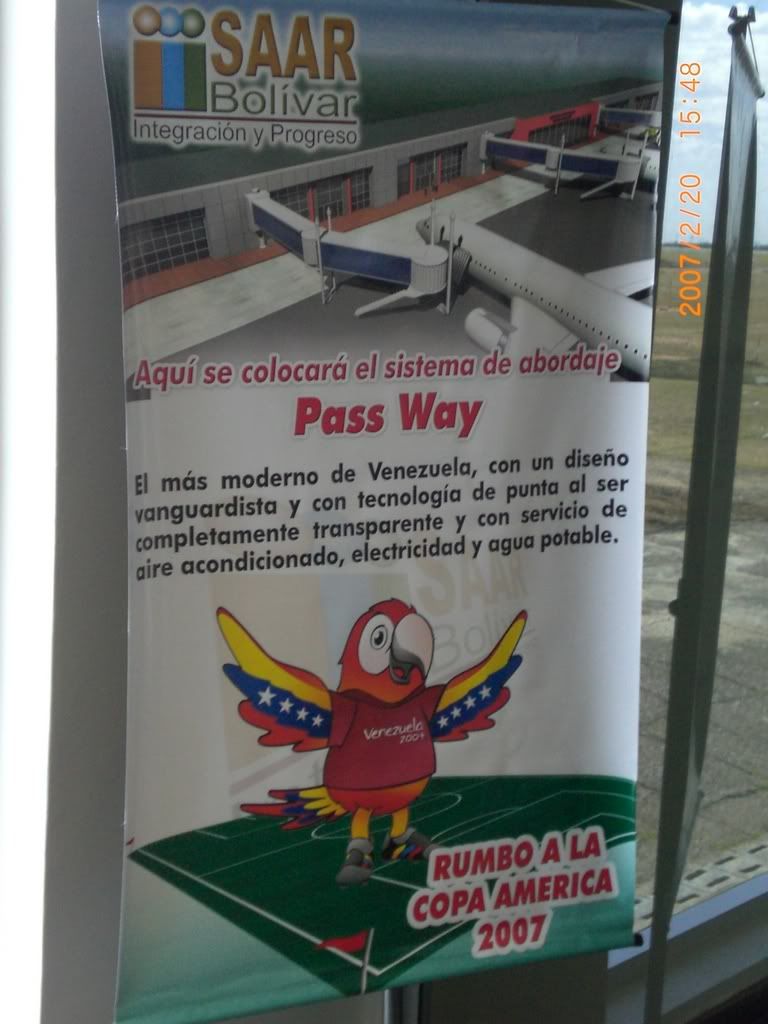 This is the advertisement of the work the government is doing at the airport thanks to La Copa America
VH 347 taxiing to runway
This is the way to the gate. Really nice and new.
At 16:00 pm, the inbound flight of VH arrived. I was so happy since my flight wasn't going to be delayed.
This is the plane I was going to fly on:
Saturday, 20 February 2007
Puerto Ordaz (PZO) -- Caracas (CCS)
Airline: Aeropostal
Flight number: VH 351
Scheduled departure time: 16:35
Scheduled arrival time: 17:40
Type of aircraft: DC-9-50
Registration: YV-135T
We were called for boarding at 16:15. Boarding was going to be via bus. After the shortest bus ride of my life everybody began to board the plane.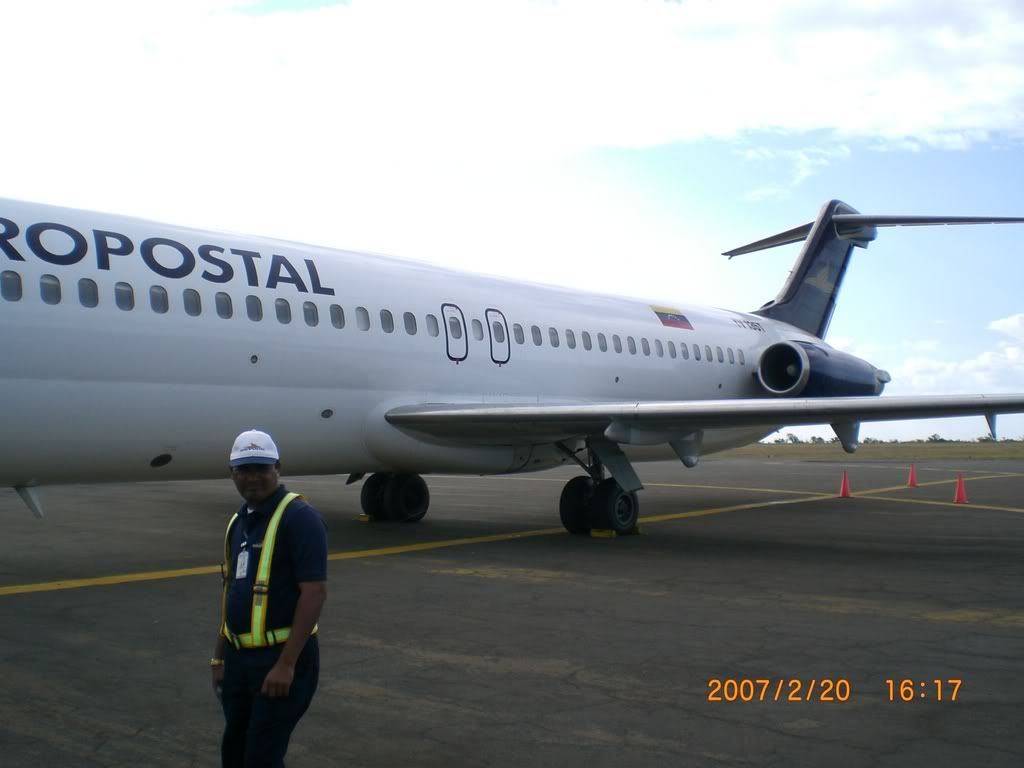 This is the plane. It doesn't look old at all with VH's new paint scheme.
Here you go, Argentinian president aircraft. Next to this airplane was a Fokker with the Argentinian flag as well.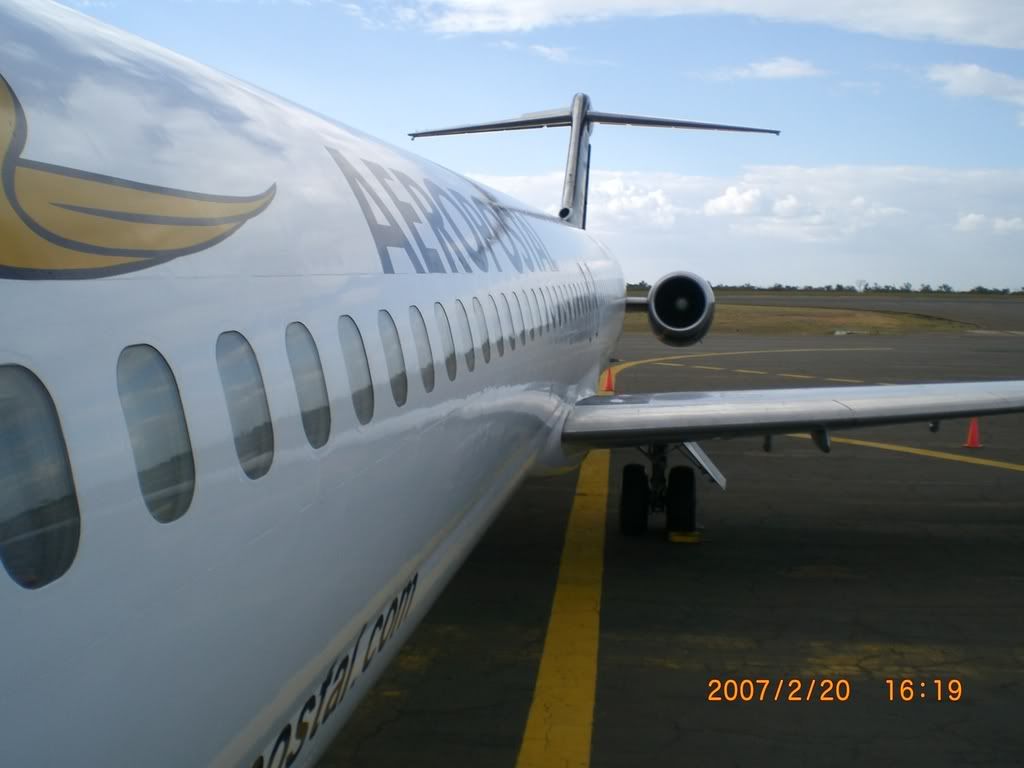 Everybody was settled down at 16:30 and the safety procedure were made soon after (only in Spanish), and we pushed back at 16:33. This flight was completely full. The chief purser came in the PA and welcomed us to this flight. He said that this flight was going to last 45 minutes, we were going to reach 28.000 Ft of altitude, and 900 Km/h of speed. It was a nice touch of VH giving us these details.
After a couple of minutes takeoff roll began. Since my seat was 3E (window seat) I couldn't hear this old and noisy, but trusty DC-9 engines. It was a power full roll though. These are the pictures I took meanwhile:
While reaching cruising altitude we hit some rough turbulence since there were many clouds on our way:
Drink service began soon after. However, I was surprised since the service started from the back of the plane. It took a little while until I was able to choose between different kinds of soft drinks. I opted for a Frescolita. The crew was smiling the whole time, with a good attitude. However, I must say this plane looked worn and old, the carry on bins were really small and uncomfortable. The legroom was definitely tight and it didn't help the fact that the flight was full. The flight was uneventful.
Descending began at 17:20. After we made a big U turn we were on final approach.
A view of Maiquetia town on short final.
Alitalia 687 to Rome.
National concourse. Busy afternoon.
We touched down at 17:31 and made a rather slow taxi to the national terminal. We waited 4 minutes for our gate 9.
Some empty gates at the national concourse.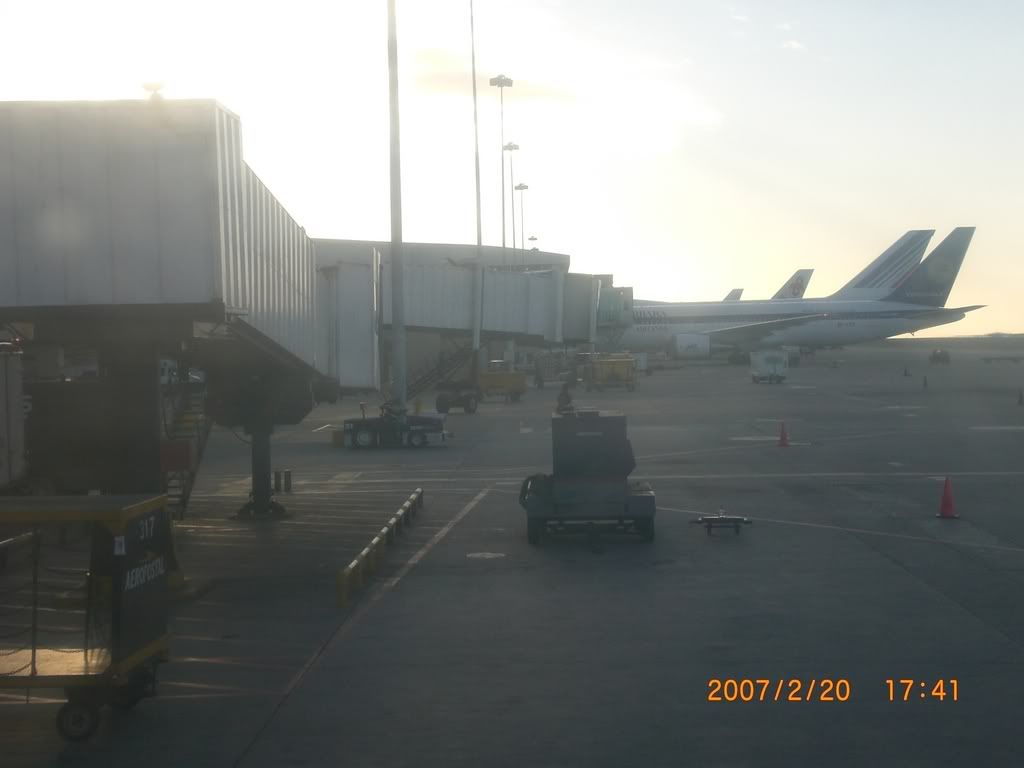 This the view from gate 9.
We pulled into the gate at 17:41. Everybody started to disembark but I waited a little bit to ask for some cockpit pictures. I asked to one flight attendant and she asked to the captain. He said he had no problem with that so I went inside and snapped these 2 pictures: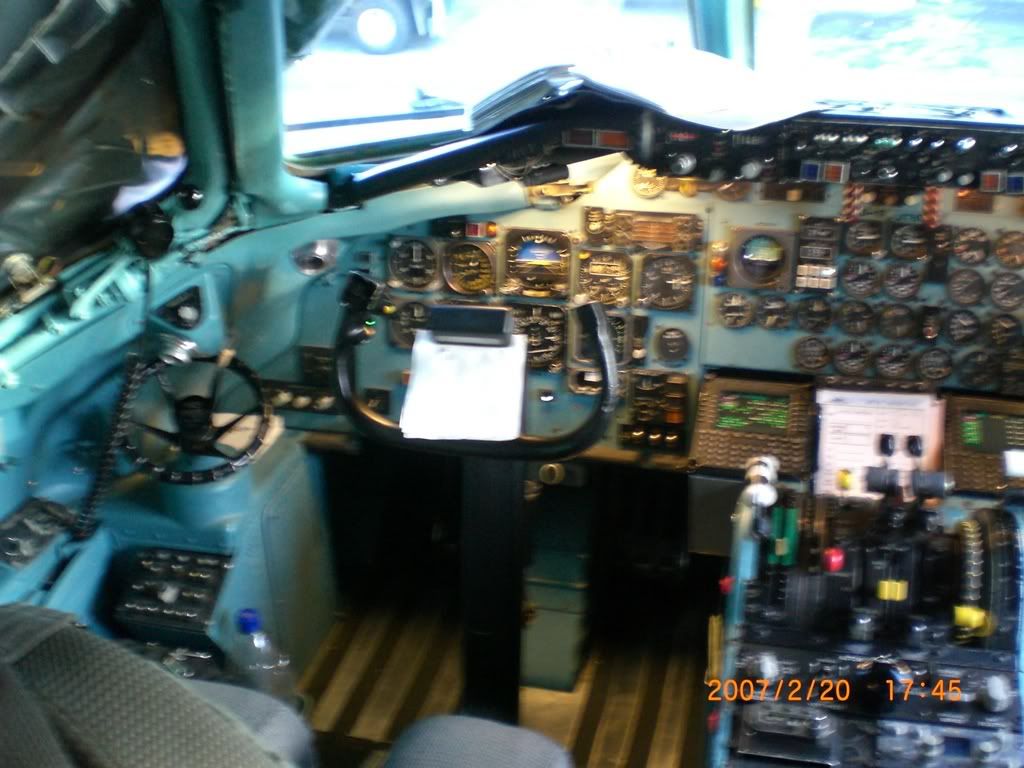 Sorry for the blurry picture
This went better. This cockpit looks really old, which it makes everything more exciting!!
After I got off the plane I took two more pictures of some national operations.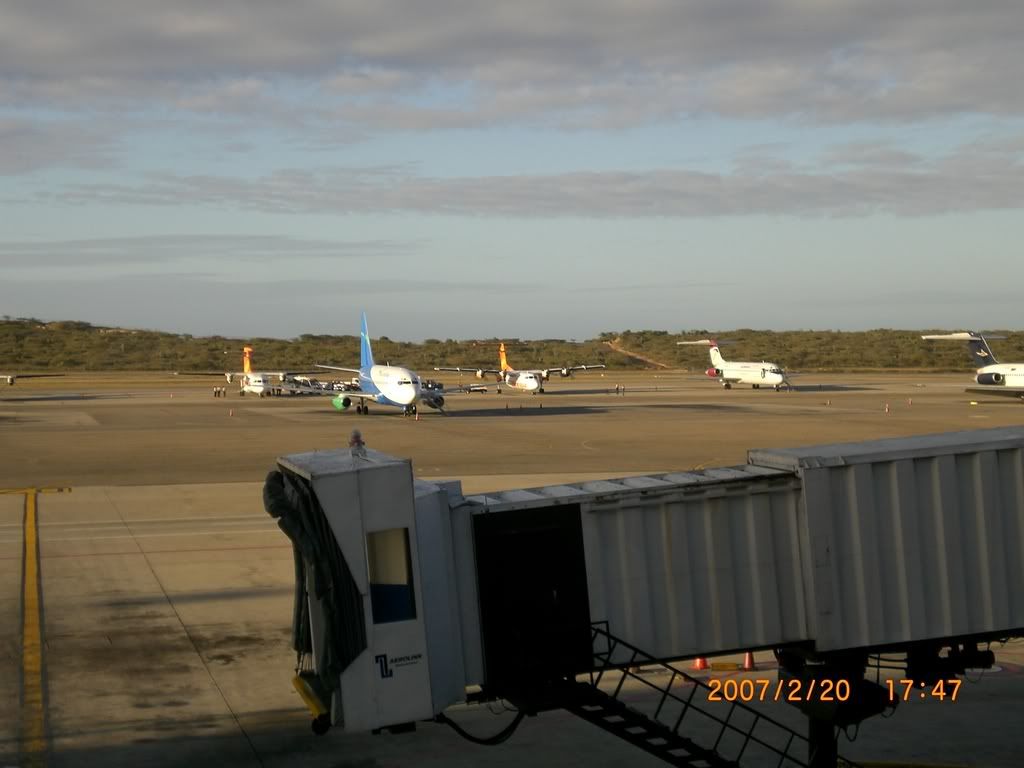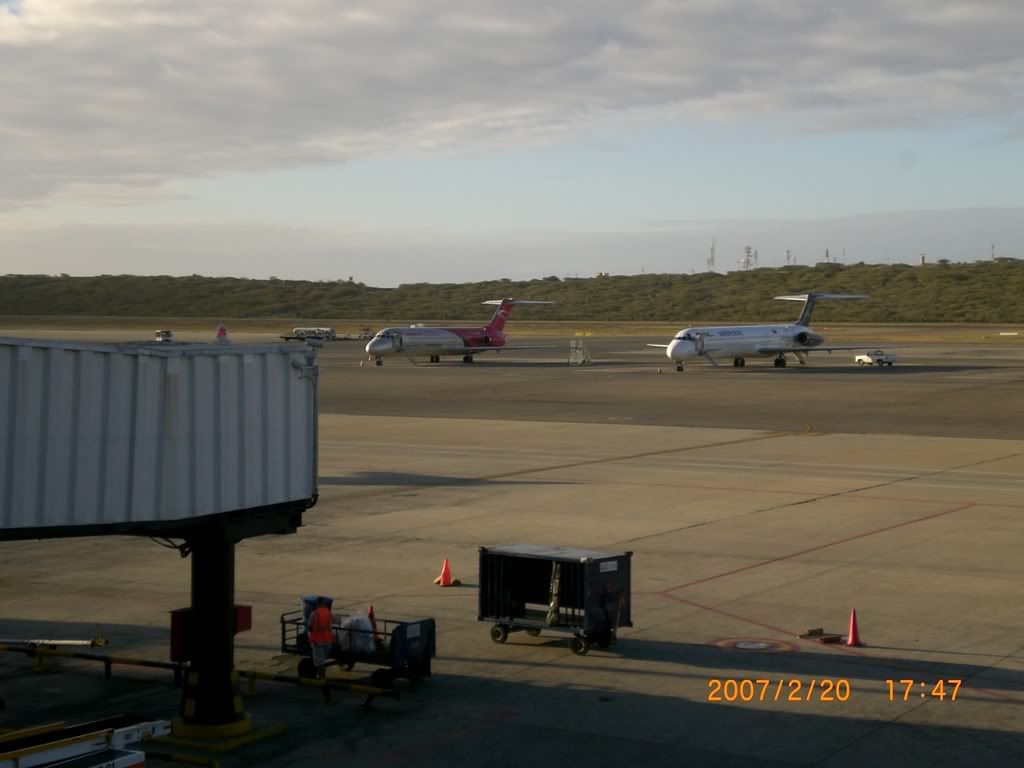 I walked to the baggage carousel and waited around 15 minutes for my suitcase. Then took a taxi and went home. I was lucky enough to not find any traffic jam in la Trocha (Alternate road).
This trip went amazing, the only thing was Avior's mistake which I'll have to deal with later on. Aeropostal did an excellent job, it is a shame that they don't keep this service throughout their entire network. For such a short flight I only need a punctual departure and arrival. That's it. This time I was lucky, let's wait for the next one.
Sorry for the picture quality, I'll try to improve next time. I am open to any comments.
Cheers.