This is my trip report #4 on
Airliners.Net
and it is a
Sriwijaya Air
trip report.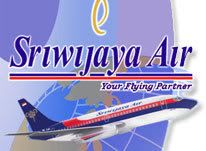 I received a short notice from my superior on 14 January 2007, telling me that I have to attend a meeting in Kuala Lumpur on the next day. At 15:00 hours, the only option to return to KUL was via CGK. So I packed up my documents and a few personal belongings and was already on the way to Pontianak's Supadio Airport (PNK) an hour later. I planned to catch the last flight to CGK with Sriwijaya Air (SJ) and later, connect on the last flight to KUL with MH. Something very bizarre is about to happen and I think it can only happened here in Indonesia. At that time, the Adam Air (first) crash (Manado) was the headlines all over the place.
PRE FLIGHT

Sunday, 14 January 2007
I arrived at PNK at 16:30 hours and rushed to SJ's ticket counter, wanting to get myself a one way ticket to CGK. A SJ staff, Tony, was talking on his walkie talkie when he suddenly shouted to the other party who he was talking to, telling them to wait for a while. Tony ran out from the SJ's ticketing office and asked me to follow him. In a very rushed manner, I was passed through the first security screening,
SKIPPED
the check in procedure, but was held back to pay the IDR 25.000 airport tax, passed through the second security screening before entering the boarding lounge, run through the boarding lounge and hopped onto an airport bus, which has been waiting for me,
ALL WITHIN 3 MINUTES TIME
!. I was not sure whether I managed to catch a breath or not!
USD 1 = IDR 9.000
Inside the bus Tony had a big laugh. Knowing that I was very clueless of what was happening, Tony explained to me that the flight was about to leave seconds before I arrived at the ticket counter. That's why he shouted to his colleague through the walkie talkie, asking them to wait for me. Tony then requested for IDR 365.000 for the airfare, but he insisted that no document be it a ticket or a boarding pass will be issued out what so ever. I asked him whether it was acceptable to which, he nodded. A minute later, the bus arrived at the apron where the equipment was parked. Before disembarking the bus, Tony gave me his name card and bid me goodbye. I thanked him and climb up the stairs and was then already inside the aircraft.
I am not sure whether Tony has breached any of the SJ, airport authorities or maybe IATA's regulations by doing so but I couldn't thanked him more since if I missed the flight, I won't be able to attend the meeting on the following day.
The flight attendant closed the door once I got onboard and taxiing began soonafter. I was ushered to the back side of the cabin and sit at a window seat there, as I apparently didn't have a ticket hence, was not allocated a seat. I was actually quite surprised for the early departure as the flight was scheduled to depart at 17:00 hours. This was certainly the highlight of the trip! I never thought that it was possible. And this was only my second experience with SJ. I am eager to know what Indonesia have in store for me in the future.
FLIGHT'S DETAILS

Date/Day: 14 January 2007/Sunday
Flight Number: SJ 183
Carrier: Sriwijaya Air
Aircraft: Boeing 737-200
Aircraft Registration No: PK-CJM
Route: Pontianak (PNK) to Jakarta (CGK)
Departure Time: 16:30 hours Indonesian (West) time (GMT 7)
Arrival Time: 17:50 hours Indonesian (West) time (GMT 7)
Seat Number: Not Allocated
Journey: 1 hour 20 minutes
Distance: 452 miles
Class of Travel: Economy
Fare Category: Not Applicable
First and foremost.
AMAZING INDONESIA!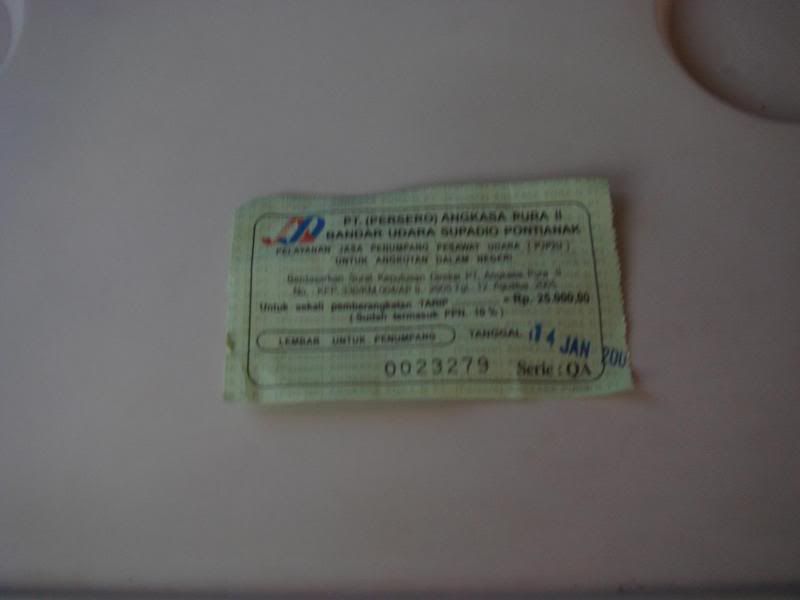 My ONLY travel document, a IDR 25.000 airport tax receipt. No ticket, no boarding pass.
As I settled down on my seat, the flight attendants began the manual safety demonstration. I noticed that the safety jackets, which SJ used still bear CO's logo on it. I bet the equipment was previously operated by CO.
Flight attendants during safety demonstration.
We rolled and rotated soon after. The flight was the last scheduled flight out of PNK on that day. SJ is among the 3 carriers, which serve the PNK-CGK route. The other two are Batavia Air (7P) and the (again) "sensational" Adam Air (KI). As I travel frequently with 7P, I may compare their product offering with that of SJ's.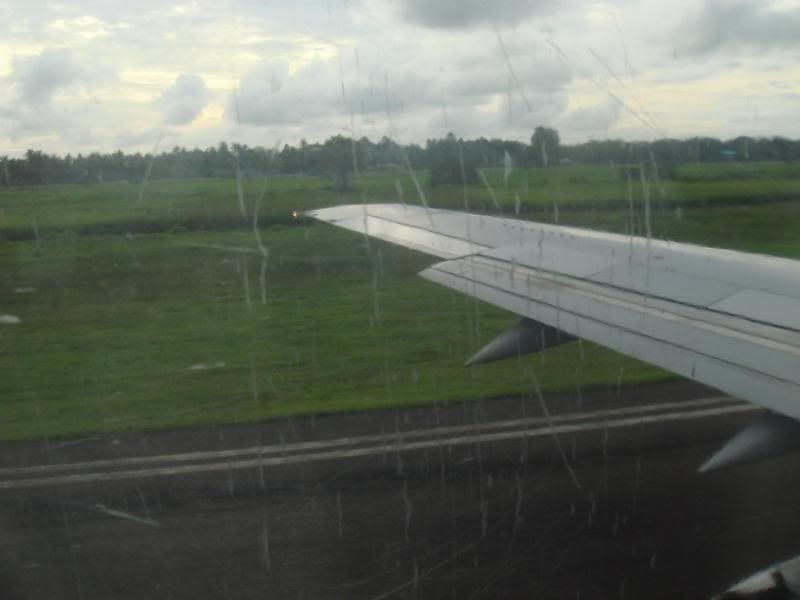 Moments before taking off.
Up, up and away with a view of farms, which surrounded PNK.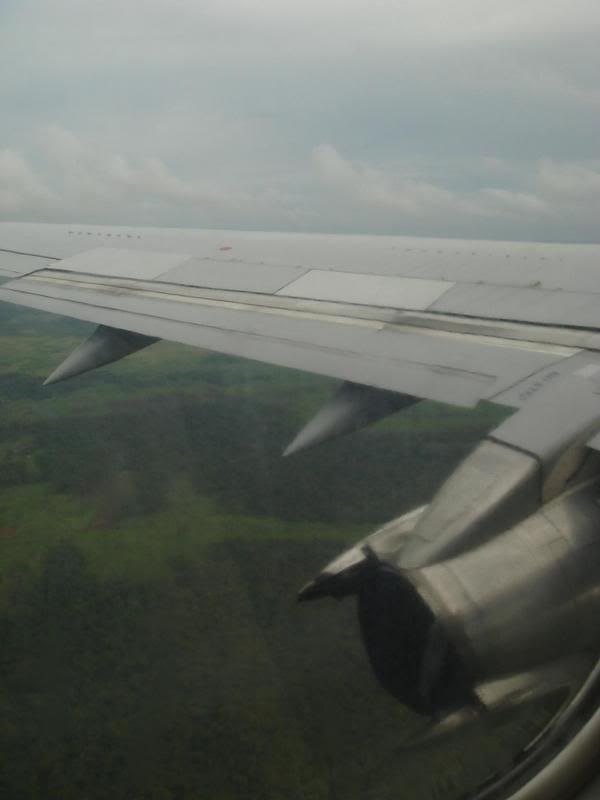 View over the equipment's left engine, soon after take off.
The flight was quite full that day. Load factor was at around 85%. All the passengers were seated at the front rows, leaving only the last 3 rows at the back empty, where I was the only passenger seated there.
View over the empty rows at the back of the equipment.
We flew over Kalimantan's beautiful landscape. The winding river and lush tropical rainforest were sprawling below. Kalimantan is the Indonesian territory on Borneo, the world's third largest island.
View over Kalimantan's landscape.
About 10 minutes later, the flight attendants began their snack service run. The flight attendants served the snacks from a tray.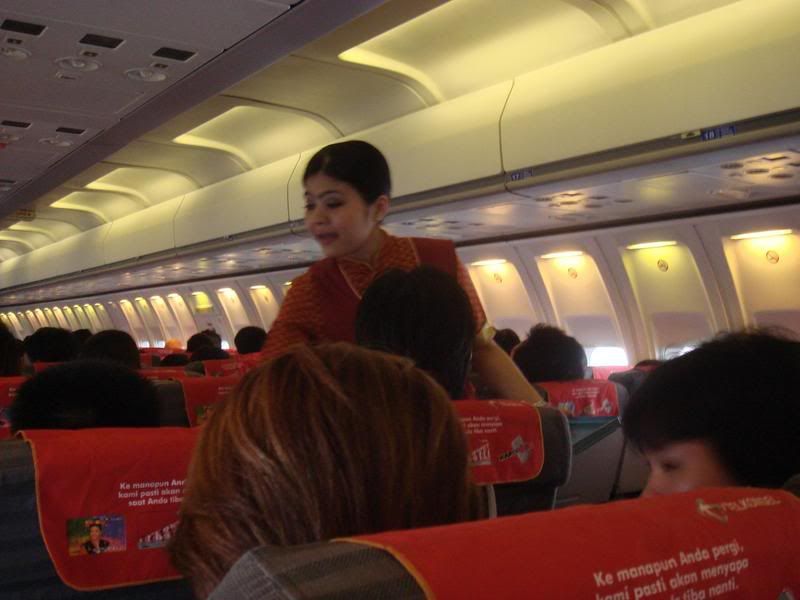 A flight attendant during snack service run.
SJ provides a snack box for each passenger, just like 7P. But I think their snack box looks better than that of 7P's.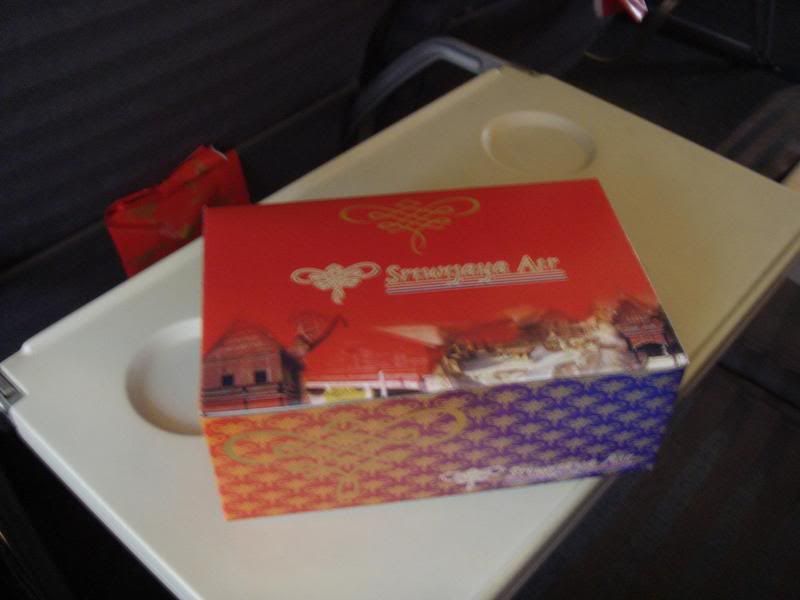 SJ's snack box.
Inside the box, passengers were given a chicken puff, a slice of cake and a packed mineral water (in a regular glass size plastic container), which I think superior than 7P's bun offering. They taste better too.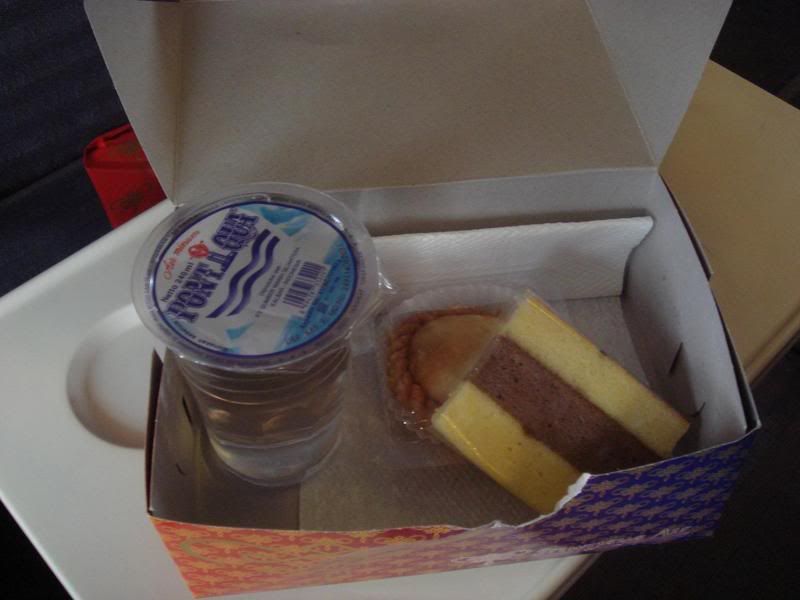 Inside SJ's snack box.
SJ offers quite a number of publications onboard too, more than 7P's offering. Inside the seat's pouch, there were inflight shopping catalog, safety instruction card, inflight magazine and SJ's frequent flyer program enrolment form, beside the normal puke bag.
Speaking of SJ's FFP, it is a simple program, which offers discount on SJ's airticket, more baggage allowances and free travel insurance, if I could recall. Passengers are required to pay a yearly fee of IDR 600.000 to enroll.
SJ's inflight publications.
Then, the flight attendants began their inflight sales cart run. SJ really going in full swing during this run. They tried very hard selling their goodies. Recalling my first flight with SJ, one of the flight attendant even took a catwalk on the aisle to model a scarf, which they wanted to sell to a passenger. I was totally amazed by their effort. A fellow A.Netter, a popular one here
, also informed me that sometimes a SJ's flight attendant earns more commissions from inflight sales than their salary as the flight attendant itself.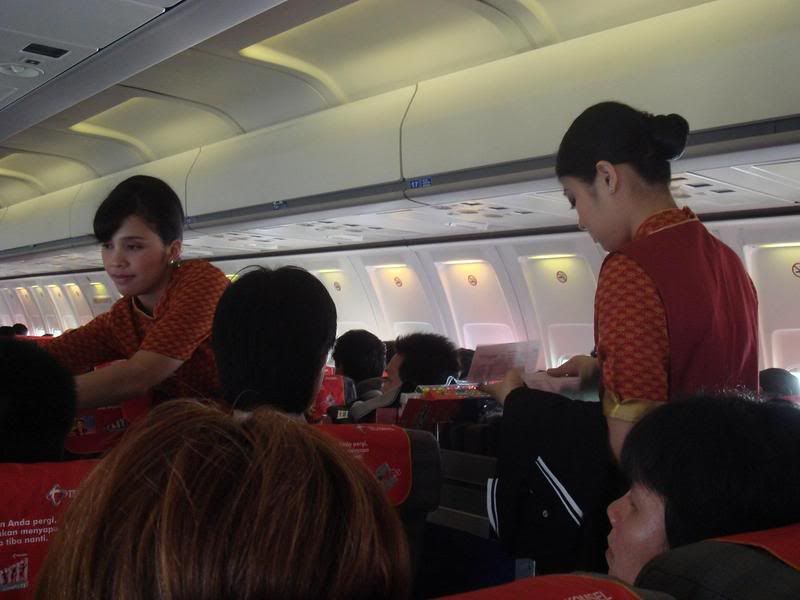 SJ's inflight sales tun.
The sales transaction inflight is on cash basis only. Credit card is not accepted.
The seat pitch in SJ flight is acceptable, I think it was at around 30', not too cramped as in some of 7P's flights.
SJ's seat pitch.
Most of SJ's fleet are the Boeing 737-200s, which are very old but SJ managed to take good care of them. Although the interior was a bit worn out, it was clean and served its functions. The seat layout is 3-3 abreast and all SJ's flights are on a single class configuration. The cabin looked bright thanks to the seats' red head covers, which promote/were sponsored by Telkomsel, one of Indonesia's leading telcom provider.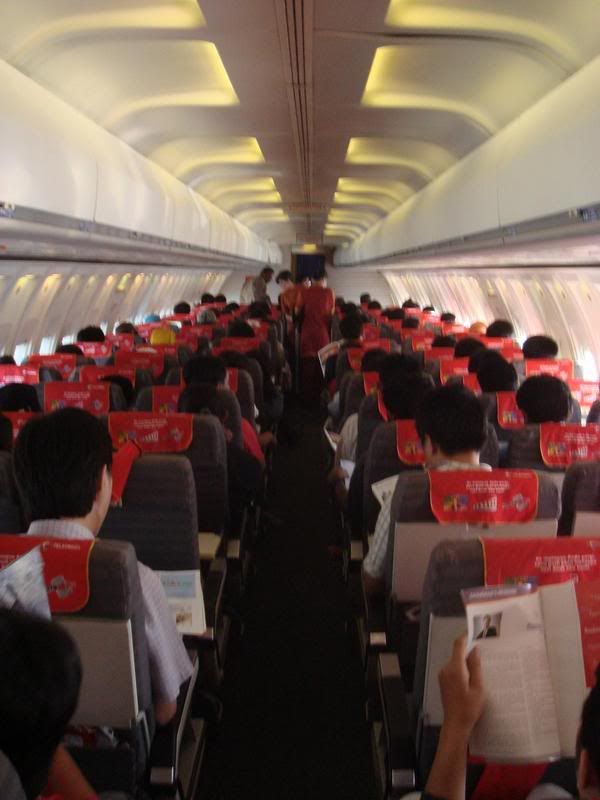 View over SJ's cabin.
Midway, I walked around the rear part of the cabin and took the following photos, while stretching out a bit.
View over the rear part of the cabin, the washroom is at the center.
View over the crew jump seat.
The weather throughout the journey was fine, although a bit cloudy.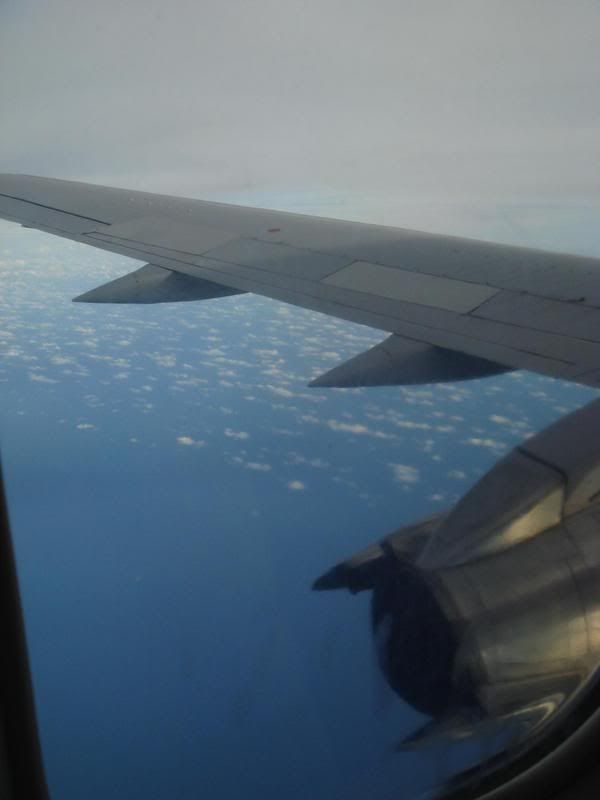 View outside the window, over the engine, while cruising.
Soon, we approached the Java coast.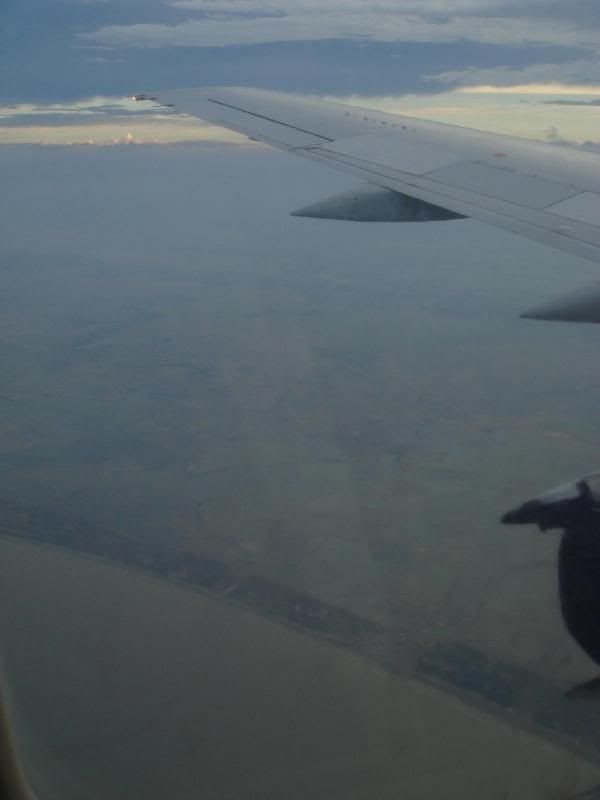 View over Java coastline.
There were a lot to see while the flight started its decent into CGK.
View over some paddy fields, or was it flooded farms?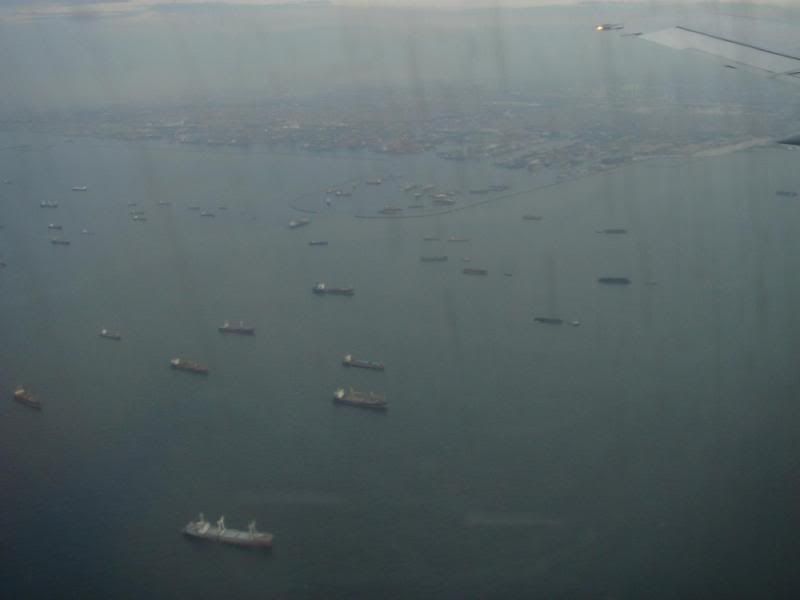 What I believe is the Port of Tanjung Priok.
A seaside resort or a marina maybe.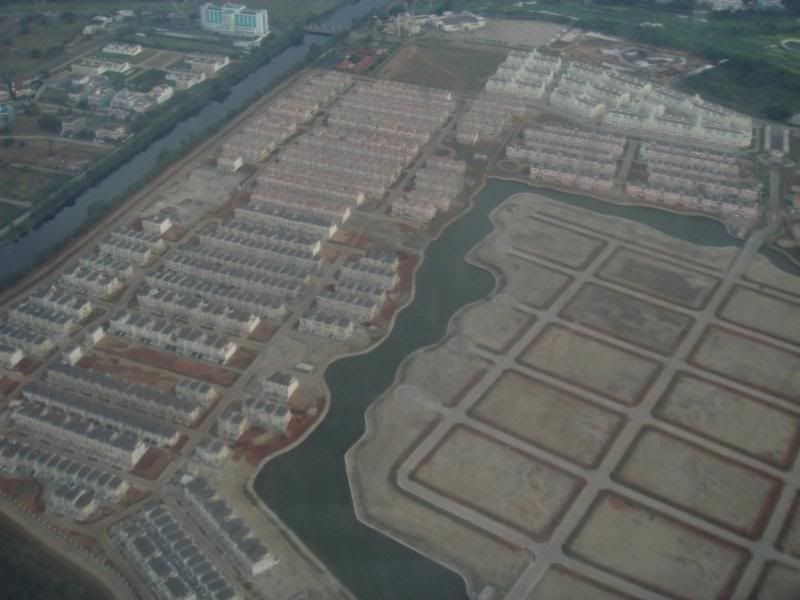 An upscale seaside residential area.
and finally...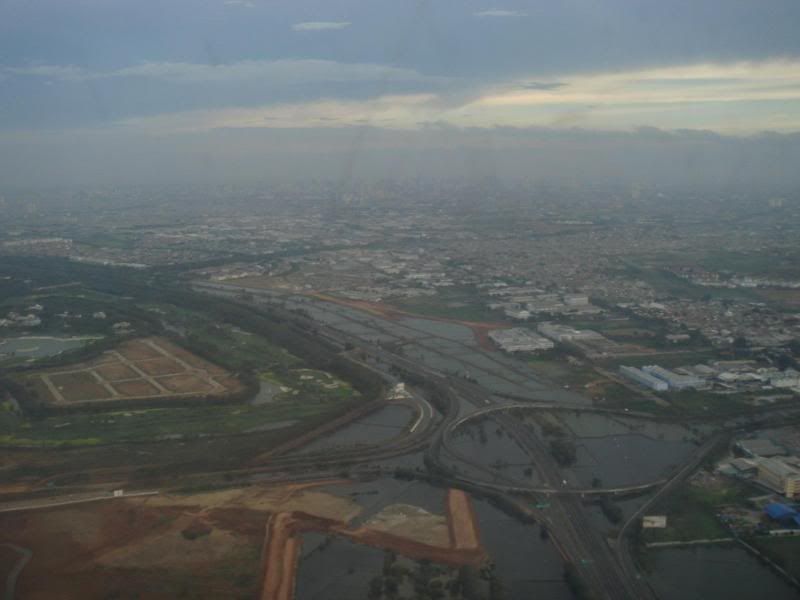 View over cloudy downtown Jakarta, way beyond, moments before landing.
The landing was smooth. The followings are landing sequence in chronological order...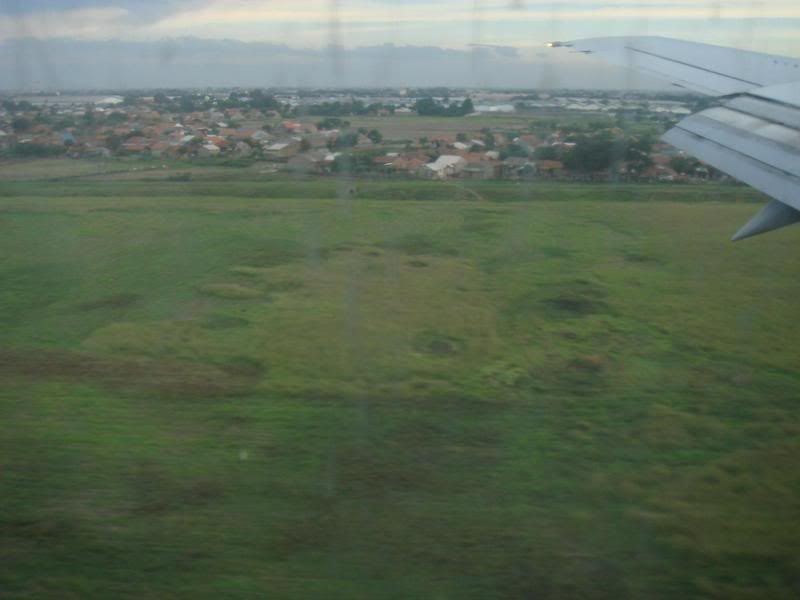 About to land.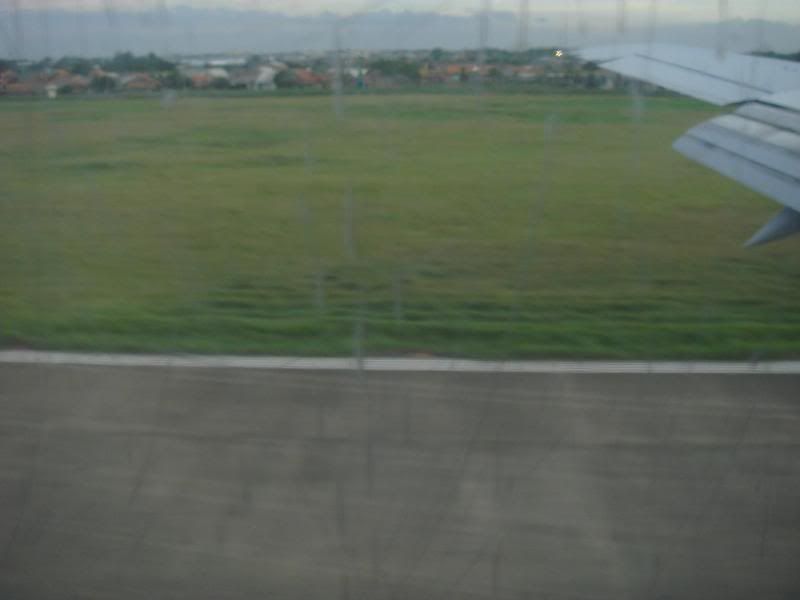 Still airborne.
Almost...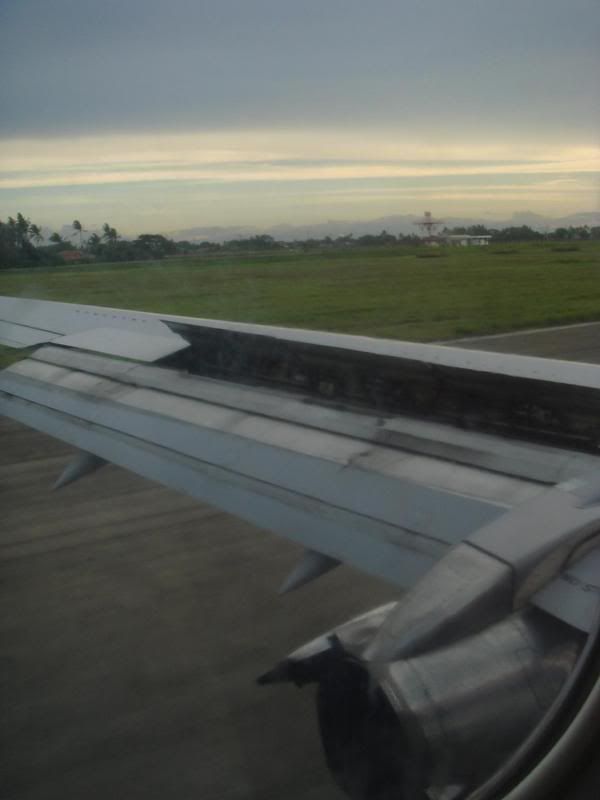 Finally, on the ground.
During the long taxi to the gate which the flight was assigned, I managed to catch some actions in CGK.
An Adam Air flight is waiting for its turn to take off. They were indeed in all newspapers' headlines across the country.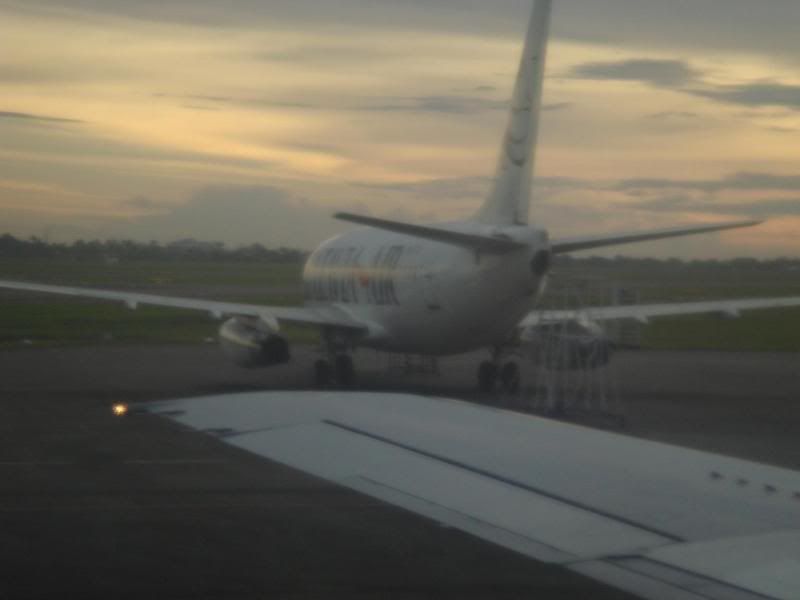 A Batavia Air aircraft sitting alone on the apron.
Also a lonely aircraft, a Mandala Airlines docked near the terminal building.
The equipment soon joined its fellow SJ's Boeing 737s at the assigned gate.
Joining PK-CJE and PK-CJD at the gate.
The Terminal 1 at CGK did not offer any view from the gates as most part of it are covered with wall or paneling, not glassy as the majority of airports in Malaysia.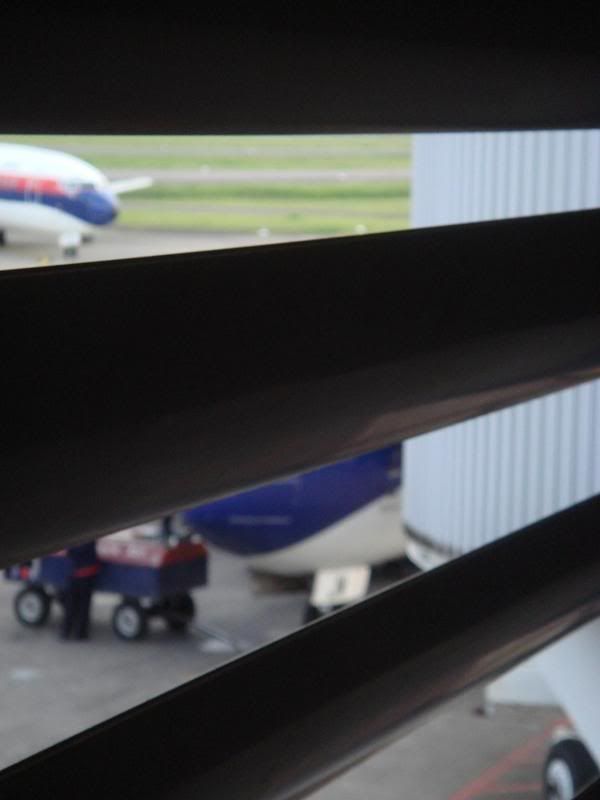 My last view over the equipment, couldn't see it clearly due to the wall paneling at CGK.
Soon, I joined the crowd passing through the gardens between the gates at CGK's Terminal 1 on our way out.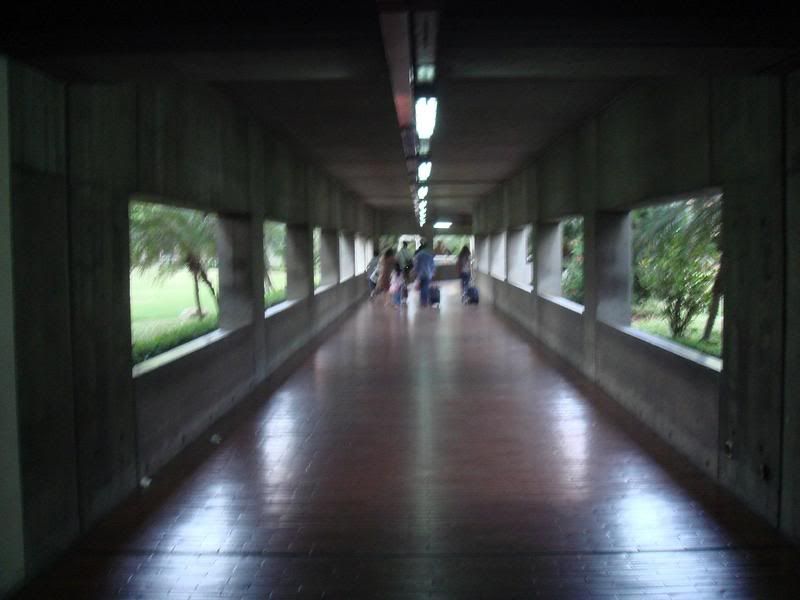 View over the walkway to baggage collection area.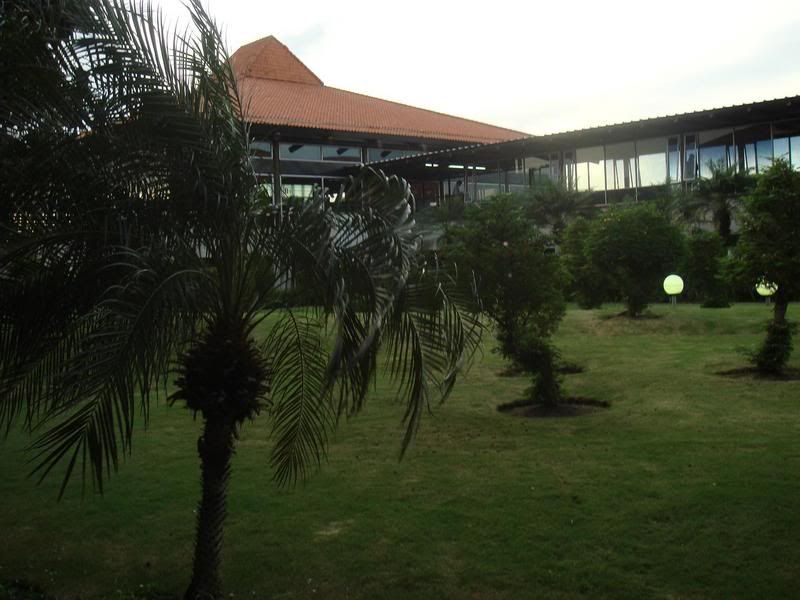 View over the garden between the gates at CGK's Terminal 1.
The view over the main terminal building is quite nice from the garden.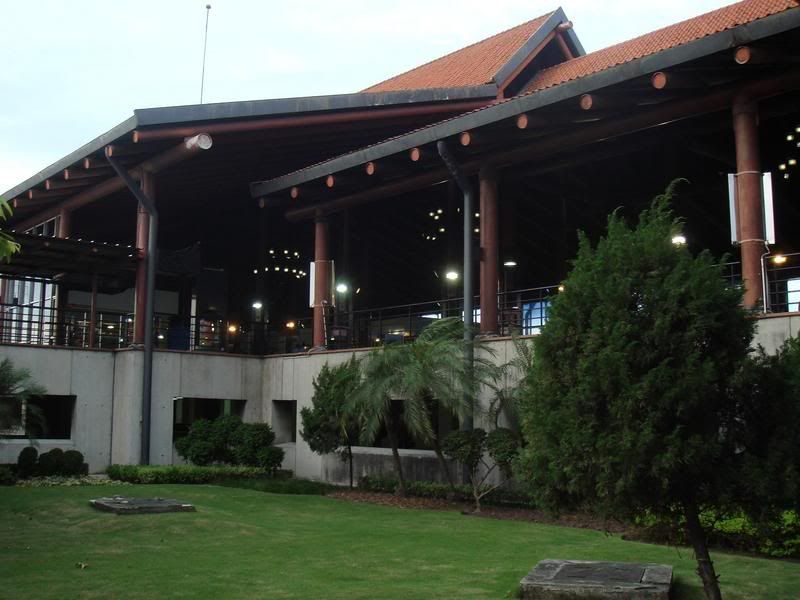 View over the mid section part at CGK's Terminal 1, which houses some restaurants and shops, on the departure level.
The walkway seemed brighter as I got nearer to the baggage collection area.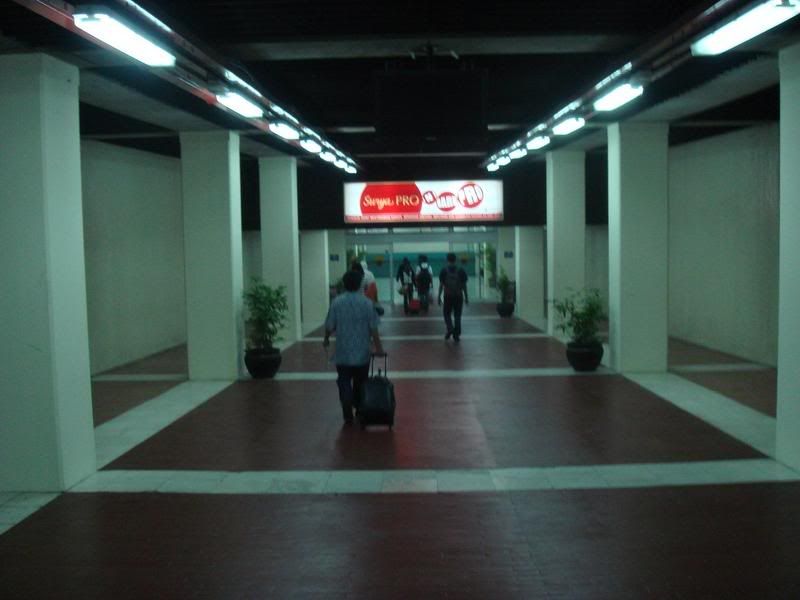 View over the walkway to the baggage collection area, which located beyond the door.
I don't have any checked in luggage as I travel in an extremely light manner this time. While passing through the baggage collection conveyors, I noticed that they put a comodo dragon on each conveyor.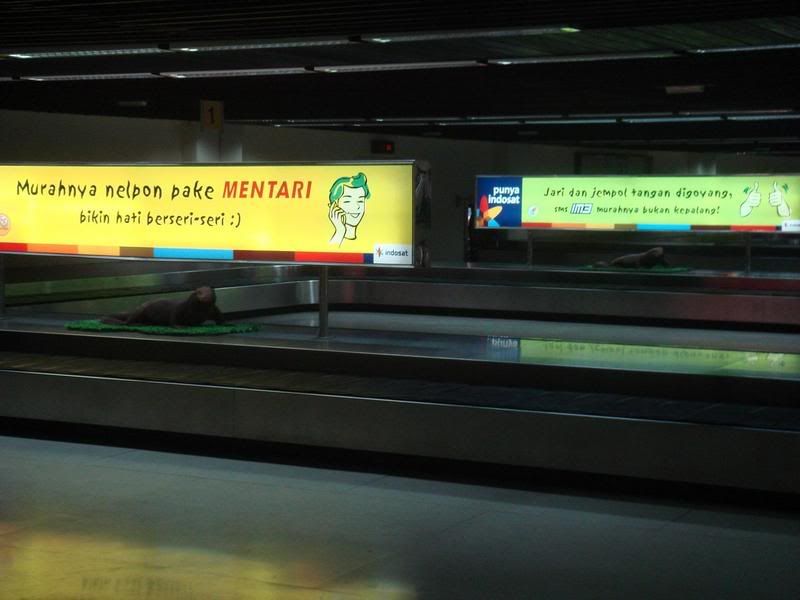 View over the baggage collection conveyors at CGK's Terminal 1, with a comodo dragon "guarding" it.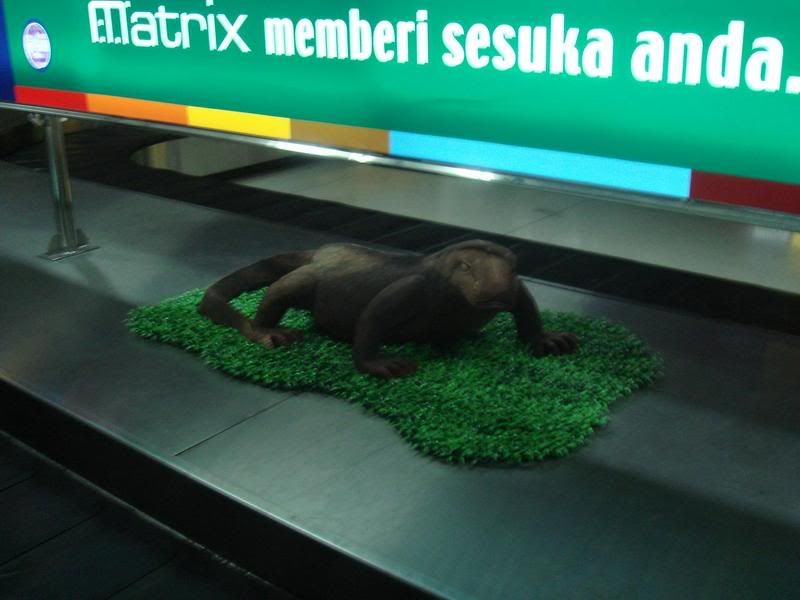 A close up of the comodo dragon.
To those who are not familiar with comodo dragon, they are a giant lizard (with sizes larger than most average crocodiles), which inhabited the Komodo Island in Indonesia (hence the name) and it can only be found on that island. Comodo dragon is exclusively unique to Indonesia, think of the creatures on Galapagos Island.
I walked passed the conveyors and headed to the main arrival hall.
View on my way to the main arrival hall.
As usual, I was greeted by a lot of touts offering rides to downtown Jakarta. I politely refused them and walked towards the drop off area to snap some photos.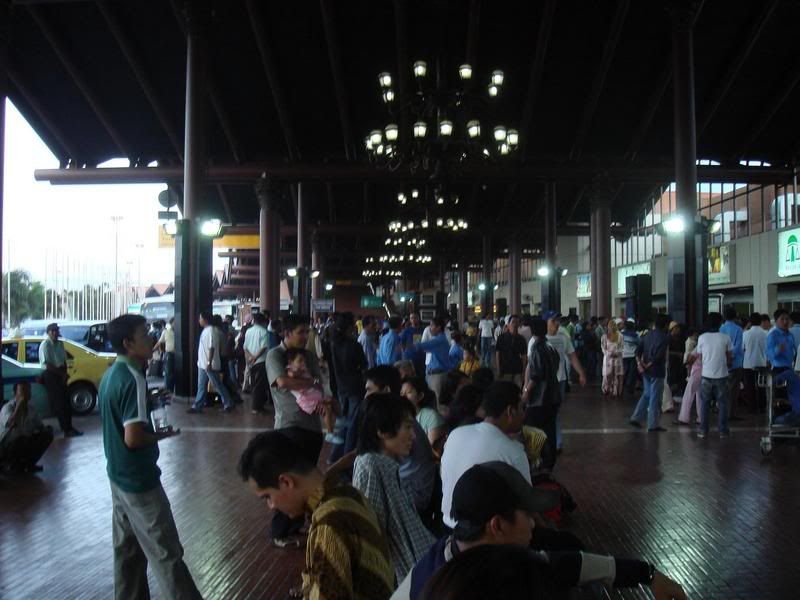 View outside CGK's Terminal 1, huge crowd as always.
Then, I waited for a taxi to get to CGK's Terminal 2 (the international terminal).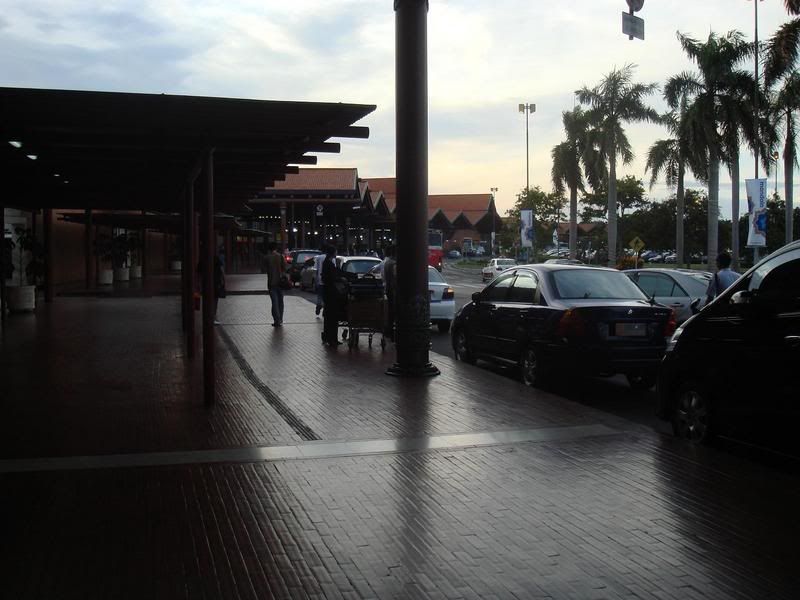 View of CGK's Terminal 1 exterior, while waiting for a taxi to Terminal 2.
But, before leaving Terminal 1, I managed to get a glimpse of KI's ticketing office there, while wondering how they are doing post the Manado crash/disappearance incident.
View over KI's ticketing office in CGK's Terminal 1. Quite deserted I would say.
Moments later, I got myself a taxi and then headed to Terminal 2 to catch my next flight to KUL.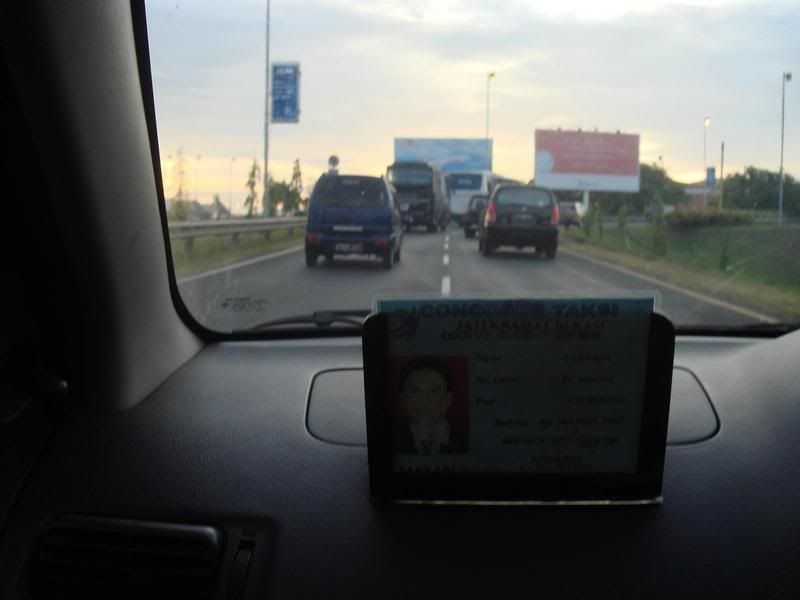 View on my way to CGK's Terminal 2, inside the taxi.
Before ending the trip report, I would like to highlight on some interesting matters that I managed to observe and experience on this particular journey.
The Good


Tony! I wish all airline staff could be as helpful as him.


Sometimes, a disorganized situation can lead to something beneficial. This happened quite frequent to me in Indonesia. If a rigid and "follow the rules regulation" was imposed, I was surely won't be able to board the aircraft. To be able to board an aircraft without a ticket, boarding pass, normal check in procedure and such are indeed a "history" in my flying diary.

The Bad
SJ need to pay more attentions to some little aspects inside their aircraft. I hope I won't be seeing the following instances on my next flight with them.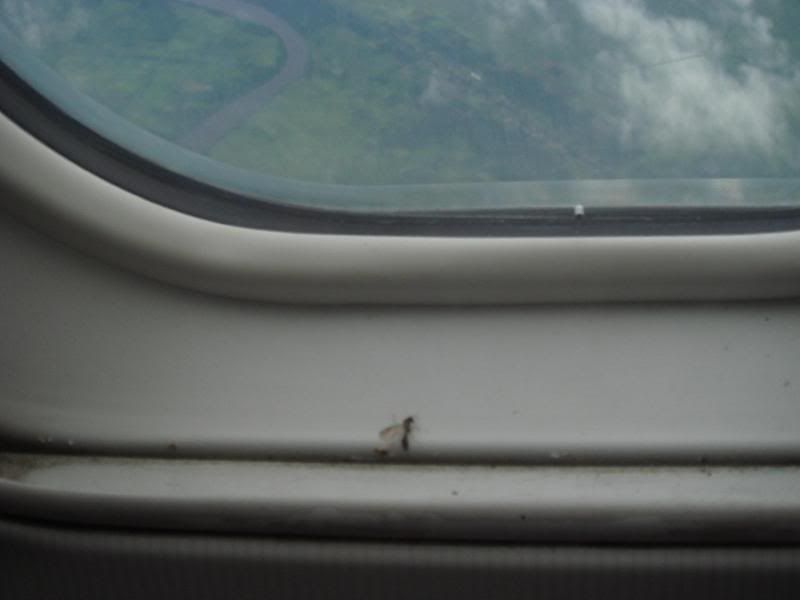 An insect in between the window. How on earth did the creature managed to get inside there and even died in it?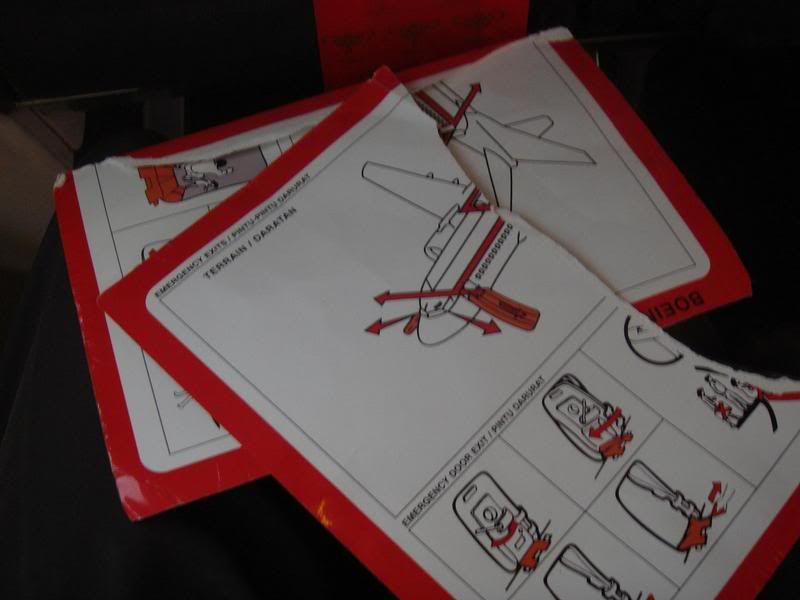 Torn safety instruction cards. This is actually the safety instruction card inside the seat's pouch in front of me. The one, which was photographed earlier was taken from other seat.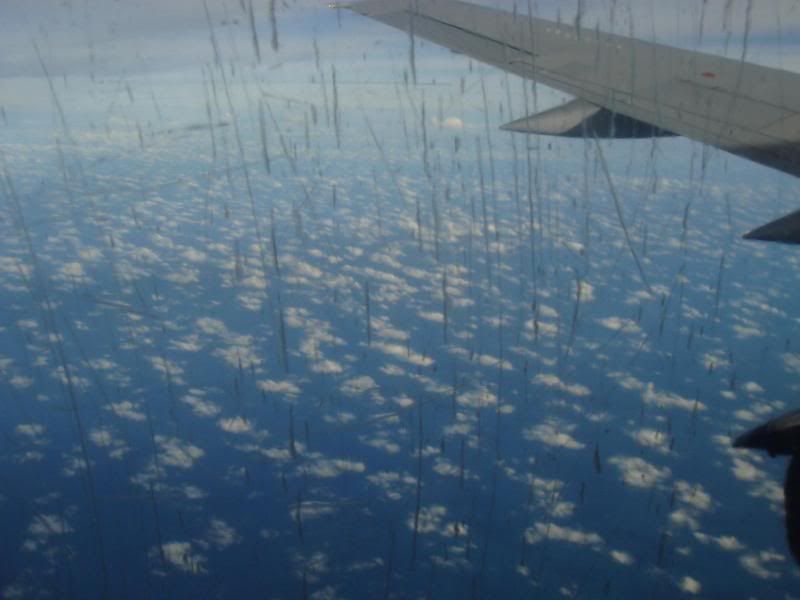 Tarnished window. I guess the level of tarnishness is below acceptable level, don't you think so?
and last but certainly not the least...
The Ugly
The taxi driver who ferried me from Terminal 1 to Terminal 2. He thought that I am a stranger to Jakarta. He made 2 circular rounds while getting me to Terminal 2, creating an illusion of a longer and farther journey. At the end of it, asking for IDR 100.000. I was like "WHAT???" I just walked away and didn't pay him even a single cent. In short, he is a B*ST*RD!
There is a complementary shuttle bus service (yellow mini buses) between Terminal 1 and Terminal 2 of CGK, but the service is inconsistence, in keeping with true Indonesian style. The normal taxi fare to downtown Jakarta, some 20 km away is only IDR 75.000, so how on earth can it cost IDR 100.000 for a 2 minutes rides from Terminal 1 to Terminal 2? I have taken numerous taxi rides from Terminal 1 to Terminal 2 and the journey should cost only IDR 10.000. This is the first time I experienced such "being ripped off" incident after 2 years living in Indonesia.
REMINDER

Please avoid all taxis BY ALL MEAN WHATSOEVER AT ALL COST except for the blue Bluebird Taxi and white Express Taxi whenever you are in CGK or in Jakarta to avoid yourself from hating and cursing all 220 million of Indonesians, for ripping you off. My encounter with this guy, Taryani of Concorde Taksi is monumental, as I have decided that there will be no more Mr. Nice Guy Azizul in CGK ever. I will run, scream, hit and even harass anyone who mess up with me in CGK in the future, I swear!!!
My journey continues.
Feel free to read my other trip reports:
Istanbul Winter 2006 With MH (Photos) Part 1
(by
9MMAR
Dec 19 2006 in Trip Reports)
Istanbul Winter 2006 With MH (Photos) Part 2
(by
9MMAR
Dec 19 2006 in Trip Reports)
Intra Asean Jakarta In Business With MH
(by
9MMAR
Jan 1 2007 in Trip Reports)
Intra Indonesia Pontianak With Batavia (Photos)
(by
9MMAR
Feb 13 2007 in Trip Reports)
9MMAR