This is my trip report #5 on
Airliners.Net
and it is a
Malaysia Airlines
trip report.

Arriving at CGK's Terminal 2 in a very bad mood, caused by the previous incident on my way from CGK's Terminal 1, I tried to control my anger and dashed to the MH's operational office at a back alley on the left most side of the terminal. I asked the staff there to get me someone to escort me to pass through the security screening as I have yet to purchase a ticket. A female staff responded by informing her fellow colleague (an on duty check in agent) via a walkie talkie and I was assured a smooth procedure of entering the terminal.
In Indonesia, a passenger can't enter the check in area if he/she did not have a ticket. In my case, I need to enter the check in area to purchase my ticket at the check in counter. Passengers can't purchase a ticket from MH's operational office in CGK. Since the staff has given her assurance, I just obeyed and headed to Door 2, where MH's check in counters are located.
PRE FLIGHT

Sunday, 14 January 2007
There was a huge crowd in CGK's Terminal 2 at that point of time. Most of them I believe are not the passengers. The sun has set by then.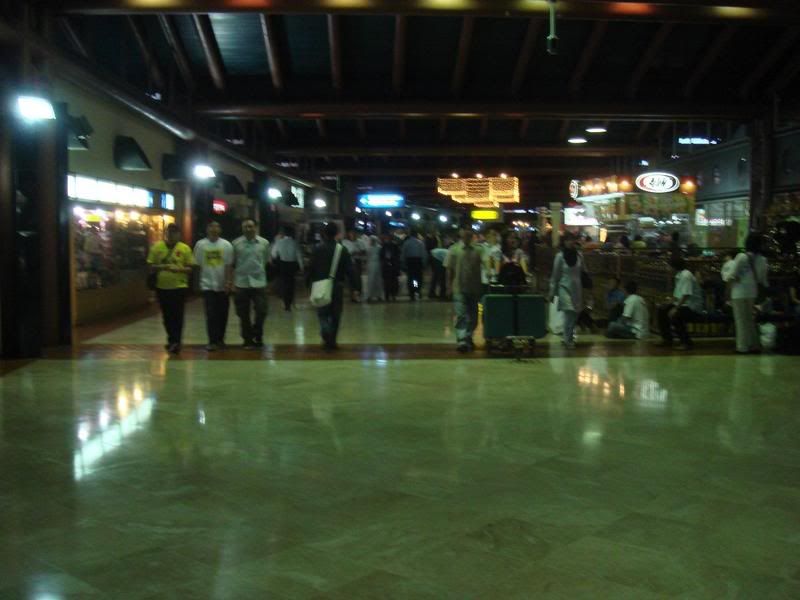 View on my way to Door 2 at CGK's Terminal 2.
I arrived at Door 2, met a security officer, was asked for a ticket to enter and as expected, I was denied from entering the check in area. Since I have experience such incidents numerous times, I just waived at MH's check in agents across the scanning machine and after some gestures from an agent, the security officer let me through. I thanked him, put my bags on the screening machine and headed straight away to a closed check in counter.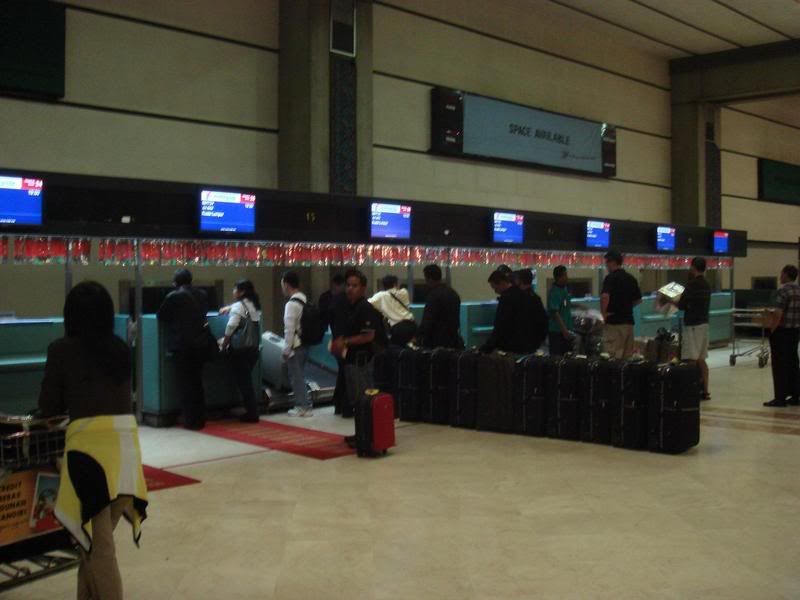 View over MH's check in counters in CGK's Terminal 2.
There I met a familiar face, a female agent who has helped me on my previous trips. She greeted me and without asking, she prepared a ticket for me. I guess she must have known what I want from her. She worked fast and in no time, I was issued with a one way ticket to KUL in Y together with my boarding pass. The agent checked me in directly too.
I have to pay her by cash (like my previous experiences as well), but since the price was quoted in USD, I handed over IDR 2.250.000 to her. I wonder why they don't accept credit card but I guess, it must be because of the fact that check in counters are not the place to buy/sell tickets. Oh, I have to pay the IDR 100.000 airport tax as well and the agent pasted its sticker at the back of my boarding pass.
I got my ticket, boarding pass, paid the airport tax and then as a good foreign worker who abide by the rules and regulations of the great nation of Indonesia, I have to sacrifice another IDR 1.000.000 for fiscal, something which I still don't understand the motive behind the imposing of this payment. It was like a tax for going abroad.
Definitely we don't have this kind of thing in Malaysia. I paid the fiscal at the Bank Mandiri counter, which located opposite the check in counters.
View over the security screening machine and the fiscal payment counter next to it (at the back).
There are four airlines, which occupied the Door 2 check in area; QF to the left, followed by AK, MH and finally JL to the right. At that time, MH, AK and QF have a scheduled flight, so there was quite a huge crowd there. The most crowded check in area seemed to belong to AK.
View over AK's crowded check in counters, next to me.
It was around 18:30 hours by then. Since I was extremely exhausted (mentally), I decided to go to the airside area straight away. I walked to the fiscal checking counter and handed the fiscal receipt to the rather bored looking officer.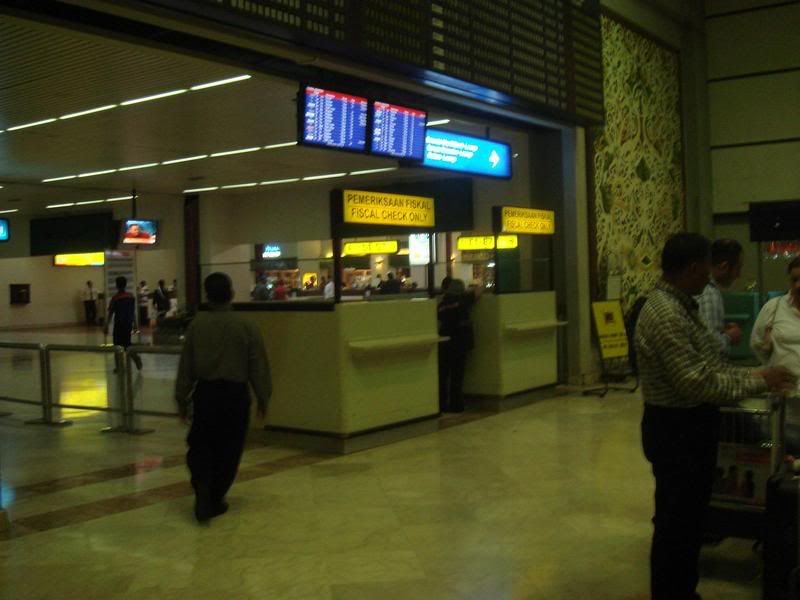 View over the fiscal checking counter.
A short walk after, I arrived at the immigration clearance area, which was a breeze, thankfully, although the immigration officer did asked some irrelevant questions to me (which usually will end up with a question, "Ada ole ole ga?" meaning "Do you have something for me?", which means he/she is asking for a bribe.
View over the immigration clearance counters.
Looking at the departure information screen, my flight was at 19:50 hours. Since it was still too early, and considering I am traveling in economy, I decided to go to the economy lounge, the Starbucks.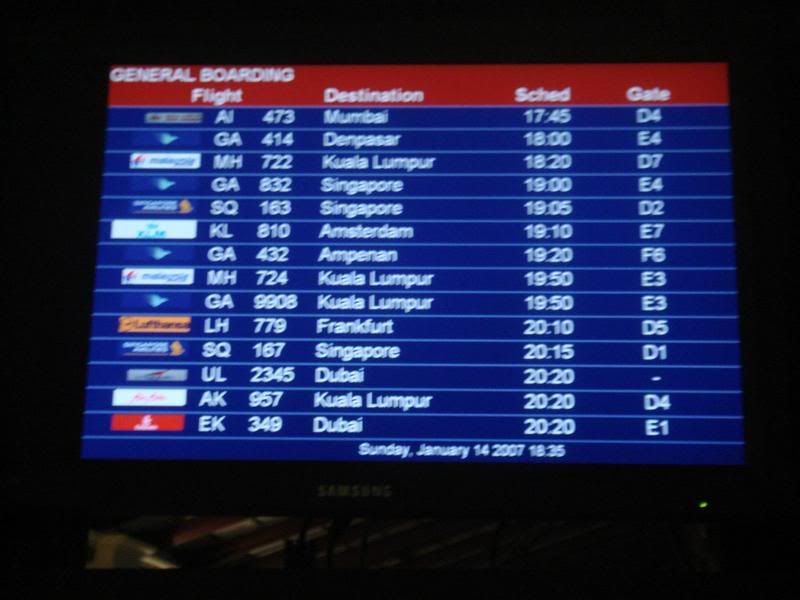 The departure information screen.
I kind of like the Starbucks in CGK better than the one in KUL. They got a nice view of the apron as well and it was never crowded whenever I go there. I decided to have a sandwich and a hot chocolate.
At around 19:30 hours, I headed to Gate E3, where my flight was assigned.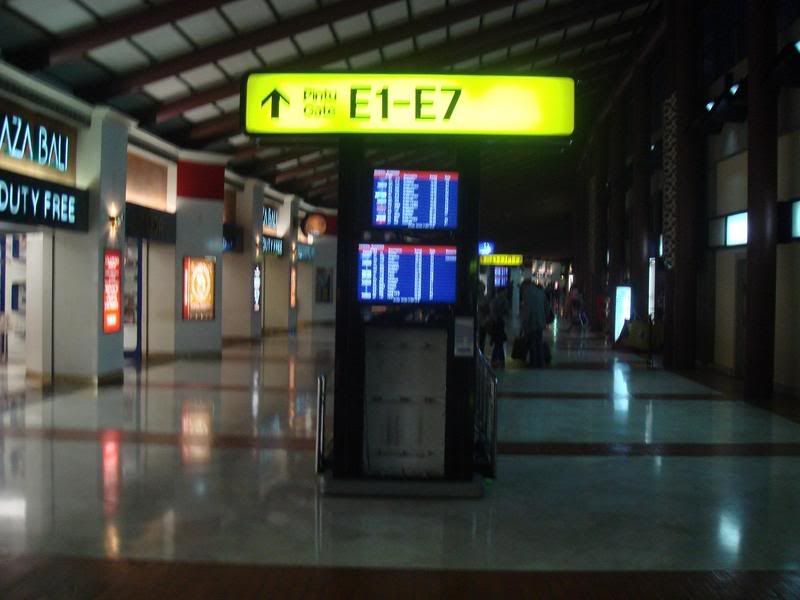 View on my way to Gate E3.
It was then when I realized how "dark" CGK's Terminal 2 can be at night. Are they saving on electricity?
View over the dark alley on my way to Gate E3.
Then I passed through an interchange to gate E3, where I spotted a rather 70s looking chandelier, which helped lighting the area a bit.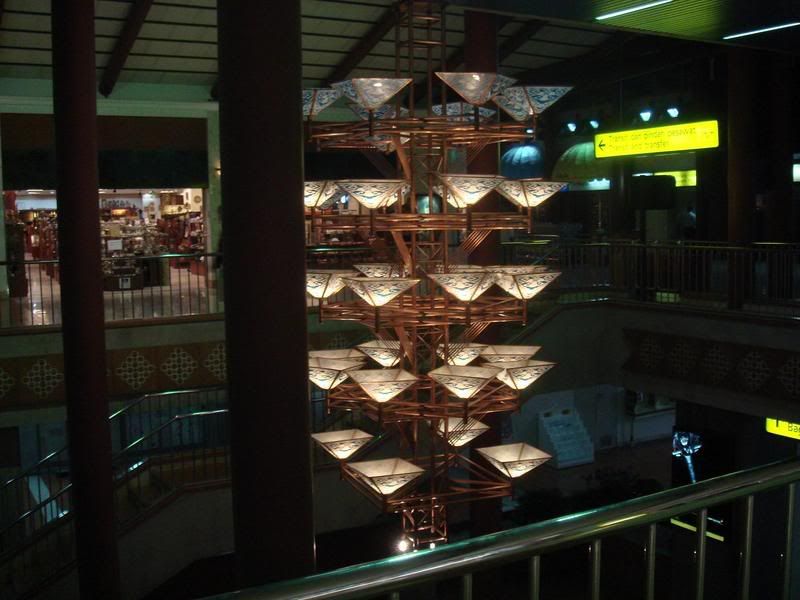 Chandelier gracing the terminal area.
Along the way, I couldn't help but noticed a very small, smoking room and a smoking bench located facing each other. I find it quite amusing. Indonesia has a very large number of smokers. In fact, I didn't know any Indonesian who doesn't smoke.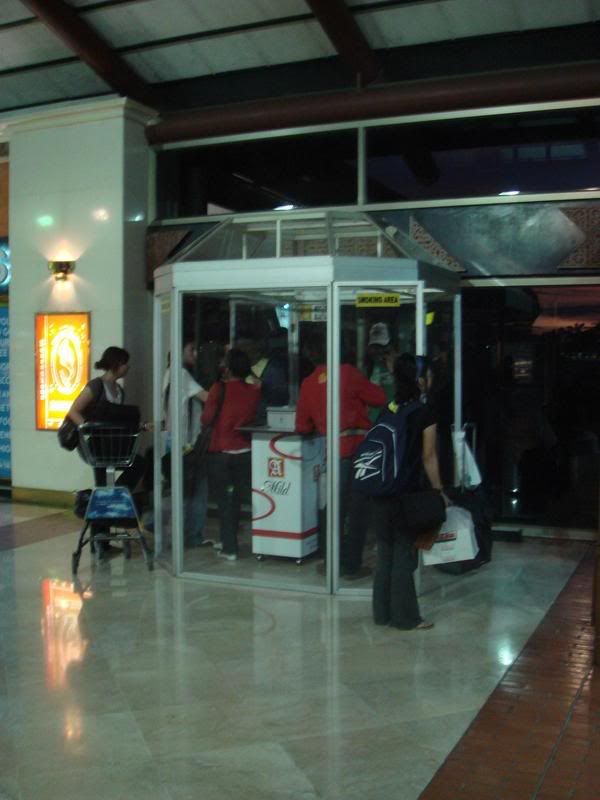 View over the small smoking room.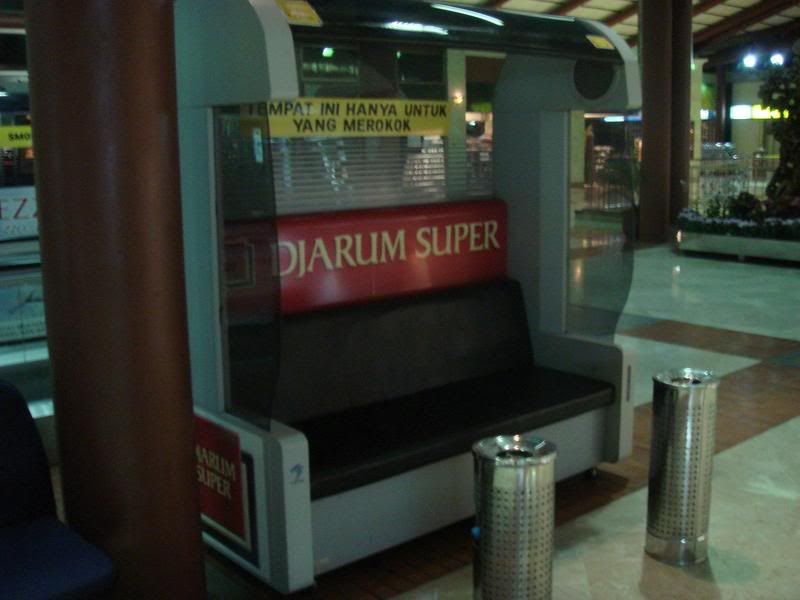 And view over the smoking bench located opposite the room. Note the yellow signage which translated as, "This seat is for those who smokes only.
Soon, I arrived at the second security screening checkpoint before entering Gate E3, and was through without any problem.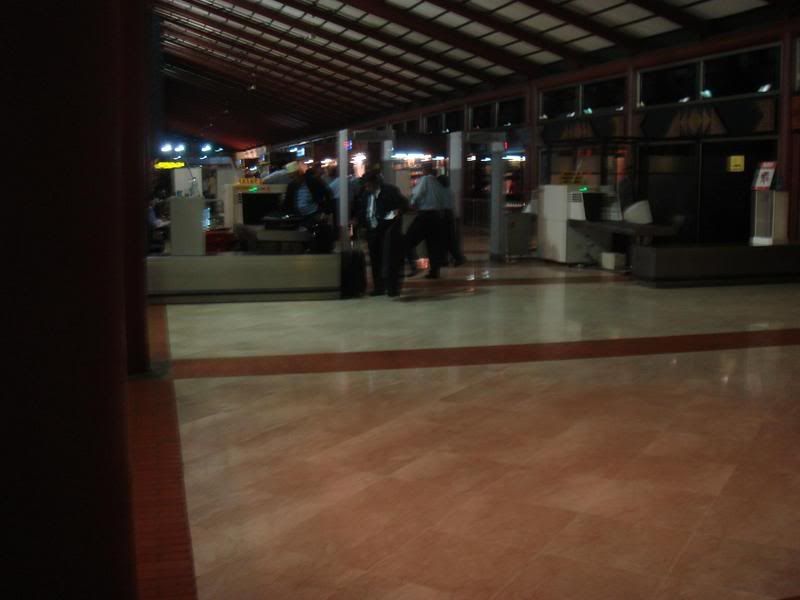 View over the second security screening checkpoint.
Again, I was greeted with a rather dimmed looking alley on my way to Gate E3. The alley to Gate E3 is definitely the darkest of them all.
View over the dark alley to Gate E3.
After going through the "darkness" I finally arrived at Gate E3 and quickly entered the boarding lounge.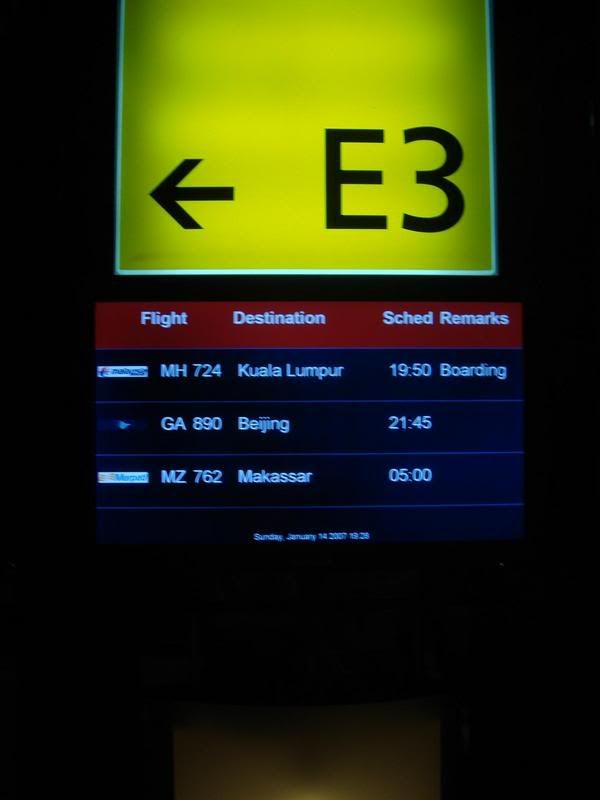 Gate E3, with my flight details.
View over the walkway to the boarding lounge.
There was a crowd already waiting inside the lounge, but it was not too crowded.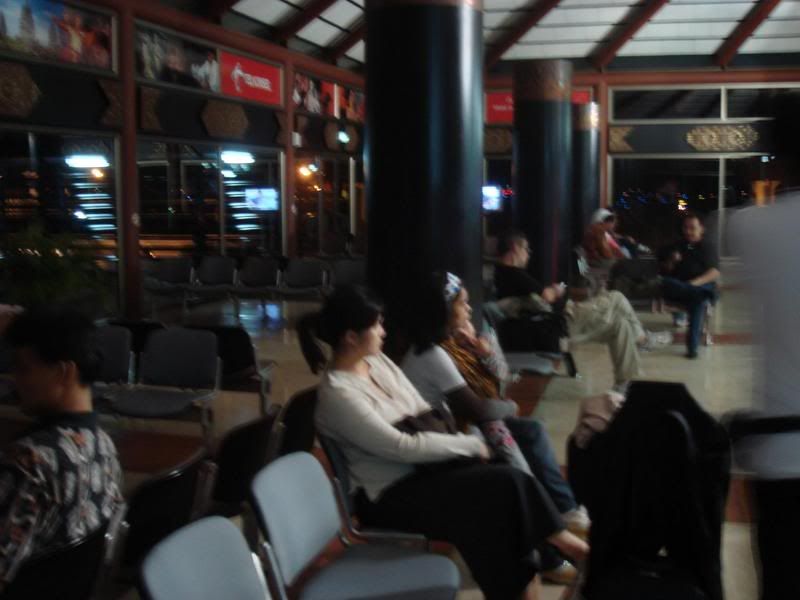 The passengers waiting inside the boarding lounge.
The boarding lounge again, was quite dimmed but the architecture is rather unique with a lot of details, including the same 70s influenced chandelier.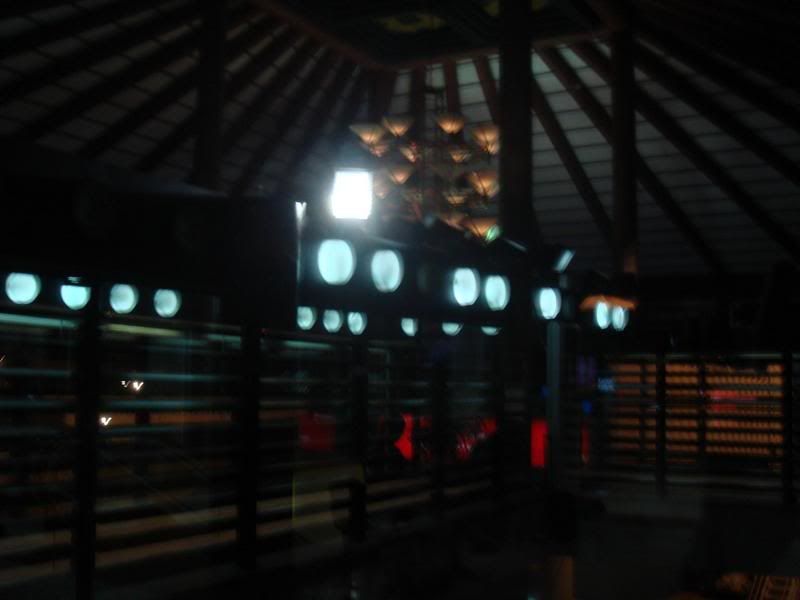 View over the boarding lounge.
From the lounge's window, I can see the aircraft sitting on the apron, getting prepared for the flight. It was a Boeing 737-400. The traffic at this hour in CGK is quite heavy. I saw 3 B747s departing and arriving; GA, LH and KL. I tried to snap some photos of it but the outcomes were disappointing. Well, I am an amateur.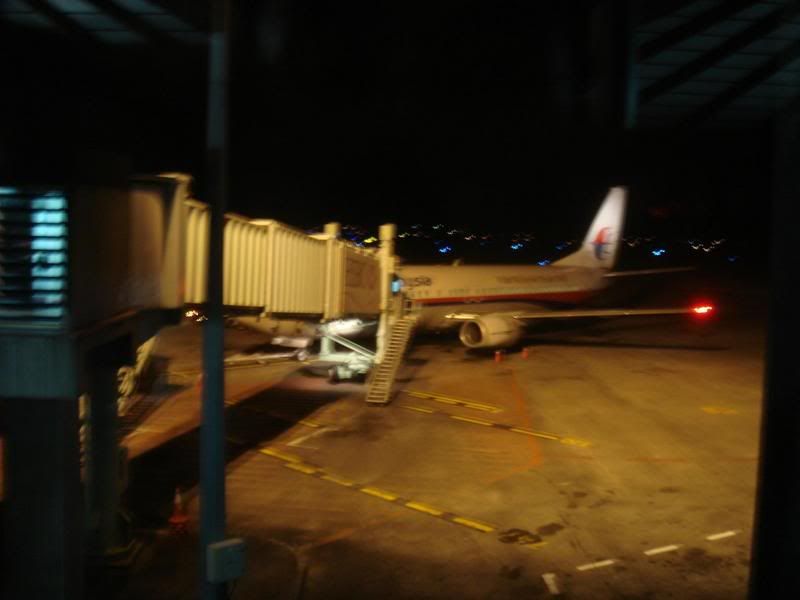 View over the equipment, 9M-MMK.
Soon after, the door was opened and passengers were allowed to board the aircraft, beginning with passengers who need special assistance and to those who travel with toddler. Business class passengers can board at any time. The passengers seemed a bit laid back and taking their time to board. There's nothing to rush for anyway.
FLIGHT'S DETAILS

Date/Day: 14 January 2007/Sunday
Flight Number: MH 724
Carrier: Malaysia Airlines
Aircraft: Boeing 737-400
Aircraft Registration No: 9M-MMK
Route: Jakarta (CGK) to Kuala Lumpur (KUL)
Departure Time: 19:50 hours Indonesian (West) time (GMT +7)
Arrival Time: 22:50 hours Malaysian time (GMT +8)
Seat Number: 17A (Window Seat)
Journey: 2 hours
Distance: 699 miles
Class of Travel: Economy
Fare Category: Q (Discounted Economy)
The load was around 70% in Economy and 50% in Business. All MH's B734s can accommodate 144 passengers, 16 in Business class and 128 in Economy class. The seat layouts are 2-2 abreast in Business class and 3-3 abreast in Economy class.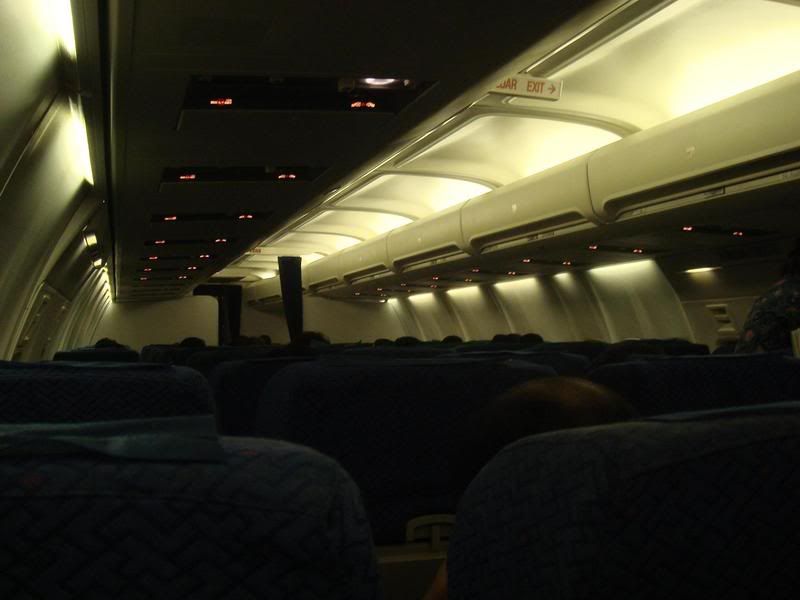 View over the Economy class cabin of MH's B734.
Push back was on time and the leading stewardess started her welcome notes and followed by the safety demonstration while the aircraft began taxiing. The Economy class was served by 3 flight attendants. We rolled and rotated soon after.
Passengers were provided a headphone, which can be used to watch the entertainment program being screened at the front monitor or listening to the music channels. I choose the latter. In the seat's pouch, there were MH's inflight magazine,
Going Places
, a safety card and a brochure of Visit Malaysia 2007 campaign.
MH's inflight magazine, Going Places, a safety card and a brochure of Visit Malaysia 2007 campaign.
The seat pitch was satisfying although not 34" as per MH's Economy class offerings on all their B744s, B772s and A333s.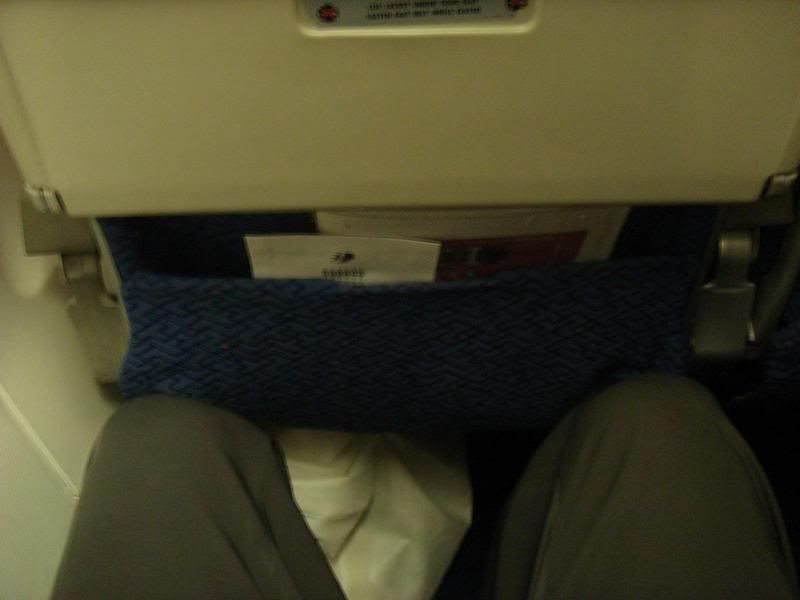 The seat pitch.
Soon after the seat belt sign has been switched off, the flight attendants began their dinner serving run. They served from a cart and passengers were offered 2 choices of meals. I choose "chicken with rice", which was filling and satisfying.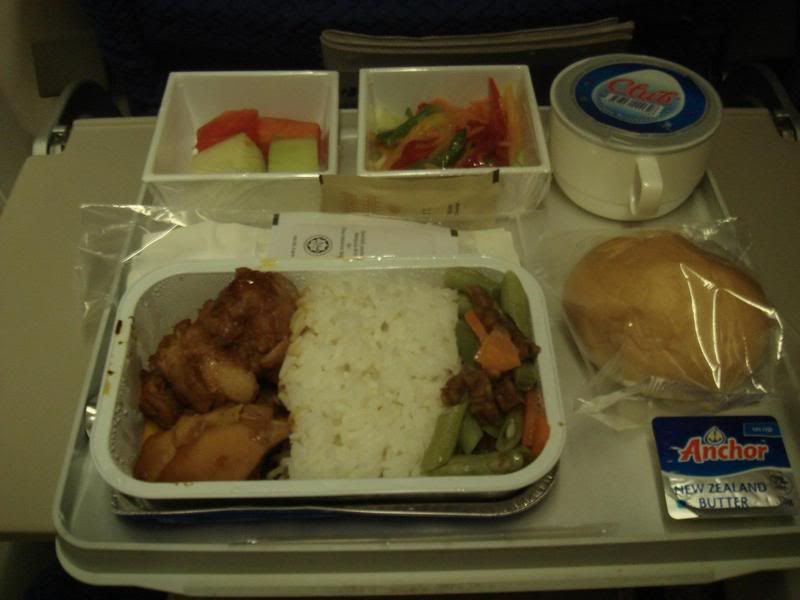 The dinner.
The flight attendants then start their tray collection run and were always on their feet to assist the passengers. About 2 hours later, we began descending and soon landed in KUL, slightly ahead of schedule. The flight was uneventful.
The aircraft docked at the Main Terminal Building, so passengers didn't have to catch the aerotrain.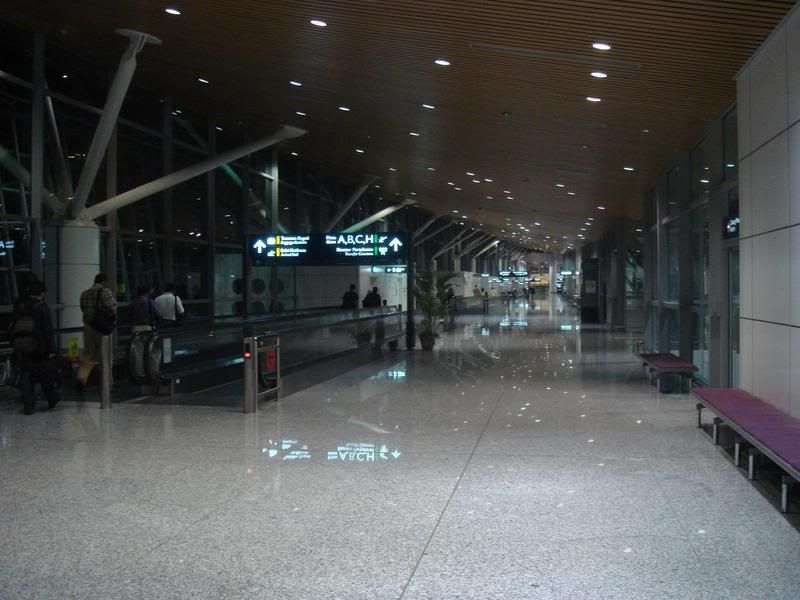 View over KUL's Main Terminal Building, moments after disembarking.
Since I am traveling in a light manner with no check in luggage, I managed to arrive at the immigration clearance checkpoint in minutes. Immigration clearance was done via the machine, which only took 10 seconds. This machine however can only be used by all Malaysian passport holders.
View over the immigration clearance machines.
I proceed straightaway to the KLIA Express departure level to a train to KL Sentral. I think it was the second last train of the day. The last train departs KUL at midnight. I paid MYR 35 for a one way journey to KL Sentral and hopped onto the train.
USD 1 = MYR 3.50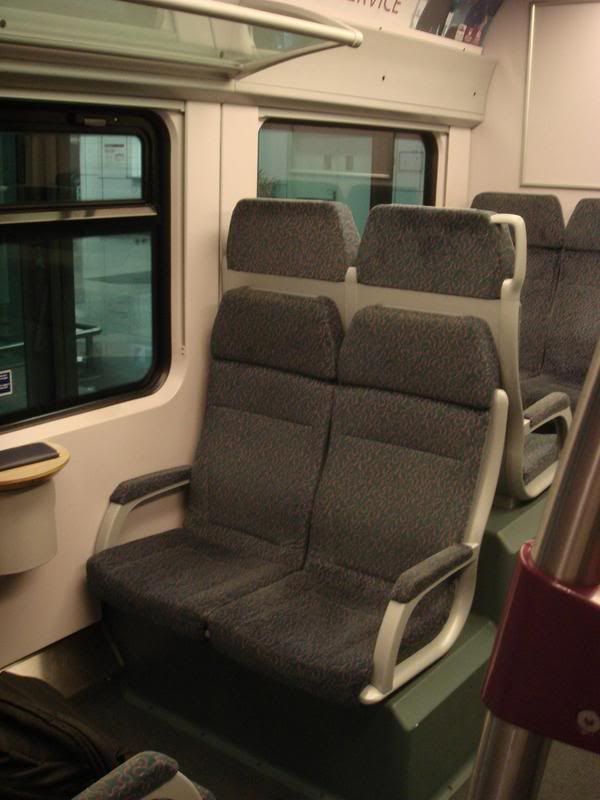 View over my seat inside the KLIA Express train.
The load on the train was very light and as always, the cabin was spotted clean.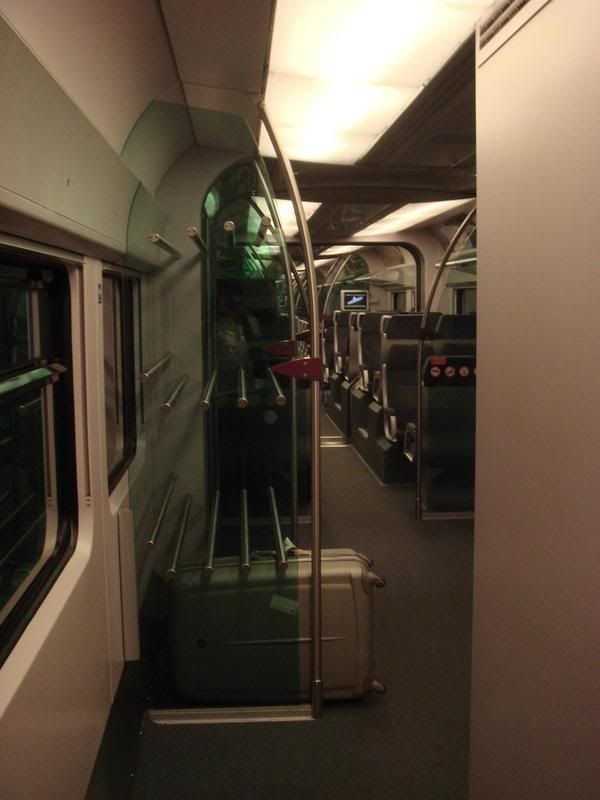 Cabin View of KLIA Express.
I arrived at KL Sentral half an hour later and got myself a taxi. Somewhere past midnight, I finally arrived home.
View on my way home.
As you can see, there are not so much to write about since the moment I got onboard until the moment I arrived home because everything just went on smoothly, in true Malaysian way, like it should.
My journey finally came to an end.
Feel free to read my other trip reports:
Istanbul Winter 2006 With MH (Photos) Part 1
(by
9MMAR
Dec 19 2006 in Trip Reports)
Istanbul Winter 2006 With MH (Photos) Part 2
(by
9MMAR
Dec 19 2006 in Trip Reports)
Intra Asean Jakarta In Business With MH
(by
9MMAR
Jan 1 2007 in Trip Reports)
Intra Indonesia Pontianak With Batavia (Photos)
(by
9MMAR
Feb 13 2007 in Trip Reports)
Intra Indonesia Jakarta With Sriwijaya (Photos)
(by
9MMAR
Feb 24 2007 in Trip Reports)
9MMAR