Background
After having been busy for three months on a strategy project for the company I work for, it was time to go to one of our corporate offices – in this case Johannesburg – to present our final results. I was originally going to join by video conference, but decided to be in person in Jo'burg and also take the opportunity to visit some of our South African assets, not to mention the chance to go on Safari. The main focus of the report will be the flights between Johannesburg (JNB) and Kimberley (KIM), for which I took a lot of pics, and to a lesser extent the flights between SIN and JNB, since I've seemed to have covered ad nauseam the SQ Raffles experience. I will also throw in a few pics I took at one of the game farms we went to, since I feel that truly represents the South African experience.
Flight:
SQ 487
Sector:
SIN – JNB
Aircraft:
Boeing 777-200ER
Date:
February 21st, 2007
Dep (Actual):
2:00AM (2:30AM)
Arr (Actual):
6:55AM (6:30AM)
Flight time:
10 hours 0 minutes
Class:
Raffles Class
Seat:
14H
I got to the airport quite early, mostly because I got bored of hanging around my apt late in the evening waiting for it to be midnight to go to the airport. The SQ lounge was quite empty, as our flight and the one to CPT were the last to leave Singapore in the late night, or early morning, however you want to look at it.
Our flight was delayed due to some problems in trying to accommodate cargo in the hold. We did leave about 30mins late, but manage to make up time due to favourable tailwinds. About an hour after take off some light refreshments were offered, and I had a pastrami focaccia along with a Singapore Sling. During this I watched a couple of episodes of The Simpsons, as I had already watched most of the movies on the Wisemen library on previous flights in February. I was really looking forward to the return flight on March 1st, since by then there would be a better selection of movies available.
After this I turned off the screen, put on the blanket, and reclined the seat to it's "flat" position. Although the seat in theory does turn into a flat bed, it's not parallel to the ground, and I kept on sliding all night. As mentioned before, I'm not very keen on the Spacebeds and must say again that they are showing their age. I actually got into an argument with a colleague about this. I told him I preferred BA's Club World seats. He loathes BA and thinks the Spacebeds are better. Oh well, to each his own.
The flight itself was really bumpy, and the turbulence lasted the whole way. During the ~10 hours of the flight, I managed to sleep about 5 hours or so. We also had a beautiful sunrise during the morning meal service, during which I had the pancakes and some ham. A really nice and light breakfast. Other options were the omelette (of which they ran out when it was my turn to order) or some Dim Sum.
One thing that I wanted to point out was how I noticed that when I went back to economy to stretch my legs and looked out the window at the beautiful sunrise and the massive wing and engine, it just reminded me how when you're upfront you are so busy with the fancy IFE and the comfy bed, that you really forget how magical flight itself really is. I actually gazed out the door window for quite a while, just reminding myself on how I used to appreciate flying much more before when I used to ride in the back. It actually made me look forward to a personal trip I'm taking in two months: I'm flying SA)">UA SIN-NRT-ORD-MIA and back, all in economy! I'm really, really looking forward to this flight.
All in all, the flight on SQ was good and must say that the cabin crew was excellent on this flight. 10 out of 10!
After three days of work, the weekend came and me and one of my colleagues planned for some sightseeing over the weekend. On Saturday we went to the Rhino & Lion park, just outside Jo'burg, as well as to Maropeng, also known as the Cradle of Humankind. On Sunday we drove all the way to Pilanesberg and went to the Pilanesberg National Park game reserve. It was tons of fun and I do recommend it as one of the things to do in life. Here are some of the pics I took over the weekend: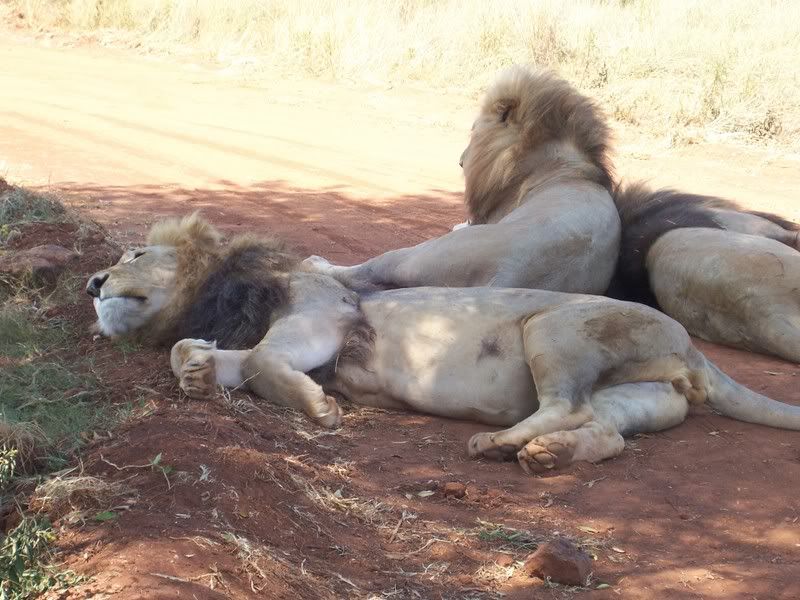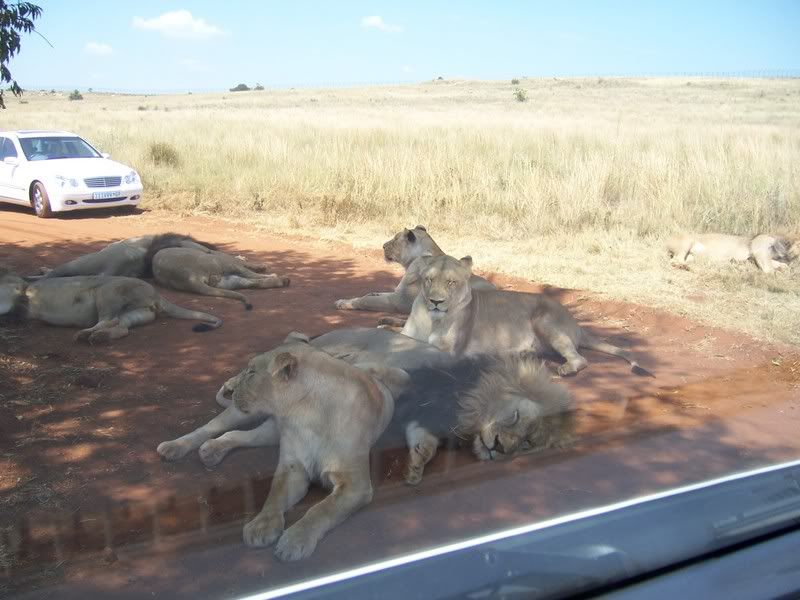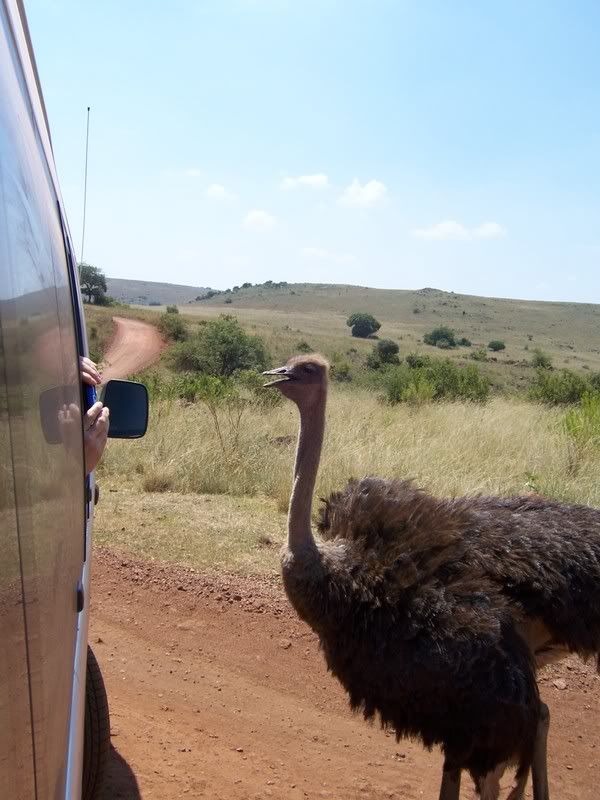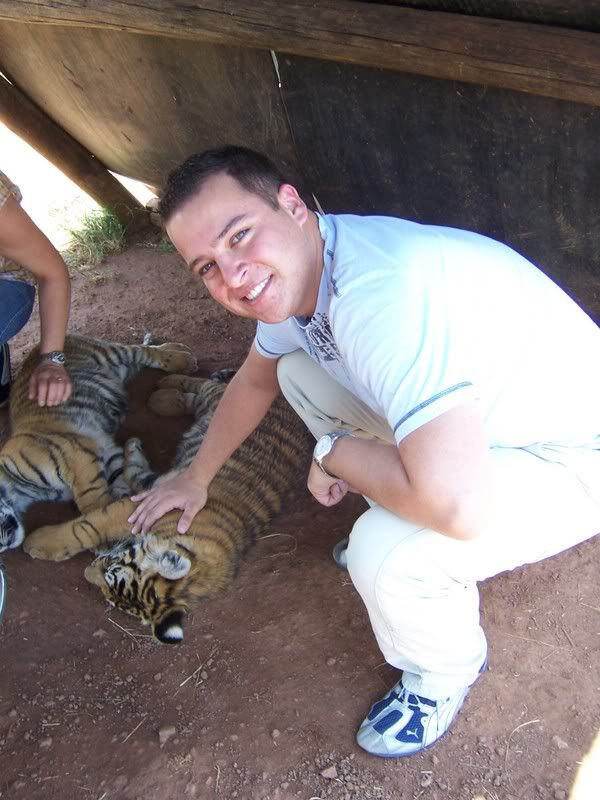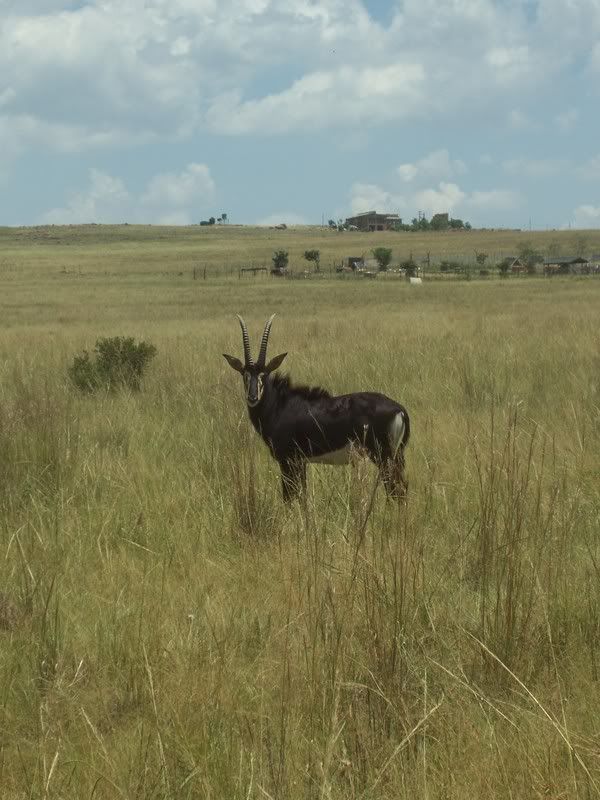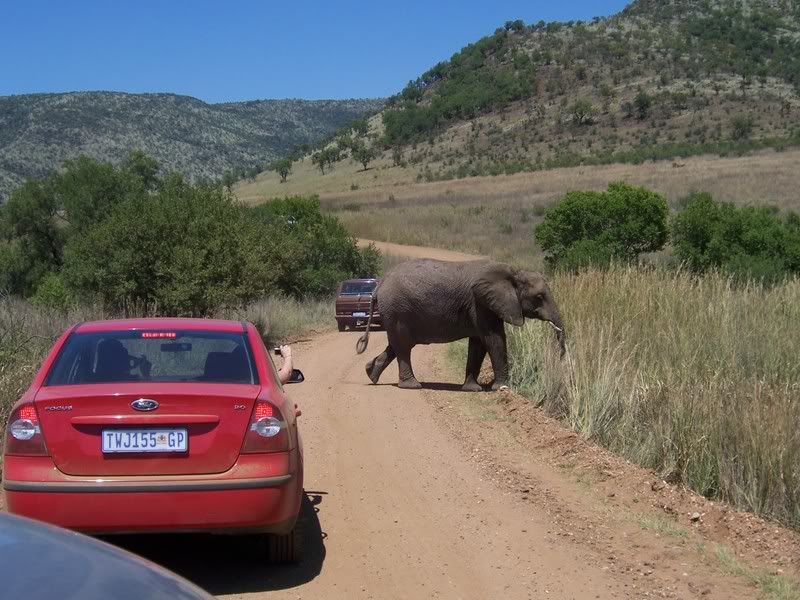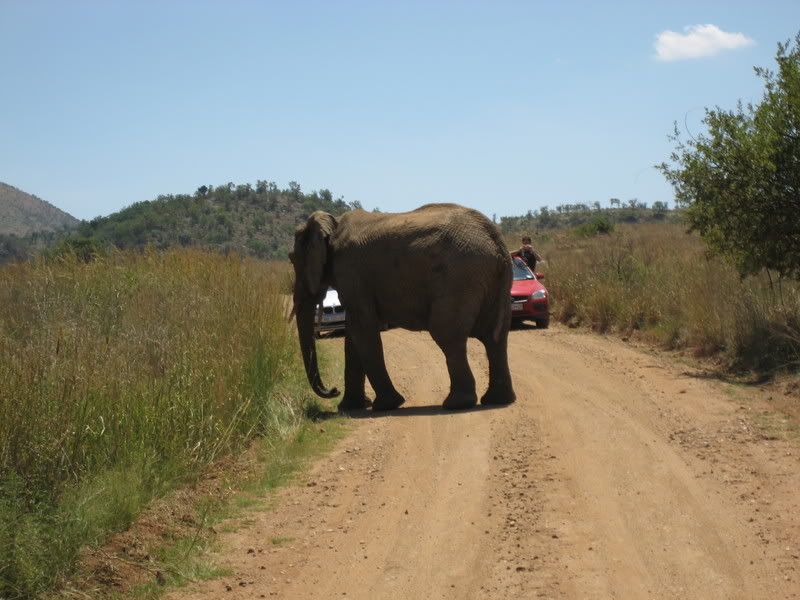 So after an exciting weekend, it was now time to go and visit the assets and learn a bit more about the products that we sell. This included a visit to a mine out in the Kalahari on the 26th and 27th of February, and a visit to another asset back in Jo'burg on the 28th, before heading back home on March 1st.
Flight:
SA 1101
Sector:
JNB-KIM
Aircraft:
DHC8-300
Date:
February 26th, 2007
Dep (Actual):
5:55AM (6:05AM)
Arr (Actual):
7:10AM (7:15AM) +1
Flight time:
1 hour 10 minutes
Class:
Economy Class
Seat:
5A
After an amazing weekend around Jo'burg, we had to wake up on Monday morning at the ungodly hour of 3:00AM in order to catch our ride to the airport at 4:15AM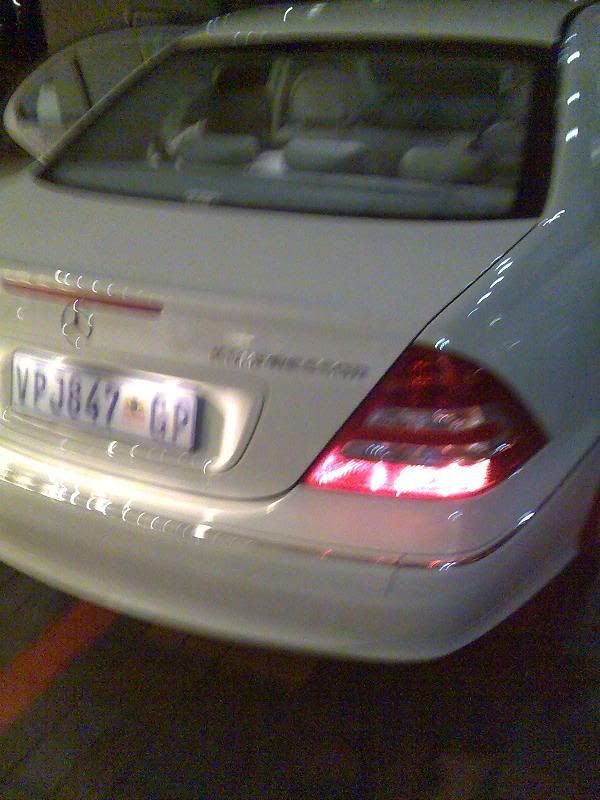 Our ride to the airport
We got to JNB around 4:45AM thinking that we were way too early. Well, there turned out to be some long lines of people checking in for an array of SA flights to different destinations within South Africa.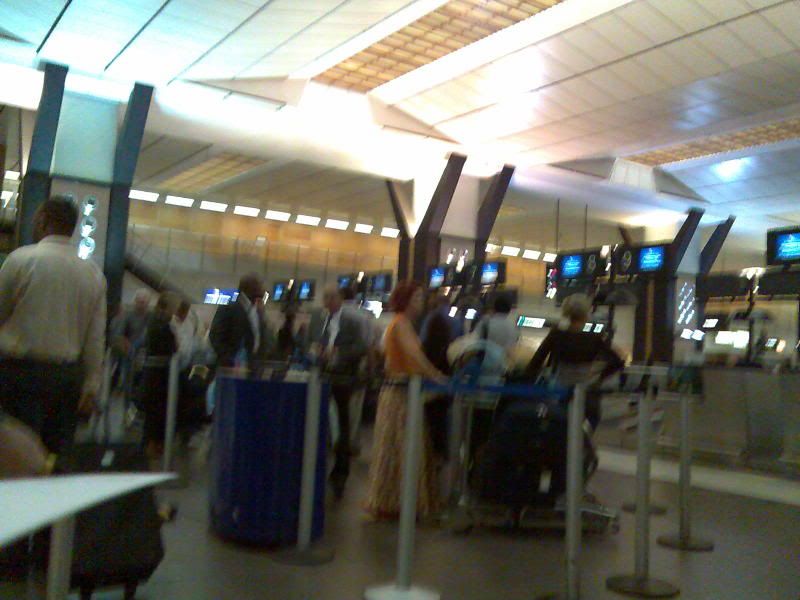 SA domestic check-in counters
At the check-in desk the kind lady offered me a window seat on the left side of the aircraft and also credited my SQ KrisFlyer account, although I do wonder how many miles I can get for this trip. Probably not a lot!
Following check-in, we went towards the domestic gates and went past the security checkpoint. With about 10 mins to go before boarding time, my colleague and I decided to get some coffee before the flight. Unfortunately the people working the coffee machine at Wimpy were quite slow, so we settled for regular coffees. I must say it's probably the crappiest coffee I've ever tasted. Sorry, as a kid I never drank Milo or Nesquik, but good ol' Colombian coffee
By now it was 5 mins past boarding time, so we made our way to gate E7, where a very rudimentary announcement was made to board our flight. Basically the gate agent just yelled something along the lines of "All aboard the flight to Kimberley!" It felt more like we were boarding a bus, rather than an airplane. Although, on second thought, we actually did board a bus that would take us across the ramp where the SA Express and SA Airlink aircraft are parked.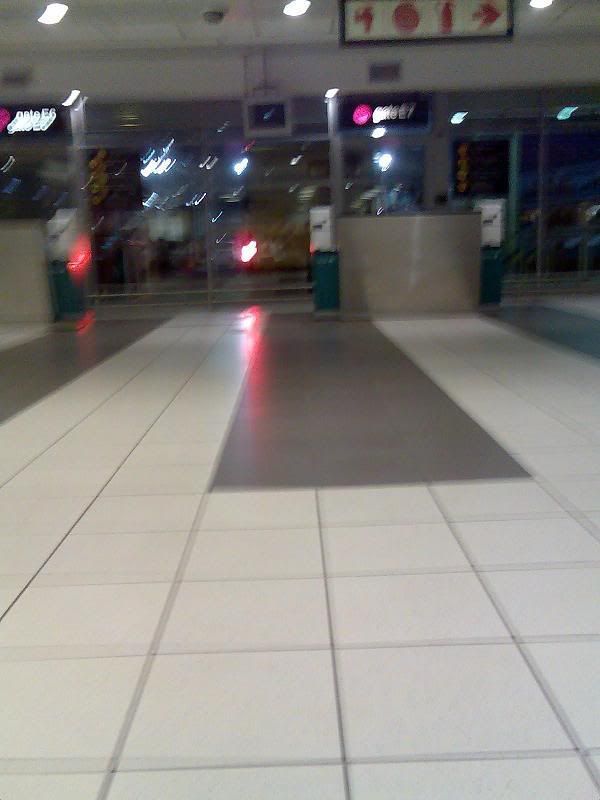 Gate E7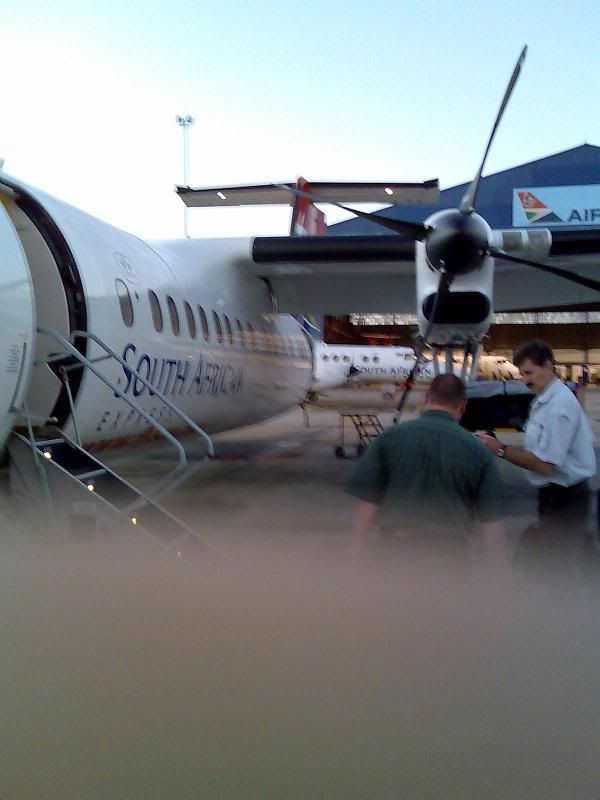 Boarding our Dash-8 to KIM
Once on board, it was a nice feeling to be back on a turbo-prop and I actually welcomed the cramped feeling of the cabin, compared to the space you find onboard the 777. It's amazing how the little things that bother some can instil pleasant feelings on others.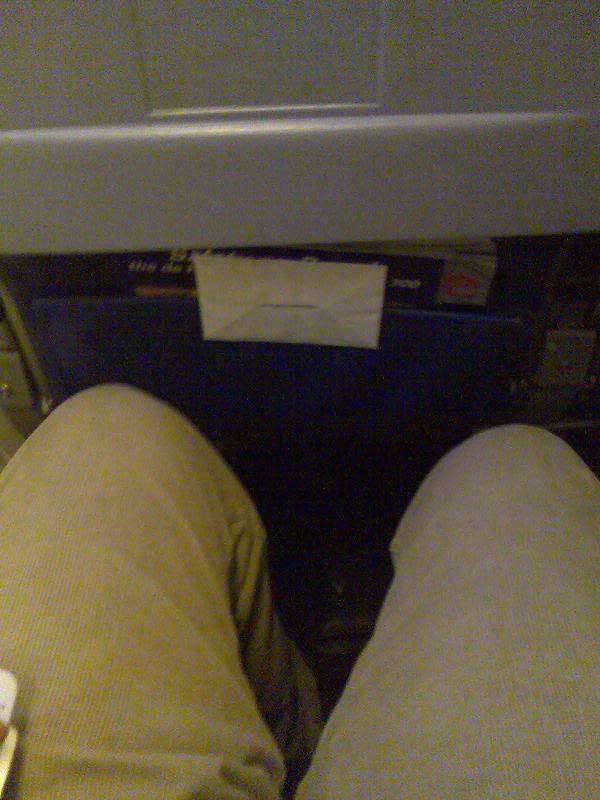 Legroom on our Dash-8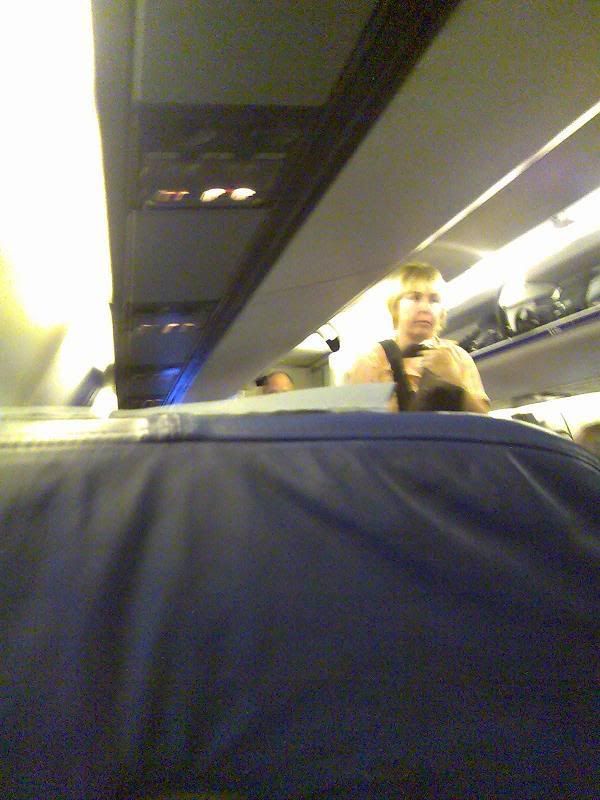 People boarding the flight to KIM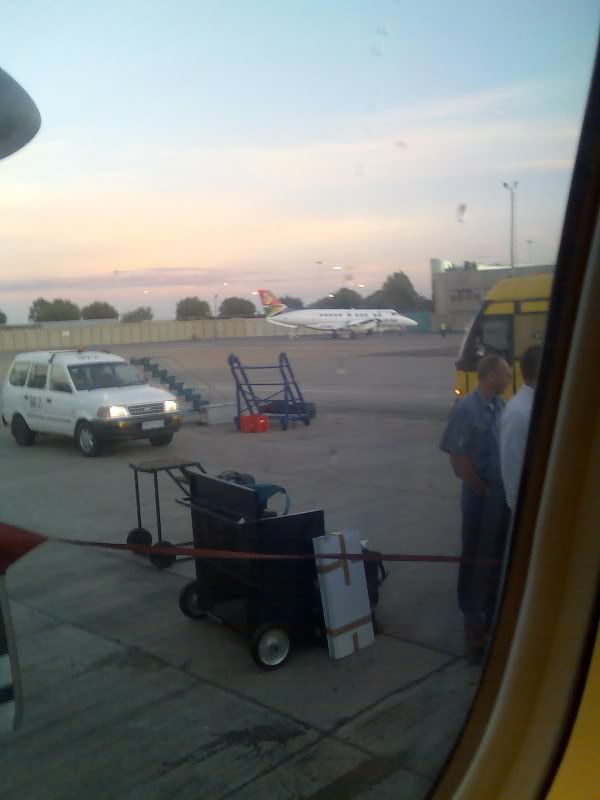 SA Express and SA Airlink ramp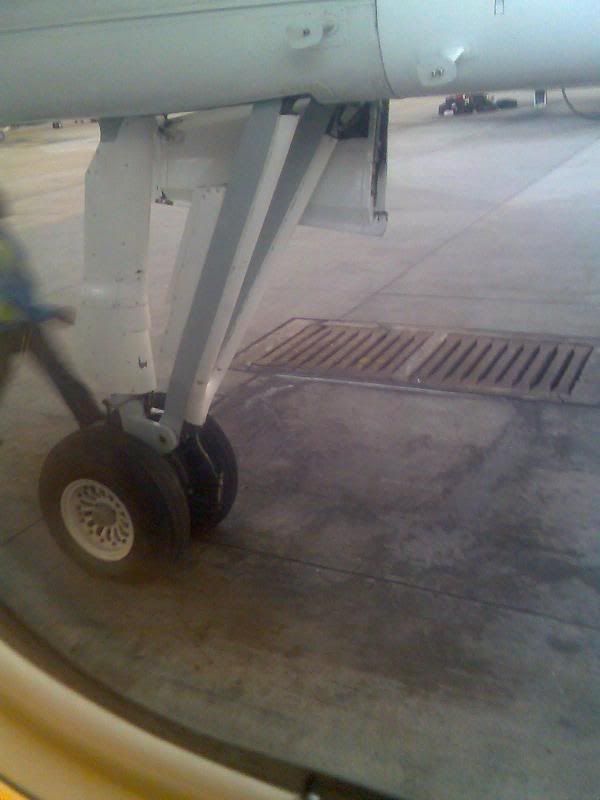 Main left gear
Very soon after boarding was complete we pushed forward and headed to the active (sorry, but I am in no way familiar with the rwy structure at JNB). After a quick roll, we headed North and then made a quick left turn, passing over Sandton and central Jo'burg (which unfortunately meant that there were no opportunities for a good pic of the city from above) and then headed straight to Kimberley.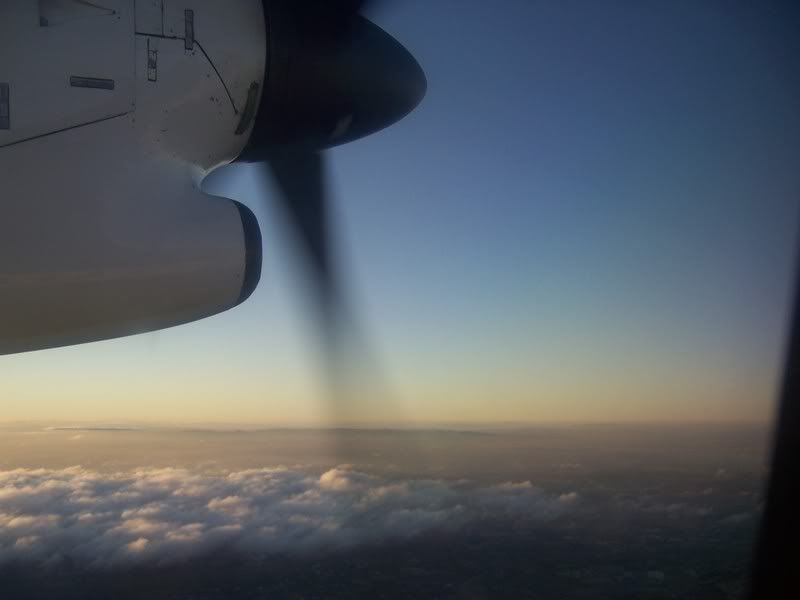 South African sunrise as we climb to FL180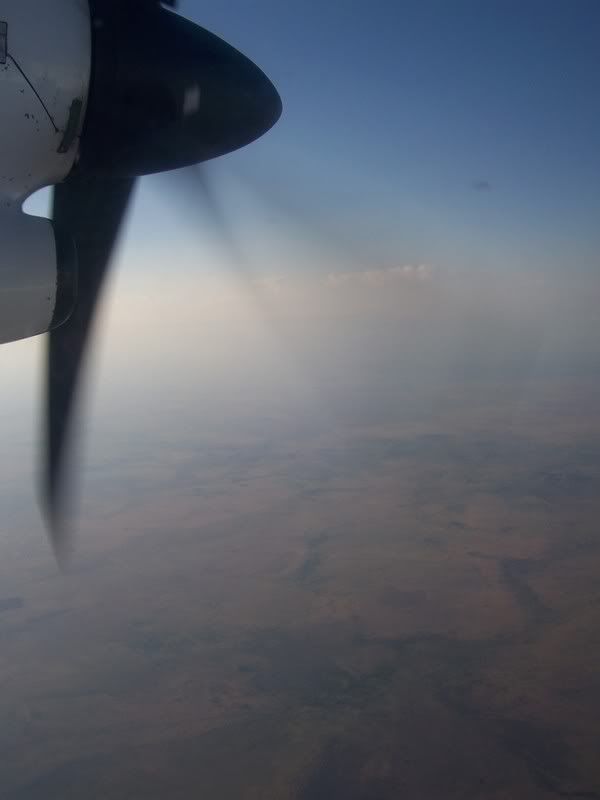 Crossing into the Kalahari desert
As we reached our cruising altitude of 18,000 feet, the cabin crew's sole member started the meal service. Although I was expecting something along the lines of DL's meal service back when I did the TLH-FLL runs (pretzels and bottled water), I was pleasantly surprised to get a meal box which had a bread roll, cold cuts, cheese, an energy bar, yoghurt, and orange juice, all of which was followed with a choice of coffee or tea. Of course I must say that for +US$300 for the flight, it's what would be expected.
We had some really nice scenery on the way to KIM (I do love the vast openness of South Africa and Australia), and very soon we started to descend.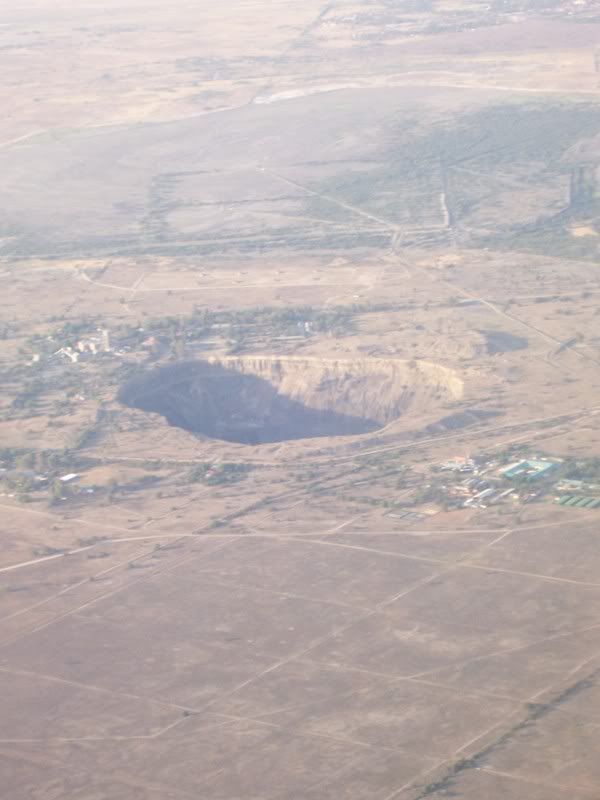 One of the many mines around Kimberley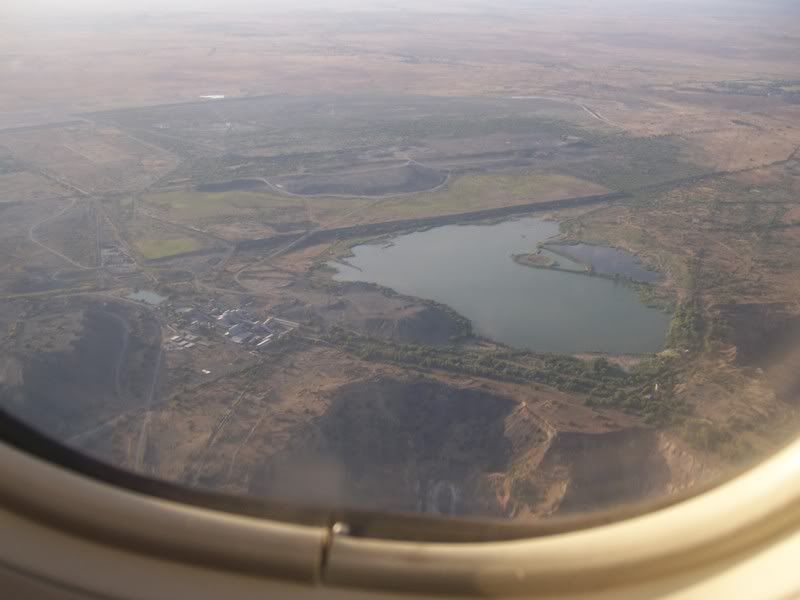 Yet another mining complex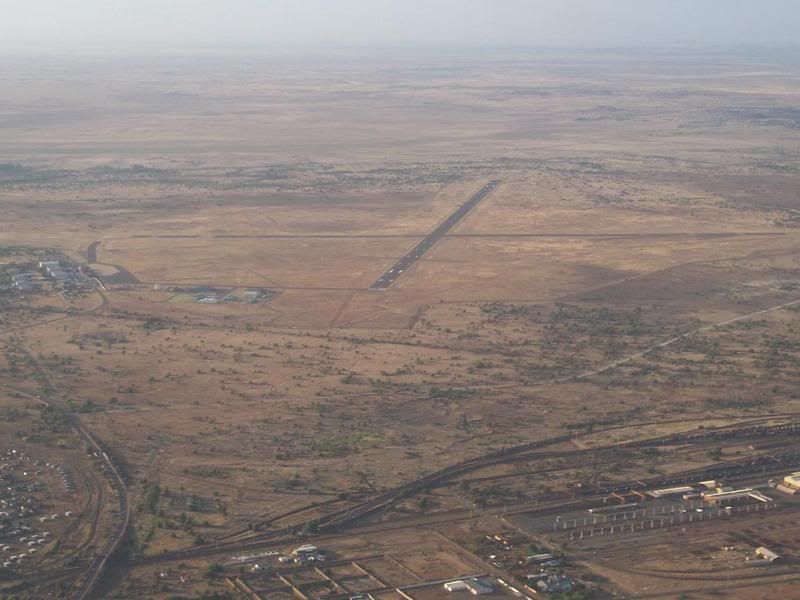 Downwind for KIM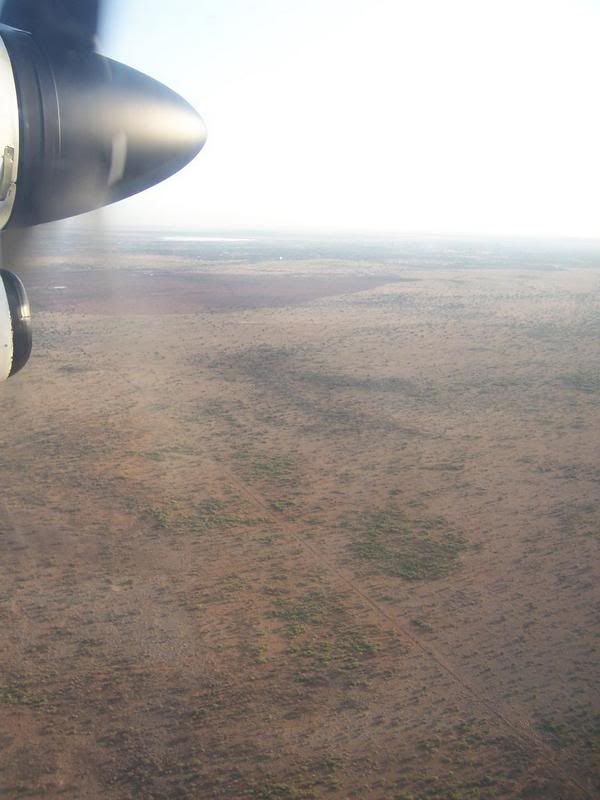 Finals over the Kalahari



Our airplane at the ramp in KIM
All in all this flight definitely exceeded my expectations. I thought it would be a quick run with some spare time to open the George Orwell book I'm reading, but I must say that the service and the experience was beyond expectations. I would rate this flight as 11 out of 10, the extra 10% for the plentiful meal.
We met our driver at the small terminal area, got our bags, and drove for nearly 4 hours across the Kalahari to visit one of our assets.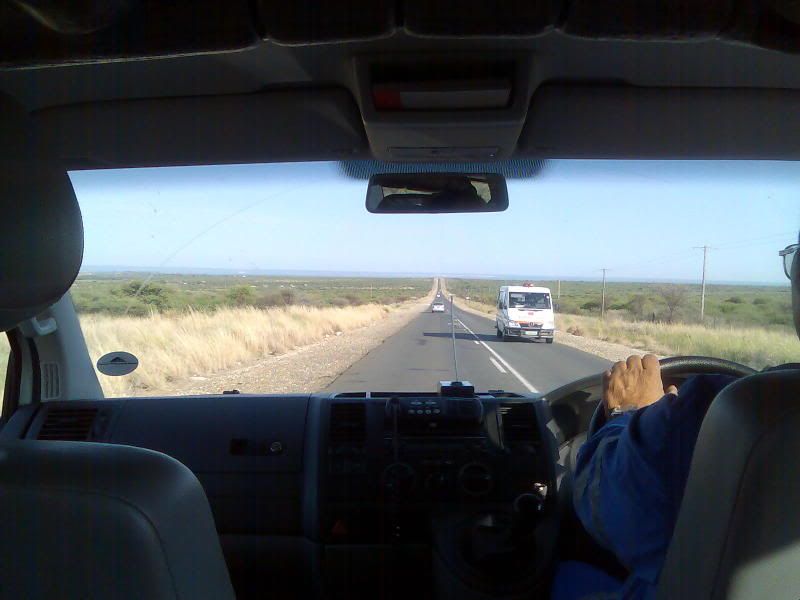 Driving across the Kalahari desert
After two days there learning more about our products and doing a few presentations, it was time to drive back for another 4 hours back to KIM.
Flight:
SA 1106
Sector:
KIM-JNB
Aircraft:
DHC8-300
Date:
February 27th, 2007
Dep (Actual):
5:50PM (6:00PM)
Arr (Actual):
7:05PM (7:10PM)
Flight time:
1 hour 5 minutes
Class:
Economy Class
Seat:
12A
After a painfully long car ride into Kimberly, we got to the airport just before 4:00PM, about two hours before hour departure. The check-in counters were closed, and the airport looked pretty dead. We decided to go to the only restaurant to get some coffee. On offer were cappuccinos and machiattos, but we found out they were both made with instant Nescafe… ugh!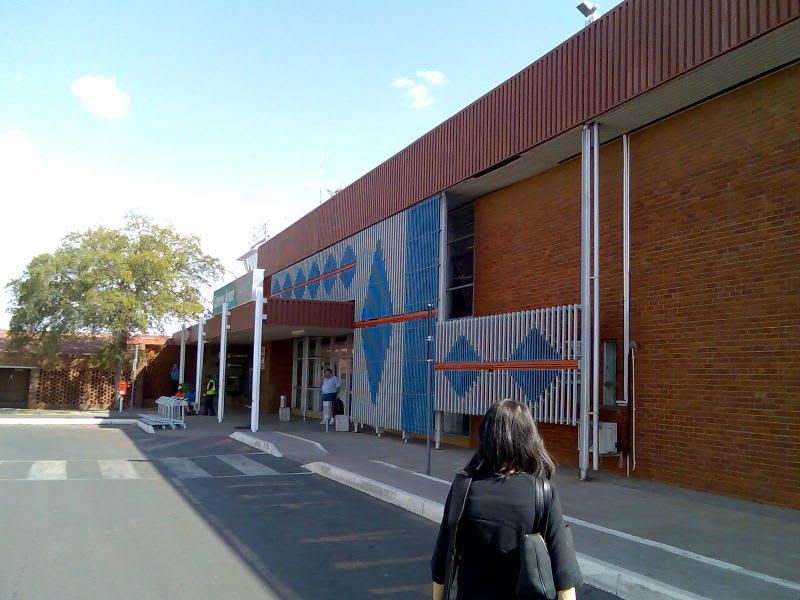 Kimberly airport terminal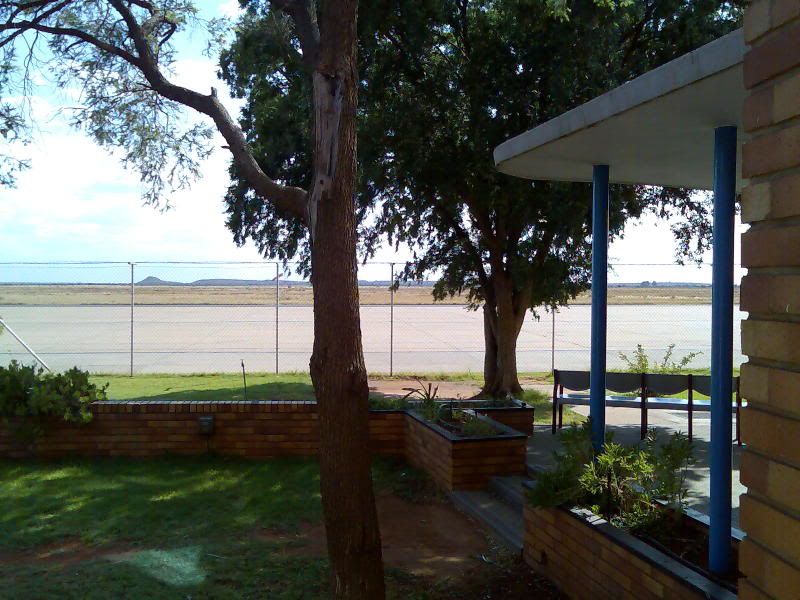 View of the apron from the restaurant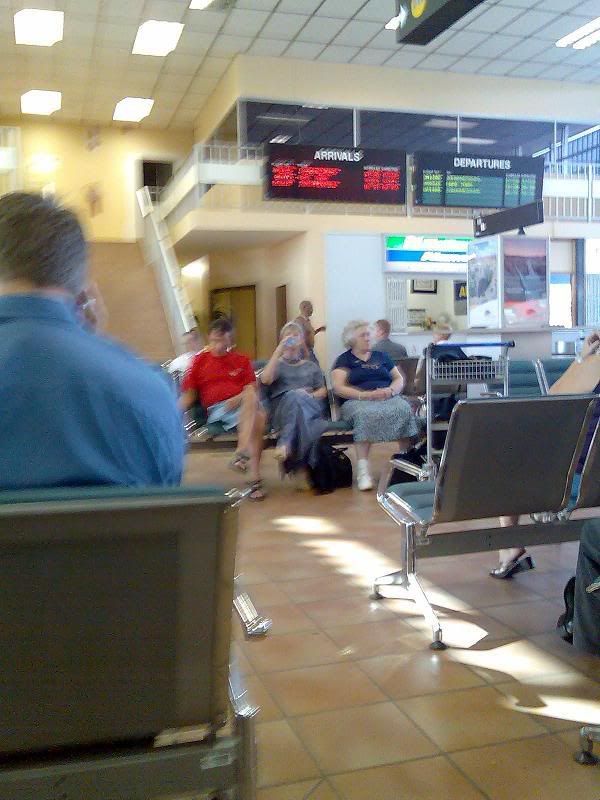 Check-in area and greeter's lounge… and baggage claim area… and car rental area… and etc
At around 4:30PM the check-in counters opened and we were the first in line. The check-in agent gave me my boarding pass with seat 12A printed on it, tagged by bag to JNB, and credited my SQ KrisFlyer account. After this we hung around the lobby area of the small terminal, during which we saw our aircraft arrive around 5:05PM. At 5:30PM, when it was time to board.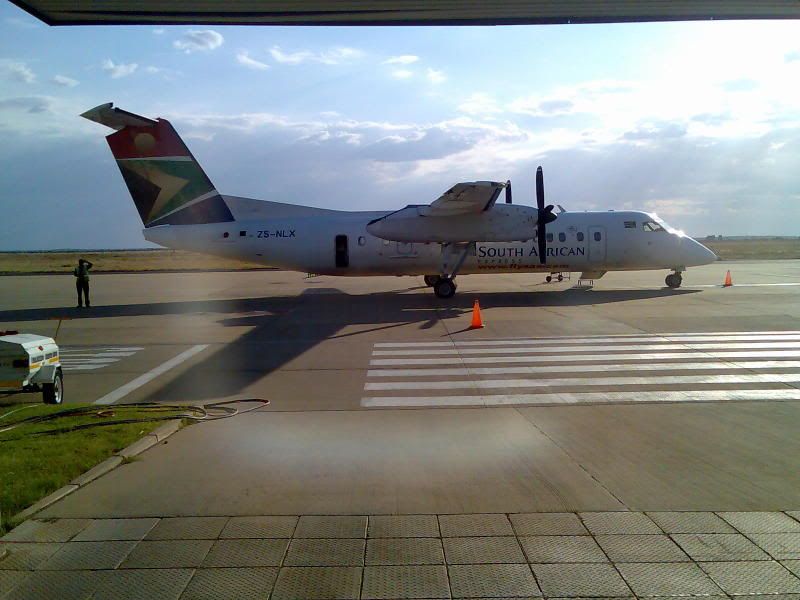 Our aircraft arriving at KIM as SA 1105 from JNB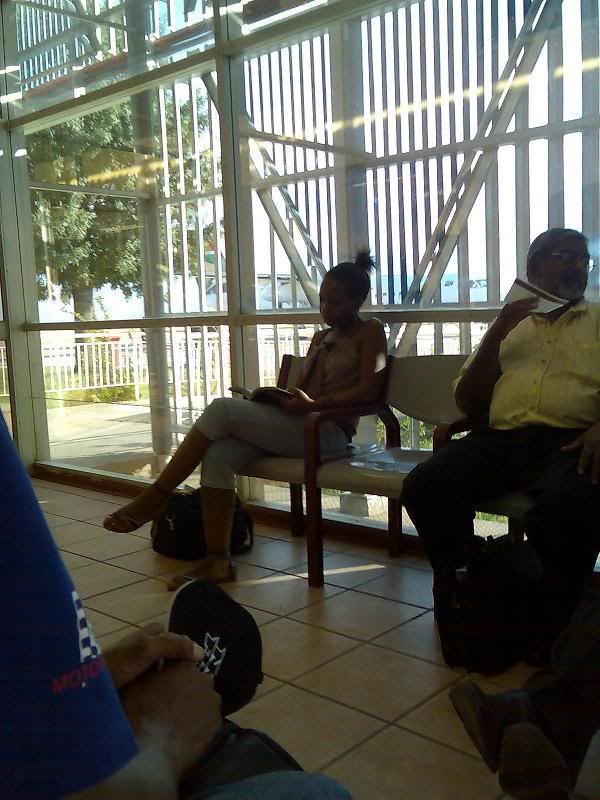 Gate 1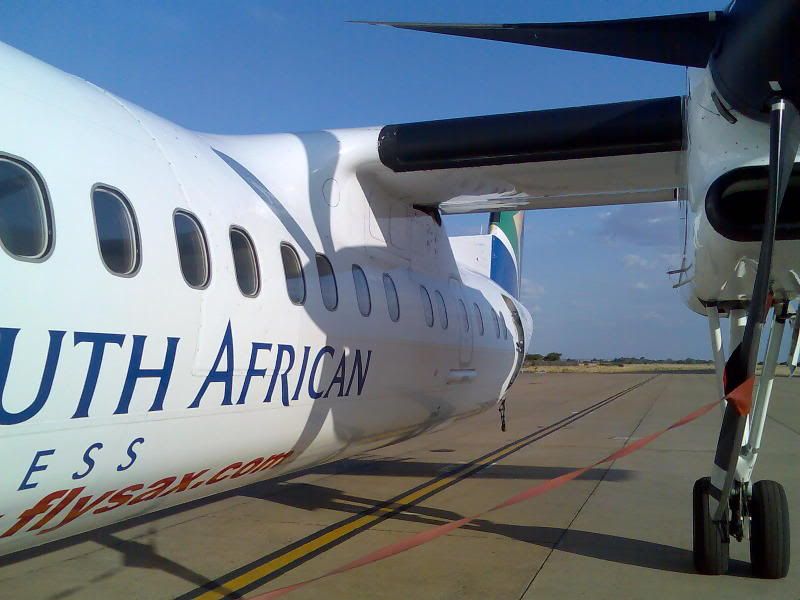 Boarding the Dash 8-300
The inside of the plane was scorching hot when we boarded, but luckily the boarding process only took about 10 minutes, after which the engines started running and the a/c was turned on. We pushed forward a few minutes late and made our way to rwy 20, where a small plane was just about to take off. We lined up behind him and then shot up into the African sky, making a left turn after take-off to head north towards JNB.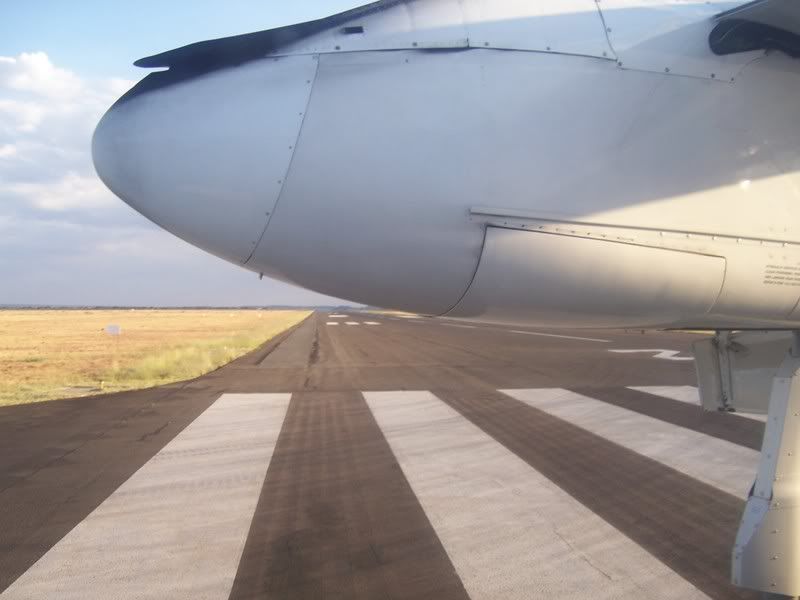 Lining up on rwy 20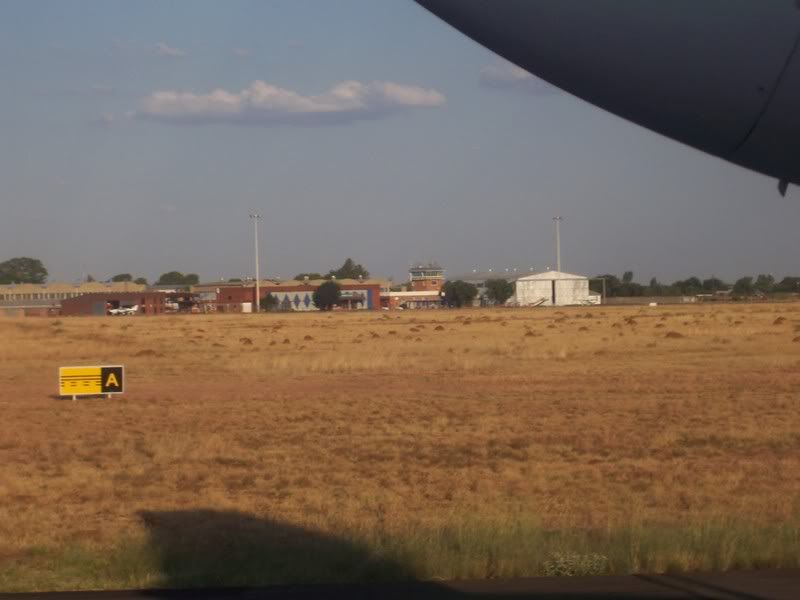 KIM's tiny terminal bldg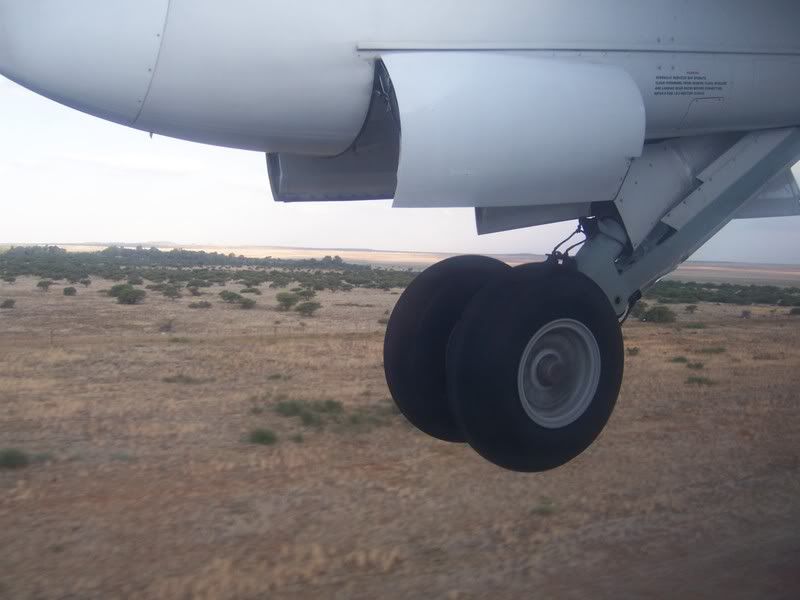 Rotate!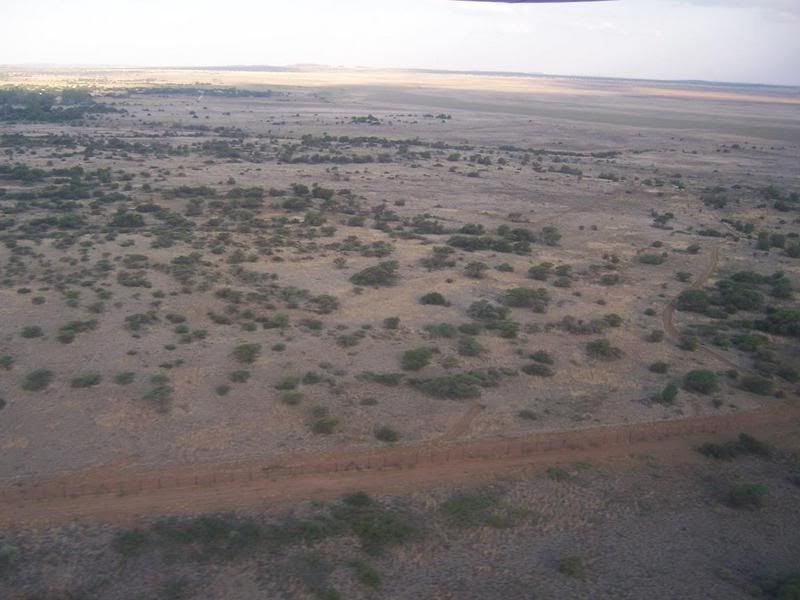 The Kalahari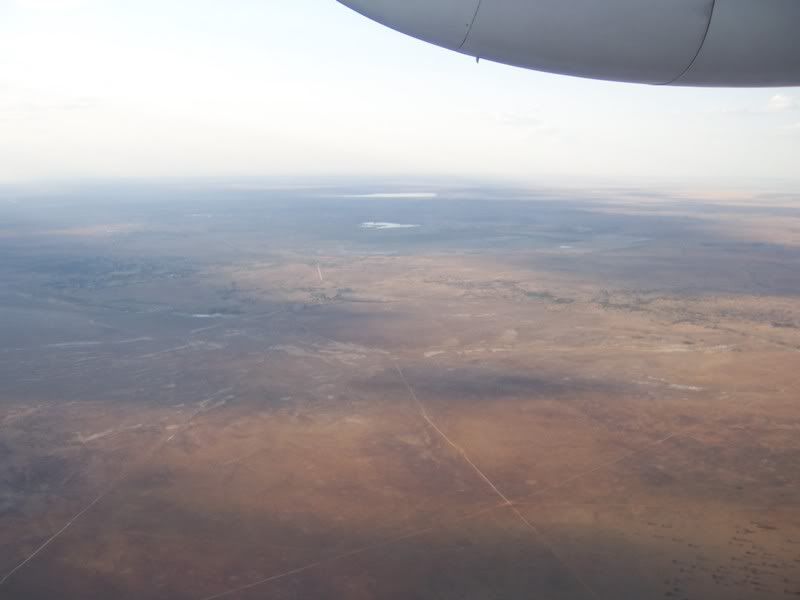 Pretty dry down there
About 15 mins after takeoff the F/A's came around with the meal service. On offer was a meal box and inside there was a pasta salad as well as some kind of chicken cold cut, the latter being a bit too unorthodox for my taste. Also in the box was a chocolate bar, and this was followed by the drinks trolley. Again, nothing to write home about, but it's definitely a nice touch to have a small meal on a 1 hour regional flight, as opposed to the usual pretzels you get on flights in the US.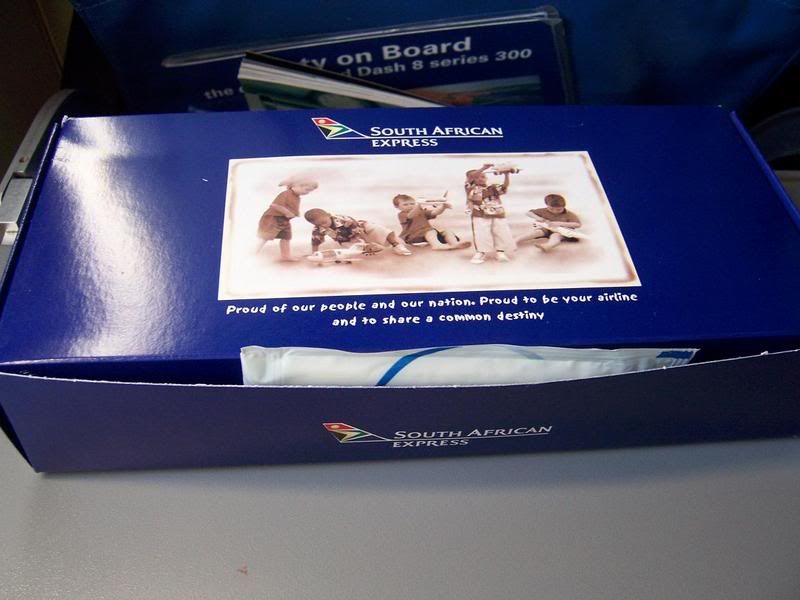 Meal box



Sunset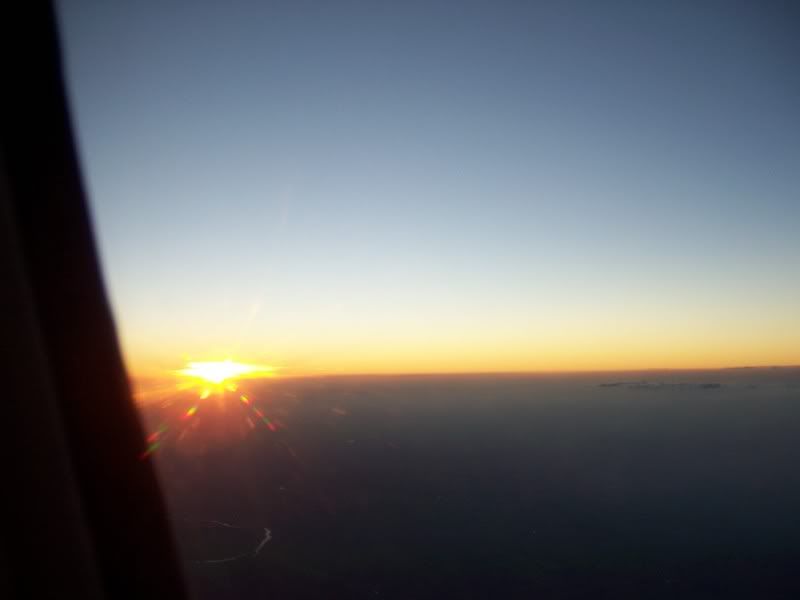 Just a few more minutes of light
After just under an hour of flying, we started our descent into Jo'burg. I know we came in from the south, but I'm not exactly sure as to which rwy we landed on. The landing was quite hard, and we bounced off the ground once, which was clearly noticeable to me, since I sat just behind the wing.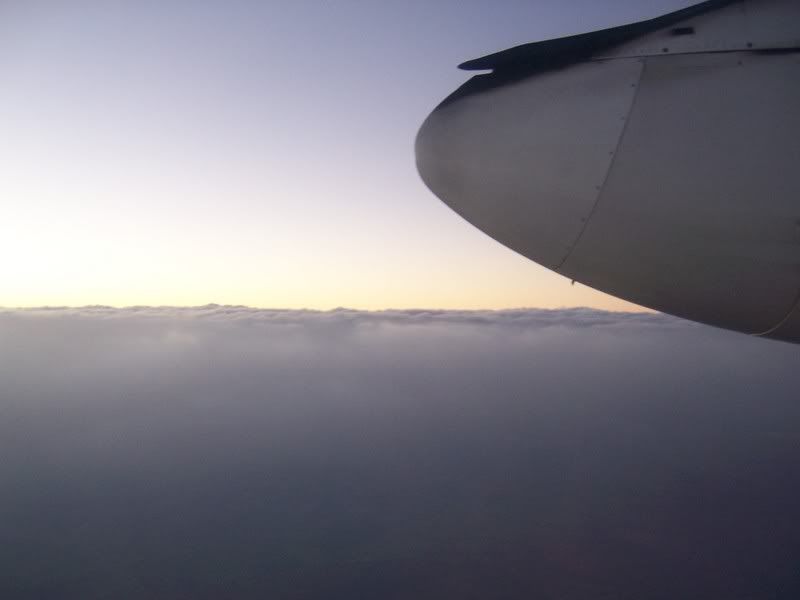 Descending from FL180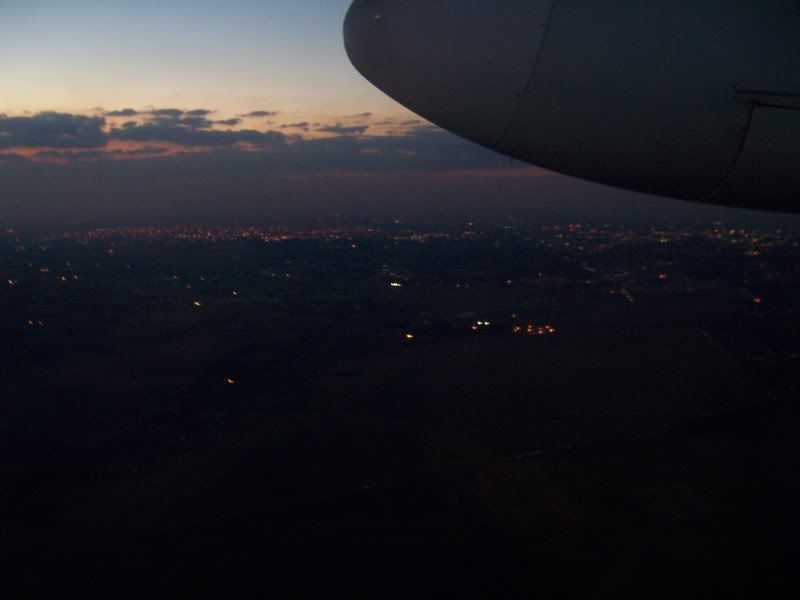 Outskirts of Jo'burg

After landing we made our way to the SA Express and SA Airlink ramp. On the way I spotted a couple of old DC-8s as well as a 747 classic, and then later saw a few BA and SA 737s.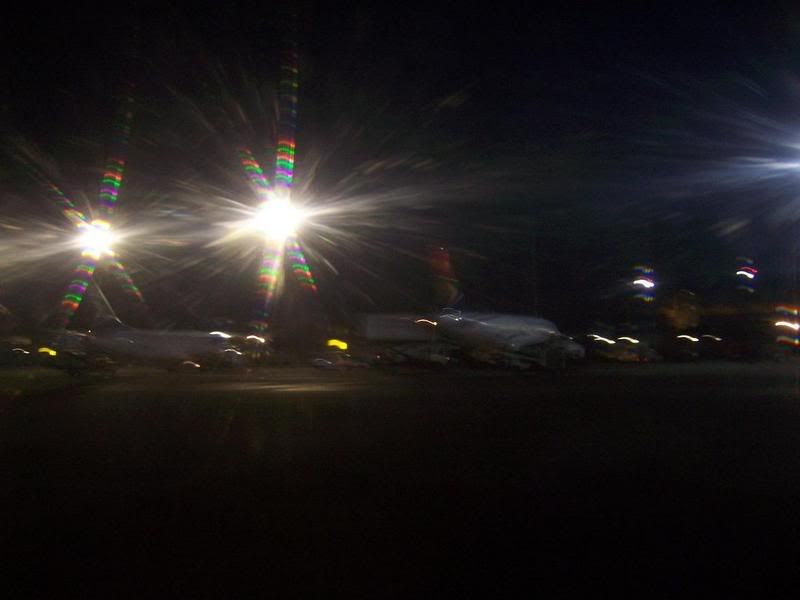 A blurry shot of the BA and SA 737s

After parking at the ramp, we got off the plane and boarded a bus to the domestic terminal. After a short ride we got off, got our bags from the belt, and met our driver who would take us to our hotel.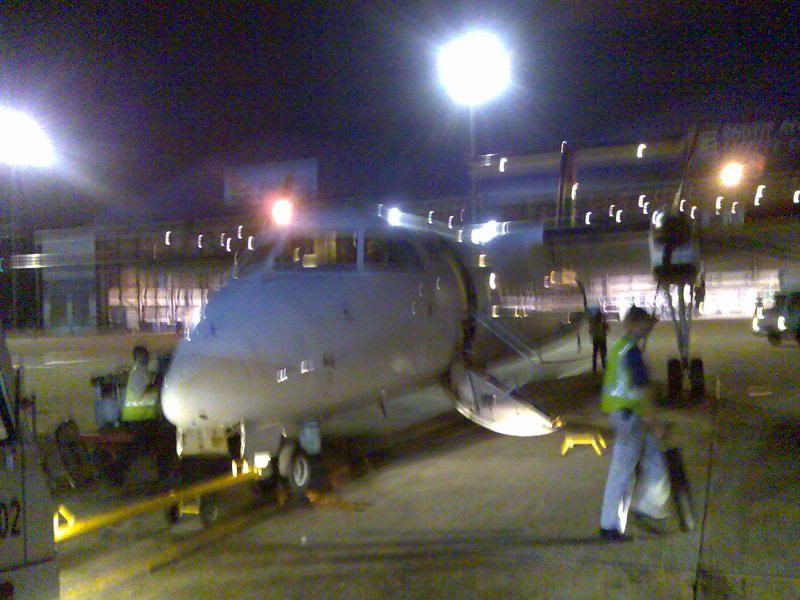 Our a/c parked at the ramp after the flight from KIM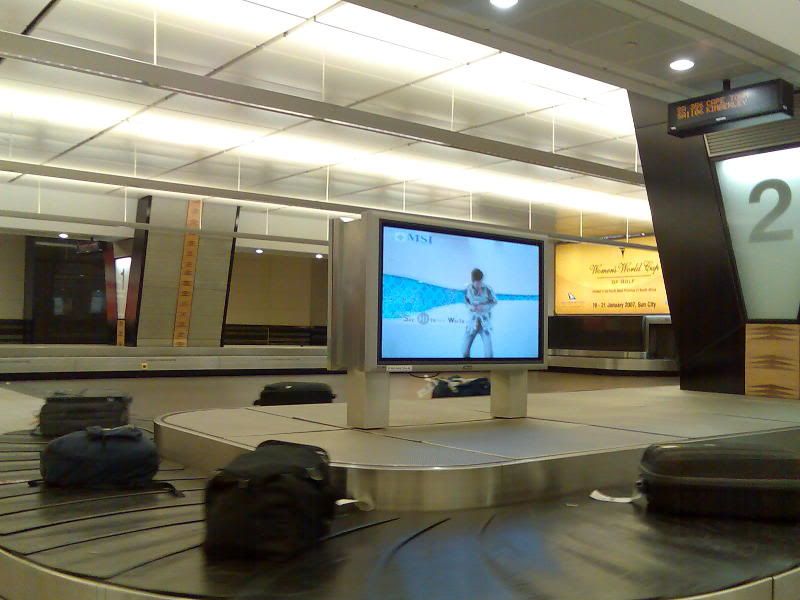 Baggage claim

Back in Jo'burg, it was two days of frantic and hectic work for the next day and a half. But the nice thing is that on Wednesday evening I ventured outside the hotel to Nelson Mandela square, which is a really nice shopping and eating area in Sandton. The main square actually resembles an Italian piazza. Thursday afternoon came around and it was time to go to the airport to catch the flight home.

Flight: SQ 479
Sector: JNB – SIN
Aircraft: Boeing 777-200ER
Date: March 1st, 2007
Dep (Actual): 2:40PM (2:50PM)
Arr (Actual): 7:05AM (7:25AM) +1
Flight time: 10 hours 35 minutes
Class: Raffles Class
Seat: 14H (again!)

Check-in was prompt. After that we went behind the check-in counters towards the security area. After the security checkpoint and passport control, we went to the SA Baobab lounge. The lounge is fairly big and was quite empty, and houses SA, SQ, and a couple other Star Alliance carriers. But the lounge is sub-par compared to other *A lounges. There is no food area, although you can get some small sandwiches and Lay's potato chips from the bar. I ordered a Bloody Mary, but it tasted more like Ragu sauce! There was only one computer, which was occupied all the time I was there, and there was no Wi-Fi.

After a few minutes there it was time to head to the gate. There seems to be no gate area per se at JNB. Basically there's a long walkway with doors on the left side and a few seats on the other wall. I boarded and made my way to seat 14H. As in the previous flight, I had booked seat 14K, but on long flights I now tend to prefer the aisle seat. A tropical cocktail was offered (a mix of orange and tomato juice, and Seven Up). There were no copies of The Economist on board, so instead I decided to read up on the FT.

As we were taxiing I turned on the AVOD. Unfortunately, and despite that it was March 1st, the new selection of movies had not been loaded up on the system. So I was stuck with the same selection as before. I watched the only episode of The Office, Crank (which sucked except for when Jason Statham is giving it to Amy Smart in Chinatown… hot!), and bits and pieces of The Departed.

For dinner I had a salmon salad as a starter, although no satay, despite the fact that it was advertised in the menu. By the time the F/A got to me, they had run out of the beef fillet. I think from now on I'll try to get a seat closer to the front, or even better, on the left side of the plane. It seems as thought SQ always serves the left side of the plane first, whether is an odd or even numbered flight. So instead I had the salmon & prawn cannelloni. Terrible! And this was created by one the London chefs. Really nasty, I would say on par with a TV dinner. Fortunately, this was followed by a delicious banana cake with chocolate sauce, a glass of port, and a really good cappuccino. It's actually the first time I ordered the cappuccino on SQ after a colleague of mine told me they had the machine. They just never advertise it.

After this I tried to go to sleep, but again there was a lot of turbulence over the Indian Ocean. It's not too rough, but it's just that most of the flight is pretty bumpy. Also, I couldn't seem to find a comfortable position on the Spacebed. I truly prefer BA's Club World seats (and I haven't even tried the new CW).

I think I must've slept about three hours, and I got up around 5am Singapore time. The F/A realized I was up, so she brought me a hot towel and some OJ. After this she took my order for breakfast, and soon enough she came with some seasonal fruit, a croissant, and the choice of scrambled eggs with ham and griddles. Pretty good and light breakfast.

We landed just after 7:20am and taxied to gate E8. Immigration was empty and I went through in a flash. Picked up my bags and took a cab to my apartment to take a shower before going to the office.

My other Trip Reports:

SIN-MEL-SYD-SIN On SQ: Inconsistent Raffles Class (by Coal Feb 11 2007 in Trip Reports)

SIN-SYD-SIN On 744 QF Business (Pics) (by Coal Jan 15 2007 in Trip Reports)

Thai Trip I: SIN-BKK-SIN LX Business/Economy PIX! (by Coal Dec 29 2006 in Trip Reports)

Thai Trip II: BKK-CNX-BKK TG Royal Silk Class PIX! (by Coal Dec 30 2006 in Trip Reports)


Cheers,
Coal

[Edited 2007-03-02 12:36:52]