A bit of spare time on my hands for the first time in a while and decided to do a short trip report on this last flight I took. Unfortunately I don't have any actual photos (just a couple of the new AF embraer's I saw at MLH the following day). Will also provide some pics of my week in Switzerland. I'm sorry there are no photos of the flights, but to be honest, on such a small plane I get quite embarassedtaking photos... why? I don't know. And the scenery was stunning. I'll do my best to describe it in words anyway. This was also a new destination airport for me, so I ws quite excited.
February 20th 2007.
Toulouse-Blagnac (TLS) - Mulhouse 'Euroairport' (MLH).
Air Francé Régional
AF3149
Aircraft: Emb. 145
Secheduled dep: 13:10
Actual departure: 13:05
Scheduled arrival: 14:30
Actual arrival: 14:20
The previous day I got the standard email from Air France inviting me to check-in online, which I did, picking seat 7a as it was the most forward one available (I like sitting as near the front as possible) and was on the side of the aisle with just one seat.
Was a bit late leaving home and only got to Toulouse about 50 minutes before departure. It is a fairly quiet time at the airport anyway so all went well. Headed straight to Hall A where all the regional flights depart from. Nobody waiting at our single check-in desk, so I handed over passport and my boarding card I ahd printed at home and checked in my baggage. As my wife and 1 year old son were joining me the nextday my wife had kindly filled my suitcase with abby stuff and I was worried about weight. Watched the scales and gasp I was 5 kilos over... luckily the woman just smiled, tagged my suitcase and said nothing else about the weight! Went through security. We were the only flight boarding at that time in Hall A, so it was very quiet and I immediately noticed what a low load there was. In total there were only 17 pax on the flight today. Despite there were only us 17 passengers for Mulhouse in the Hall A boarding area, there was hectic cleaning go on, probably in preparation for the next busy swarm of departures.
Be boarded by usual by bus. Today they were very strict about only allowing one person per time on the aircraft's stairs. This is the first time I've noticed this, and I frequently fly on AF's 135's and 145's. We had our one standard F/A, efficient and professional, but I must admit not the friednliest one I've ever had with this airline.
As usual, there was a selection of French and international newspapers on the first seat to pick while boardingGot a nice welcome aboard in French and English from our pilot. F/A then did the safety instructions.
Take off was quick and to the south, so today I wouldn't get any views of my home village.
We climbed quite quickly, it was a lovely sunny day all the way to Mulhouse.
The A/F came around quickly due to the low load offering a free selection of drinks and either a Alsace saussage or cheese roll. I took the cheese one which was camabert with some lettuce and was nice enough for such a short flight.
As I said before the views were great on this flight, yet most of them were from the opposite side that I was sitting at. Initally we had nice views, yet in the distance, of the snow covered Pyrenees. We continues flying eastwards over some quite barren land which surprised me (maybe some of the "true" French members can tell me where it was perhaps). There was some military training activity to the north of us for a while offering some nice distant views for afew minutes. About 35 minutes into the flight I looked to the opposite side of the cabin and there they were, that sigt that never ceases to impress me, the Alps. What a brilliant view, I was really raging I didn'y have my camera at hand.
I then noticed a fairly large airport below me looking out my window, given our location I'd say it was Lyon. A few minutes later I got a nice fiew of what I think was le Lac du Bourget (the biggest lake in France situated in Savoie). I'm sure it was this lake and not Annécy lake (also quite near) as I could make out the runway at the end which is the way I remember Chambéry airport (I spent numerous summers around Chambéry... it's a beautiful area if any of you want to visit somewhere new in France). We commenced a slow descent, turning constantly, and then suddenly I saw Geneva city with a perfect few of the famous Jet d'Eau on Lac Leman. We flew all the way along the Lac Leman (Lake Geneva), I admit that while I know this area of France and Switzerland well from the ground, I was a bit confused as I had the impression we were descending towards the south with Mulhouse well off to the north east... possible though. After lake Leman we crossed quite a number of smaller lakes (possibly around Neuchatel??) before commencing our final approach into Basel Mulhouse airport.
The strange thing on approach to this airport was I kept wondering which country we were over, as for those of you who don't know, this airport, knows as Euroairport is on the French/German/Swiss border (yet located in France).
We made a nic soft landing at this new airport for me, parked beside a sole AF 320 (probably bound for Paris), descended and walked to the terminal.
Euroairport for it's unique situation is probably worthy of its own trip report. As the airport serves three cities: Basel in Switzerland, Mulhouse in France and Frigurg in Germany, it is quite unique. The airport is divided into two parts, the French (and German I imagine) side and the Swiss side. To cross from the French to the Swiss side of the terinal (which is the same building) you have to go through immigration. Outside the airport, there is a strong iron fence separating the French (EU) and Swiss sector. All announcements in the airport were in Germand, French and English at least. I loved the flight information boards. For example in the departures area (remember I was only in the French side) it would say Flight: xxx - Time: xxx - Destination: xxx and for checkin it would either say desks 10-14 for example for flights from the French side, or would simply say "SWITZERLAND" for flights departing from the Swiss side.
The airport had in my opinion a more Swiss feel than French. Quite small but very nice and clean. Good views of the apron and runway upstairs.
The airport is 30 km from Mulhouse, about 6km from Basel and close to Frieburg, yet is located IN France.
Another Irish member provided me with some interesting info on the airport on another thread he got from Wikipedia, so feel free to check Euroairport in Wikipedia. Apparently it has three different codes, the one on my ticket MLH (Mulhouse), one for Basel and another for Frieburg, and I even think taxes vary depedning on which code the airline is operating to!
Here are a few photos I took the following day awaiting my wife and son as I saw one of AF Régional's new Embraers: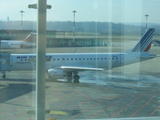 I spent the nice at a new comfy Ibis hotel in the nearby town of Saint-Louis. My first time in Alsace, so while the town was nothing very special, it was nice to see the local architecture so different to what one would normally associate with La France. The people seemed very courteous and friendly. In the afternoon I took the local bus that goes between Saint-Louis (France) and Central Basel (Switzerland) to see the city and find where I had to go the following morning for an early morning business meeting. Total journey time was about 10 minutes and cost just over 1 euro one-way. The weirdest thing here was you're driving along the main street of Saint-Louis in Frence, still on teh main street you suddenly come to the border control, pass it, the same main street and buldings seem to continue but suddenly everything is written in German and you're bin Switzerland. Saint-Louis (France) really just seemed to be a suburb of Basel in Switzerland as there was no break in the urban landscape between Saint-Louis and Basel.
Here are some photos I snapped during my quick 2 hour stroll around Basel on a nice afternoon. Had coffee sitting out in mid February... crazy!
I hate to say this and don't mean to offend any a.netters from Basel, but it was my first time, I admit I saw very little, but it is the first Swiss city that didn't really impress me, and I know Switzerland quite well. It just seemed quite dirty (very un-Swiss and there seemed to be quite a few lay-abouts around... must say I saw some very fine looking women though!). Having said that, I do intend to go back and give it a second chance and actually spend more time there to discover the city properly.
Photos of Basel:
The following day my wife and son arrived and off we headed by car (incidentally I rented it on the French side of the airport as the prices were a good 40% cheaper than with the exact same companies, for same cars on same dates than if I rented on the Swiss side!). Our destination was the world-famous ski resort of Davos, also known for its annual hosting of the World Economic Forum every January/Fenrurary. Zürich is only 70km approx from Basel, then a further 130km or so to Davos, mainly motorway. I was surprised though that we had to leave the motorway and cross Zurich, while in Basel the motorway crossed the city underground. At a place called Landquart (more or less) in the Graubunden (Grisons) canton, we left the motorway and started are climb up to Davos. No more motorway but a good road and very picturesque drive. Just before Klosters, we took the enw tunnel shortening the travel time to Davos. The climb here was impressive, and the Clio I had rented was really struggling with the climb and luggage, much to the displeasure of one particular driver behind us who spent 15 minutes on my tail trying to over-take, all other cars kept a safe distance and were courteous.
Snow has been pretty bad this year in Europe. There was only about 20 cm in Davos town (located at 1500m.) and about a metre and half in the ski areas which is only so-so, yet apparently skiing conditions were good in Davos compared to most other resorts. This visit I didn't ski, spending the time spoiling myself with the comfort of an excellent hotel, it's incredibly good food, swimming in its indoor pool and walking around Davos and its countryside with my wife and son. heavy snow falls came for the last two days. The first 5 were mainly sunny and incredibly mild for the season (up to about +12° in the town in the afternoon).
Here are some shots from around Davos: (the nice sunny one at the end is from my bedroom balcony the morning I was leaving, typical, best snow of the who stay and sunny).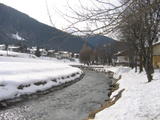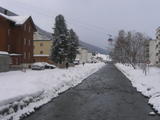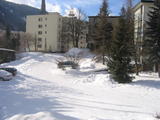 RETURN FLIGHT
Don't have many details as my wife and especially our son kept me busy!
Again AF Régional Emb. 145. Departure around 10:10. Check-in staff at the airport were lovely. Security was easy and friendly. At boarding gate, the agenct came and said she was about to announce boarding, but we could board first. She said there was a lift at the end of pier which would be easier than the stairs (as we had our son's pram). I noticed how she waited until we were well in the lift ebfore allowing others board. Wife and son boarded, I struggled with a very funny and friendly AF gound staff guy ato close the pram so they could put it with the rest of teh luggage. After some swearing in French and English, we succeeded.
Cloudy for the flight so no scenery today. Flight on time for both departure and arrival at a very foggy Toulouse. We ahd a really fiendly and elegant F/A today. Service was drinks and pain au chocolat or croissants (morning flight).
Loads were about 60% today.
Nothinge else to report except on approach to Toulouse I heard a mobile phone behind me. I looked behind a two rows behind on the single seat on the opposite side a rather tough looking woman was sending text messages. I hate this carry on, why don't people follow rules. I drew her attention and told her mobiles weren't allowed and to switch it off, she basically gave me a dirty looking and continued. Slightly more aggresively I said it was dangerous, especially at this stage of flight (at this time other passengers, without getting involved, were nodding their support for me). She said that was rubbish, and I lost it claiming something along the lines of "look woman, I and my wife work in aviation, and I'm telling you to switch it off NOW!" (the me working in aviation part was a lie, not the case for my wife though). She just waved me off so while I hate hasseling the crew, and nearly out of principle, I pressed the F/A button, she promptly arrived and I said "I"m really sorry to disturb you but the woman back there is using her mobile and refuses to turn it off"... she thanked me and went straight to the women (I couldn't hear what was being said) bu a slight discussion went on for a minute or so and the mobile was eventually turned off. On disembarking, I again apologised to the F/A for distrubing her and said that it just really annoys me when poeple show such disrespect for regulations... she said it really bugged her too and told me that I did not need to apologise, she thanked me and said I did exactly the right thing in informing her.
Sorry about the lack of aircraft photos. Hope you all enjoyed!
Toulouse.