Well, a few weeks ago, I promised a different trip report, but I can't seem to find the pics at present. I still have a pile of pics from a bunch of 2005 flights, so here is one of those:
I don't know if you can remember all the way back to (gasp) 2005. Allow me to set the scene for you. The pope had just kicked the bucket, the A380 was still scheduled for commercial service in 2006, and Air Wisconsin still flew for United. So I guess it is fitting that my trip report includes a few flights with them.
The purpose form my trip was actually to see some land. My grandfather was a main partner in a big land development out in SLC and he wanted us to see it. By us, I mean my younger brother and two of my cousins. This whole side of my family, about 20 people in all, is in a "family partnership" where we all collectively own a bunch of real estate-condos, apartments, and stuff. This land out in SLC was one of the things we owned. I use the past tense because we ended up selling our share and investing in something closer to home.
Anyway, all factors seemed to favor taking united, so that's what we ended up doing.
28.05.05
Flight 5552
MSN-ORD
Depart: 8:10
Arrive: 9:08
Seat: 4A
Type: AWAC CRJ-200
Ship: 402
With very little traffic on this Sunday morning, we were able to go the entire length of University Avenue and West Johnson Street only hitting one light. Since we knew traffic would be so light, we planned to, and succeeded at arriving at about 7:30.That was just 40 minutes before our flight--try doing that at ORD. With no one in the United Express line, our bags were checked in no time.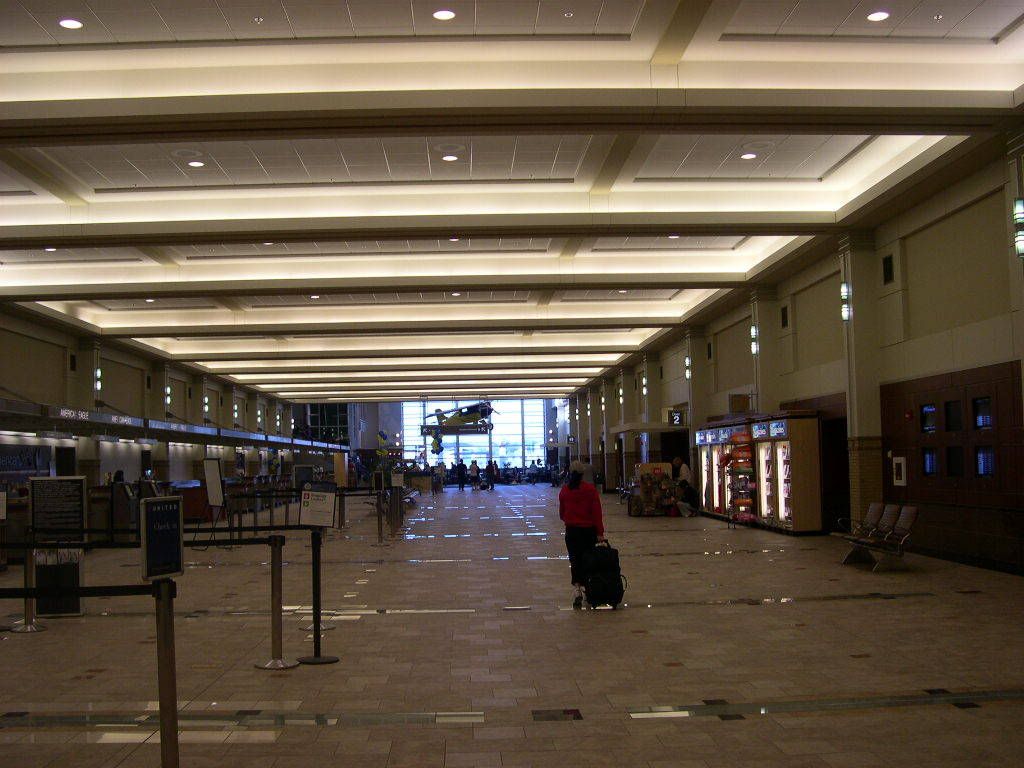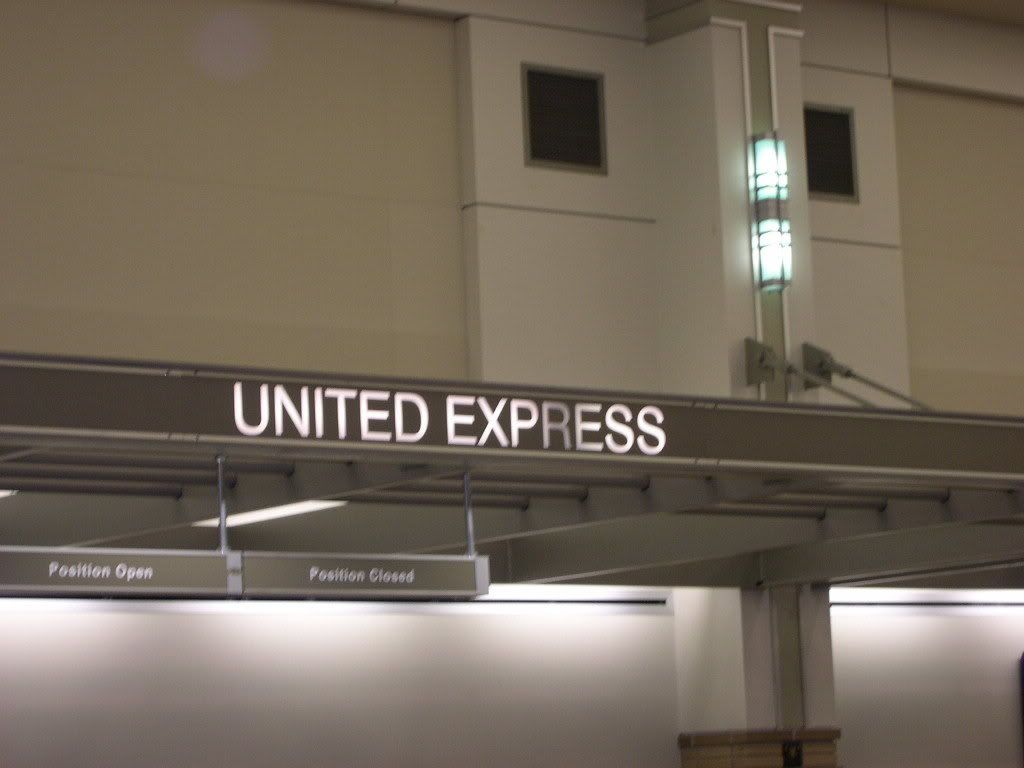 The security line was as sparsely populated as the rest of the airport, and we were at gate 6 in no time.
Boarding just a couple of short minutes later, and I found myself in that o-so-familiar CRJ cabin.
The taxi out was very short as was the take-off roll, which put us in the air a few minutes early.
The MSN-ORD route is so short that it seems like they shouldn't even bother putting the wheels up. No more than 15 minutes after takeoff, we were on the ground.
If you jumped at just the right time...you would still be dead.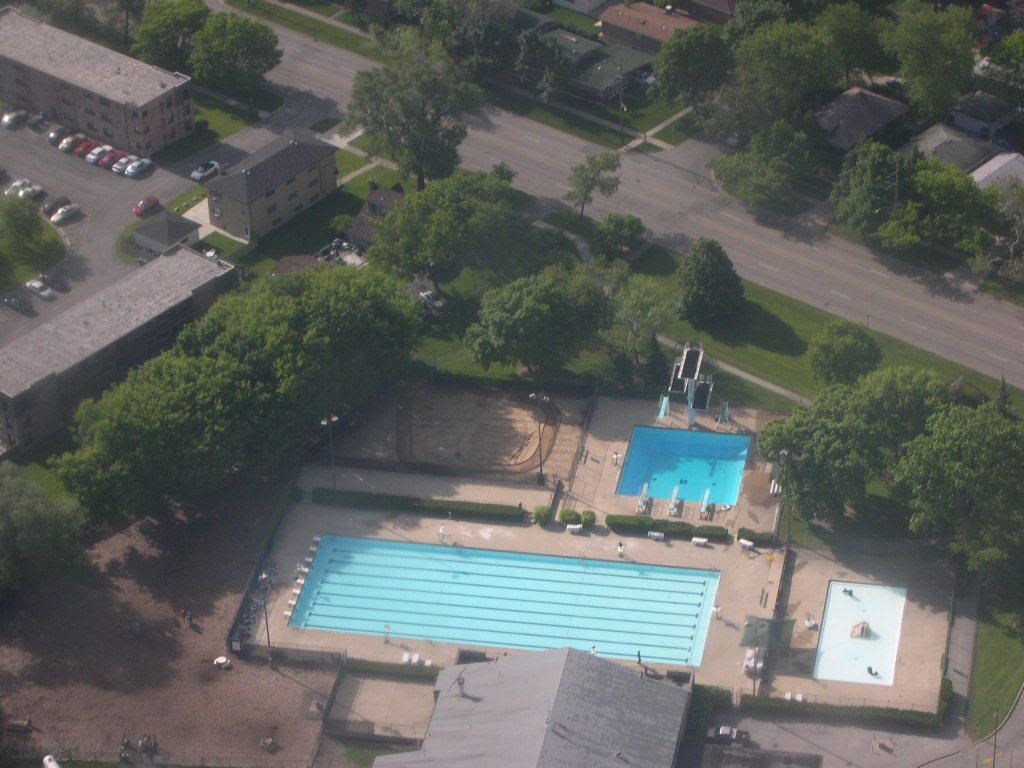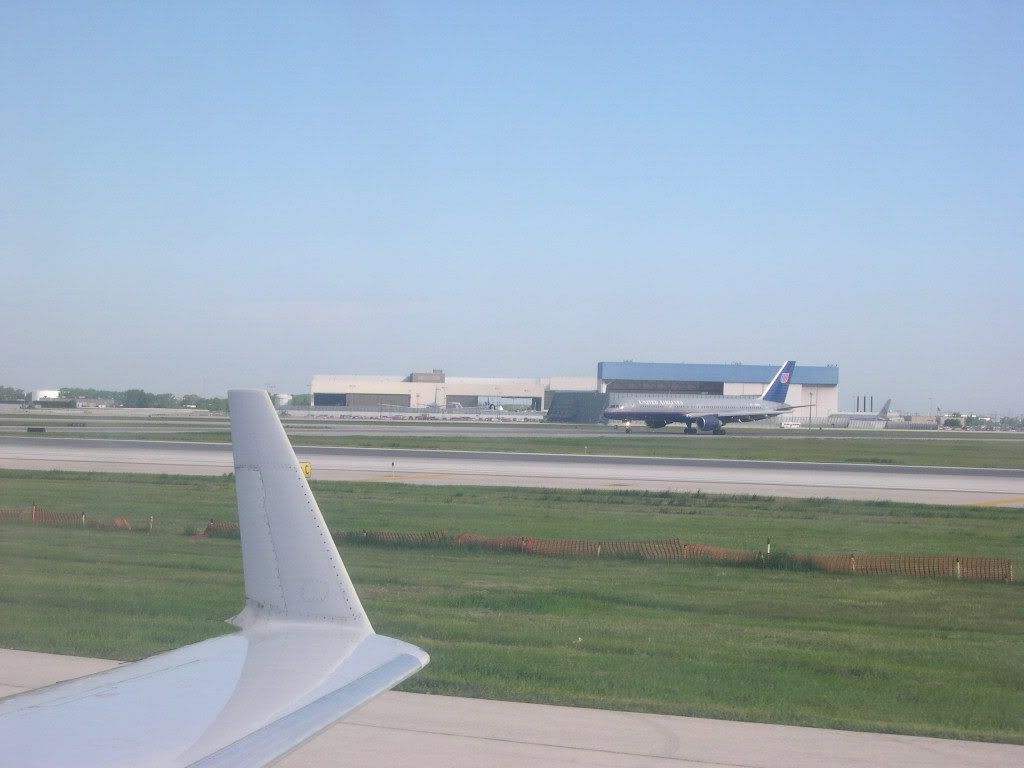 Today, we had the distinct honor of having the northern most gate at ORD, B22. This is one of those gates where you get off the plane onto the tarmac and walk to the terminal. I began to snap pics the second I got off the plane. Since I was obviously a security risk, the ramp guy standing there yelled at me to stop, which I did, but not before getting a few good ones.
There were a fair number of people in terminal 1, but I have seen it busier.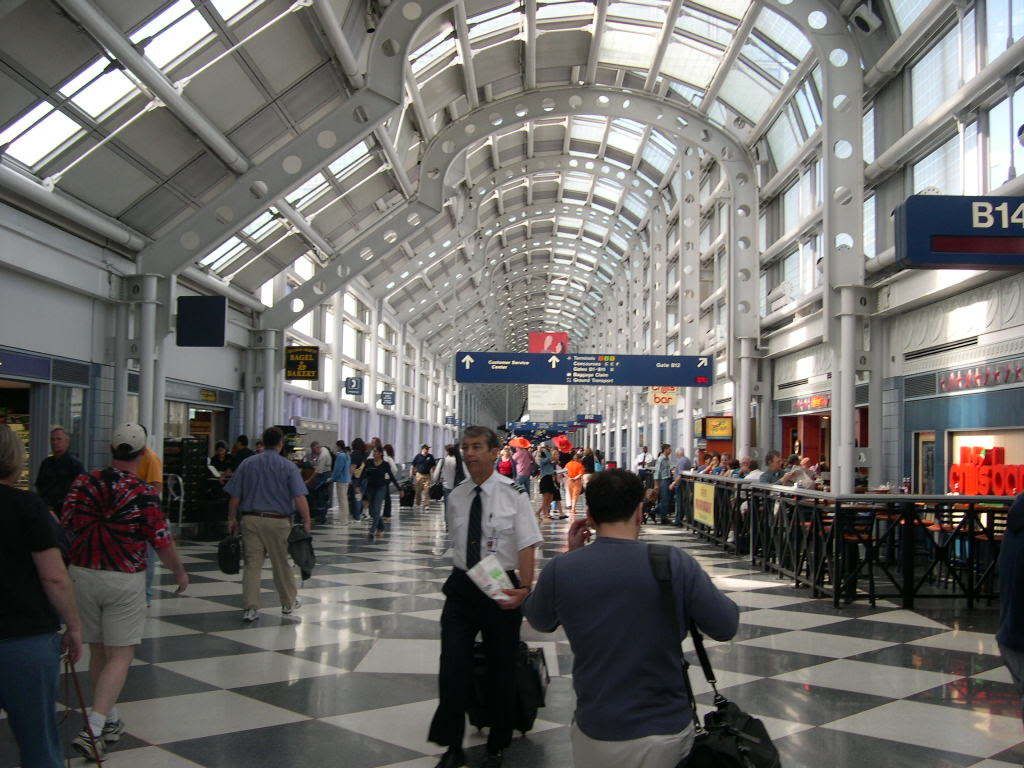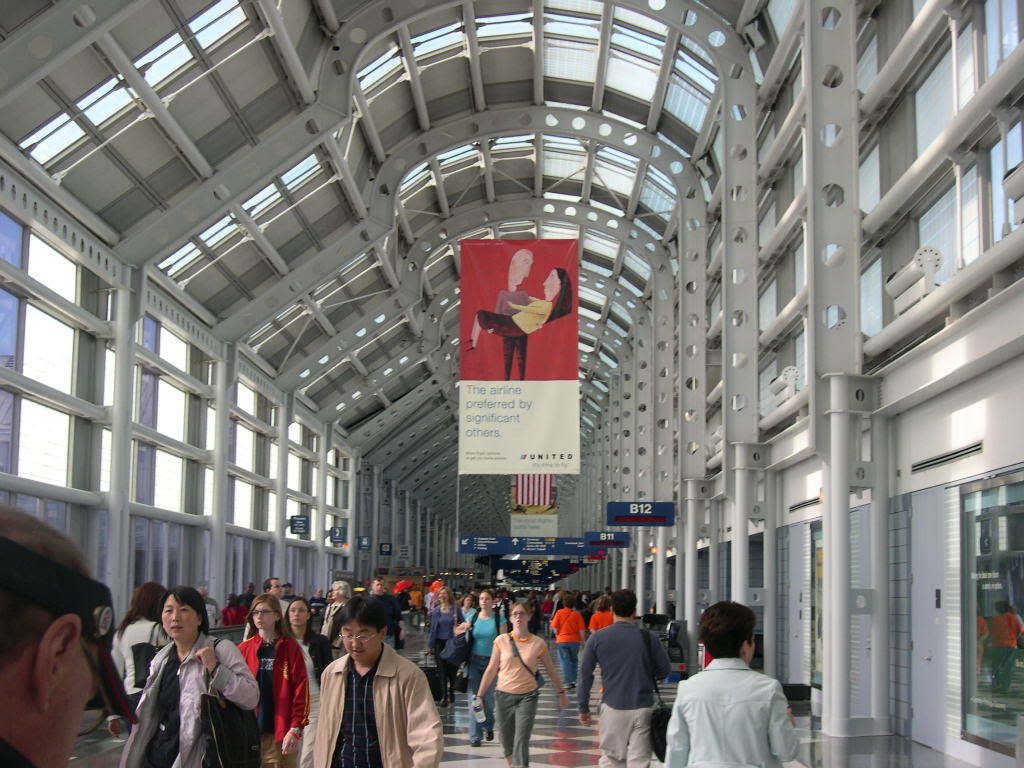 Our next flight was to leave from the C concourse, so we headed for the tunnel.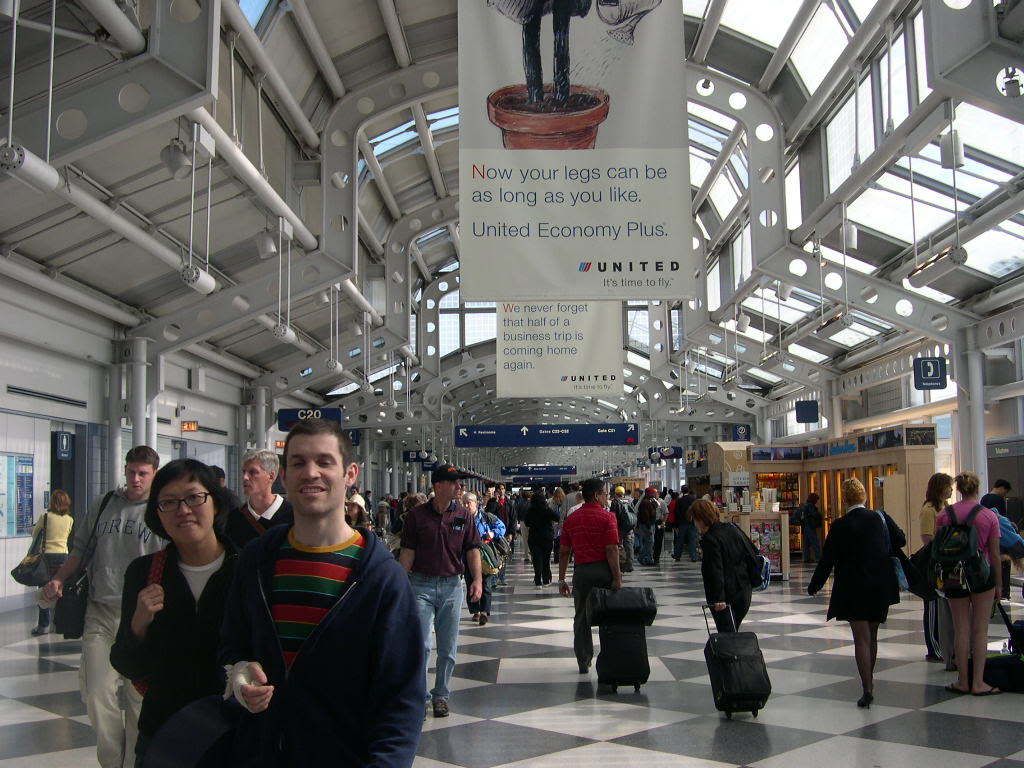 Flight 265
ORD-SLC
Depart: 9:55
Arrive: 12:15
Seat: 3F
Type: 737
As our plane pulled up to the gate, I was there with my camera. In any other context, that would seem weird and creepy, but not to the aviation enthusiast.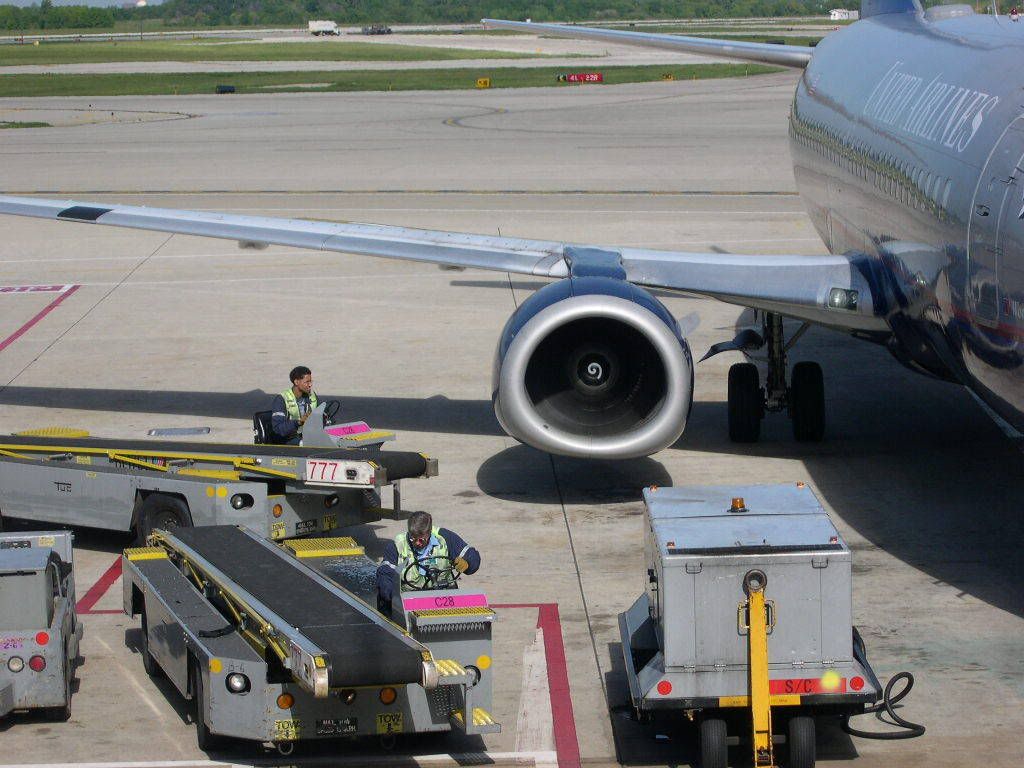 As I usually do, I walked the entire length of the concourse and took a bunch of pics, most of which sucked.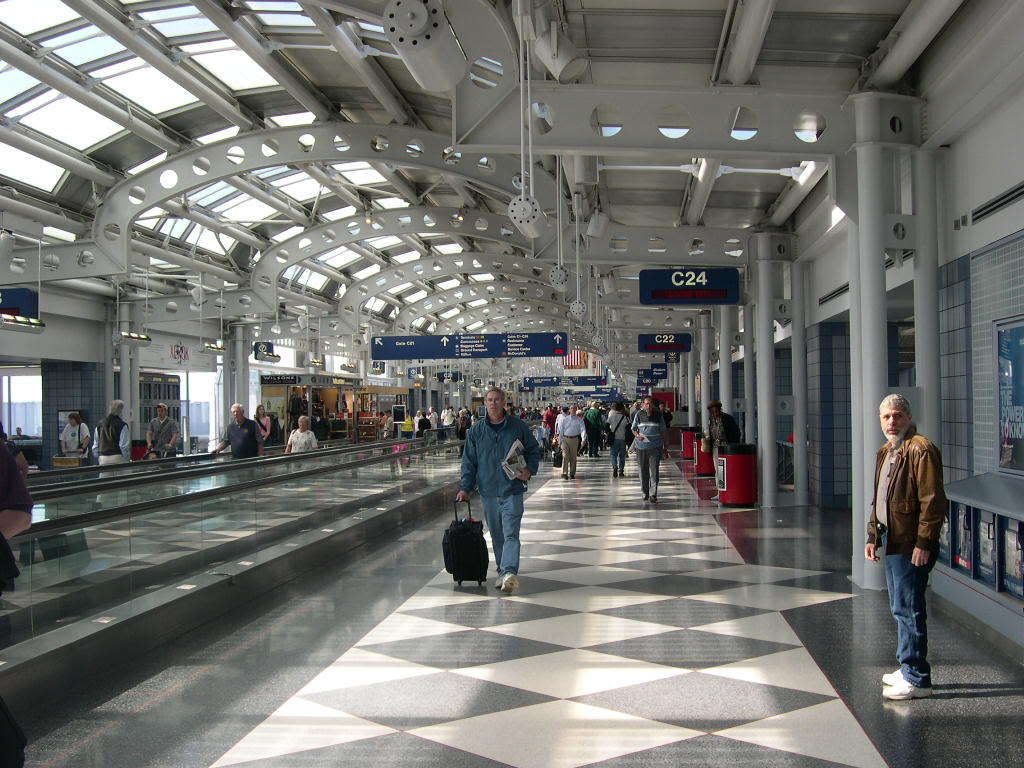 Are there two identical towers at ORD? No, just a crappy photographer standing at C9.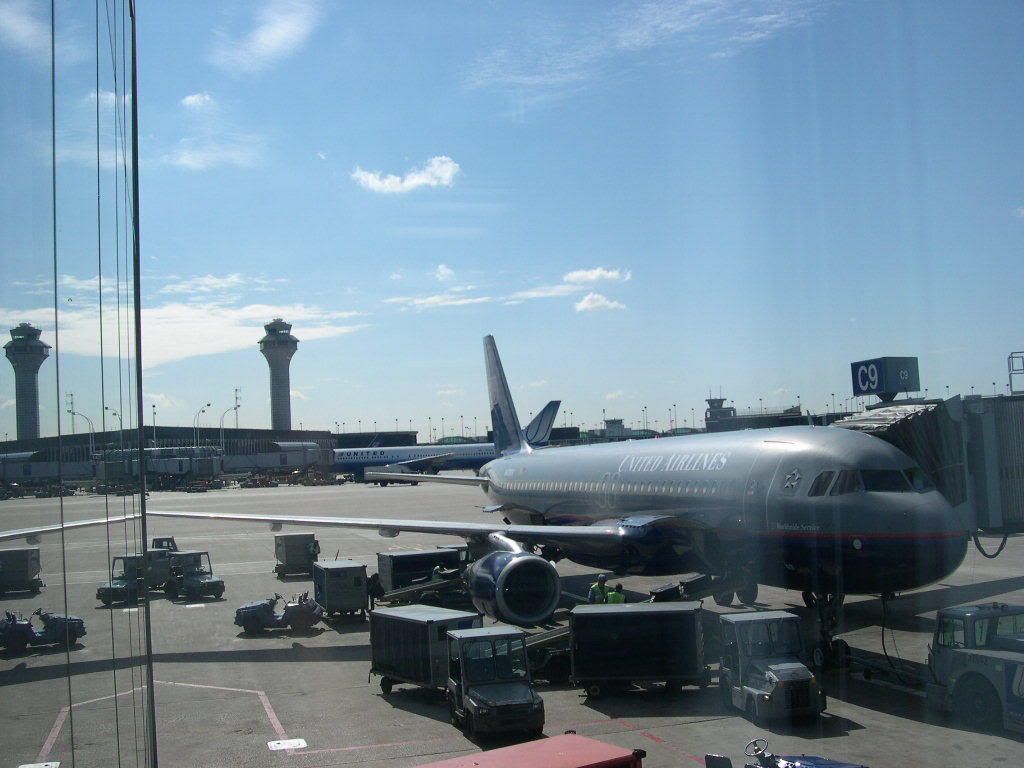 Boarding was called a few minutes after I got back to the gate. An efficient boarding process put me in seat 3F a few minutes later. When I sat down and looked out the window, the ground crew was loading a bunch of USPS packages.
Taxi out was uneventful and we were in the air a few minutes later.
The flight was very smooth and channel 9 made they minuets fly by, literally.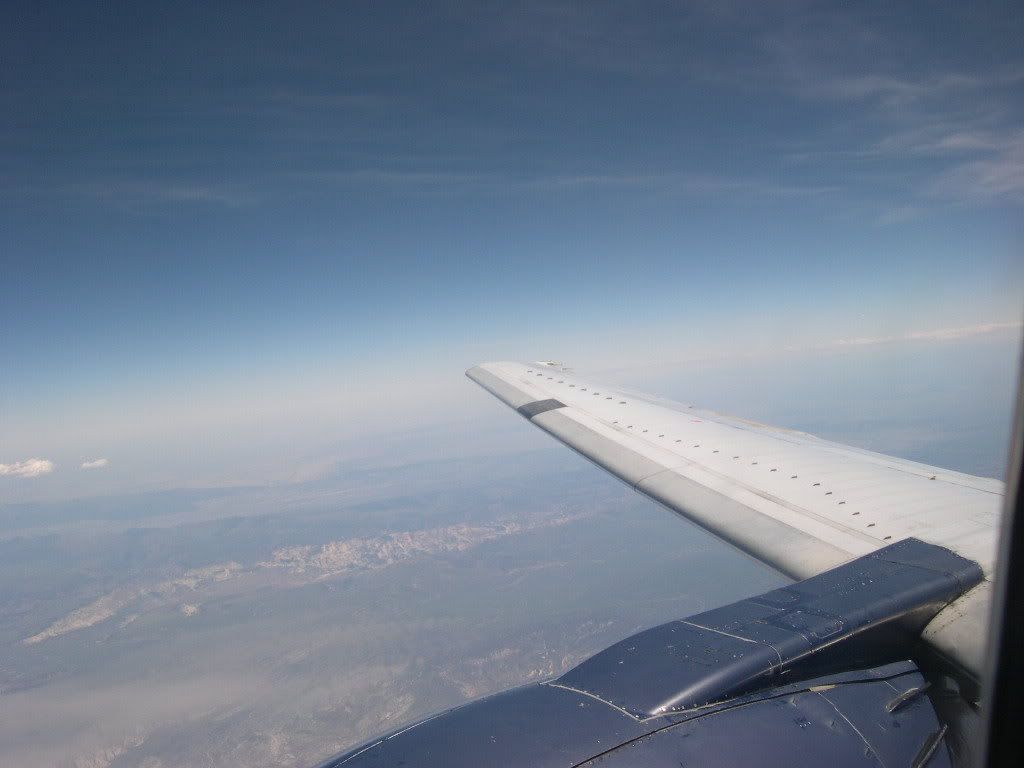 Don't want to stick your hand in there.
Mountains were a welcome sight, which meant that we were almost to SLC.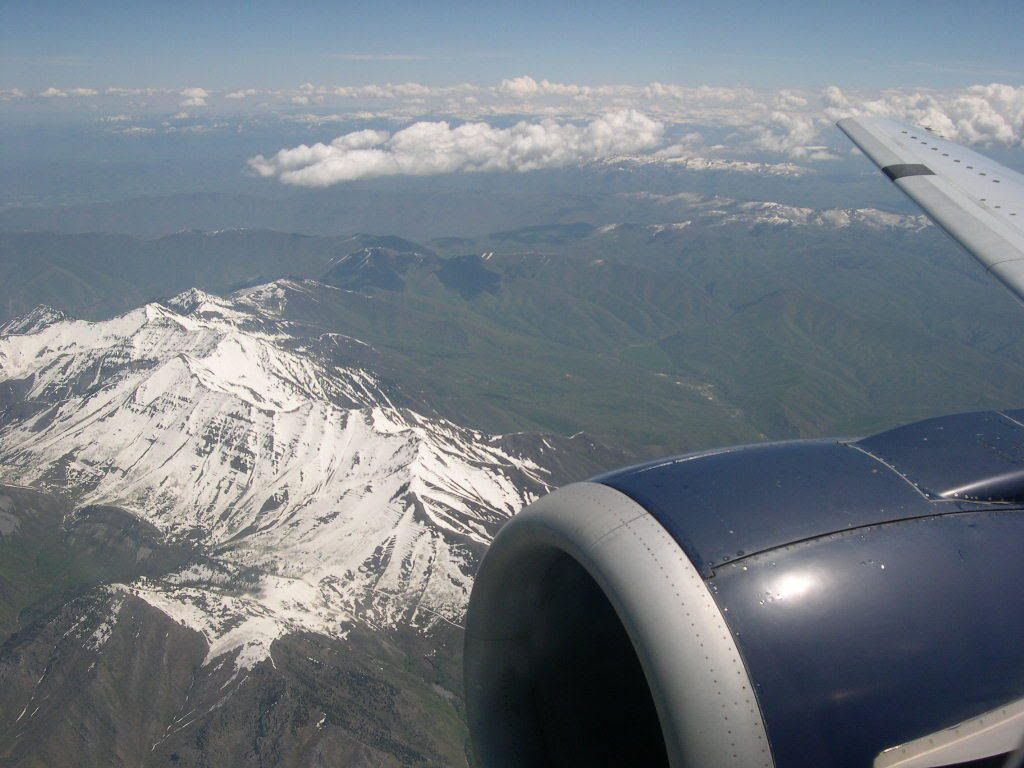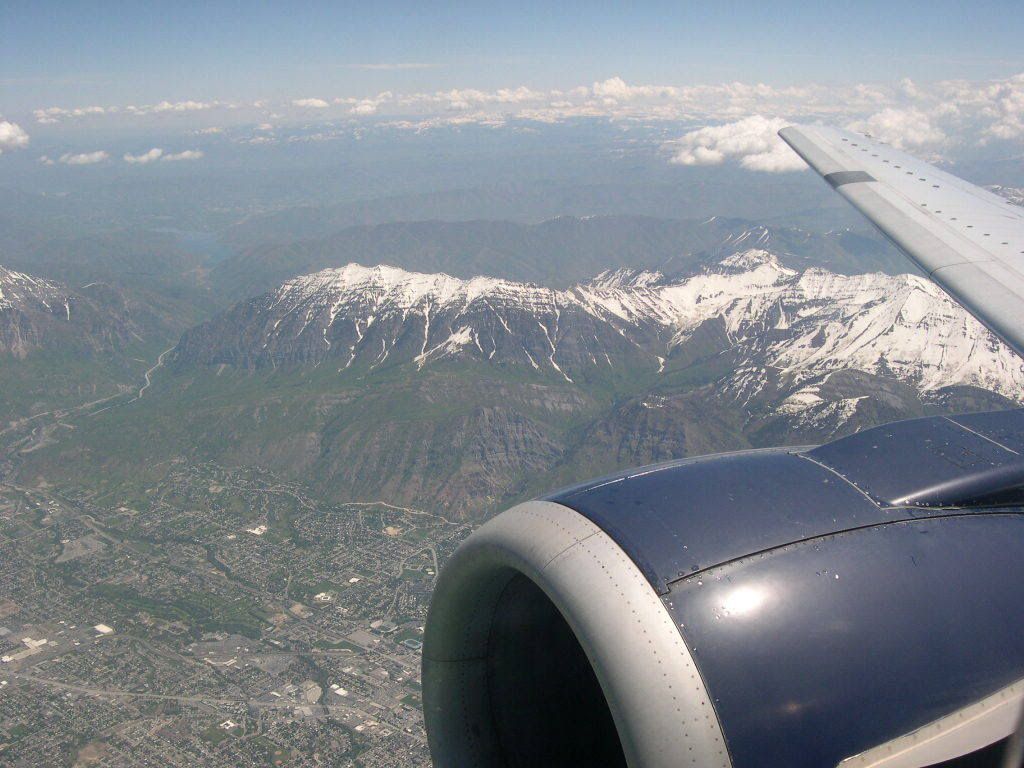 I believe that is called Utah Lake, correct me if I am wrong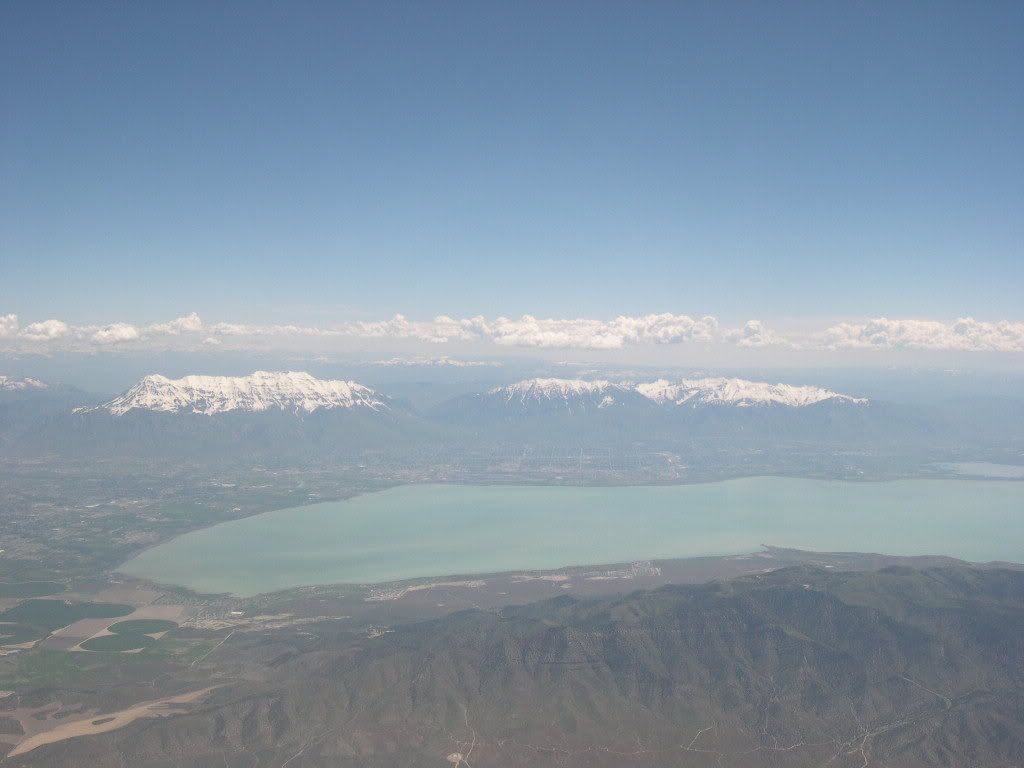 We got a nice downwind view of the airport before flying out over that Salt Lake to make our base and final turns.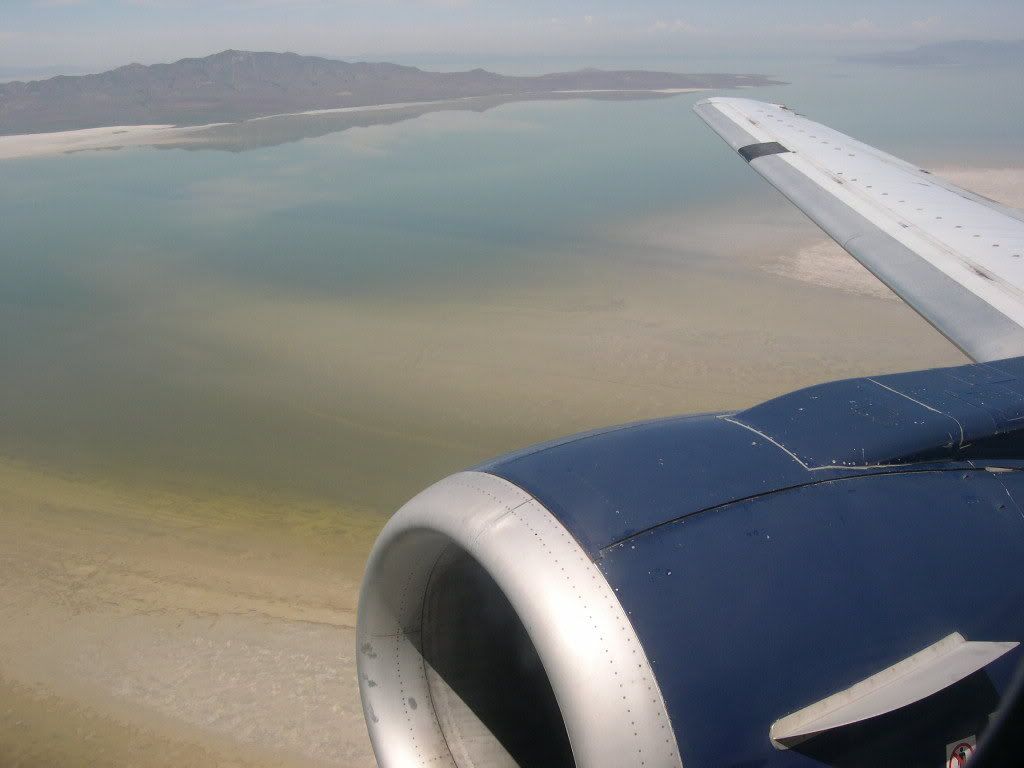 And with that, we were on the ground in SLC.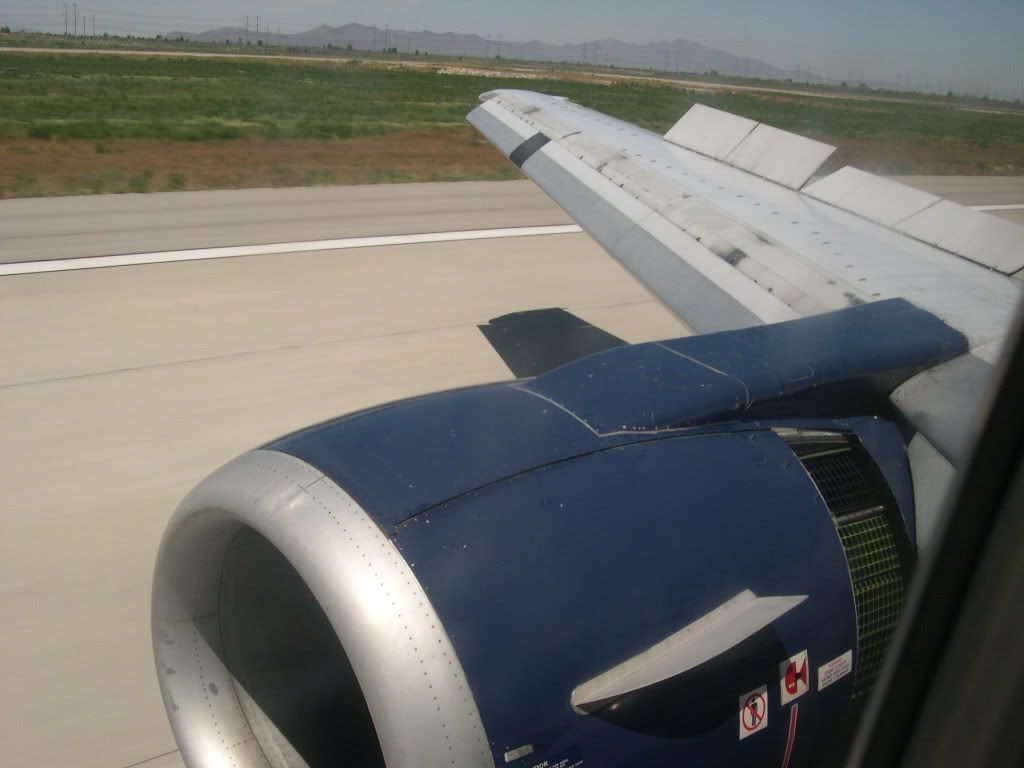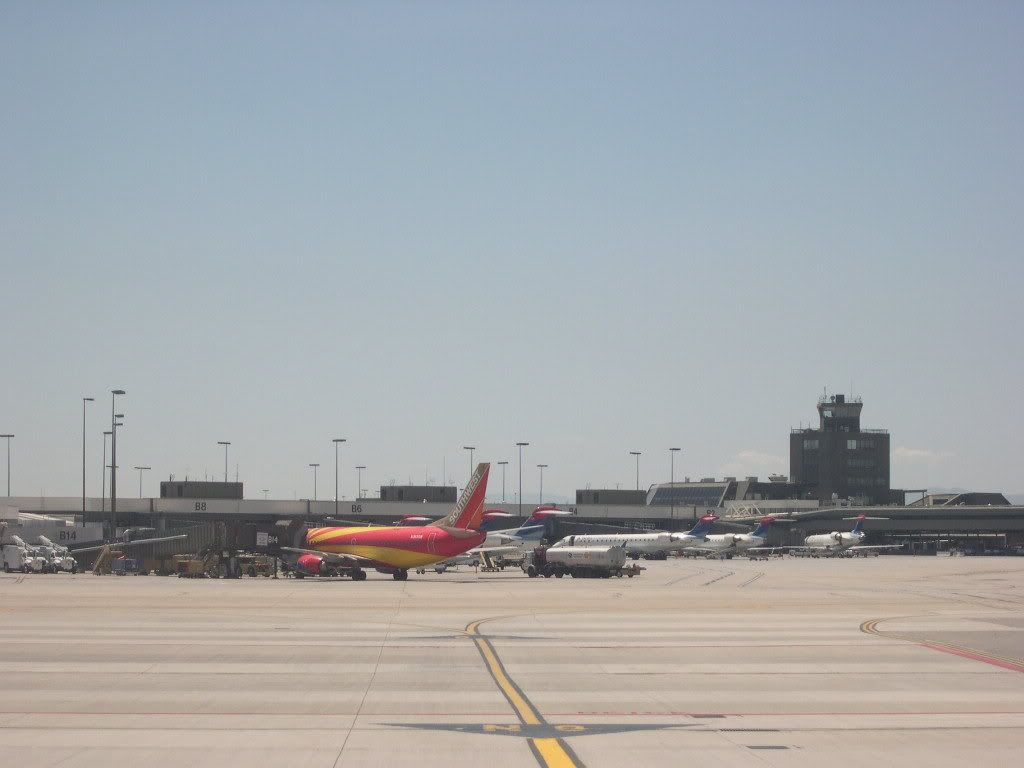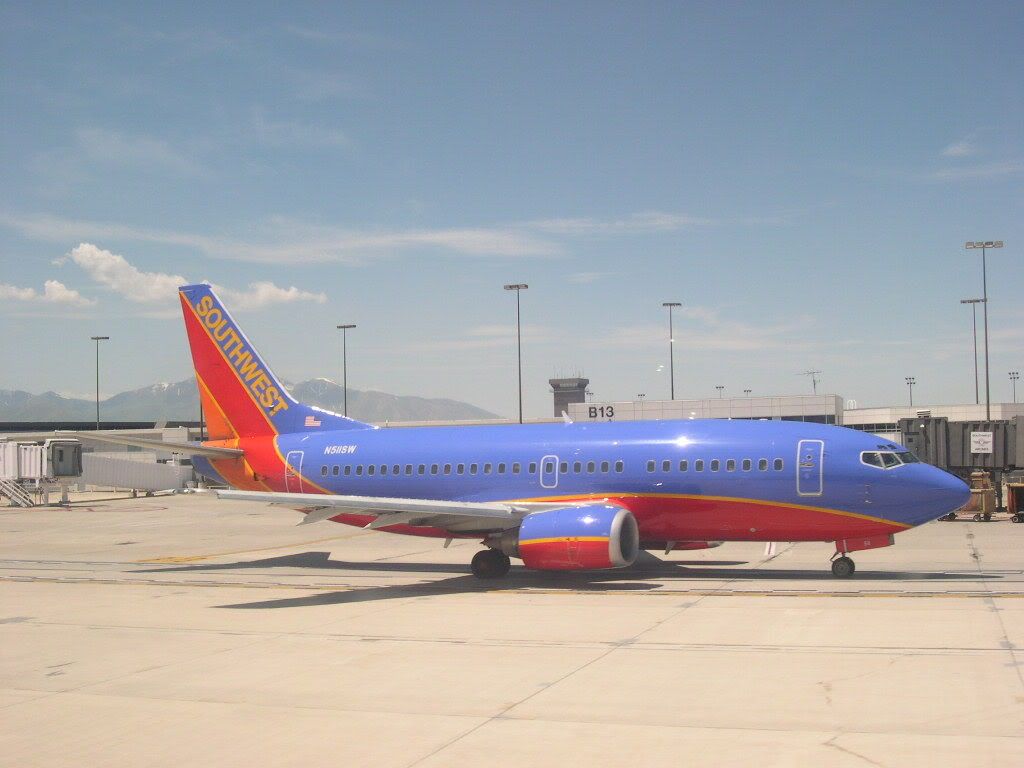 Having never been to SLC before, I was not overly impressed, but not utterly disappointed. It felt like a comfortable enough airport, which suited me just fine.
We stayed at a pleasant enough Holiday Inn a few miles from the airport. The property we owned was a couple miles south, somewhere in Provo. After getting settled in the hotel, we headed for the property. The development is called Traverse Mountain, and seeing it in person was impressive. We don't have mountains in MSN, so having them right out of your window would be nice. Here's a few pics of the property.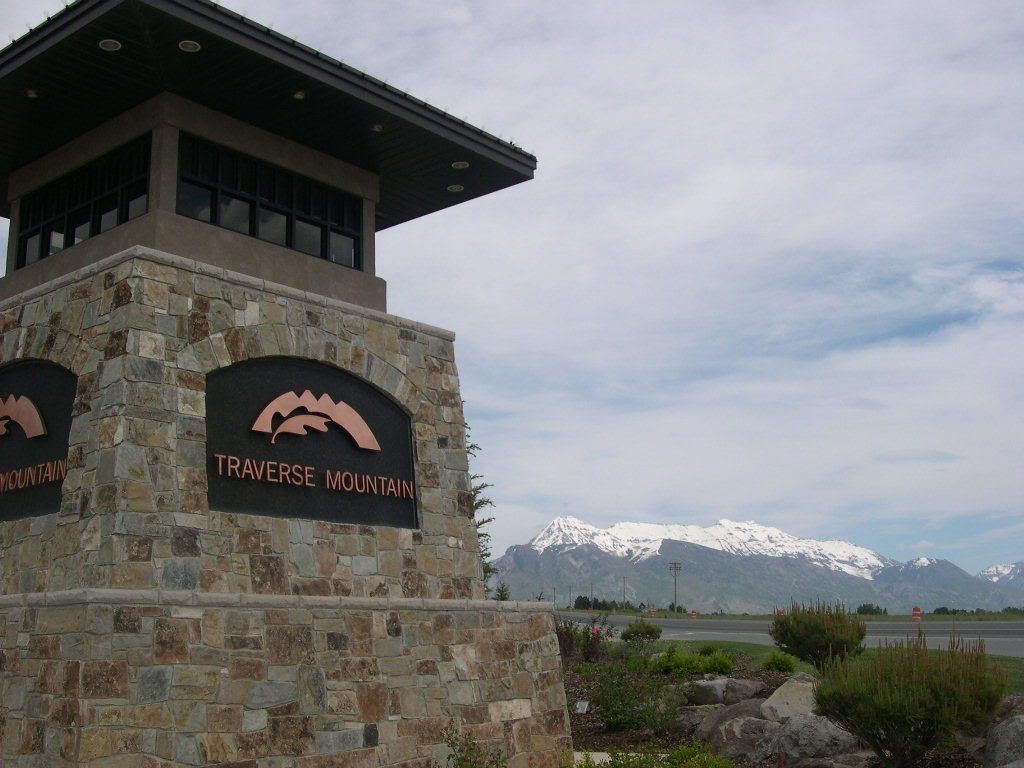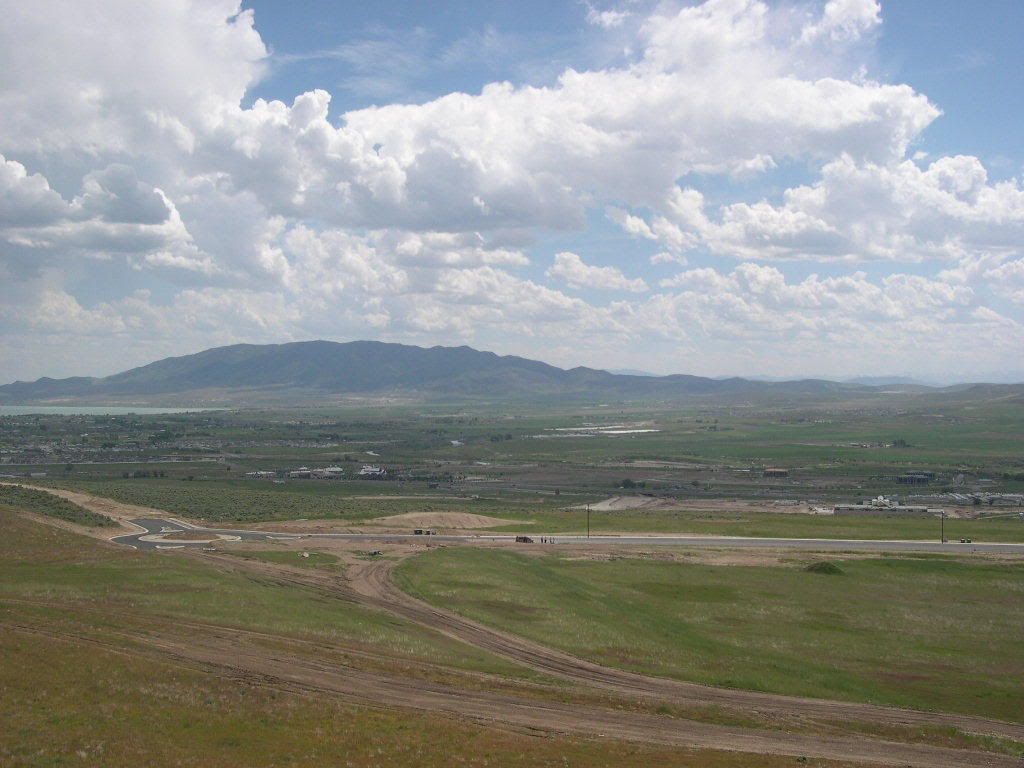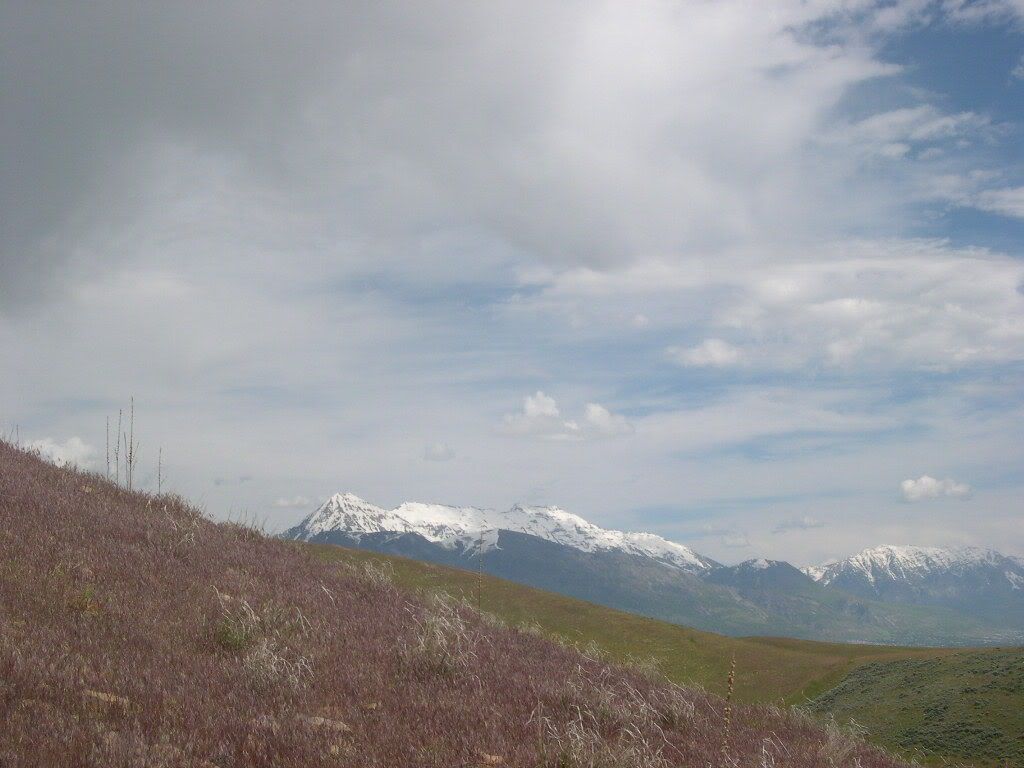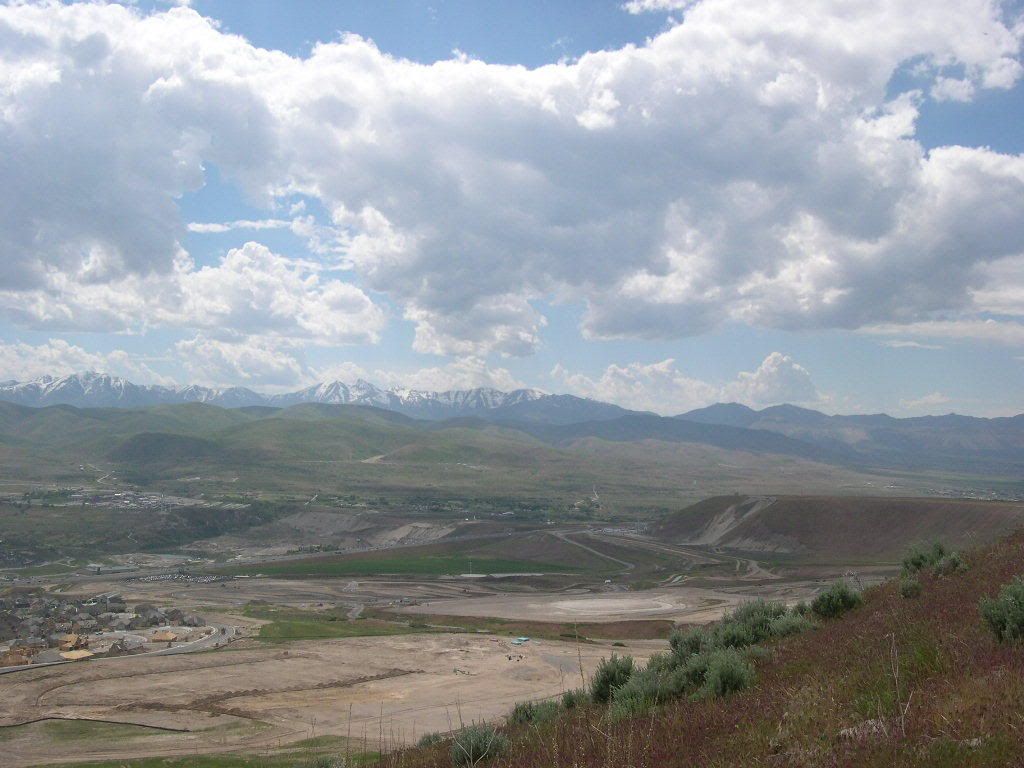 Later that evening, we went to hear that mormon choir thing.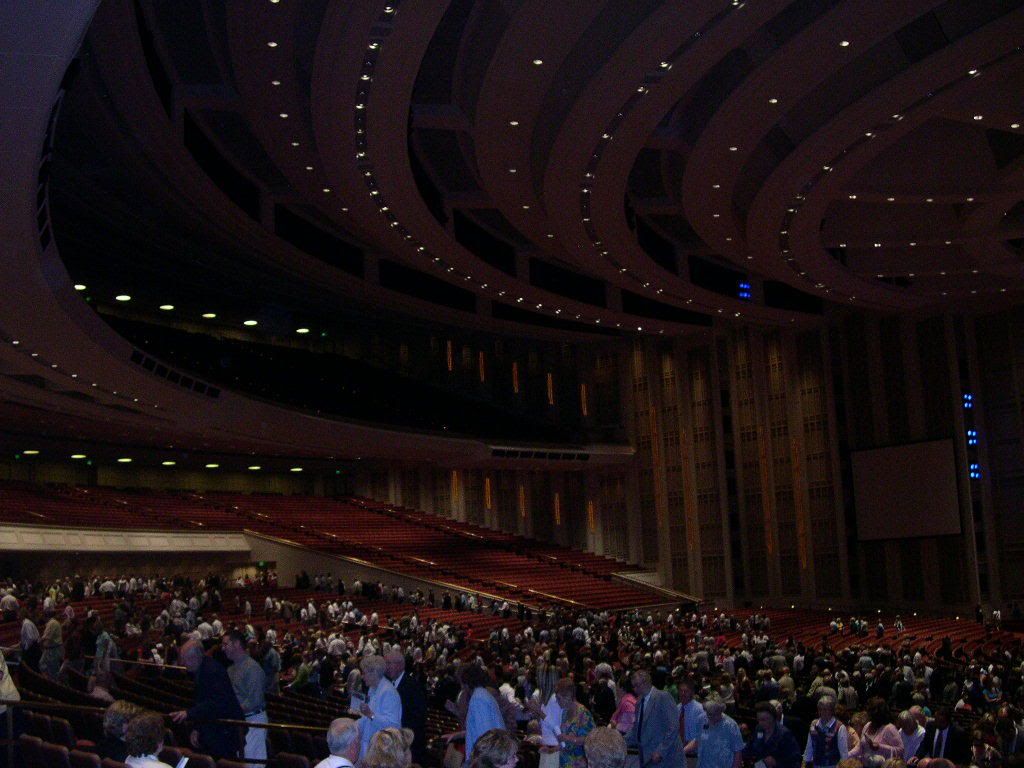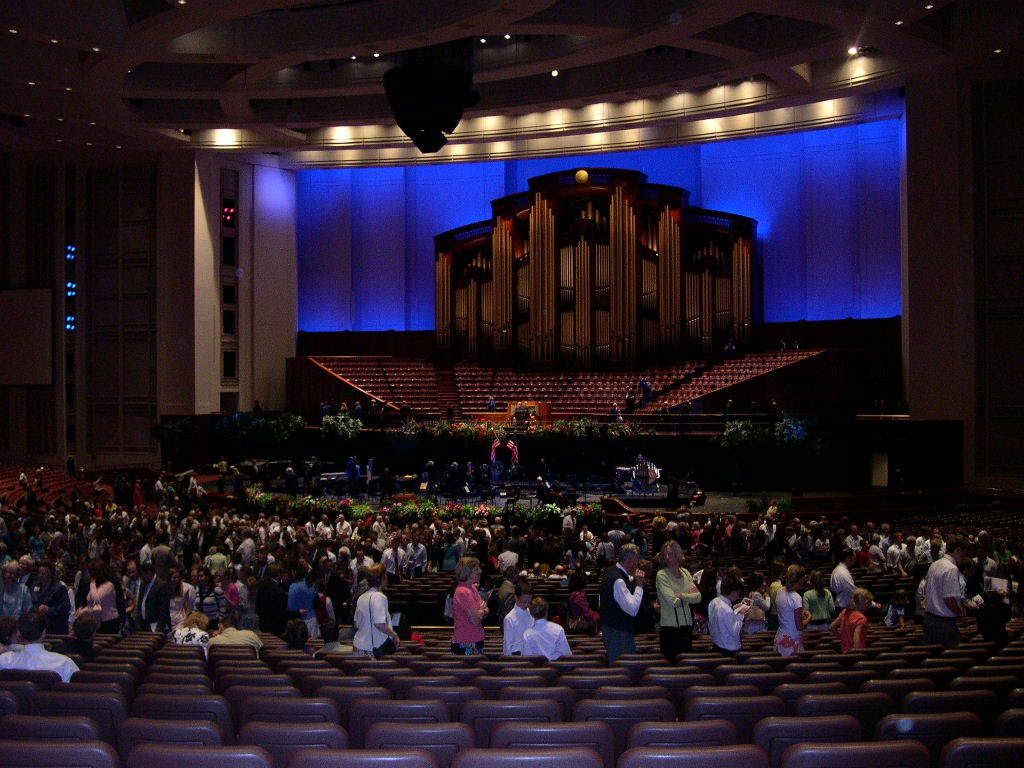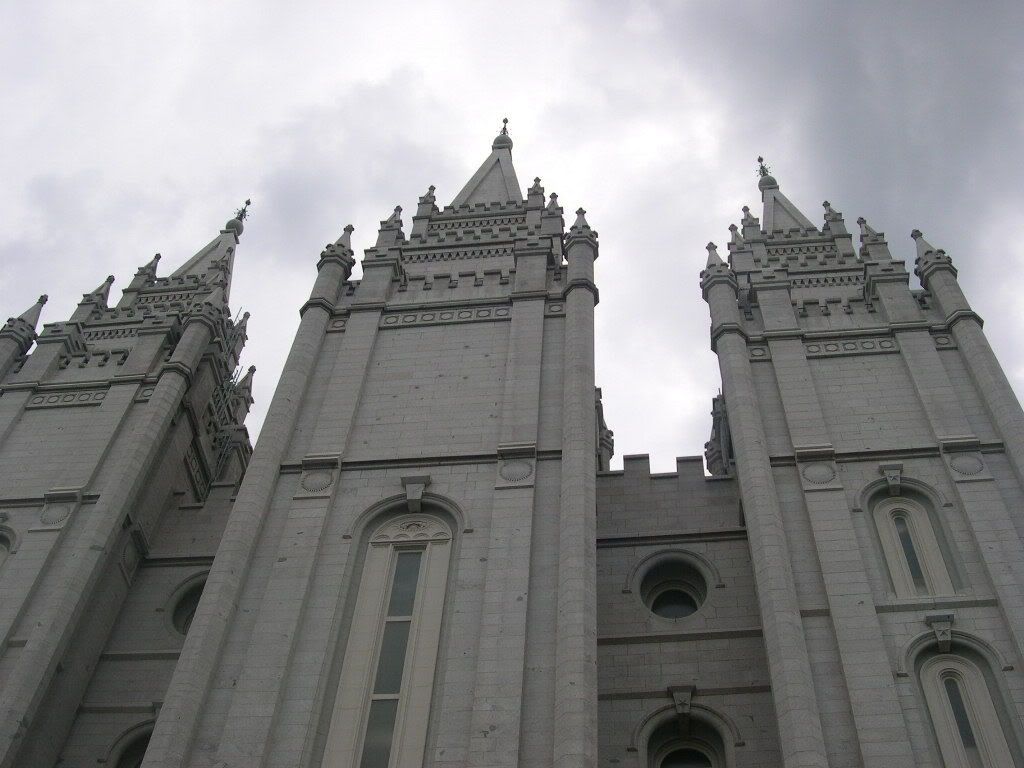 They had very nice facilities, but I in no way agree with what they believe and teach. It is sad to me as a Christian that they would take God's Word and twist it so
Anyway, the next day, we toured the property some more in the morning and went to Park City for the afternoon. There was a ski lift, a luge thing, and a zipline. I rode the zip line later.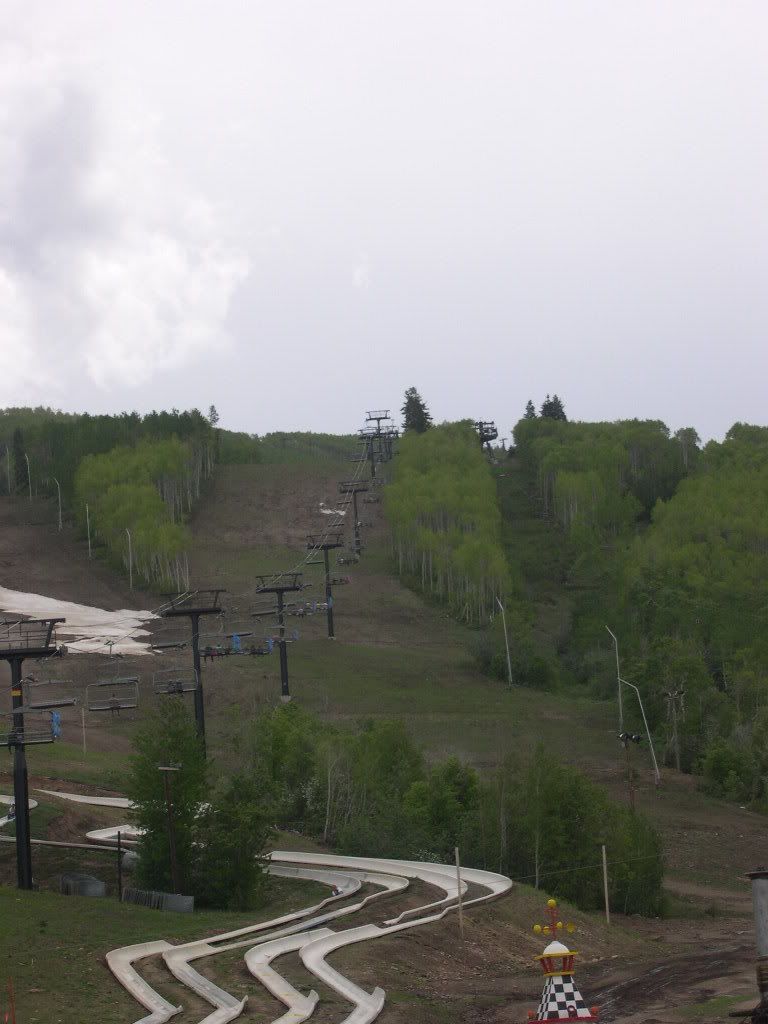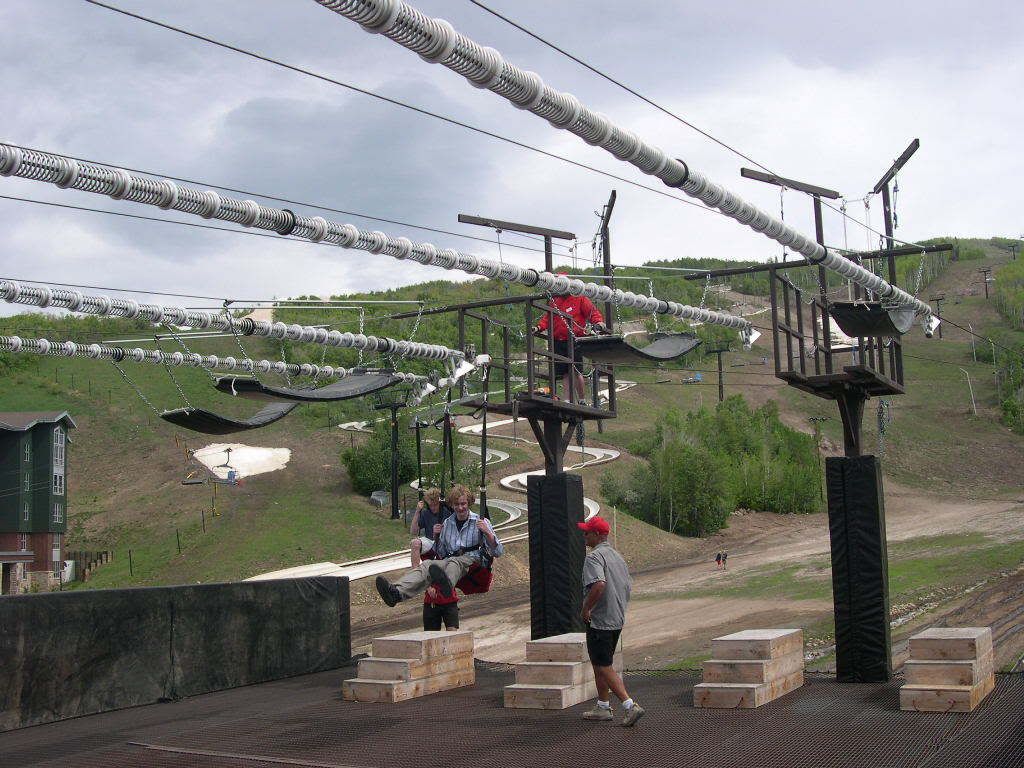 After that, we went over and saw the Winter Olympic stuff.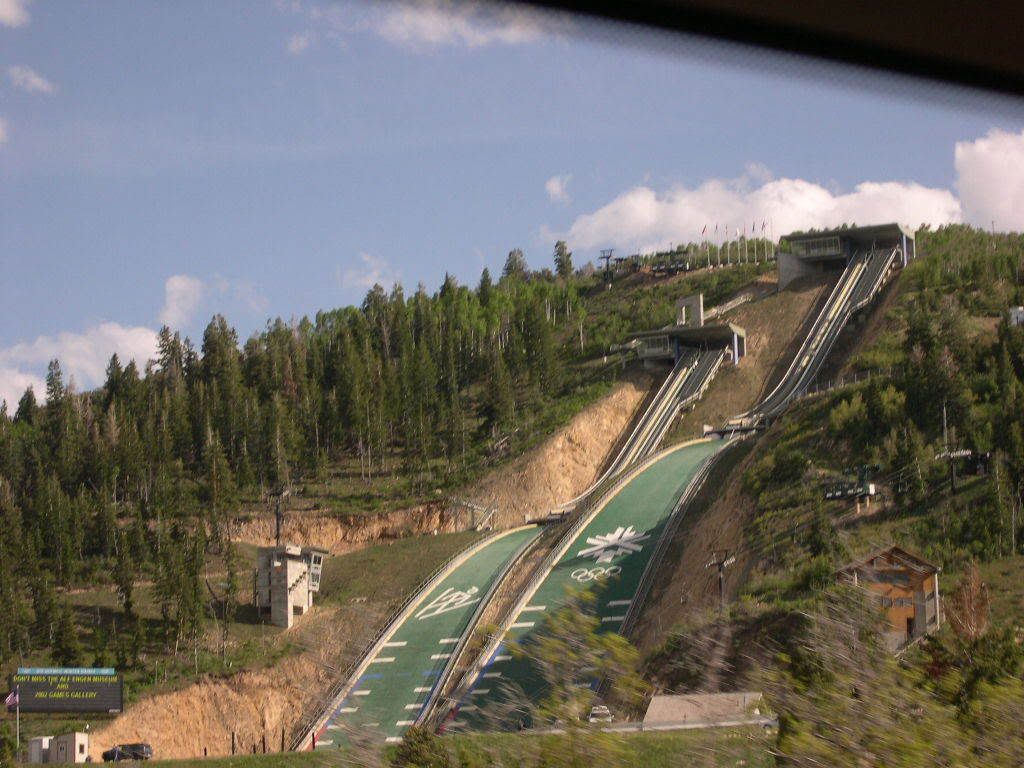 That evening, we ate at a Brazilian steak house in Provo. I had never been to a Brazilian steak house before, and it amazed me. They bring around skewers of all sorts of meat and shave it off for you. Very delicious. Too bad I forgot my camera.
The next morning, it was already time to head back to MSN. We ate a quick breakfast at the hotel, and after I checked everyone in online, we were off to the airport.
30.05.05
Flight366
SLC-ORD
Depart: 10:51
Arrive: 2:55
Seat: 3A
Type: 737
We had had wonderful weather thus far; when we got to the airport, it was raining. I love it when it rains and thunderstorms are even better, so for me, this was the best weather of the trip. We got to the airport about an hour early, so I staggered around taking pictures.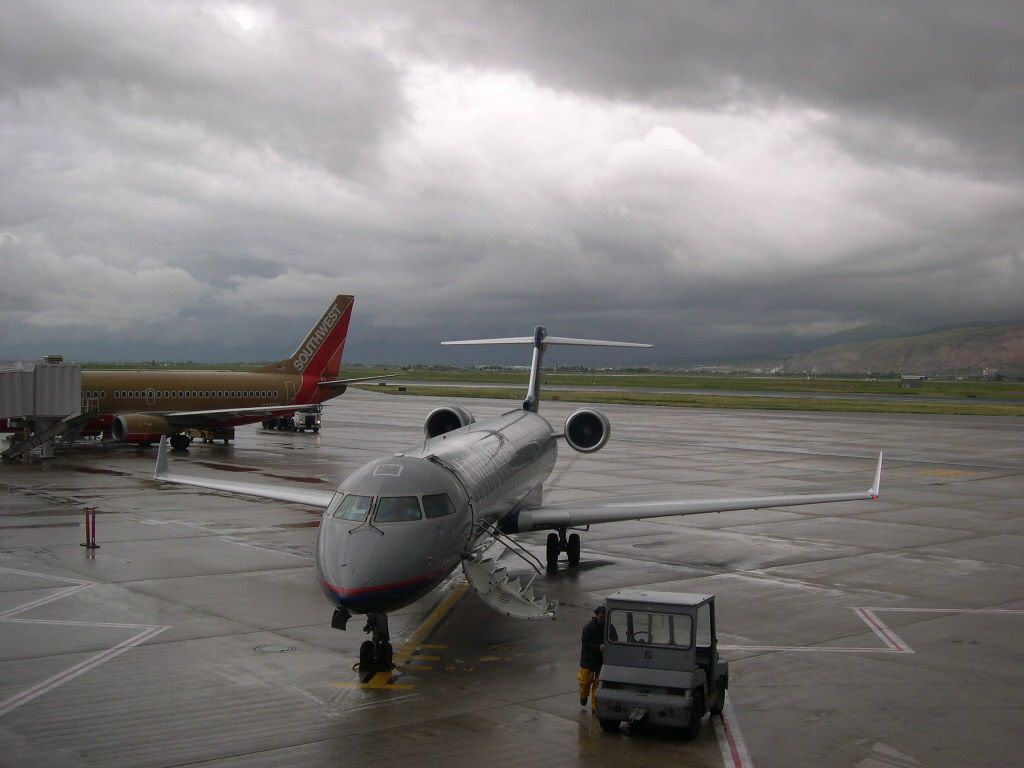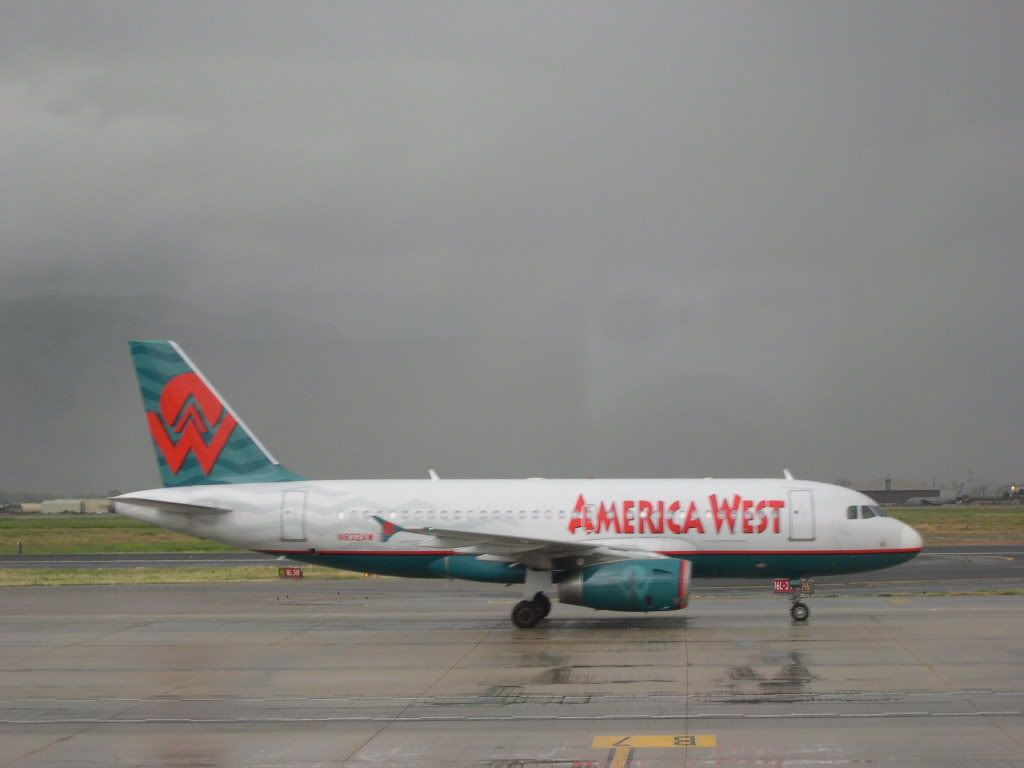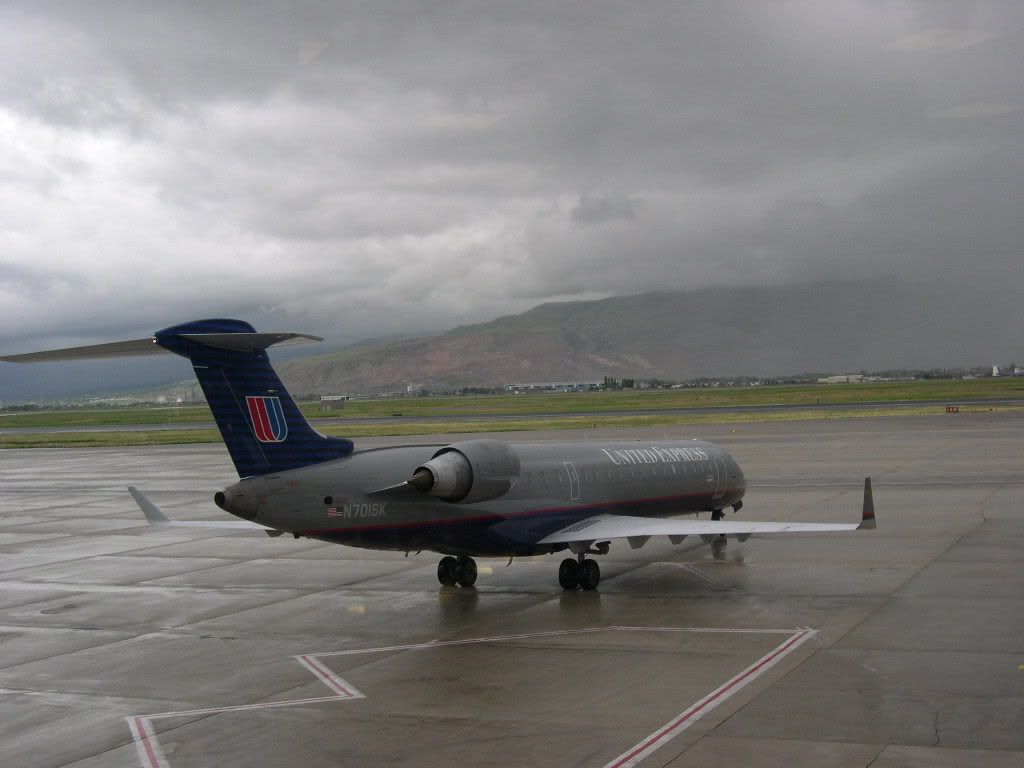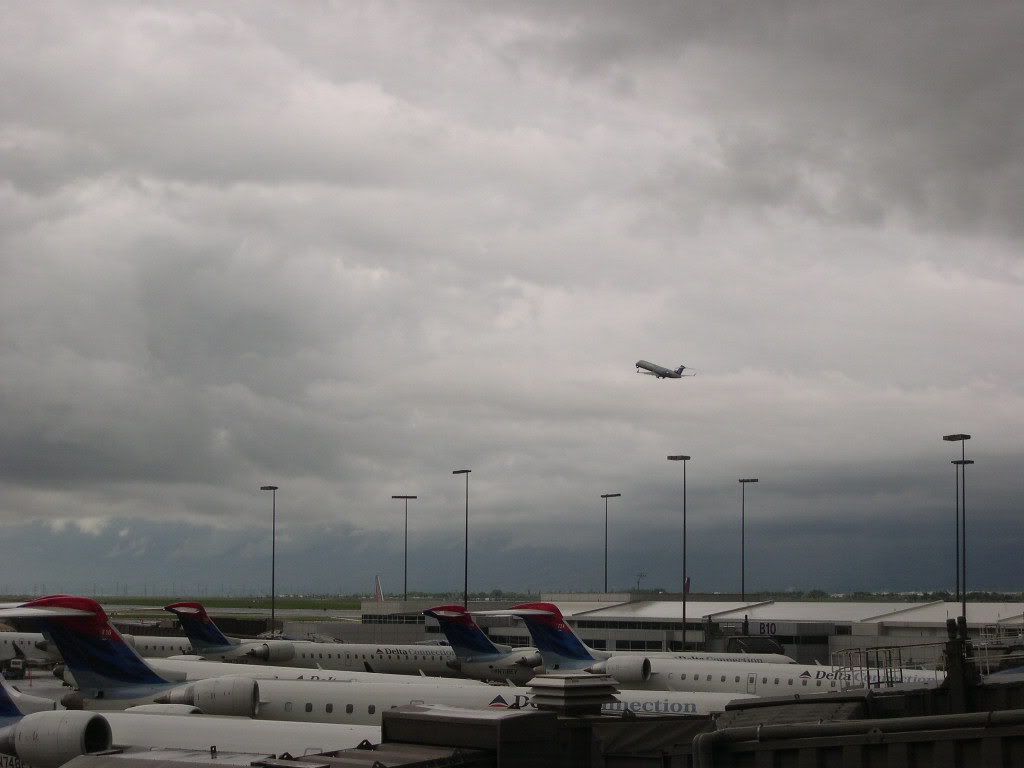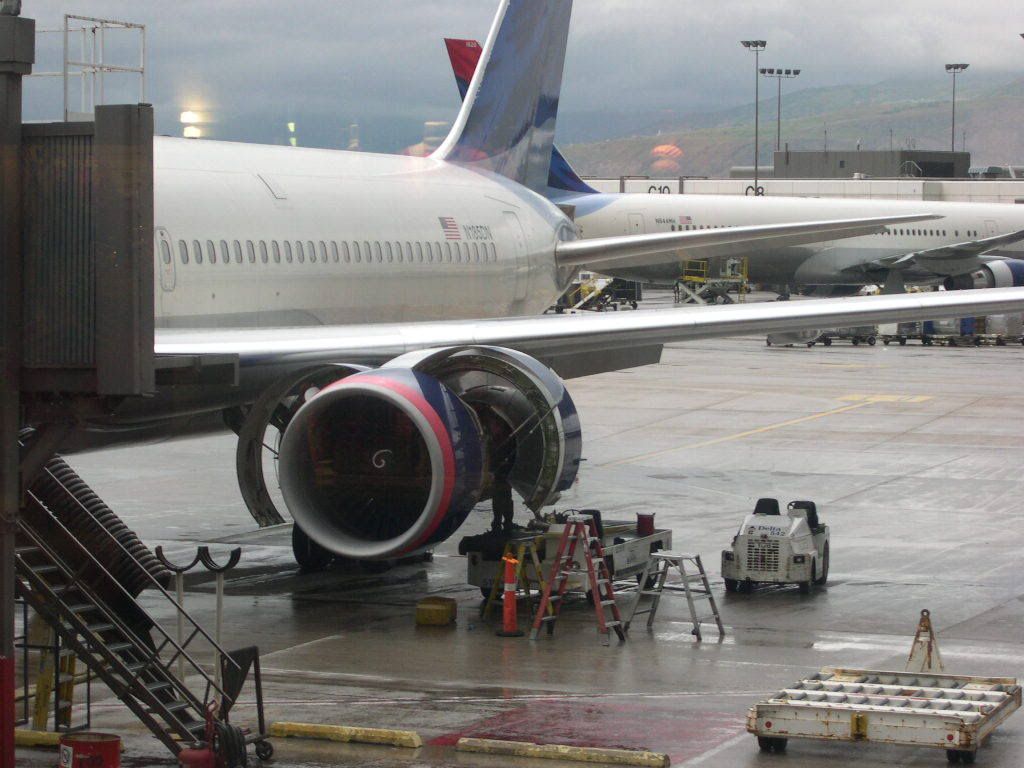 When I got back to the gate, I found out they had pulled an incredible switch of equipment on us! Instead of flying a 733, we were on a...735. Oh well, I was still on the bulkhead, so it made little difference to me.
When we got on the plane, the rain had only increased.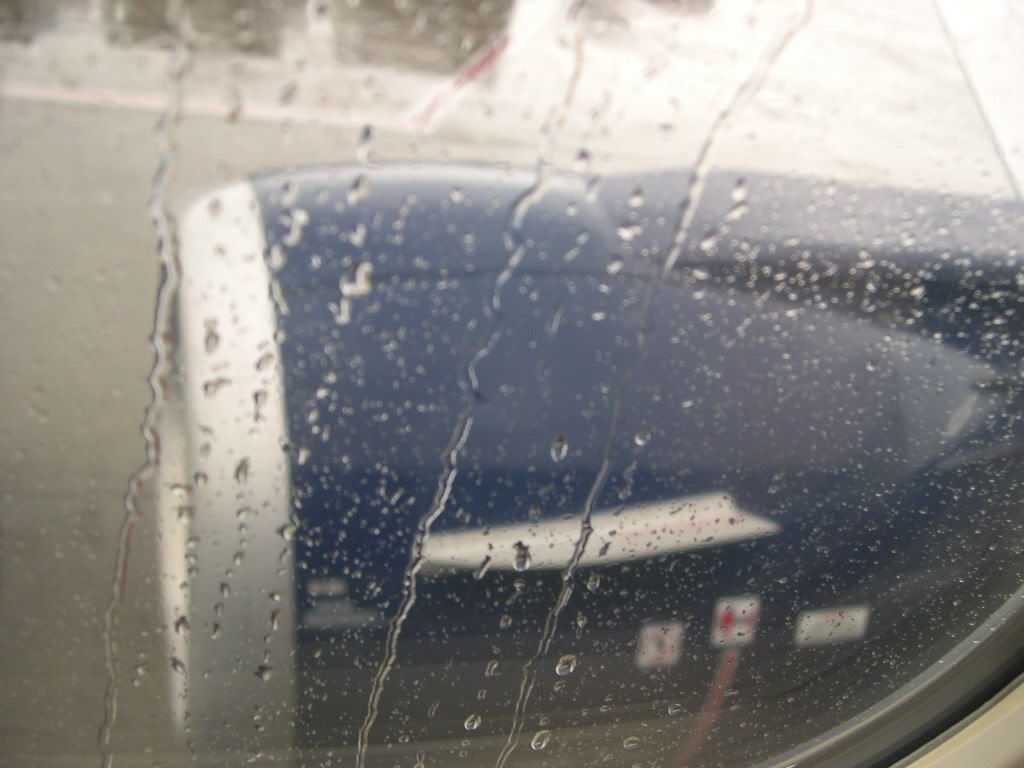 All was on time, which put us in the air around 11.
It was boring and sunny up above the clouds. Much to my chagrin, Channel 9 was not on. After the FAs declined to answer my call button, I proceeded to walk up through the entire first class cabin and talk to the lead FA. My walk was at most three steps since I was in row 3. She was standing there with the cart blocking the flight deck door. Before I could say anything, she told me to sit down. Before doing so, I forced out my question asking if the captain would turn on channel 9. She immediately responded that, "This captain doesn't do that!" I had heard of captains refusing to turn on channel 9 on Flyertalk, so I just sat down again.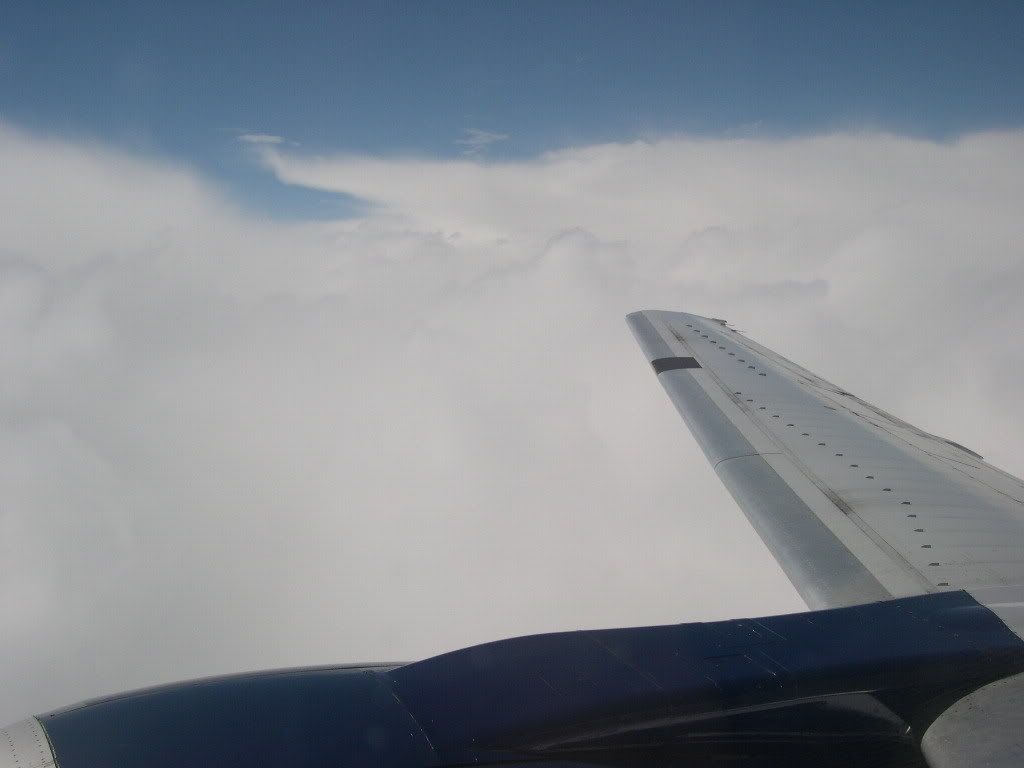 Right when I sat down, a Jetblue plane cruised by.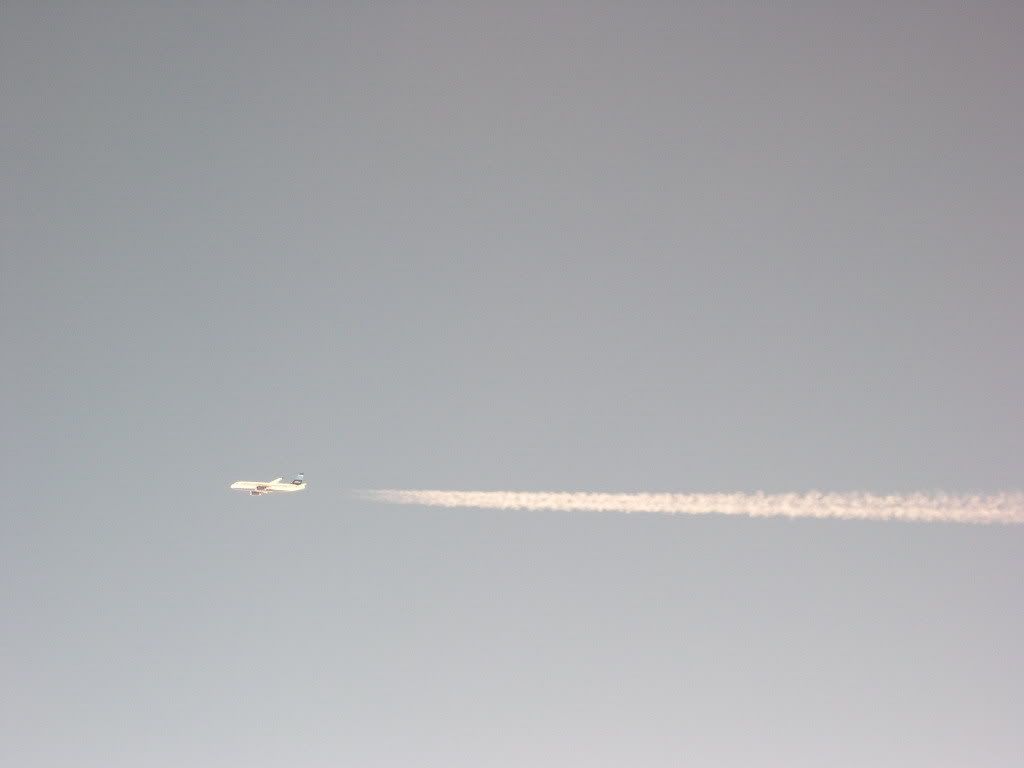 That made the flight somewhat more interesting. For the remainder, I just stared out the window though.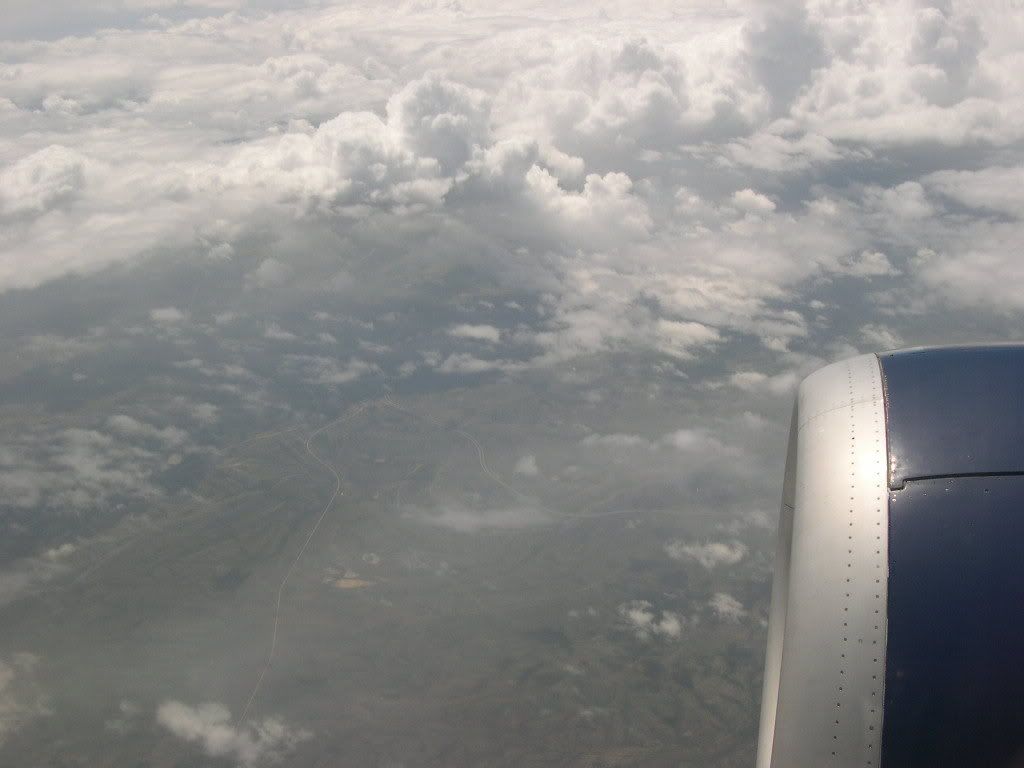 Meager rations were offered a short time later.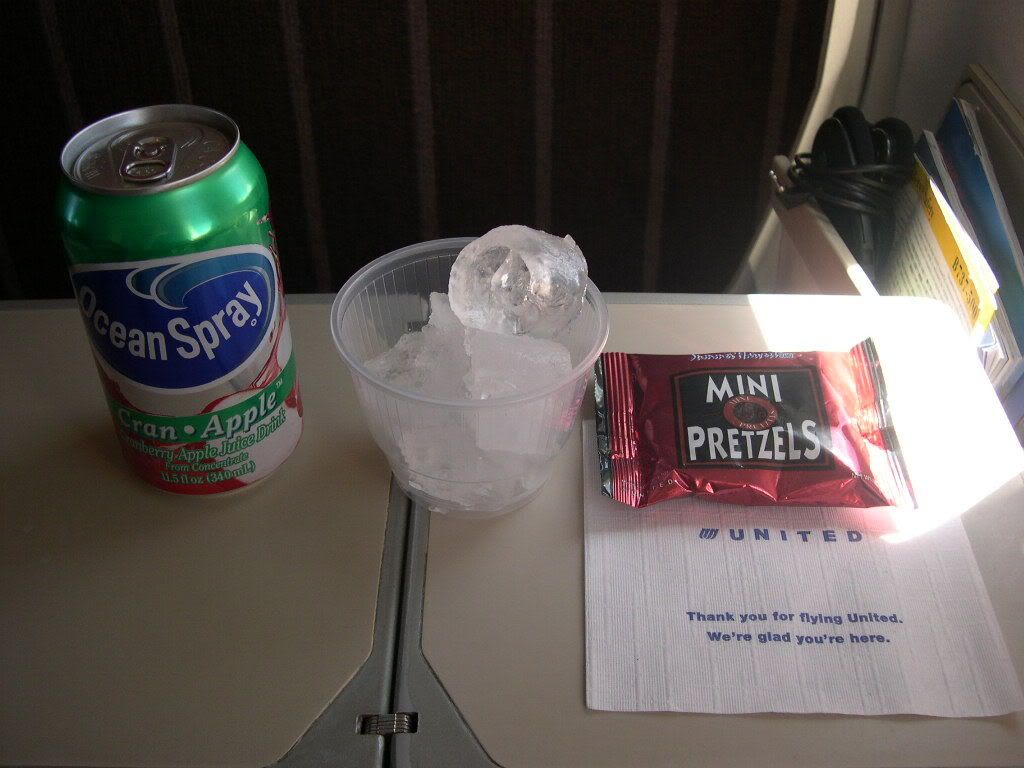 View of the bulkhead and F cabin.
Before I knew it, we were on the ground in ORD.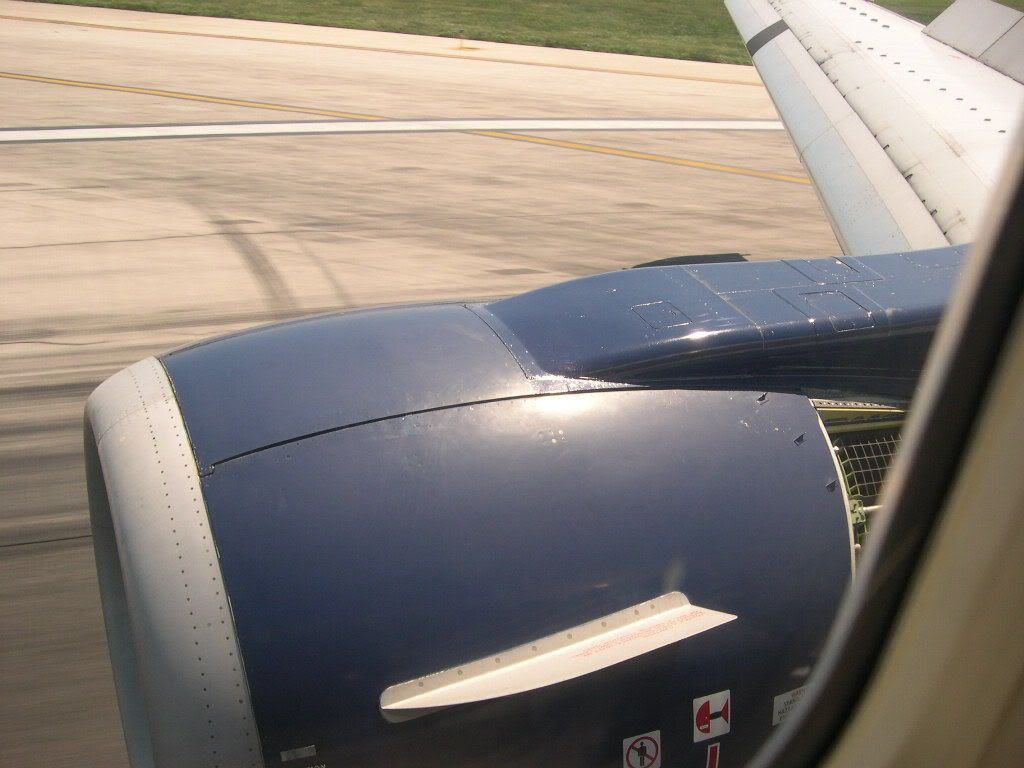 We taxied right past terminal 5, which had a nice line up of planes.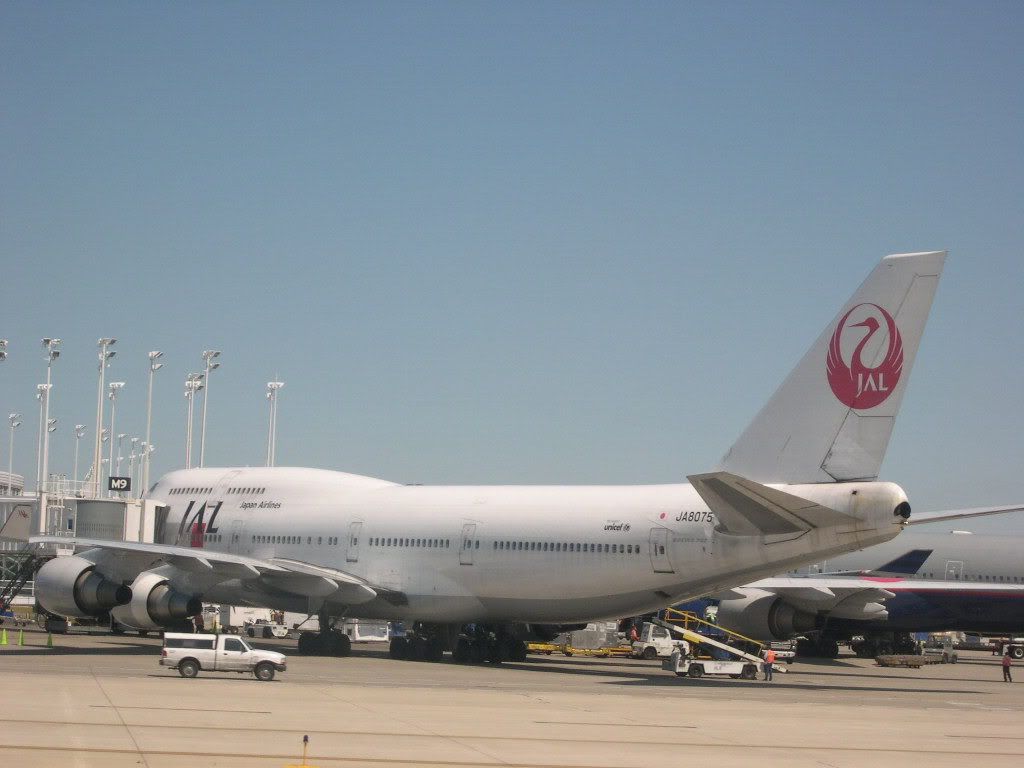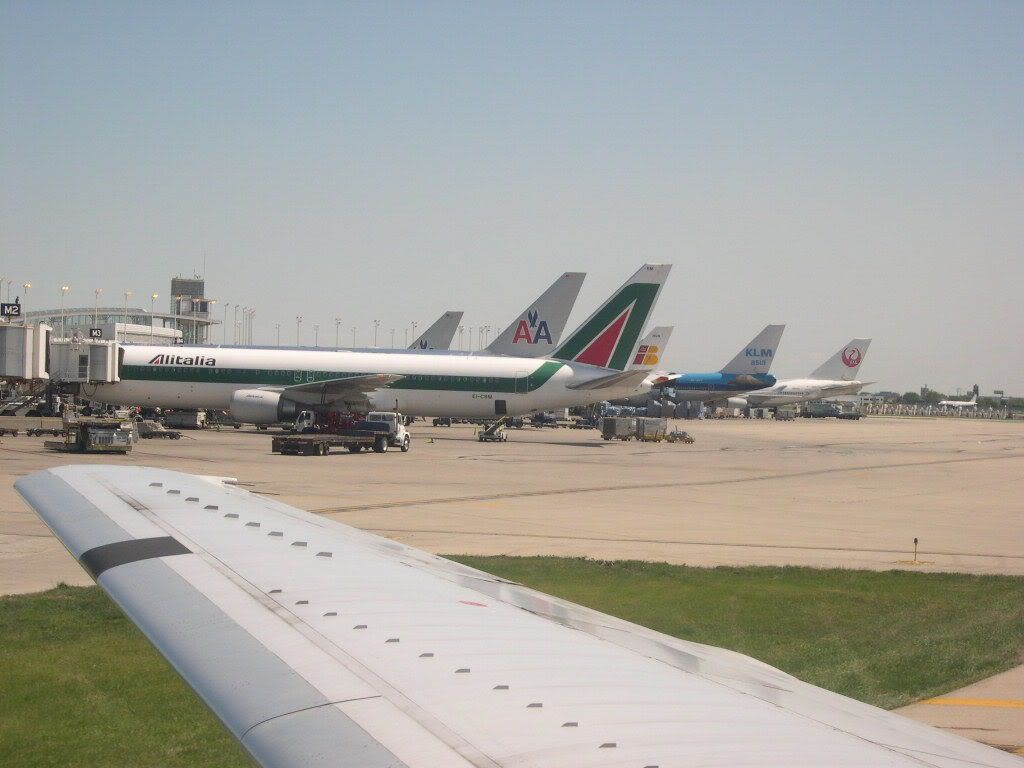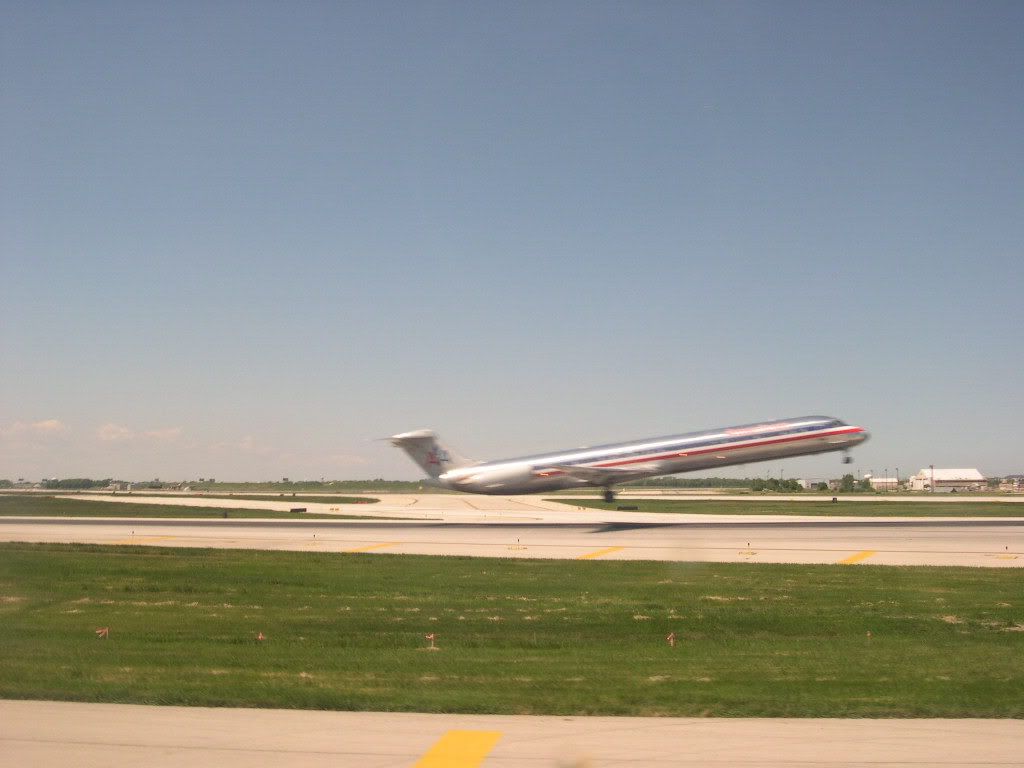 And up to the gate.
Our flight to MSN left from the F concourse. We had about an hour and a half, so we chilled in the RCC until then. The glass in there is tinted, so that is why the pics look weird.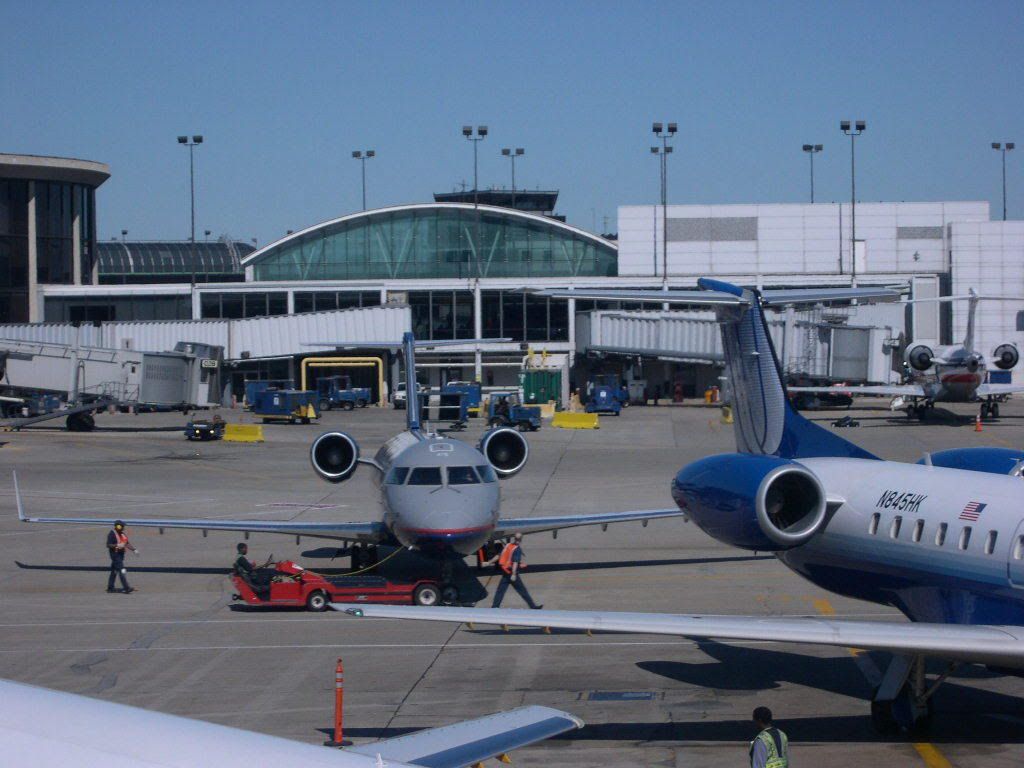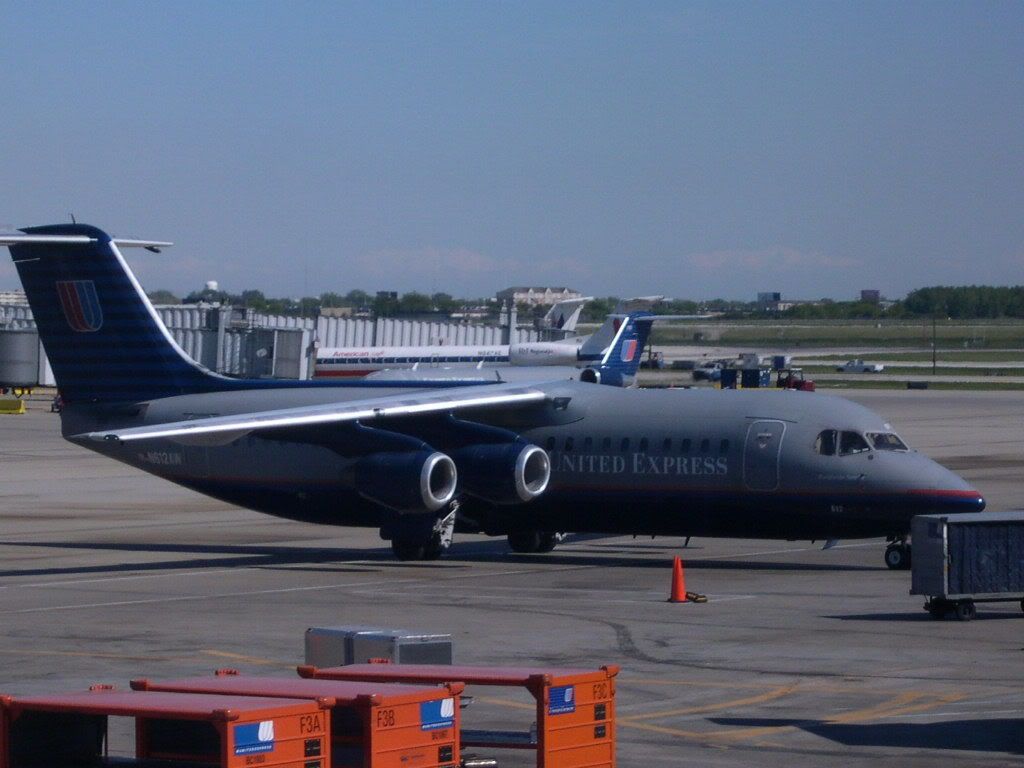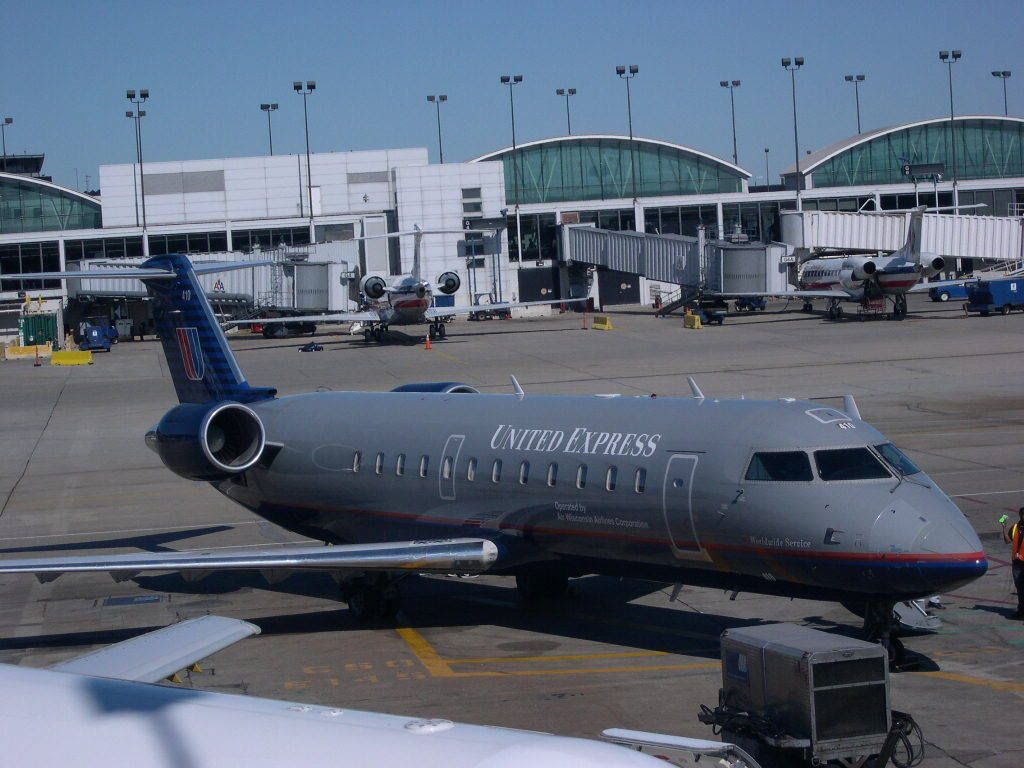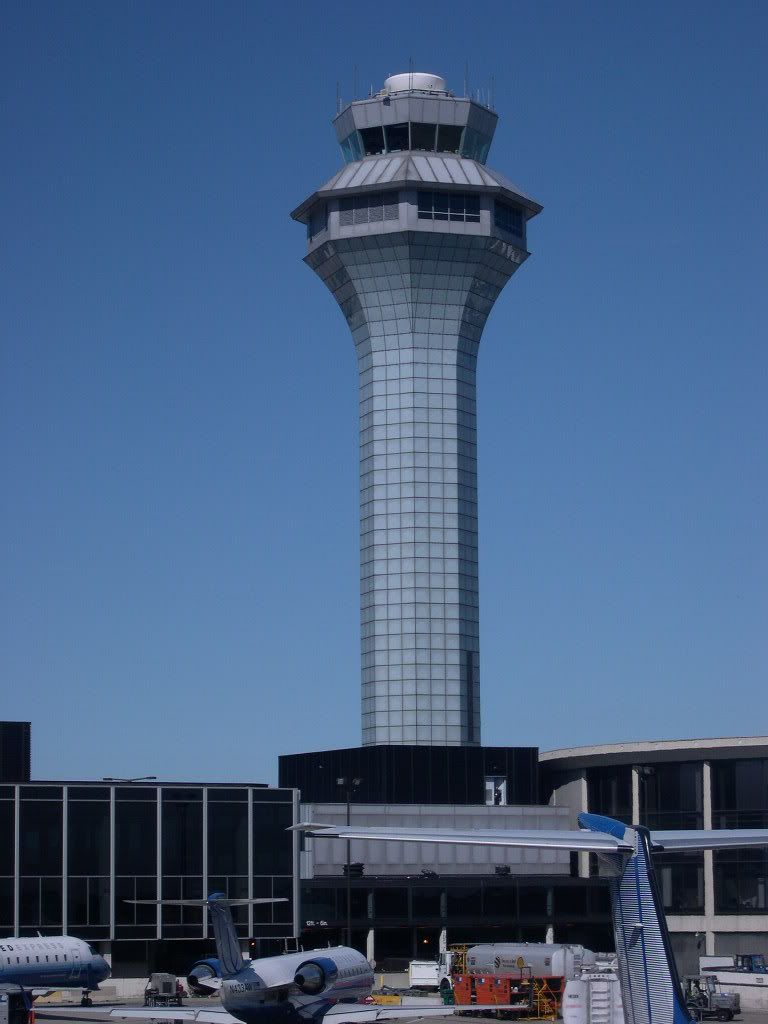 A few UA tails
Flight 5567
ORD-MSN
Depart: 4:45
Arrive: 5:45
Seat: 11A
Type: AWAC CRJ-200
Ship: 412
Our flight was called a little later, and boarding involved trooping out across the tarmac to our plane. I took the opportunity to be a security risk and take a few pics.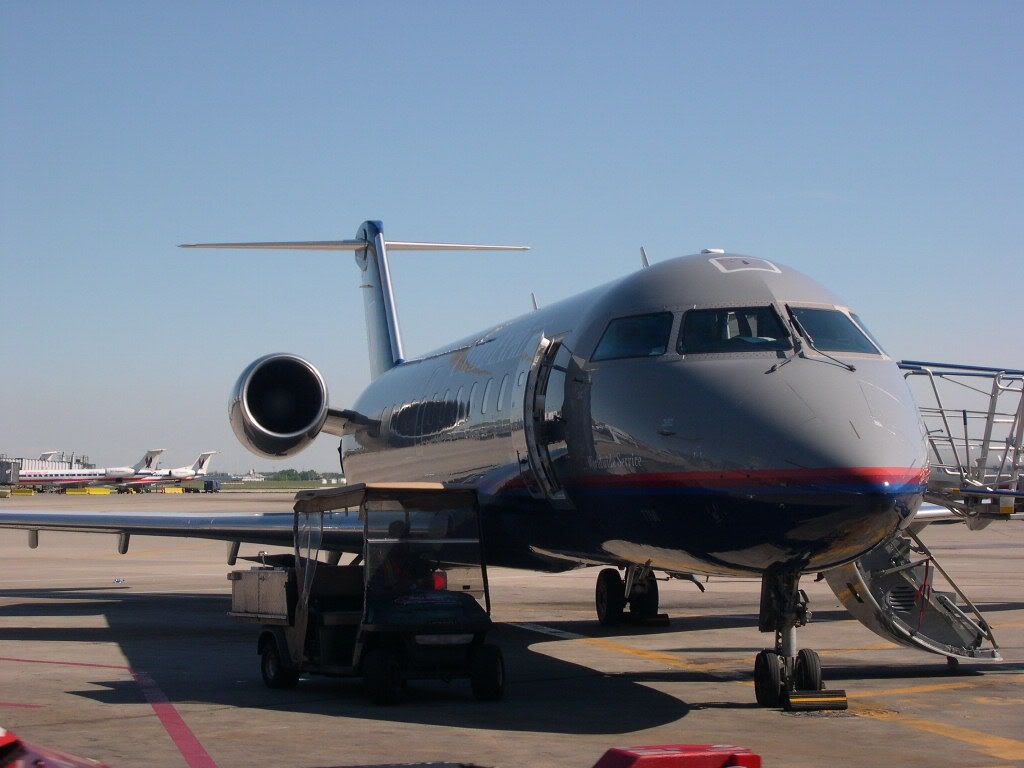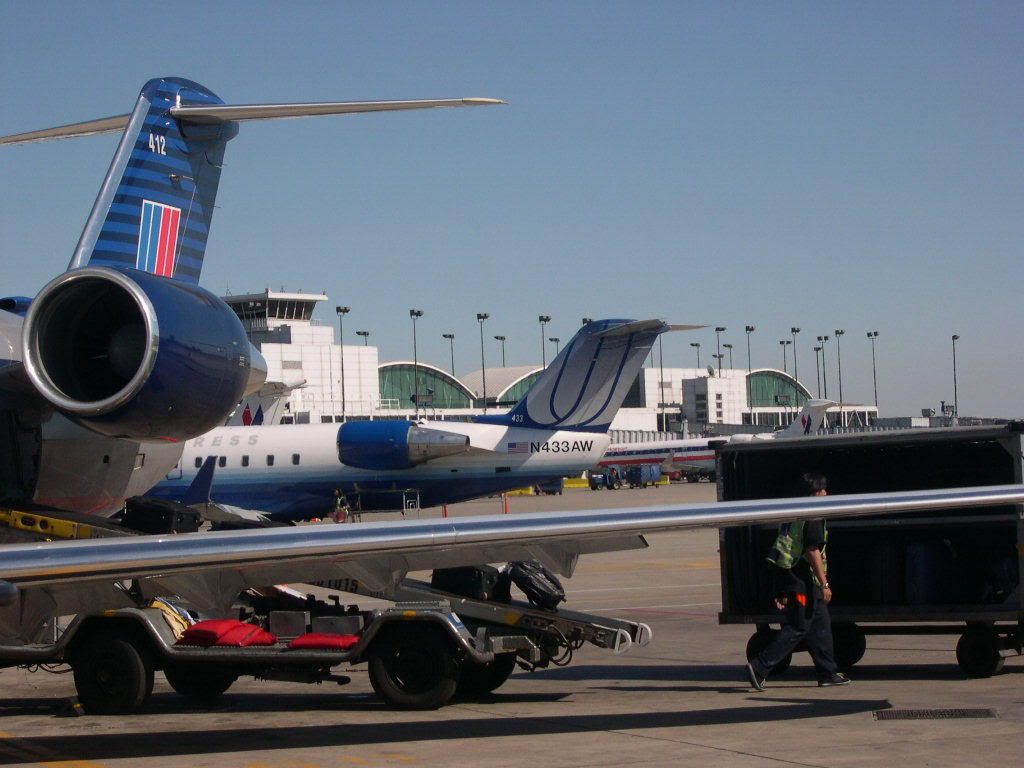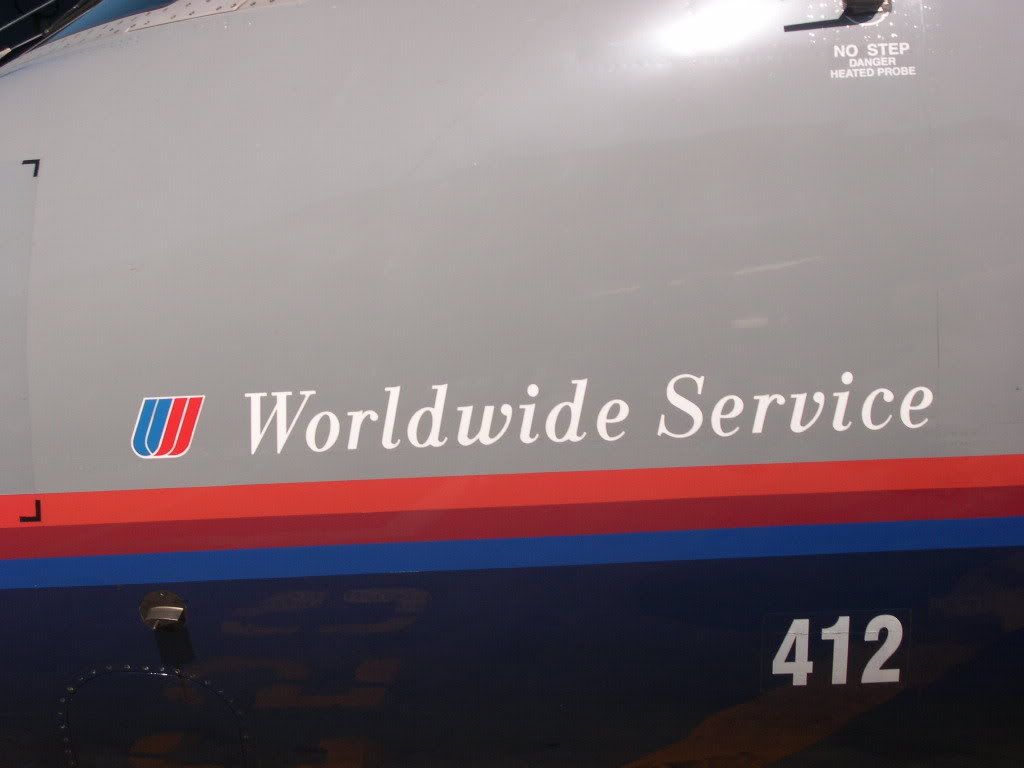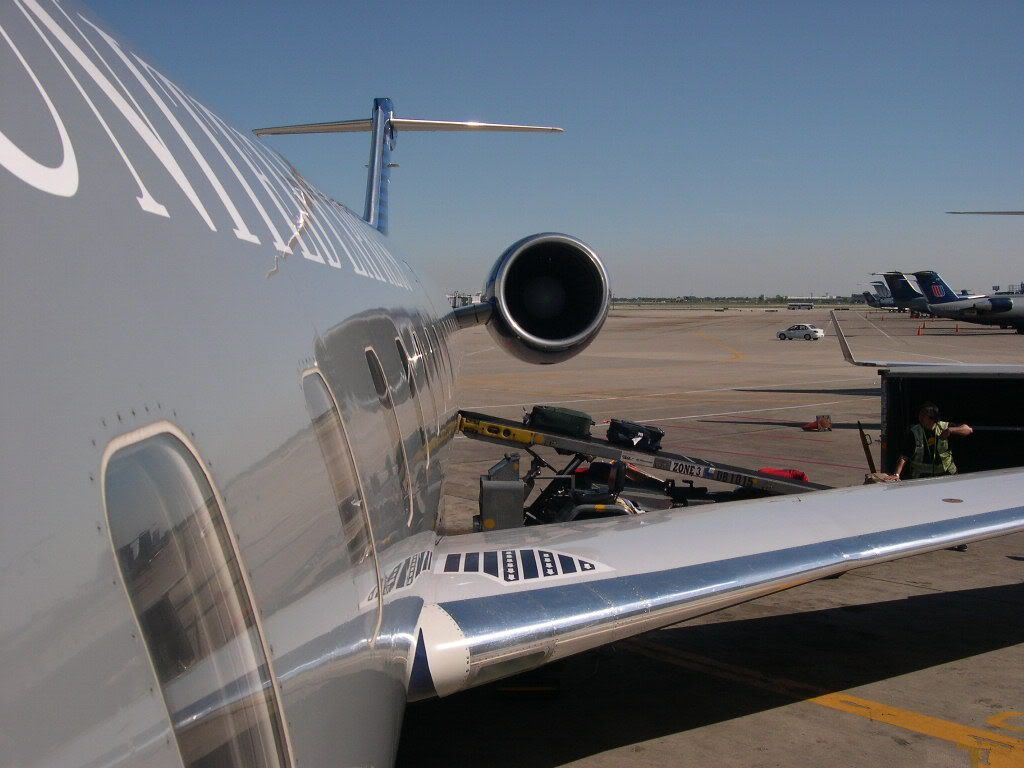 The cabin was almost full for our short hop back to MSN.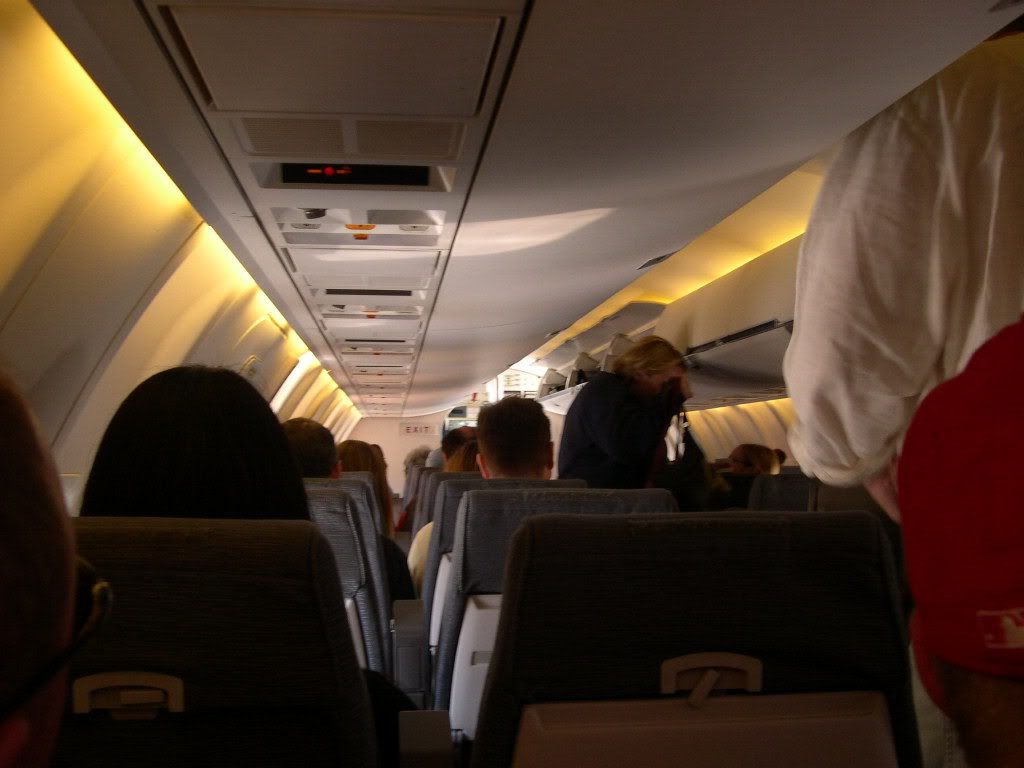 A last look at O'Hare
We flew straight north and took a left turn over MKE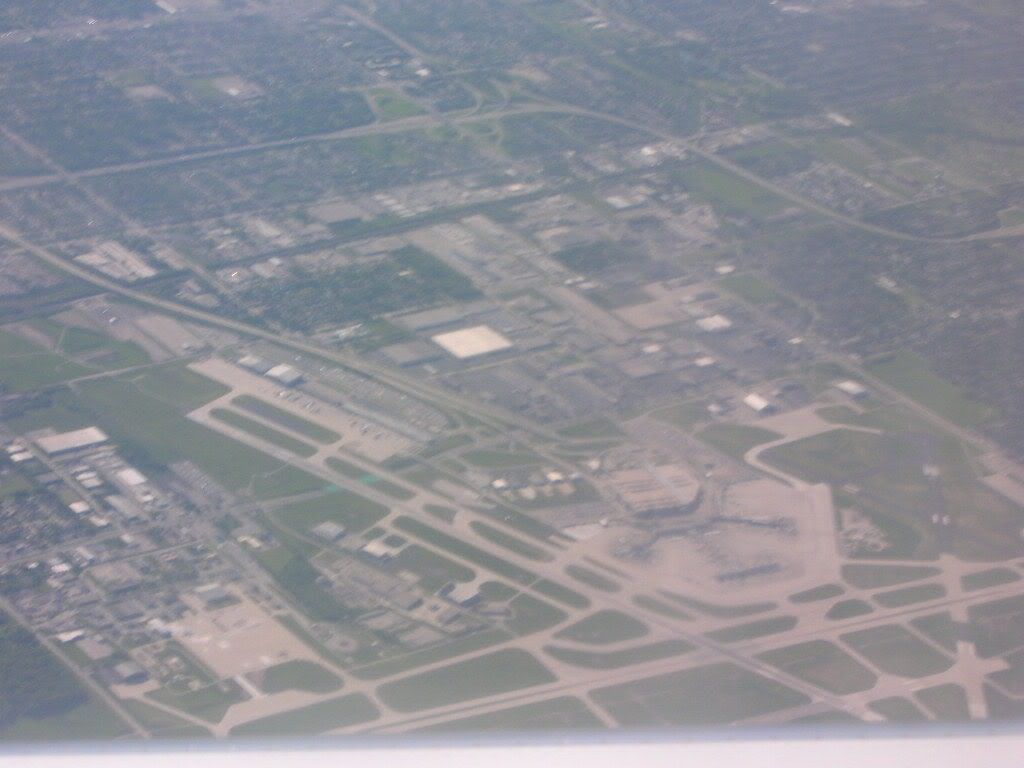 I always love flying into MSN because of the wonderful view of the isthmus and the capitol building. The mountains are nice, but nothing is better than the MSN isthmus.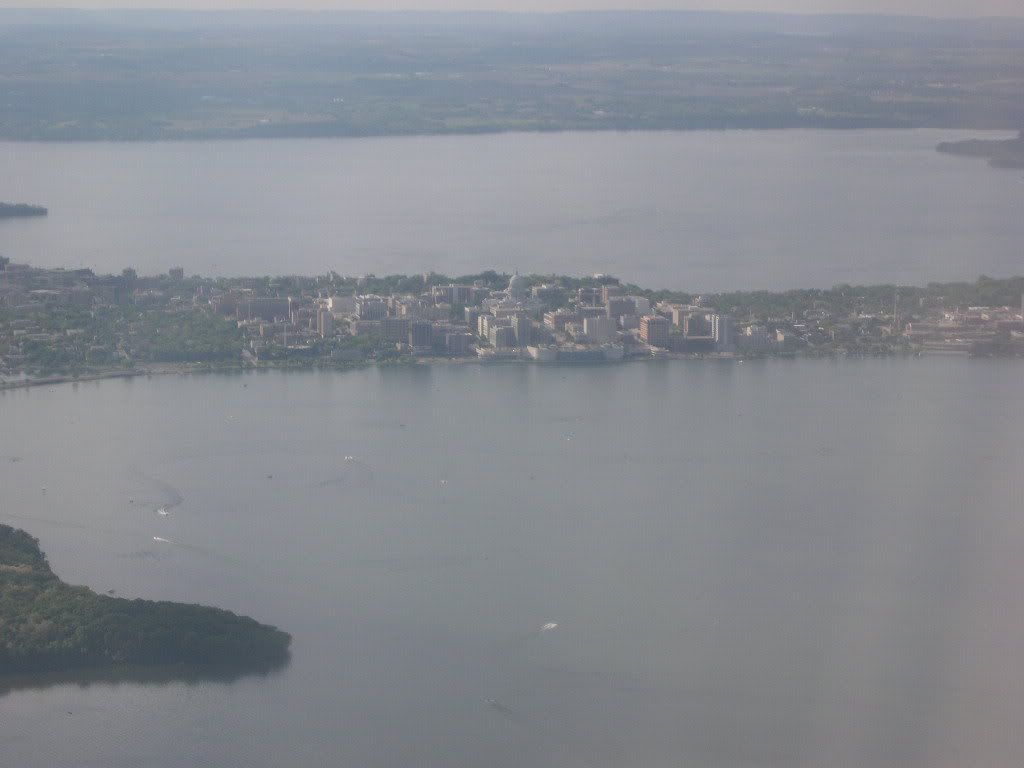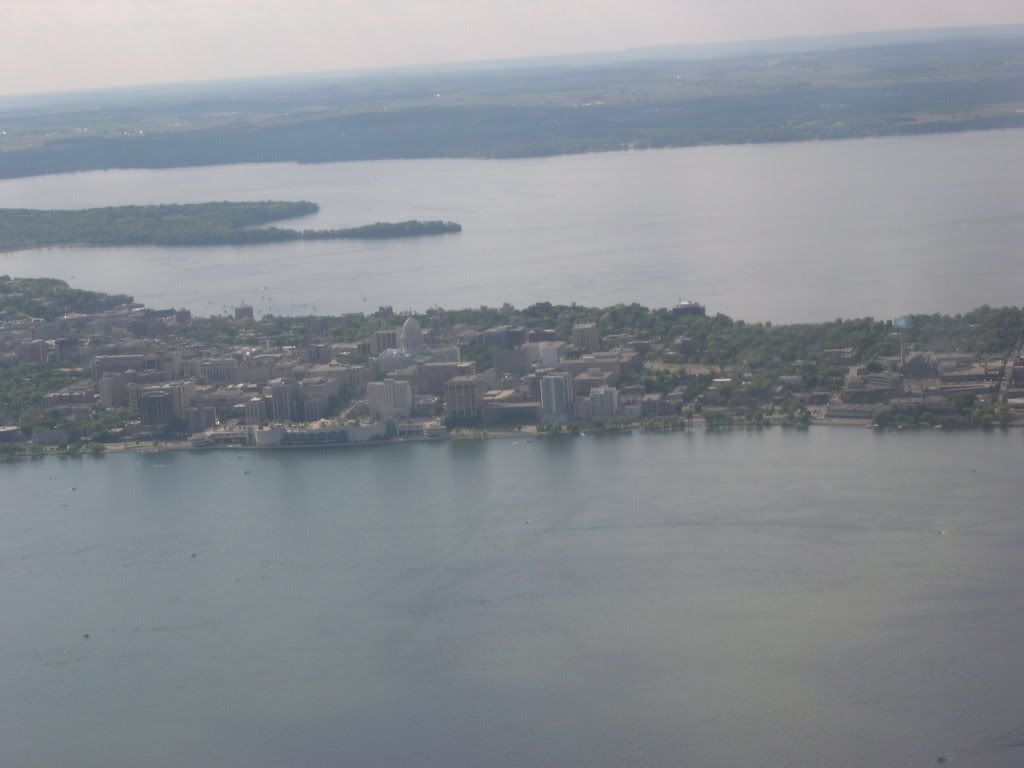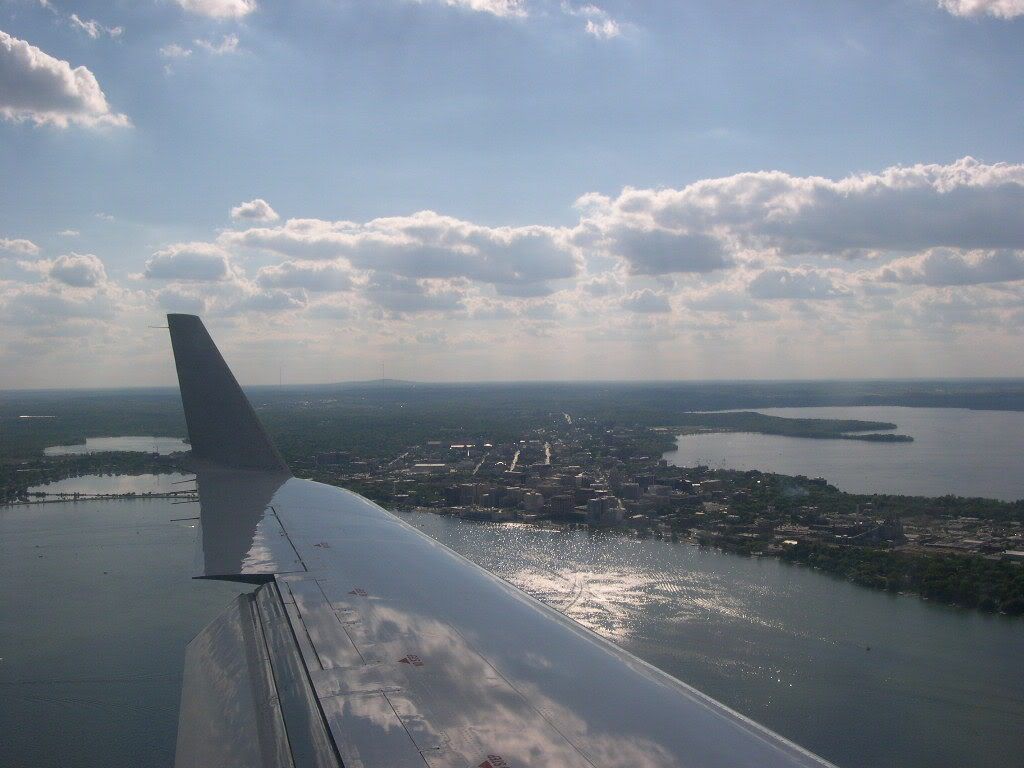 Less than a minute later, we were on the ground.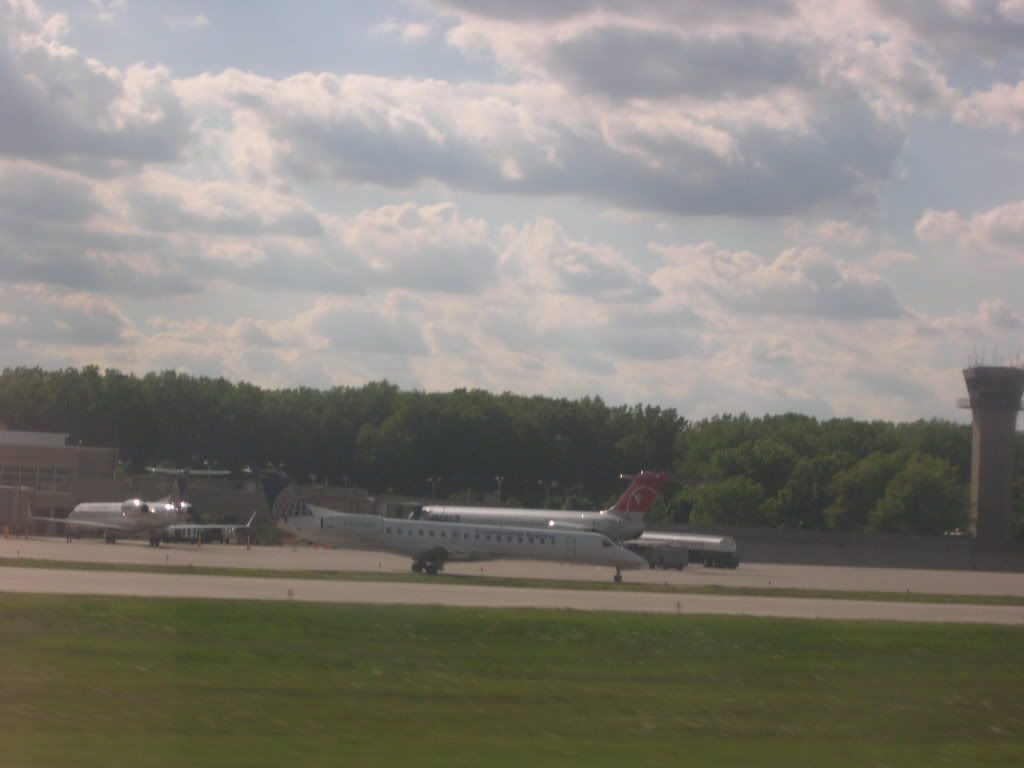 All in all, a very fine trip. I liked SLC and hope to get back there someday. All the flights were nothing to complain about as far as service, and on time performance are concerned. I am disappointed that some UA captains refuse to turn on Channel 9, but that is how it goes sometimes. I hope you all enjoyed the read and pics, especially those of you with dial up. Any comments are always appreciated.
~Dan