Ride the "Ryan" to Murcia via STN
Hello, dear readers,
thank you for your intention to read my report, I will do my best!.
Around the first of March, two free days popped up in my calendar.
Time do do another trip to the south.
As it is my policy not to fly the same airline or visiting the same country twice directly one after the other,
LH and its Miles-and-More offer was out of my view.
No special last-minute arrangements, but acceptable fares to Murcia with a short sidestep to STN.
Wheather forecast was ok, so immediately booked.
(1.)
Wednesday, 07.03.2007
HHN (Frankfurt-Hahn) - STN (London-Stansted)
FR 753 operated by Ryanair B738W EI-DLC
Scheduled: 06.30 // 06.45
Actual: 06.25 // 06.30
Gate: ? Seat: ?
Load factor: Not more than 40 %
Fare: 32,73 EUR
Delivered to FR: 13.01.2006
An early departure from Hahn, three hours to drive, two hours early at the airport, so let´s go after a short sleep at 1 am.
No traffic on the motorways, ontime arrived 4.15 am at HHN airport.
Some other pax in front off the announced, but closed desk.
Minutes thereafter a sleepy single guy arrived, check-in started and my bag was off to STN withhin minutes.
No time to wait at security, settled down as comfortabel as it could be at HHN after passport control and waited for the things to going on.
Early boarding at 05.50 am, a walk through the dark light rainy morning.
Early morning at HHN: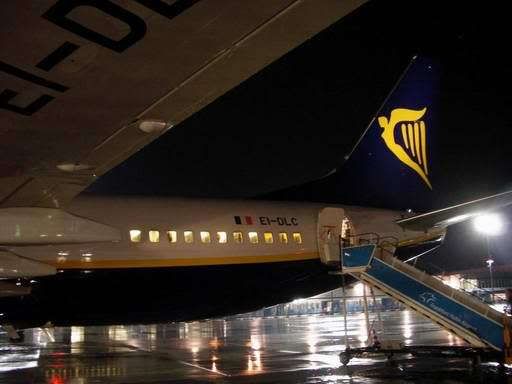 This time a clean machine, fitted with the usual dark blue leather seats.
Four FB´s on this service, one young male with the typical Ryanair-robot behaviour, two females, ok, and another real friendly female,
IMO italian, called Gabriela.
A friendly welcome from the flightdeck, captain Thomas Döhler and later inflight from the FO, Lars Weller, both german natives.
Taxi was interesting, we´re passing another FR B738 on the taxiway as we´re entered the runway early, travelled it down and turned
around there, a quick departure follows.
Route: HHN, runway 21, over Belgium to STN, runway 23.
Sunrise between HHN and STN: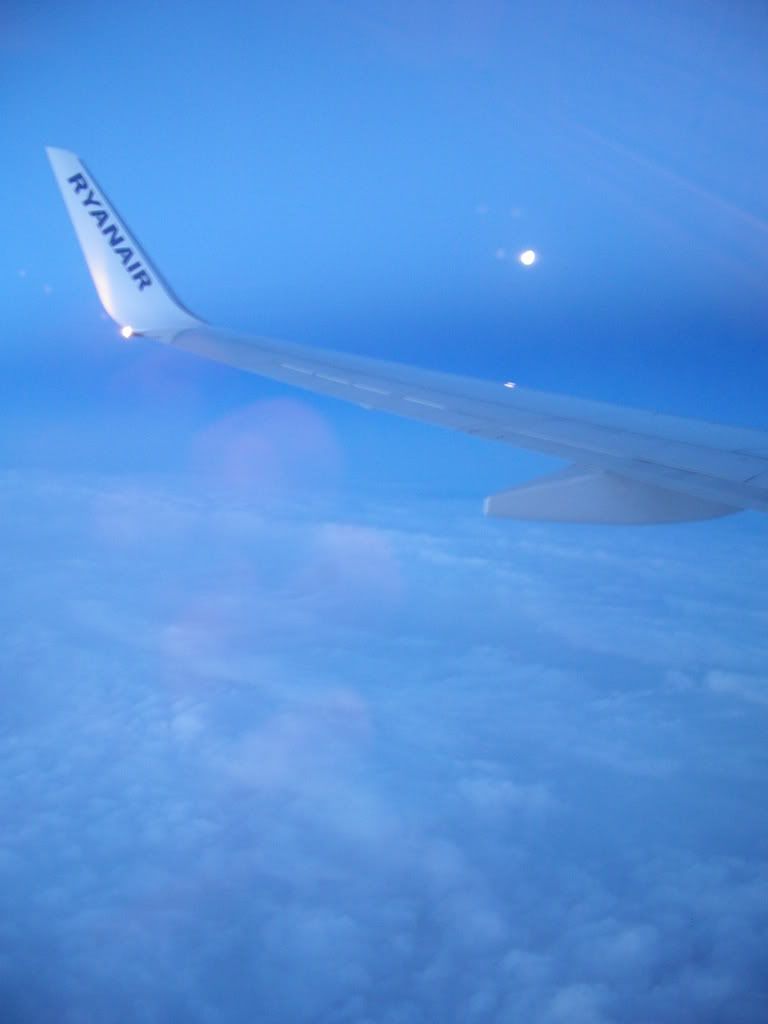 I had a nice chat during deboarding with Gabriela, said goodbye and was once again in STN.
(2.)
Wednesday, 07.03.2007
STN (London-Stansted) - MJV (Murcia-San Javier)
FR 8028 operated by Ryanair B738W EI-DHX
Scheduled: 11.25 // 15.05
Actual: 11.40 // 15.15
Gate: 59 Seat: ?
Load factor: More than 90 %
Fare: 72,58 EUR
Delivered to FR: 06.12.2005
I´am not really sure if this was the same airport like I know as STN.
No time to wait at passport control, my bag was on the belt when I arrived.
I asked a FR girl if the desk for MJV is on her list.
She send me to I think 83. I followed the action at STN terminal, lots of people all around.
At around 07.00 am, yes, 3, 5 hours prior to departure the desk was on the screen as open,
no one there, a girl asked me if i want to check in for Murcia, yes, sure and so it goes.
Bag off, no time to wait at security, walked down to the FR gate area and followed the traffic outside,
time goes by quick.
My machine inbound from HHN: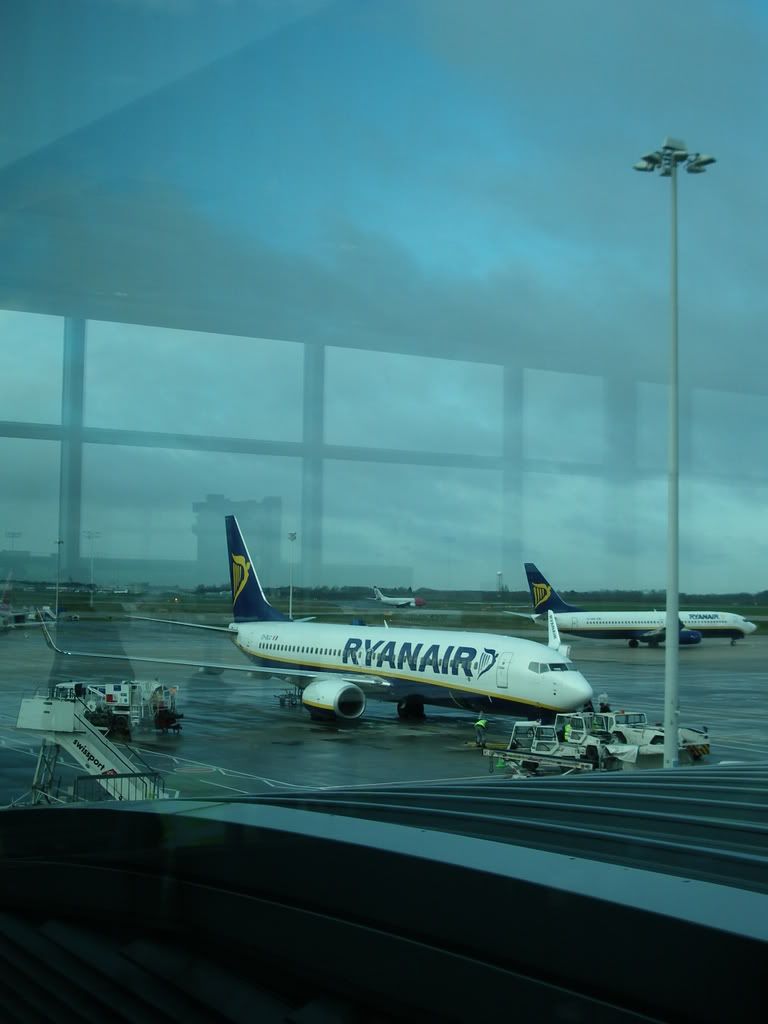 GSS/BA Cargo B747:
Iseland Express/Hello MD90: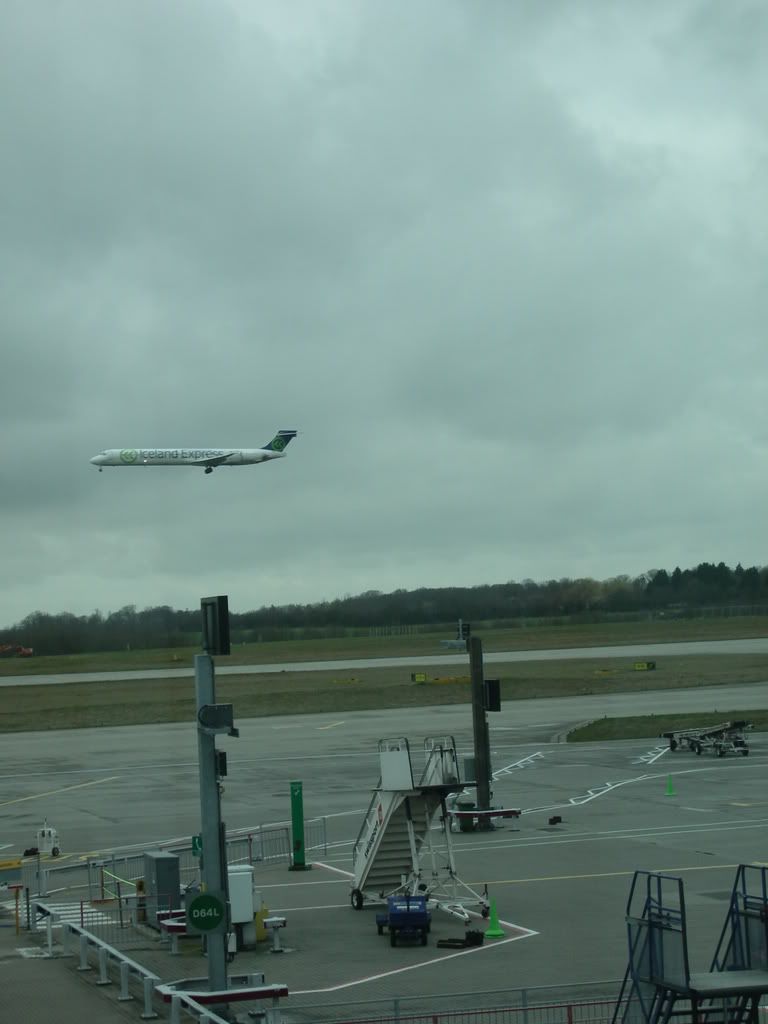 Later gate 59 was announced, the plane arrived early, boarding started short thereafter and again a clean machine, fitted with the
dark blue, really cramped, leather seats.
Three female FB´s, one ok, two FR style and the purser a joking middle aged english guy, real good.
He introduced the whole crew by name.
We had a so called "Ground handling error" as there was no refuelling truck available for our flight, so departure with some 15 minutes delay.
Route: STN, runway 23, LON, Brighton, Le Havre, Paris, Andorra, Valencia, Murcia, runway 23. Flight level 37.000 ft.
Channel crossing:
The captain, sorry, dont understand his name and his FO, Ben Watts, IMO both from the UK told us everyting interesting about the flight,
five or six times during the leg. Very good and not expected. For example he told us that he will turn on the seatbelt signs for approach in about ten minutes, so
everyone who want to go the restrooms, will have enough time to do so.
Approach was, let me say, bumpy, not that I felt unsafe, but there was heavy wind in the area and the plane jumped around like a small cessna, great fun.
Back on terra firma hard and heavy, MJV is also a military airport, sorry, no pix.
Just arrived at sunny MJV: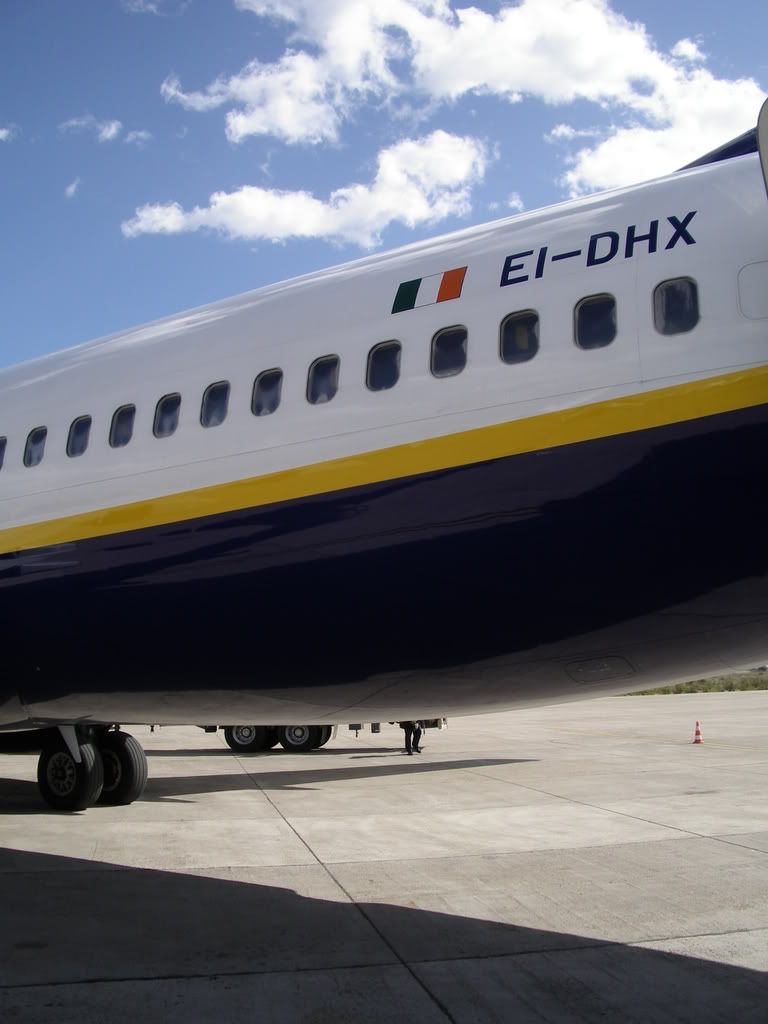 Deboarding at MJV: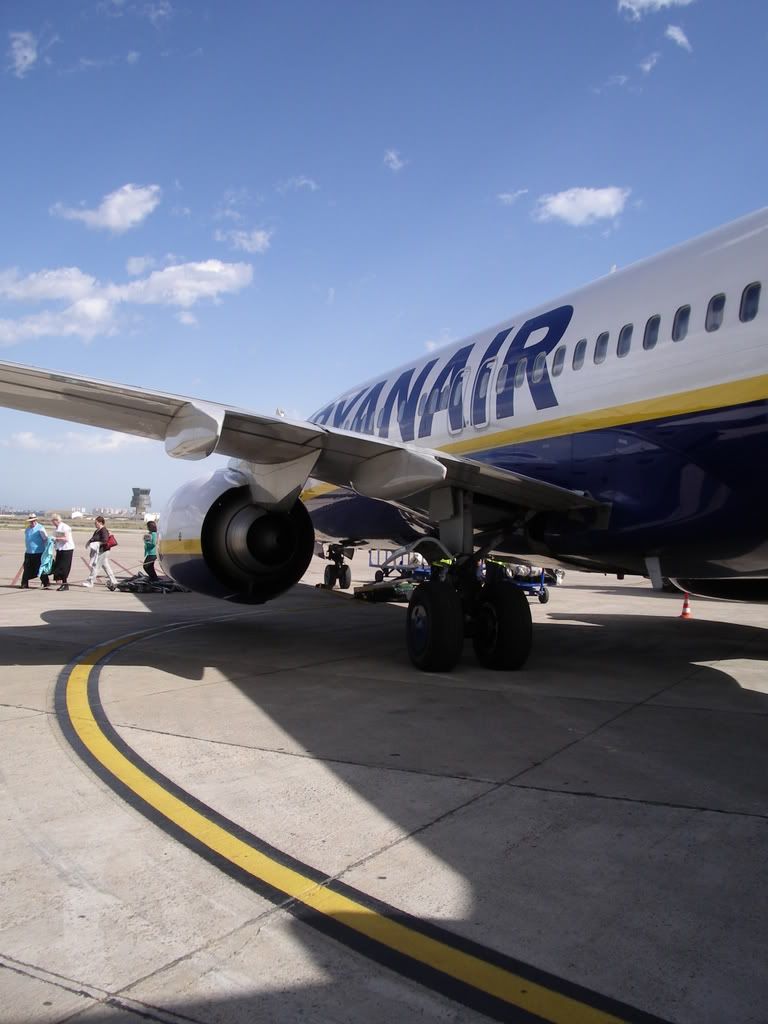 Temperatures around 25 degrees welcomed me, a sunny day in southern spain. Only some minutes to wait for my bag.
I've made a strategic fault during my rental car booking.
I've dont noticed that the company had no desk at the airport, AurigaCrownCar managed by Sunny cars, a good fare, 30.-- EUROS all inclusive and 500 AirBerlin Top Bonus points as well.
So i fixed the time to 4 pm but was out at 03.30 pm, that means I had to wait till the agent arrived, also some minutes later than 4 pm.
Car was later ok, a new Ford Fiesta.
On the way to my hotel, the La Laguna Resort and Spa in Rojales, between Murcia and Alicante, booked by HRS for 80,92 Euros B&B,
more than 30 EUROS cheaper than other websites. Not bad for one night.
La Laguna resort: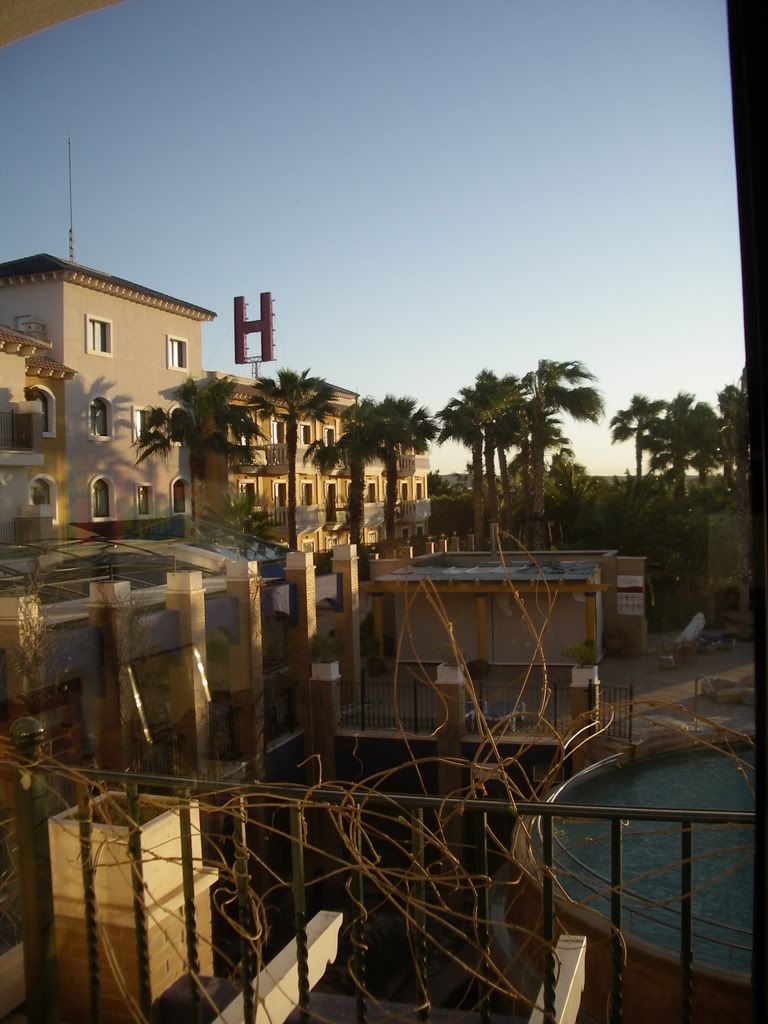 I visited Elche with the largest palm tree wood in Europe and later the area around the Mar Menor.
Elche/Palm tree gardens: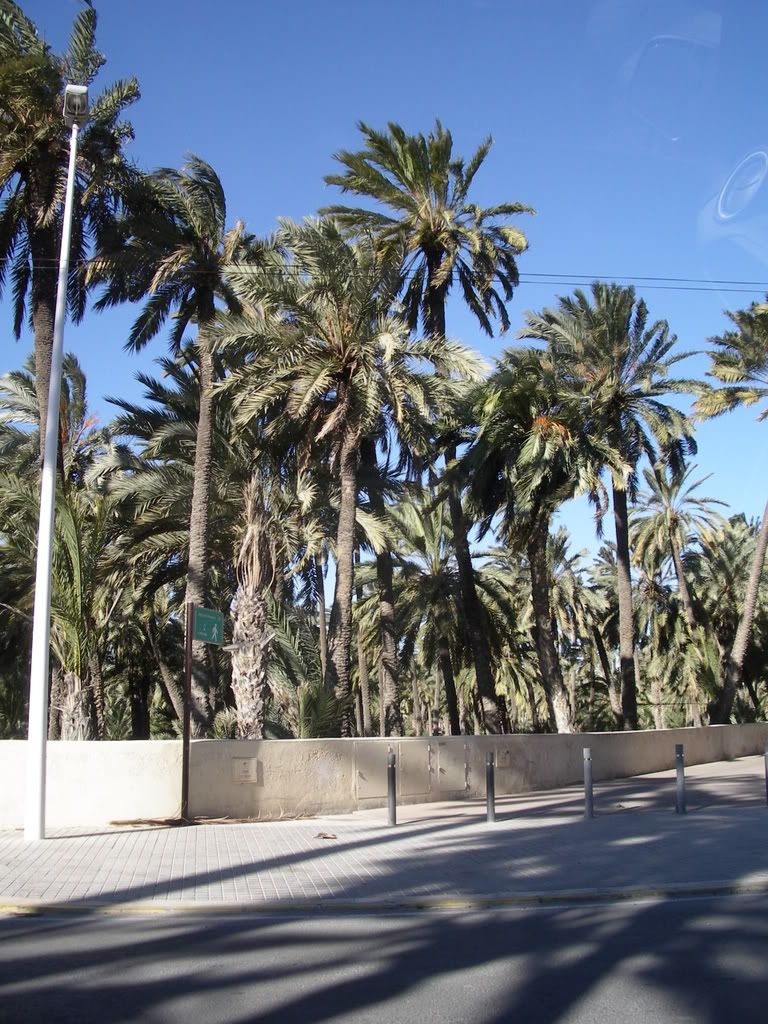 Elche again: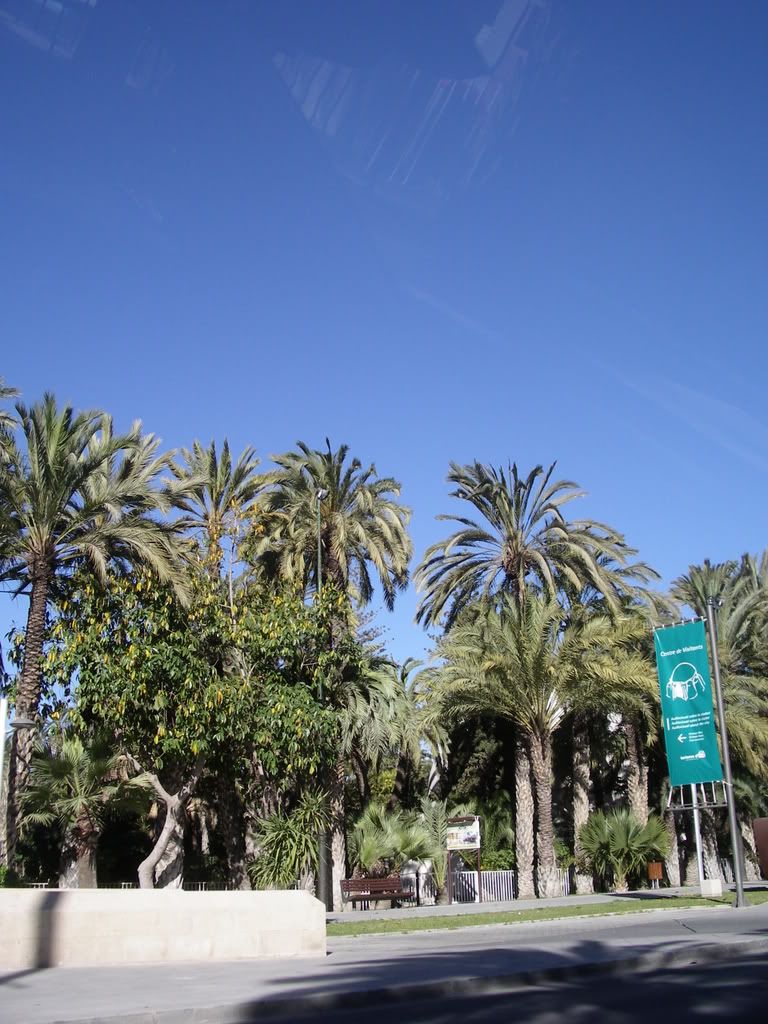 A road in the Emirates?:
Around the mar menor: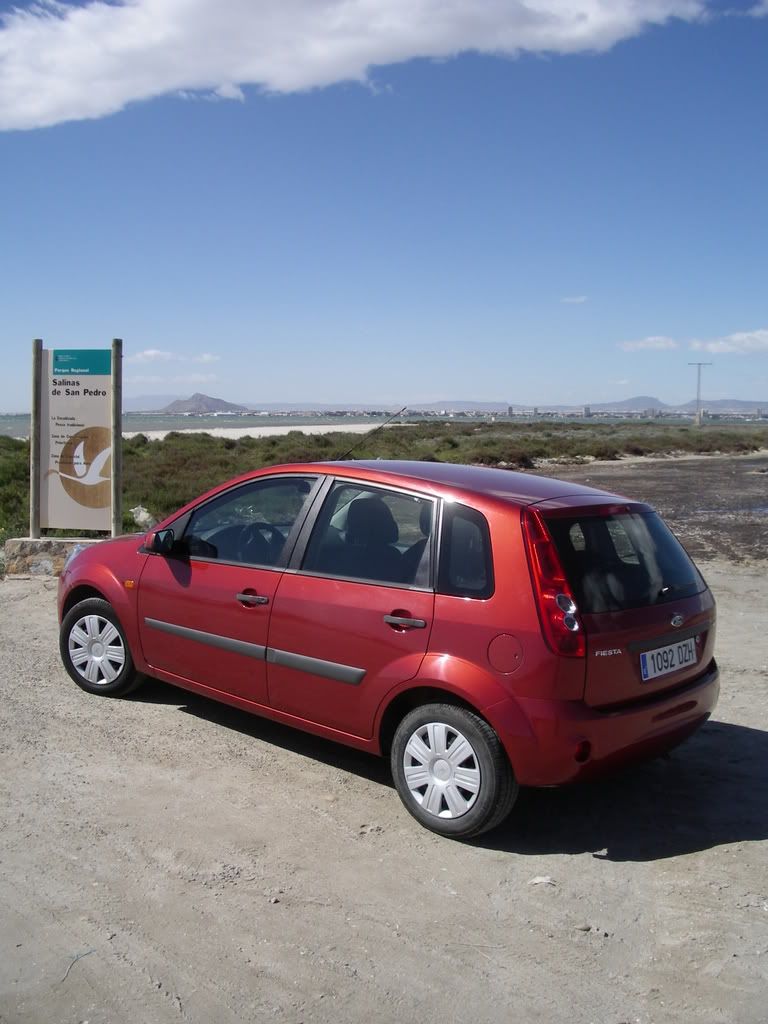 Futuristic architecture: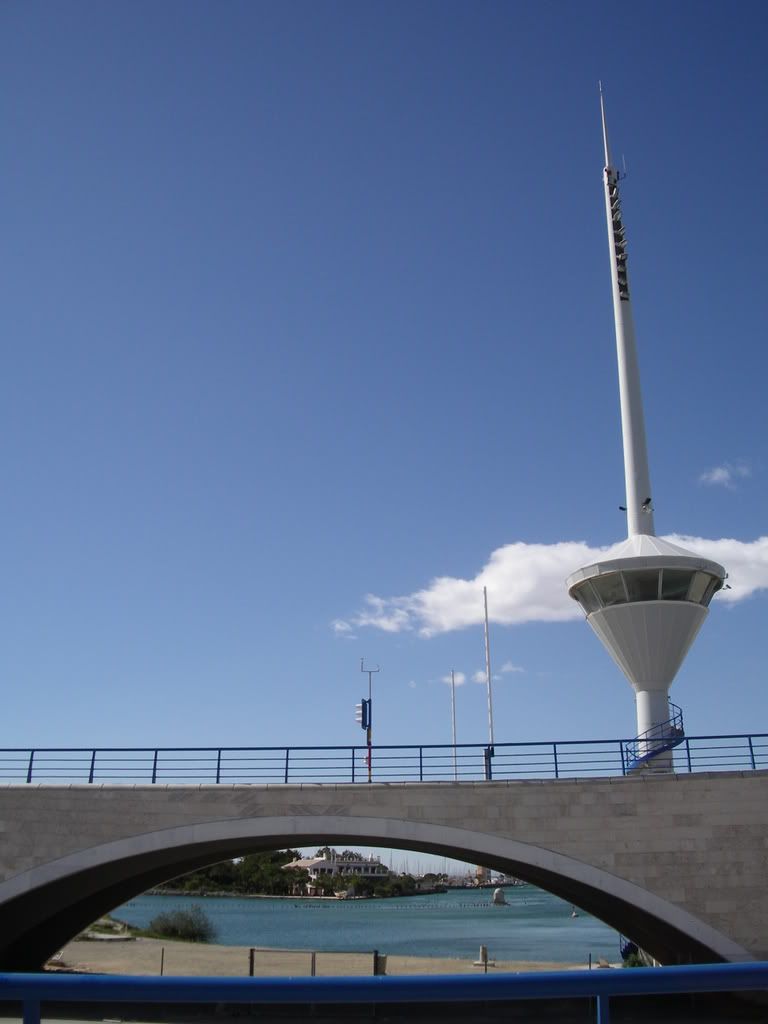 (3.)
Thursday, 08.03.2007
MJV (Murcia-San Javier) - HHN (Frankfurt-Hahn)
FR 4463 operated by Ryanair B738W EI-DHS
Scheduled: 16.55 // 19.35
Actual: 16.50 // 19.20
Gate: ? Seat: ?
Load factor: Around 70 %
Fare: 39,66 EUR
Delivered to FR: 07.11.2005
Arrival with the rental car shuttle at the airport at 3.30 pm, no time to wait at the check-in desk, my bag was off to HHN again.
MJV is the typical FR airport, surrounded by nothing else than some rural fields.
Only a small one level building, two arrival baggage belts and some check-in counters. No time to wait also at security.
After a Jet2 B733 bound for Leeds an empty apron.
I was surprised as my one inbound from HHN arrived early at around 4 pm.
The usual rush to the desk and as the other pax deboarded we were called for boarding.
Funny, you walk outside to the apron and had to wait there till the plane was ok, a guy waved and we´re guided to the plane.
An empty apron at MJV: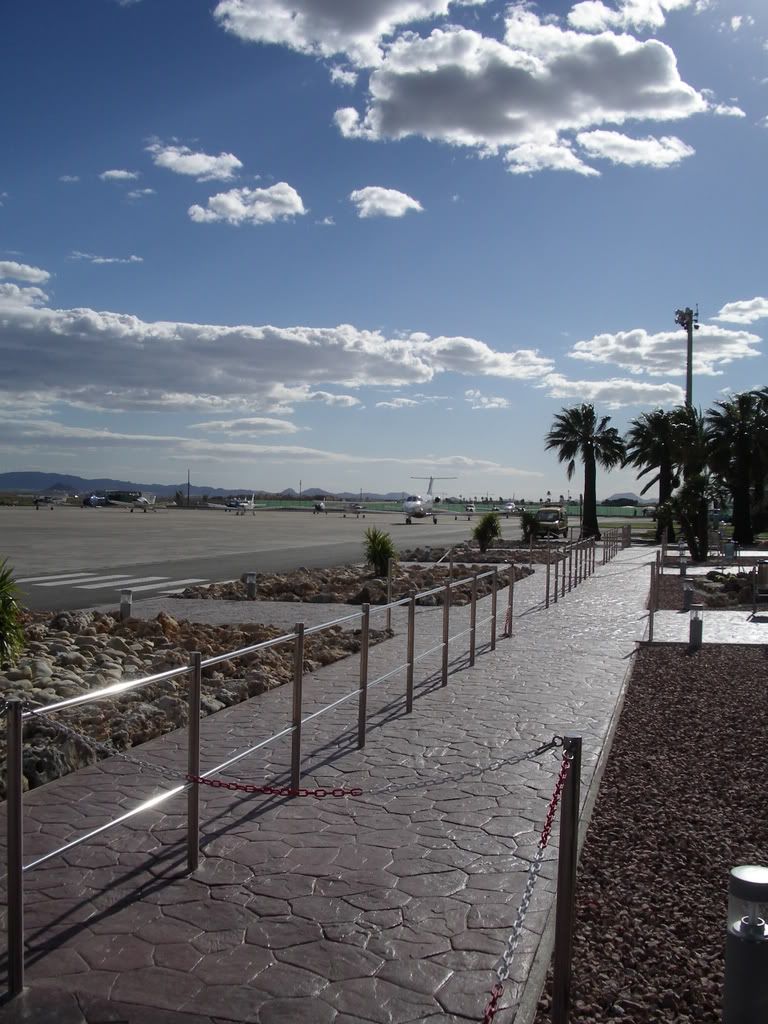 Arrival from HHN:
Ready for boarding: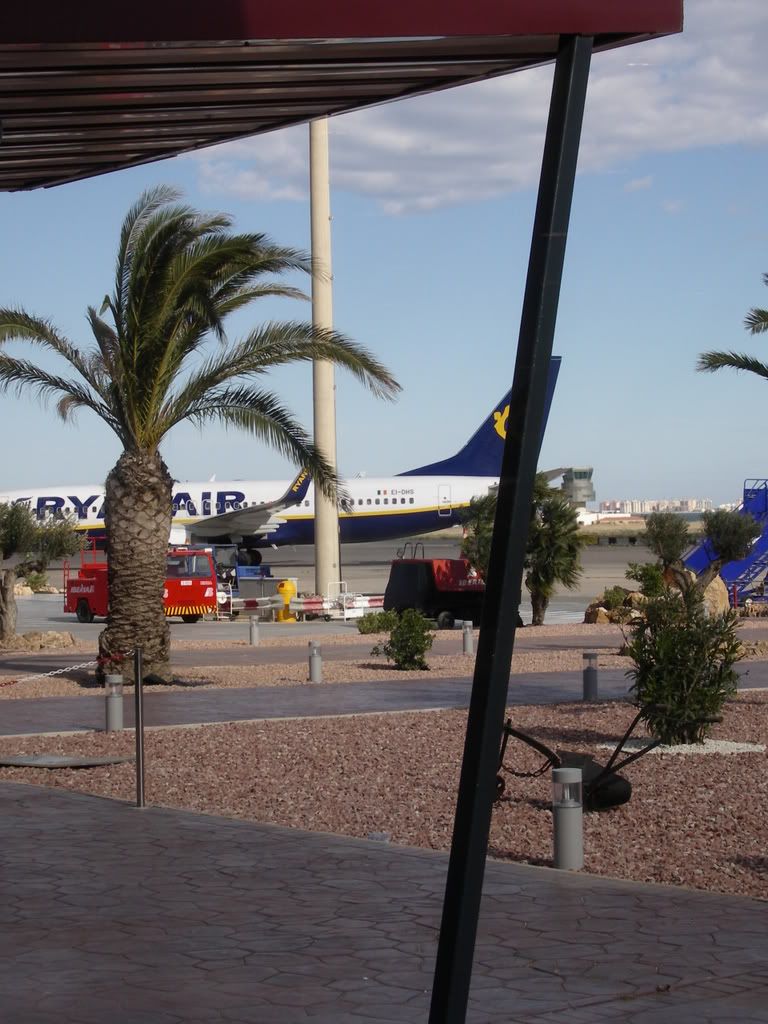 This time a slightly dirty machine, typical seats, two female FBs ok and two male FR robots.
I hate these nervous FR advertisements all the time.
We´re way to early, that means more than 15 minutes to wait for our departure slot.
Route: MJV, runway 05, no further information, HHN runway 21.
The captain Patrick Wouters and his FO, IMO both from Belgium/Netherlands told us not to much during the flight.
A heavy landing welcomed us back at HHN.
Only some minutes for my bag and on the long way home.
Conclusion:
One new airport (MJV)and all new legs for my log.
Acceptable fares also at short term booking, nice sunny wheather there in the Murcia area. OK so far.
On all flights same native cockpit crews, is this a new FR security action to calm down there last incidents?.
I was shocked when I saw all these vacation appartements there along the coastline, every village surrounded by houses and appartements,
every hill topped with an urbanisacion, sure not my way of living.
Comments and critics always welcome,
Markus (FLIEGER67)