Well, to start this TR off, I was originally reluctant to do this trip due to some personal issues and connections that I would face back in the Philippines. In the end, I felt it was time to return to "home" and obviously made the decision, albeit in the last minute, that I will go through with this trip. Besides, it's not always possible for me to ride WBC on a trans-Pacific flight.
This was the first time I flew an American airline across the Pacific in over 12 years and the first time ever I flew NW on a trans-Pac. Usually, due to the convenience of connections, I would be flying PR but unfortunately due to the airline's lack of sufficient airline partners in it's Mabuhay Miles program and the fact that I grew to be bound to NW due to WorldPerks and mileage run opportunities, not to mention just $2,200 [all in] fare to ride WBC, I decided to go with NW. This was the first part of my "Three-Pronged Winter Vacation" which ended up as a routing of LAX-NRT-MNL-ILO-MNL-NRT-NGO-CTS-NGO-MNL-NRT-PDX-LAX-MSP-LAX-HNL-MSP-LAX which was to be accomplished an a time frame of exactly 3 weeks.
Well, I hope you guys enjoy my report!

Flight 1
LAX-NRT
Boeing 747-451
N662US
I arrived at Terminal 2 at roughly two hours prior to my departure. I had to navigate my way from the taxi, through crowds of travellers ready for their X-mas vacation, to NW's check-in counters to be greeted by a short WBC/First Class/Elite check-in queue sandwiched between two longer lines. The check-in process was pretty smooth which was definitely not expected considering the Christmas chaos around the counters.
After attempting and failing to buy Starbucks gift cards to give as X-mas gifts to the F/As when I deplane, I finally decided to head up to the checkpoint. I gave my goodbyes to my dad and proceeded up the escalator to the departure floor.
The Encounter Restaurant from the departure floor of T2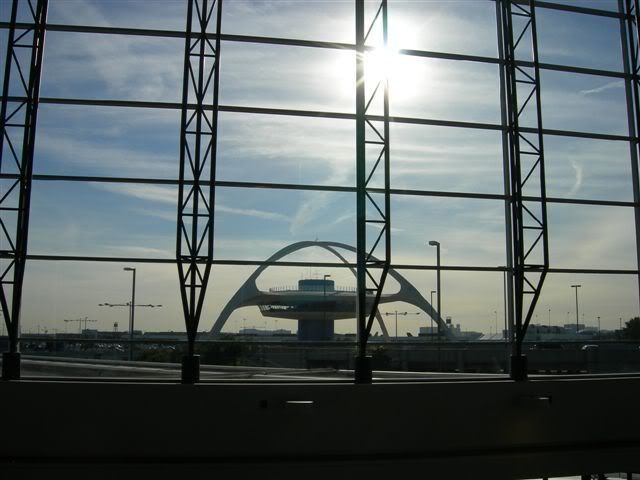 After some 20-odd minutes, I was free from the TSA and to head up to the WorldClub lounge. I doubted I would be able to gain access to the lounge due to the fact that I was underage but it was definitely worth trying. I pressed the buzzer on the lounge door, got inside, went up to the lounge agent and presented her my boarding pass. After a couple seconds of analyzing and breath-holding, I was cleared to enter the lounge.
A few shots of the lounge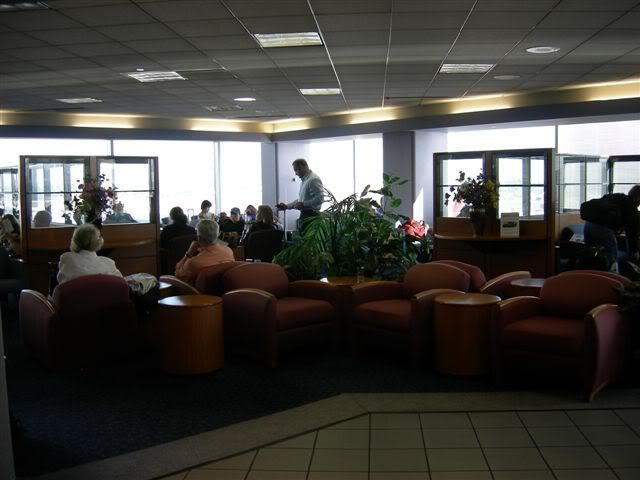 This was my first time in the LAX WC and was relying on the online reviews of the lounge. I've heard some rather not-so-good stuff about this lounge but I found the place to be decent for me to relax prior to boarding. I attempted to multi-task between trying to read e-mails that I wasn't able to access for some 4 days while grabbing items from the snack bar for my breakfast.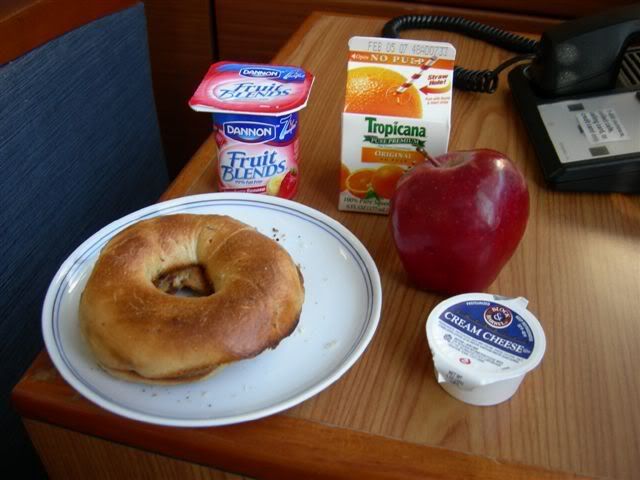 Unfortunately by the time boarding was called I only took a single bite out of my bagel and returned the yogurt, OJ, and apple back into the selection. So much for breakfast. :/
I arrived at the gate to be greeted by the horde of Winter Vacation travellers bound for Asia. They already began the boarding call for priority passengers but I decided to get at least one shot of our 744 before heading onboard
Once I got to the plane, I was greeted by a smiling F/A and proceeded up the stairs to seat 77K on the upper deck. It seemed that my seatmate was still in the WC which gave me some time to flexibly grab some stuff in and out of my luggage. One of the things I decided to pull out was this contraption known as the
Gorillapod
. It definitely was a handy gadget to help combat the blurry images that have plagued pics on my last TRs but unfortunately I didn't utilize this unique tripod frequently in the trip. It did however grab (no pun intended
) the attention of the F/As who were looking for X-mas gift ideas.
Behold the less-blurriness (sans the moving passenger)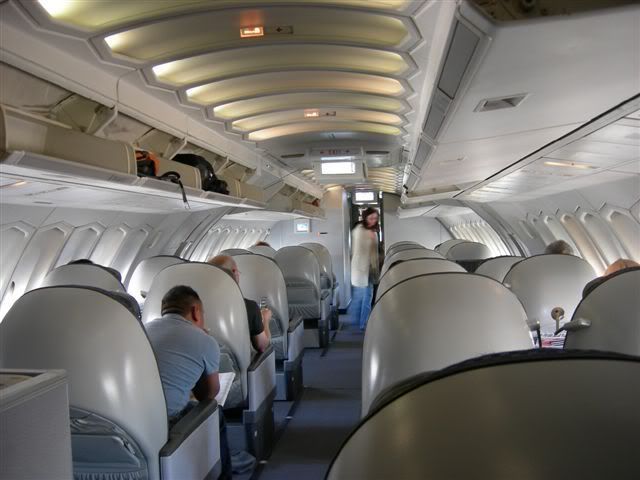 After grabbing a USA Today and getting comfortable in my seat, my seatmate finally came up, greeted me, and got settled into 77J. After a brief conversation on the reasons why we were flying that day (he was heading back to Japan after a business trip in the US), I made sure to get a couple shots of what was around us:
NW Airbii
NZ 744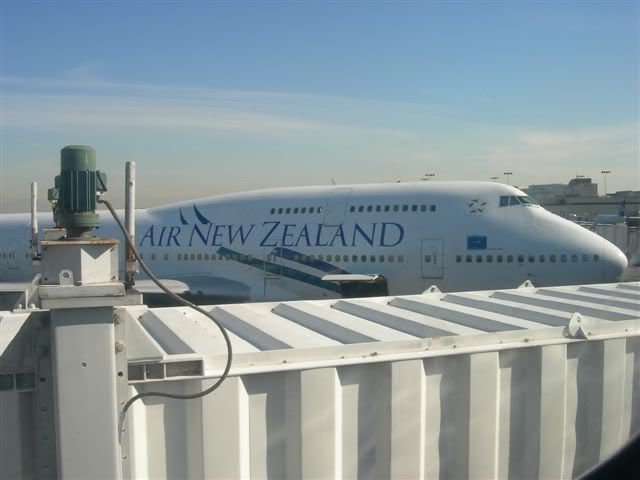 Holding for us as we pushback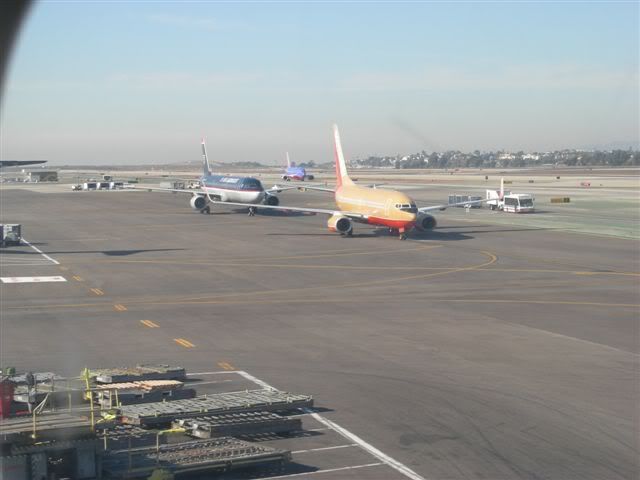 Pre-flight OJ
One of the F/As took her seat directly opposite of me prior to takeoff and soon the three of us were striking a conversation. I didn't even notice us taking off as I grew more interested on hearing about the F/As long career with NW that spanned all the way to the days of the DC-6! Unfortuantely we had to cut our conversation short as she had to head back to the galley to prepare our snacks which brought me back to the original reason of why I was seated in a window seat.
A view of Malibu from the west
NAS Point Mugu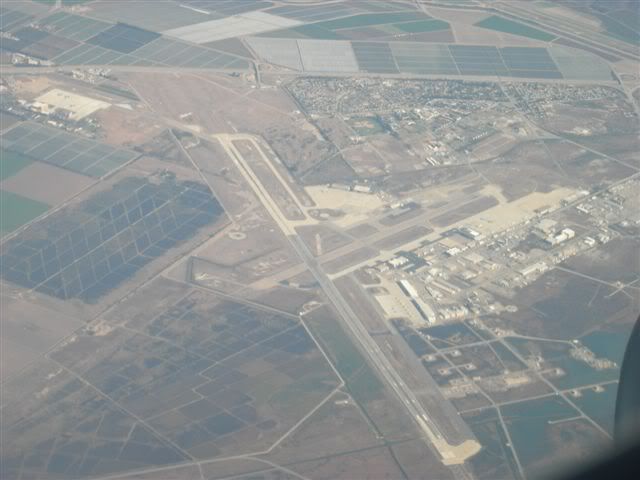 Decided to check out the latest IFE offerings prior to our meal:
Snack which consisted of a sort of trail mix, a slice of what looked like a stuffed chicken, and, of course, the OJ.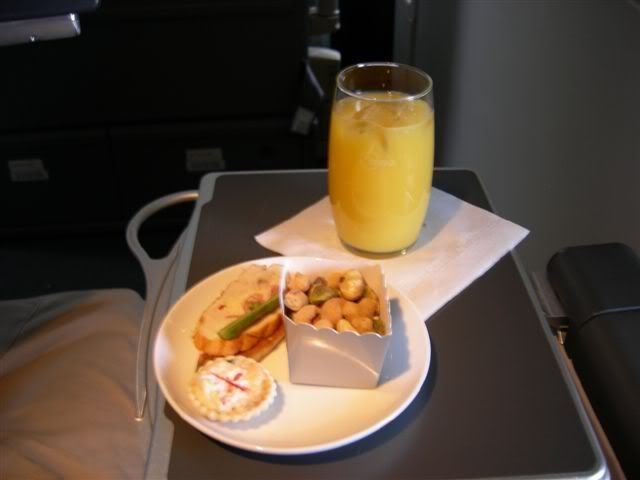 Here's what was to be served:
Dinner

Salad of mixed greens

Assorted breads

Choice of

Beef Tenderloin with caramelized onions
red skin potatoesand
butternut squash with sage and shallots

Roasted chicken breast with herb garlic butter
au gratin potatoes and haricort vert

Sesame glazed steelhead salmon
with basmati rice and sauteed spinach

Japanese Dinner

Sakizuke of shrimp and salmon

Steamed vegetables

Kinboshi daikon

Soba

Soup

Rice

Teriyaki chicken

Dessert

Fresh fruit

Peppercorn Brie and white Vermont cheddar cheese

Ben & Jerry's ice cream

Gourmet cookies

Pot wine

Liqueurs

Coffee or teas

Mid-flight snack

Light snacks available from our Skybreak basket located in the galley. Please help yourself.

on arrival

Fresh fruit and warmed breads

Choice of

Continental breakfast

Scrambled eggs with blueberry pancakes and sausage

Peppered tenderloin, smoked salmon, and rice medley with dried fruits

Cold cerial, yogurt, and banana

Coffee or tea
I decided to go for the Tenderloin while my seatmate went for the Japanese meal. While waiting for the appetizers, I finally responded to a close friend's suggestion and put on
Little Miss Sunshine
on my PTV. It definitely was a nice selection for a dinner and a movie.
While I dug myself into the film, the F/A brought us the first course in which I was dumbfounded: it seemed that I recieved the Sakizuke instead of the salad. After asking the F/A and conceding, I decided to settle down and try it out. Thankfully, I didn't touch the appetizer yet when my seatmate noticed he got the salad. It seemed taht the F/A mixed our selections and since neither of us began chowing down, we conveniently switched our trays. Nevertheless, after seeing the Sakizuke before my eyes, I'm definitely gonna pre-order it prior to my next NW trans-Pac!
The Tenderloin was a tad bit overcooked but still edible and I seriously loved the Ben& Jerry's on a chocolate cup!
The misplaced appetizer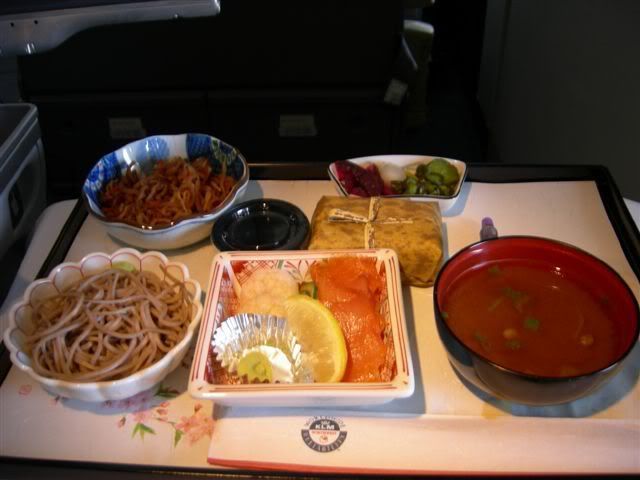 My real appetizer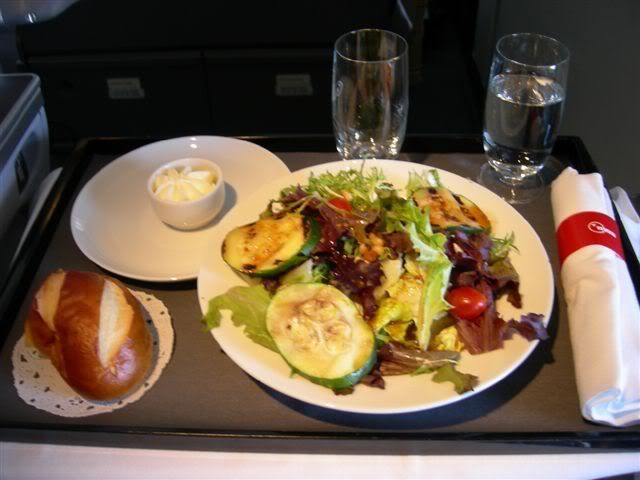 Main course
The moment I've been waiting for: dessert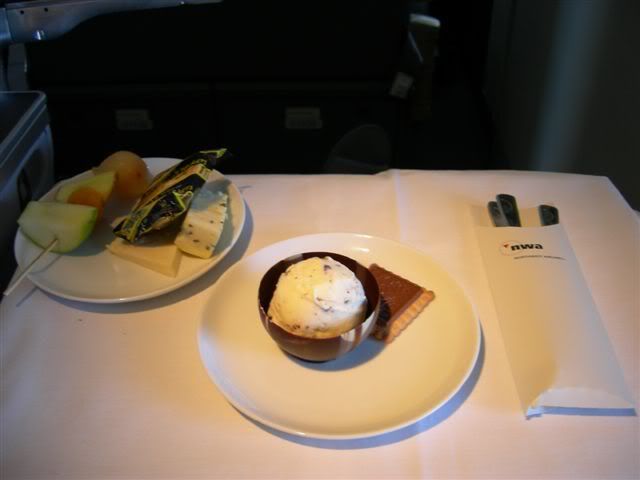 After getting the trays out of our way, I decided to relax and enjoy the rest of
Little Miss Sunshine
. I spent the next few hours checking out a Bollywood film called
Krrish
and going back to my childhood days with
Mulan
and enjoying the selection of vintage Nickelodeon programs.
The afternoon sky over the Pacific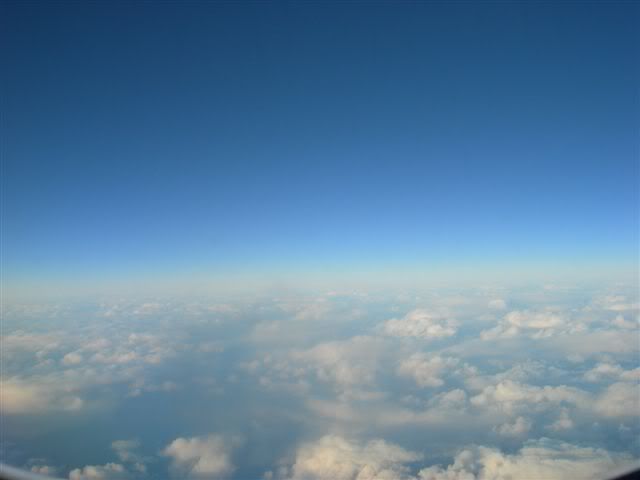 Closer to Japan, the F/As began bringing us our "breakfast". As what Norcal773 mentioned in his TR, I was curious as to why breakfast was being served at this time. Like his, mine turned out to be delicious as well. I just wish there was a larger offering or seconds on this one...
I'm sure this might look familar if you've visited Norcal773's report
Almost there!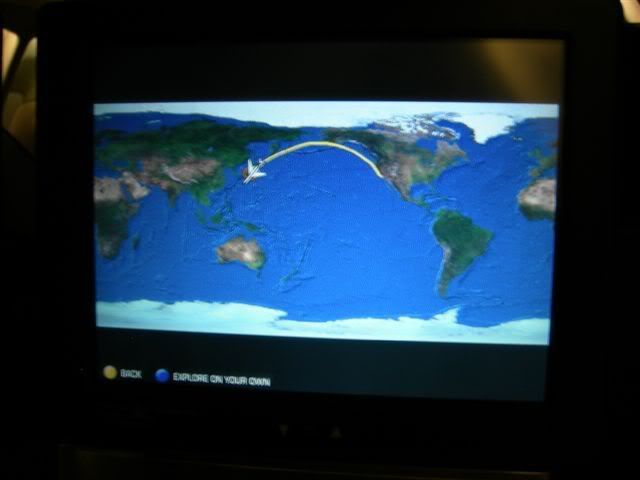 After checking out Airshow, I decided to try out those multiplayer games on the IFE. Compared to, say, the A330, I didn't expect too many players, let alone any on Inflight Trivia Challenge. To surprise, Mike in 79B decided to play along as well.
Unfortuantely our game had to be cut short as the IFE was cut off in preparation for arrival into NRT. After running into some turbulence, I decided to put on the theme song of the video game Namco X Capcom,
Subarashi Shin Sekai
(Brave New World), on my iPod to "get in the mood".
(For those curious, you can listen to the song on
YouTube
). We arrived into Narita under cloudy skies. Once we began deplaning, I bade farewell to my seatmate and the F/As. Walking on that jetway brought a bit of nostalgia to me, just a reminder that I returned to the place I left painfully seven months earlier. Before heading to security, I decided to take advantage of NRT's wi-fi and contacted my friend who was waiting in the other side so we could get together for a couple hours before I had to head for my flight to MNL.
Makes you feel like you're back in America...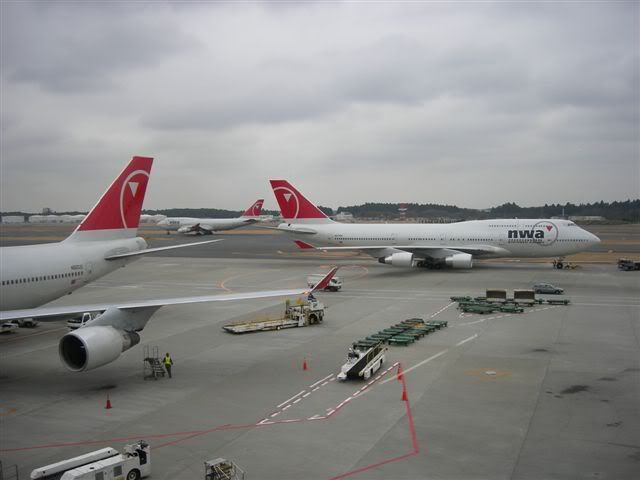 Once I arrived in immigration, I seriously wished my student visa and alien registration card was still valid, the line for that and Japanese nationals went much faster than for the rest of us visiting foreigners! After spending some 20-odd minutes in line, I was cleared to go through customs and then to the meet & greet area where I was able to meet up with my friend.
Right after you get out of immigration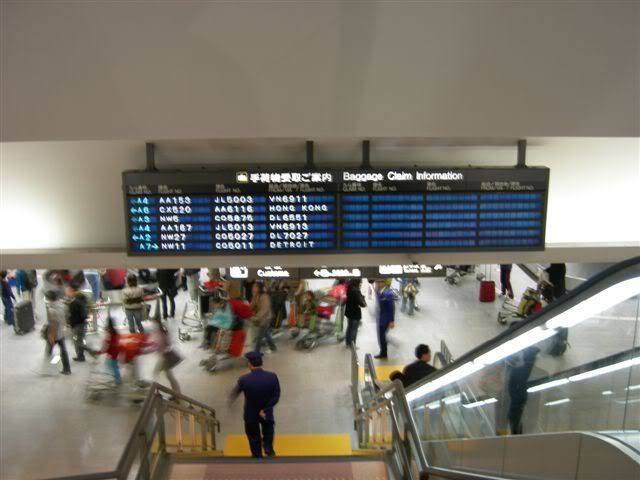 Transit in Narita
After meeting up with my friend, we headed up to the check-in floor so I could get another copy of my boarding pass for NW19. Afterwards, we headed up to the 5th floor, grabbed some coffee (which I needed) at a Cafe Croissant (one of our favorite places to hang out back when I was in Sapporo), and went out to the observation deck. Unfortuantely I couldn't spend too much time so I made sure to hand my friend a copy of an L1011 book I bought at the gift shop in Lockheed's plant at my hometown of PMD as well as
Ask the Pilot
for my Purdue-bound Russian friend from the same international school. Though our meet was short, I'll thankfully be visiting those guys again in a few days.

Flight 19
NRT-MNL
Boeing 747-451
N6**US
After going through immigration, I headed up to the WC to catch a quick snack, relax, and catch up on some internet browsing.
Once I finished with checking my e-mails, I decided to head down to the gate for flight 19...and it was a madhouse!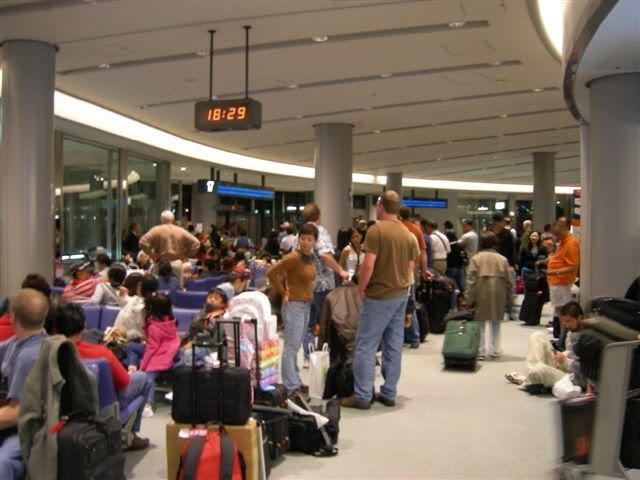 Once boarding for WBC and elite members was called, a huge crowd of people started to queue up. I never knew there were so many Fil-Am elites out there.
This was my first time sitting on the nose so I was pretty excited. I got to seat 2K to be greeted by the most gorgeous seatmate I ever had
, a graduate student from NYC on her way back to MNL for X-mas. In front of us in 1J and K were 2 FE A310 pilots heading back to CRK.
A shot of the forward cabin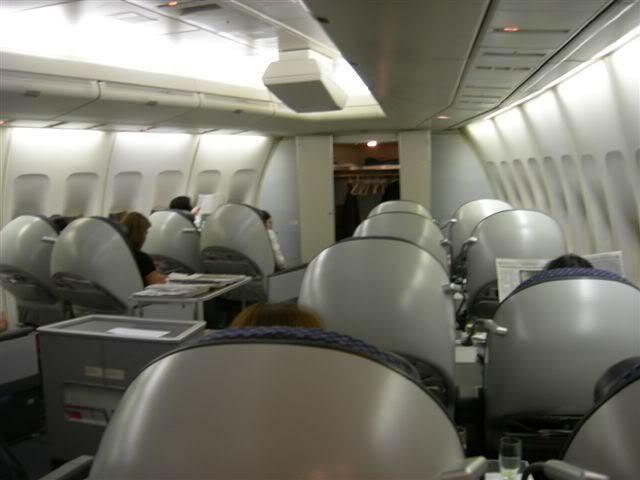 A view from my seat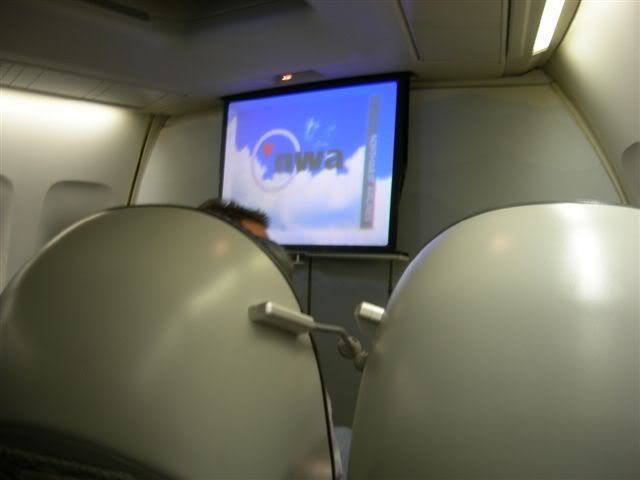 As we taxied on to the runway, I noticed something that I don't see to often: an IL-62 in front of us.
Unfortuantely I didn't recall the airline but, man, that thing was screaming when it was it's turn to take-off!
Taking off was very interesting and exciting from where I was seated. After experiencing something like that, I'm definitely taking the nose into consideration when choosing my seat in future 747 flights.
Considering that I spent the entire LAX-NRT flight awake and that I'd have to wake up early for my PR connection flight to ILO, I vouched to skip dinner and nap through the flight. Once the seatbelt sign went off, I immediately reclined my seat to the flat position and attempted to nap throughout the flight. I woke up some 30 minutes prior to arrival and filled out the immigration flyer that was left for me. Landing in MNL went smooth and interesting as well. Upon deplaning, I struck a conversation with my seatmate and the FE pilots which went on until we parted ways at immigration.
Stop torturing us and open the damn terminal already!
I LOVE geing greeted by these guys!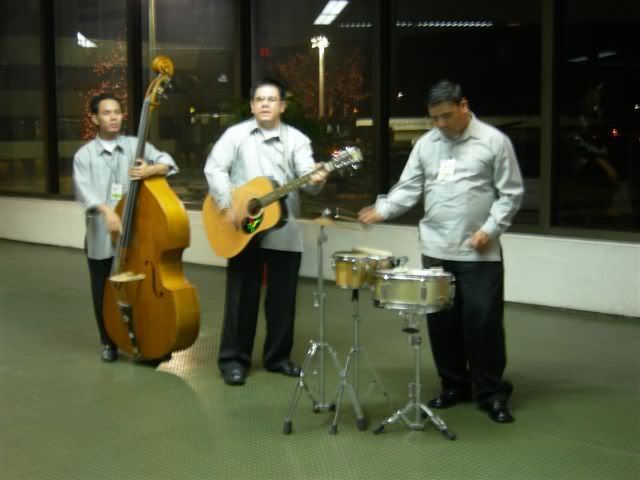 As expected with the usual X-mas rush, immigration and the baggage claim was a mess. We had NW71 from MSP-NGO, a CX flight form HKG and KE flight from ICN on us as well so it took some time to have us processed. I had my cousin waiting in the other side and kept on hoping he wasn't too inconvenienced by my late-ness.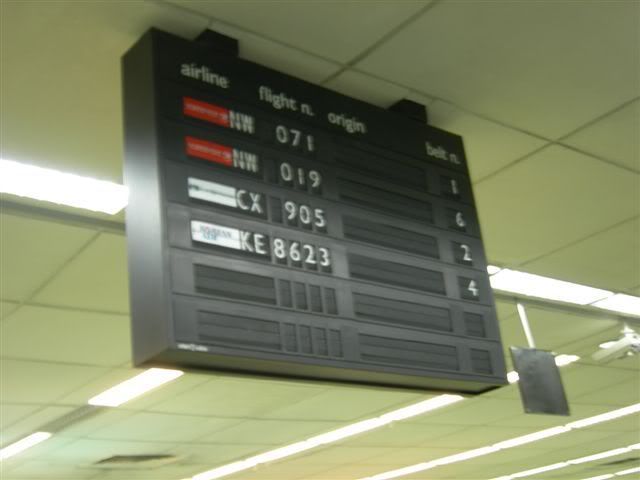 Of course, the fun continued in the meet and greet area of Terminal 1!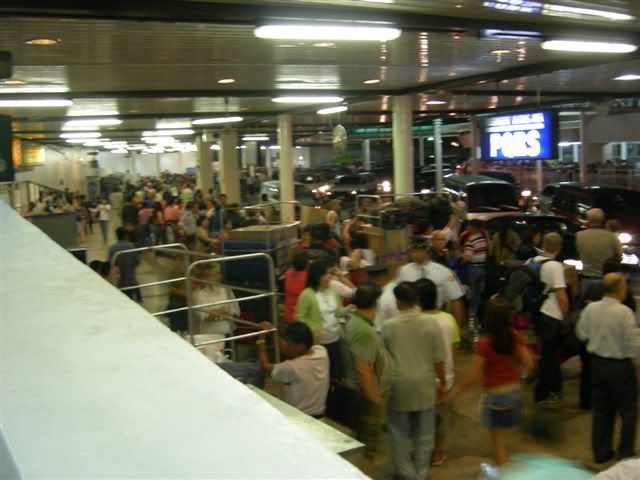 Unfortuantely the space where I was at had a reeking smell due to the sewer below us. After spending some 15 minutes, I decided to hunt my cousin down. It took me a good hour of waiting and walking around the crowds with my luggage to finally locate him. Soon, we headed off to his condo in Taguig where I would attempt to take a 3 hour nap before waking up again for my flight to ILO.
Flight 141
MNL-ILO
Airbus A319
RP-C8602
View Large
View Medium


Photo © Hai Trieu Pham Lam - Vietnam Air Spotters
My cousin dropped me off at Terminal 2 and unfortunately couldn't stay long as he had work to do in De La Salle University so I headed off and tried to track down my mom and brother who flew on PR113 from LAX. After walking around between both the international and domestic wings, I found my mom in front of the ticket office of the terminal. After getting my ticket, we headed off to the first line of defense in airport security which already had a pretty long line.
A view landside of Terminal 2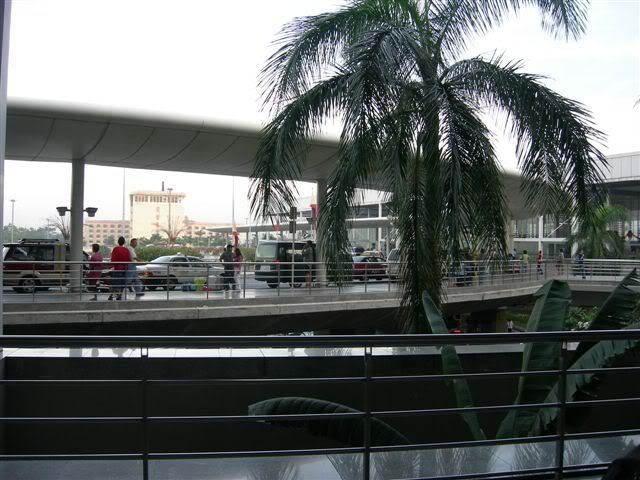 The check-in area of Terminal 2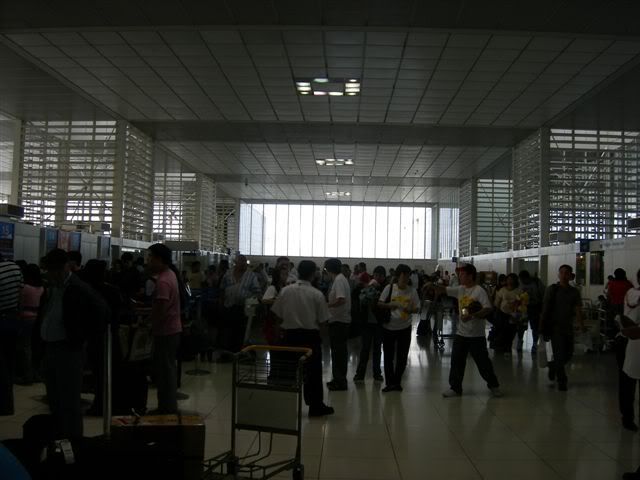 Checking in was amazingly a breeze but that was offset by the terminal fee and 2nd security checkpoint lines. After we got that over with, I finally was able to have a decent meal in one of the airside venues as we waited to board.
Airside of T2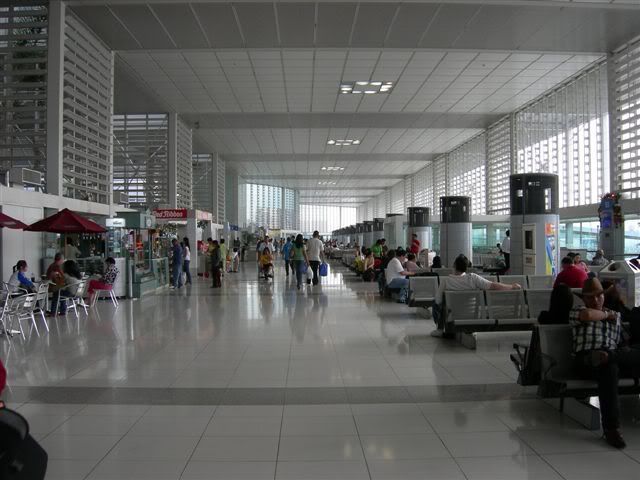 The A319 that would be taking us to ILO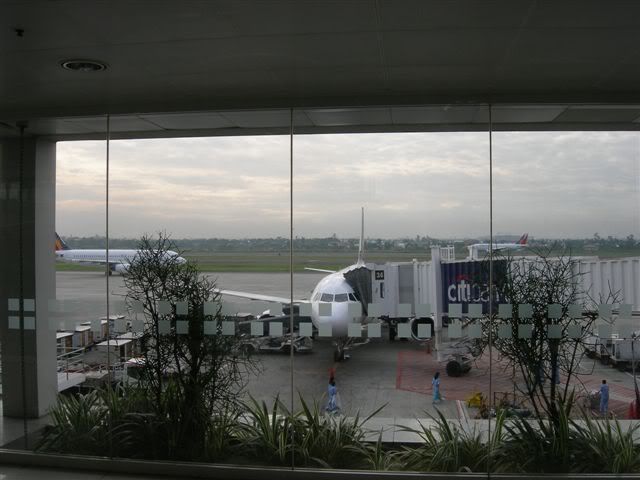 Counter
A busy day...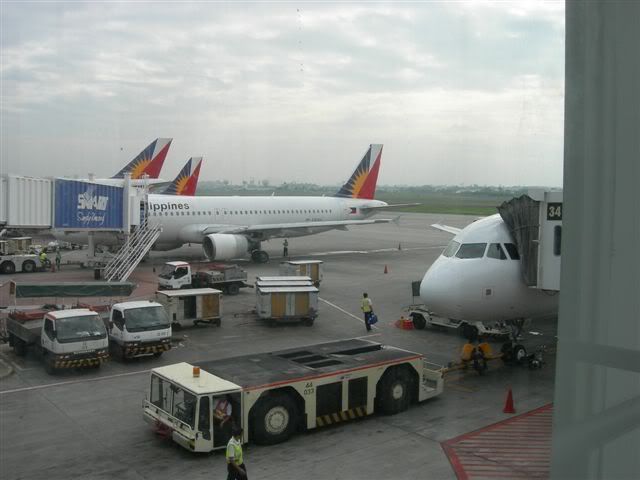 After boarding, I was amazed to notice that I just boarded on one of PAL's new A319s. I didn't pay attention to the aircraft much at the gate (other than the fact that it was an Airbus) but my eyes grew wider when I first noticed the new seat covers.
The entire boarding process was fast and I was even more amazed at how we were able to push back so quickly. Maybe I was just excited to a point where time seem to fly.
A view of the Mabuhay Class cabin (look, PTVs on a domestic flight!)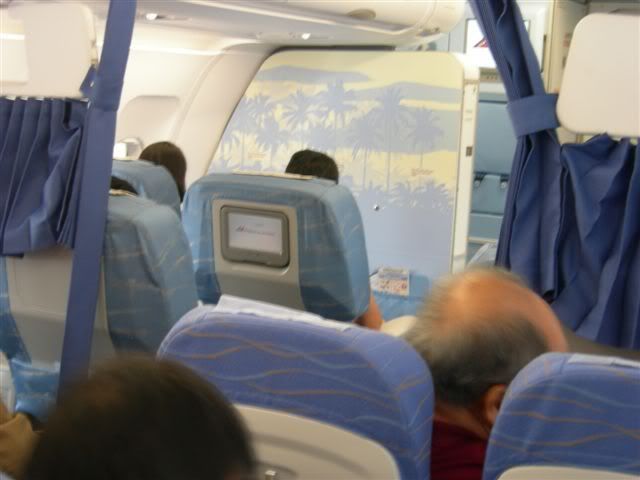 A 2P 732 at the gate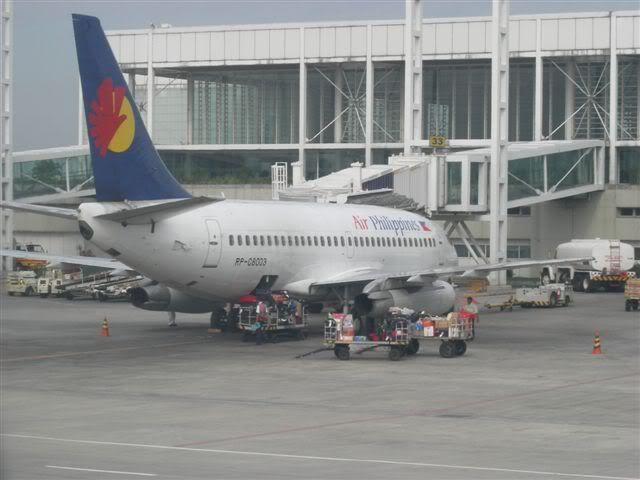 Looks like someone needs a bath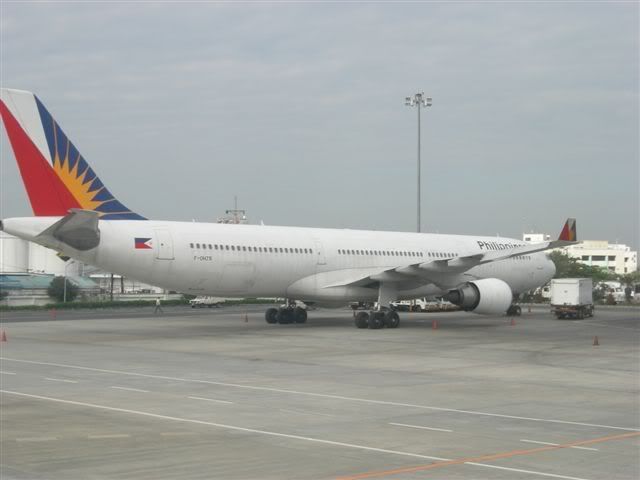 Terminal 1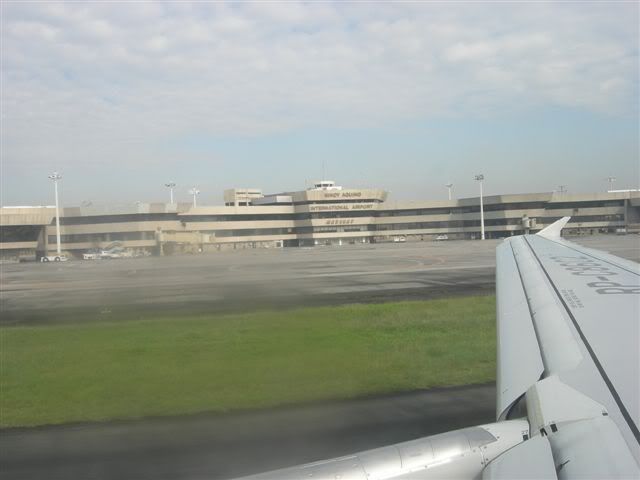 The lone 742 at T1
South Luzon Expressway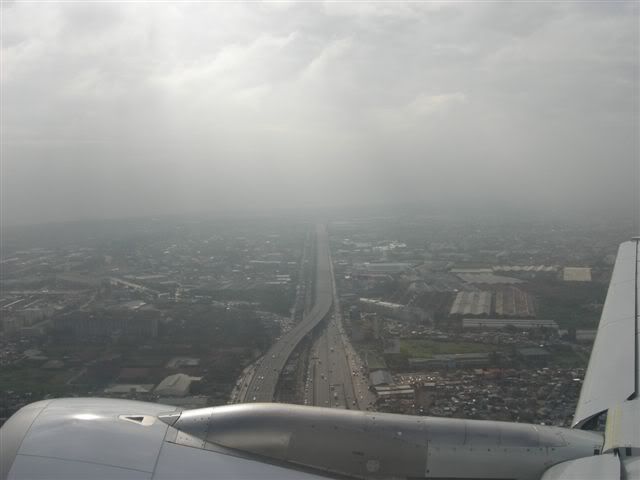 As we were climbing, the overhead LCDs came down and the safety demo began to play. And I was hoping for a quick segment with PR's
Flights of Fancy
.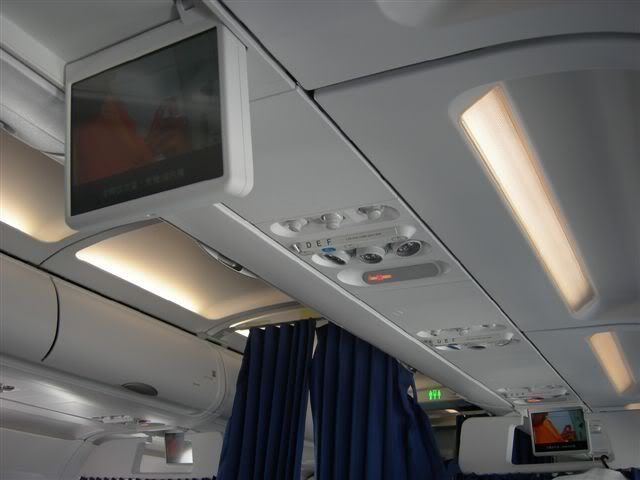 Snack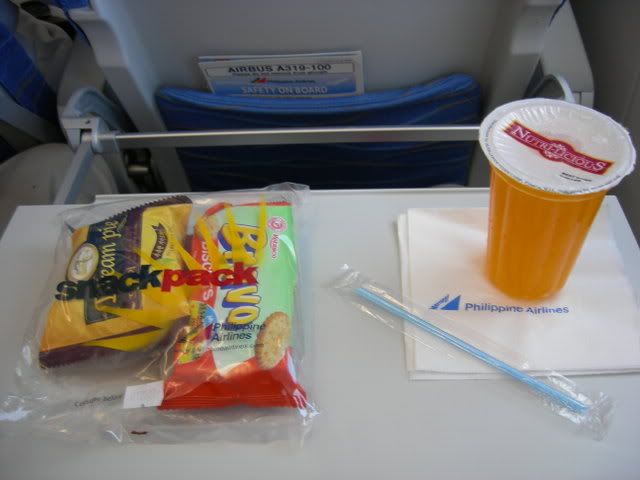 One thing I noticed was that the audio IFE was working and, with my headphones, I was able to listen into some Jazz as the flight progressed. Never had this kind of perk before.
The Northern Panay coast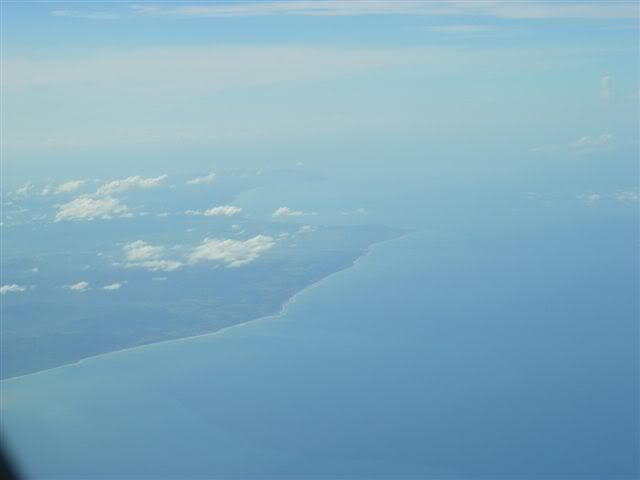 Inland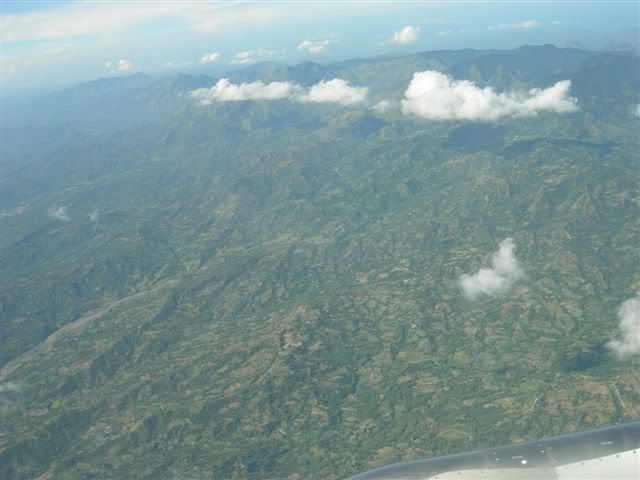 Upon approaching ILO, an automated announcement, both in Tagalog and English, was playing in the overhead. It was pretty interesting hearing this as I never head this on a PR flight before.
Guimaras Island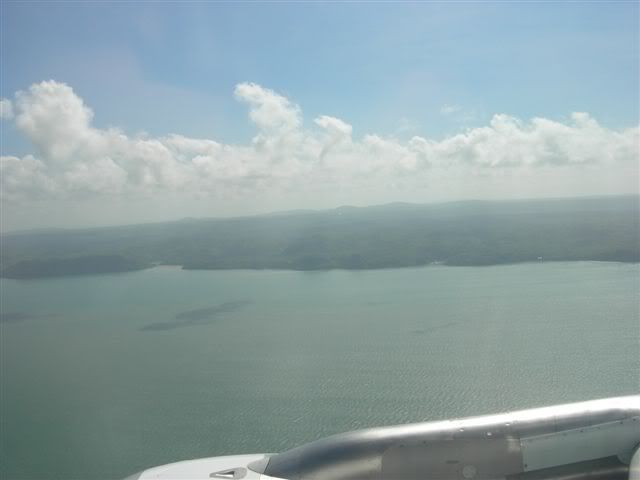 Alibihod Beach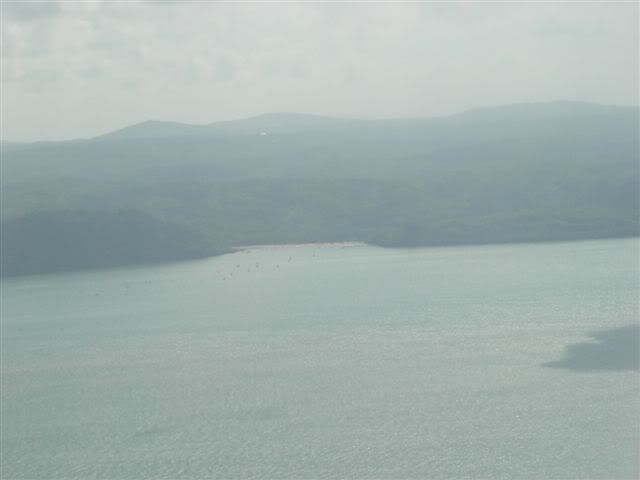 This was the last time I would be approaching ILO this way...next month the new airport in Santa Barbara is set to open.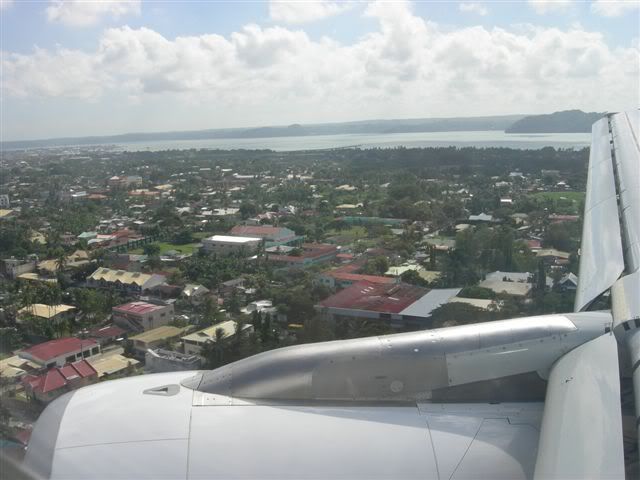 SM City Iloilo
As we taxied into the stand, the F/A welcomed us to "Bacolod" which prompted the attention of the entire cabin and having my seatmates and I looking at each other dumbfoundedly. Of course, a few seconds later, she corrected herself along with a chuckle shared by the passengers.
The terminal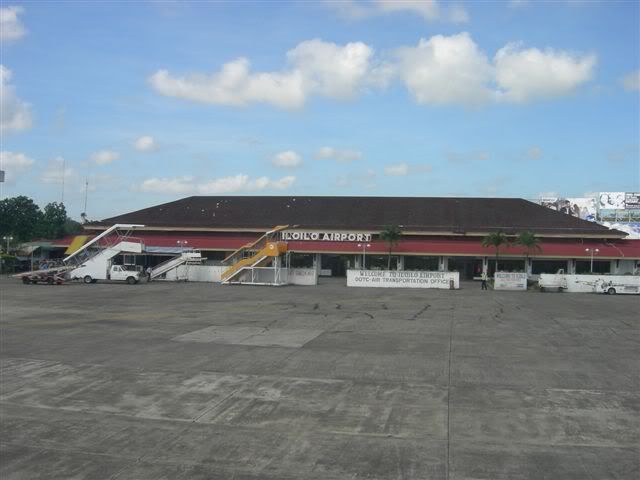 Upon deplaning, I made sure to be the last passenger onboard to soak in and enjoy the smell of new airplane aroma and take some shots of the fresh cabin.
The Mabuhay Class seat
Youkoso!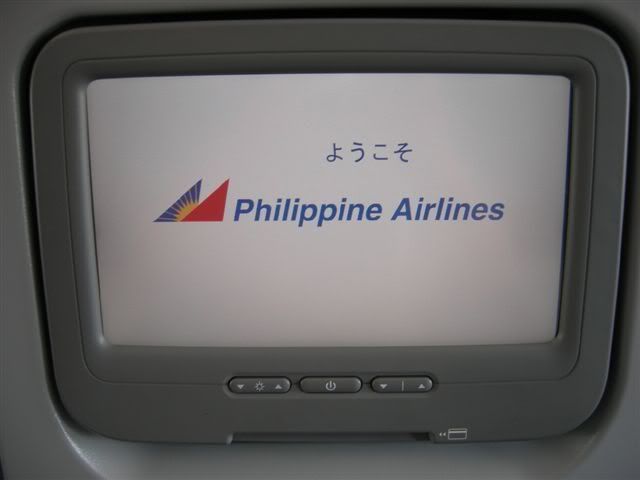 After a quick chat with the F/As, I gave my thanks for letting me have such an opportunity and headed down the stairs to the baggage claim. I was able to get one last shot of RP-C8602 before I headed into the terminal.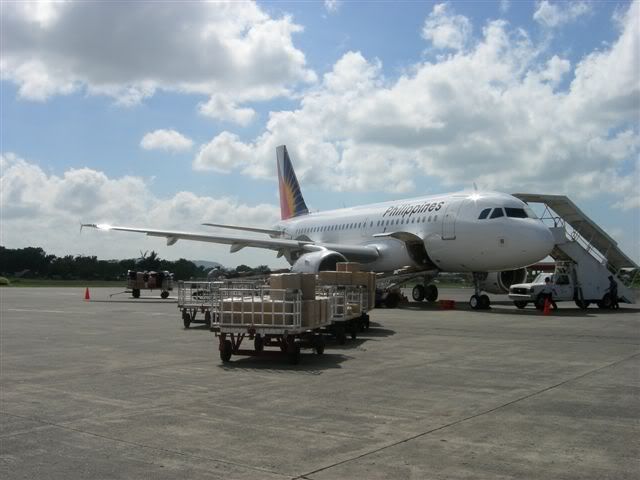 Soon to be replaced with
this (photo courtesy of totpurz of SkyscraperCity
After grabbing our luggage and balikbayan boxes, we went to meet our relatives on the other side and headed off in our drive to Miag-ao to be greeted by a larger contingent of family members in what was to be our first family reunion in 12 years.
__________
Well, again thanks guys for reading my latest report!
I still have 2-4 more TRs to do, including my experience last revenue NW DC-10 flight so I'm looking forward with sharing my "Three-pronged Winter Vacation".
[Edited 2007-03-17 18:41:34]
[Edited 2007-03-17 18:58:54]