View Large
View Medium


Photo © Markus Wisler
Two weeks ago, I finally had a chance to fly on the last remaining Thai Airways International 747-300s in first class. I didn't plan on doing this initially but due to a cancelled flight out of Bangkok, this was my only option. More about that latter in the report.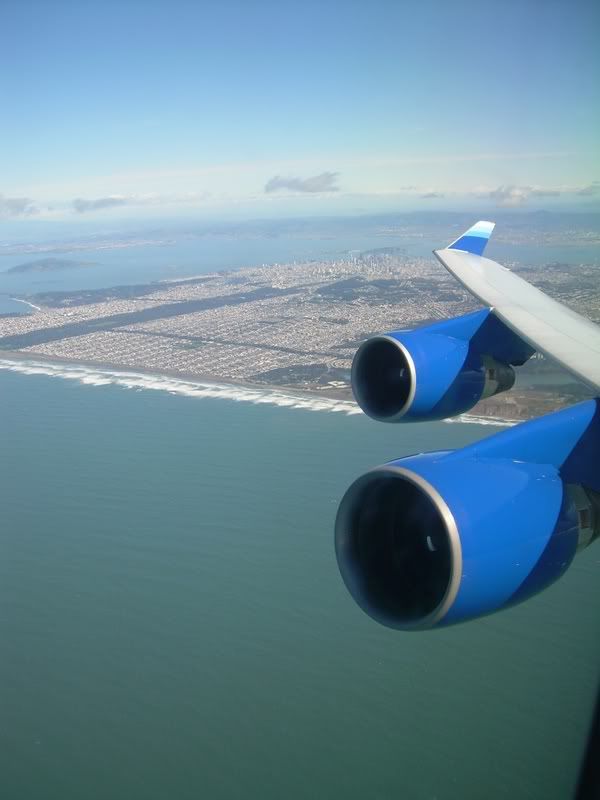 Departing San Francisco
United Airlines 747-400
My flight to Thailand was on United Airlines 747-400 business class, through Tokyo.
Crazy & bizarre people always seem to follow me. When I got to my seat in San Francisco, the guy next to me smelled like a distillery. He was connecting from New York. He was an older Japanese man that had plenty of stories to tell. I knew I'd be in for an interesting flight. He claimed to be good friends with North Korean leader Kim Jong IL.
I wanted to hear more about his associations with Mr. Kim Jong IL but whenever I'd ask in-depth questions, he'd say that he was sworn to secrecy not to talk too much about it.
I have a feeling it was the whiskey talking. He ended up passing out shortly after takeoff. Didn't even have meal service in flight or anything. I wanted to hear more of his stories.
The service was fantastic on both legs of the United trip to Bangkok.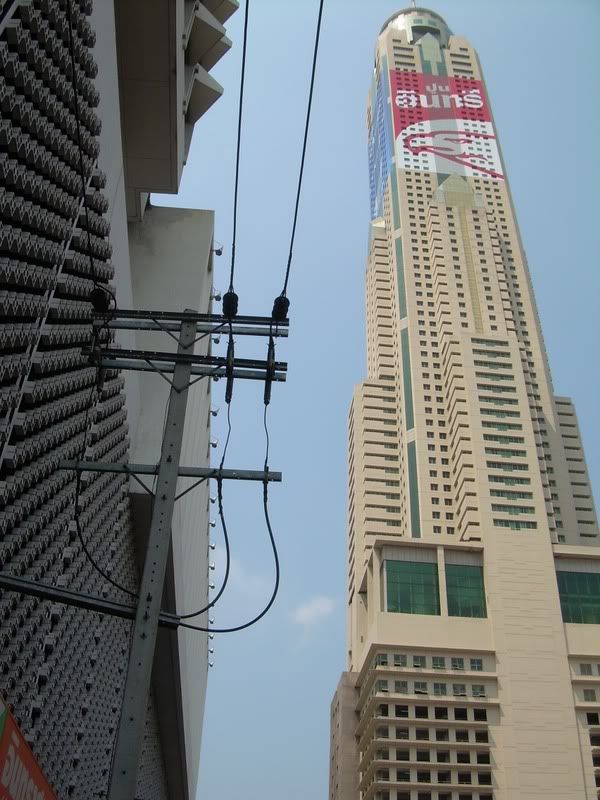 Baiyoke Sky Hotel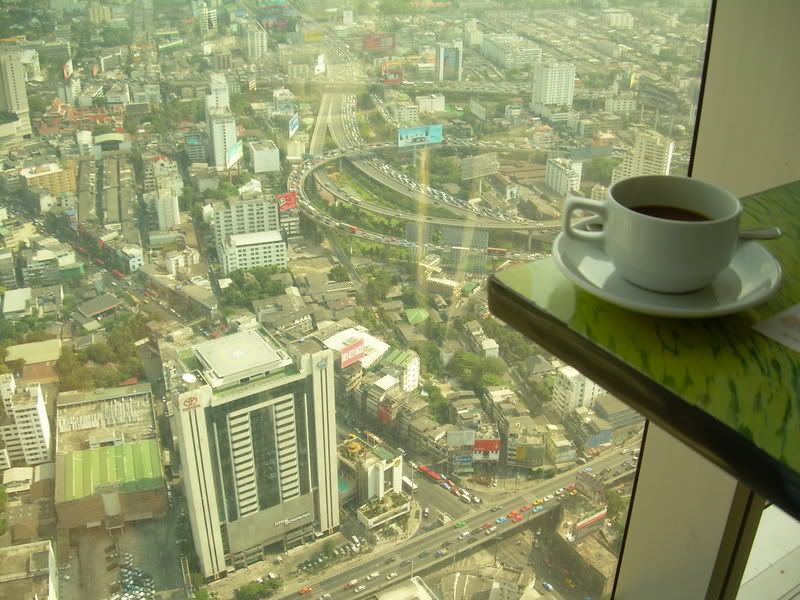 Buffet
This time around, I treated myself to a couple of nights at the Baiyoke Sky Hotel. It's the world's tallest hotel. I don't care what those people in Dubai say, the Baiyoke is the tallest because every floor is occupied and doesn't have fake height like the tower in Dubai.
This is a four star hotel. The rooms are pretty good and of course, the views are amazing. My room was on the 67th floor.
There breakfast buffet is world class.
The rest of my stay in Bangkok was in the Nana district. I can't believe I missed that part of town last time I was in Bangkok. I swore that I would never return to the Khaosan with all of the dirty backpackers that shower once a week.  
Getting there was an experience. Every traveler has had that one crazy taxi driver. This was my turn I guess. I gave the cab driver the address to the hotel I was staying at and we agreed at 200 THB for the ride. Well he purposely took the long way and pretended to be lost. It ended up taking us almost an hour to get to my hotel and it should have only been a 15-minute ride.
Once we arrived to the Nana, he demanded 700 THB. I knew the guy was BSing me so I gave him the 200 THB that we agreed but he kept demanding an extra 500 THB.
So we're standing there arguing and he started shouting; "Your trying to f—k me!"
"You f—k me, I f—k you!"
So he started taking his clothes off right there on the sidewalk next to his taxi. So I started to run away from the guy. HE CHASED ME 3 BLOCKS TOTALLY NAKED!!!!! He was shouting "You f—k me, I f—k you!"  
This little old man was fast. I couldn't out run him. This was quite a spectacle.
So I caved in and gave the crazy naked man an extra 500THB. So I lost the equivalent of $15 US. Big deal.
The ladies at the front desk saw the whole thing unfold and I can tell they were having a hard time holding in there laughs as I was checking in.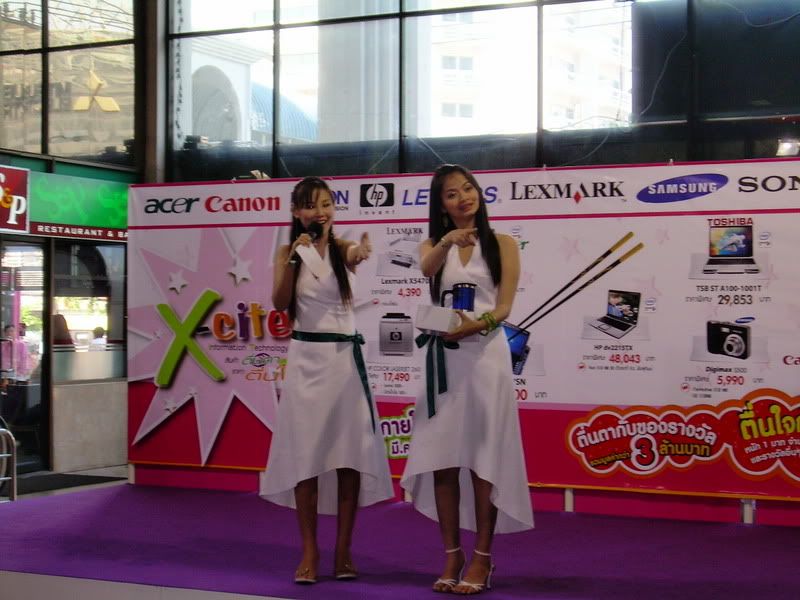 Models at mall
Of course I did the usual single guy stuff; meeting girls, message parlors, soapies, ect.
I made it out to that mall with all of those electronics. No bargains on cameras but did buy a camera case.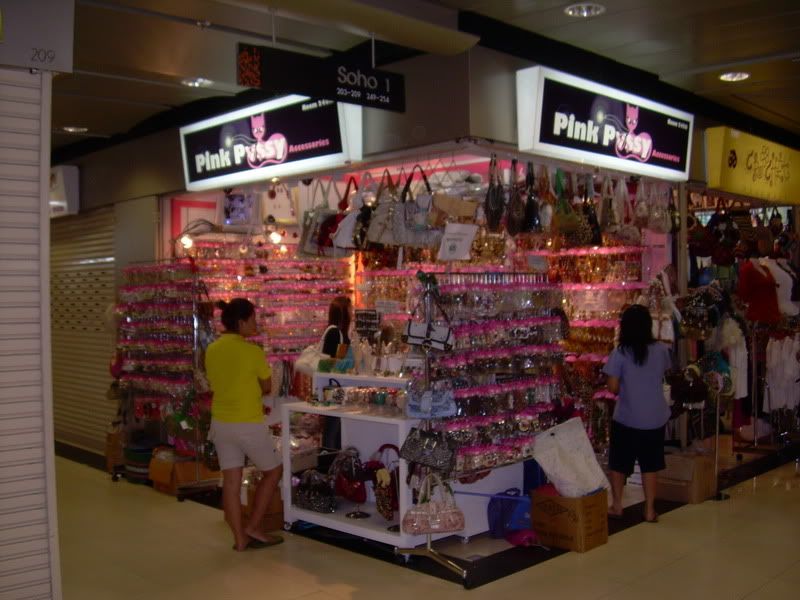 I also stopped by the Pink Pussy.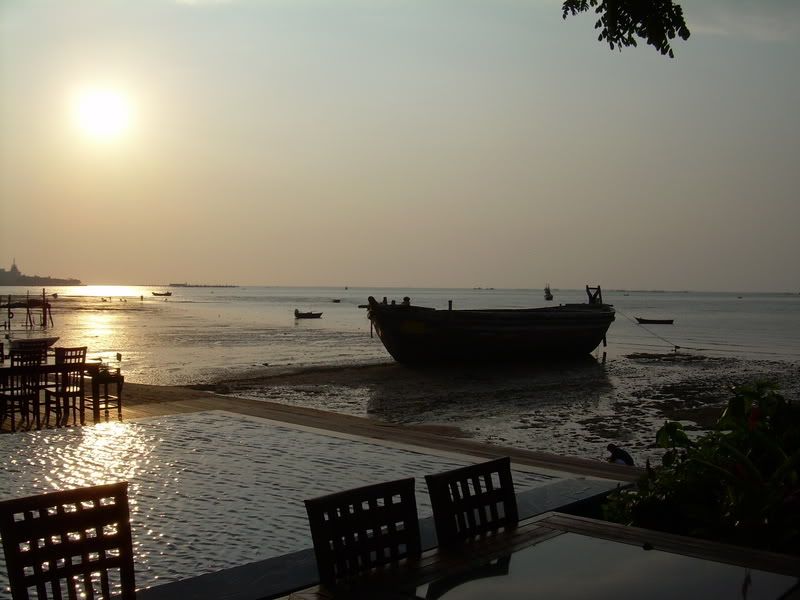 Sunset in Pattaya.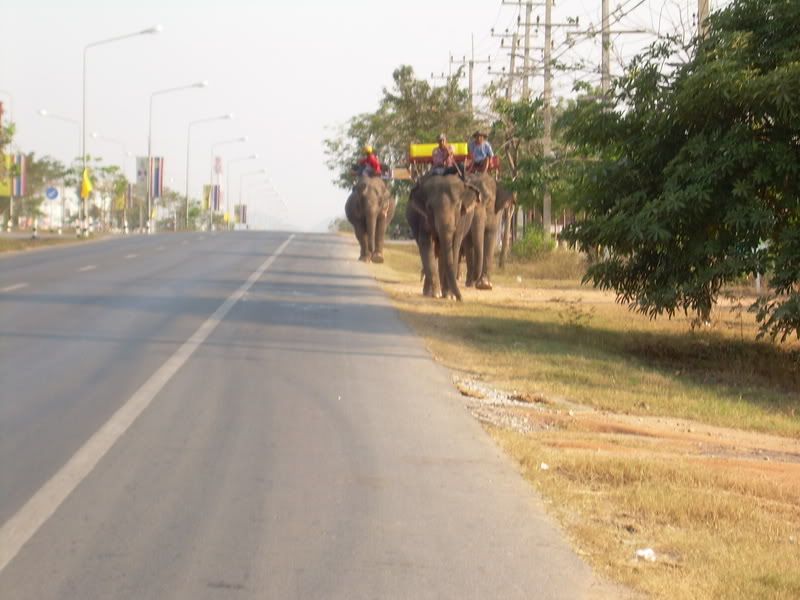 I got out to Pattaya this time around. When I was there, I rented a motorcycle and rode out to the countryside to see Thailand on my own. It's nice to get away from all the tourist. On occasion, I had to share the road with elephants. When I was in Pattaya, I went to Pattaya Park and went to the top of that large tower. That was really fun being suspended from a cable and riding that down 52 stories.
That was once of the many highlights of Pattaya.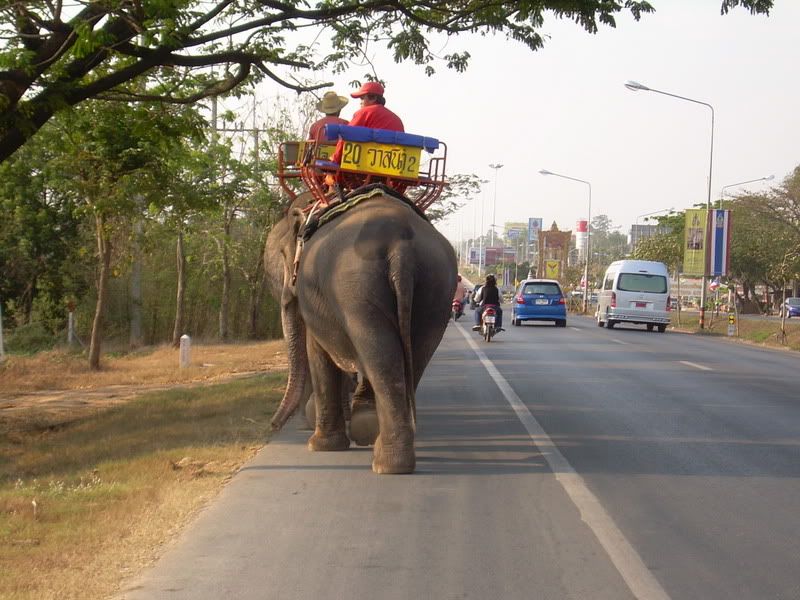 I had to share the road with these guys.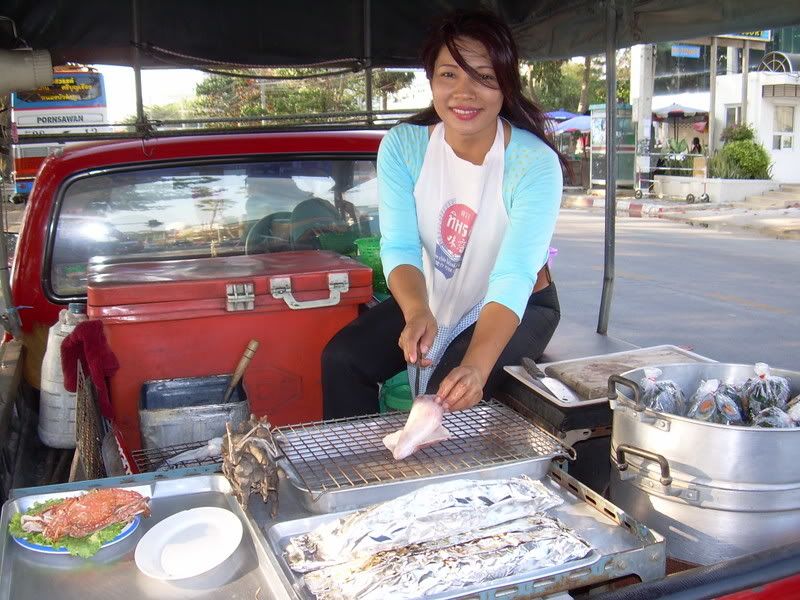 Plenty of good food vendors on any given street.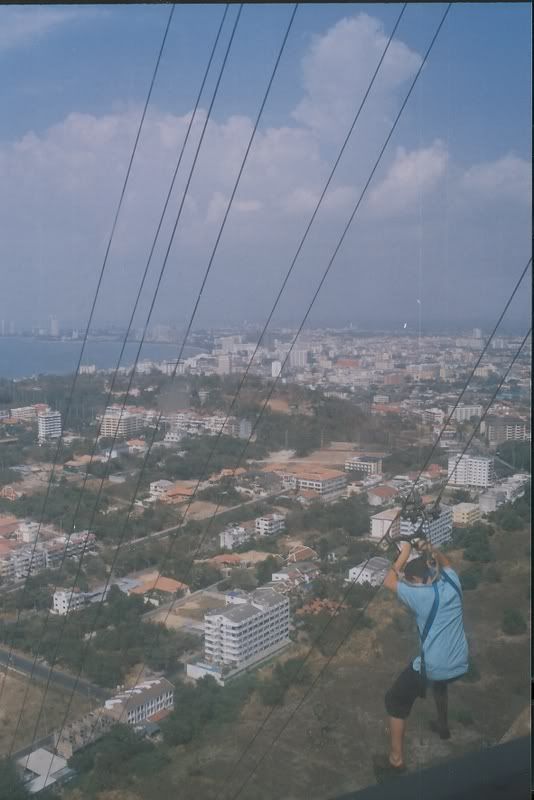 Cable jump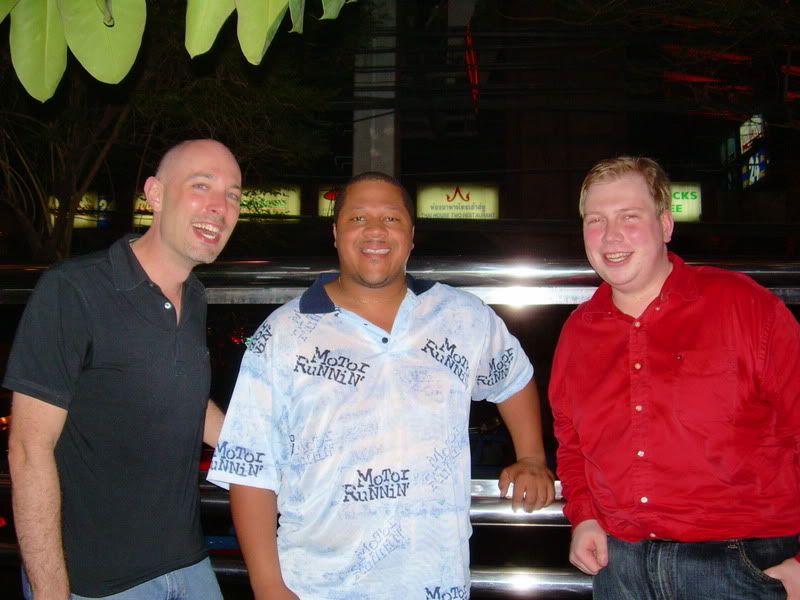 Christao17, me and Lufthansa747
Then it was back to Bangkok.
This time I met up with Airliners.net members Lufthansa747 and ChrisTao17.
It was brief but I was glad to meet some members that have moved there at this site. Me and Lufthansa did some spotting at Suvarnabhumi also.
The high lights was Lao Airlines AN-24 copy, Aeroflot IL-96 and Druk Air Bae146.
My flight out of Bangkok was cancelled so I had to buy a ticket out to Hong Kong to catch my connecting flight.
I wanted to fly Thai Airways International but the only two seats that were left were in first class. The very first class that I started a thread about last month in the Civil Aviation threads.
Elephant hanging out at Nana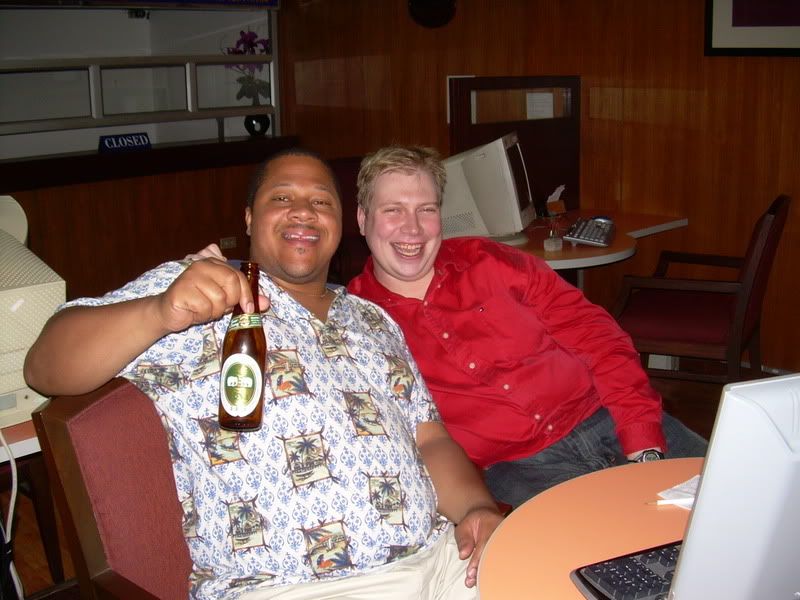 Larry & Lari
Lufthansa747 ended up joining me on the flight to Hong Kong. From the time was got out of the taxi at Suvarnabhumi, we were treated like Kings.
Check in went swiftly and then we were chauffeured away in the Thai Airways golf cart to the Royal First Class Lounge. There we had champagne, omelets, bacon and a few other treats I can't think of right now. The went on for a little over an hour prior to our boarding announcement. Then we were chauffeured across the airport to the gate. Then we boarded on to the beautiful 747-300!.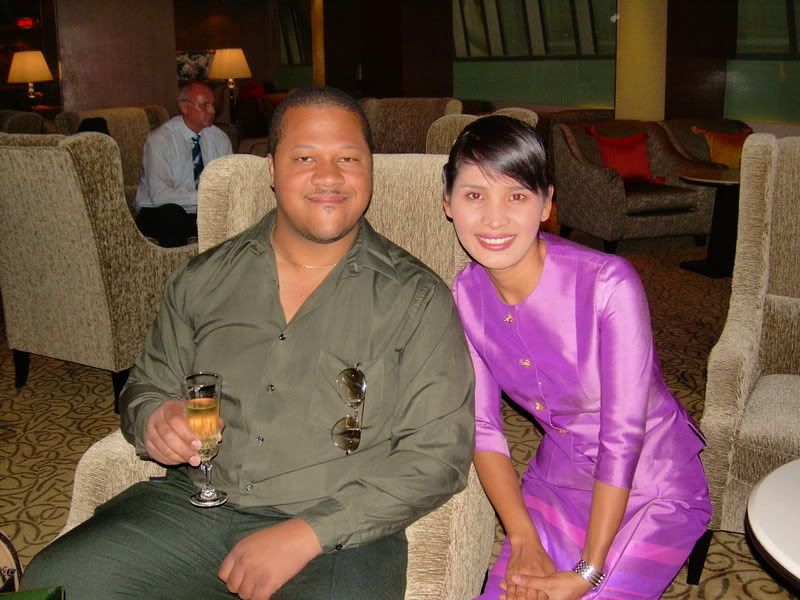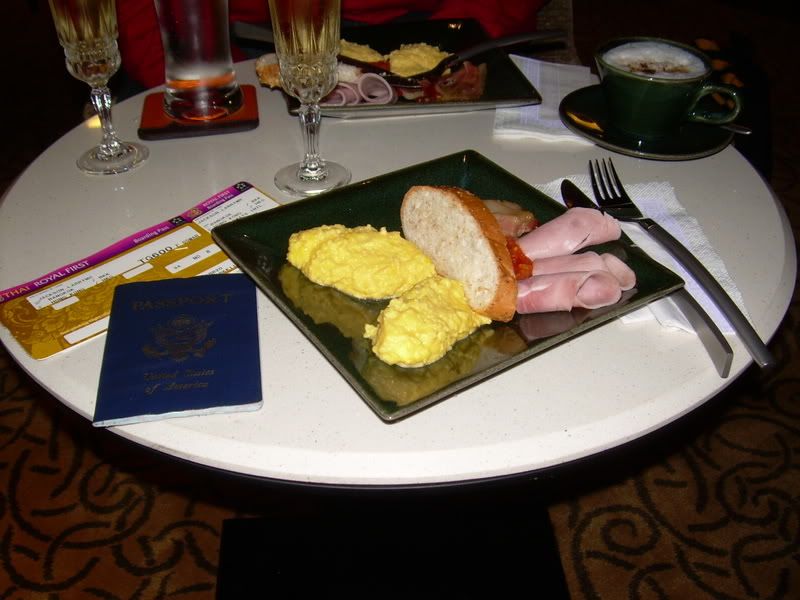 Breakfast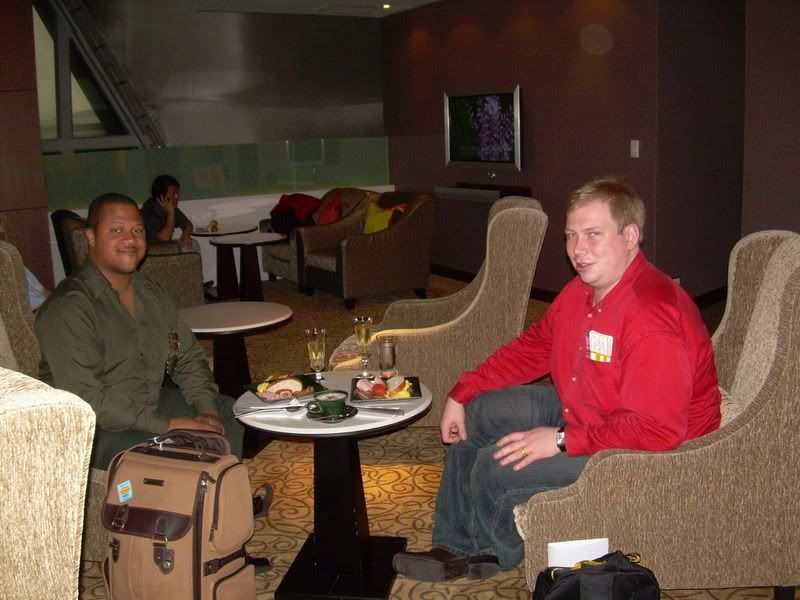 Walking in to that classy first class seating area with the velour velvet seats was like seeing the Taj Mahal for the first time! Yes, it's old but I like it like that!
The service was out of this world!
The best in-flight service ever!
Thai Airways staff was very professional and very helpful.
Me and Lufthansa747 had finished off two bottles of Dom Perignon and several rounds of Johnny Walker Blue Label.
The breakfast service was mushroom & tomato omelet with bangers. I thought it was neat how the butter had the Thai Airways logo stamped in to it. I didn't even want to spread it on my muffins. The presentation was so nice.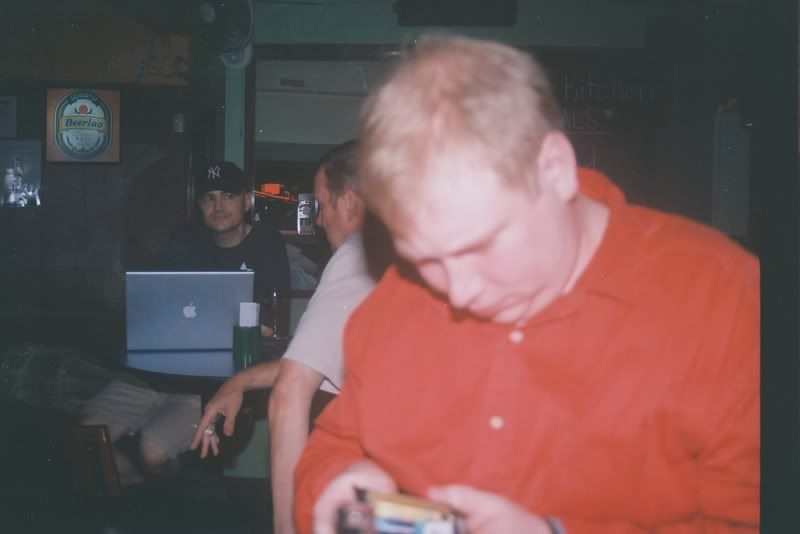 The guy in the background looked like a taller, angrier BMIFlyer.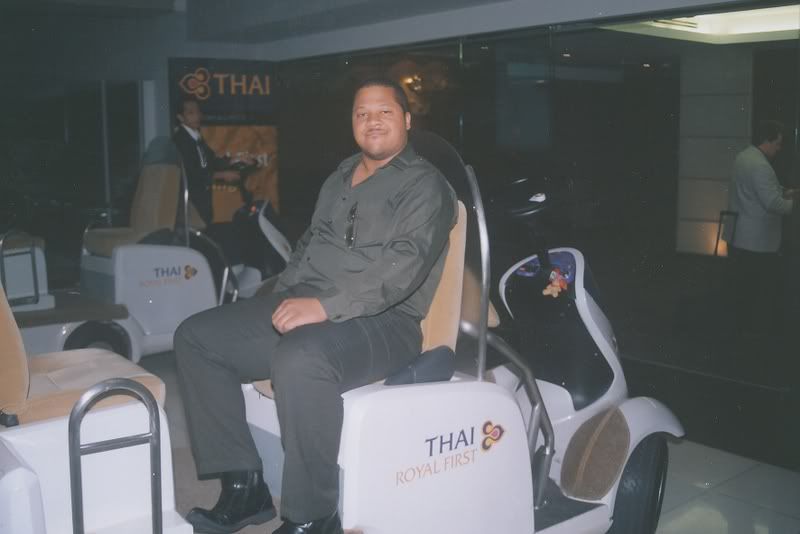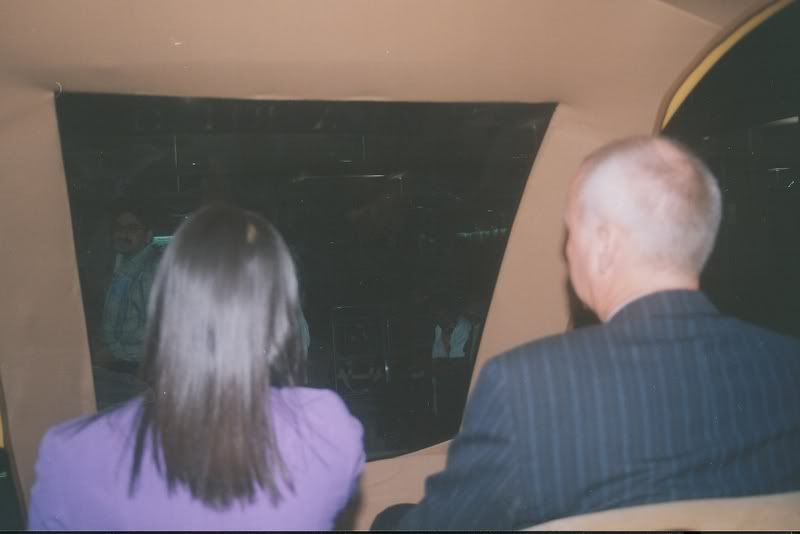 Cart ride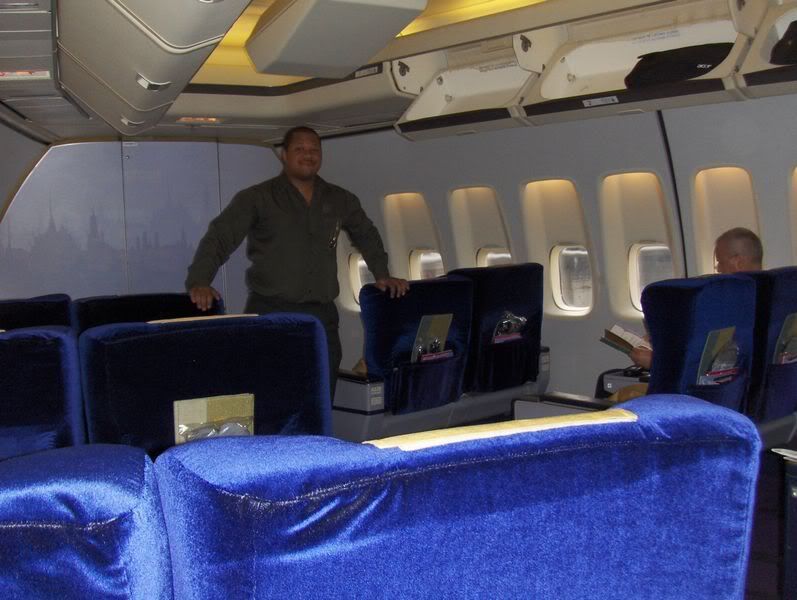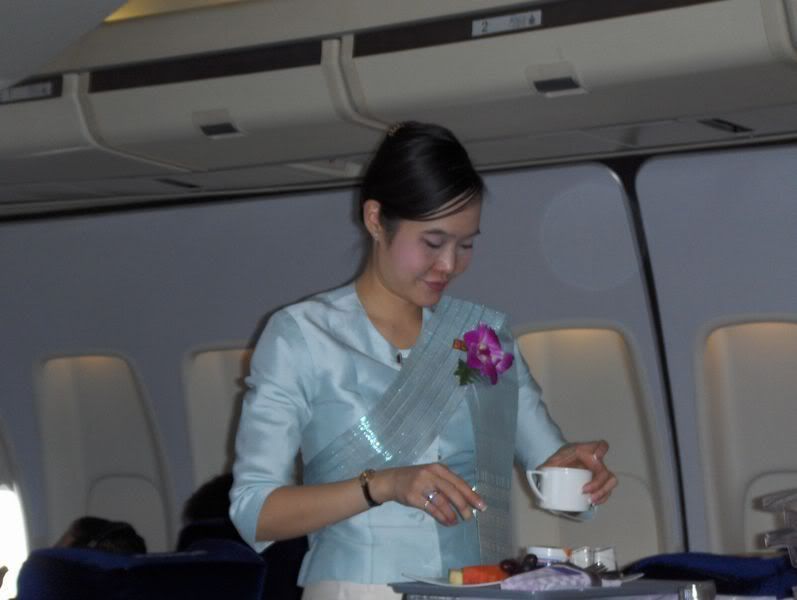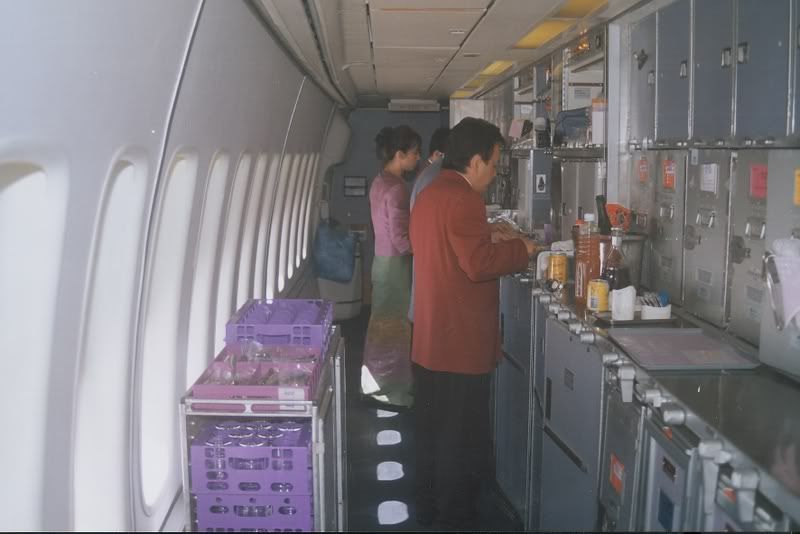 I loved those old style first class seats with velour seating surface. What a shame they are getting rid of them.
Too bad, it was only a two-hour flight.
I ended up missing my connecting flight which wasn't a bad thing after all. Lufthansa747 knows the streets of Hong Kong blindfolded so we ended up going in to down town and did some sightseeing. It was my first time in Hong Kong.
I was amazing by the architecture in Hong Kong. Skyscrapers on top of hilltops!
Hong Kong is not a place for those who are afraid of heights.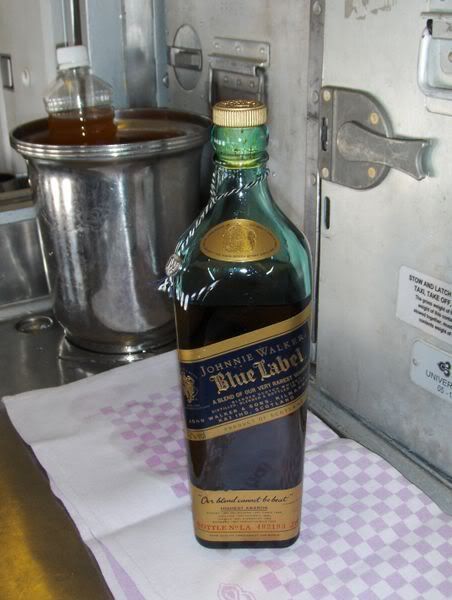 Blue label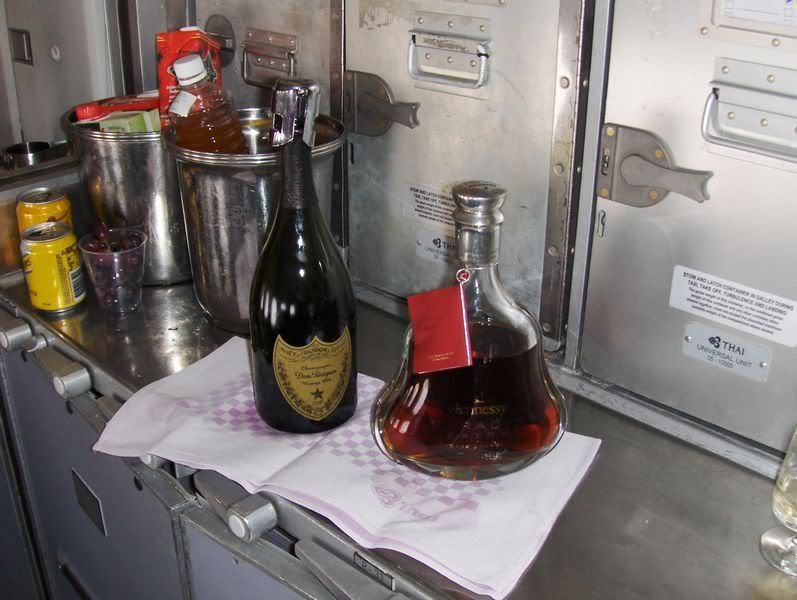 Dom perigion
I arrive in Hong Kong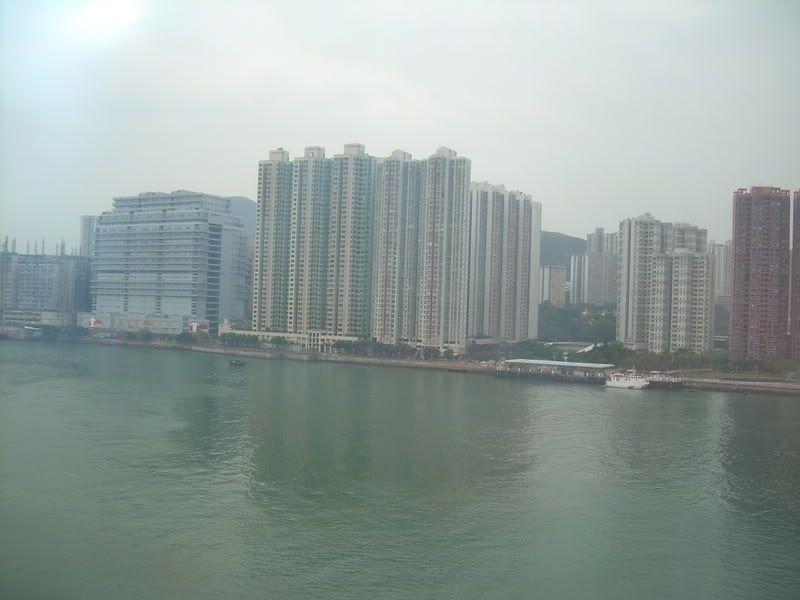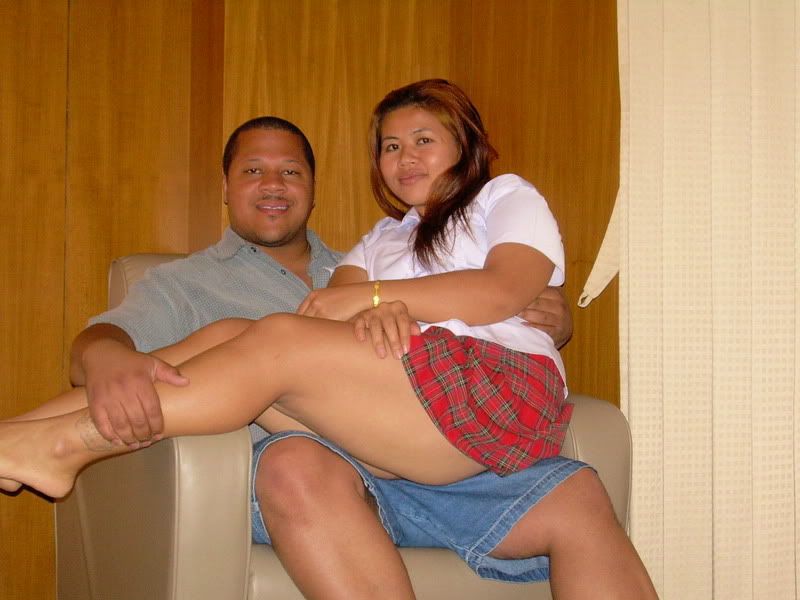 I will add more photos later on when I have more time.
[Edited 2007-03-19 19:07:48]