After finding a $98 fare on AA.com, I decided to take a day trip touring AA's biggest hubs. I had already transited through DFW twice before, so ORD was going to be the highlight. Not only that, but I'd get to fly on 4 different aircraft families in a day. If you count the MD-80 as a relative of the 717, then I was able to ride on all the "odd" Boeings in 1 day: 717, 737, 757, and 777.
I arrive at Orlando International Airport at around 3:30. I don't have easy access to a printer at my apartment so I have to wait until AA's self check in kiosks open at 4:00 AM. First I grab a leisurely breakfast first and stroll up to the terminal-top parking garage to check out the view before heading down to check in and then proceed through security. When I check in I get all 4 of my BP's at once. MCO has a different feeling to it than I'm accustomed to, since almost every segment I've had through MCO has departed or arrived during daylight hours. There's a long security line already since TSA doesn't open their gates until 4:45 or so. When they do finally open it takes me about 15 minutes to get through.
Over at Airside 1, things aren't very busy just past 5:00. I can tell from the main lobby that my gate area and the gate area for the first STL flight are starting to fill up. Otherwise it's almost dead down at the CO and int'l piers. I go inside the gift shop to see if they have any airline tail pins I don't have yet (airlinepins.com). Sure enough they have KLM, so I buy it. Some pictures around Airside 1: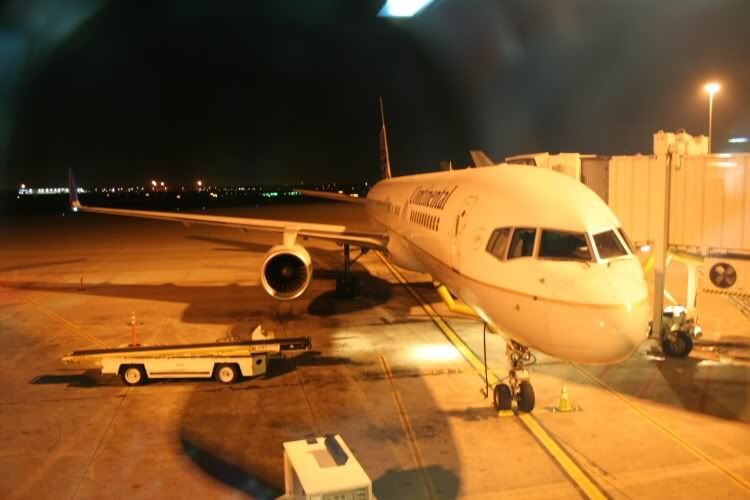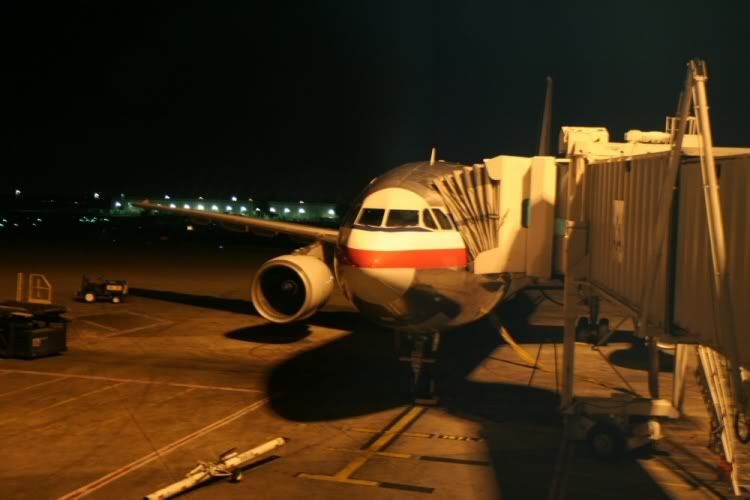 Then my ride to DFW: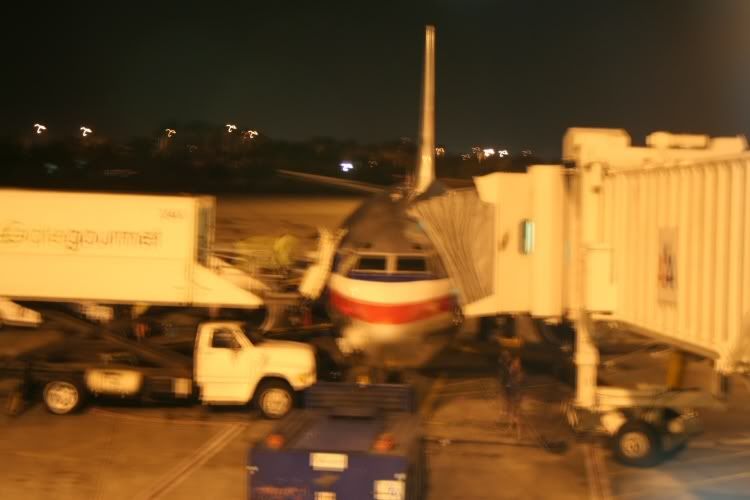 February 22, 2007
Orlando-Dallas Fort Worth
American Airlines Flight 1923
Boeing 737-823
N949AN
Departs: 6:00 AM
Arrives: 7:50 AM
Gates: 11, A33
Seat: 24A
Boarding doesn't begin until around 5:35. The gate area looks pretty full, and once on board the FA's announce that it will indeed be a full flight. I board with Zone 2 as I have a window seat near the back of the plane. It's the 12th 738 I've ever been on, but first on someone other than CO. The window is somewhat objectionable. Even in the poor lighting it's noticeably dirty, almost slimy in appearance.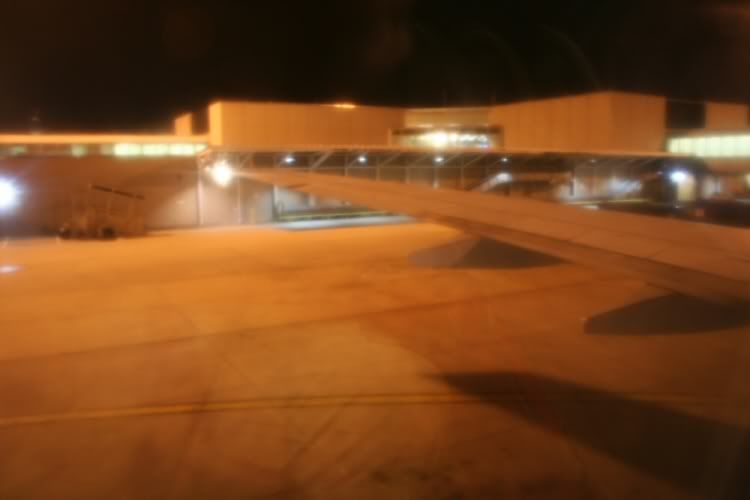 The legroom isn't even that bad for a tall individual like myself.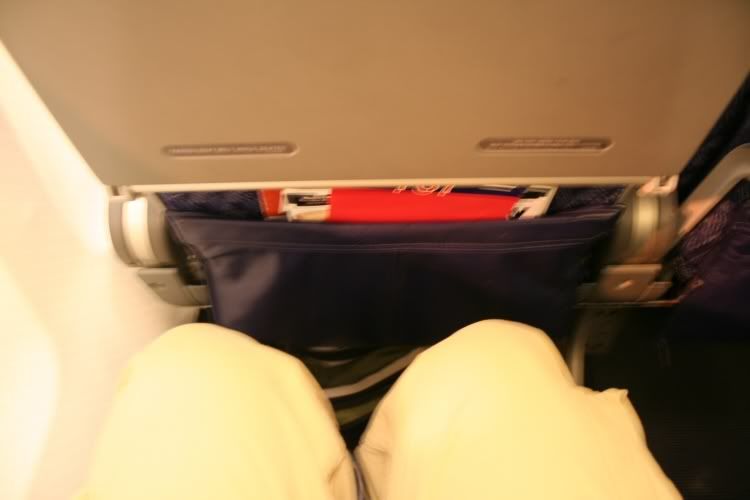 We push back a few minutes late. I see a short puff of smoke from engine #1 on startup, then we're on our way to 18L. There's no line for departure ahead of us, so we don't waste any time before taking off. After a long take-off roll we're airborne, and not before long we make a righthand turn to the northwest as we follow the Gulf coast for much of the flight.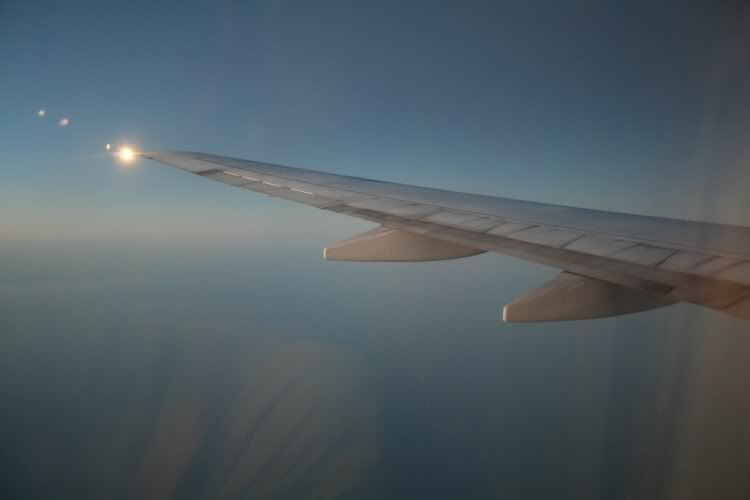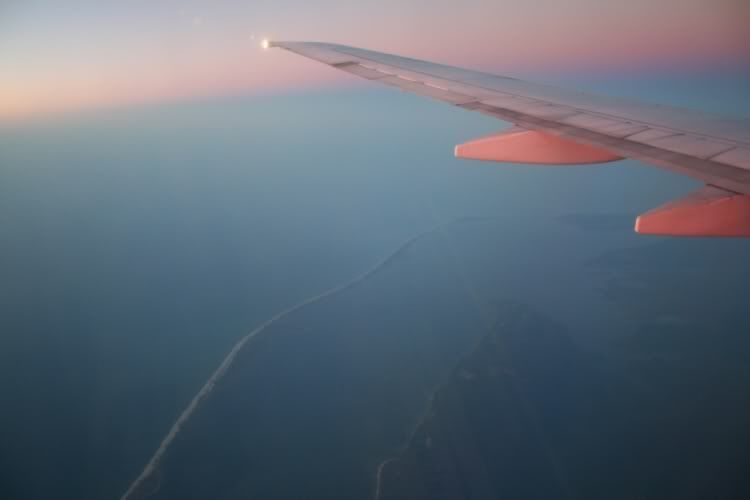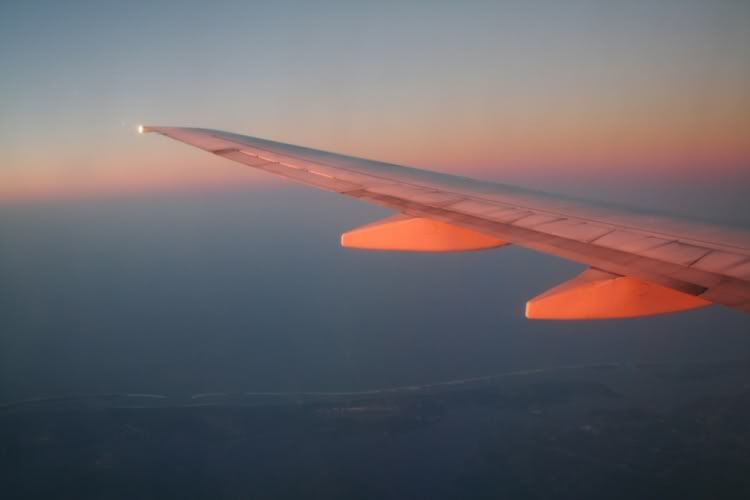 It gets continually brighter as we make our way over Dallas. On the aisle-mounted CRT's, the movie "A Good Year" is shown starring Russell Crowe. The trailer they showed before hand wasn't enough to keep my interested, so I stick to reading and doing crossword puzzles to pass the time. One drink service is performed with BoB offered but I just take the drink.
We finally begin leaving the coastline behind as we take a more northerly path.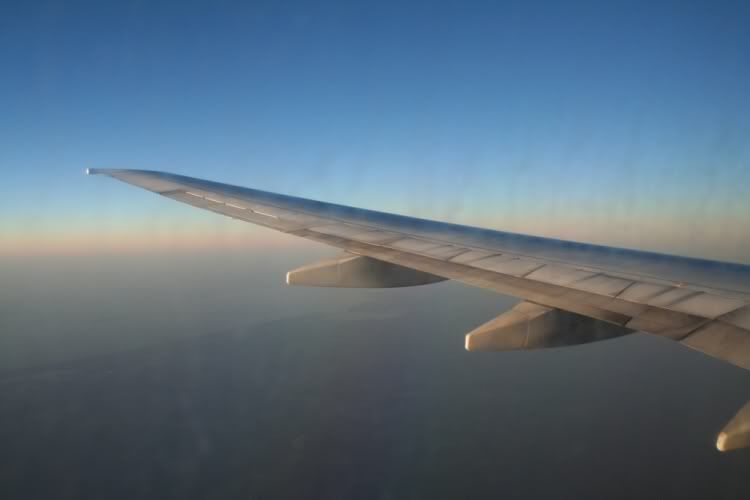 As you can see it's a filthy window on the outside. Soon we begin our descent into Dallas where the skies are fairly clear. There's an announcement made with connecting gate information, but they don't call out the info for my ORD flight. We land on 17C and taxi over to Terminal A and park at A 33 We arrive a few minutes late, and it's already around 8:10 or so by the time I've disembarked. AA1923 continues on to Houston Intercontinental from here.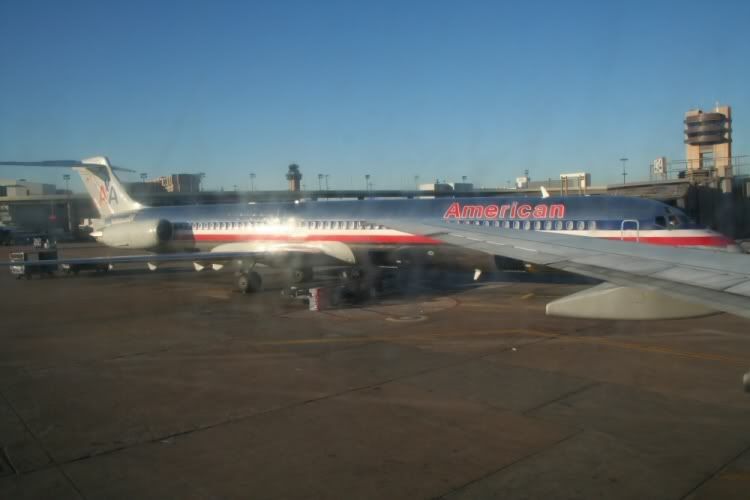 It's a really long jetway, and then a zigzagging hallway before reaching the terminal, presumably a gate connected to customs facilities. There's a SkyLink station next door so I don't waste any time. The view of my plane from above: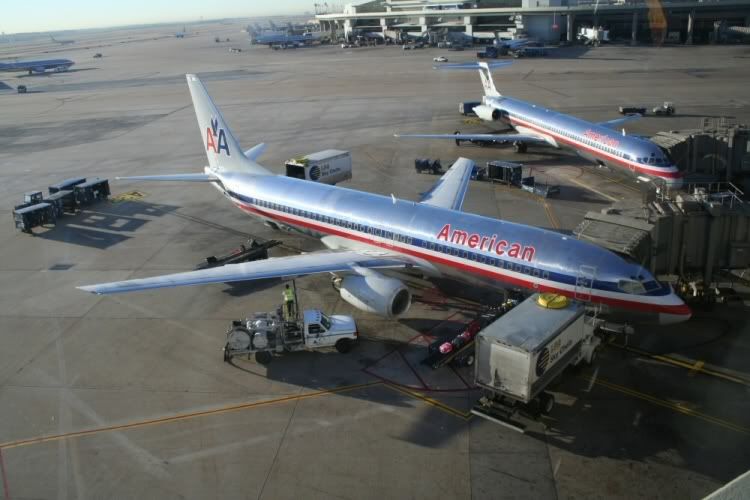 I am able to snap a few worthwhile pictures of the terminal before my next flight to O'Hare.
The ascent to the SkyLink station: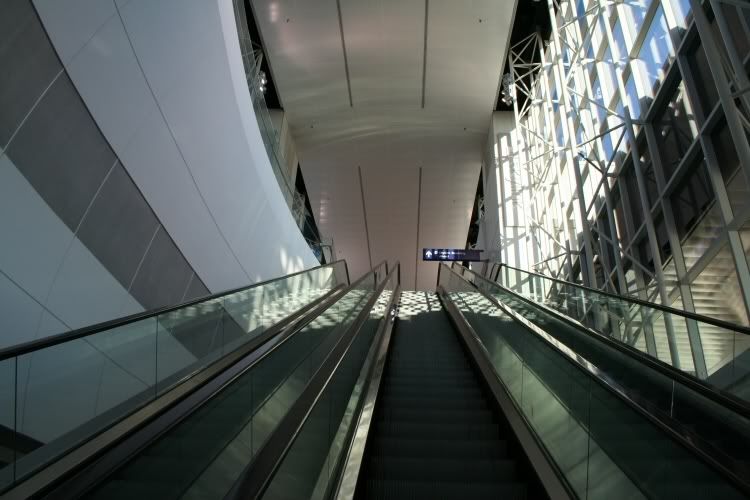 The station itself: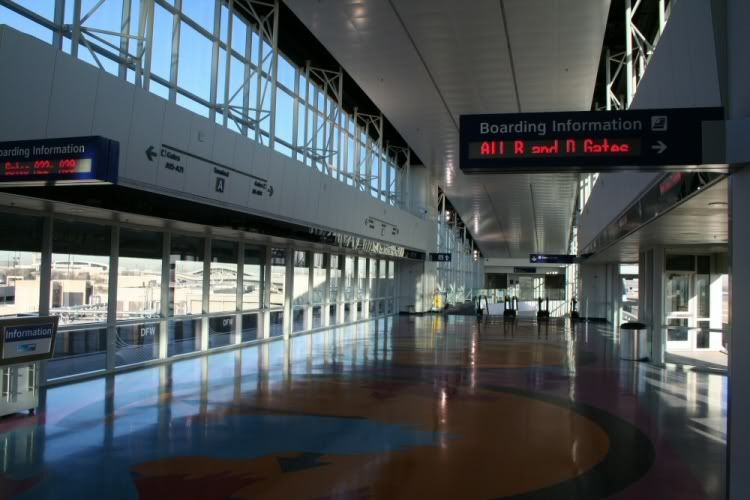 View from SkyLink:
TZ L1011 back from D-Check in quasi-new colors, what a beauty!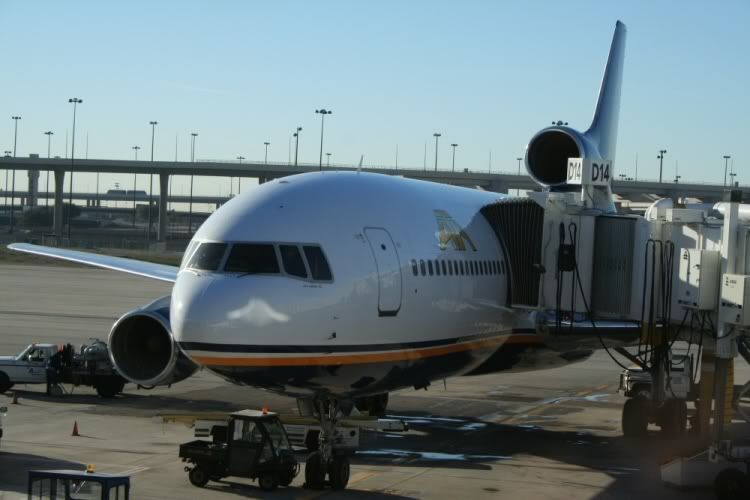 An iPod vending machine, this cracks me up: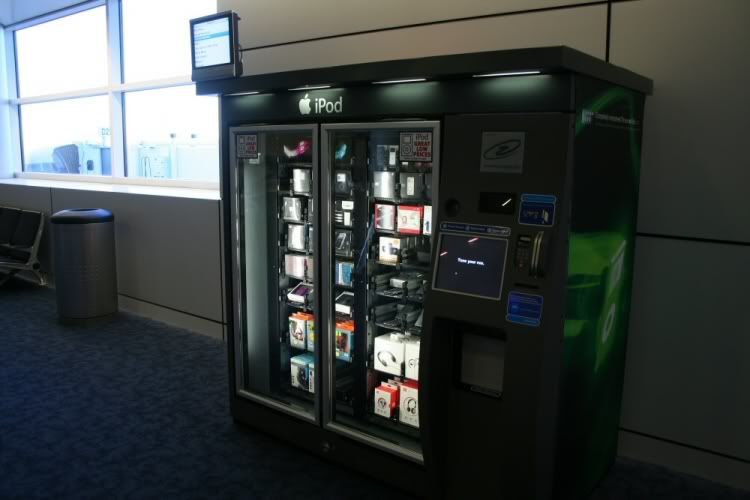 Spying on the people down in Terminal D: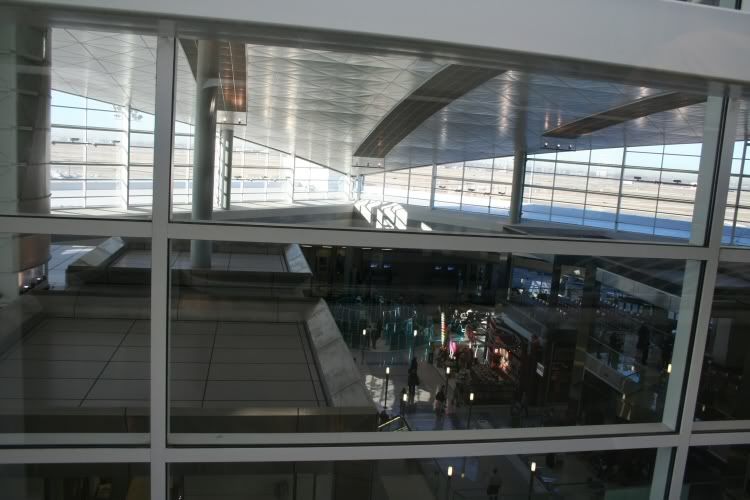 Leaving Terminal D behind: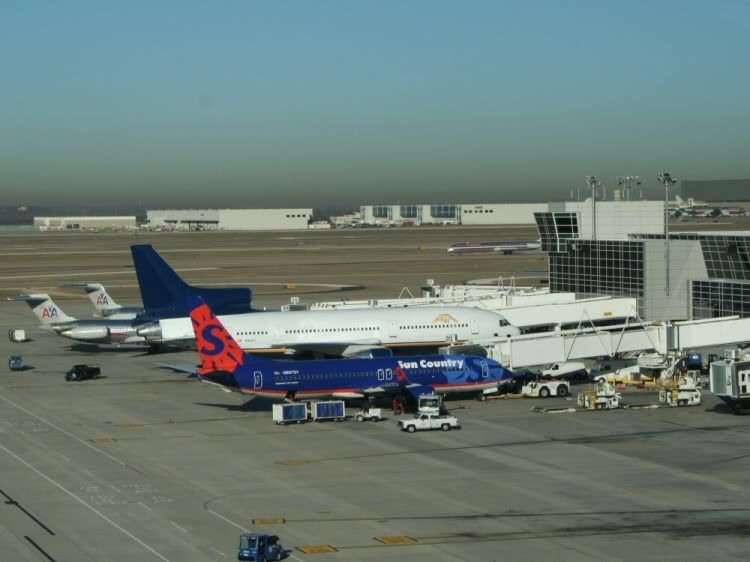 So I end up riding SkyLink all the way around to connect from gate A33 to A19. But it was fun! It's only my third time transiting through DFW but it's already so familiar to me. As mammoth as the airport may be, it's a breeze to connect through with SkyLink. Plus I'm amazed at the range of food options available, ranging all the way from Wendy's and McDonald's to Bennigan's and TGI Friday's. I grab a snack before my ORD flight, which I'm informed at the gate will be departing half an hour late. The gate agent informs us that the Windy City is experiencing very strong winds today, taking one runway out of use entirely and reducing landing capacity. So everyone heading there has to take a number and expect a longer wait than usual. He then tells us that we'll be taking off at least an hour late. We need to push to vacate the gate area for the next a/c, then we'll be sitting out on the tarmac for a while waiting for departure clearance.
Dallas Fort Worth-Chicago O'Hare
American Airlines Flight 2336
McDonnell Douglas MD-82
N7546A
Departs: 9:55 AM
Arrives: 12:10 PM
Gates: A19, K2
Seat: 15A
We begin boarding at around 10:00 AM. I see the Mad Dog sitting at my gate has a black radome. I used to think that that was a telltale sign for an ex-TW MD-80, but no such luck today. Taken from the jetway: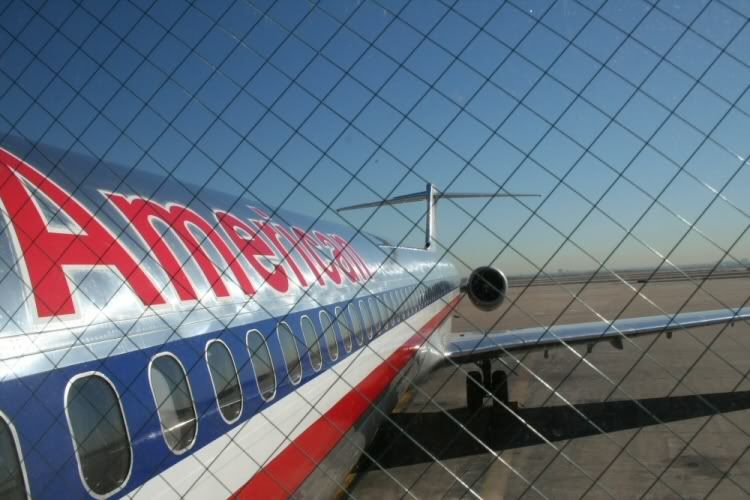 We push and head down to 17R for departure. We park between the ends of 17C and 17R for about 40 minutes before we get ATC clearance to depart for that slot-controlled airport up north. We take a left turn a couple of minutes out and pass DFW, providing an excellent opportunity for an overview shot. And this time, I have clean windows!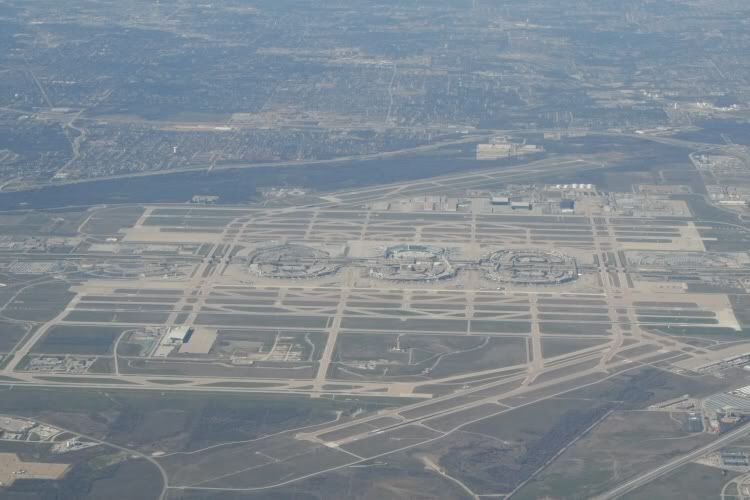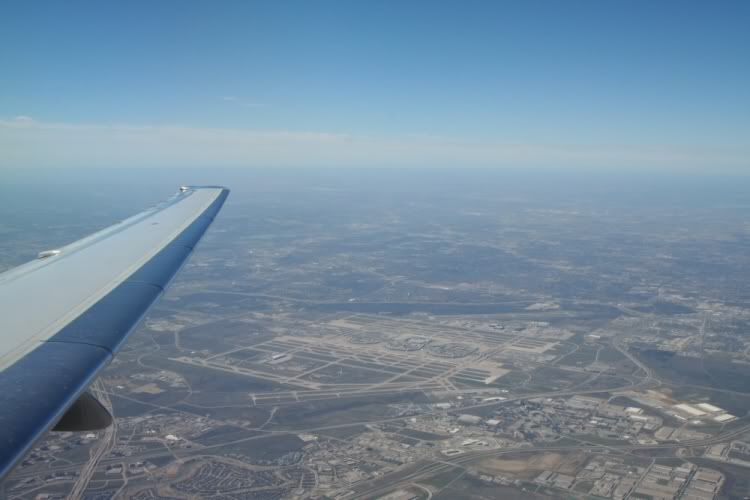 There's no IFE to speak of on one of AA's 300 Mad Dogs, so again I have to content myself with reading and more crosswords. One round of drink service is performed again, but at least I get the whole can of Coke without even having to ask. I pass on BoB.
Crossing the Mississippi: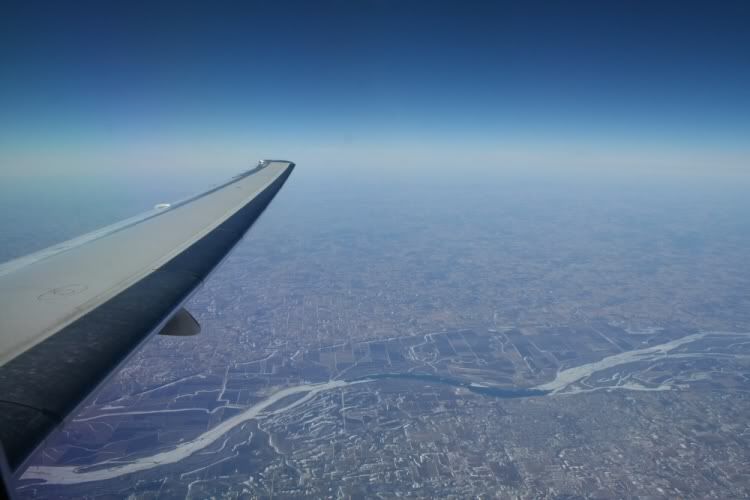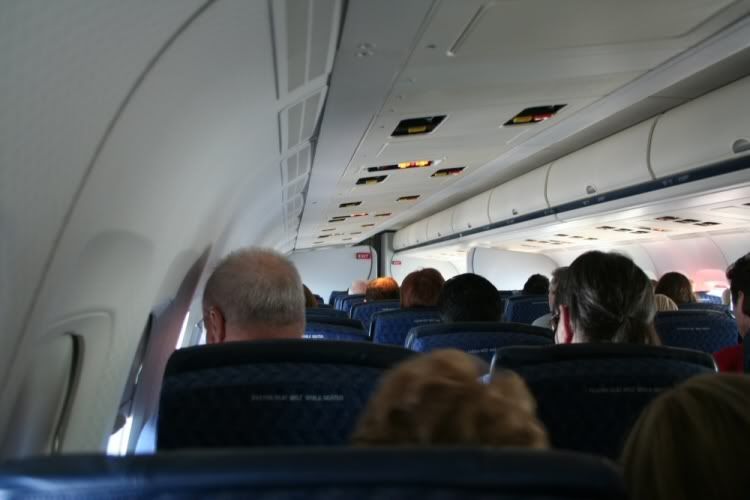 We're soon descending into Chicago. I've been to Chicago only twice before, both times to Midway airport, so even though I'm only coming for a few hours it's still an exciting approach. We pass the skyline on our way in for 27L.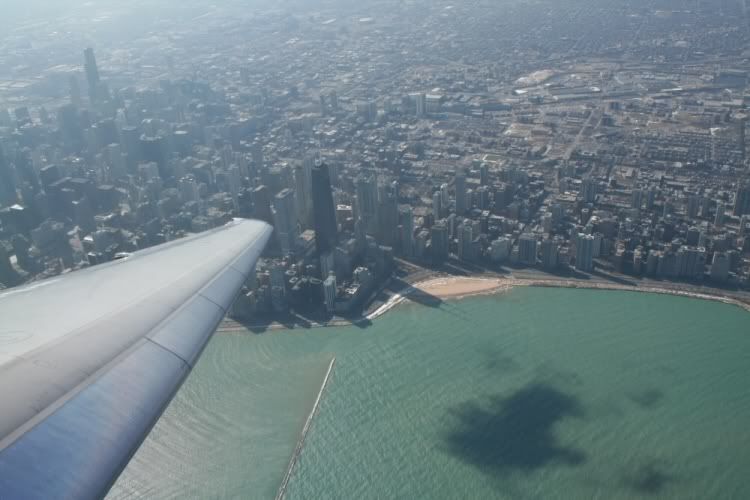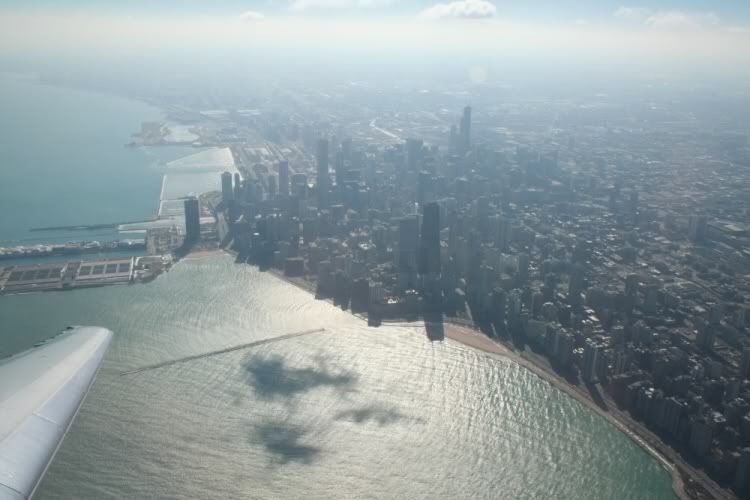 The approach is a little shaky as we can feel the delay-prompting wind mildly rocking us back and forth. A perfect landing on 27L leads to a taxi over to the beginning of the K gates beside a lot of deicing equipment. It's about 35* today and fortunately we won't have any need for that stuff.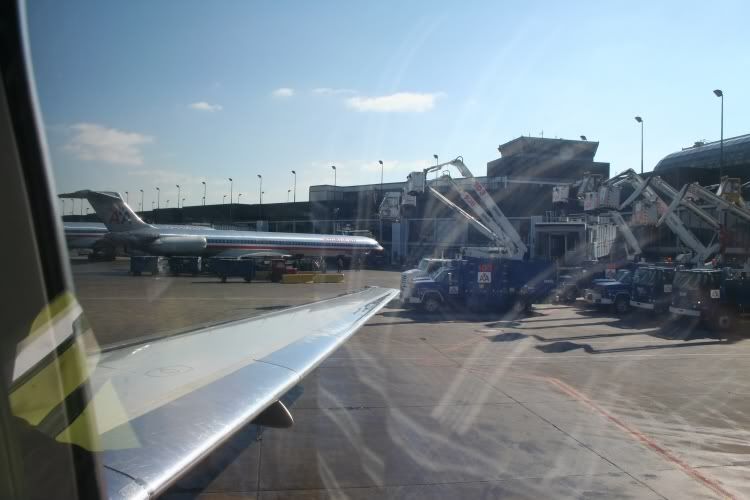 O'Hare makes quite an impression on me. For starters, the terminal is mobbed, filled to the gills with other passengers trying to get out, which is what I was expecting. Over at the FID screens more than half of the departing flights have new times, also something I expected to see here at ORD. The terminals looked familiar as well. Having seen the terminals in the movies before, in such classics as Home Alone and others, I find it fulfilling to finally walk in those same terminals. There's quite an assortment of aircraft to look at, so I take my time and walk the lengths of Terminals 1, 2 and 3. Here's a sample of said traffic.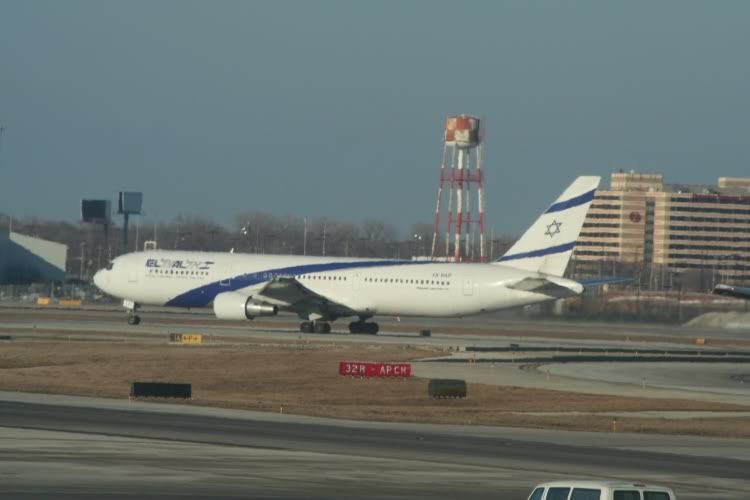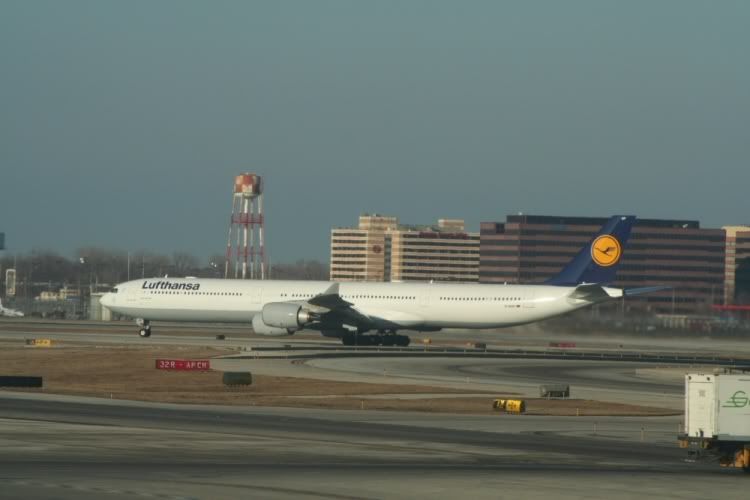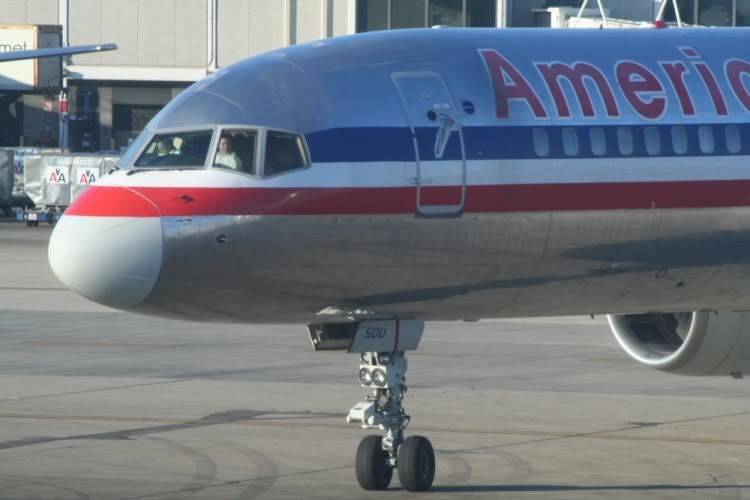 Over in the C concourse, I notice a display window containing airline memorabilia. It's an ad for a shop at the airport Hilton, called Chicago ORD or some such. Of course I have to oblige and I make my way over that direction. The store is full of all sorts of models, t-shirts, mugs, pins, and souvenirs from the old airlines themselves including FC silverware and plates from EA and others. Had it not been for the exorbitant prices I would have emptied my wallet here, but instead I restrain myself and buy only a YX tail pin for my collection.
Chicago O'Hare-Dallas Fort Worth
American Airlines Flight 67
Boeing 777-223ER
N792AN
Departs: 5:00 PM
Arrives: 7:30 PM
Gates: K12, A23
Seat: 35J
After I've had enough strolling around I go down to my gate. My Triple 7 is sitting there already when I get down to the end of the K concourse. AA67 arrived from LHR earlier this afternoon and was then tugged over from the int'l concourse for its DFW departure here at K12. Words do not adequately describe this feat of engineering. If I hadn't been able to secure a 777 in my itinerary I never would have booked this day trip despite the low price. This flight was worth every penny I paid for the entire trip.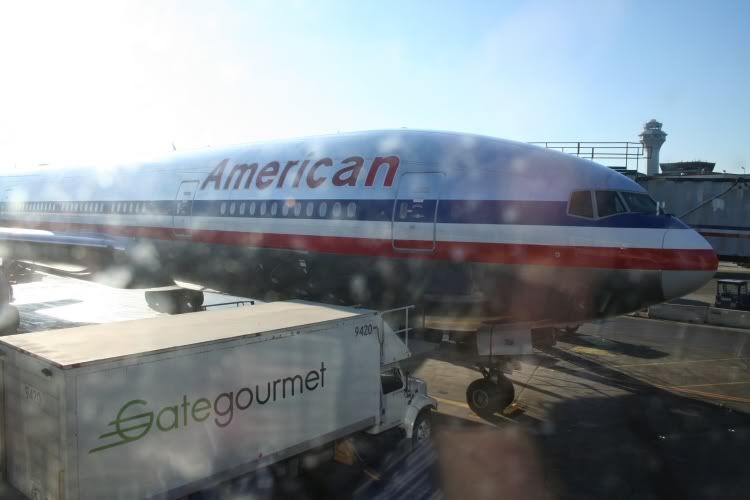 Boarding is quite a sight. They call all Elite AAdvantage members for boarding first before the rest of general boarding, and I counted almost a hundred people boarding during this call. I guess the lone 777 on ORD-DFW mixed in with 16 or so Mad Dogs is no secret among frequent fliers.
I finally get to board and I'm downright impressed with the cabin furnishings. My only other 777 I ever flew on was with Delta a few years ago, but the cabin here at AA is far more impressive. Of course I don't have much time to marvel at the F and C seats as I have to go down to my seat, a few rows behind R3. Waiting for me is a crude amenity kit, containing a pillow, blanket, and earphones. And a PTV! Only the 2nd I've ever seen in my life.
Outide is a staggeringly long wingspan, and another company 777 headed to Delhi.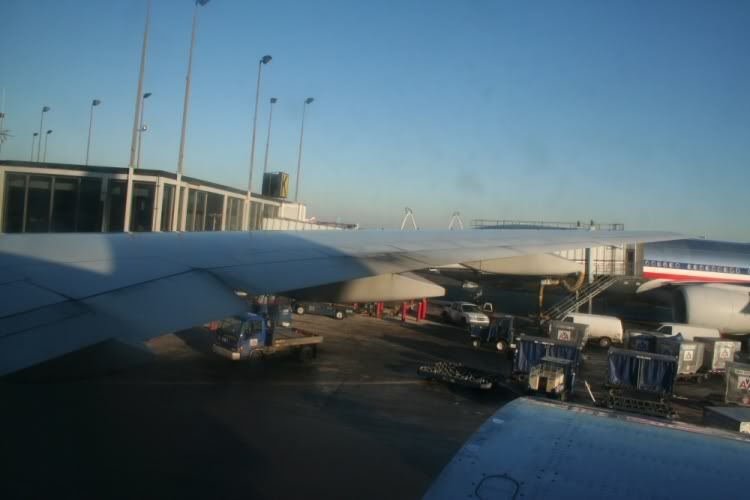 The window is crazed however it didn't completely obscure the view.
The legroom wasn't great but it was tolerable.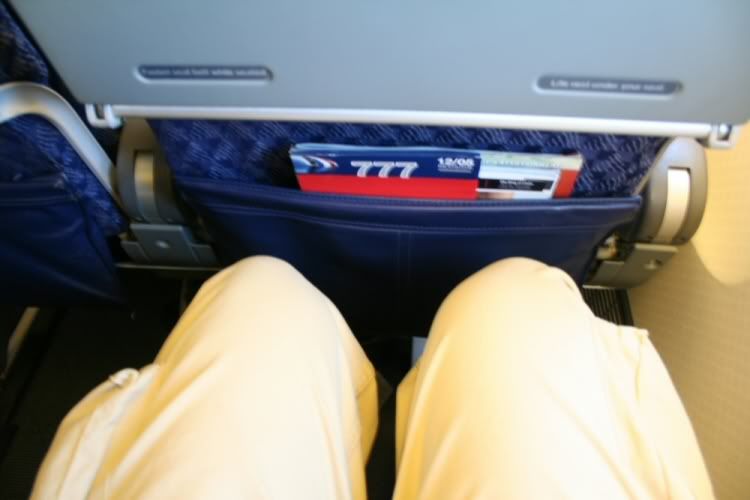 It takes a while to finish boarding. Pax keep trickling in until we're full.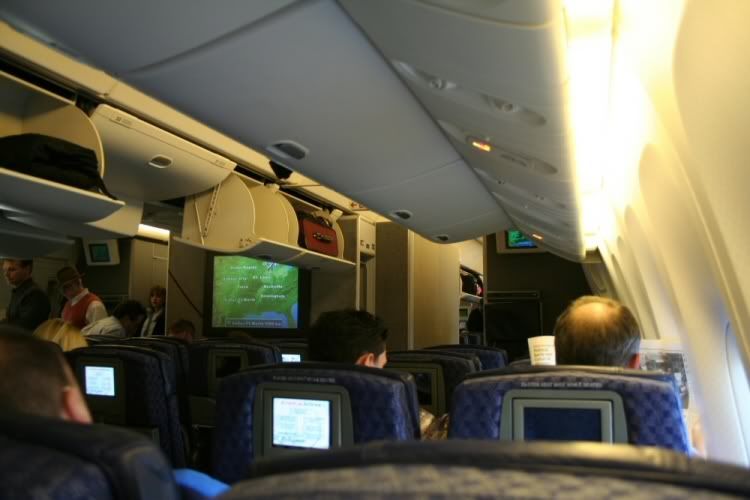 We push and head down to 32R for takeoff. Before we get there we pass a Royal Jordanian A340, the first time I've ever seen that airline.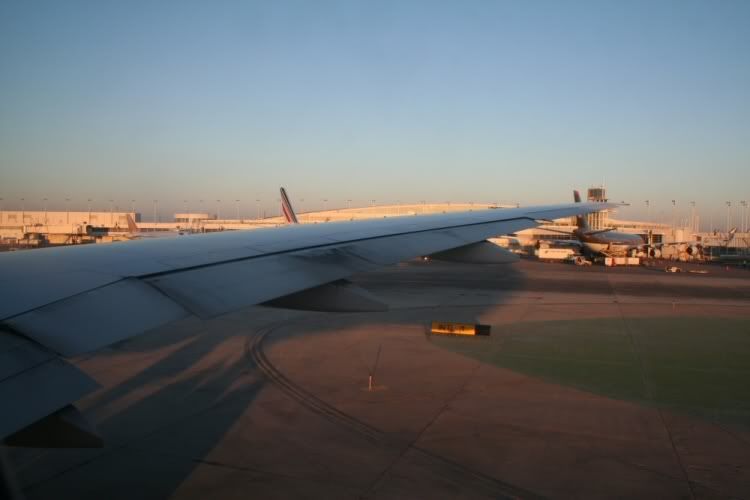 It's a long powerful takeoff roll to get us in the air. I watch the sun begin to set as darkness settles in outside my window. After taking tons of shots I settle down and watch my PTV. I alternate between watching Airshow with a music channel playing in the background, and the movie selections. A FA announces that we will be following the "From United Kingdom" lineup of movies, which include "Flags of our Fathers," "Flushed Away," and "Man of the Year," along with sitcoms. None of those were able to sustain my attention very long so I absorbed a lot of music while watching Airshow. One round of drink service again is served on this flight with option for BoB. And again, I get the entire can without even having to ask.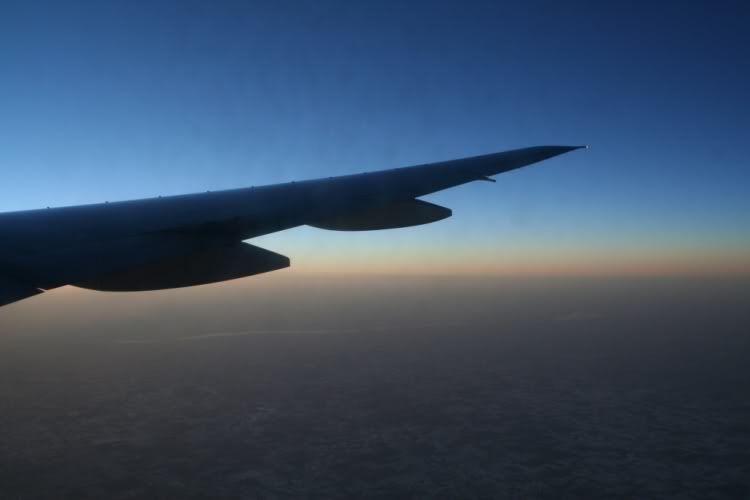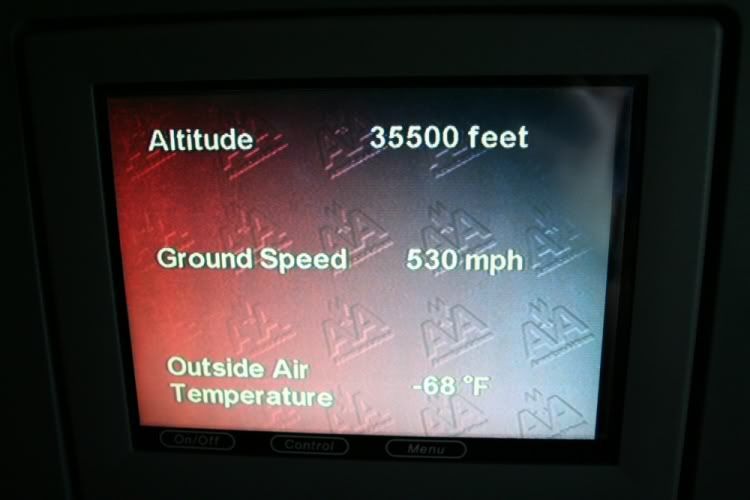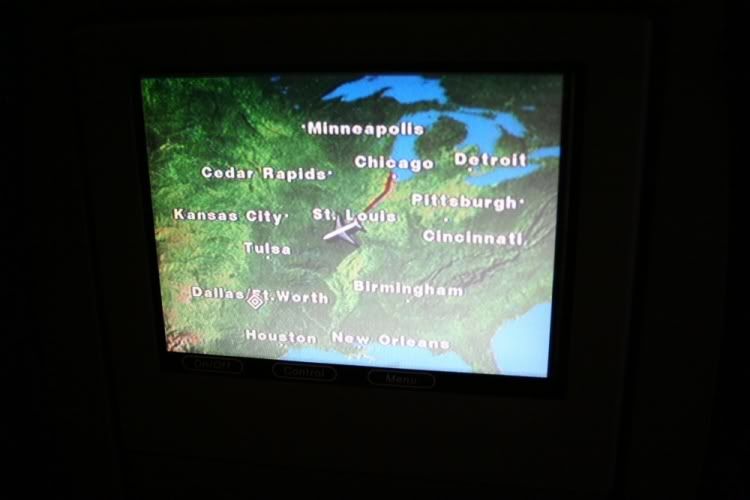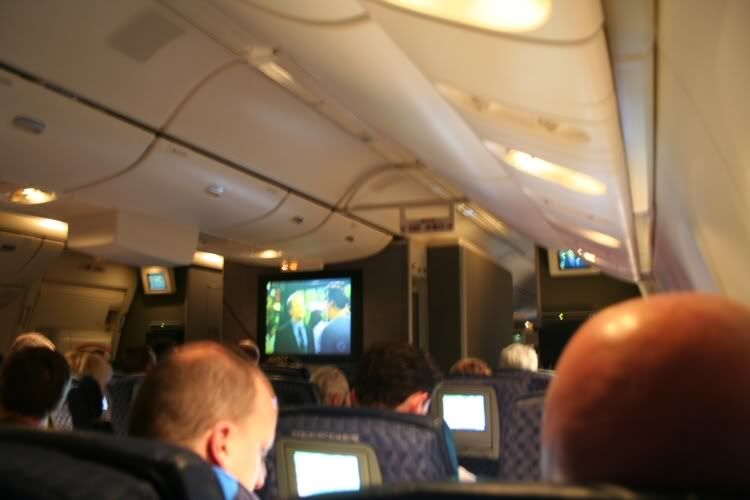 With about 45 minutes left I begin falling asleep and I drift in and out of consciousness until I land on 17C for the second time today. Before and after landing, connecting gate information is displayed in Airshow. We pull into gate A23, another customs capable parking spot.
Back in DFW for the second time of the day, I ride SkyLink over to Concourse D for my connection. I use this opportunity to take a few terminal shots of the shiny new international terminal.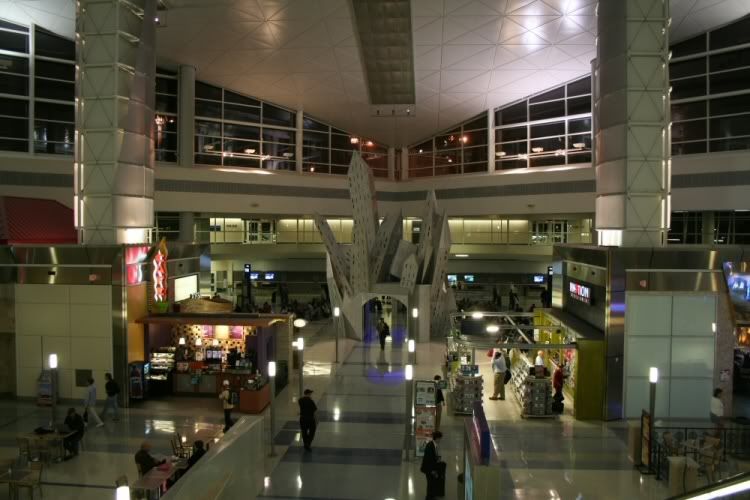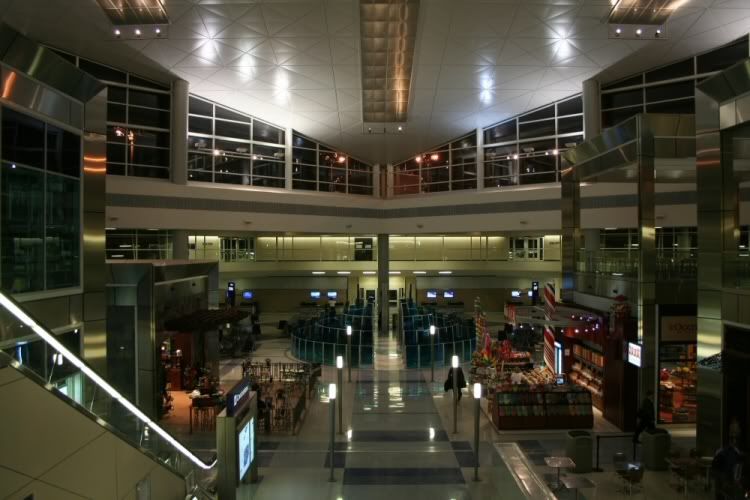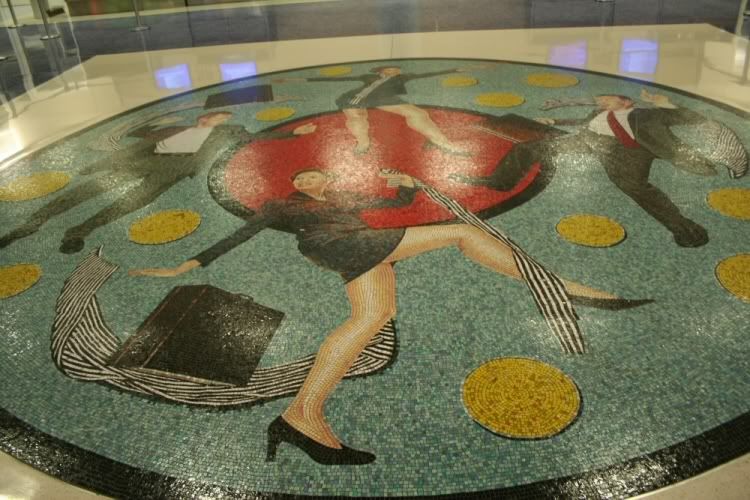 There's a Pratt powered 757 waiting at my gate when I arrive. It came in from Las Vegas. I have to take a picture and zoom in to get the ship number off the front gear.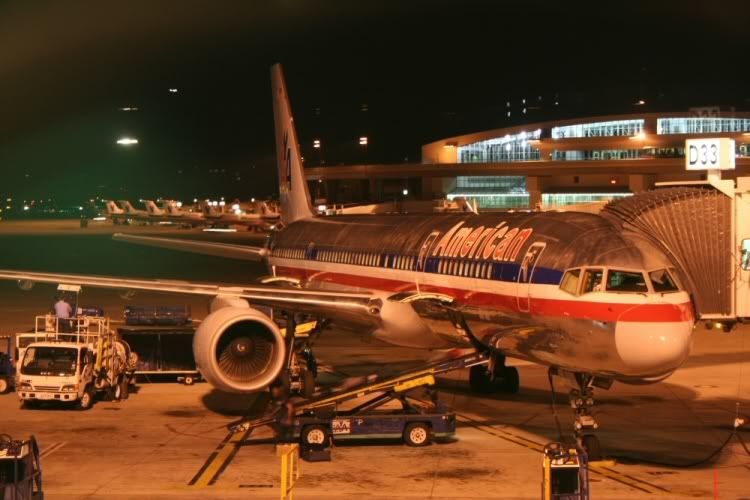 I'm proud of that shot, I managed clarity at night without a tripod. It's ship 5TT, which is N717TW. Again! I rode this ship back in winter of 2005 on PHX-DFW, which was the first time I ever flew on AA. It's always fun when a familiar reg shows up at my gate.
The gate agent announces this flight is oversold and asks for volunteers. He offers a hotel voucher and $300 in future travel on AA as well as a guaranteed seat the next morning. I definitely would have taken the offer had it not been for work the next day and running on no sleep as it was. I decided to pass and get a full nights sleep in my own bed rather than sleeping in a hotel until 5 to catch another flight.
Dallas Fort Worth-Orlando
American Airlines Flight 1538
Boeing 757-231
N717TW
Departs: 9:05 PM
Arrives: 12:20 AM
Gates: D33, 14
Seat: 23F
Boarding seems to take a little longer on AA than other carriers. It seems there are more fliers here that like to stop in the middle of the aisle and take their grand old time sticking their bags in the overhead bins, even though their seats are further back and there is empty bin space down there as well. While I'm waiting in the jetway I snap a few more pics.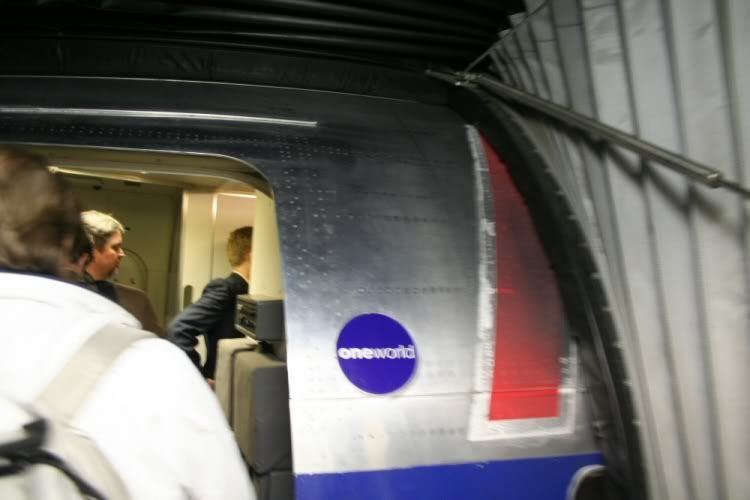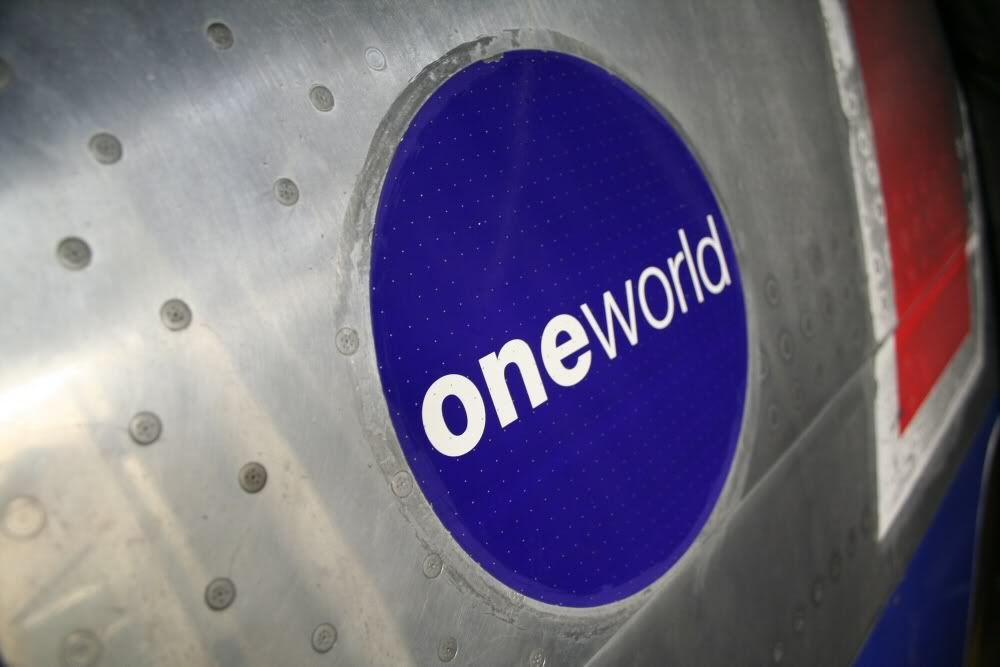 Seat 23F waits for me: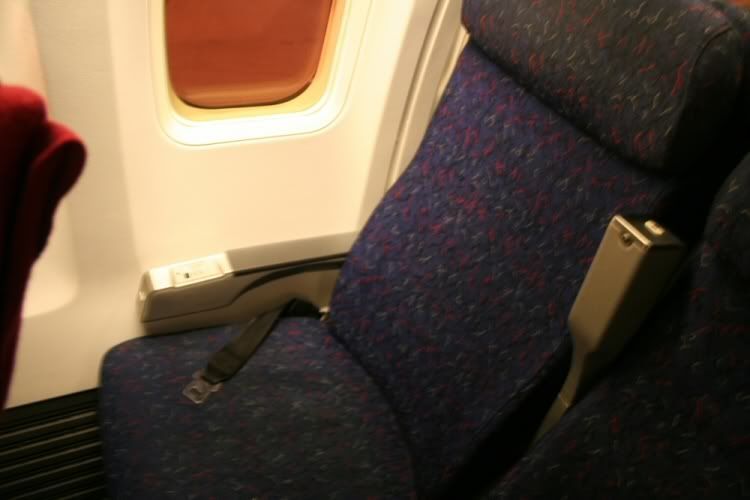 Legroom is tight but I'm already slouching a little: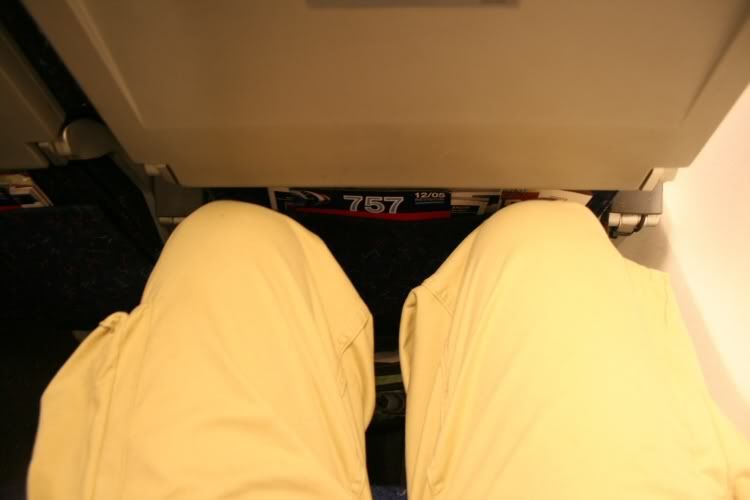 We push roughly on time and make our way over to 17R for my second takeoff on that runway of the day. CBS Eye on American is playing on the LCD screens, which are much nicer than the CRTs I saw today on the 738, but still they're no PTV's. The show doesn't really hold my interest so I drift in and out of sleep the entire flight, but I still take a beverage during the service. The flight takes two hours on the dot, and we're back in Orlando. The winds must have changed since we land to the north on 36R. A short taxi takes us into 14, thus ending another day trip.
Evaluation:
So I have a mixed opinion on American Airlines. I give them kudos for sticking a 777 on a domestic run like ORD-DFW on a daily basis. DFW is a great airport to connect in, so I give them high marks for their facilities down there. ORD wasn't all that bad. I knew it would be busy but it was still reasonable. Even the TSA check didn't take that long. But would it kill them to wash the terminal windows once in a while at ORD? As for the flights themselves, I wasn't all that happy with the aircraft. The 738 had the dirtiest window I had ever seen, and since the dirt/slime was collected on the exterior, there was nothing that could be done on the inside to remedy the situation. The Mad Dog had good windows but the lack of IFE was noticeable. No complaints about the 777 except for the crazed window, but I find those on every airline. And the 757, despite being delivered in 1999, looked really worn out already. Since it was an ex-TWA bird though I can let that one go for the sake of reminiscing. Service could have been better too. I was happy that I got the entire can of cola without having to ask, but I would like at least 2 passes with the drink cart on a 2.5 hour flight. I also know that CO's flights from Orlando to Texas would have featured breakfast since I flew in the morning. BoB makes me feel the airline is nickel and diming me, and I know I'm not alone on that one.
In the end, I think I will give AA another go in the future. I like connecting in DFW, and I now have earned a first class upgrade.
Thanks for reading! Feedback is appreciated since these TR's don't write themselves. But they are fun to compile!