Before I start on the bulk of part two (which will be shorter due to the shorter duration fo the flight but will include as many details as possible) I thought I would show the photos I promised from Part 1. Hope you enjoy:
The Virgin Clubhouse - 1
The Virgin Clubhouse - 2
The Virgin Clubhouse - 3
FILE:536922903,middle,1174606232tcgj5k.jpg]
Poor example of spotting opportunities available
My Seat - 9A - the Upper Class Suite
View Forward
View Backward (with Beauty Area on left)
Over Canada 1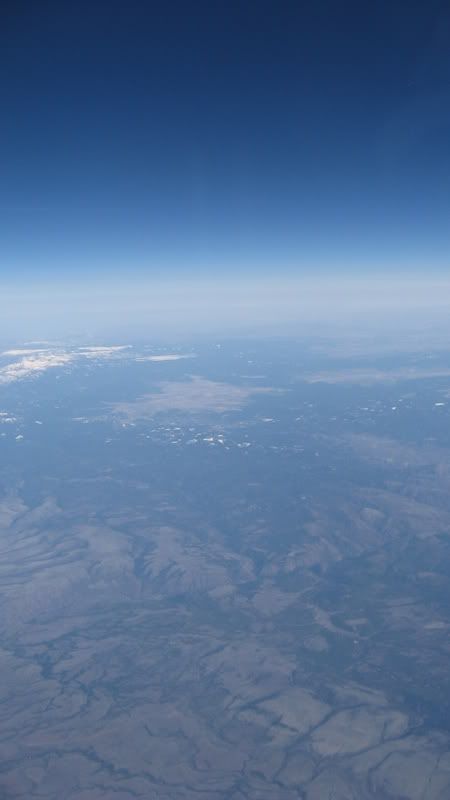 Over Canada 2
So when we left the story I had landed in San Francisco and had just picked up my bag (having dealt with possibly the nicest US immigration officer ever! I left the hall following signs for Flight connections and was immediately faced with a problem. The sign said "Alaska Domestic right" but I was flying Alaskan (AS) to Canada. Which my schoolboy (and university level) geography taught me was
international
. But in any case I follow the sign, as there are none saying Alaska International and soon see another that says - international terminal right, Alaska Domestic left. So I go right and up a long flight of stairs to the information lady to make sure I was in the correct place. I asked her if this was correct for the Alaskan flight to Vancouver. She said "afraid not, you need to go to domestic depertures back down the long flight of stairs and through the walkway". When i asked, politely, why the flight left from the domestic terminal, just for my own interest, she couldn't tell me!
Aaaaanyway, i went back down the stairs (by now getting slightly annoyed that I couldn't check all the way through from London - my bag was fairly heavy) and walked through the pit that is San Francisco Terminal 1 (all being refurbished at the moment, i'm sure it will be nice eventually and after walking what seemed like a mile, coming to think about it, it might well have been! and got to the Alaskan Check-in desk. At this point I was fairly exhausted and luckily the lady was very polite saying the upgrade request I had put in online had come through and I had been moved from seat 15C to 1F. I told her that the main reason why I had requested this (for a small fee) was for the lounge as I had just come off a long flight and still had a long way to go! She said she completely understood and gave me a folder (in which she had also filed my Virgin tickets, very thoughtful I thought!
I slowly made my way through security and had a Burger in the Deli before going to the Alaska Board Room. At the desk I gave my boarding card in and the following conversation ensued:
Her: Uh Sir do you have your invite?
Me: To what?
Her: To the boardroom?
Me: I'm flying First class. isn't my boarding card enough?
Her: Normally yes, but for you no?
Me: Why?
Her: You have upgraded?
Me: and? the check in Lady seemed to think it was OK. Come on, i've just gotten off a 10 hour flight and have 2 hours until my flight
Her: I'm afraid there's nothing I can do
Me: Can't I pay?
Her: Well there is that
So I did, angrily handed over $30 and moved into the lounge. Which was absolutely TINY there were people standing later on with a measly selection of drinks. I wouldn't have paid $20 had I known the size and quality of the lounge and had not just come off the other flight but was so exhausted i just found a seat and crashed out for an hour before writing Part 1 of this report!
Fast forward 2 hours and it was time to board. I got to the gate.
Alaskan Airlines flight 685
Aircraft - Boeing 737-400 (afraid I didn't get the reg)
DEP: San Francisco International Airport (terminal 1) gate 24 - SFO
ARR: Vancouver International Airport - gate 80 - YVR
SCHED DEP: 7:15 PM
ACT DEP: 7:13 PM
SCHED ARR: 9:32PM
ACT ARR: 9:30 PM
Seat 1F
I found the service on Alaskan fairly typical of the American legacy carriers. Very Old fashioned, even in First class. The only exception was that all of the staff were very polite and friendly. Sadly I was asleep most of the flight but I remember that there was no food service, which I find unbelievable for a 2 and a bit hour flight, in europe at least a sandwhich would have been served! There was a drinks service which was fine. The aircraft was certainly showing its age with bits of carpet missing and the seats in first class being in very bad knick. On the other hand, they were ver comfortable.
The most memorable part of the flight was during the descent when we went into a rain cloud. The lights were on and I could see the rain, it was unreal as it was very heavy and moving horizontal - one of the most surreal experiences i've ever experienced! Anyway, we landed and taxied to gate 80 (VERY long way from immigration).
Vancouver airport seems very new and highly maintained, Even though it was a long way from gate to immigration it was a pleasure. Arriving passengers walk above the departing (different from all other airports i've experienced). There was also a walk-through exhibit abhout the British Columbian culture which was very beautiful and made the walk all the more enjoyable. Eventually I get to immigration where I join what looks like the shorted queue. But Looks can be deceiving! There was a short woman talking to the officer about this and that, it looked as if she was using him as an information booth. We just sat there for literally 6 minutes (I know it doesn't seem like much but to stand in a short queue not moving for more than 2 minutes is unacceptable unless it is for a good reason but I know this wasn't as he was giving her directions to the exit!) Anyway I eventually get to the front and am questioned, as I have gotten used to, about why I have an American Passport despite being British and why I didn't fly direct from London. What do you do? Why are you in Canada on your own? How long are you staying? Now I am the first to admit that boarder control is very important but it is becoming harder and harder to tell which questions are for conversational reasons and which aren't!
I go to wait for my bag. 20 minutes later I, and most of the other passengers, are still waiting for our bags. 40 minutes later bags are coming through but painfully slowly (i'm talking 2 or 3 bags every 3 minutes!) 45 minutes later my bag emerges and it wasn't even the last! I really feel sorry for those people who had to wait longer than me! Does anyone know if this is typical for YVR?
I head outside to pick up my ticket for the Perimeters Whistler Express coach (a very useful service) before going to have another snack. 23:30 roles around and I board the coach before promptly crashing out and waking up just outside Whistler at around 2 AM. This means that not counting my 1 hour sleep on the Alaskan flight and my 1 hour on the VIrgin Flight I had been awake for 27 HOURS! I got to my room and unlocked my bag and found a note from a company 'working in partnership with' the FAA saying my bag had been searched and that they hoped I didn't mind! I find this quite cheeky as I would've like to been notified in San Francisco to have unlocked the bag for them. What worried me is that they managed to unlock my bag and then lock it again? They could've taken anything! Lucky for me they didn't.
Alaska's Score
Check-in 9/10
Lounge - a pitful 3/10
Staff - 8/10 - very friendly
Aircraft - showing its age 5/10
Punctuality - 10/10
Overall - 35/50
I realise this is a TR and therefore appologise for the lack of information about the flight itself but still hope it has proved entertaining and informative.
I will write the TR for the next two flights once they have occured!
As Usual all comments and questions appreciated
Alex