Since Thai is retiring their classics, I decided to join fellow member Superfly for a brief Hong Kong trip. Royal First Class on the morning flight TG 600 and Srilankan back in the evening. That will be a separate report.
05 March 2007
Bangkok Suvarnabhumi Intl (BKK/VTBS) – Hong Kong Chek Lap Kok (HKG/VHHH)
Thai Airways International TG/THA 600
Boeing 747-3D7
HS-TGE "Chutamat"
0800-1145 – Delayed (0820-1205)
Royal First, Seat 4A



Arrived at the Royal First check-in at about 6.15am, and it was completely deserted. The setup is very classy, nicer than SQ First check-in in Singapore in my opinion. However, there was just one lady handling check-in, and this resulted in a wait of about five minutes. We were then escorted to passport control and taken by a golf cart to the Royal First lounge.
Royal First check-in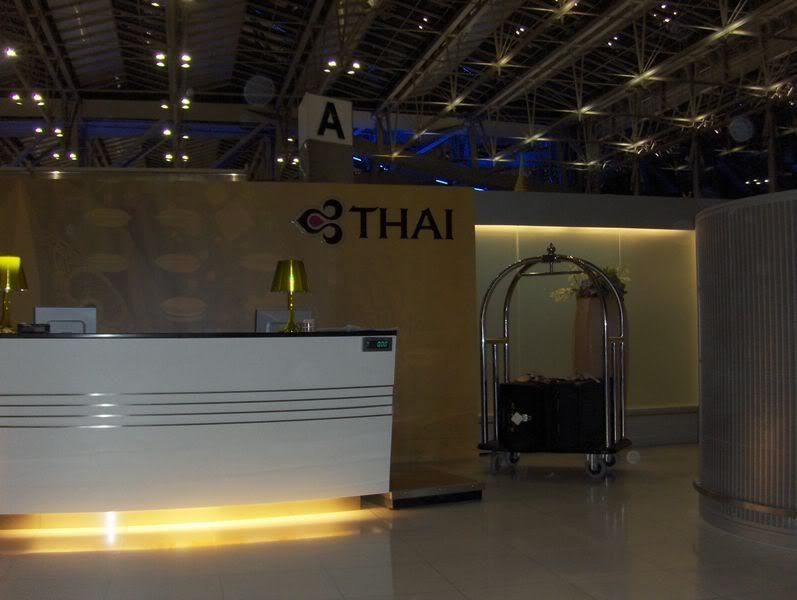 Boarding pass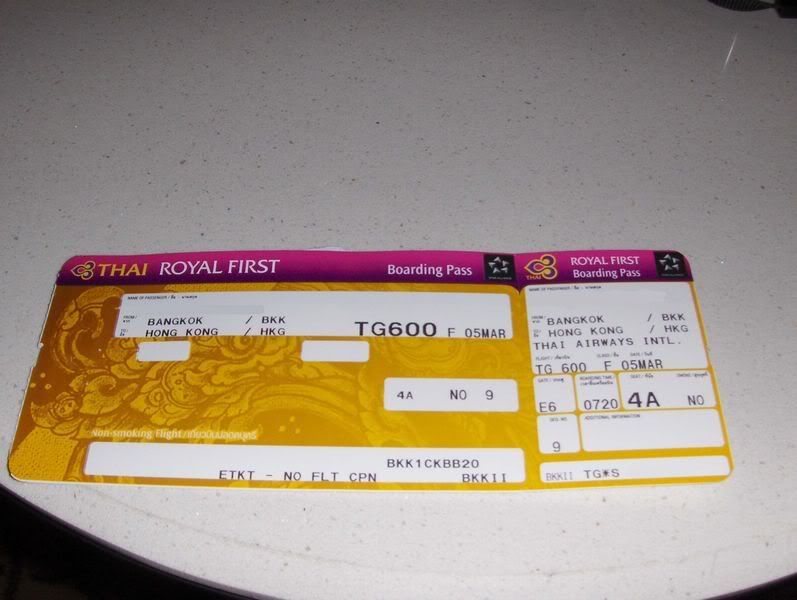 The Royal First lounge is rather nice, but seemed rather crowded this morning. The usual Royal Silk selection of food is available, as well as a few cooked to order dishes. A far cry from CX First restaurants or SQ SilverKris buffet but not too bad. Drink selection is the same as in Don Muang, Champagne Mumm, Chivas Royal Salute etc. All served from the bar, and you'd have to ask what is available since there are no drink lists (banned by some genius in the government as alcohol advertising) and you can't see the bottles.
Had plenty of champagne and an egg/bacon dish as breakfast. I was honestly disappointed in this lounge – no improvement whatsoever compared to renovated Royal First lounges in Don Muang. Instead of wasting money on refurbishing Don Muang lounges, TG should have saved the money for a world class offering at Suvarnabhumi – the current one doesn't come close to CX Wing/Pier, MH First in KUL or SQ SilverKris in SIN.
Somehow TG had managed to assign this flight to the E gates – the only fright departing from there this morning. Half of the E gates are still out of service due to tarmac cracks. However, it wasn't a problem for First passengers, we were taken to E concourse by another golf cart. Overall, the ground service in Suvarnabhumi was world class for Royal First, although the lounge doesn't quite match CX/MH/SQ.
Departure gate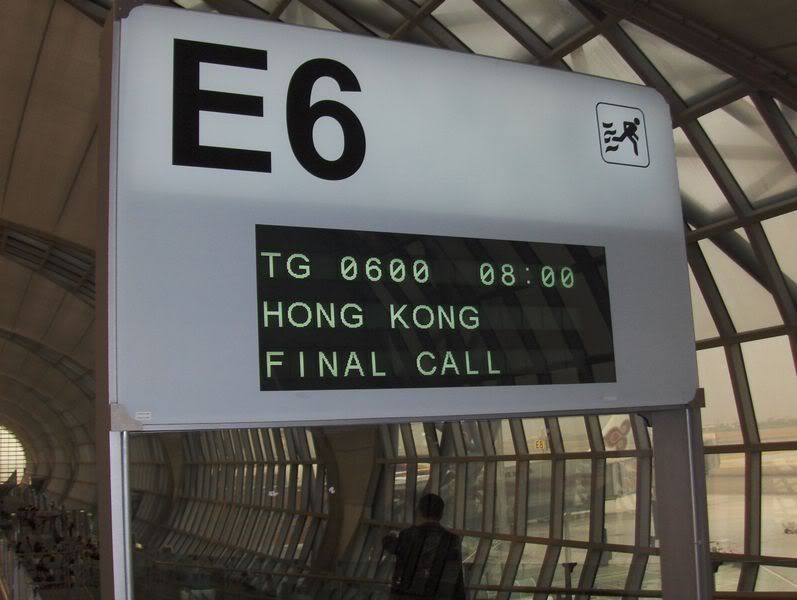 Boarding was about to start – they should have let us stay another 15 minutes in the lounge. Pushed our way through the masses and boarded right away. A greeting at the door, but no escort to seat customary on SQ and CX. Aircraft was HS-TGE this morning, I was happy since I had only flown on TGD before. The seats are old but comfortable for regional flights, completely manual controls, and you have to pull out the legrest by hand. Obviously no PTV, and none of the audio channels in my seat were working. A year ago, these planes still flew longhaul to FCO and ATH at least.
B747-300 Royal First cabin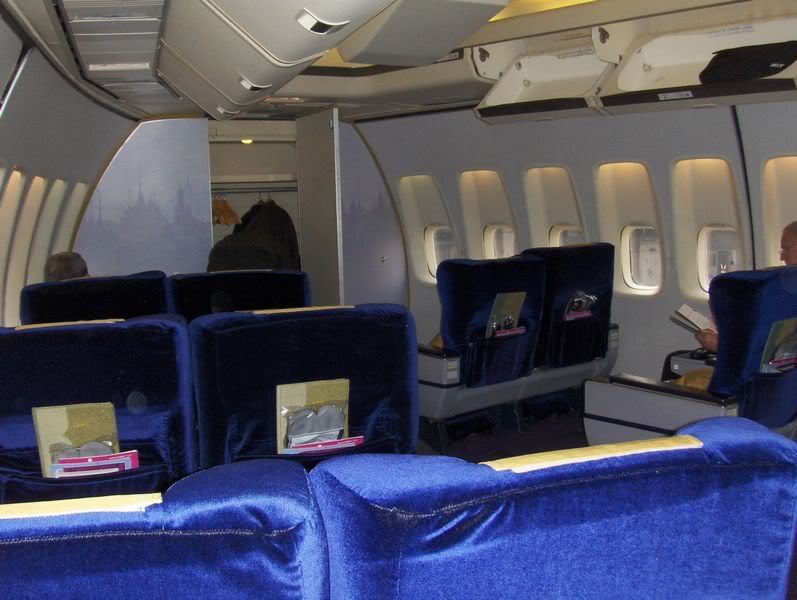 A menu and a headset were waiting in the seat pocket – again no wine/drink list as it is considered alcohol advertising by the military government. What a joke. The cabin filled up and pre-departure drinks were offered – juices and water from a tray. Unacceptable in international first in my opinion. I asked for a glass of Dom, it arrived after a delay, and no refills were offered unless I asked. Hot towels were offered also before pushback.
Dom Perignon 1999 and water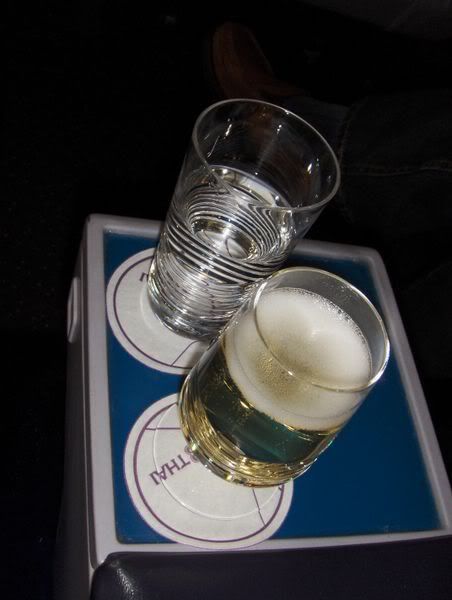 Pushback was about 20 minutes late, don't remember the reason. The load was 100% in all classes, our F seats only cleared after being waitlisted. There were a couple of aircraft before us for takeoff, including JL, CX and TG of course.
Brand new B777-2D7ER HS-TJT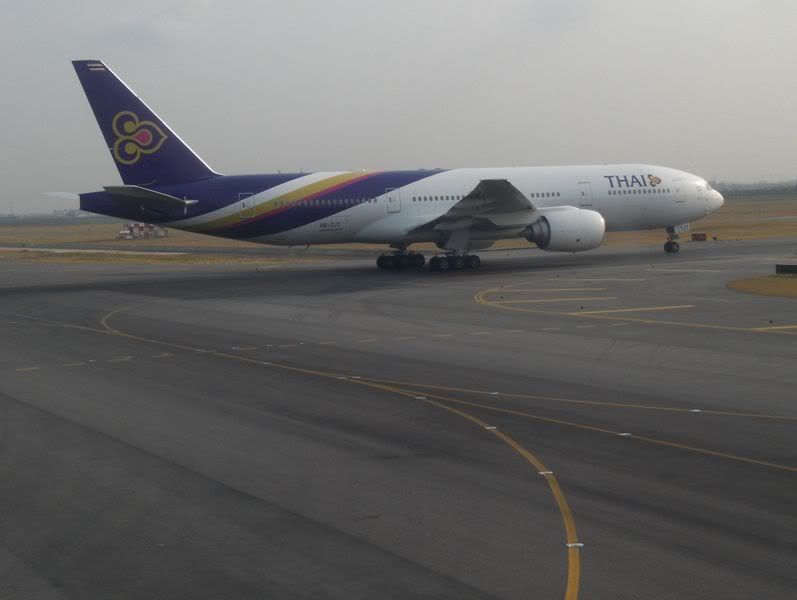 Cathay regional cattle truck 777-300 bound for HKG as well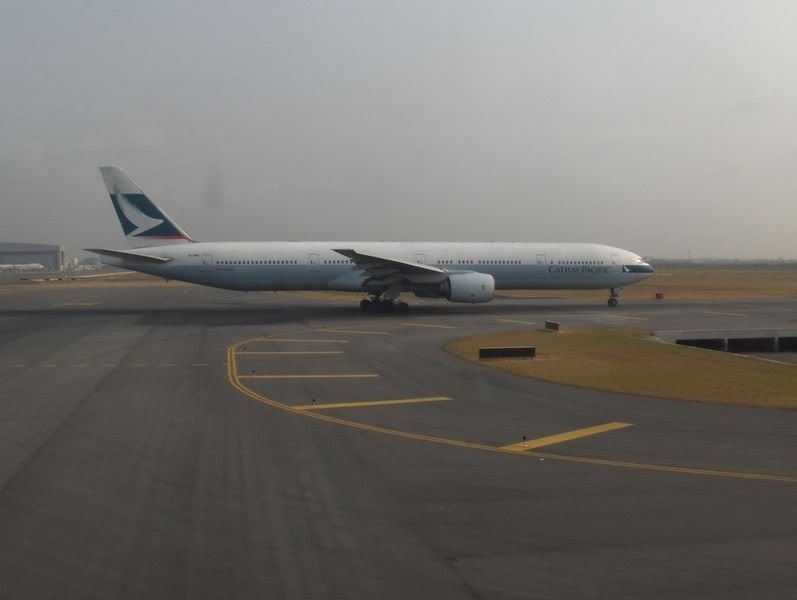 Samut Prakan province after takeoff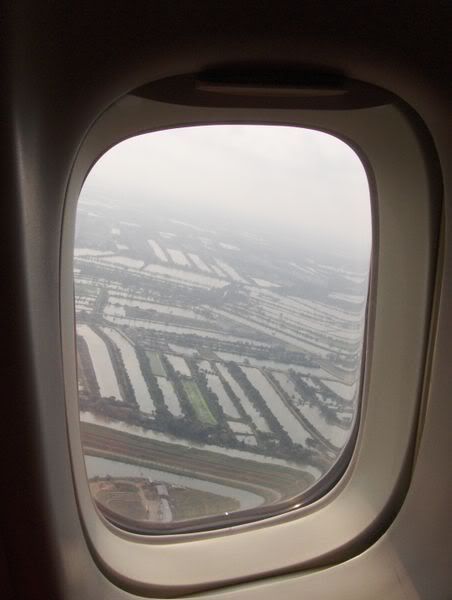 Meal service started soon after takeoff – no drinks were offered before it. This was a complete disgrace of an F meal as far as I'm concerned – from service style to presentation to taste. I don't remember ever seeing a plain cattle class plastic tray in international First – but apparently TG now deems it to be ok. So, instead of serving individually or using the F service cart – the crew parked an ordinary trolley in the middle of the cabin and distributed the trays.
Here's the menu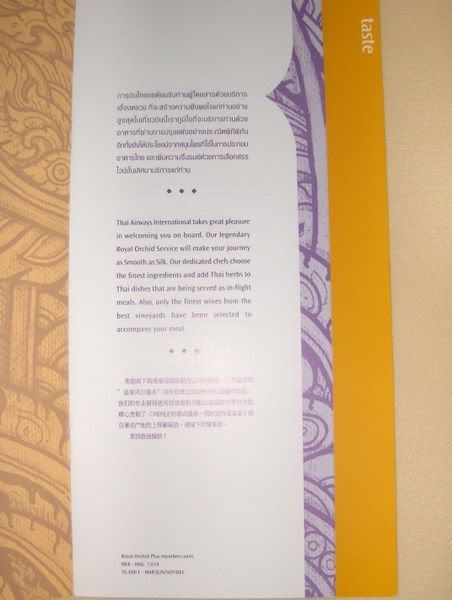 Tablecloth – time to move to 2007 and the new TG image me thinks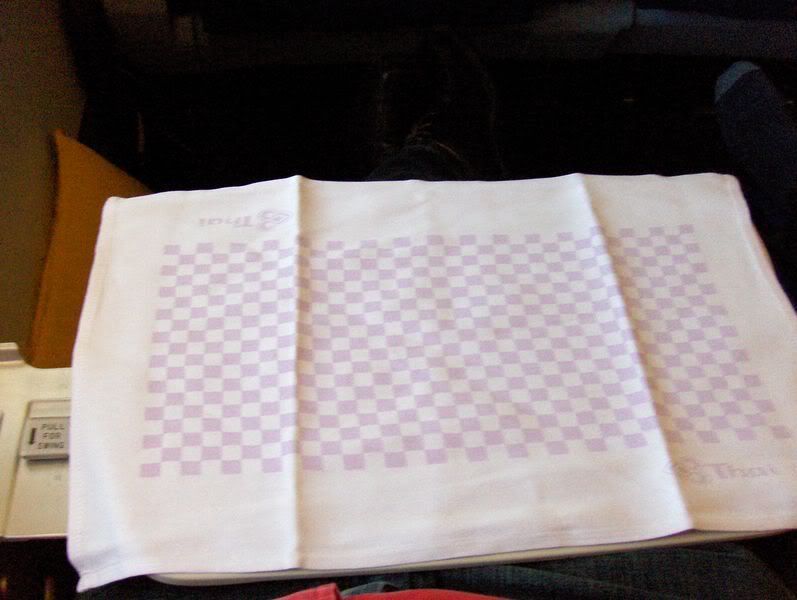 Fruit plate and youghurt – nicely presented in a plastic cup!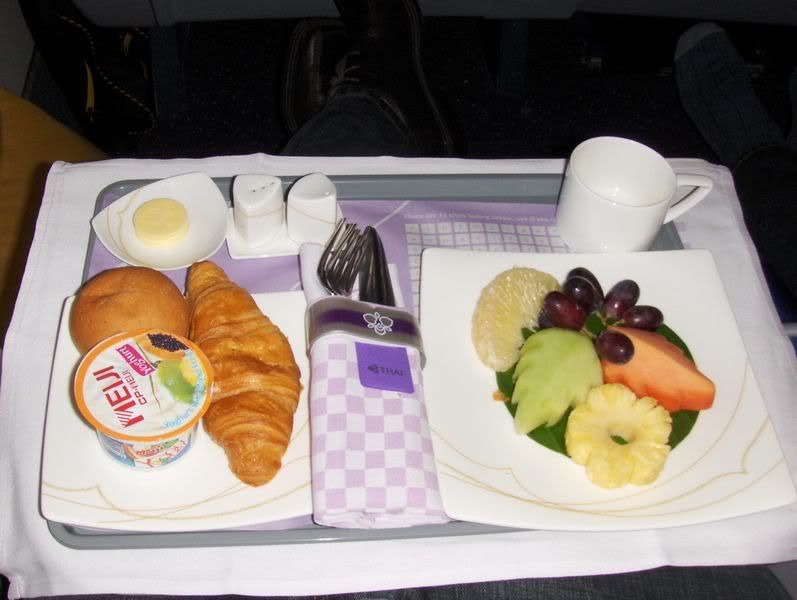 Main course – the fish was very hard and pretty much inedible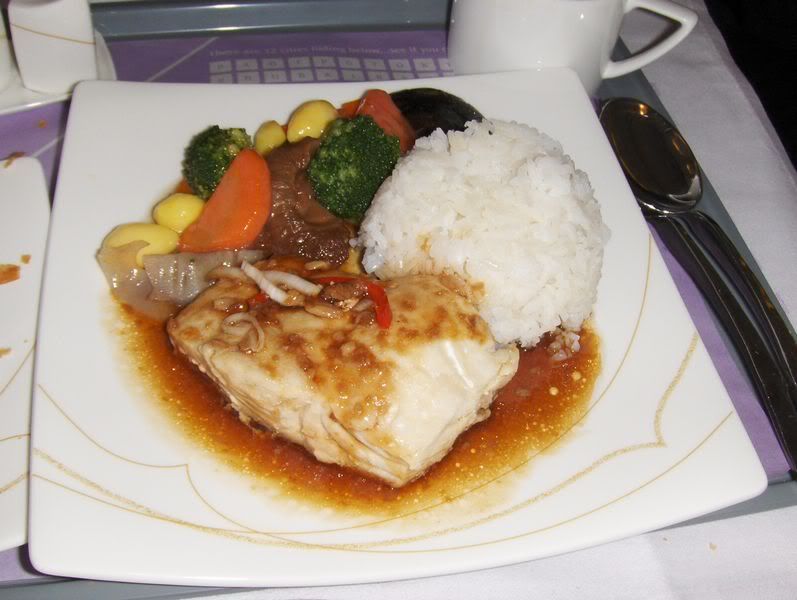 Bigger shocker than the trays was the drink service – again pre-poured glasses of juice and water on a tray. Thank you very much, but I can get that in row 60. That never happens in business, but TG obviously deems it acceptable for First. You can forget about freshly squeezed orange juice and such – this is same stuff as in economy and business. Bread basket and drink tray appeared beside my seat a few times during the meal.
Since I had the non breakfast entree, thought some Hennessy Paradis Extra would be a nice finish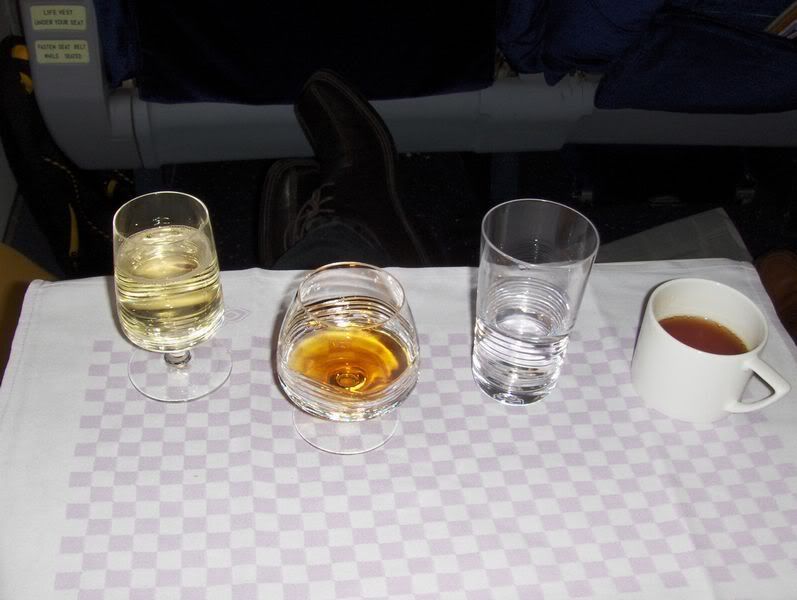 The Dom glass was never refilled unless asked, and asking became impossible after the meal service was finished. I tried to use thee call button four times with about 5 minutes in between – nobody could be bothered. So I got up, and went to get my refill in the galley. F/A told me they load two bottles of Dom per HKG flight. 18 passengers, about 6 glasses per bottle... you do the math. TG better hope not all passengers want Dom as a pre-departure drink.
Dom Perignon 1999 and Hennessy Paradis Extra
Johnnie Walker Blue Label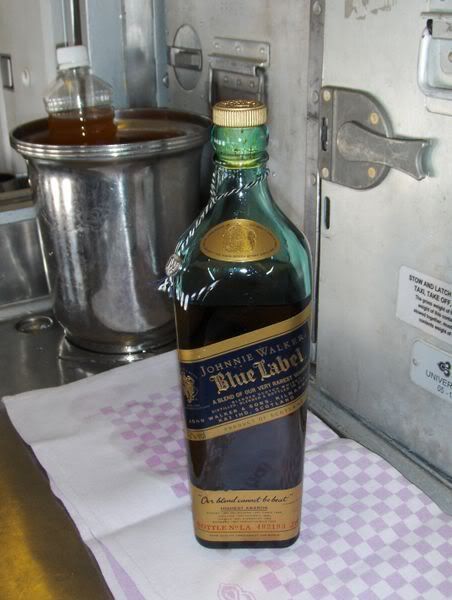 Asked for a glass of Blue Label and shot this cabin picture before returning to my seat for descent and landing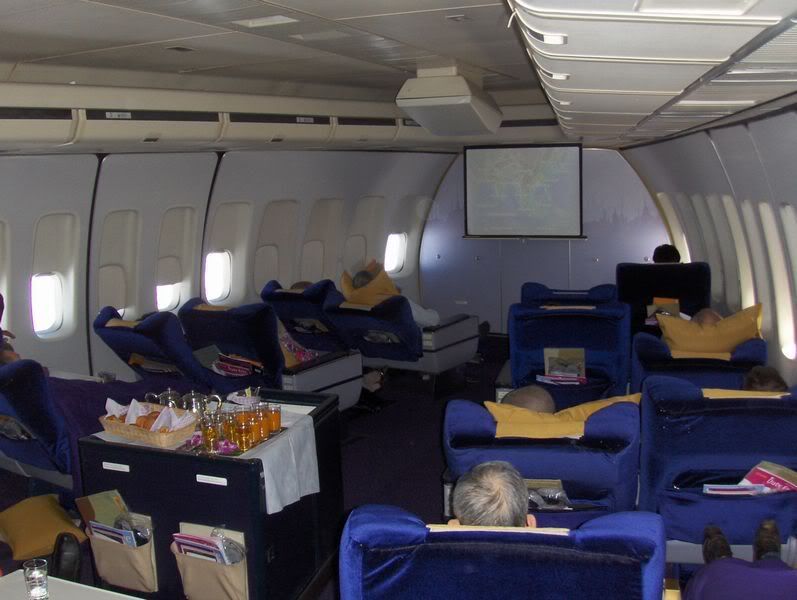 We landed a bit late, and docked at the gate a bit over noon. A golf cart ride is offered to immigration, but they won't drop you off anywhere on the way such a transfer desk. Absurd if you ask me.
Nice to fly on the 747-300 one last time, especially as I got both HS-TGD and HS-TGE thanks to this flight. Royal First ground service at Suvarnabhumi was exemplary, but that's where the F experience stopped in my opinion. Everything onboard apart from the premium drinks was what I would consider a very average business class experience. For example, EK Business last month had much better food and more attentive service.
Let's compare the lovely table setup to some TG rivals...
SQ First Class table setup (regional flight)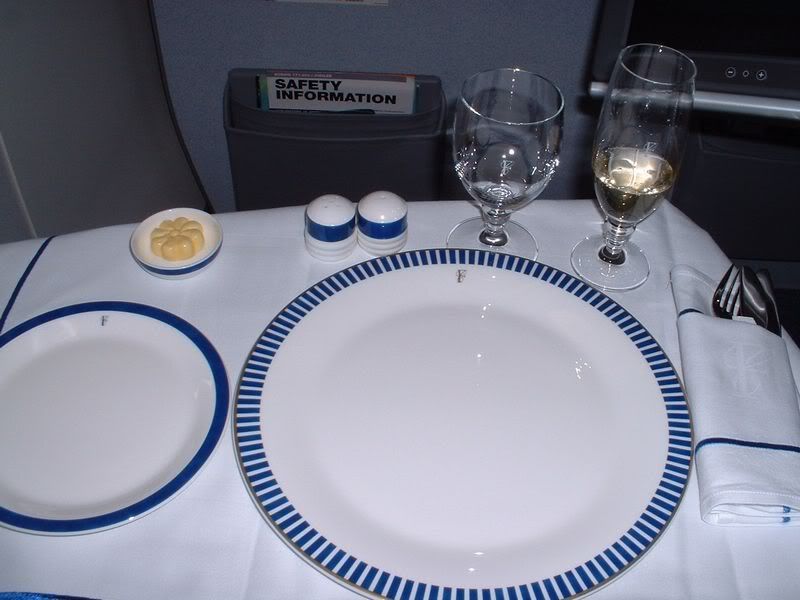 CX First Class table setup – BKK-SIN which is shorter than BKK-HKG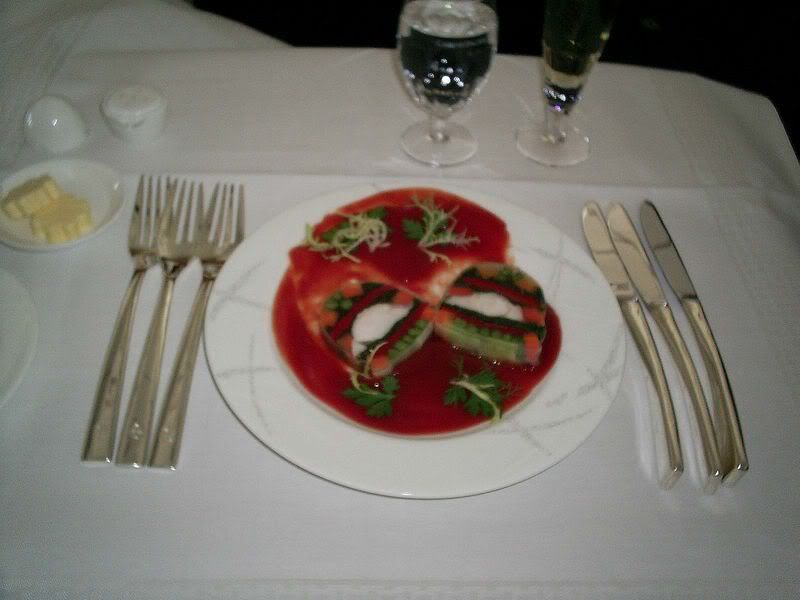 SQ also agrees with me that First is about luxury – not yoghurt in plastic cups