About a year ago, I took a voluntary bump off of a flight from BMI to ORD. As is the case with United, I received a free ticket to fly them again. Finally, a year later, I decided to cash in the ticket to achieve one of my goals – To visit all 50 states. As you may have read in one of my previous reports, I only had three states left to visit – Rhode Island, New Hampshire, and Vermont. I decided to use the ticket to fly to PVD and take a driving tour of the northeast.
First, some statistics of the trip:
Aircraft flown: 5 – E170, A320, E145, 757-200, CRJ-700
States visited: 10 – CO, CT, IL, MA, NH, NM, NY, RI, VA, VT
Countries visited: 2 – United States and Canada
Miles flown: approx. 3590
Miles driven: approx. 850
Now, onto the report…Caution! It is very long!!!
Date: March 22, 2007
Segment: ABQ-ORD
Flight: UA7588 (operated by Shuttle America)
Aircraft: Embraer 170 (N633RW)
Departure Gate: A1
Arrival Gate: C31
Departs: 0749
Arrives: 1130
Seat: 6F (window)
Departure Runway: ABQ Runway 8
Arrival Runway: ORD Runway 27L
I arrived at the airport at about 6:30, 1 hour and 15 minutes before my scheduled departure. Thursday is usually a busy traveling day, but this morning it was relatively quiet.
UA Check In Counter:
ABQ Main Terminal:
Security had a little bit of a line, but I was through in less than 10 minutes. I decided to go up to the observation deck to get a good view of the early morning action. Also, it is usually pretty quiet up there since most people don't know about it! There was only one other guy up there this morning.
My aircraft parked at A1, with a UA 737 operating the morning departure to DEN in the background:
AA MD80 operating the morning flight to DFW. Company MD80 in the background bound for ORD about an hour later.
Interior view of the ABQ observation area:
About 30 minutes before the scheduled departure time, I headed downstairs to the gate. The flight boarded a little late, but a quick boarding process still helped everyone get on board before departure time. I settled into my window seat and prepared for the 2 hour and 15 minute flight to ORD.
Economy Plus legroom on the E170:
The captain came on before the door closed to say that we were going to have to hold for about 20 minutes due to Flow Control into ORD (big surprise). However, we still pushed back on time and taxied towards Runway 8. I was expecting to hold off to the side for the 20 minutes, but to my surprise we taxied right to the runway and took off on time! I guess the delay was lifted – Not too much of a rarity for ORD ATC!
Sandia Mountains after turning north after takeoff:
Our aircraft was jolted around in light turbulence for the entire flight, with the seatbelt sign staying on the entire time. No snacks were served, but I did get an entire can of Cran-apple juice. I guess the flight was long enough for them to splurge for the whole can! A rare occurrence these days!
I plugged in my iPod and before I knew it, we were on approach into ORD. Since we were using 27L, we had to circle around the city of Chicago on the way in. Unfortunately, I was on the right side of the aircraft, so I was not able to get a good picture of the city skyline. I still managed a couple of other pictures, though:
MDW from above:
Northern Chicago coast:
A smooth landing later, we had arrived at ORD. I managed to catch the NH 777-300 just arriving from NRT, heading towards Terminal 5:
We arrived into Gate C5 in Terminal 1. This was not a surprise, since all of UAX 170s use the low C gates as opposed to Terminal 2. I had about an hour and a half before my flight to PVD, so I roamed around the airport a little bit.
Concourse C overview:
New color 747-400 going to HKG and SIN:
Tunnel between the B and C concourses:
Butch O'Hare's aircraft:
KE, JL and UA 747s parked at Terminal 5. I was told by one of my friends that the metal object in the foreground is a testing unit for jetbridge drivers. It simulates pulling up to an aircraft. I suppose it is better to practice on a cheap piece of metal than a multi-million dollar 777!
Evergreen 747 lining up for 32R: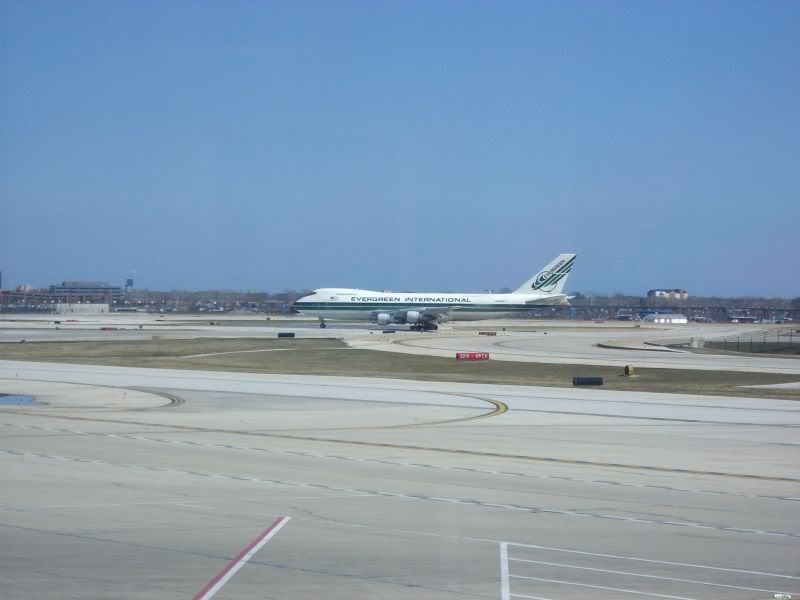 AA 757 arriving into the L concourse. It would depart for HDN a little later:
View between K and L concourses in Terminal 3. The UA 777 tail is obstructing most of the Sears Tower, but you can still see the top of it in the distance:
Terminal 3, where the McAllister's were running through in Home Alone 1 and 2: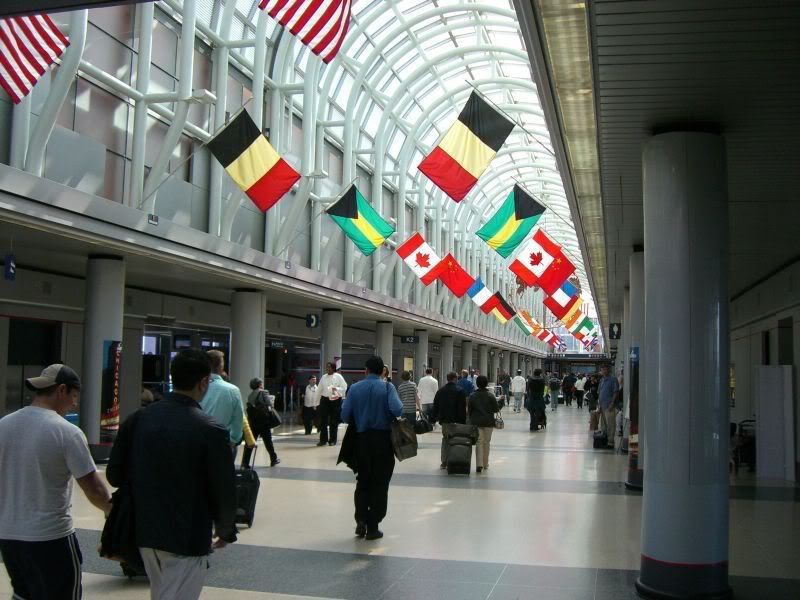 UA Star Alliance 777 going to NRT at B16…
…and a 747 going to NRT 35 minutes later from B17: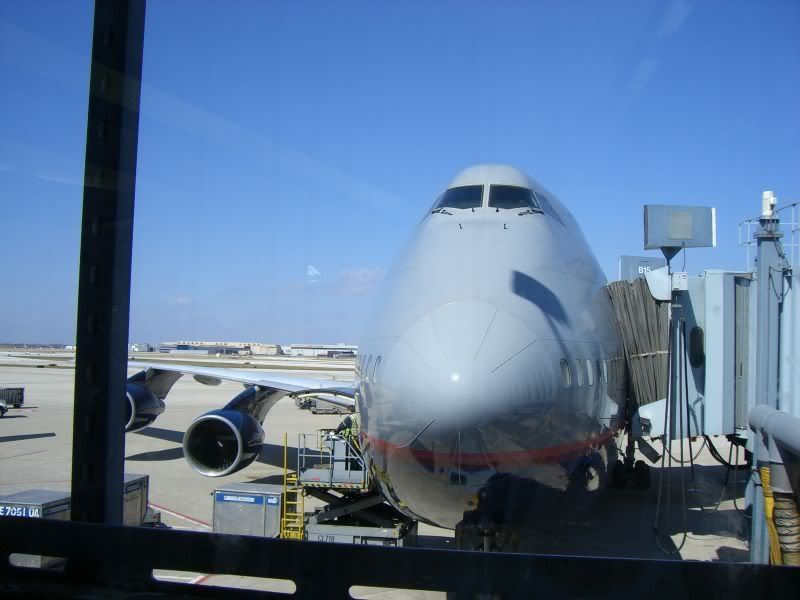 After eating lunch at Gold Coast Dogs, it was time to go to Gate C31 for my flight to PVD.
Date: March 22, 2007
Segment: ORD-PVD
Flight: UA242
Aircraft: Airbus 320 (N455UA)
Departure Gate: C31
Arrival Gate: 9
Departs: 1314
Arrives: 1627
Seat: 11A (exit row window)
Departure Runway: ORD Runway 32L
Arrival Runway: PVD Runway 23
I arrived at the gate just as they were boarding Seating Area 1. As is evident in this picture, there were still 18 minutes left to board: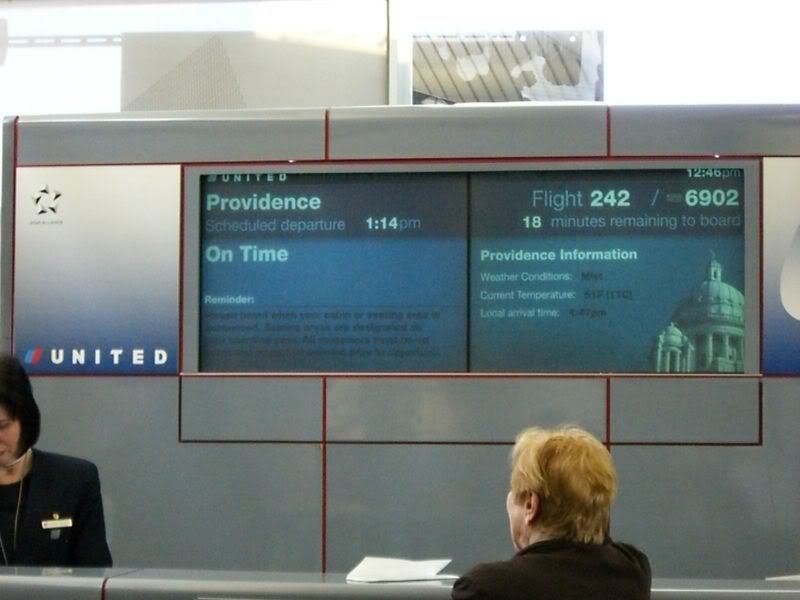 I stowed my bag and settled in to my window seat in the exit row. United's 320s have some of the best exit row leg room I have seen – definitely no complaints here!
View out of the window – The two NRT heavies still at B16 and B17: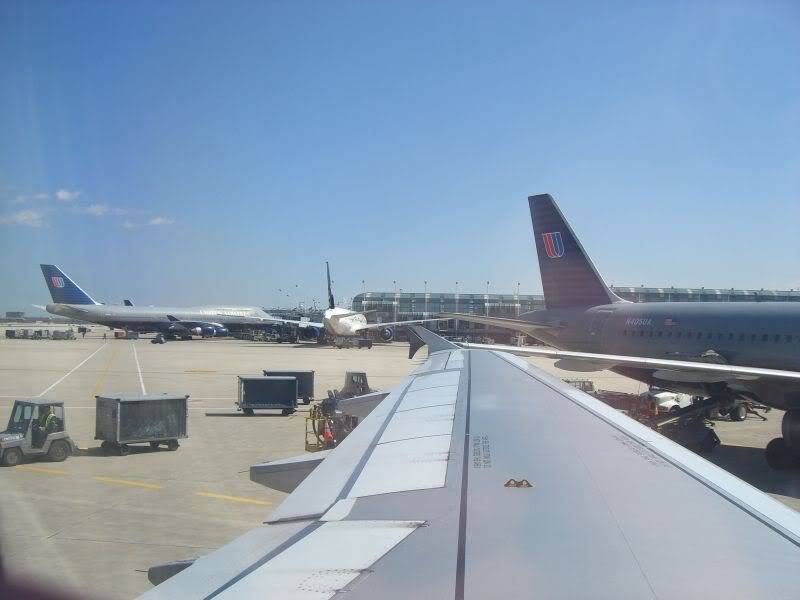 We pushed back on time and taxied to Runway 32L T10 intersection for takeoff. Unfortunately, the captain was obviously shy and had Channel 9 turned off. Typical, my first mainline UA flight in over a year, and I didn't have ATC to listen to!
I did, however, catch one of the new CRJs for Continental Connection, operated by Chautauqua:
This flight was not quite as bumpy as the ABQ-ORD segment and the seatbelt sign was off for the most part. Still no snack on this flight, drink service only. It's funny; I never thought I would miss a bag of pretzels!
Although we left on time, we arrived about 10 minutes late into PVD due to some out-of-the-way vectoring because of weather. Still, 10 minutes really isn't that bad and nobody can really blame UA for the weather! (Although some people do!!)
The aircraft that brought me to PVD, my 48th state:
As is often the case in the smaller airports, the rental car agency had run out of the size that I ordered, so I was upgraded to a full-size. This was the car that would be taking me around the northeast:
I would be staying in Burlington, VT that night, so I still had a long way to go after I arrived in Providence.
Rhode Island State Capitol building in Providence: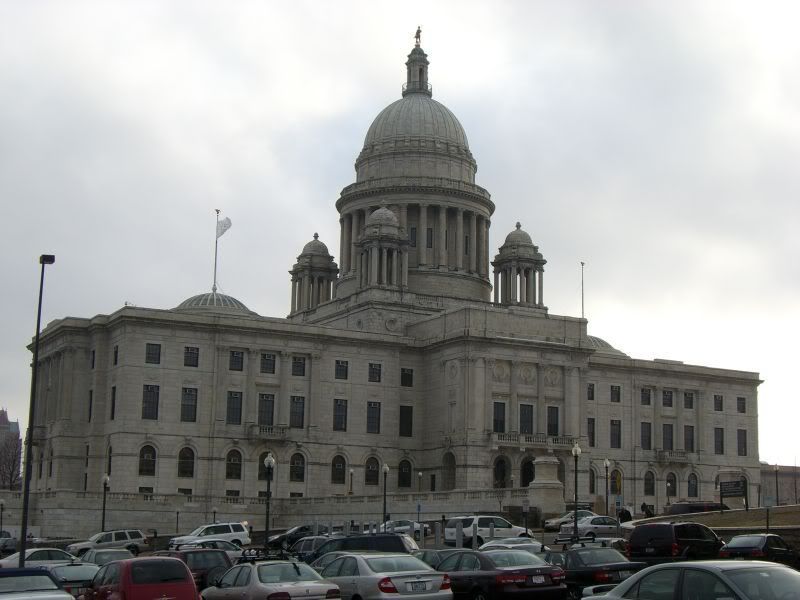 The city of Providence, RI: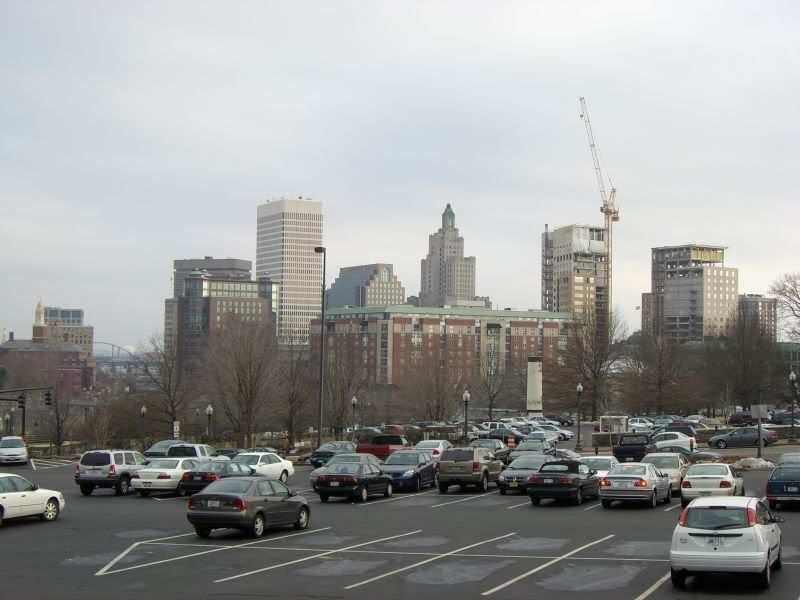 Massachusetts State Capitol building in Boston:
New Hampshire State Capitol building in Concord – I got completely lost in Boston, and it took me an hour to find my way out, causing me to lose most of my daylight!
Last State Capitol for the night – Vermont's in Montpelier:
After a long day of flying and driving, I found my hotel in Burlington and fell asleep as soon as my head hit the pillow.
The next day, I ventured north into Quebec and the city of Montreal – another city I had never visited.
Quebec welcome sign:
Cathedrale Marie-Reine-Du-Monde in downtown Montreal:
If a city has a Hard Rock Café, it is one of my traditions to buy a t-shirt. It's not much, but it is a way to remind myself of where I've been. Here is the Montreal Café: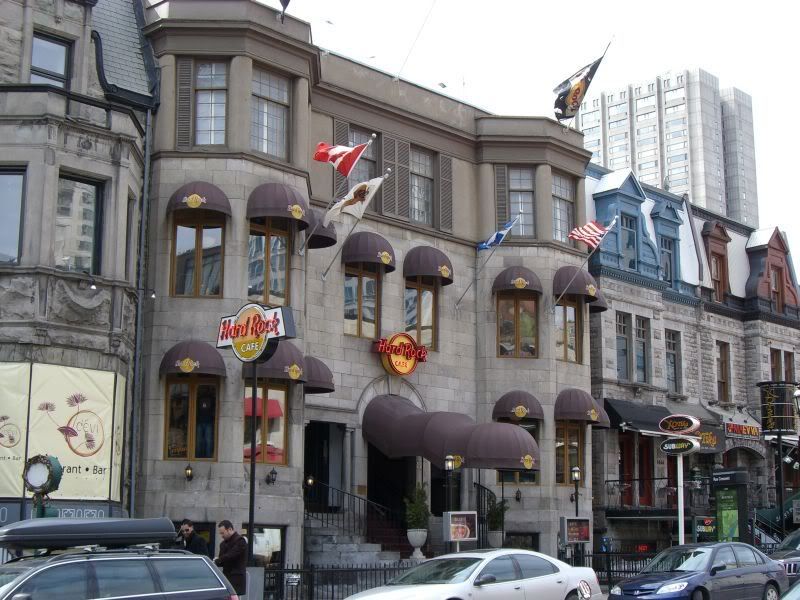 The Olympic stadium, home of the 21st Summer Olympics in 1976: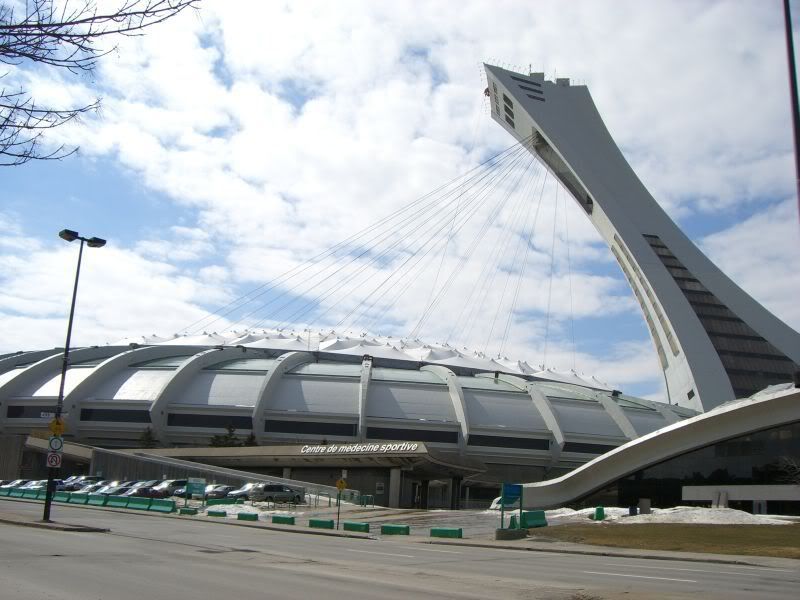 Of course, the one thing I forgot to do before visiting Montreal was to brush up on my French! Luckily, I knew enough to get around and to know what these signs meant: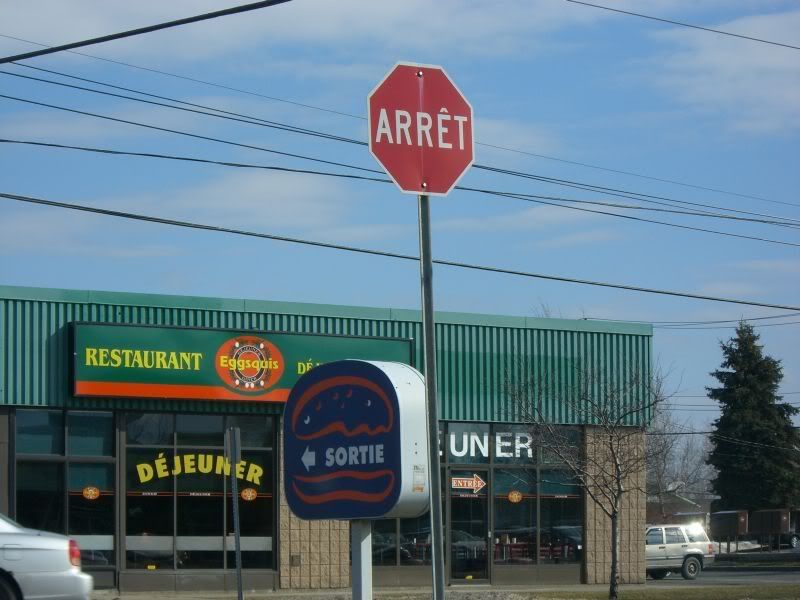 I was staying in Albany that night. On the way south from Montreal, I decided I had enough time to take a detour to another host for the Olympic Games, this time the 3rd and 13th Winter Games in 1932 and 1980:
I believe this is where the famous "Miracle On Ice" took place in 1980:
New York State Capitol building in Albany the following morning:
Connecticut State Capitol building in Hartford:
On my way back to Providence for my return flight the following morning, I decided to take a little detour down CT Route 2 to visit the Foxwoods Casino and Resort. I had no idea how big it is – It rivals some Las Vegas Casinos!
Of course, I had to stop and get another t-shirt!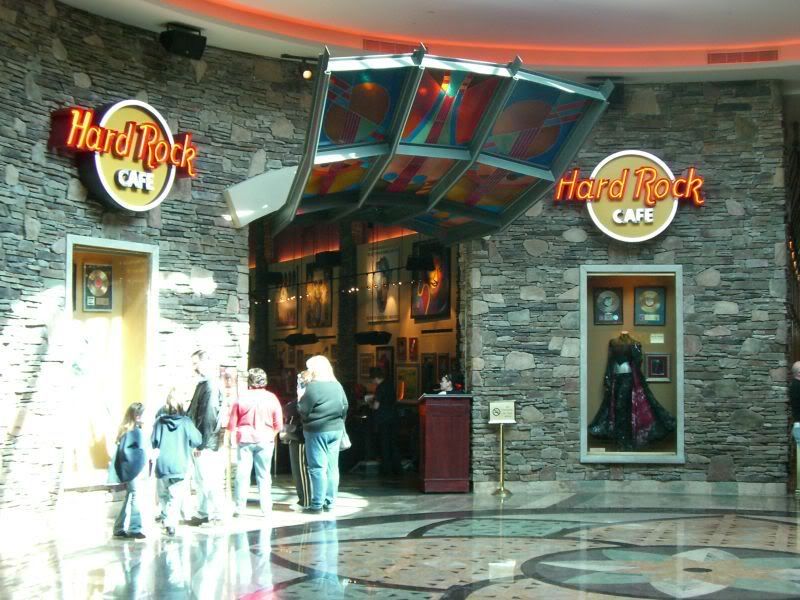 To contrast the hustle and bustle of Foxwoods, I stumbled across the quiet town of Westerly, RI: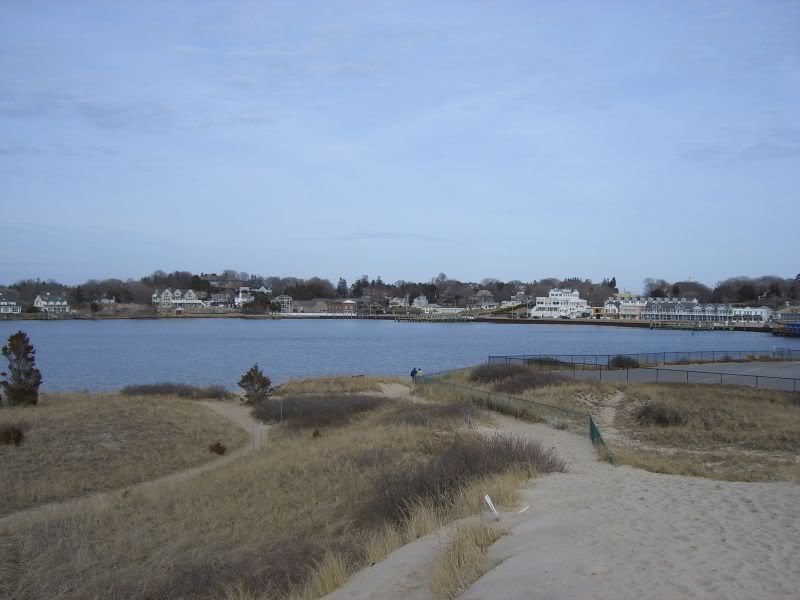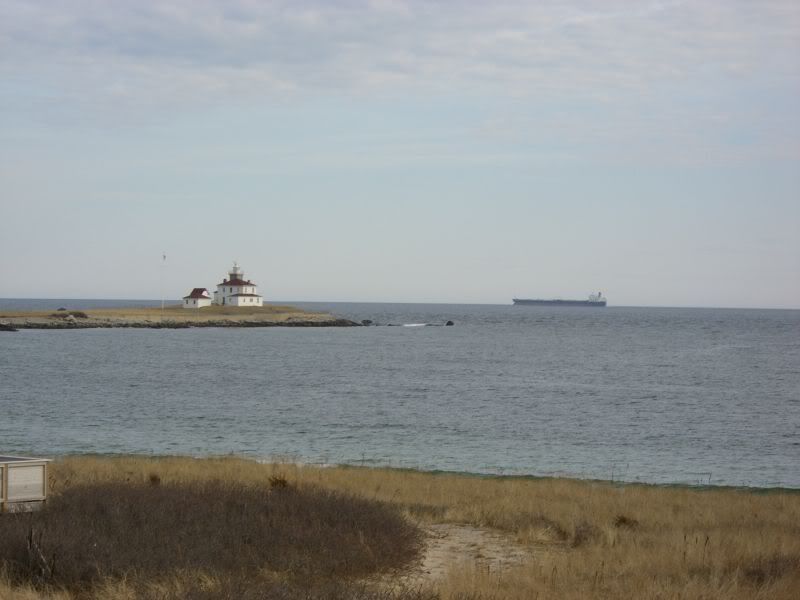 I decided to stay in Providence the night before my flight so that I would not be rushed the next morning. I couldn't get much closer!
Later that evening, it began to snow. I was a little worried that it would affect my flight, but the weather report showed it would be stopping very early in the morning. By the time I woke up, there was just a light dusting left on the grass and cars – Nothing to worry about!
I woke up about 2.5 hours before my flight and was at the airport by 8:15. I still had 2 hours before my flight was scheduled to leave. I returned my car and headed upstairs to check in for my flight. There was absolutely no line at the UA counters, and I was quickly checked in and through security. Seats were a little hard to come by today, but I was still able to get windows on all three flights.
I had some time in the airport before my flight, so I wandered around a little bit.
Sky King 737-200, obviously operating some sort of charter. It was still there when I left, so I don't know where it was going: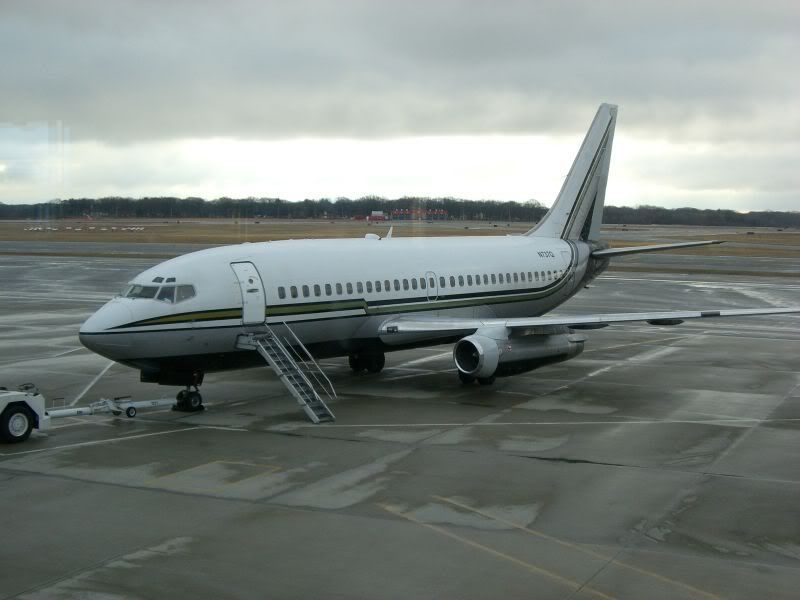 NW A320 boarding for DTW: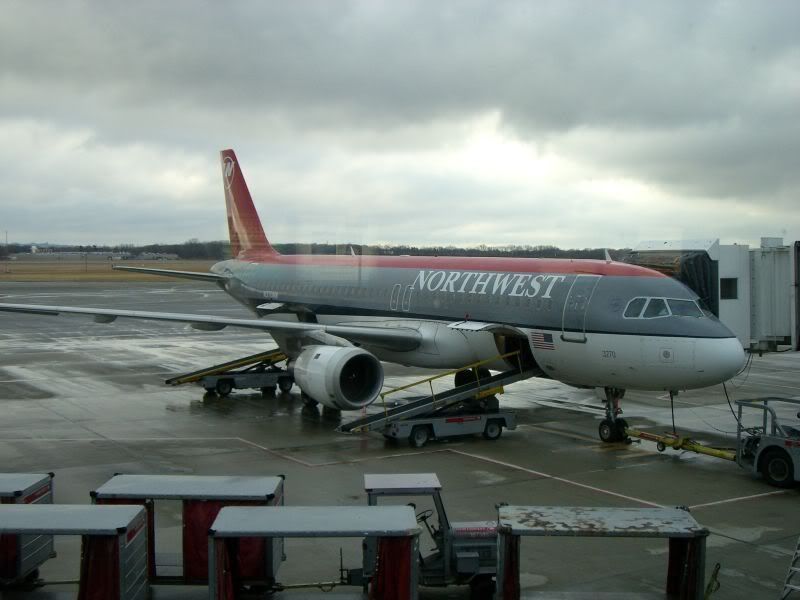 This picture is partially for the WN 737, and partially to show how close my hotel was to the airport!
Delta Connection/Freedom Airlines Dash 8, not quite painted all the way:
USX/Colgan Air Saab 340:
USX/Air Wisconsin CRJ-200 arriving from DCA: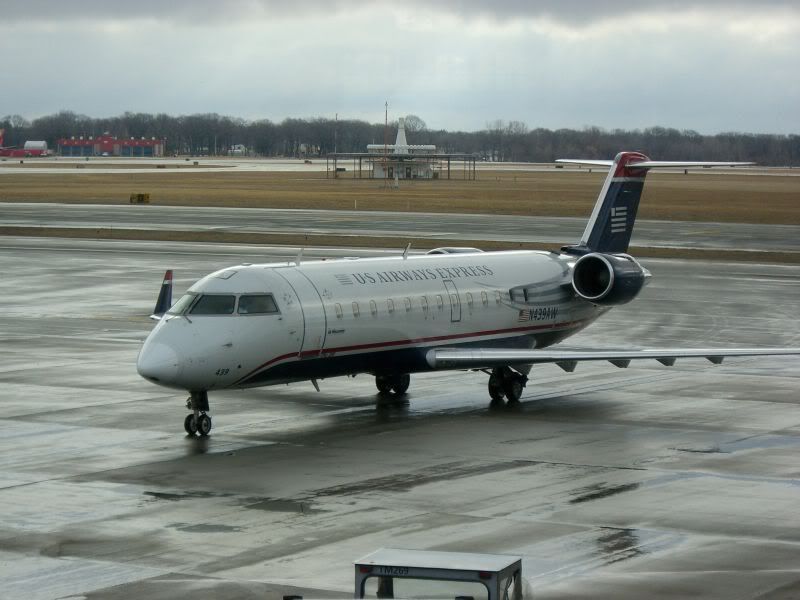 US Airways E190 arriving (late!!) from PHL – First time I have seen this beauty in person:
After a while my aircraft arrived from IAD:
Date: March 25, 2007
Segment: PVD-IAD
Flight: UA8024 (operated by Trans States)
Aircraft: Embraer 145 (N837HK)
Departure Gate: 9A
Arrival Gate: C36
Departs: 1014
Arrives: 1146
Seat: 16A (window)
Departure Runway: PVD Runway 5
Arrival Runway: IAD Runway 1R
The flight arrived on time and boarding began soon after.
Gate 9/9A:
My aircraft on the ramp – Ground boarded:
Legroom on the single side. While it is not that great, it is nice to have a seat that is both an aisle and a window.
View out of the window right before pushback. The US 190 is still at the gate 45 minutes after its scheduled departure time. I am assuming PHL had some ATC issues today for a change!
Cabin view:
This flight consisted of the "Express service," which basically meant that we had a choice of Orange Juice, Apple Juice, Cran-Apple Juice or water. Of course, alcoholic drinks were still available. The guy in front of me took full advantage of that, buying 3(!) bottles of vodka to mix into a Bloody Mary!
Udvar-Hazy Center on approach into IAD: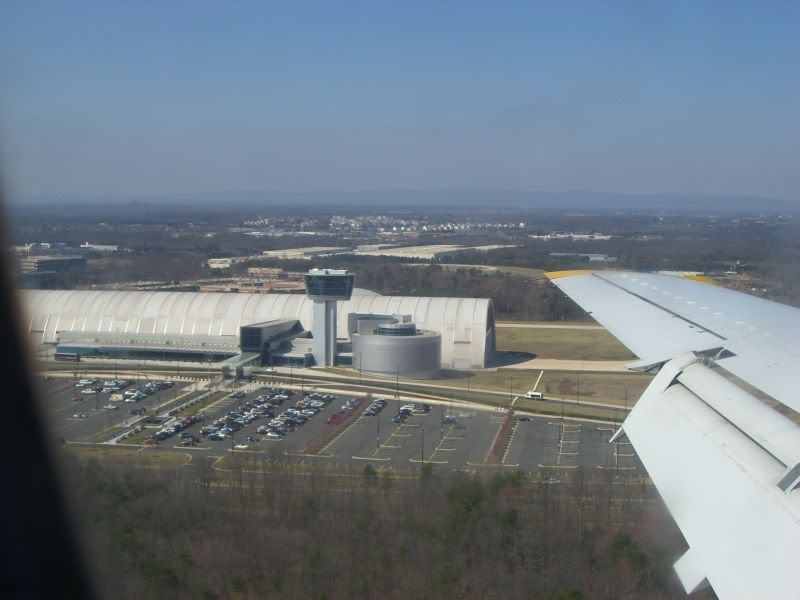 South African A340-600 parked remotely waiting for its departure to JNB later that day: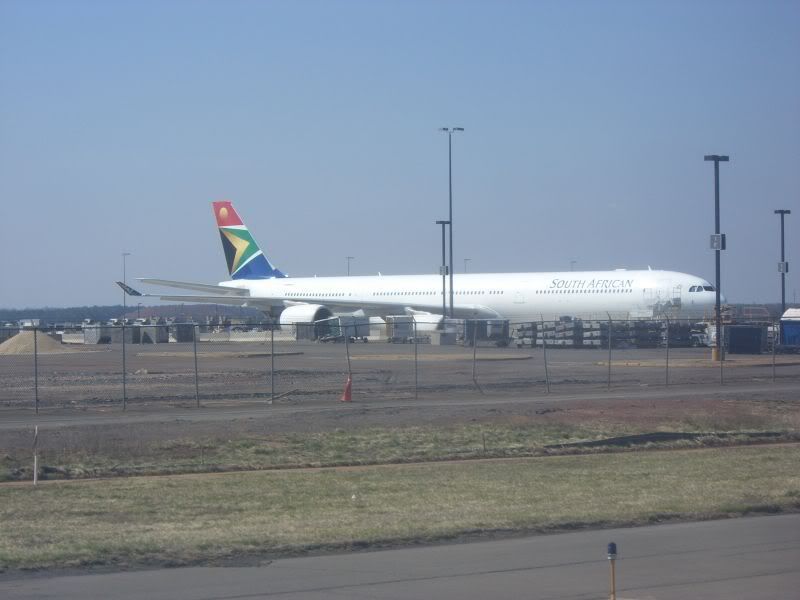 Pulling into Gate C36:
Upon arriving into IAD, I met up with one of my friends who works at IAD. While it was his day off, he managed to drag himself back to his place of work to meet me for lunch. I had about 3 hours between flights, so we were able to go to a Red Robin nearby. Before we left, I wanted to take a quick look at the A Concourse, since I had not seen it since Independence Air moved out:
View of the A Concourse from the mobile lounge:
After lunch, my friend and I returned to the airport. Here is the view of the terminal from the employee lot:
Date: March 25, 2007
Segment: IAD-DEN
Flight: UA701
Aircraft: Boeing 757 (N559UA)
Departure Gate: D7
Arrival Gate: B43
Departs: 1435
Arrives: 1627
Seat: 34A (window – very last row!)
Departure Runway: IAD Runway 30
Arrival Runway: DEN Runway 16L
I was hoping to get a bump again, since the flight was overbooked and I was in no hurry. However, as is often the case, there were numerous no-shows and they didn't need me. I was surprised, since the gate area was quite crowded!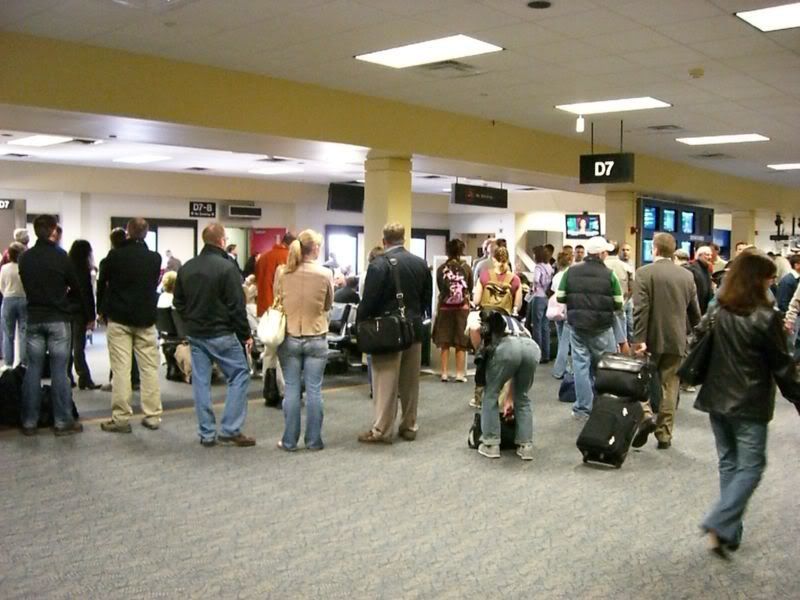 So, I boarded with Seating Area 2 and found my way to the very last row. I was pleasantly surprised that they actually left enough room for the seat to recline – That would make my 3 hour flight a little more comfortable!
Leg room:
We pushed back about 10 minutes late since the inbound was late coming in. I was disappointed that none of the audio channels were operating during taxi and was beginning to wonder if they were going to come on at all. Luckily, all of the channels, including Channel 9 were switched on about 10 minutes into the flight.
My view from the back of the plane: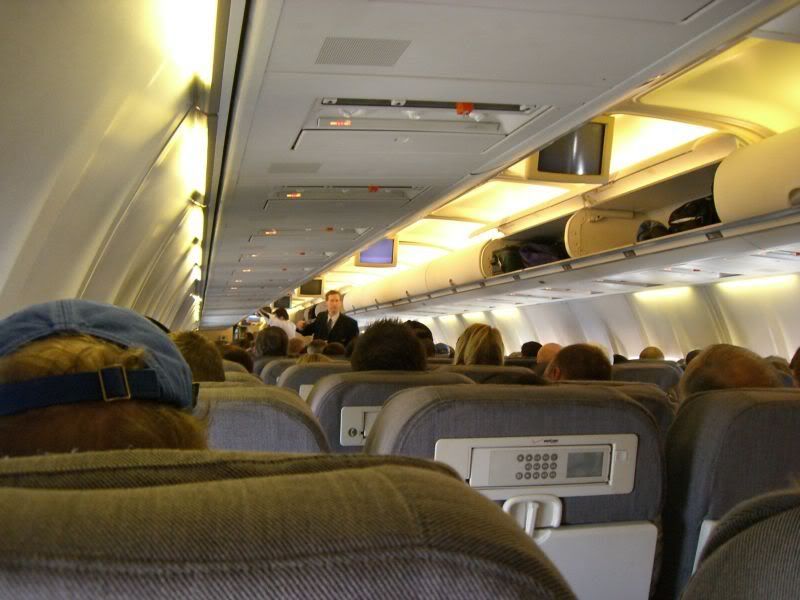 Virgin arriving from London with two Jetblue aircraft in the background:
British Airways 747 and Austrian Star Alliance 767 at the end of the D concourse: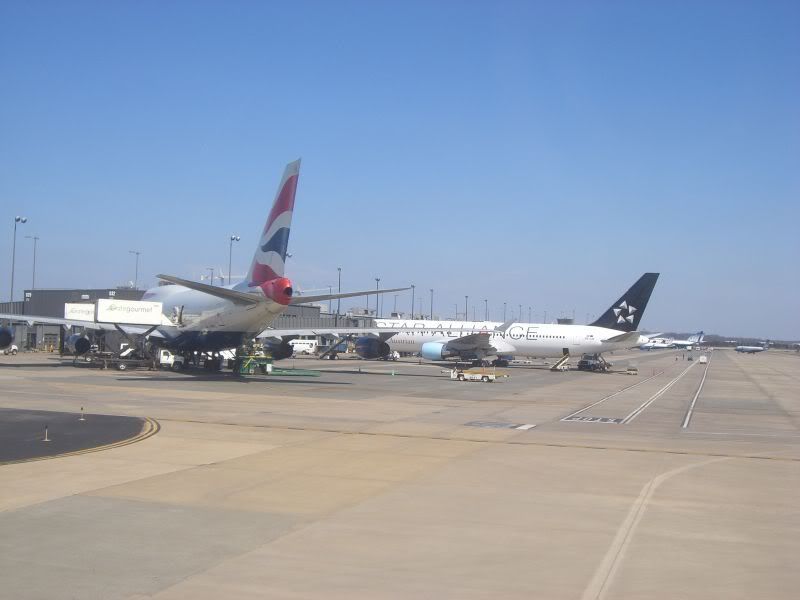 Saudi Arabia 747 with the new IAD tower in the background:
On this flight, the snack packs were offered for $5.00 each. I decided not to indulge since I was still satisfied from my lunch at Red Robin! I did, however, get a bag of pretzels and the whole can of Cran-Apple juice. About 45 minutes out of DEN, the flight attendants came around with an offering of a second drink, just the cupful this time.
The movie was supposed to be Casino Royale, but for some reason the NBC short subject was shown instead. I guess they forgot to load the video or something. Still, it kept me occupied!
We followed an Airtran 737 onto Runway 16L and actually arrived about 10 minutes early despite our late departure out of IAD. This is the aircraft we followed in: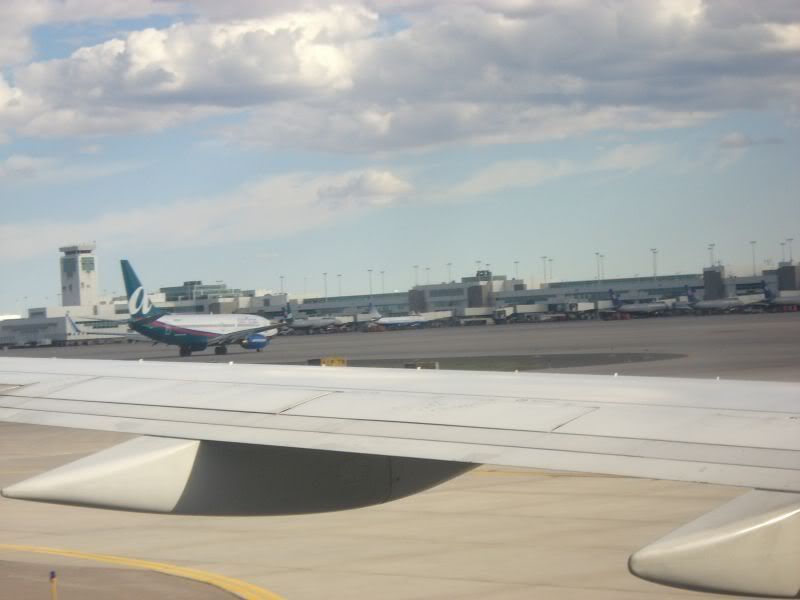 Pulling into Gate B43: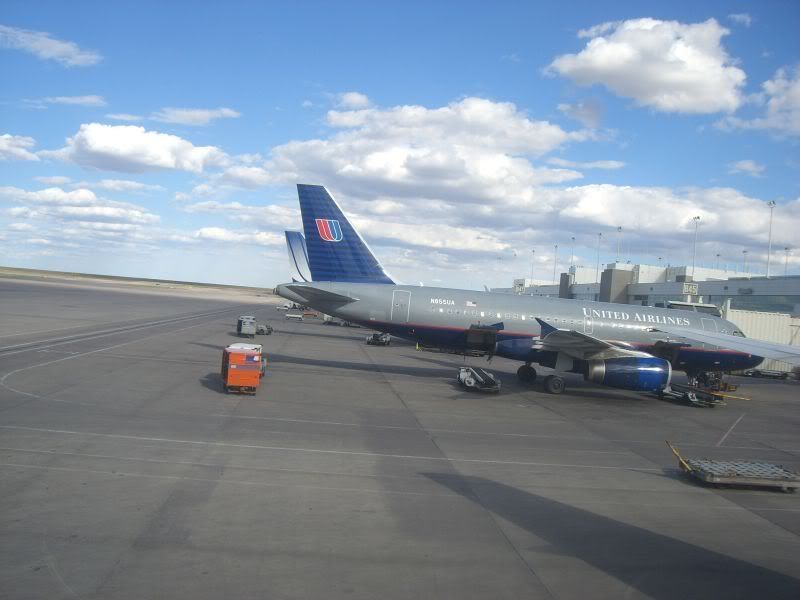 The mad rush to get off the aircraft:
The aircraft that brought me from IAD: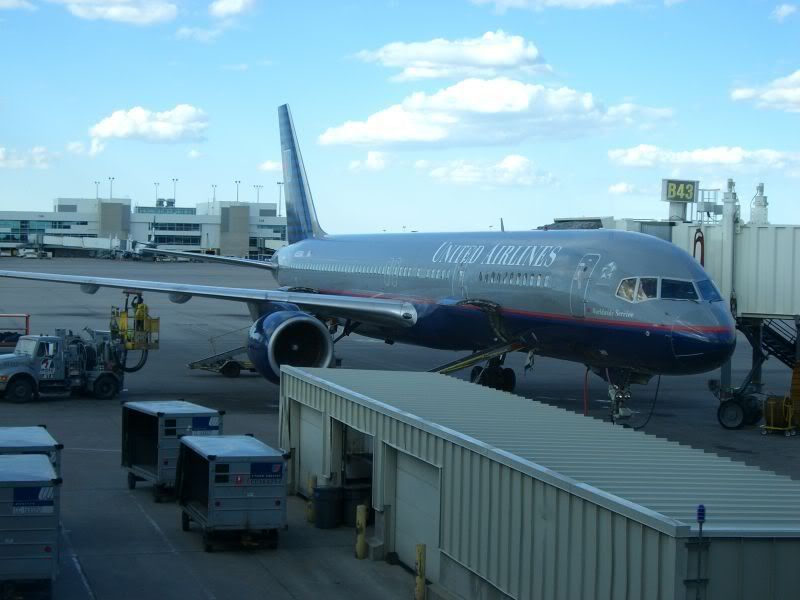 I only had about 45 minutes until my next flight, but I was able to get the Lufthansa aircraft parked at the A Concourse:
I just had enough time to take care of some personal business
before heading to my next gate. My aircraft was just deboarding at Gate B54:
Date: March 25, 2007
Segment: DEN-ABQ
Flight: UA6543 (operated by Skywest)
Aircraft: Canadair CRJ-700 (N762SK)
Departure Gate: B54
Arrival Gate: A3
Departs: 1715
Arrives: 1827
Seat: 6D (window)
Departure Runway: DEN Runway 17R
Arrival Runway: ABQ Runway 8
They were apparently in a hurry to get this flight boarded, since they boarded everyone at once, including First Class. It made for a very crowded jetbridge and aisleway! Still, I found my seat and got settled in for the quick 45 minute flight down to ABQ.
Leg room: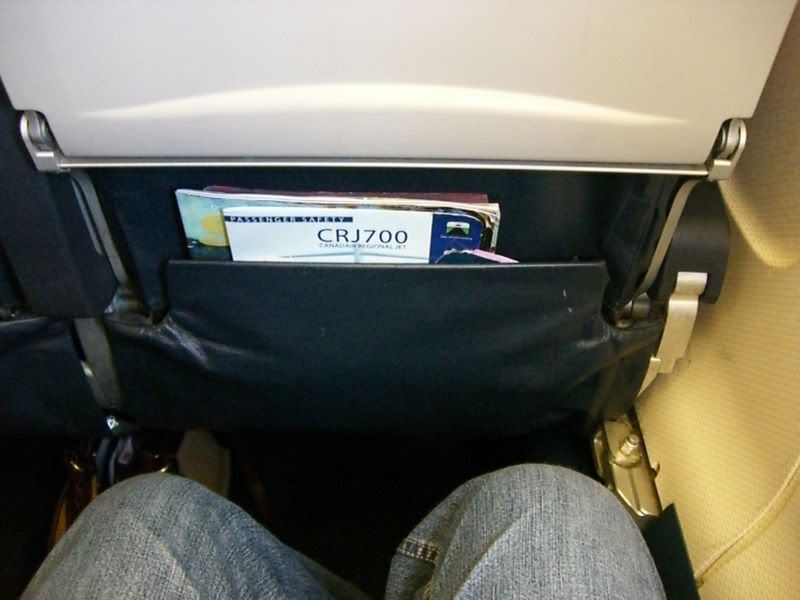 They are really coming along with the new Regional Jet terminal, as is evident by this picture:
We pushed back a little late and taxied towards Runway 17R for takeoff. We were followed by a FedEx heavy Airbus, a UAX 170 and the FRA departure for LH:
Due to the short flight, only a drink service was served in single cups. Not much, but then you don't really need much on such a short flight.
We landed on time into ABQ – I was finally home!
My aircraft parked at A3: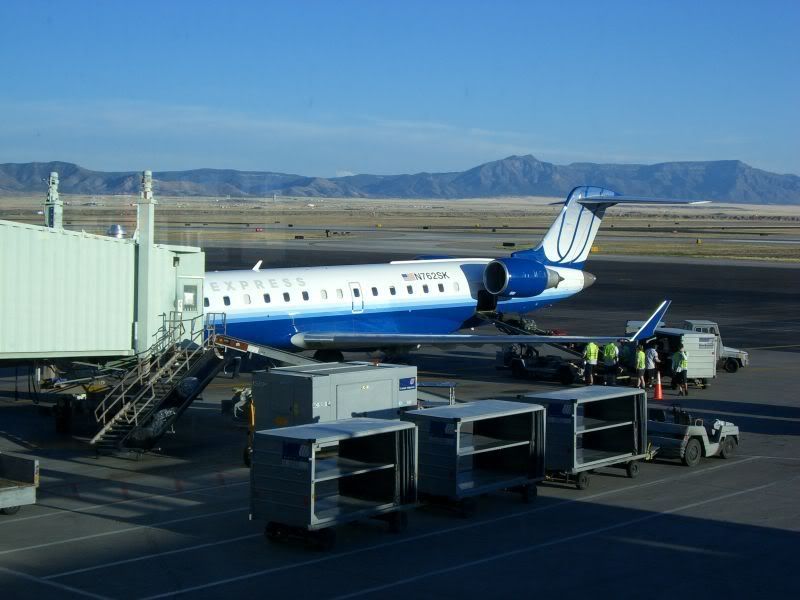 Before leaving the airport, I noticed that ABQ's newest airline had already begun to make their presence known:
ExpressJet will start service on April 16th.
It has been over a year since I flew United, and I have to say that they didn't disappoint me a year later. Out of 5 flights, 3 were on time and 4 arrived early. I was able to get my window seat on all flights. With the exception of the shy captain on the ORD-PVD segment turning Channel 9 off, I have nothing to complain about. Nice job UA!
If you are still with me after this long report, thanks for reading!