Here's my trip report going to, and from the LAS Meet, 2007:
Outbound:
Thursday, March 22, 2007
RIC - CLT
US Airways Flight 1805
Seat 2F
Airbus A320 - Reconfigured
N109UW
Scheduled Departure Time: 7:05AM
Scheduled Arrival Time: 8:12AM
On Wednesday morning, the day before, I tried to check in online for my flights. Since US Airways had changed over their systems, this wasn't going to happen, without a little help from their internet support department. Fearing I would be on hold for days, I decided to fore go online check in, and just chance it at the airport in the morning. A few hours later, while twiddling my thumbs, I tried online check in again. It still didn't work, so I worked up the courage to call them. Surprise, I didn't have to hold for long at all. They fixed my reservation, and I was able to check in. The next morning, I get up at 4am, and finish packing. After handling the usual morning duties, we were off to the airport. On the way there, I decided to go the back way, which is normally quicker, but it backfired. They were doing a train car staging, and just going back and forth on the tracks blocking the road. Not wanting to even be a little late, I decided to turn around, and go the other way. A few minutes later, I was in front of the new departure area for RIC. It was nicer than I thought. Considering the morning rush, it wasn't that busy. Since I am a cheapskate, I decided to wait in line to give my bag to the agent, instead of the skycap. I only had to wait for one person, since I was using the First Class line. 5 minutes later, I was on my way to security. After seeing how many people were in the check in area, I assumed security would be mobbed. It actually wasn't. It still took me some time to unload all of my electronics into 5 bins. They had to do a double check on something, but was done quicker than I could get everything else put back together. I waited, and waited at the gate, until it was time to board. They finally called for boarding, and I was one of the first in. I got on, and took my seat next to the window. We pushed back on time, and taxied to runway 20. Since RIC is not even the slightest bit busy, we just turned onto the runway, and were off in about 3500 feet. I might be wrong, but I was just going by the numbers. We headed southwest to Lynchburg, and then south to Charlotte. They did do a quick walk thru for drinks in First Class. After what seemed like a few minutes, we were touching down in Charlotte, on runway 18L. Since the terminal is pretty much at the beginning of 18L, we had to taxi back the whole way. Originally we were to go to the C concourse, but, they changed and we went to B. Better for me, as my connection was 2 gates down in B. We deplaned, and I grabbed a photo of the plane at the bar, next to the gate: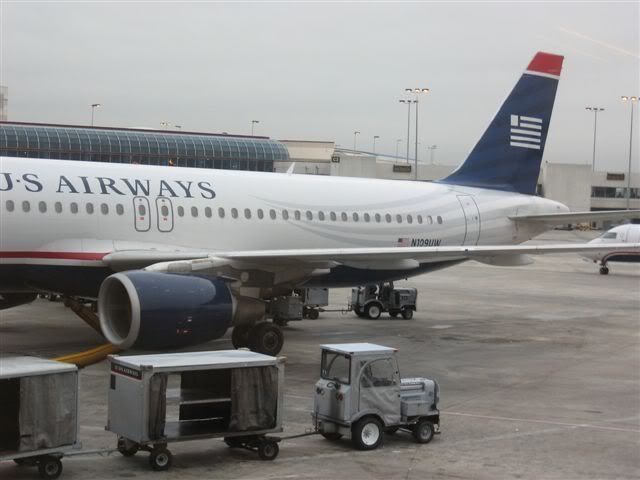 Thursday, March 22, 2007
CLT - LAS
US Airways Flight 701
Seat 1F
Boeing 757-214
N930UW
Scheduled Departure Time: 9:35AM
Scheduled Arrival Time: 11:27AM
After taking a picture of the plane, I walked over to the bar, that I used on my way to SEA last year. I quickly found out, that Charlotte no longer allows smoking in the terminal, except for certain lounges. I went to the gate for my flight, and waited for it to come in. While waiting, I couldn't help but notice all of the hot women waiting to go to Vegas. The plane finally arrived, and was quickly turned. They called for boarding, and again, I was one of the first ones on. I grabbed my seat - 1F, again, right by the window: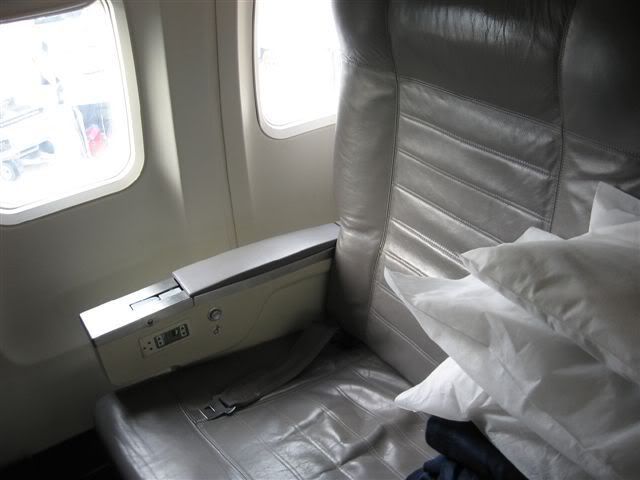 The seats on the old 757 looked like the ones that originally came with the aircraft. They weren't as comfortable as the seats in the Airbii that US has. The whole aircraft is pretty outdated. Don't get me wrong, I love the 757, but the way US has their 757s, they need a little work on the inside. After they loaded everyone one on the aircraft, (it was a completely full flight) we pushed back, and taxied to runway 18R. We weren't in line long, and we were off. Somewhere over Tennessee, they started serving lunch. The choices were chicken and bowtie pasta, and something else. I took the chicken and pasta:
The meal also came with a salad, a roll, and a slice of cheesecake. The meal was pretty good considering the chicken looked like it came from a can. The movie for the flight was Rocky Balboa. I tried watching the movie, but I can't stand the ear phones that they give you. They clip onto the ear, and I can't stand that style. The IFE they have on this plane is simply amazing, and cutting edge: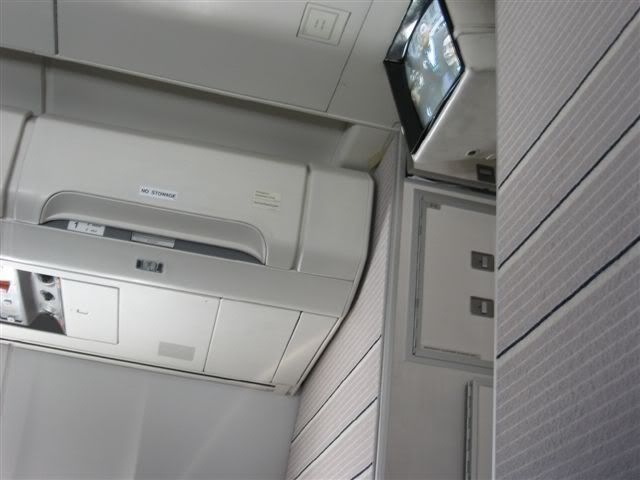 Instead of torturing myself with the earphones, I pulled out my laptop, and decided to catch on my missed episodes of Lost. I was able to watch 2 episodes, and play with the gps, before my battery gave out. It lasted long enough as we were over New Mexico when it was done. Most of the way to LAS, we had some light to moderate turbulence. I wasn't too bad, I later found out, that mine wasn't the only flight to go thru it. Before long, we saw what I guessed was the Grand Canyon, and a big lake, and then the metro Vegas area. The pilot aimed the plane to the area where some of the big buildings were. I didn't realize the airport was so close to everything. We touched down, and taxied to the gate at the A concourse. We deplaned into what seemed like a casino - loads of people hanging around, and slot machines. I made my way to baggage claim. To my amazement, they had about 5 flights receiving their bags on one carousel. There were so many bags piled onto it, they had to stop it, and have people walk around it to collect their bags, so they could start it back up. I decided to avoid the mess, and went outside for a smoke. I had 2, then came back inside, and still waited about 30 minutes for my bag. It finally came out, and then I went to the car rental area to arrange for my car. After doing that, I went outside to catch the bus to the car rental place, and picked out an SUV: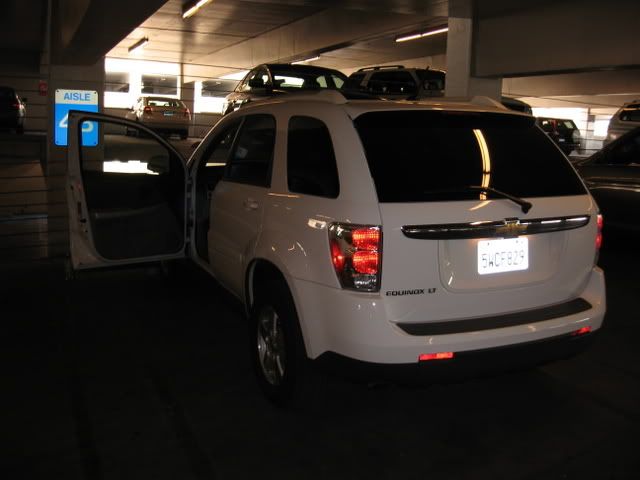 Well, not a real SUV, compared to what others rented. I really wasted my money, though, as it sat in the parking garage at Harrah's, until I checked out to go back home.
For the events in Vegas, I suggest having a look at the Vegas threads.
Sunday, March 25, 2007
LAS - CLT
US Airways Flight 702
Seat 2F
Boeing 757-200
N938UW
Scheduled Departure Time: 11:30AM
Scheduled Arrival Time: 6:42PM
After getting up early, which was almost impossible due to the weekends events, I hurried up and packed everything for my trip home. I got into the elevator, and was on my way down to check out when I realized I forgot my sunglasses in the hotel room. Since they aren't cheap, I went back up, left my bags right by the elevator, and went to the room to look around for them. When I realized they weren't were I last saw them, I ran back out (seeing a fat kid run is pretty funny I imagine) to look in my bags for it. They weren't there either. So I ran back to my room for a more thorough search. I finally found them in the bathroom. So, with everything, I check out of the hotel, get into my rental car, that hadn't been used all weekend, and drive to the airport. I give the car back to the rental car people with 12 more miles than what I left with. I hop into the bus, for the ride to the airport. The airport looked like a mad house. I locate the First Class check in desks, which had one person checking in, and no one waiting. Thank goodness. I give them my bag, they give me my boarding passes. I go outside to grab some nicotine, and then it's on to security. Security didn't take long, they didn't look at my stuff like they usually do, and then I went to grab something to eat. I went for the place with the shorted line, and that ended up being a place that serves hot dogs, wrapped in some pretzel thingy. I get 2, and chow down. I then head to the gate, which was A18. The flight to PHL was at A17. When the 2 planes arrived, they deplaned both, cleaned, catered, and loaded the bags. Right at boarding time, they announce that CLT will be leaving from the PHL gate, and PHL the CLT gate. They had already boarded 2 CLT bound pax onto the supposed switched aircraft for PHL. When the found out that all of the baggage had been loaded onto the original planes, they decided to swap the crews instead of the planes. What it looked like in the gate area was completely different. Imagine 2 plane loads of passengers in line, switching gates, and then having to do it again. It was pretty funny. So, we finally boarded, I grabbed seat 2F, and waited for everyone else to get on. After everyone was on, we pushed back, and taxied to the runway. After a few minutes, we were airborne:
We headed south, and then turned east, to head back home. The movie this time was Deja Vu or something like that. The meal they served was some kind of shrimp thingy. It was pretty good. It came with a salad, and a slice of cheesecake: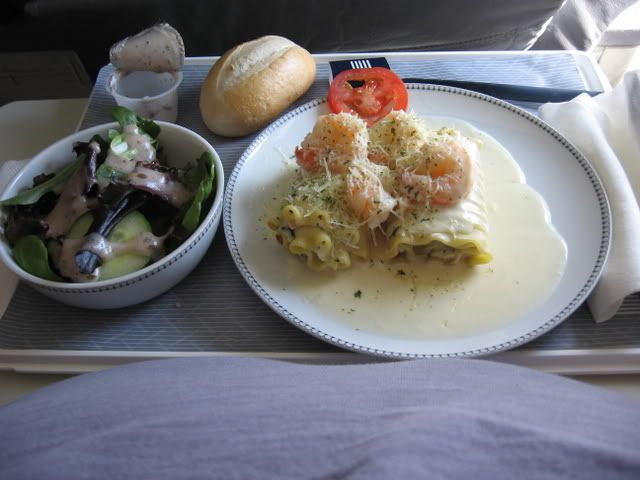 I pulled out the laptop, instead of watching the movie, I just listened to some music, and played with the GPS. The flight was pretty uneventful, no turbulence, just some uptight old lady sitting next to me. We descended, and pretty much arrived on time:
Sunday, March 25, 2007
CLT-RIC
US Airways Flight 1547
Seat 3A
Airbus A319 - Philadelphia Eagles Theme Jet
N709UW
Scheduled Departure Time: 7:40PM
Scheduled Arrival Time: 8:47PM
After walking from the B concourse to the C concourse, I made my way to the end to gate C14. There at the gate, was the Philadelphia Eagles Theme plane: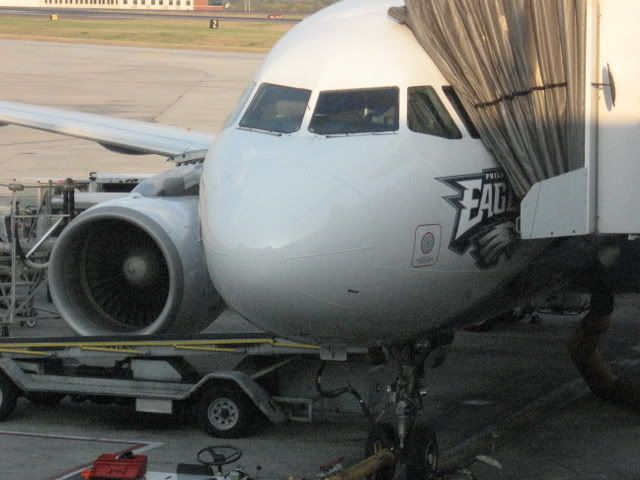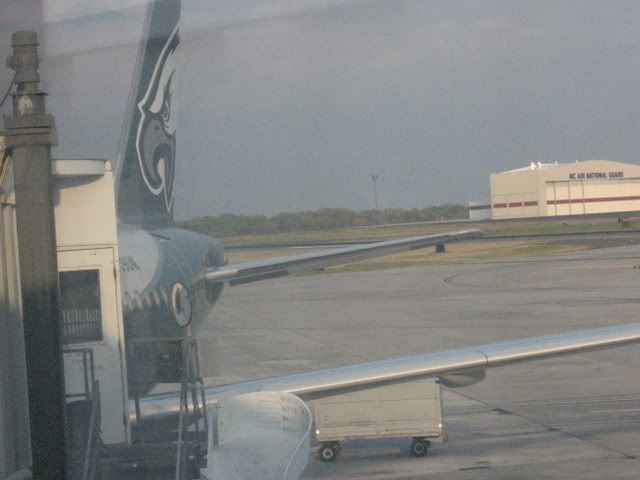 They called for boarding, and we got on. It was a short flight, they did a quick drink service, I got a Sprite. Since it was getting dark, I only got the take off video from Charlotte:
We landed in Richmond on time, and when I got to baggage claim, there were loads of people waiting for their bags. There were about 5 flights that landed close together. I got my bags, and then went directly to work. That, however is another story. Thanks for reading, I hope you enjoyed it.