I am a collector of airlines. Many of my friends and Flight Attendant colleagues think I'm crazy, but there are times I will take a trip just to fly on a particular airline. While reading an article in Airways Magazine about fifth-freedom traffic rights I discovered that both Saudia and Kuwait Airways fly the CDG-FCO route with these rights. Further research revealed that it was possible to fly this route on both airlines as a day trip. Working for an airline made this endeavour a lot easier since we also just got ZED agreements with Saudia (including the ability to purchase Business Class passes) and Kuwait. I had some time off at the end of January, so I decided why not?
25 January 2007
SV164 CDG-FCO
HZ-AKA B-777-268ER
Seat 21A, Business Class
Skd departure 11:45, actual 11:48
Skd arrival 13:50, actual 13:43
View Large
View Medium


Photo © Zaninger Jonathan
I arrived at CDG Terminal 1 at 9:30a and quickly found the SV check-in counter. At two hours prior to departure I was surprised that it was not busy. Checked-in at the Business Class counter and was given another surprise--a seat assignment. Usually when one travels standby on a staff non-rev ticket one has to wait for the flight to be closed by the agents before being handed a seat assignment--if there are any available seats at all. Before proceeding to security I walked around the terminal looking for timetables for a friend. The only ones I found were from KU (whom I'd be flying back on later that day) and LO. While state-of-the-art when first opened, T1 now appears dated and lacking warmth. Hopefully the renovations now under way will help.
When I arrived at the gate at 10:30 the aircraft still had not arrived. Although the monitors still indicated an on-time departure I was starting to get concerned about the prospect of having to make a quick dash in Rome to make my return flight. The appearance of the outbound crew going through security was a welcome sight and shortly thereafter HZ-AKA pulled into the gate. Following a quick turnaround boarding commenced at 11:30.
Upon boarding I was warmly greeted by a friendly Flight Attendant who offered to hang my jacket. I declined since she also need to use my boarding pass as a coat tag (I wanted to keep it intact as a souvenir). Another Flight Attendant then came by with hot towels and menus, followed by that unmistakable symbol of Arab hospitality, coffee and dates. The doors were soon closed and we pushed back at 11:48, three minutes late. The safety demo video was then played on the main screen in Arabic, with English subtitles and a sign language video translation. After that, what sounded like a prayer was broadcast over the PA. Finally, after a 15 minute taxi we took off.
Saudia's 777 Business Class seats were an older design, but still very comfortable. Configured 2X3X2 they featured a manual seat recline with electronic controls for the footrest and lumbar support. The personal IFE screens were the small 6" monitors similar to what Northwest used on the DC-10 in their Business Class. No programs were shown during the flight, just the Airshow display interspersed with the directions pointing towards Mecca.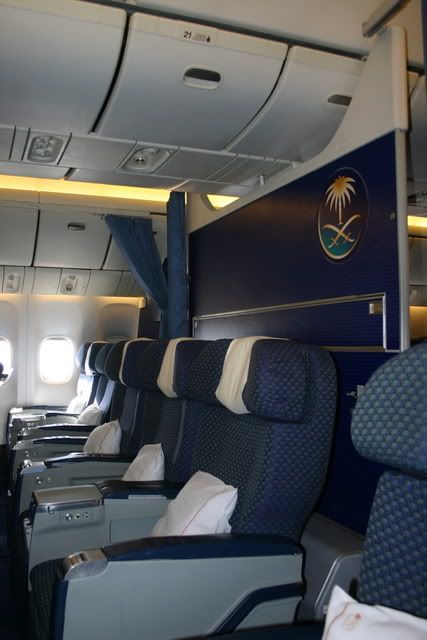 Once we reached cruising altitude the meal service began. This flight's offerings were: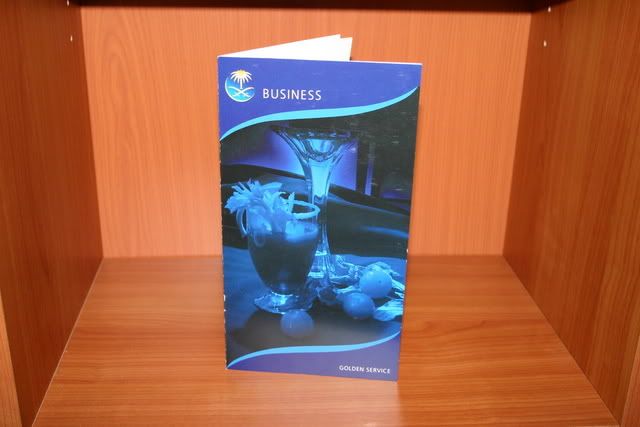 LIGHT HOT SNACK
APPETIZERS
Fresh sliced fruit
ENTREES
choice of:
Ricotta & Spinach Ravioli
or
Hot Snack Combo--sesame prawns, beef kebab, and vegetable frittata
DESSERT
Petit Fours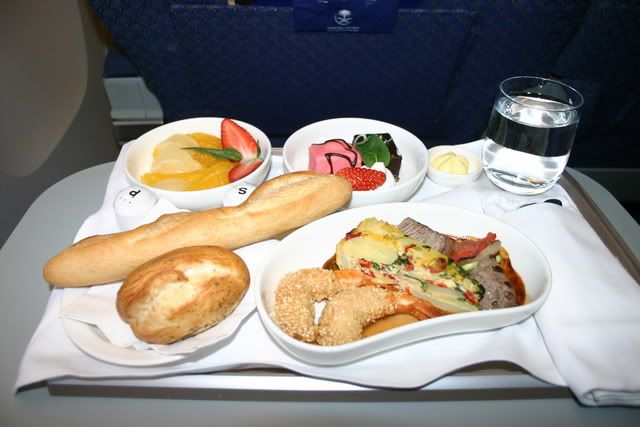 No beverages were offered before the meal. I chose the hot snack combo and for a "light hot snack" it seemed like a full lunch! I washed my meal down with several glasses of mango juice, since Saudia is a dry airline and does not serve alcohol. The Flight Attendants were very attentive during the service, but disappeared into the galley soon after. My meal tray was left on the adjacent tray table for awhile before I finally took it back to the galley myself. I think the crew appeared embarrassed by that.
After the meal service I took a walk around the cabin. Walking through the aircraft I discovered a total of six passengers in First Class, three in Business (including me), and only 25 in Economy, which explains the strange lack of passengers at the check-in counter and in the gate area before departure. This was one of the emptiest flights I have ever been on.
Soon after we started our descent into Rome. As the Flight Attendants were preparing the cabin for landing they asked for my menu back. I played dumb and told them I misplaced it (my apologies to them!). We arrived at the gate at 13:43, seven minutes early. Since we were at the satellite terminal, we had to take a train to reach customs and immigration. I was surprised to see an empty arrival hall which allowed me to clear immigration very quickly.
25 January 2007
KU165 FCO-CDG
A300-605R 9K-AMC
Skd departure 16:20, actual 16:18
Skd arrival 18:35, actual 18:35
Seat 21E, Economy Class, later switched to 20K
View Large
View Medium


Photo © Alessandro Savarese - SpotIT
There was no line at the Kuwait Airways counter. After presenting my travel documents I was immediately given a seat assignment--sign of another light flight. I then had time to explore the terminal, hunting again for timetables (alas nothing) and stopping at the tourist information counter to obtain some brochures on Rome for a friend. Passed quickly through security and back on the train to the satellite terminal. As soon as I finished looking around the duty-free shop 9K-AMC taxied in. Boarding started at 16:05, all 15 of us joining the 45 already onboard in Economy. I spotted a pair of vacant seats next to the window and immediately grabbed them. Packages of wet towelettes were then distributed by the Flight Attendants, the doors were closed, and we were on our way.
The safety demo video was presented first in Arabic, then again in English, followed by a translation over the PA in French and Italian. As on Saudia, the main screen had the airshow display along with the compass reading towards Mecca. After takeoff we were treated to a spectacular view of the Italian coast and a beautiful sunset.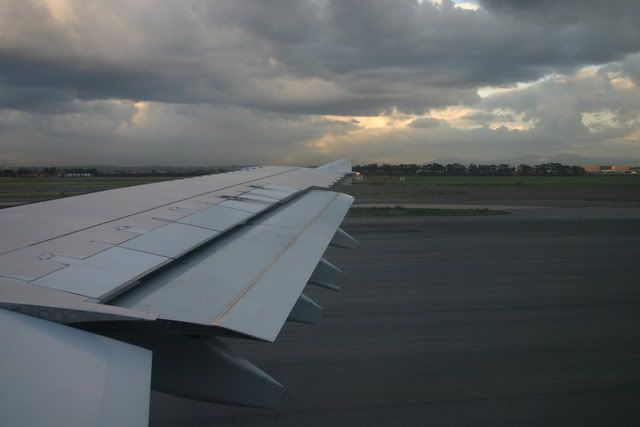 This A300, while well maintained, was starting to show its age.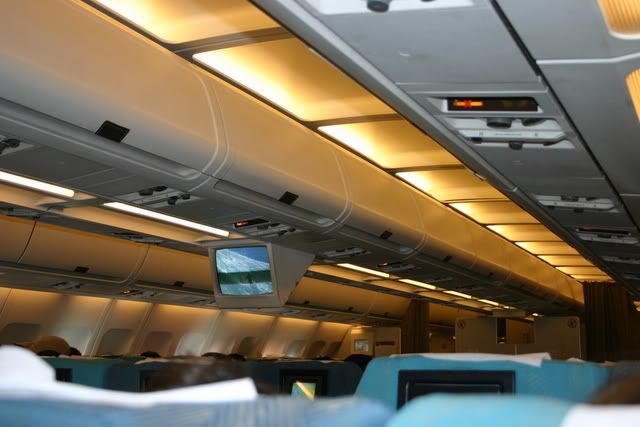 A snack was offered consisting of a cold tuna baguette sandwich and a hot casserole containing a mini pizza, a meat stuffed pastry puff and an meat stuffed croissant. A chocolate bar and a small container of water rounded out the meal. Menus were not distributed on this sector (they were from Kuwait to Rome as I found one in my seat pocket), nor was a beverage cart following the meals. Instead, the Flight Attendants walked through the cabin with trays of cola, orange juice and water, followed by coffee and tea. Like Saudia, Kuwait is also a dry airline, with no alcohol being served. The Flight Attendants were very pleasant, with smiles on their faces and appearing to enjoy their jobs and interacting with the passengers.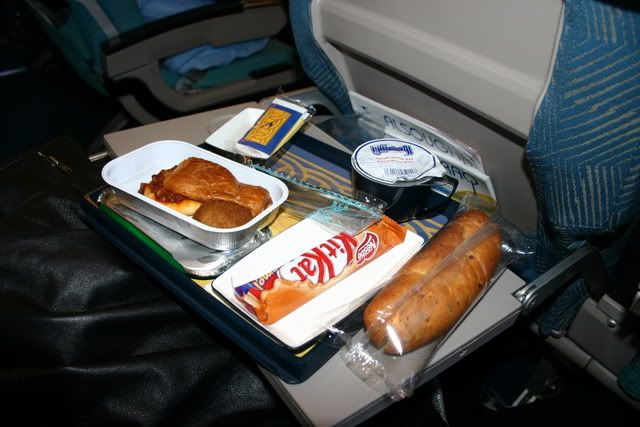 I was pleasantly surprised by the presernce of PTVs in Economy Class on this flight. Five video programs were offered (no audio progams however), but the picture quality was only fair. After playing around with this for several minutes we started our descent into Paris. After a smooth landing we arrived at the gate on time at 18:35. When we stopped short for a moment before reaching the gate several passengers got up and started to collect their belongings. The crew to their credit had them return to their seats, something I often do not see enforced outside North America and Europe.
Even though these were extensions of longer journeys, having a full service on these short flights was welcomed in this age of diminished service standards and expectations. Would I do this type of excursion again? Definitely! There still are more airlines and aircraft types to add to my log book. Anyone for a ride on an Air Zimbabwe MA-60 or Yemenia A330?