It was spring break week for students at The Ohio State University. My vacation plans this year involved a couple destinations, but first involved a weekend trip to San Juan, Puerto Rico with my brother to meet up with my parents who were already in the Carribbean on business meetings. The travel plans this time involved US Airways, on which last year I had already had a negative experience, but that's a whole other story. This particular time, it was less than stellar, with most issues arising in the return trip. Once this trip was all said and done, I will won't be flying US again, for several reasons that I will detail.
(please excuse my lack of organized flight detail....flight no, a/c, seat, etc..)
Our flight was scheduled to depart Port Columbus International at 7:00AM, so we awoke and readied ourselves at 4:00AM. By 4:55 we were on the road making the less-than-20 minute trip to the airport. We parked in the blue shuttle lot and fought windy, cold rain waiting for a shuttle to arrive. The shuttle picked us up finally, and we were in the US ticketing line around 5:25. The line was moderate, and we were through in about 20 minutes.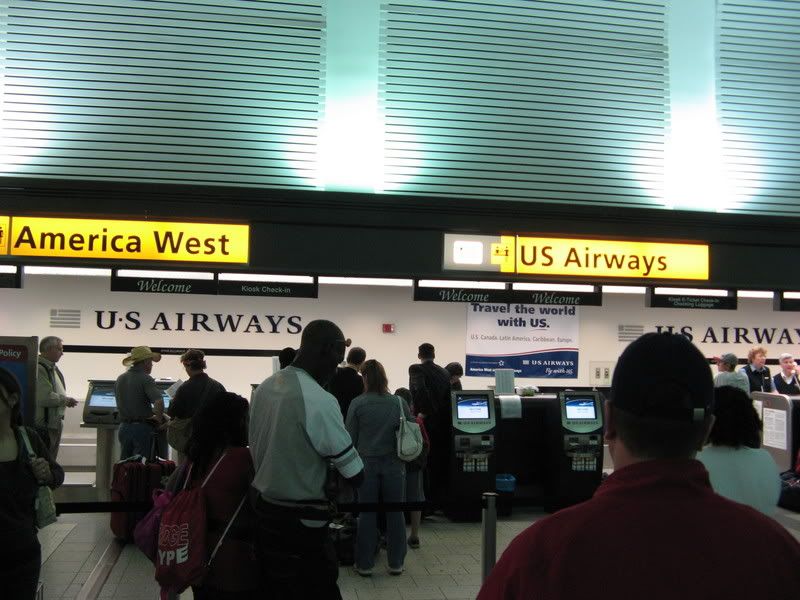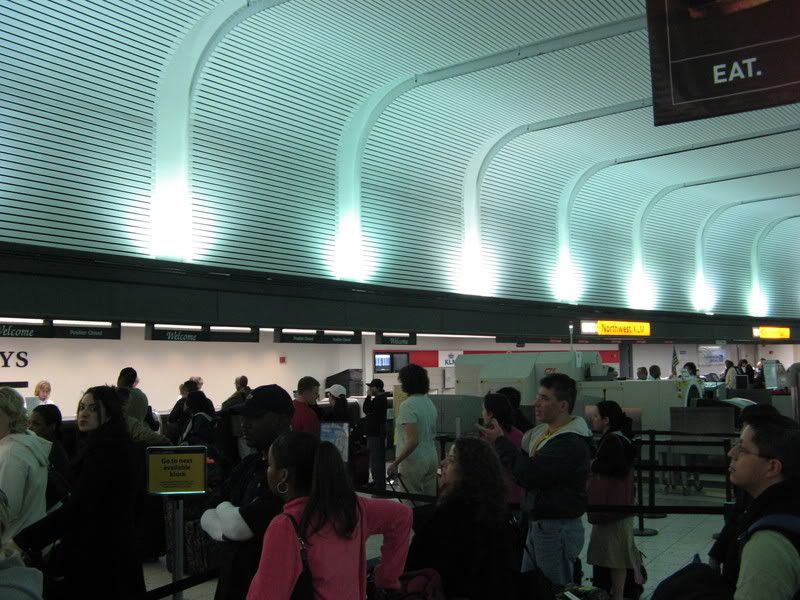 Security was a breeze, as the B concourse checkpoint was using almost all of its lanes, including one of its newly expanded lanes for Skybus. Grabbed a Starbucks coffee and muffin and took a seat near gate B26.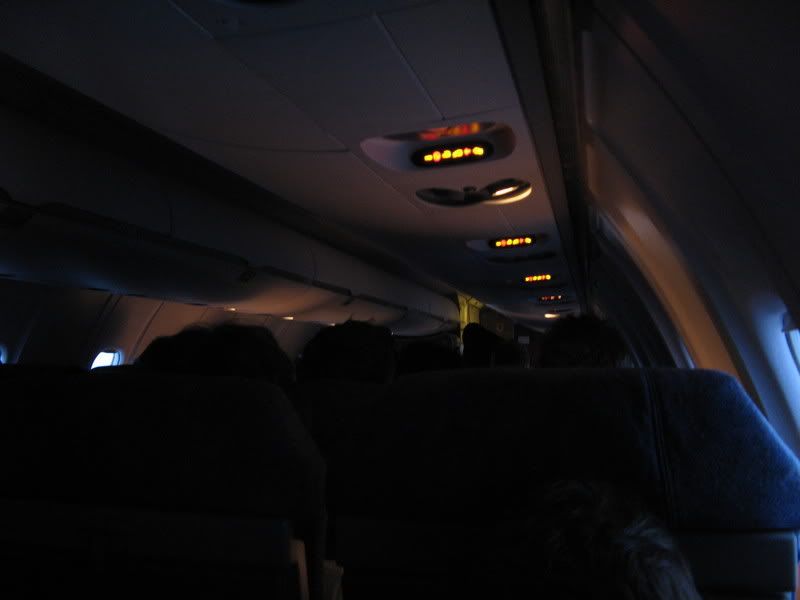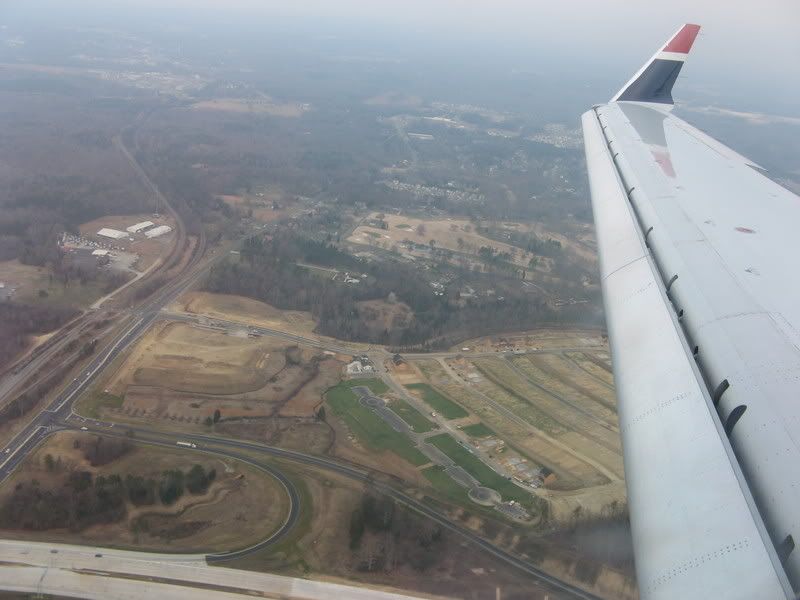 The flight down to Charlotte was on a CRJ-900, which I was not looking forward to. I don't particularly like CRJ's of any kind, but I can tolerate them to a degree if I can get an empty row. Such was not the case on this flight, unfortunately. We boarded, and got underway about 20 minutes late. I noticed this was an ex HP Express jet, repainted, but the interior was still America West. We taxied out to runway 10L. and had a speedy CRJ style take off. The flight was pretty uneventful, we climbed through a cloud layer and had a smooth ride all the way to Charlotte. Descent and landing into Charlotte, again nothing too special, landed on 18R and parked up at C-9, I think. We walked into the terminal, took a quick scan at the monitors, and quickly headed to the airy D concourse where our 767-200 was SUPPOSED to be waiting for us……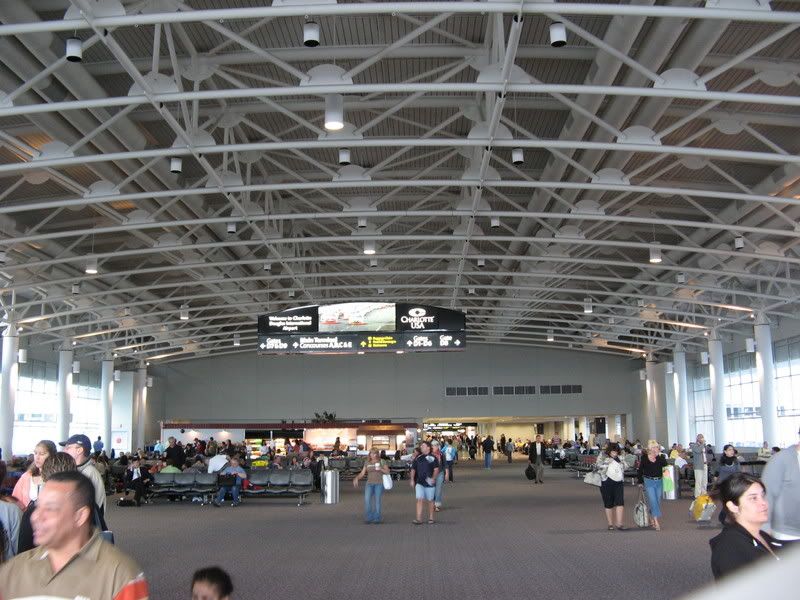 There was a mob of tourist/leisure travelers in this area, as you can see in the pictures. I do like the CLT airport, however. It has that early 90's contemporary-ness to it, similar to PIT, which was my hometown airport for a while. Since the flight was not quite boarding yet, my brother and I grabbed one of those to-go sandwiches for lunch to carry on board. Finally they began boarding, and the cattle herd slowly moped up to the podium. Once I was about 5 people short of the door, I took a look out the window, and noticed that our jetway was in fact, not at all hooked up to a 767, but rather a 757. This somewhat worried me, since I had a "G" seat. Sure enough, I was not allowed to board, and had re-check at the counter with a whole group of "G's. Luckily they had seats for all of us, and we were soon on board, and pushing back. US's 757s are nothing to write home about. I found it to be dirty, old, and tattered, keeping true to my US 757 experience in the past.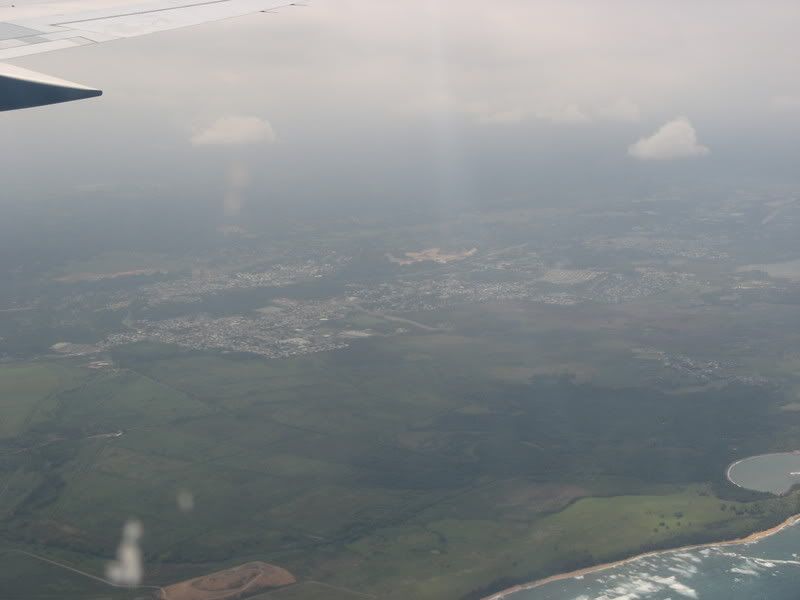 We took off on runway 18L, and began our roughly 3.5 hour flight to San Juan. I whipped out my laptop and began watching one of the funniest shows ever on modern television, Arrested Development. The main feature picture was Rocky Balboa. The cabin service consisted of the usual drinks and US's on board café selections. All in all, it wasn't a bad flight, I entertained myself and was pleased with the FA's friendliness and sincerity. Our approach into SJU was quite bumpy, but the pilots made a nice smooth, but solid touchdown. We taxied slowly into the ramp, and got picked up by a tow to bring us to the gate. The pilots said this was because of the construction on the south runway, so as to not kick up debris.
The return trip was not as pleasant as the outbound. This could have been attributed to the US CLT meltdown, but there were still some check in issues at SJU that really need to be dealt with in my opinion. The flight to take us back to Charlotte was supposed to depart at 2:15PM. My brother and I arrived at the checkin counter for US at 12:30, a little later than planned, but seemingly within plenty of time. We got in a long line, asked people to make sure that it was for US. After standing in line for about 25 minutes, a US agent comes along and asks everyone what their destination was, and sent the CLT people to a completely different line about 200 feet away. To me, something needs to be done about this. During spring break, it is apparent that loads and lines will be high. US needed an agent standing at the doors, or improved signage, something at least to point people in the right direction. Once in the correct line, we waited another hour and a half to get up to the counter. The kiosks weren't even being used, and there were 3 agents checking in the entire 767-sized group of CLT travelers. They did hold the plane for everyone to check in, which was appreciated. Once checked in, at 2:20, we went through the cumbersome SJU security process, which involved both the weird air thingy, and metal detector. Finally on board, we pushed back and took off, getting in the air around 3:30.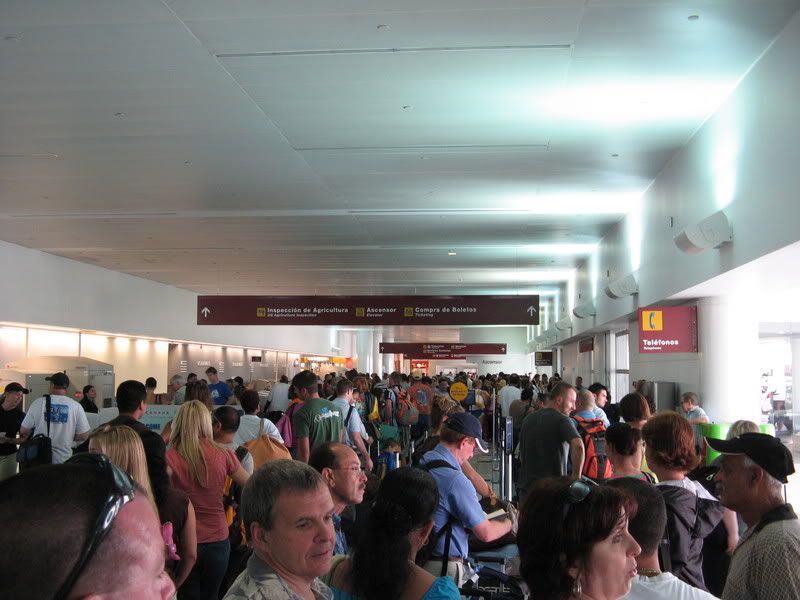 The 767, like the 757 inbound, was old, tattered, very dirty. I snapped a picture of my tray table, which was full of crumbs and dry soda stains. The inflight movie, which I declined to watch, was the new Denzel Washington flick. The movie was half static/fuzz anyway, which would have been annoying. On a sidenote, I have read some previous US trip reports, and heard about all of the video promos, and I have to agree, it is quite obvious and lowfare-like. The inflight service consisted only of the snackbox and drinks. However, as I was seated in the last 4 or 5 rows of coach, they ran out of meals. Of course. Again, I entertained myself with Arrested Development.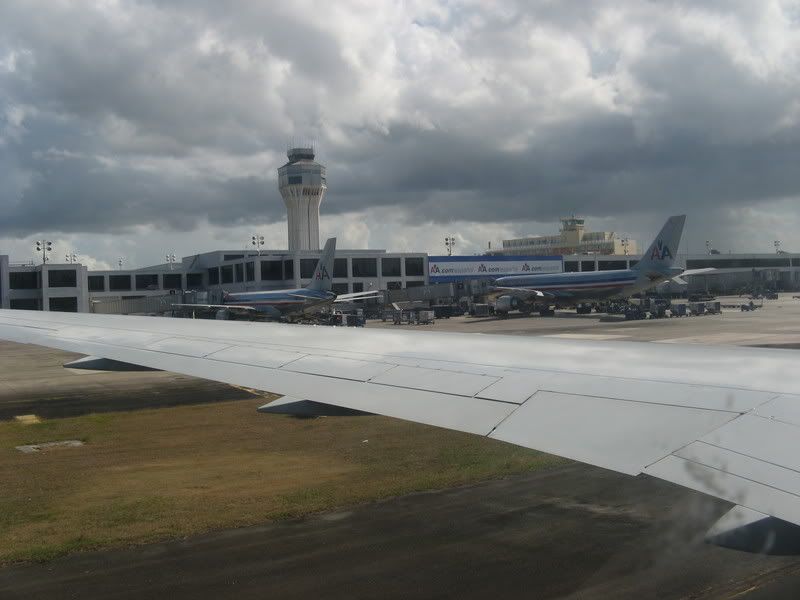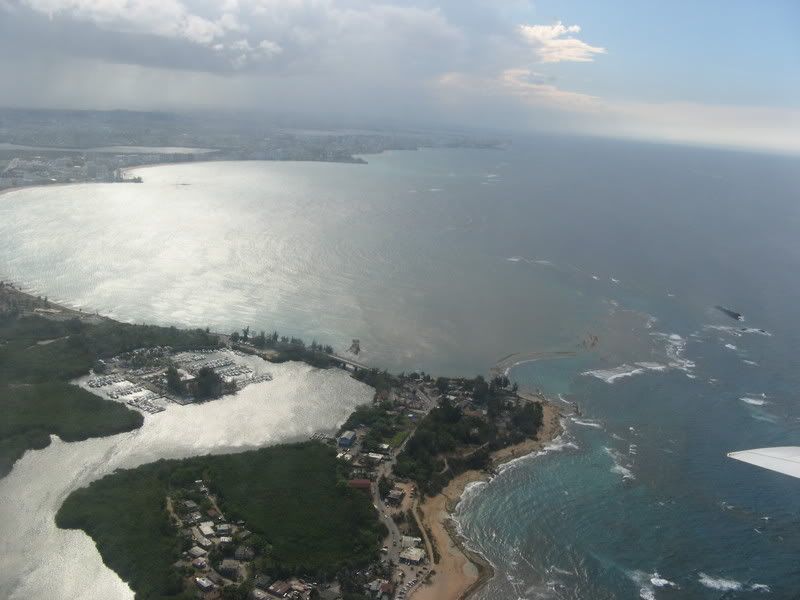 Once we landed in CLT, we quickly checked the boards, as our connection to CMH was supposed to leave in 25 minutes. But to our dismay, the plane was not supposed to board for another hour and a half. So we ate dinner in the nice food court at CLT. I really do like this airport. It's a shame that the major airline occupying it has become what it is today. We finally made our connection, boarded at 9:00 for a flight supposed to leave at 7:35. This plane was a Republic EMB-175, almost brand new. It was not, however, as comfortable as Shuttle America's EMB-170's used for United Express, The seats were not nearly as padded, and had an awkward ergonomic feel. Interesting as it is all the same parent company.
At the conclusion of this trip, all I can say is I'm glad I earned United miles for it. I had a bad experience on US last year, and this year, while it wasn't as bad, it still was not good, and the negative aspects were definitely improvable. In the future, I will purposely avoid US. I remember flying US out of PIT near the turn of the century, and how much better of an airline it was back then. It is nowhere near now what it was then. I didn't book the trip, so its not like I just took the lowest fare, but after experiencing it anyway, I know to avoid it. The most postive parts of the entire trip were the friendly FA's and nice CLT airport. Thanks for reading.
TWAalltheway
[Edited 2007-03-27 01:41:10]