MAN-LGW-NQY; Going Home the Long Way With BA
I am always looking for interesting ways of getting from my home in Plymouth to university in Birmingham, so it was quite pleasing when BA announced, to everybody's surprise, that they would be commencing a service to NQY airport in Cornwall from Gatwick using their B737's. The prices were very reasonable; just £30 or so for the flight from LGW, but after considering how much easier (and cheaper) it would be for me to get to MAN from Birmingham, I decided to book MAN-LGW-NQY, all with British Airways for a grand total of £58! This was considerably cheaper than Air Southwest's MAN-CWL-NQY or MAN-BRS-PLH flights were, so I was quite pleased, especially as I was booking just 2 weeks before the flight date.
The last day of Uni rolled up, I handed in my work and felt considerably more relaxed and free for doing so, then in the evening got on with packing my bags. It wasn't until after I had packed that I remembered BA now had a one bag only policy, or you pay extra… so, after some considerable consolidation of everything into just my Bergen I was once again ready to go. At the last minute I realised that the washing up hadn't been done, so after rapidly getting that sorted and hurling it into the cupboard, I grabbed my bags and raced down to the taxi which was now waiting to take me to the coach station in Digbeth. I couldn't be sure that the train would get me to MAN in time from Birmingham in the morning and there were no overnight trains, so I decided to take the NatEx coach instead which was also very cheap at £7, conveniently as I walked into the station the 04:30 329 service to Manchester pulled up, and I got onboard. The driver seemed to be in a bit of a mood and instructed that no hand baggage was to be taken on board – I'm afraid I just ignored him, and whilst he wasn't looking took my rucksack onto the coach; ordinarily I wouldn't have minded, but I had my laptop, camera and 5 lenses in the bag, and the luggage bay isn't exactly the most secure of locations. Unfortunately this service went via just about everywhere en-route; Dudley, Wolverhampton, Stafford, Stoke and then finally Manchester Airport at about 7am, just as I was beginning to fall asleep!
The airport was heaving with people, so after negotiating the queues in T1 I headed towards T3 and British Airways, although it seemed quite strange to be walking past the Air Southwest desks where I would normally stop. I had checked in and printed my boarding passes the previous morning, so I just needed to drop my Bergen off at the outsize/special baggage drop, surprisingly it only weighed 14.7kg, my shoulders had been telling me it was a lot more! There was nothing else to do, despite seeing from the skywalk that LH's A321retro-jet was parked in front of the viewing area I just really couldn't be bothered to walk back and see it, so I headed through security. This took surprisingly little time, although after removing the laptop for scanning, re-packing the bag again afterwards was a little tedious to say the least. After a brief browse around the duty free, I found a place to sit and watch the departures, as there was still 2 hours before my flight would be boarding.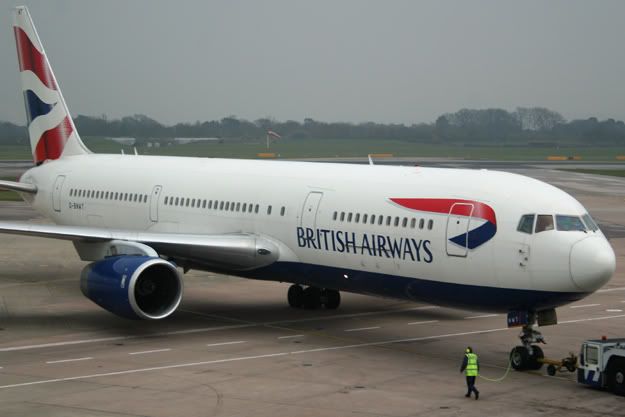 At just gone 10am I noticed a BA 737 taxing towards the terminal which would be operating my flight, so I took a slow wander down to the gate.
MAN-LGW
Airline: British Airways
Flight: BA2905
Aircraft: B737-436
Registration: G-DOCT
Seat: 20A
Estimated Departure Time: 10:35
Actual Departure Time: 11:02
Estimated Arrival Time: 11:35
Actual Arrival Time: 11:44
Upon boarding the aircraft I received a very warm welcome from the crew, one of the guys said he was looking forwards to getting back to Gatwick so he could get home as he'd been working all day so far – so I presumed at the time that the aircraft had originated somewhere in the UK/Europe before flying to MAN via LGW, I expect all shall be revealed courtesy of the excellent LHR-LGW ACARS web site when it's updated.
The flight today wasn't full, but there were only 20 seats empty and after the short delay caused by the late arrival of the inbound flight, we were pushed back and then taxied to the active for take off. There was no traffic in line, so in no time at all I was pushed back into my seat by a very powerful take-off; climbing quickly into the grey skies over Manchester which promptly absorbed us, before clearing a few minutes later to reveal a beautiful sunny morning.
This was my first domestic flight with BA, so I wasn't sure exactly what to expect in cattle class, as it was I had a choice of drinks so asked for an orange juice and received a small carton of the drink and a packet of what at first sight appeared to be bird seed.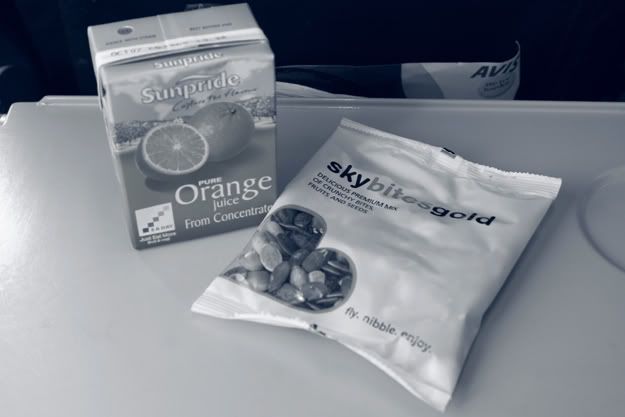 Both were nice enough though, and by the time I had finished we were over Oxford and once again dropping back down into the grey clouds masking much of the country today.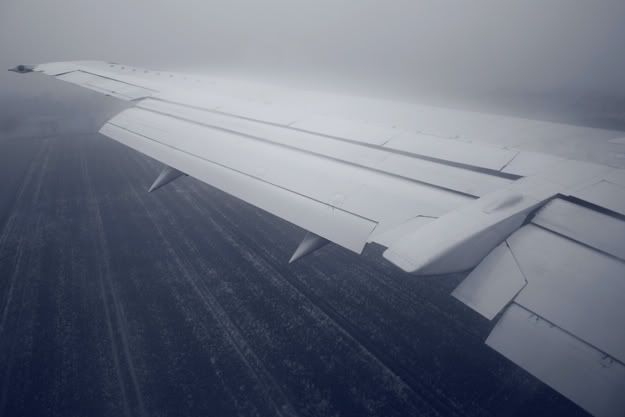 The landing at LGW was smooth and after initially just slowing with speed brakes a large amount of reverse thrust was used before turning off and taxing across to the North Terminal. Our stand apparently was an international one, so we then had to wait for busses to arrive and take us to the domestic arrivals area, after a few minutes these had turned up and everybody dashed down the stairs and into them to avoid getting too wet.
Upon reaching the Terminal I had just 30 minutes before my NQY flight was due to leave, so I was not too happy that for some reason I couldn't use the flight connections channel and instead had to go back up and through security again, still, they were most understanding and directed me through the FastTrack line. After another hasty unpacking and re-packing of my bag I was actually quite relieved when I saw that my next flight was delayed by half an hour, not least because that would mean my checked luggage was more likely to make the connection too. With time to kill I thought I'd try and get a coffee somewhere, but like Manchester everywhere was heaving, I thought I'd have a go at using my SkyTeam FF card to get into the DL lounge, but as expected because I wasn't travelling on a DL flight it was not possible – worth a try though! The gate was still not up on the board yet, but I assumed it would probably be from the same area that Air Southwest use so headed down; I was right and one of the BA representatives further directed me to Door 55D.
The departure area seemed quite empty, and it was interesting to note how many passengers boarded Air Southwest's LGW-PLH-NQY flight; certainly not as many as could usually be expected, probably around 20 people which is about half the usual amount. In comparison the BA flight had 47 passengers onboard, which considering the flight had only started operating a few days earlier wasn't bad I thought. The aircraft arrived onto the stand later than expected, so subsequently boarding was delayed again, although once commenced it took not time at all due to the small amount of people.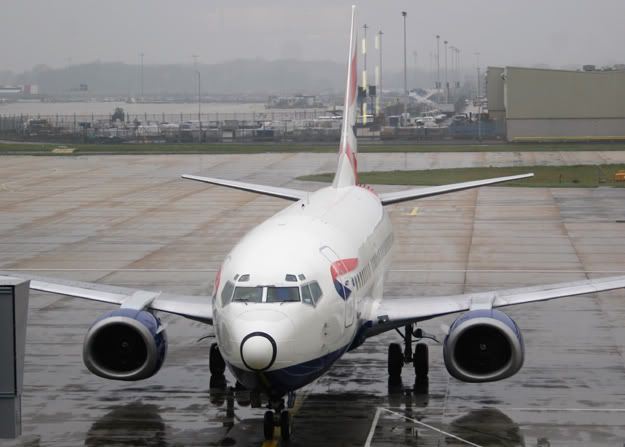 I think I was the last person to board, and after stowing my bag in the overheads took up my seat at the very front of the aircraft; I had chosen this to hopefully give me some good views of home as I flew over, without either the wing or jet-blast getting in the way of things.
LGW-NQY
Airline: British Airways
Flight: BA2972
Aircraft: B737-528
Registration: G-GFFI
Seat: 1A
Estimated Departure Time: 12:50
Actual Departure Time: 13:36
Estimated Arrival Time: 13:50
Actual Arrival Time: 14:15
No sooner had I sat down, then the air bridge was disconnected and another few minutes later I felt the front of the plane rise as the tug motioned to push the aircraft back. Fortunately there seemed to be a lull in departures; after a brisk taxi we reached the active and were fifth in line, after an EasyJet A319, an Air Southwest Dash 8, an Afriqiyah Airlines A320 and finally another British Airways 737, which we virtually chased off the runway; lining up and applying full power as it rotated! The take off was indeed very powerful, with such a light load of passengers and on just a 200 mile flight there was nothing holding us back; once more the cloud swallowed the aircraft, but unfortunately there we stayed for some 5 minutes before climbing further up into the clear blue skies.
Once at a cruise height of 23,000ft the cabin crew started their service, I had exactly the same again; a carton of orange juice and a bag of 'bird seed'. The routing took us along the South Coast, I think at one point that I spotted the shape of the Air Southwest Dash 8 flying below, but it was quite hard to make out and we had soon overtaken it.
I managed to take a quick snap of the cabin, but considering the flight was only about 35 minutes in length there was not much time to move around. As we over flew Exeter the Captain announced that we would be commencing our descent into NQY shortly, through the cloud which was beginning to break up below I could just make out Paignton, Dartmouth and the bay area of Torquay in the distance.
Another few minutes later and the clay pits of Lee Moor were in sight, so I knew that we could be flying over Plymouth, then I spotted the village of Bickleigh far below, which is about a mile from where I live, however it was typical that there was a large cloud sat right over my house!
Onwards, the approach took us along the Cornish coast, over Looe, Par, St Austell and once again into the almost surreal landscape produced by industrial scale China Clay quarrying. A slight bank to the right signified our lining up with the runway at Newquay St Mawgan, then as the fields came up to greet us there were a few last minute corrections before a graceful touchdown on the runway, using the entire length to roll out before taxing around to the terminal.
I was very surprised at just how busy it was; the daily DHC-6 operated by the Isles of Scilly Skybus was just taxing for take off, there was a FlyBe DHC8-Q400 and also an Air Southwest DHC8-300 present; for an airport more used to just four flights a day until recently, it was quite impressive! The terminal isn't the most elegant of buildings and is currently undergoing a lot of expansion to meet the new passenger demand.
Everybody had to wait until the FlyBe aircraft had moved off it's stand which held us up by about 5 minutes, and then we were free to lave the aircraft and walk the short distance to the terminal.
I caught a few pictures of the aircraft on stand, and by the time I had reached the baggage reclaim there was my Bergen just waiting for me! Once I had everything it was just a short walk outside, although there was so much construction going on that it was very confusing as to where you had to walk to the pick-up point, although I found it eventually, along with my Mum and Aunt who had driven over to collect me. Considering it was a nice day we had a leisurely drive back to North Cornwall where my aunt lives, via a quick stop for some afternoon tea, and then headed on back to Plymouth, by which time I was feeling rather tired!
It's worth pointing out that there are many 'direct' trains between Birmingham and Plymouth, although due to so much recent engineering work there are in fact several changes involved, but even when they are direct it's not the most comfortable of journeys and the leg room is cramped, so I much prefer to fly. Normally I take Air Southwest on the BRS-PLH route, but it was much more interesting going via LGW with BA, and it also avoided the Dash 8 which I have grown quite tired of flying recently, especially after a few very rough flights in them. All in all, British Airways did not disappoint, and I expect to be using the service again.
I hope you have enjoyed reading this! There are several more reports which I must get around to, including my recent flights on Syrian Air. More pictures of this trip are available here;
http://globetrotter2007.photos.gb.net/c1244637.html
Thanks once again for reading,
Dan