Fly the Avrojet to Linz
Hello, dear readers,
another pictured story from last weekend at Linz/Austria, enjoy!.
The easter school vacation time starts last saturday, time to go for a father/son trip I´ve promised
my son earlier this year. Lufthansa offers acceptable fares to Linz, so lets go!.
(1.)
Saturday, 31.03.2007
FRA (Frankfurt-Rhein/Main) - LNZ (Linz-Blue-Danube-airport)
LH 3524 operated by Cityline Avro RJ 85 D-AVRK
Scheduled: 13.20 // 14.25
Actual: 13.30 // 14.25
Gate: B12 Seat: 15 E/F
Load factor: around 50 %
Fare: EUR 55,04 per pax/per leg
History: Delivered to LH Cityline: 21.03.1996
My second flight on the RJ85 and the first on this machine.
Part of the "adventure" this weekend was to go from FRA, a first time for my son.
We parked the car at the park and ride car park Stuttgart-Albstrasse, travelled by Deutsche Bahn´s
highspeed train ICE from Stuttgart main train station directly to FRA airport station.
Arrival there at around 10.30 am.
170.000 pax expected at FRA today, not bad for spotting some interesting planes there.
There are special check in desks at FRA´s long distance train station, usually a fast way.
We used the quick check in machine, selected our seats there, but it was only one desk for all
business open, a queue there, we had to wait for around 20 minutes till another agent arrived and
send our bags quickly to LNZ.
Btw., around 45 minutes to wait for check in, in the main hall today.
Another 15 minutes in the gate area B for security and finally at our gate at around 11.30 am.
Spotting time there goes by really quick.
Nice view from Terminal 1 area B, train to T2 included: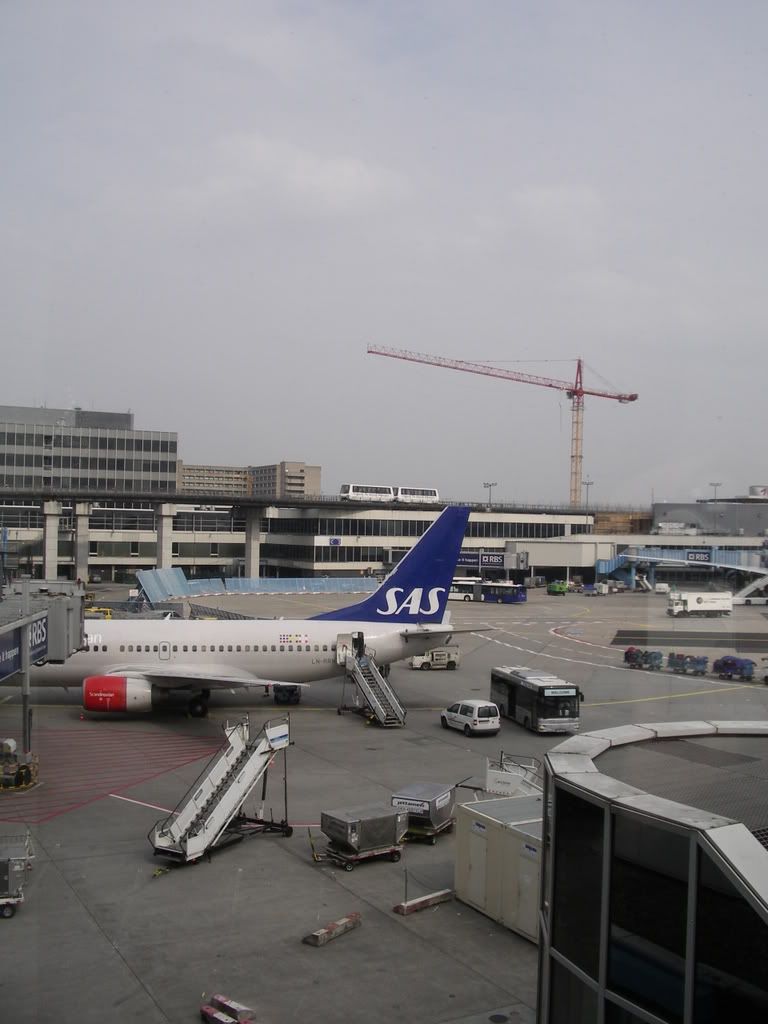 Heavy area T1: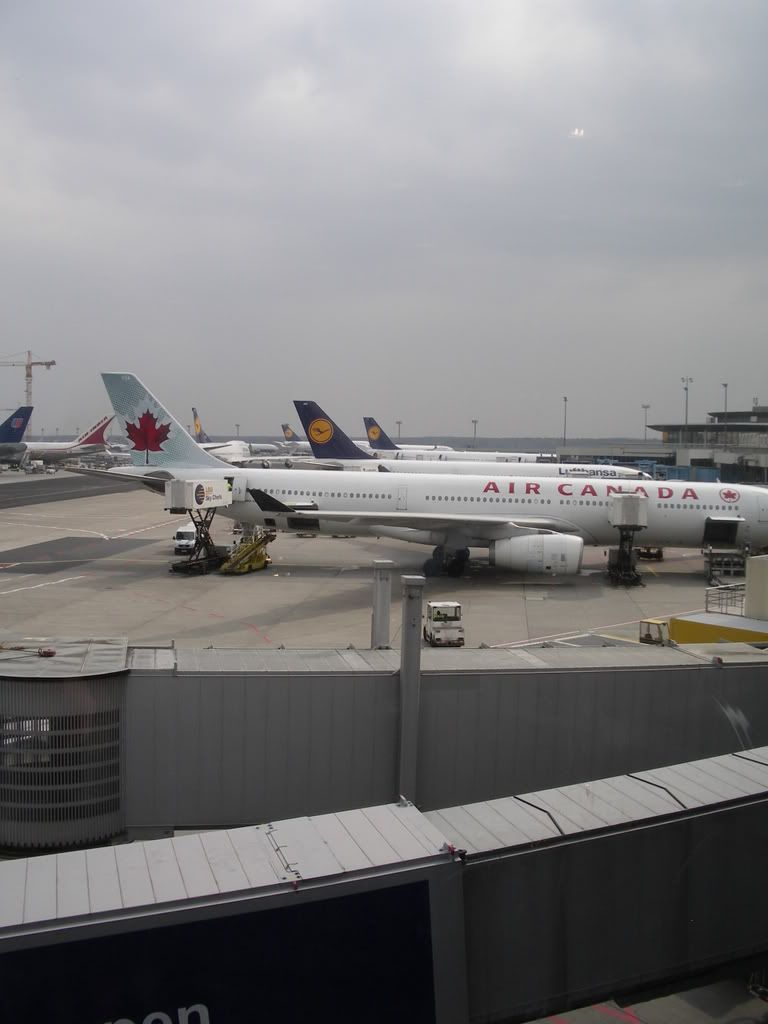 More heavies at T1: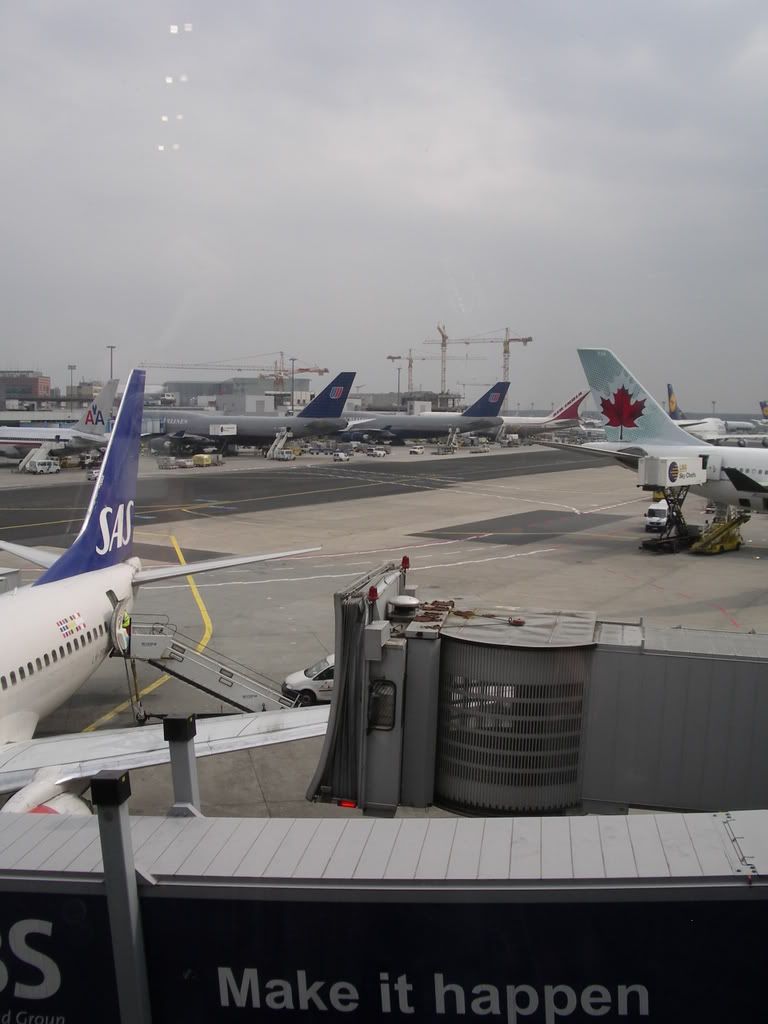 We´re called for bus boarding at 1 pm, quick boarding doesn´t work today, and had to wait in the bus for another ten minutes
till the last pax arrived.
The free airport tour follows, the LH regional planes are usually parked in front off the LH cargo area, near the entrance to runway 18 west,
that means a ride down along the whole T1 and cargo apron action, really not bad.
How to board the Avrojet:
A friendly welcome on board, two female FA´s. A low load, free seats where you want.
The captain, Werner Riedel, welcomed us also and announced a quick engine start up and departure from runway 18.
No time to wait there and airborne at around 1.30 pm.
Route: FRA-Augsburg/Landshut/LNZ. Flight level 27.000 ft.
Bright grey leather seats, cabin was ok.
Service: Free chocolates and coffee/beverages.
Clouds during the flight, nothing for interesting pix.
Ontime arrival on runway 09 LNZ, sure not the same situation like in FRA, we´re the one and only plane on the apron.
Ryanairlike deboarding, we had to walk to the terminal building, ok for some more pix.
Deboarding at LNZ: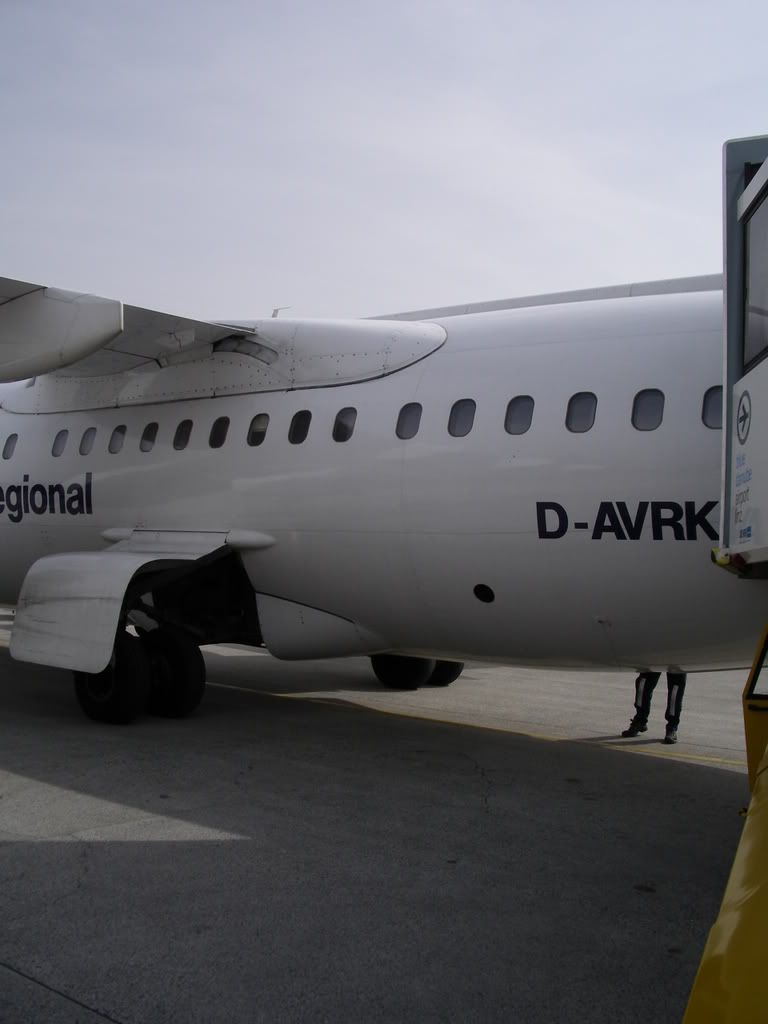 Bye-Bye, D-AVRK: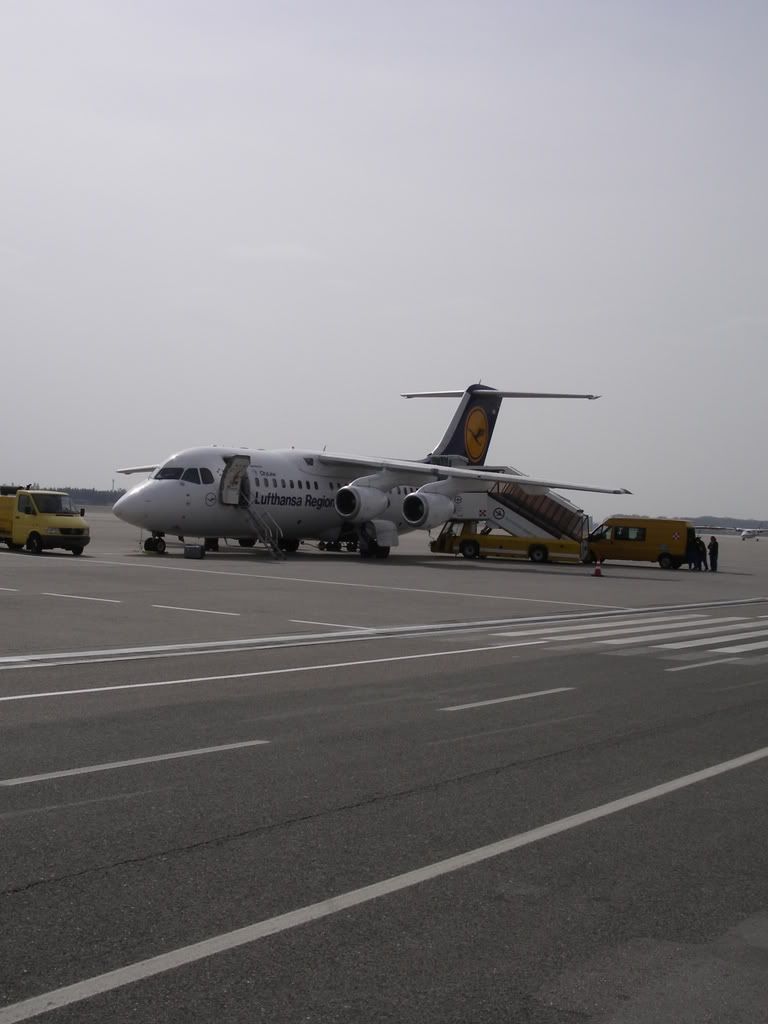 No time to wait for the bags.
I´ve rented a car by Holidayautos, Rental company Buchbinder, 36.-- EUR all inclusive, so I thought for one day, significant cheaper than all the other companies.
At return I was forced to pay a out of hour sunday charge, 45.-- EUROS, bad style, send a note to holiday autos and will wait for the answer.
Accomodation was the "Das Schloss an der Eisenstrasse" in Waidhofen, around one hour from the airport.
Stylish, wellness and spa area, indoor pool, not bad.
Some pix:
Das Schloss an der Eisenstrasse: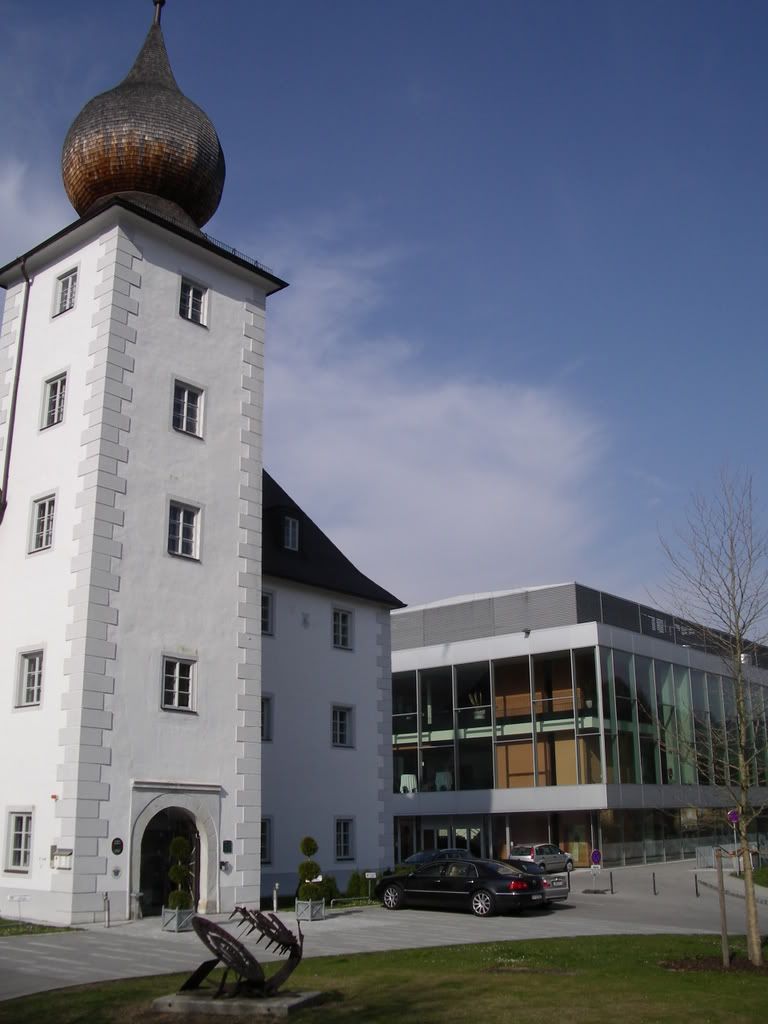 Austrian architecture: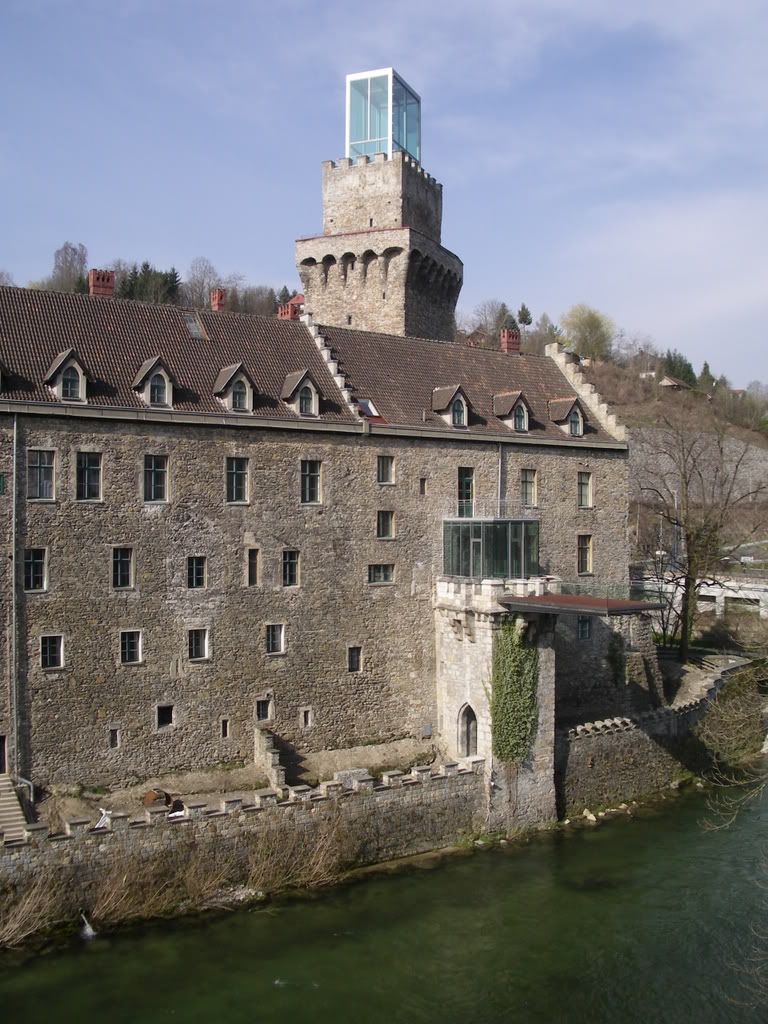 If you ever read Umberto Eco's novel, "The name of the rose", now you know where Adson come´s from, Melk: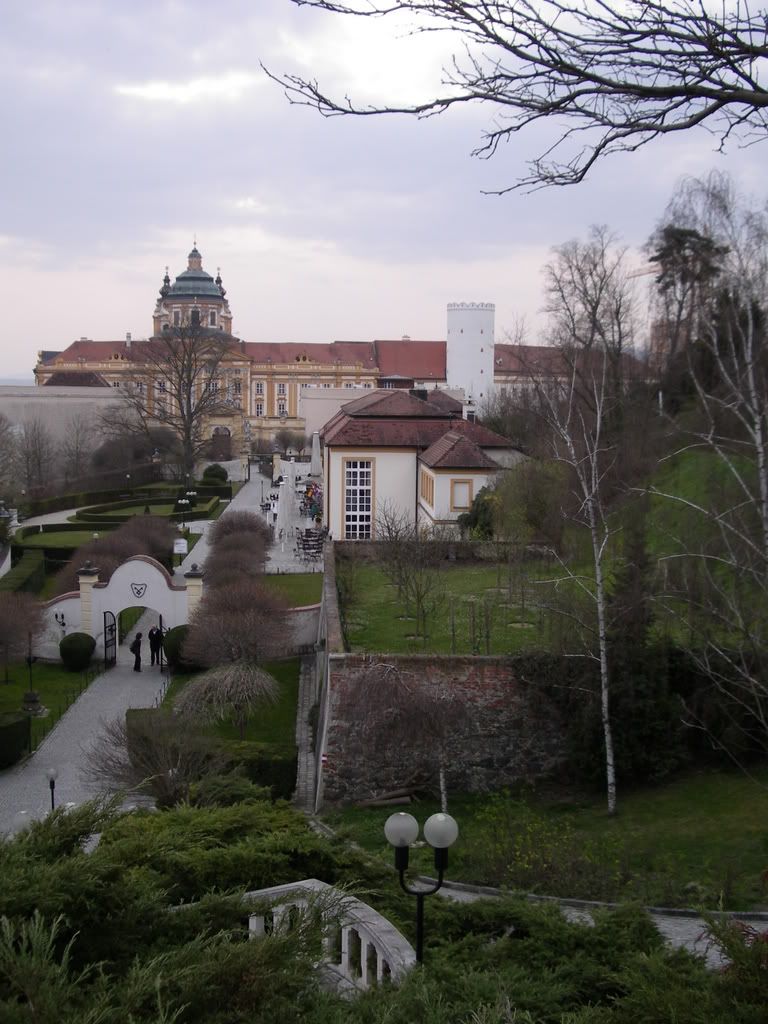 The door to Melk: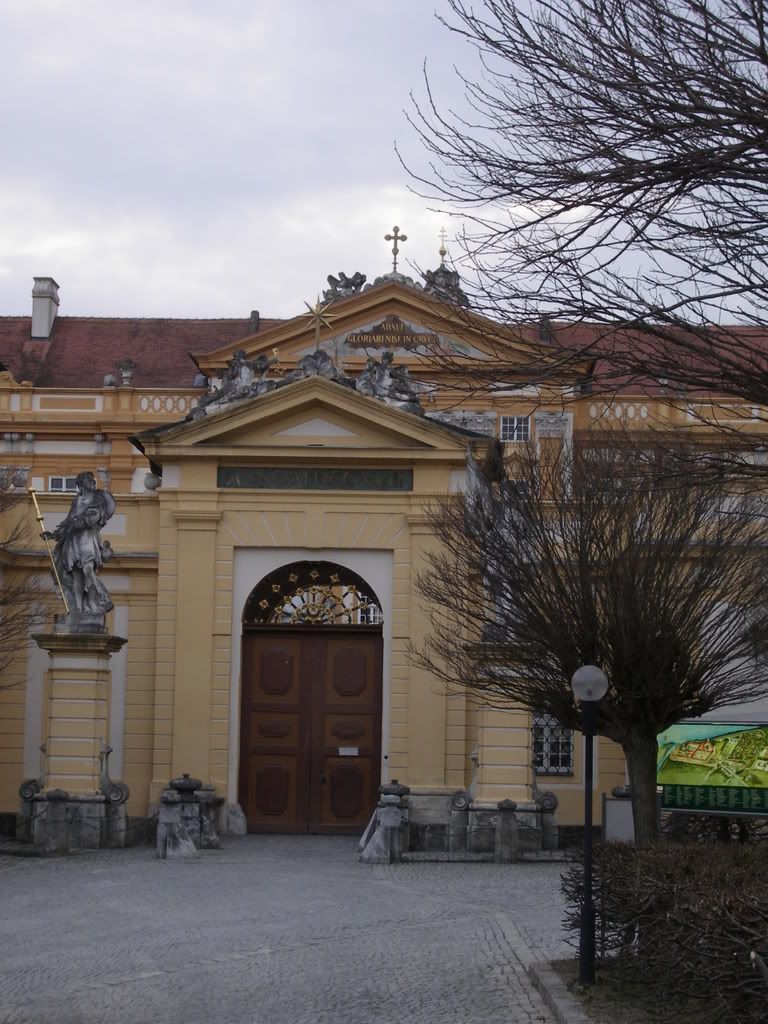 Melk again, fascinating: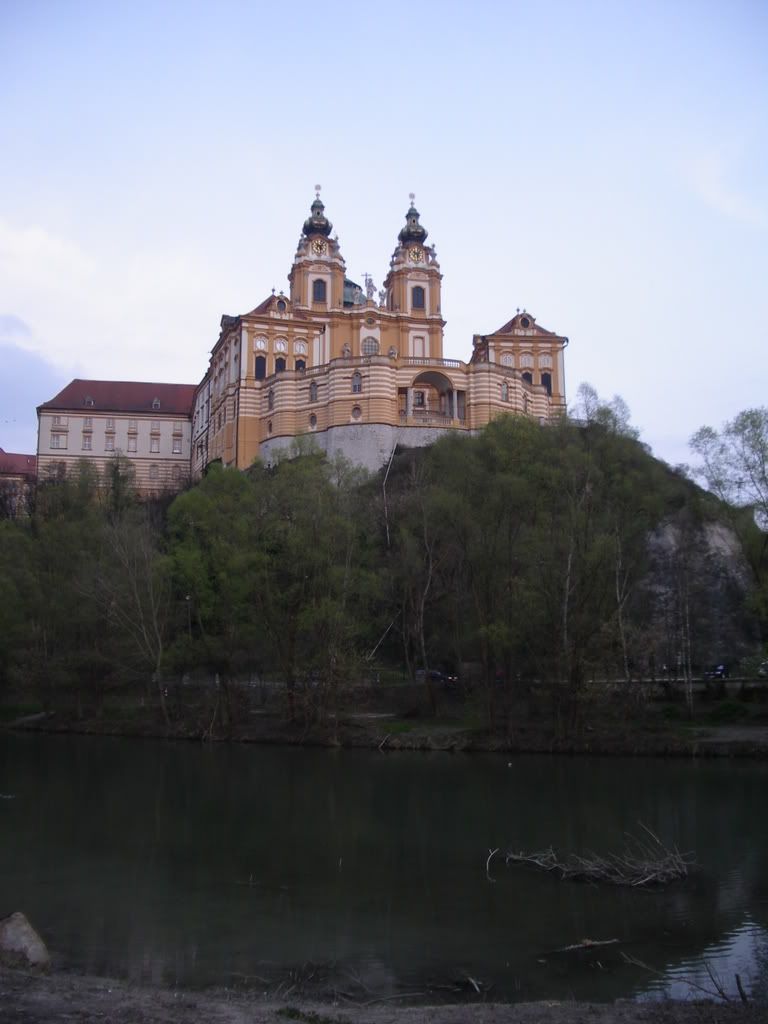 (2.)
Sunday, 01.04.2007
LNZ (Linz-Blue-Danube-Airport) - FRA (Frankfurt-Rhein/Main)
LH 3525 operated by Cityline Avro RJ85 D-AVRK
Scheduled: 15.05 // 16.15
Actual: 15.10 // 16.10
Gate: 2 Seat: 16 E/F
Load factor: Around 50 %
Flight no. 3 on the RJ85 and the second on this machine.
Back at the airport at around 2 pm, early enough for LNZ i´am noticed later.
Two desks open, no pax at all.
A not to friedly guy send our bags to FRA, same situation at security,
no time to wait.
LNZ is IMO a Ryanair style airport, some shops, some travel agencies, thats it.
No departure between our arrival and our flight, no other plane at the apron.
But free internet, so time goes by quick.
Avro arrival from FRA: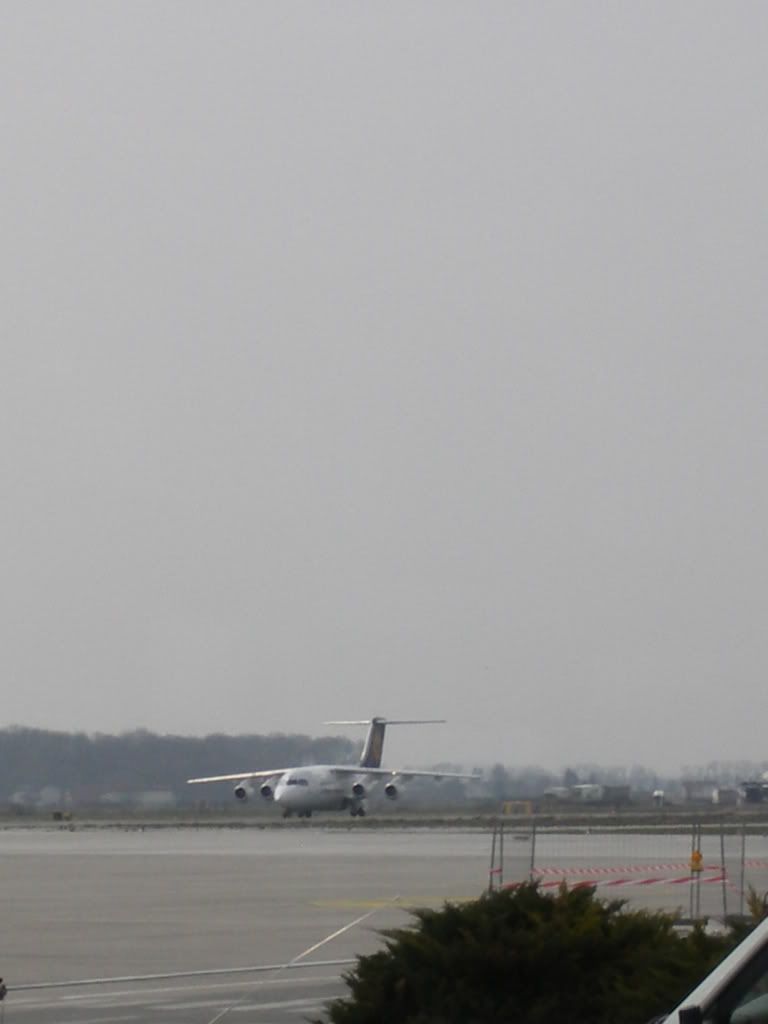 Exciting, which plane will arrive:
D-AVRK again: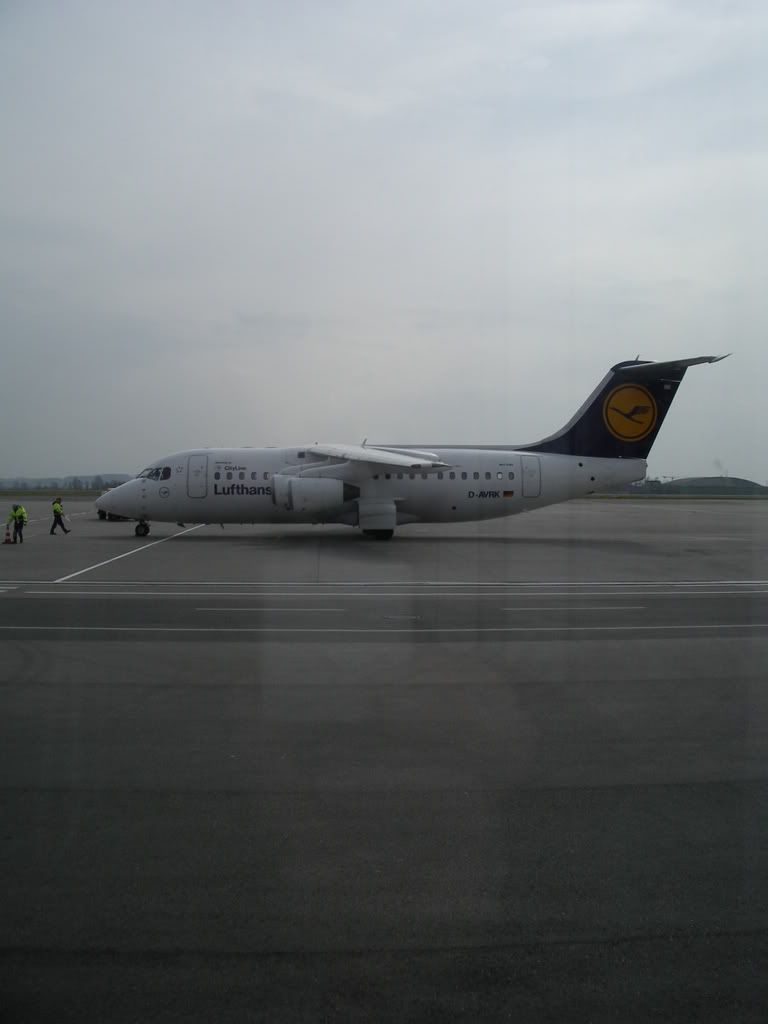 Our machine from FRA arrived ontime, I was really not amused when I noticed that LH
and its partners operate 38 BAE/Avros but nevertheless send the same aircraft like yesterday for this service.
Boarding at around 3 pm, we had to walk to the plane, parked directly in front of the gate.
Short ahead to boarding:
I remember, said goodbye to D-AVRK yesterday: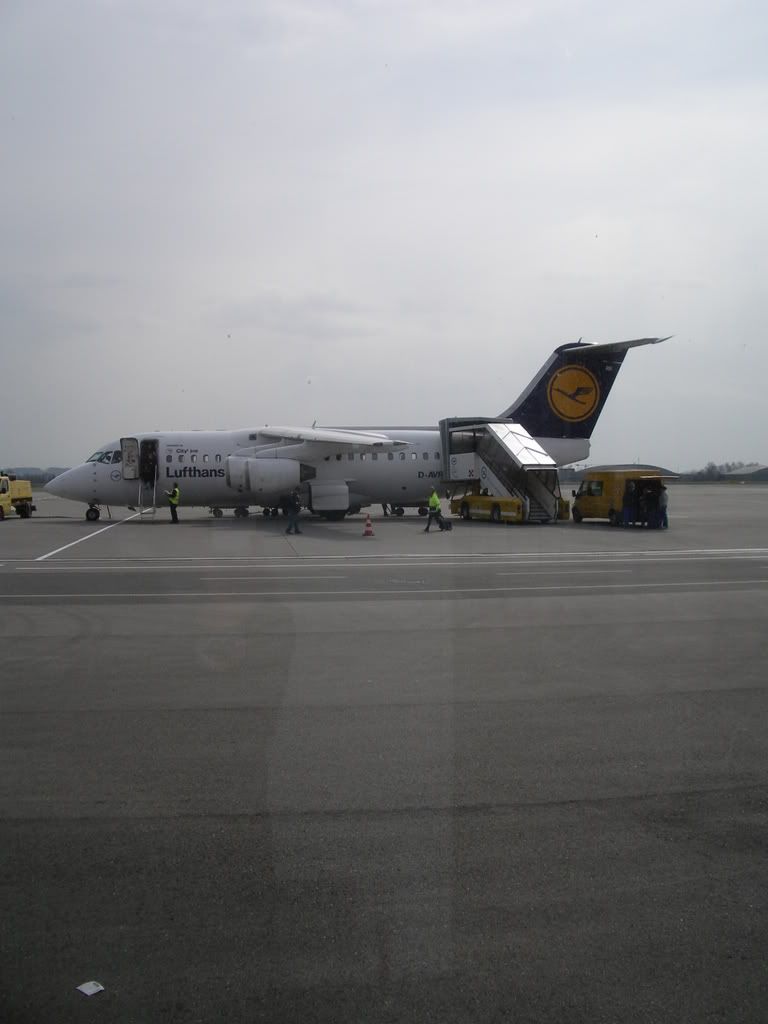 Again a friendly welcome from the two female FA´s.
Captain Thomas Bassauer welcomed us also and explained that his FO, Jahn, will fly us to FRA.
Route: LNZ-MUC-FRA.
Service: Some chocolate easter rabbits today and free beverages, coffee/tea, ok so far.
Approach to FRA was interesting and bumpy, with some heavy clouds in the area.
We passed the airport along the runways, five minutes towards the landing direction, lined in the queue
and landed on 07L.
Never mentioned such a short arrival, touch down, heavy brakes and vacated 07L only some meters from our
parking position, now I know more about the short runway needs of the Avro jet.
Again the whole interesting apron tour back to T1.
What do you think about the rate of FRA connecting passengers on this service?.
Final destination FRA for me and my son only, that means we had a whole baggage belt for our two bags,
all the others on connections.
Back home with the ICE after an interesting hour at the famous McD with the panoramic view at T2.
So, a great adventure for my son, a new airport for my log, two flights on the Avro, which is not that much covered in my log.
An interesting area there around Linz and also a interesting hotel.
All together a nice weekend.
Comments welcome,
Markus (FLIEGER67)