(I apologize for the bad quality of the pictures as my ISO was set too high)
Trip Back Round
For my spring break this year I would be accompanying my mother who was leading a group of Vassar College students through three islands in the Caribbean. The trip would take two weeks and would take us through Dominica, Martinique, and St. Lucia. Air travel arrangements were made via a travel agent and American Airlines and American Eagle turned out to be our way of travel.
The routing would be JFK-SJU-DOM then take a ferry from Dominica to Martinique and then a ferry to St. Lucia. Once the trip to St. Lucia was over we would then fly back to JFK via MIA.
I have flown American Airlines countless times in the past but not for a good six or seven years and was not exactly sure what to expect. I flew American Eagle back in August to SXM from SJU so I knew what service would be like. The only downer really was that I would be flying on the Airbus A300 which is an aircraft I have become sheepish about flying on since the crash of the American A300 to SDQ. Another downer was that I found out two nights before the departure day that I would not have a window on the A300 flights. After a call to the American Airline reservation center I learned that my flight was overbooked by seven passengers and no windows were open.
Night Before and Morning/Day of Flight
Since it takes a good two hours to get from Poughkeepsie to JFK and you need to be at the airport two hours before scheduled departure time it was agreed that we would leave from Poughkeepsie at 2:30am.
I had a good nights rest on Thursday night and spent most of Friday packing and just relaxing. I decided to take a shower to refresh myself at around 11pm and then relaxed some more till the 2:30am departure time from Poughkeepsie.
2:30am finally rolled around and we met the bus at Vassar which had been rented to take the group down to the airport.
The drive to the airport was uneventful, except for a viewing of Borat on the television system, and mostly everyone slept.
Departure Airport: New York John F. Kennedy International Airport (JFK)
Transfer Airport: San Juan (SJU)
Arrival Airport: Melvin Hall (DOM)
Airline: American Airlines
Flight: AA699
Flight: AA5602
Aircraft: Airbus A300
Aircraft: ATR-72
Date: March 10, 2007
STD: 7:00am
Class: Economy
Scheduled Time: 2hr55mn
At the Airport
We drove into JFK roughly around 5am and followed the signs for Terminal 9. We were dropped off in front and headed into the fairly new terminal. Since we were a group of 41 American opened a special line for us which sped of check in. The terminal was relatively empty with only a few flights leaving around the same time.
Check in was a bit longer then usual as my mother had to make sure everything was alright with everyone else. I was given seat 15H at check in since it was the best option if I wanted to be at least near a window. My original seat was 32D which is in the middle section of the aircraft.
Once everyone was checked in we headed over to security and waiting in a semi-long line. The line took about 10 minutes and after security was done I separated for the group and took the underground walkway which connects the main part of Terminal 9 to the satellite gates. The walk was quick and the hall was surrounded by paraphernalia for Windows Vista.
Once up into the satellite I took a walk around photographing some idle aircraft and watching the arrivals into 13L. Saw some of the regular morning arrivals which I don't normally have a chance to see like the Thai A340-500 from BKK, the South African A340-300 from JNB/DKR, and an Air Atlanta Icelandic 747-200. It has been a while, well since October, that I had seen 13R/13L activity so I watched in great pleasure at the last minute correction banks the aircraft have to make.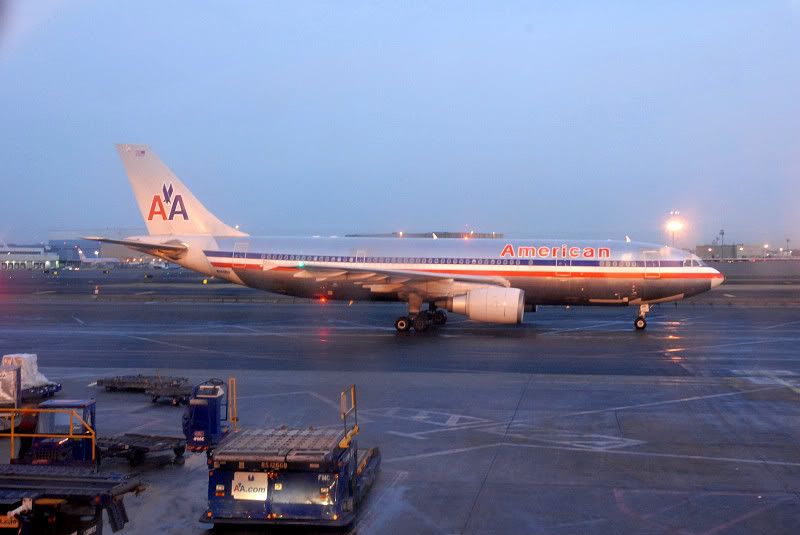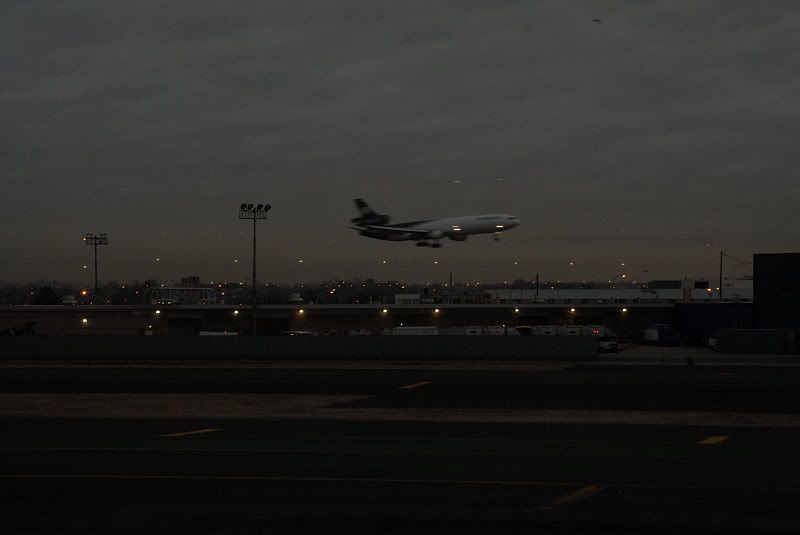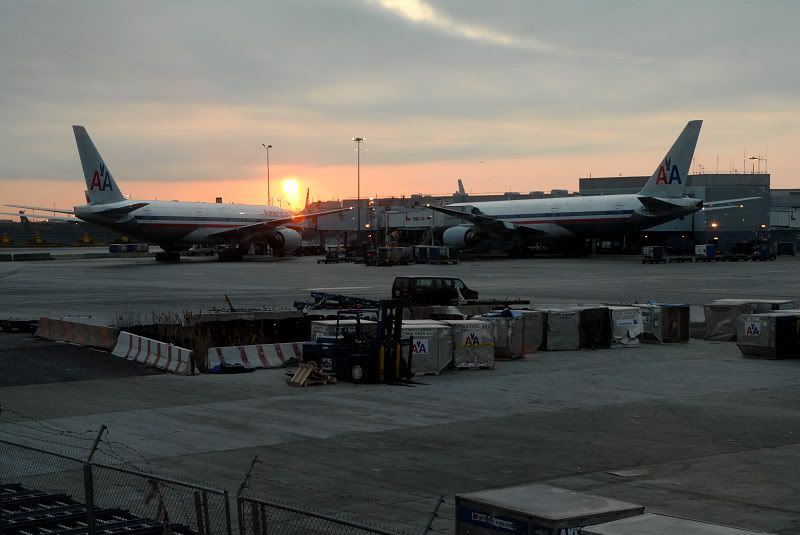 After walking around the terminal my father came and found me and informed me it was time for boarding. I headed over to the gate were they where boarding by groups. Each ticket was in either Group 1, 2, 3, 4, 5, 6, and Group 7. Boarding happened relatively quick and soon after Group 5 was announced Group 6 was announced. I was down the jet way and stepping into the A300.
After stepping into the aircraft I was greeted by a flight attendant who pointed out to me the way to 15H. As I passed the Business Class section I could tell the aircraft was in the older interior which still looked ok but very worn. I took my seat and figured it was worth a shot to ask my seat mate if he wanted to change seats so I could be by the window. He politely or well it might have been rudely said "Yeah I chose the window, is that ok?" so I turned and faced forward watching the people stream into the cabin.
My golden chance for a window opened when a mother and son were separated and I asked if they wanted to switch with me. The mother graciously accepted my offer and I now had a window, wahoo!
I settled down into my new seat which was 17A and looked out the window at an American 767-200 being prepared for her flight to LAX. My new seatmate sat down and she asked me about my camera. That one question started a whole conversation about photography, aviation, college, teachers, etc, etc which I can gladly say passed the time by in the flight!
Pushback was commenced at 7:10. The engines started up and we started our taxi to 13R which would be our departing runway today. Taxi time was not extremely long but we all know how long those runways at JFK are and how long the taxi time is! I watched as an American Eagle ERJ-145 and Song 757-200 landed on 13R and then watched as an Avianca 757-200 and jet Blue rocketed off of 13R. It was now our turn for takeoff and as we turned onto the active I could look back and see the line of aircraft waiting for departure which was starting to grow.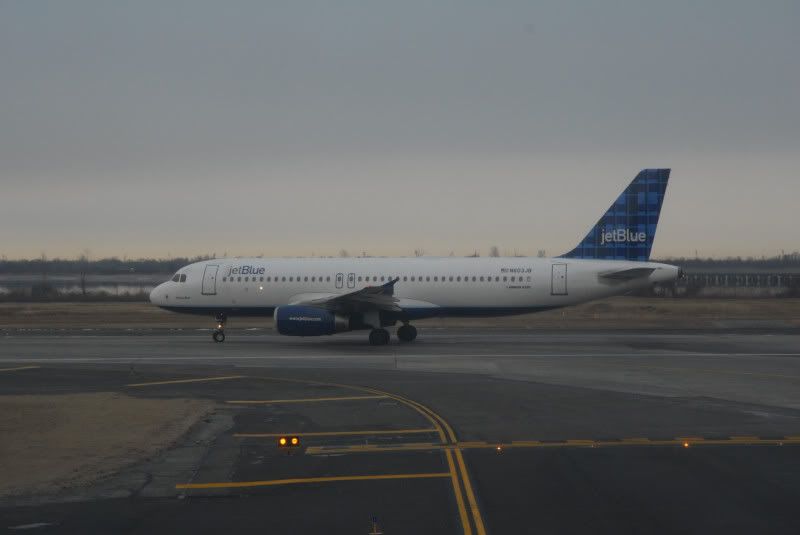 We turned onto the runway and the captain hit full throttle only a couple of moments after I had watched the jet Blue A320 lift off. I was immediately thinking what the hell was this captain doing and I thought we were in for a rejected take off but we kept rolling down the runway and lifted off around Terminal 1 and hit a hard bank to the right out over Bayswater. The climb was relatively fast and then the throttle was pulled back some as we reached the coast but then set back to full and the angle of climb was crazy! I guess they don't call the A300 Zero G for nothing!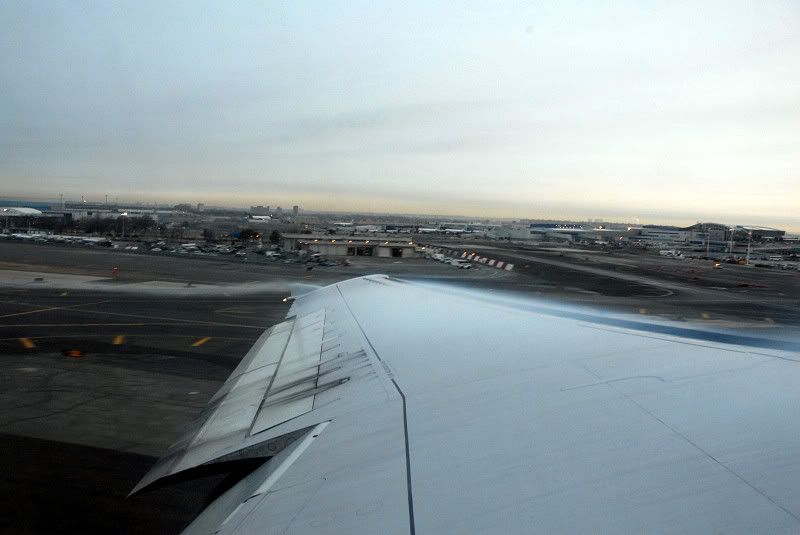 The climb continued and the captain came on to announce our altitude, flight time, weather in SJU, and what the movie would be. The old monitors were turned on and the regular American programming was turned on which I didn't have much interest in since I was deep in conversation with my seat mate.
Food and drinks were offered. Food was for pay but drinks were free. I got myself a Sprite and then had another interesting conversation with my seat mate about how airlines are now charging for food.
My seat mate then decided she would try for some sleep so I pulled out my lap top and started working away at this trip report.
Something I want to mention is that I did not find the service very friendly at all on the flight. The main flight attendant that served my aisle was very unfriendly and was not happy to repeat food choices and gave a rather nasty response to my seat mates question about paying for food.
Flight time passed by and we encountered some turbulence and flew some interesting paths to get out of the way of large cloud formations. I got up to use the bathroom and ended up being stuck back in the galley for about 8 minutes during the turbulence as the flight attendants where serving a pre-arrival drink.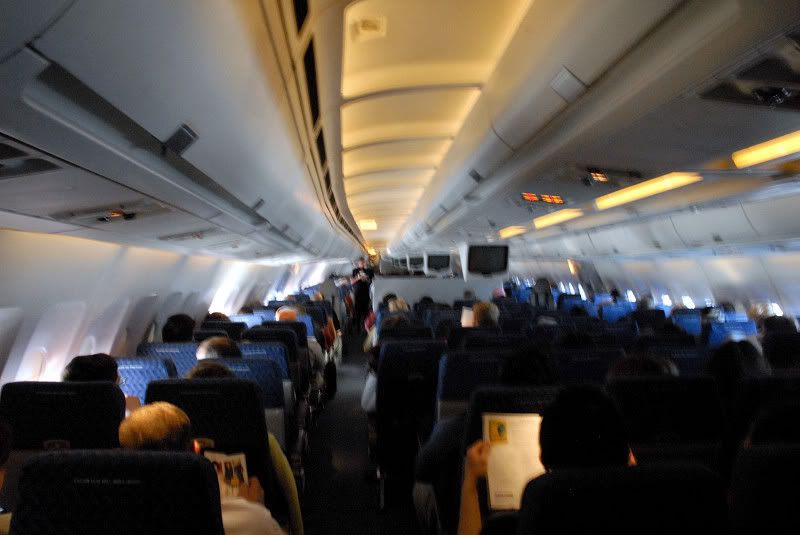 I had a glass of water and sat down. The captain came over and told us that we would be beginning our descent. By this point I was pretty conked out and shut my eyes for a brief second and the next thing I new we were turning on final for runway 8 into SJU.
The landing was slightly fast and hard but we touched down and the cabin applauded. Taxi to the gate was short and we past some other American aircraft parked at the Terminal. Are gate was at the end of the concourse right before the American Eagle gates so that meant a very short walk to our next gate for our flight to Dominica.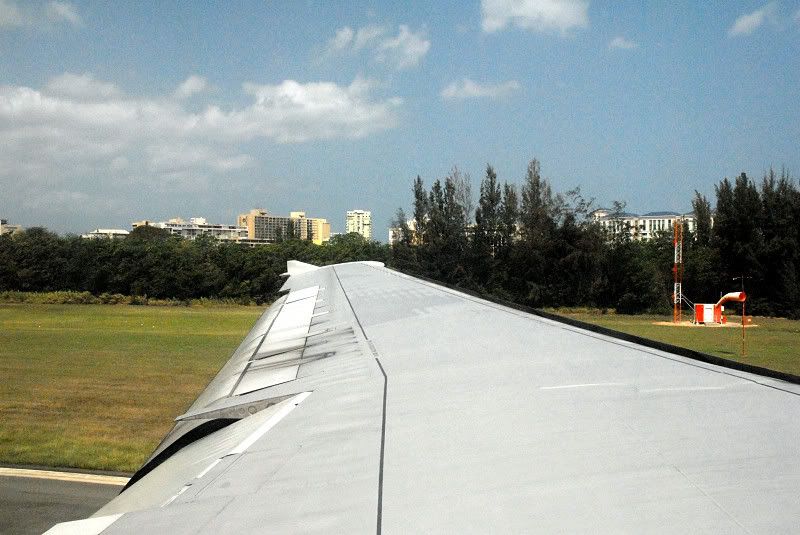 Flight Rating:
Entertainment 8 ½
Service 4 ½
Comfort 6 ½
Overall the flight was relatively pleasant and I slightly underestimated the A300. One complaint though is that the cabin feels very tight and kind of claustrophobic.
American Eagle AA5062
Departure Airport: San Juan SJU
Arrival Airport: Melvin Hall DOM
ETD: 13:05
ETA: 14:50
Aircraft: ATR-72
Seat: 6D
After deplaning our flight from New York our group regrouped and headed downstairs to the American Eagle gates. Our flight to Dominica would be leaving out of 1B. The current time was around 12:10 and some issues were being sorted out with students who had not been ticketed on the flight and also weight restriction issues.
I walked over to the corner of the room which has a semi-ok view of the runway action and watched a Fed Ex DC-10 role for take off and a few other regular visitors arrive.
12:30 was approaching which was the estimated time of boarding and sure enough the flight was called. Our group headed over to the counter and handed our boarding passes and passports and then walked onto a bus that would take us to the ATR.
My bus was not very full and left after I had stepped on. The bus took us past our A300 that had brought us from New York and then we passed about a dozen ATR's till we reached ours which was parked at the end of row.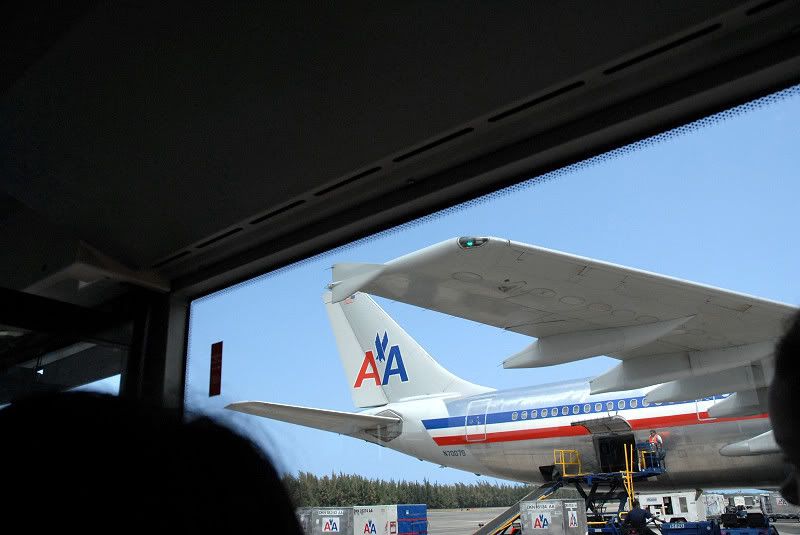 We had to wait on the bus for a few moments and I took the opportunity to take some pictures of a United 757-200 taxiing for take off as well as a Delta 757-200 holding for take off which then caused an inbound American 757-200 to do a go around.
Everything was given the ok and we were allowed to board. We stepped out into the humid San Juan air and then up into the musty cabin of the ATR-72.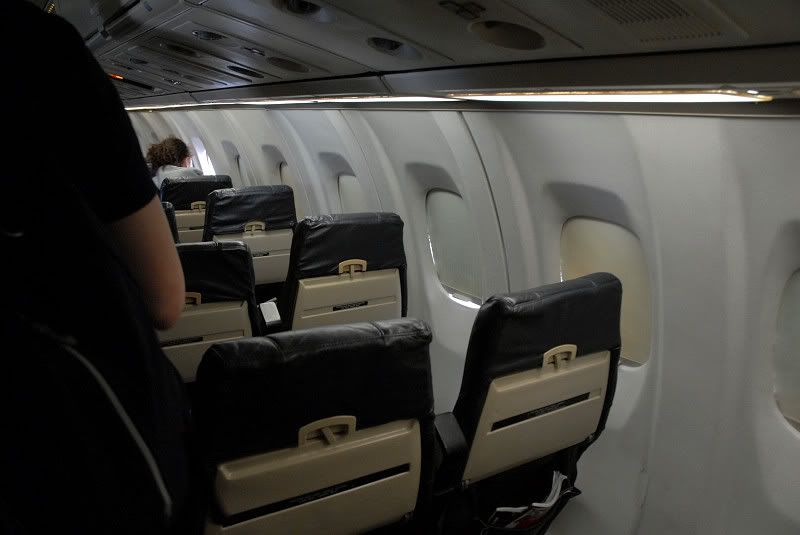 I found my seat which was located right next to the propeller (ugh) and gave me a limited view of the surroundings. While waiting for our aircraft to fill up I watched a Ryan Air 757-200 arrive and a couple of other aircraft depart and arrive.
My seat mate boarded and took her seat next to me. This time my seat mate was part of our group so I got a chance to know her somewhat better. By now it was nearing 12:55 and the ATR-72 cabin was still filling with members or our group and a few others. I have to say it was the only flight on an ATR that I have taken when the cabin is almost completely full.
Boarding finished up and the captain came across the loud speakers and asked us to pay attention to the safety instructions that were being given by the flight attendant. The first propeller was started up and we taxied out and behind an American A300 (the same aircraft that brought us to SJU) and 3 Cape Air island hoppers. The captain announced we would be number five today for take off. The Cape Air aircraft took relatively quick to get off the runway and by 13:03 we were holding short for the American A300 to rotate.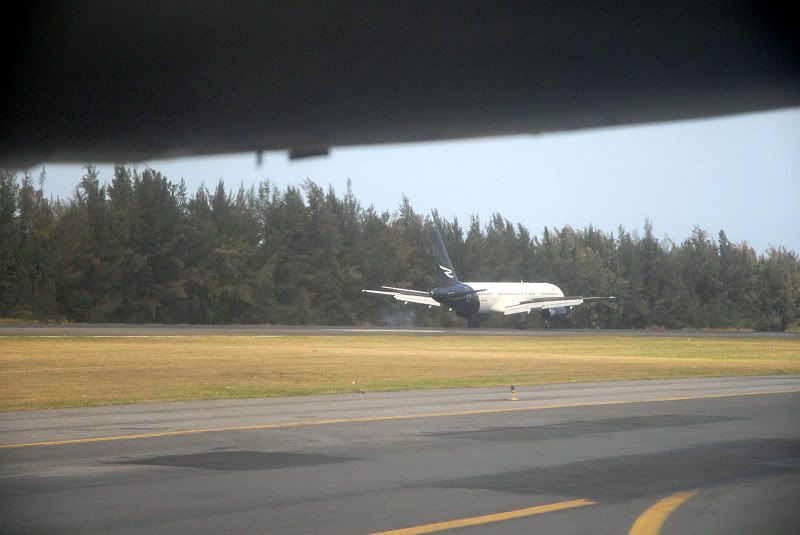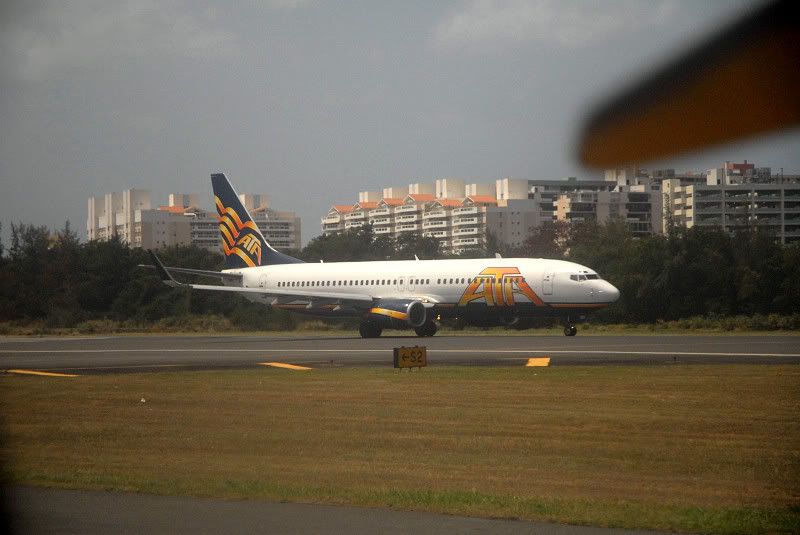 The American cleared the air and the captain spooled up the props and off we went. It took the ATR a bit of time to lift off because of our weight but we lifted off near the American Airlines terminal. We were then provided with an overview of the airport. I could see a Continental 767-200 that had just arrived from EWR and I could also see the Ryan Air 757-200 parked over by the cargo ramp.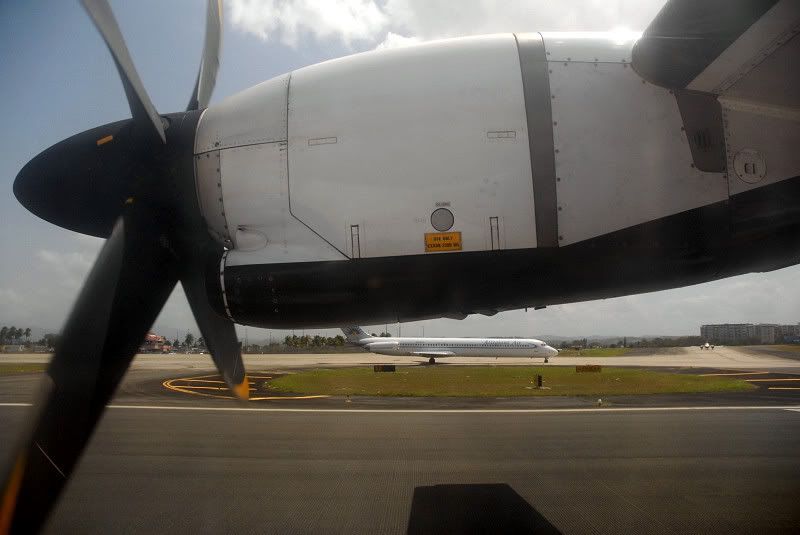 We climbed and made some turns and were soon flying high above the Atlantic. The flight attendants came around with a beverage service including a free bag of Lays Potato Chips. After the beverages had been passed out we received immigration cards.
I again passed the time on this flight by mostly talking to my seat mate, gazing out the window, and writing this trip report. Unfortunately we only flew by one island which I believe was St. Kitts.
About an hour before arrival the airline handed out feedback forms which I accepted and spent a good 10 minute or so filling out.
30 minutes prior to the ETA the captain came over and announced our decent. We were now approaching the cost of Dominica. As we passed the coast to our right my mother yelled out "oh gosh I hate this park!" and right after she yelled that out the aircraft took a steep bank to the right, a steep bank to the left, and then flew extremely low over a forest banking to the left and then banked some more to the right. I have to say that it was most fun approach I have ever had. I had butterflies in my stomach the entire time and all the passengers were really into what was happening.
(The pictures give no justice to how crazy the landing was)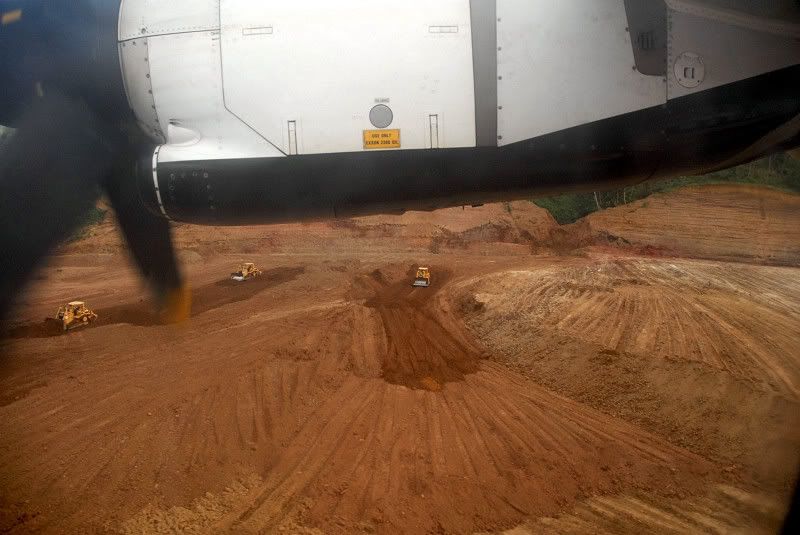 Finally after was seemed like the longest rollercoaster ride we touched down on the runway rather smoothly and backtracked to the terminal.
Deplaning was easy and as we waited for immigration a LIAT flight from Antigua arrived.
Once through immigration we gathered our bags which had been left in a little corner, no baggage carousels here, and were soon out the door meeting our bus.
Entertainment 0
Service 9 ½
Comfort 9 ½
I have never had a bad experience with American Eagle and enjoyed flying them more then American Airlines. The added plus of food and a friendly and attentive staff as well as reasonably comfortable seats make it great. The only complaint was the noise the props make!