Thursday, April 5th, 2007
United Airlines - Express (Trans States)
Flight 8006
N831HK
RIC - IAD
Seat 7A
Departure Gate: B13
Arrrival Gate: C28
Scheduled Departure Time: 6:40am
Scheduled Arrival Time: 7:40
View Large
View Medium


Photo © Jason Bisson
I'm really starting to hate these early morning flights. I chose the early morning flight, so I could grab the daytime LHR flight out of IAD. This means in order to not have to wait in line at the airport, I have to get up really early. I did the online check in for todays flights early in the morning of the 4th. I checked in early enough to be offered Economy Plus on the IAD - LHR leg. More about that later. I woke up at 2:30 am, after having set my clock for 3:30am. I tossed and turned until about 2:50am, and said screw it. I got up and did the final packing I needed to do. Since there were 3 of us going to Europe for 2 weeks, we had a lot of baggage. We also had to take 2 cars to the airport, because there isn't enough room for us,
(and my mom and dad who drove the cars back home) and the bags. When we arrived at the airport, we were the 3rd group in line to check in our bags, There was no one at the check in desks, and the Self Server kiosk also didn't open until 4:30am. The ticket agents finally showed up, and took our bags. Then it was off to security. I did the usual unloading of the carry on, but that didn't matter much, as I set the metal detector off twice. I was put into "time out". I was wanded and it went off on my pants button, and wallet. He swabbed my CPAP down, and then let me pack my stuff again. Prior to going to the gate, the departures board said our gate was going to be B11. We went to the gate, and hung out for a while. Eventually they changed our gate to the next one down. They called for boarding, we were in group 2, and one of the first to get on the plane. My first impressions of the Embraer, lots better than the Canadair. You don't have to do funny things to your neck to see out of the window. The windows are huge on this plane. The seats were comfortable. No complaints about this plane whatsoever. Finally everyone had boarded. We took off from runway 2, headed north, pretty much following I-95. I was able to see some of the truck stops I frequent, as I am well traveled on I-95. We started heading NE for a little bit, and then west. We passed pretty close to the new airport in Stafford County. I am unsure of the airport code for that airport. After heading west for a bit, we turned north, and headed pretty much straight in, and landed on runway 1R. We took the high speed turnoff near the terminal and taxied to gate C28. After deplaning, we waited for our larger carry ons, and while doing so I took a few pictures. It was at this point I realized the Sandisk SD card I bought off of Ebay was a piece of shit. Good thing I havn't left feedback on it yet. After waiting for the carry ons, we headed into the terminal.
This was my first time inside of IAD. I was hoping for a moving walkway, but got denied. It was a good hike from the incoming gate down to gate C1, where our next leg would be leaving from. On the way down, I stopped at the first smoking area I have seen in an airport for awhile. While at the gate, we were able to use some plugs in the walls, and we used our laptops for a bit.
A few pictures from the first leg...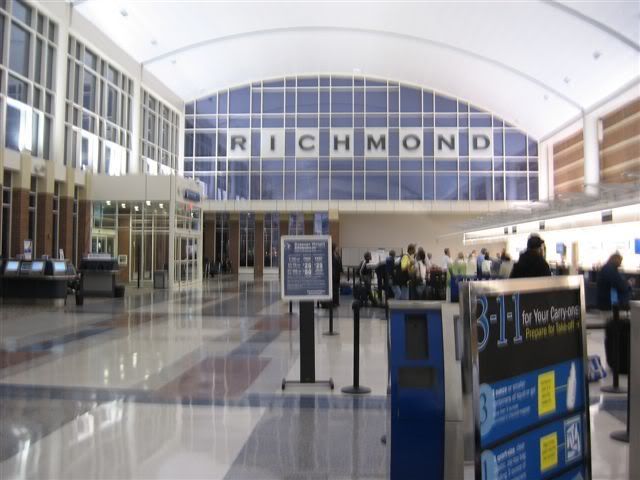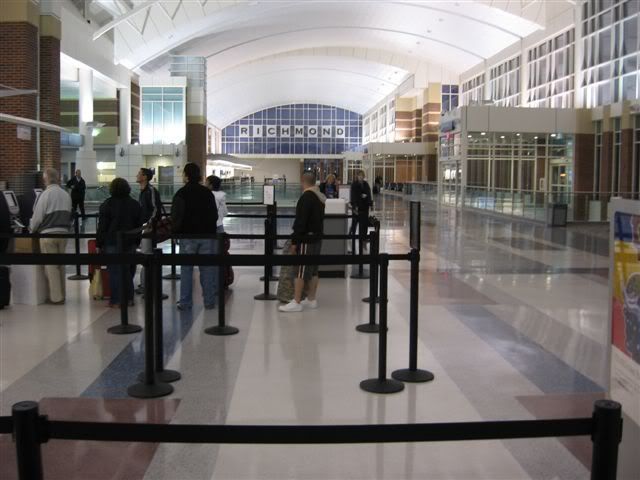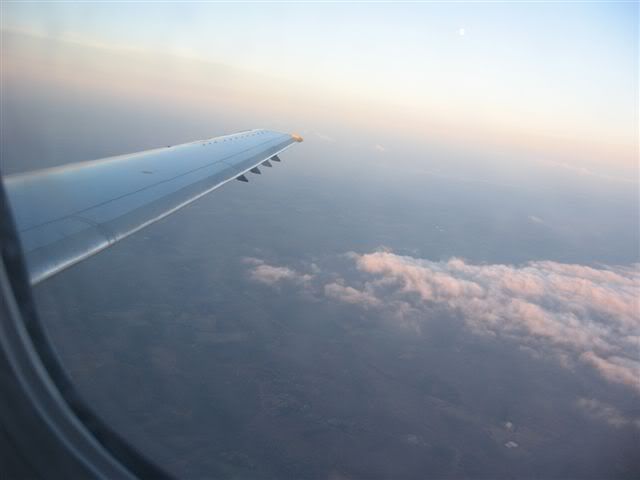 Thursday April 5th, 2007
United Airlines
Flight 922
N653UA - Star Alliance Logo Jet
IAD - LHR
Seat 20A
Departure Gate: C1
Arrival Gate: 316 - Terminal 3
Scheduled Departure Time: 9:26am
Scheduled Arrival Time: 9:55pm
I found this picture of the plane we came in on, on its way out the next day:
View Large
View Medium


Photo © Dave Chapman
At around 8:40, they started to board the plane. Having checked in online the day before, I was offered the upgrade to Economy Plus section for somewhere around $85 a person. I took the offer. Our original chosen seats were farther in the back, so I jumped at the chance to try Economy Plus. We were in group 2, and as soon as they called for 2, we were at the podium handing over the boarding passes. We were also one of the first on the plane. I took my seat, thinking the ride was going to be pretty bad, as I am not a small person, I was thinking the worst. I was proven wrong. The seats seemed like average economy seats, but the extra legroom helped out a bit. With my smaller sister sitting beside me, that probably helped things out a bit. After everyone had boarded, we pushed back, and headed to runway 1R. Here is a video of the take off:
After take off, we headed north east over BWI, and east of PHL. We hit the Atlantic Ocean just south of NYC. They served breakfast somewhere over the Atlantic. I had the diabetic meal, which consisted of eggs and sausage, a fruit plate, (for a diabetic?), and a bagel. I had a Diet Pepsi to drink. They had a few movies showing on the PTVs. I chose The Pursuit of Happyness with Will Smith. After that ended, I pulled out the laptop, made up a playlist, and let it play until my battery died. It did last about 4 hours, during which time, I pretty much watched the Airshow. I have come to the conclusion that the Airshow, pretty much makes things seem longer. Knowing where you are at, and seeing how slow the map moves can be pretty rough. Right about the time the battery in my laptop died, they started serving a snack. I got the diabetic snack which consisted of Chicken, with pasta and rice. Again, why is pasta and rice served to a diabetic? United needs to work on their diabetic menu. This flight across the Atlantic was a little different than the rest I have done. We came in over the South of England near Plymouth. Usually we come in from the North over Scotland. I guess the winds were a little different this time. As we came in over England, we travelled to the East of London, then turned West. The Captain mentioned following the Thames River into LHR. I'm not sure which runway we came in on, but it didn't take long to get to gate 316 at Terminal 3. The purser had mentioned earlier in the flight that they did not have the proper immigration cards, because IAD didn't have any. They handed them out as we deplaned. We hiked to immigration, where we had a pretty big queue to go thru. It took about 1/2 hour to get thru, and when we got to baggage claim, our bags were there waiting on us. We went thru the nothing to declare lanes, and there was no one working, so we just went on out. Since this was my first time at Heathrow, it took a little while to find the Hotel Hoppa kiosk to get our tickets to the hotel. The tickets were 4 Pounds each. We found out later, that the local bus lines will take people for free to the stop closest to the hotel. Our stop is right in front of the hotel. It's been quite sometime since I have flown United. They rate better than US in my book, which I normally fly due to the miles program I am in - my debit card gives me US miles. After checking my miles balance, the UA miles posted faster, than my US miles do. I'm going to have to consider them more in the future. My rating? 7 out of 10 for UA.
I have a few more legs in the next week or so: LHR - AMS - LHR / LGW - KEF - LGW / LHR - IAD - RIC so keep an eye out for them. Here are the pics for the 2nd leg: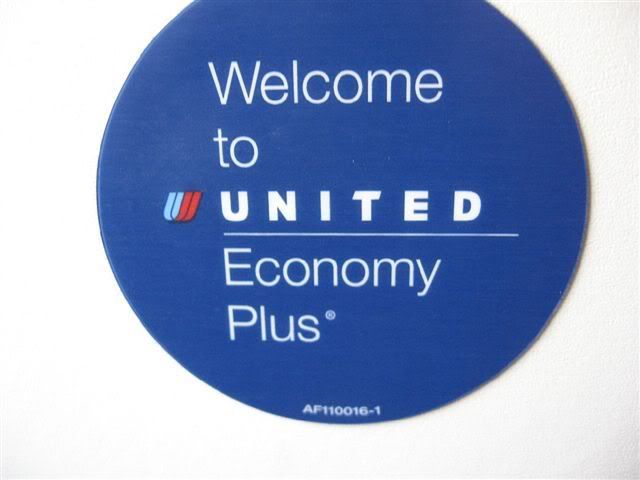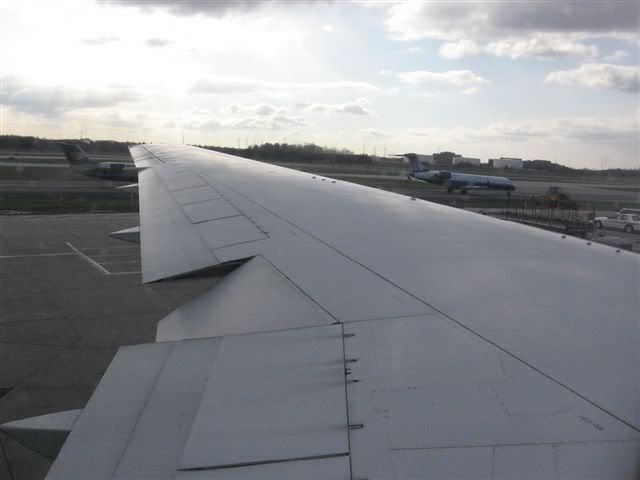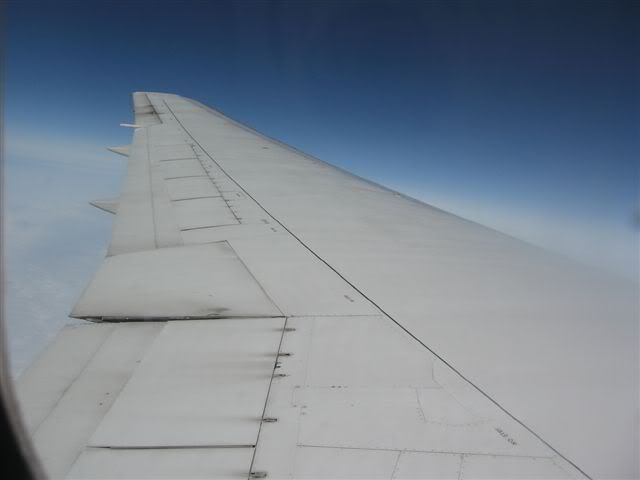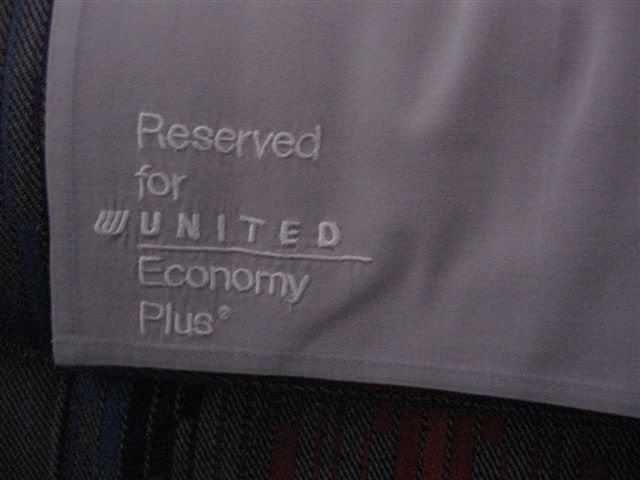 [Edited 2007-04-08 00:05:22]