First Choice Airways Flight FCA012 Manchester (MAN/EGCC) – Puerto Vallarta (Licenciado Gustavo Diaz Ordaz International, PVR/MMPR), Mexico with technical stop in Orlando Sanford, USA (SFB/KSFB)
Flight Details:
Date: 14th March 2007
Departure Airport: Manchester International (MAN/EGCC) Terminal 2
Airline: First Choice Airways
Flight: FCA012
Equipment: Boeing 767-324/ER
Registration: G-OOBL
Destination Airport: Puerto Vallarta International, (Licenciado Gustavo Diaz Ordaz International, PVR/MMPR), Mexico
Technical Stop (Refuelling): Orlando Sanford, USA (SFB/KSFB)
Seat: 19E (Isle)
Scheduled Departure: 0915 GMT
Actual Departure: 0915 GMT
Departure Gate: 300 (remote stand)
Scheduled Flight Time: ~14 hrs (inc. 45mins tech stop)
Scheduled Arrival: 1715 (GMT -6)
Actual Arrival: 1725 (GMT -6)
Actual Flight Time: 13 hrs 10 mins (+45mins tech stop)
Arrival Gate: remote stand (gate 3 SFB)
After long debate on where to try for out next adventure having been to a number of the Caribbean islands, we decided on Mexico. Because it was spring break when we wanted to travel, we decided against Cancun in favour of the Pacific coast and Puerto Vallarta. We don't have anything against spring breakers, but we prefer a bit of peace and quiet while on holiday! Puerto Vallarta would be more peaceful and tick my box for diving in the Pacific Ocean. With Humpback Whales and plenty of other marine creatures to look for, it sounded ideal. It's also said to be more Mexican than the commercialised Cancun and surrounding areas.
Booking the holiday was straightforward, there's only one flight every two weeks from the UK to Puerto Vallarta and that just so happens to be with my airline of choice, First Choice Airways. Having experienced their star class concept in March 2005 while travelling to Cuba, their standard 33" seat pitch and seat back IFE is ideal for a flight that would keep us on the aircraft for approximately 14 hours, covering 5821 miles. As much as I love flying, you can't get away from the fact that 14 hours cooped up inside an aluminium tube is a long time so any extra room and onboard facilities would be most welcome. First Choice, in my opinion have hit the nail on the head since they introduced their star class long haul concept, they beat many of the schedule airlines for onboard comfort. It was just a case of selecting the hotel. We opted for the 4* adults only, all-inclusive Golden Grown Paradise which is located in the northern hotel zone and close to Marina Vallarta where the dive boats leave from. The hotel looked nice in the brochure but since this isn't a popular destination with us brits, there was only one way to find out what it was like. A few clicks of the mouse later and it was all booked at a good price direct from First Choice's website. I was a little hesitant booking things from their website since I've booked flight only online with them on a couple of occasions and I've never succeeded past the payment screen and always had to phone them and lose out on the online discounts. It worked first time on this occasions and I had the confirmation email within seconds.
Since part of my reason for travelling to this part of the world was for exploring the underwater world, I wanted to take my usual array of underwater camera equipment. Since the security restrictions at airports were tightened, it is no longer possible to take the equipment as hand luggage since the camera and marine housing exceed the weight restrictions and the last time I took it through security, it was nearly confiscated for pushing the limits. Because of this, I looked at options and decided to take it within my hold luggage. It's not the ideal place to transport expensive camera equipment, but the housing is very strong so should be fine and I can still carry the actual camera by hand. Since the housing weights in at a hefty 7kg, that wouldn't leave much room for clothing with the 20kg standard allowance! One advantage of travelling with FCA, they are diver friendly and a simple phone call to customer services secured me an extra 10kg of luggage allowance free of charge. This is available to any qualified diver on production of their qualification card at check-in. A letter confirming the booking arrived in the post 2 days later confirming the extra allowance (please note there are changes to FCA's luggage allowance policy from 1st May 2007). Two weeks prior to our departure date, the tickets arrived. These come in the form of a ticket booklet with information about the resort, confirmation of our flight details, luggage labels and a preview of the skyshop.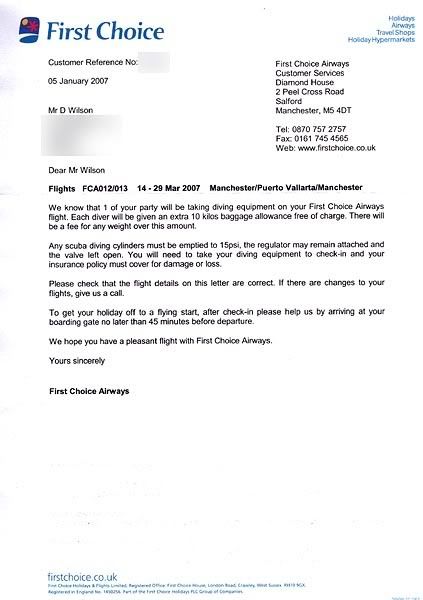 The bags were packed the weekend before we were due to depart and my worst fears started to materialise. The only thing that could stop me diving once in Puerto Vallarta was a cold since this effects the ability to equalise air spaces in the ears and sinuses. Guess what, I came down with flu with a sore throat and as the days past, an ear infection. Any drug available to relieve symptoms and help clear things up were taken but it didn't make much difference. With only 2 hours sleep in 48 hours, there was no need for the alarm clock to sound at 5am on the morning of Wednesday 14th March 2007. To say I wasn't feeling very well was an understatement. Because I know what its like and the pain which pressure changes can cause, I wasn't looking forward to spending the best part of 14 hours with 2 take-off and landings on an aircraft when I couldn't equalise the pressure in my ears. Going up and down a small hill when driving was bad enough, let along the changes when going through 37,000ft. I was in two minds on whether to fly or not but though what the hell, worst I can do is burst an eardrum!
The taxi picked us up at 0545 for the 45 miles / 1 hour drive to Manchester Airport. This got us there in plenty of time and made sure we didn't get caught in the rush hour traffic going in to Manchester on the M60. We arrived at Terminal 2 for 0645 and we were to check-in at desks 49-54, desk 55 was exclusively for premium passengers. Since we were early, the queue was small and we were checked-in within 20mins. As I suspected, because there were 3 in our party we were allocated the 3 isle seats; row 19 C/D/E. I did ask if a window seat was available, but because we had pre-booked seating when booking the holiday, they had pre-allocated these seats which couldn't be changed. I was disappointed to a certain extent because it meant no window seat and lost photo opportunities, but the way I was feeling, I wasn't too bothered about that. It then hit me, row 20 is the emergency exit row so there would be plenty of room behind to recline my seat and try and catch-up on some much needed sleep. I don't like reclining my seat normally bearing in mind those sat behind, but having the exit row behind, that wouldn't be an issue on this flight. I mentioned to the check-in agent about my suitcase being heavier than stated on my ticket and she just said that's fine, I have it on the system you are carrying diving equipment. She never requested to see my qualification card but did request I take my suitcase to desk 73 once checked-in so it could be scanned before going through the system. I assume this is to ensure anything which looks suspect can be investigated in my presence. There were no problems and check-in went smoothly.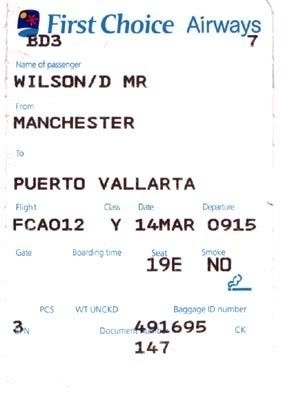 We proceeded through security before the queues started to build with little hassle. I got searched, can't think the last time I went through an airport and didn't get searched. I must have one of them faces! The others in our group headed for some breakfast but I couldn't face any which is not like me. Instead, I had a quick walk around the terminal to have a look which aircraft were in but more importantly, find out which one of FCA's 5x 763's we'd be travelling on today. There were the usual customers at the gates. The CO21 service to EWK operated by a Continental 752, a Virgin 744 for the VS075 Orlando flight, a Qatar A330 in the special Asian Games livery for the QR42 service to Doha along with the usual array of FCA, XL and TOM 757 / A320's for charter flights.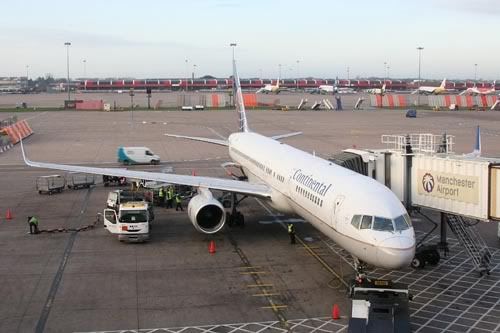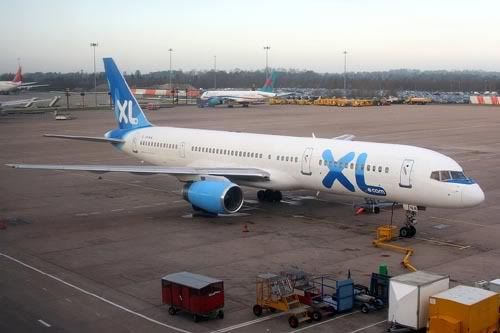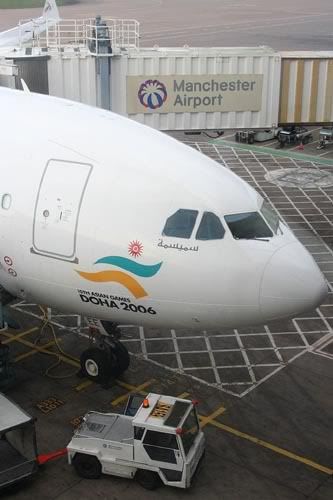 I couldn't see our aircraft at a gate but a walk down to gate 215 to have a look at the parking area found G-OOBL being towed to a remote stand, an FCA 767-324/ER. This was parked on stand 284 (from memory!) and was prepared for flight so that must be our aircraft. I've travelled on G-OOAN and G-OOBM in the past so it would be my first time on G-OOBL.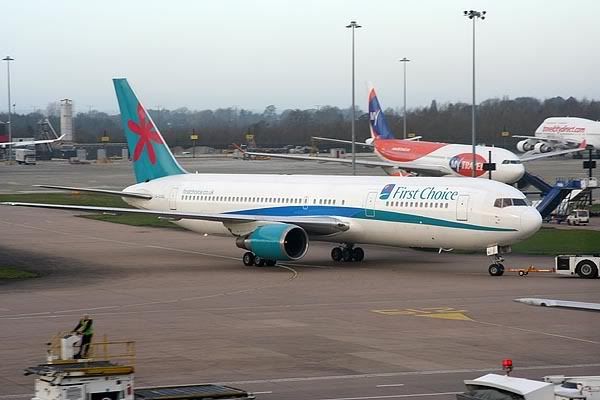 Since the aircraft was on a remote stand, I knew we'd be boarding by bus from gate 300, which is downstairs. We made our way down to the gate area for 0845 and boarding had just commenced. It wasn't long before our row number was called and a 2 minute bus ride across the apron confirmed we were flying on G-OOBL. We boarded the aircraft via air stairs at L2 and found the flight was only about 2/3rds full. The row in front was empty as well as several others behind but no window seats, all those were taken. That was a stroke of luck since I thought I might as well take the full row and try and get some sleep as soon as the seat belt signs were turned off.
The doors were closed quite quickly and we pushed back right on time at 0915. The soft leather seats and 33" seat pitch were as good as I remember them being from my last flights on the full star class 767's. The safety announcement was made as we taxied over to runway 24L, entering from tango link and the CF6's spooled immediately, no stopping. Considering the aircraft must have been fully fuelled, we soon rotated and heading for our initial cruising altitude of 33,000ft. The route would take us towards Liverpool, across the Irish Sea to Ireland then across the Atlantic towards Newfoundland. From there, we would enter Canadian airspace, then follow the eastern seaboard of America on a south-westerly heading down to Orlando for our technical stop (fuel) in Sanford, a distance of 4215 miles and anticipated flight time of 9hrs 20 minutes.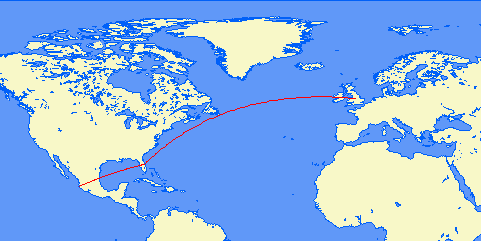 This is where my problems started. Due to the reduction in cabin pressure as we ascended, the pressure in my ears was slow to equalise and to say it was painful was an understatement, particularly in the right ear, which was the infected one. The 30 minutes or so up to cruise altitude wasn't very pleasant and at one point, I was sure the eardrum was going to rupture. Once at cruise, the pressure eventually equalised but it wasn't a pleasant experience. The seat belt signs were turned off and I asked the cabin crew if they had any pillows and they did. That was me for about the next 3 hours, I managed to get about 2 hours sleep having row 18 C/D/E all to myself. I was awaken when the seat belt signs were illuminated when we hit a small patch of turbulence. In any case, I could smell the first meal was in the oven so it wouldn't be long before it would be served. How often does that occur, turbulence when the meal is going to be served! While I was asleep, the cabin crew had handed out the Mexican Visas for us to fill in. It was just a case of filling out personal details, passport number etc to be handed in to the Mexican immigration once we arrived. One half was the entrance visa, the other portion the exit and reminder we have to pay a 586 pesos departure tax (~£26).
View Large
View Medium


Photo © Darren Wilson
The meal service commenced 3 hours in to the flight. There had been a drink service before but I'd missed that. For lunch, there was an option of either Chicken in cheese sauce or cottage pie (beef). I had the chicken and I must say it was very nice. It was served with roast potatoes and green beans, a salad for starters followed by lemon cheesecake. All very nice. Cheese and biscuits, a carton of mineral water and a piece of chocolate were followed by tea, coffee or orange squash. I've never had a bad meal aboard a First Choice flight. I was told the cottage pie was good as well.
After the meal service was cleared, I managed to get another couple of hours sleep during which time a second drinks service and duty free rounds were done. I believe there were some excellent deals on tobacco, £25 for 400 cigarettes. I was feeling slightly better by this point so I thought I'd return to my seat to have a look what the seat back IFE had to offer. There were a selection of 8 films, several radio stations and games so I opted for the games since I'd seen some of the films and didn't fancy the others since they were family orientated ones. For £5, you do have the option of upgrading to the premium entertainment that give 4 further films of newer release (Casino Royale, Déjà vu etc) and 2 more games. I was tempted but I know they are the same for the return flight so I left it for then.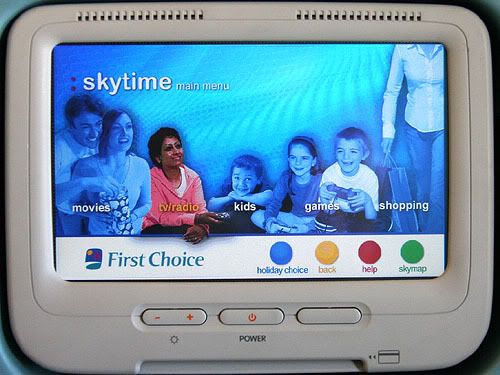 I had a few games of solitaire and played the word game against the rest of the aircraft. I beat the people sat in 16E with a score of 3200 which as it would turn out, was the highest score during the flight! For some reason, the skymap wasn't working so we couldn't track our flight progress. As a surprise, the cabin crew brought everyone a bag of popcorn as a snack while watching the IFE. I decided it was about time I started my holiday so I ordered myself a can of Carlsberg. They were on special offer, 2 cans for £4 so it had to be 2! I only had one, as it turned out. A light snack consisting of an egg mayonnaise and a tuna sandwich followed by a millionaire type biscuit was served 90 mins before we were due to arrive in Orlando for the technical stop. This would be to refuel the aircraft and a crew change. I managed to get myself to the window and have a look out and grab a snap of the wing and coastline of Florida before we started our descent in to Sanford.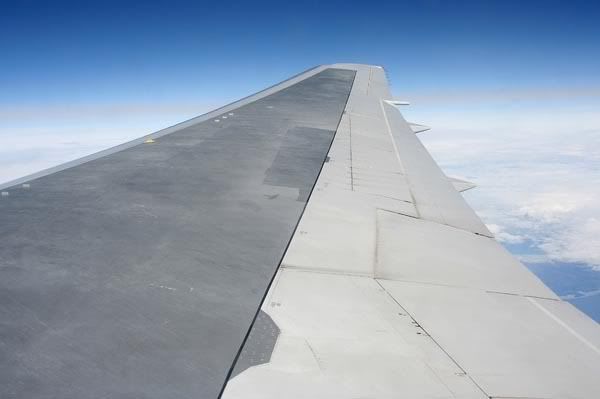 As we started our descent, I could feel the pressure once again start to build in my ears. This time, I had to force air in to the ear canal as the pressure increased and this wasn't easy. As a diver, I'm aware of the various techniques and the need to equalise little and often. The only way was by using the valsalvas technique but even this was difficult to do and painful since it was difficult to maintain an equal pressure. I was glad when we finally touched down and the descent was over. I knew my ears were not good at this stage and feared there would be no diving on this trip. The touchdown was on runway 9L and was the usual positive thump you come to expect with the 767.
We taxied over to gate 3 and the aircraft was shut down. The flight time from MAN – SFB was 9hrs 40 minutes. We were instructed to ensure our seatbelts were not fastened while refuelling was completed just in case there was a problem and we needed to evacuate. I got my first views of Orlando Sanford out of the window and to be honest, I was disappointed. Apart from a wingletted Icelandair 757-200 and an Allegiant Air MD-82 (I wonder if it was the one that had the nose wheel-up landing?), we were the only large aircraft at the airport and it was much smaller than I was expecting. I know Orlando International (MCO) is the busiest airport in the area, but I wasn't expecting it to be as small with so little traffic apart from general aviation movements, which seemed to be the mainstay of Sanford. It was like Blackpool compared to Manchester!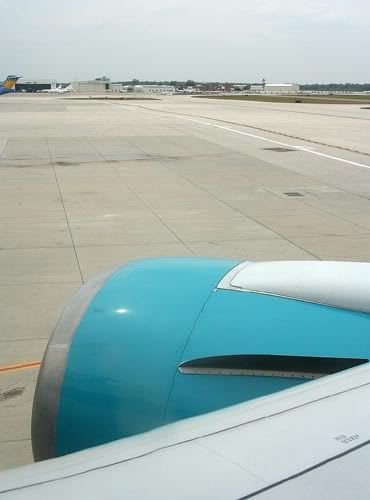 Once we were refuelled and the crew changed, the doors were closed and we pushed back for leg 2. The stop was right on schedule, 45 minutes so no delays for the expected 3hrs 30 minutes anticipated flight time down to PVR, a distance of 1606 miles. Our route would take us south-west towards Houston, across the Gulf of Mexico then across Mexico, crossing the Sierra Madre mountains before descending in to PVR. We taxied over to 9L for take off and didn't stop. The ascent was again painful until we reached our 35,000ft cruising altitude and I managed to grab another hour on row 18. This leg of the flight seemed to go quite quickly. A few more games of Solitaire followed by another drinks service and light snack and we were soon on our final descent between the Sierra Madre peaks heading for runway 22 at PVR. I'm sure the pilots love the approach to PVR, weaving their way through the terrain before lining up for the runway. By this time, the pain in my ears was worse than ever but the staged descent, a few thousand feet then levelling out helped a little and gave me time to catch up before descending again. We touched down with the usual thump of a 767 and the breaks applied quite heavily. PVR has a 3,100m (10,170ft) runway so has plenty of room, but there was plenty of break pressure and reverse thrust was used. It actually felt like the main gears locked for a second or two just after touchdown, I've never felt that before. Touchdown was at 2325 GMT, 1725 local so only 10 minutes behind schedule. This is impressive time keeping considering the 14-hour total travel time. Since PVR is quite a compact airport, we parked at a remote part of the airport just a short bus ride from the terminal building. The CF6's were shut down; they deserved a break after nearly 14 hours of flight, especially since they'd be on their way back to Manchester within 2 hours!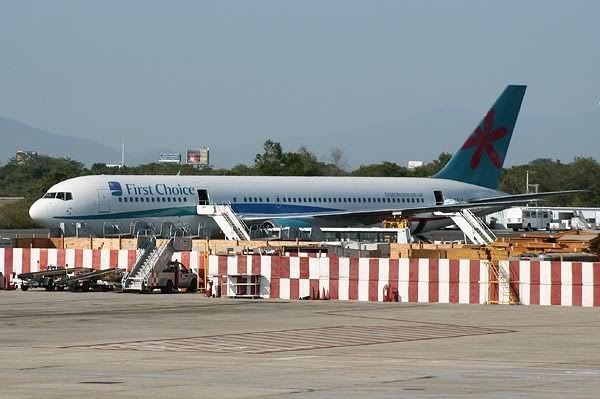 We disembarked the aircraft via a set of airstairs from the L2 door and was met with a nice warm breeze and the smell of JetA1, what better combination! It was 5 degrees when we got on the aircraft, a pleasant 28 degrees when we got off! A fleet of busses greeted us at the bottom of the steps and we were taken over to the arrival area for immigration. An Alma-De-Mexico CRJ200 was on a remote stand adjacent to us and an Alaska Airlines wingleted 737-790 at one of the gates. Once in the terminal building, we handed over our visas with our passports at immigration, which were stamped without hassle. The luggage was whizzing around the counsel by the time we cleared immigration and within 15 minutes of leaving the aircraft, we made our way through customs to be greeted by Manual, one of the First Choice reps. All very efficient. Since there were only 7 people from the flight staying at our chosen hotel, we had a mini-bus allocated to us for the 15-minute transfer to the hotel. Once checked in, the first cocktail was soon in our hands!
To sum up, once again First Choice Airways and their star class cabins and crew impressed. This is the longest flight FCA operate and considering is was a very long flight, their schedule was kept perfectly and everything went as planned. Of course the flight was fatiguing, not helped by the way I felt, but the spacious cabins, excellent IFE and meals made the flight a pleasant experience. As far as I'm concerned, First Choice really is first choice when it comes to long haul charter travel.
For those interested, I did manage to get 3 days diving in while in Puerto Vallarta; 2 days the week after the flight followed by 1 day the day before the flight (leaving 30 hours between leaving the water and take off). I had further problems equalising and may have done some permanent damage. The flight home was interesting! My return flight review, FCA013 on 28th March 2007 will be posted soon.
Darren
[Edited 2007-04-10 00:41:50]
[Edited 2007-04-10 00:47:00]