This trip was for my spring break holiday. We always go to Thailand during spring break. So here we go...
March 10, 2007
NW788 MKE-MSP
Departure Scheduled: 2:50PM - Actual: unknown
Arrival Scheduled: 4:07PM - Actual: unknown
Aircraft: DC9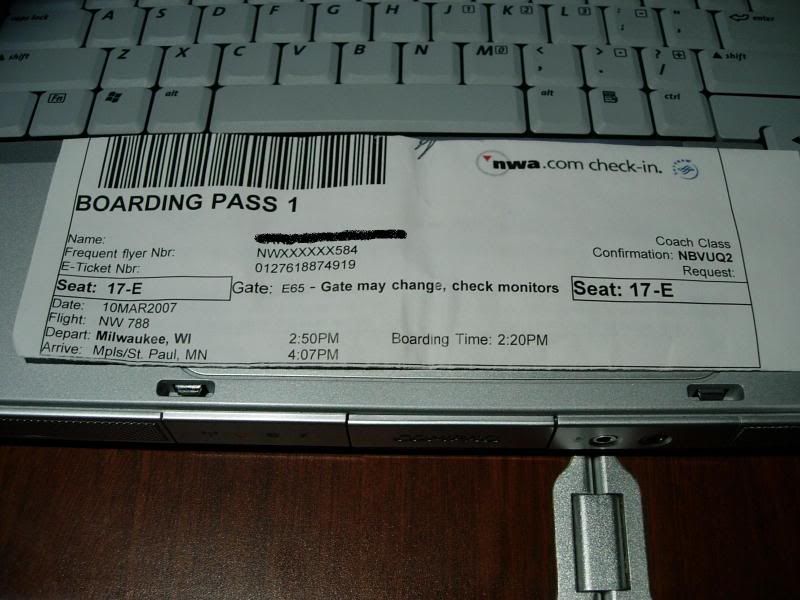 We checked-in on-line so we didn't need to wait long. But as always the TSA bag screening took a while. After we went through security, we stopped at the NWA World Club. Just the usual beverages and snacks.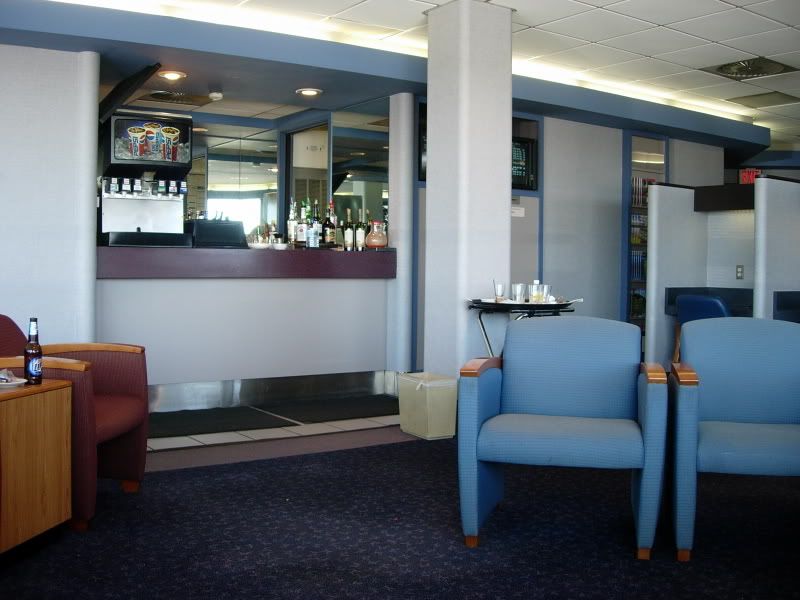 Outside the window was an Airtran 717 to Orlando.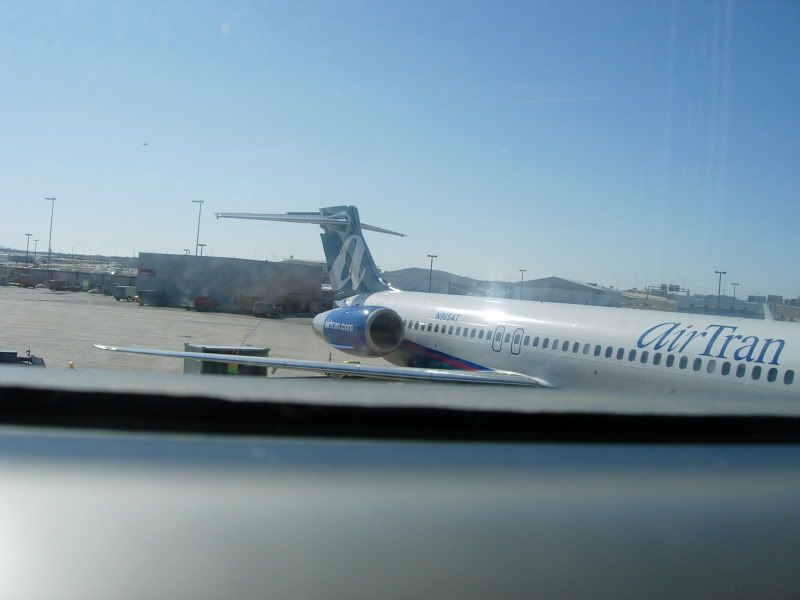 Our seats for this leg weren't too great -- 17E and 17F with my dad in 1C. We left early to talk to the gate agent about new seats. She got us 11A and 11B which was the exit row. My dad decided to give me 1C and he would sit next to my mom. But the catch was I could be in a First class aisle seat or an Economy Window seat? I took 1C hoping that there would be nobody next to me.
I pre-boarded and found my seat for the short journey. I got my boarding drink and watched the people, including my parents, funnel down into the back of the DC9. They closed the doors and I still had nobody sitting in the window. I slid over hoping that pushback would be right on schedule. Like that ever happens anymore... To my dismay, the forward cargo door was still open and they were unloading bags. We spent about 15 minutes unloading luggage, but then they found some more luggage, but this time it was going to be put on-board. The whole ordeal took about 20 minuets. The cabin wasn't too full, there were three empty seats in First and it looked like about 80% full in Economy.
We pushed back from gate E65 and commenced taxi and we departed on 25L. The pilots made a hard right bank above 2000 towards the north.
They started service around 10 minuets after take-off. I got my Pepsi and enjoyed the white landscape.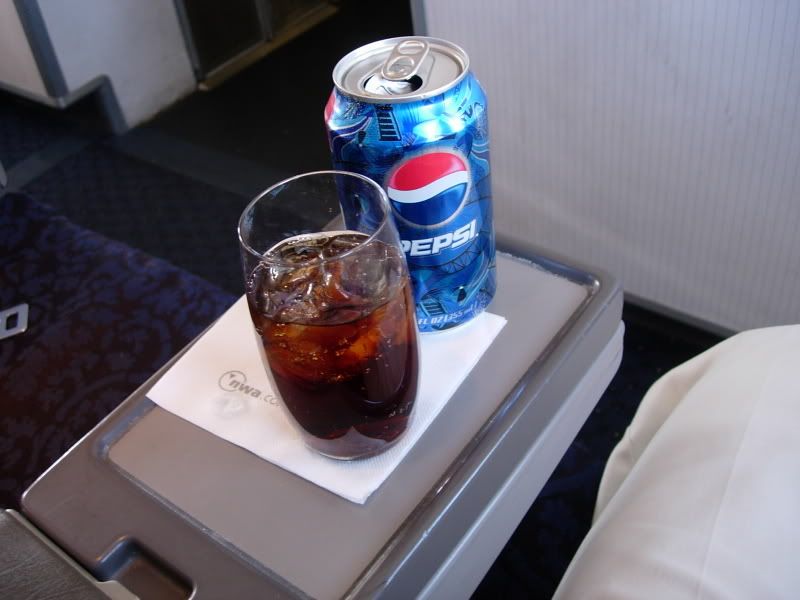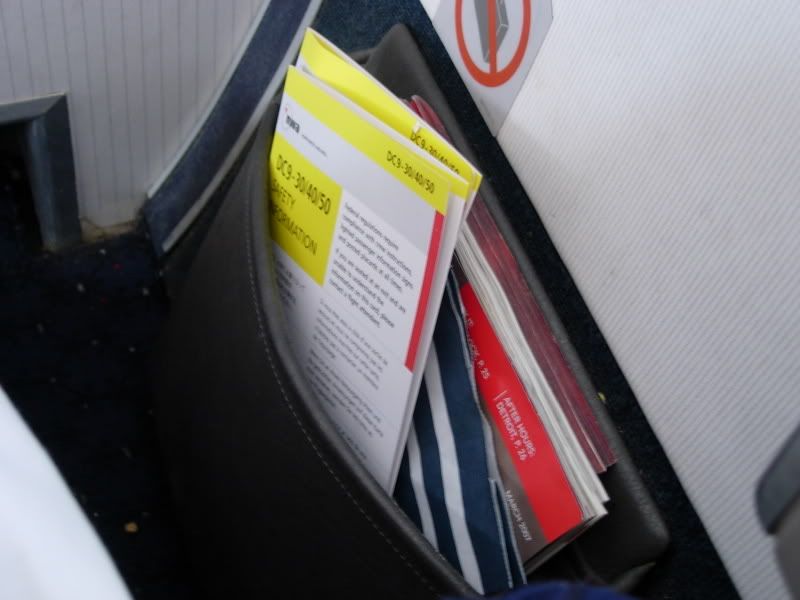 We soon started our decent into Minneapolis/St. Paul. We crossed the Mississippi River and made a left bank to the south. Once I could see the skyline of Minneapolis we turned right to meet the runway. We were landing to the northwest. We made a smooth landing on 30R, but the touch down was late, so we used most of the runway that we turned off at the 1000 feet marker. We crossed the entire airport to park at gate G21. On the way I saw a few NW A330s and a NW 757 with winglets.
The crew was very friendly and provided good service. The seat was in okay condition, but it felt a bit loose on its moorings.
March 10, 2007
NW303 MSP-LAX
Departure Scheduled: 5:15PM - Actual: 5:57PM
Arrival Scheduled: 7:11PM - Actual: 7:25PM
Aircraft: B757-200R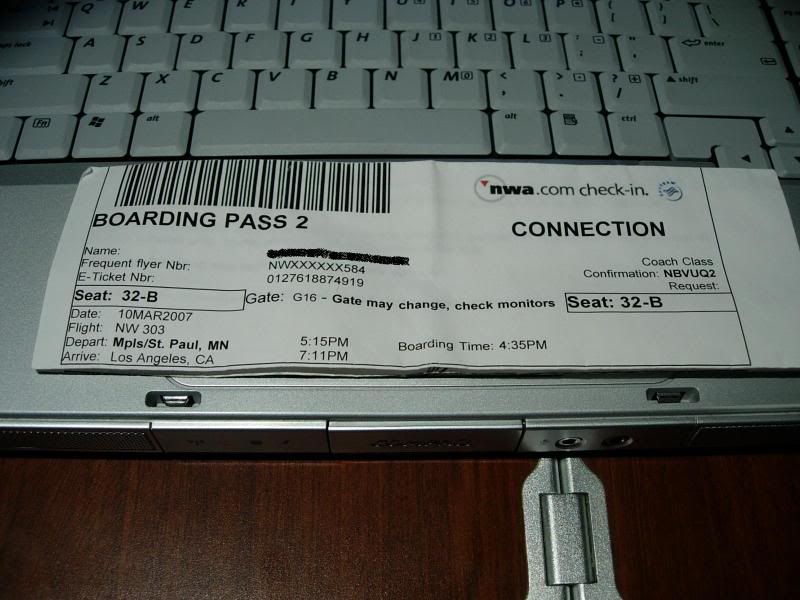 We walked through the terminal and looked at the flight board. Flight NW303 -- On-Time -- Gate G16. Great. On-time, and low stress. But of course the plane was late to arrive, so we sat for about 30 minuets. On this flight, my dad would need to work, so he took his upgrade and sat in 6C. My mom and I were in the last row of the first economy section, right behind the wing, 32A and 32B.
Once my dad pre-boarded, the cattle shoved their way forward. The flight was 100% full, every seat was occupied and the passengers weren't very happy about the delay. Once we found our seats, we got our seat mate who just flew in from London and was heading home.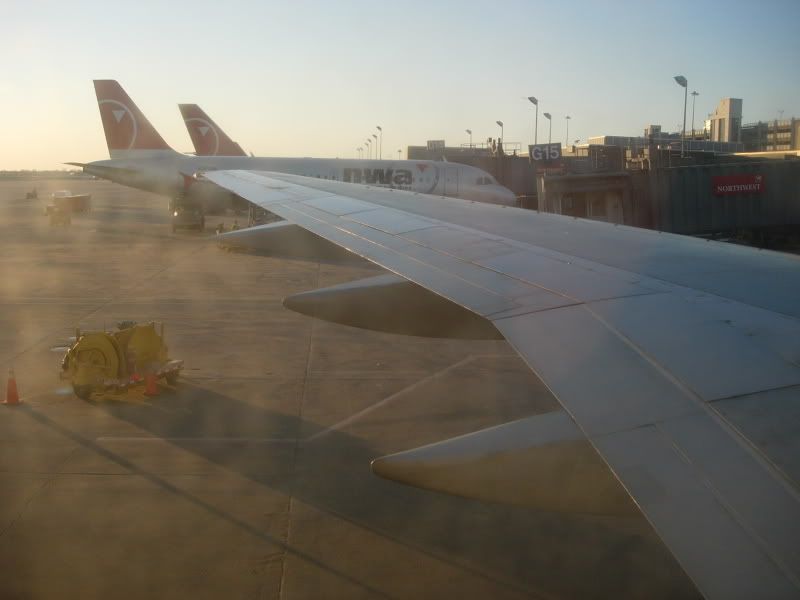 Pushback followed once everybody sat down. We left the blocks at 17:57 local. A quick taxi and we arrived at 30L for takeoff. We waited for a Sun Country 737 to takeoff and we followed shortly. Takeoff at 18:05 local. After we reached 3000 feet we turned left to the west.
The captain announced our cruise at 36000 feet and that our flight time would be average, around three hours.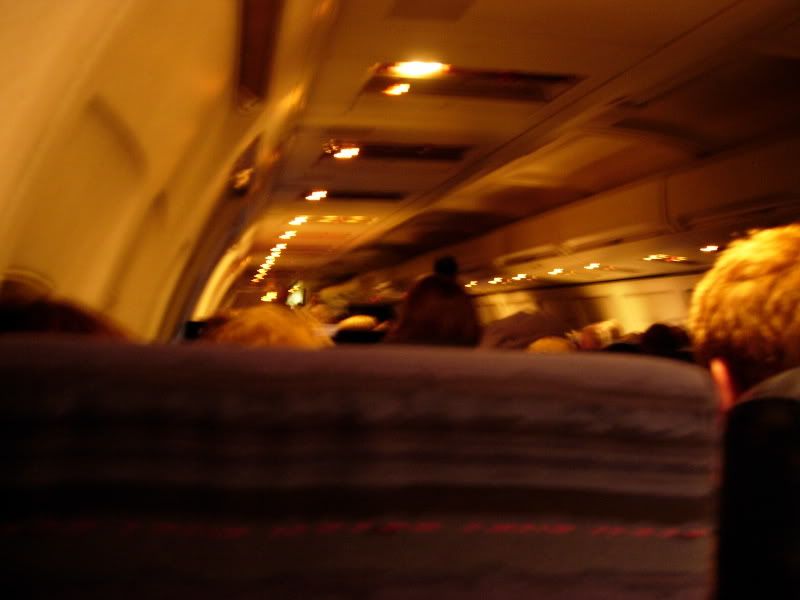 After a short nap, we were descending into LA, the captain announced that we would be arriving at Gate 28 and we had calm weather all the way down.
We landed on 24L, it was hard landing and a little bumpy. Touch down at 19:20 local. We taxied a while and arrived at the gate. Blocks on at 19:25 local.
We parked next to an Air New Zealand 747-400, an Air France plane, and a Virgin Atlantic plane. Maybe someone could identify the types.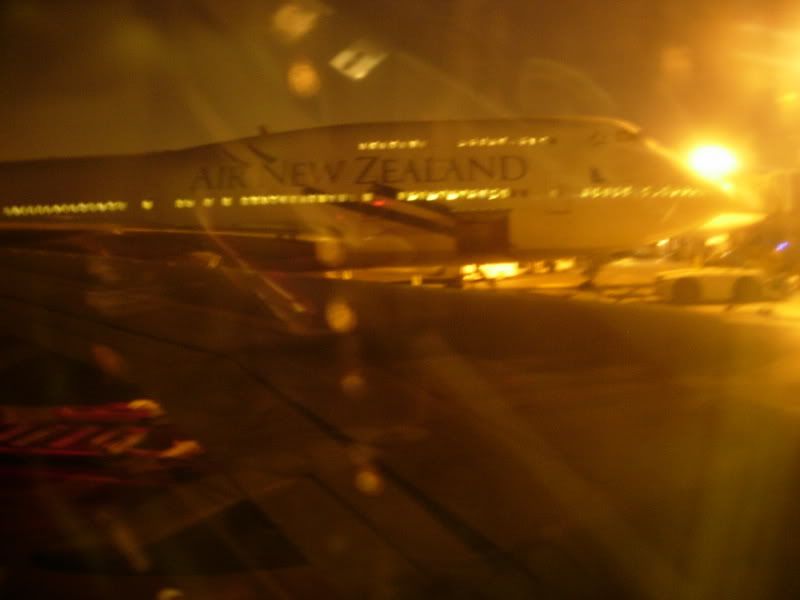 We went to collect our bags.
The flight was late getting in, but the crew did a nice job accommodating passengers.
The bags took a while also, even though we had Priority tags on them.
March 10, 2007
TG795 LAX-BKK
Departure Scheduled: 11:10PM - Actual: 10:45PM
Arrival Scheduled: 6:10AM - Actual: 7:26AM
Aircraft: A340-500 - HS-TLC
View Large
View Medium


Photo © Giovanni Verbeeck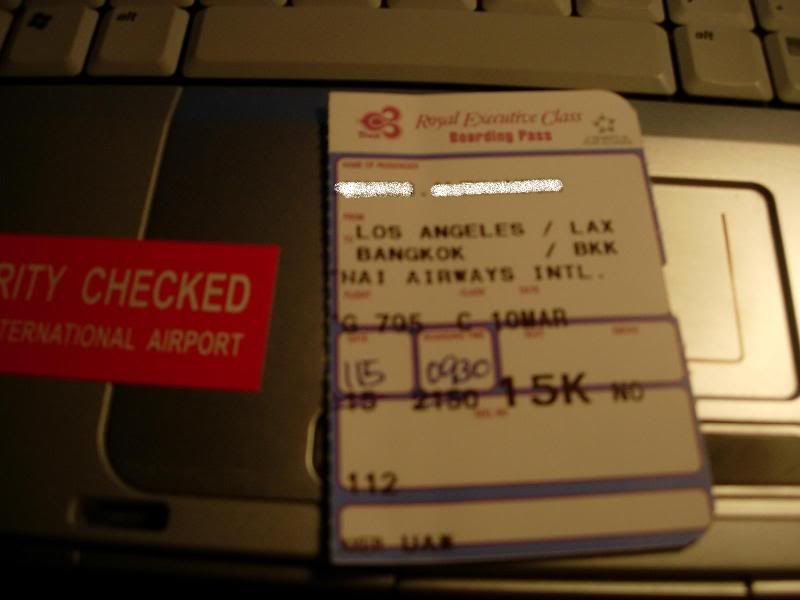 My Aunt and Uncle from Thailand would be on this flight, she would be working our Royal Silk section. Her father is on the Board of Directors at TG. My Uncle would be flying standby, but the flight is never full, so chances were good that he'd make it. We took a walk to the TBIT from T2 in the lovely LA air. We went to the Thai Airways counter and got sent to the TSA bag search by one of their representatives. We waited about 50 minuets because there was a big military group ahead. Once they left, our luggage was next. The porter took the bags to the Thai counter loaded them onto the scale. We got checked-in and went to the First class lounge on the second floor.
Still on time.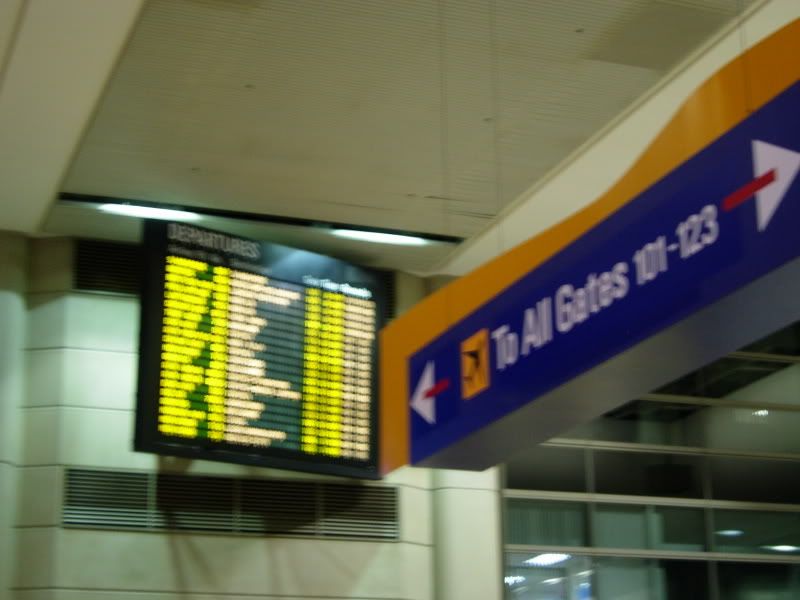 We were in the lounge for 30 minuets. We walked to security. We were in line for about 10 minuets. While at the x-ray machine, all of the TSA agents yelled "Bravo." The room went silent and two of the biggest TSA guys went off running after someone. The agents at the counter told everybody to back away and don't touch anything. The room was very silent for two minuets and we got the all clear. Nothing like a little excitement before a flight.
We walked to Gate 115, a bus gate. We waited for 20 minuets and got onboard the bus. Then we waited on the bus for another 10 minuets and then started to move. It was a long drive out to the remote stand. Next to us was an Air France A340 and on its right was a Singapore 777.
My Uncle came by our seats and told us that he was in 36A/B, Premium Economy. Then my Aunt came by to get our orders before we pushed back. I decided to have:
First Course
Foie Gras and Vegetable Gateau and Honey Roasted Duck Breast
Mixed Green Salad with Balsamic Vinaigrette Dressing
Main Course
Grilled Beef Tenderloin with Bordelaise Sauce
Gratin Dauphinois Patato, Green Beans and Shallots Confit (Bacon Onion)
Stew Tomato
With: Garlic Bread
Dessert
Cheesecake with Fresh Fruit
Instead of:
Stir-fried Pork Ginger with Black Mushroom, Carrot and Onion
Steamed Thai Hom Mali Rice
Or
Chicken Cordon Bleu
Buttered Rice, Broccoli, Carrot
Or
Fish Ball and Zucchini in Green Curry "Kiew-wan"
Steamed Thai Hom Mali Rice, Pumpkin with Egg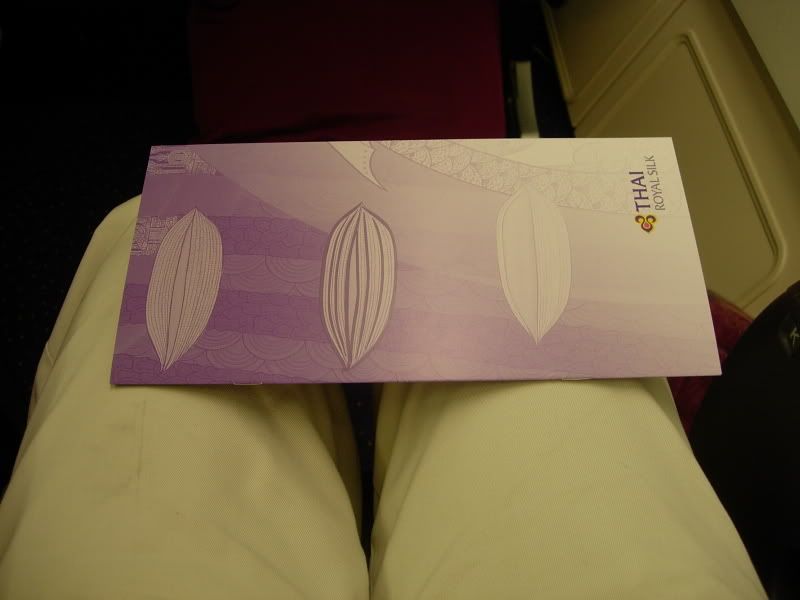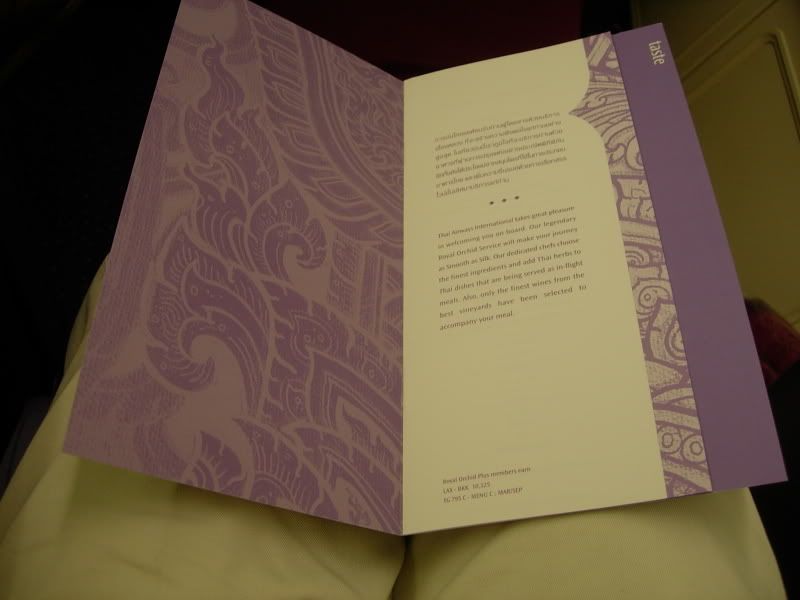 We pushed back 15 minuets late. Blocks off at 22:45 local. We then taxied all the way around the airport to runway 25R and got in the queue. We were behind a United 757 and United A320. Then we took off before a Cargo Lux 747.
The Captain said our routing would take us up the California coast line and up to Seattle, then through Alaska, over Russia, through China down to Thailand.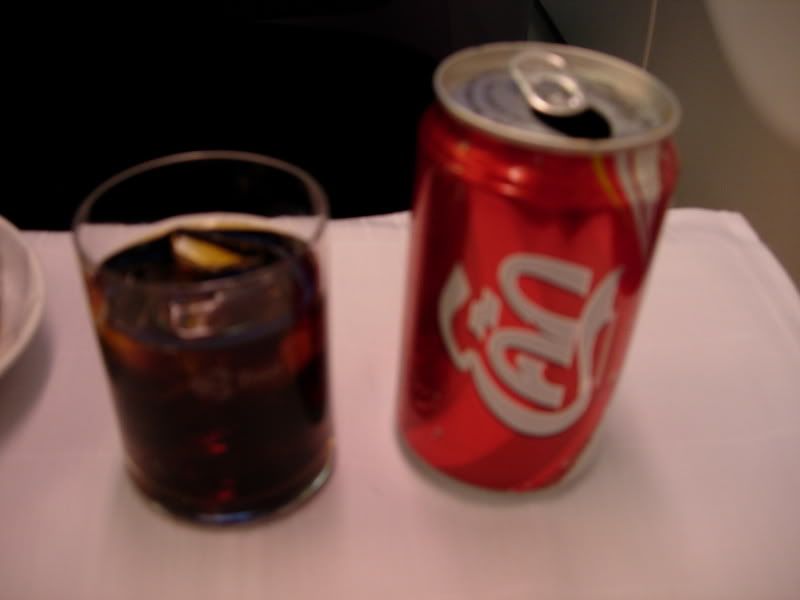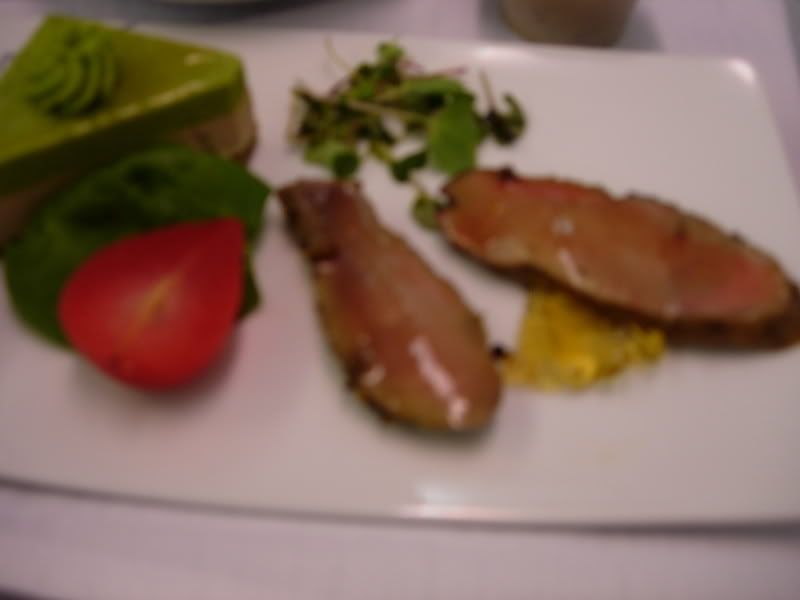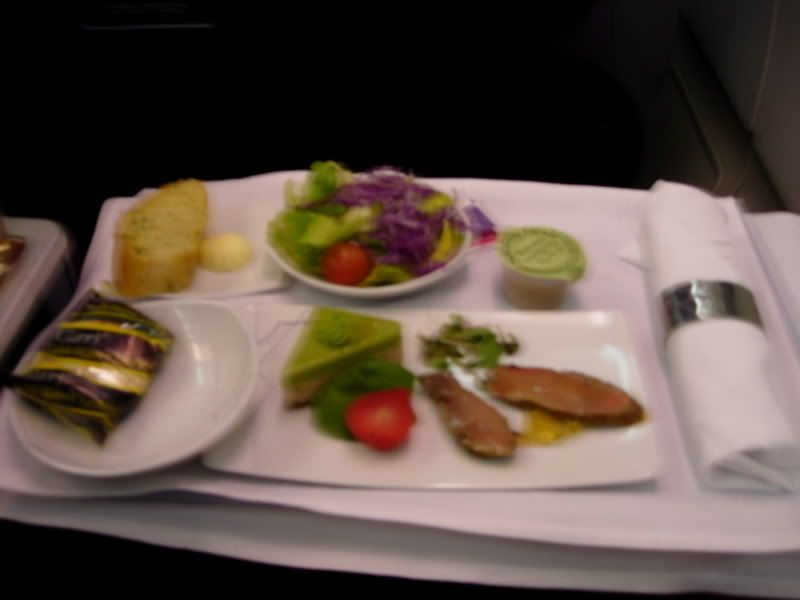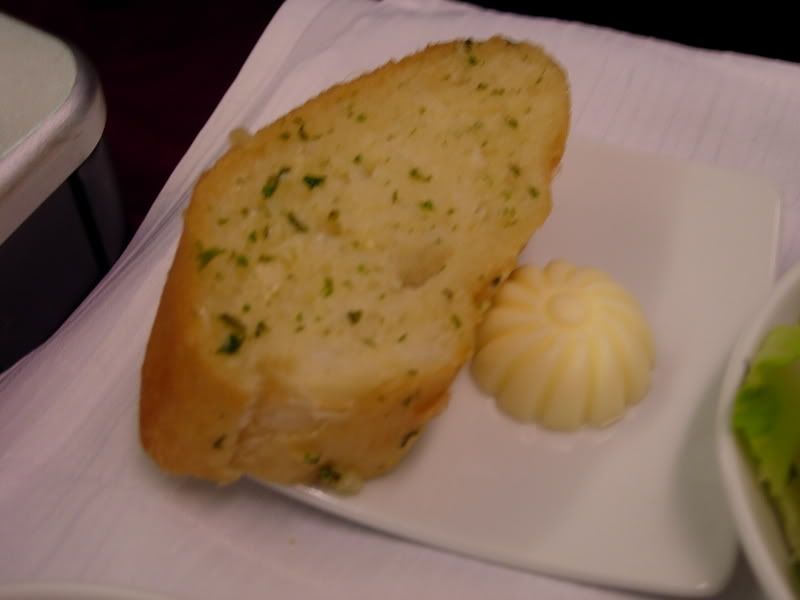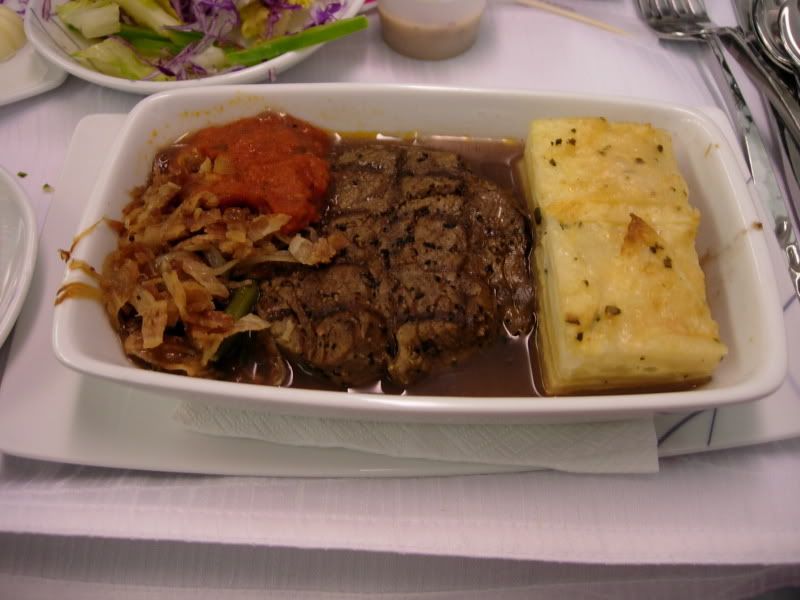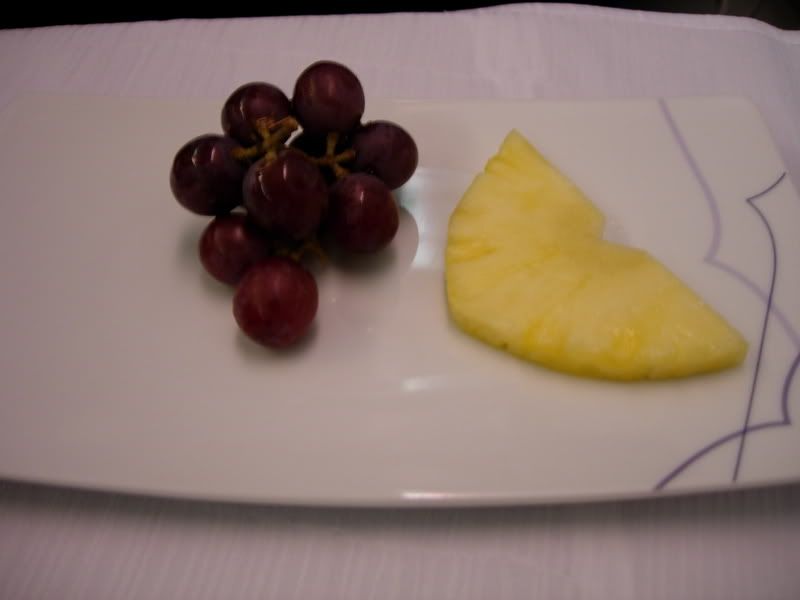 For the second serving I had:
First Course
Fresh Fruits, Fruit Yogurt
Main Course
Stir-fried Yellow Noodles with Chicken and Vegetables, Black Mushroom
With: Croissant and Pastry
Instead of:
Crepe with Scrambled Egg and Smoked Salmon
Or
Boiled Rice with Pork, Spring Onion Chopped and Coriander Leaf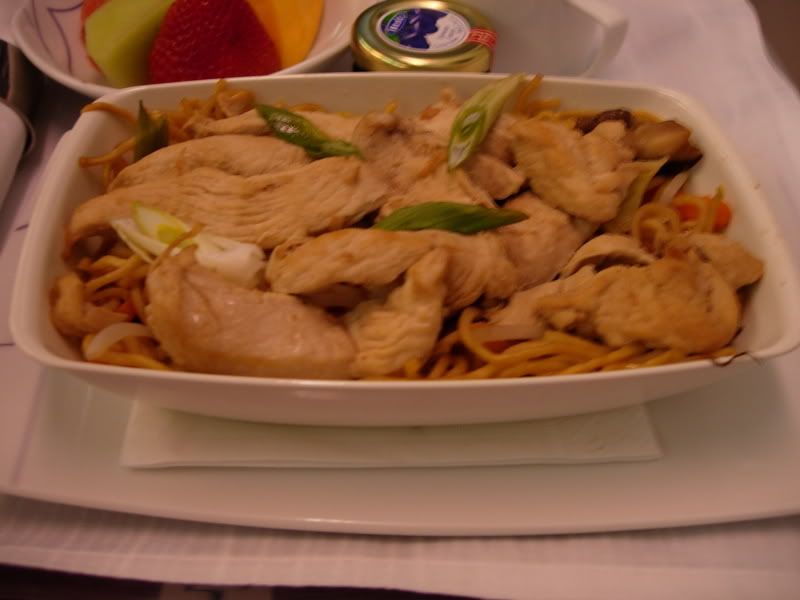 From left to right: Vision, Sawasdee, Duty Free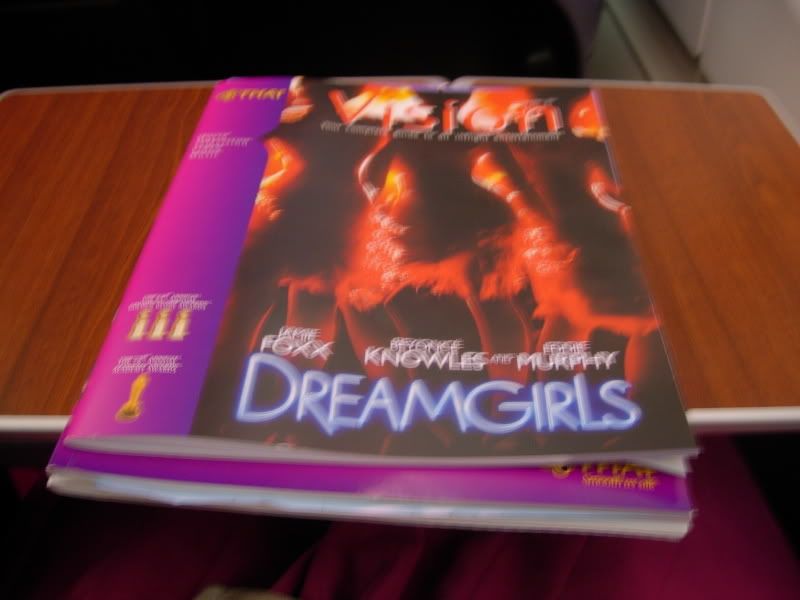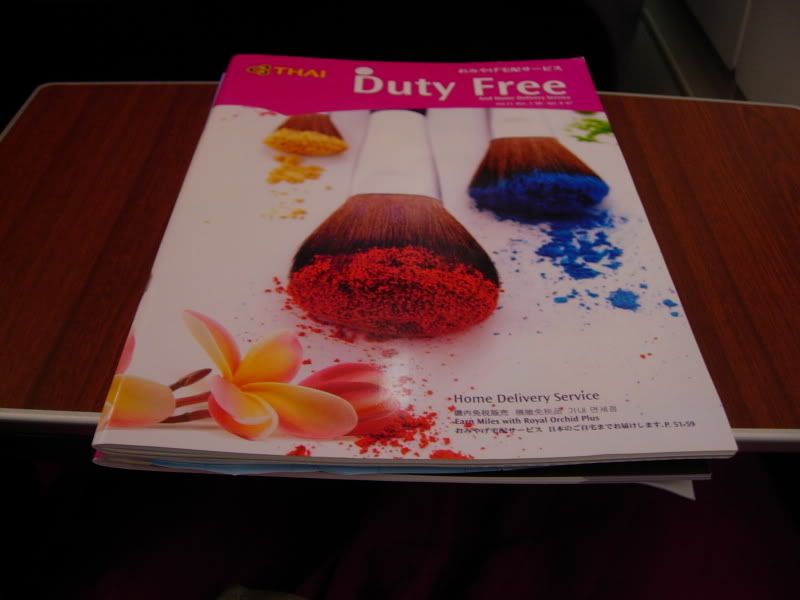 The Amenity Kit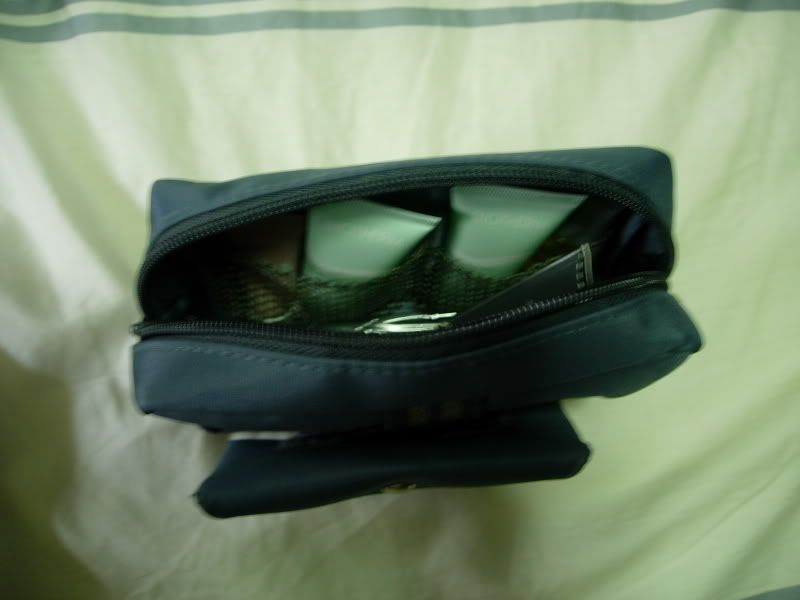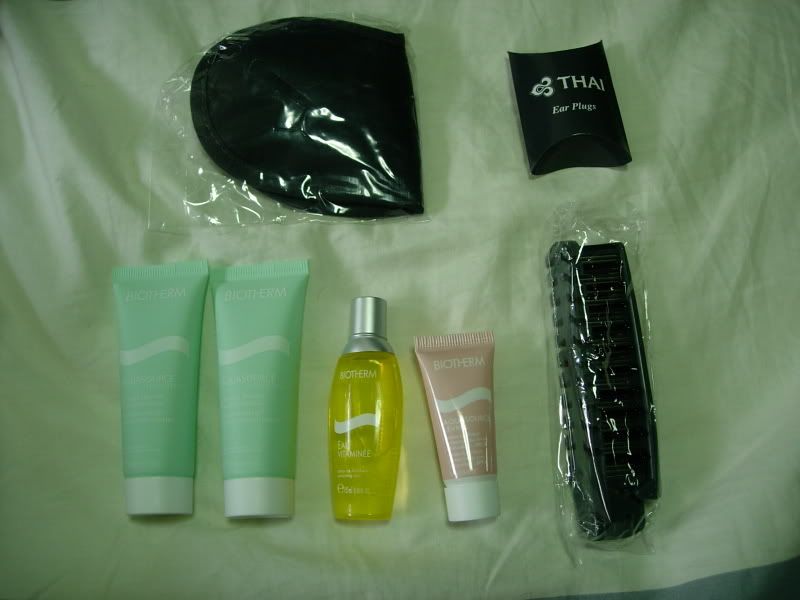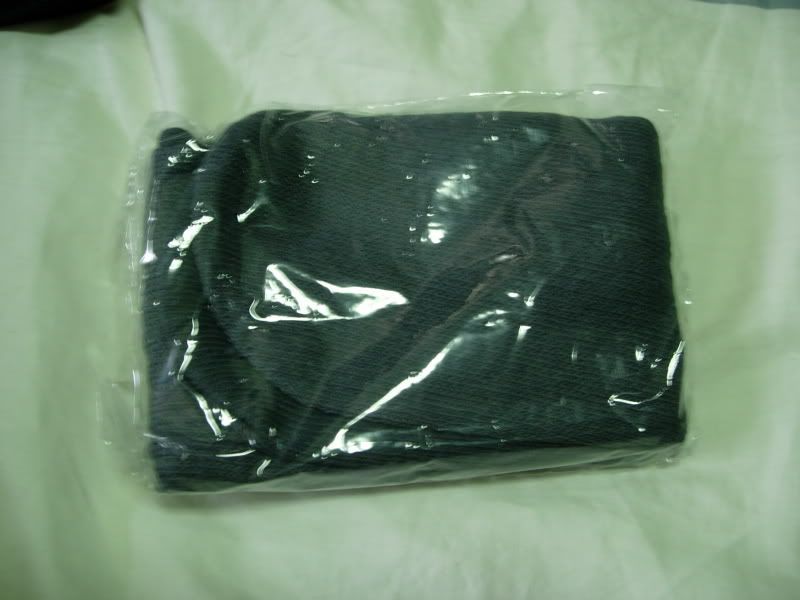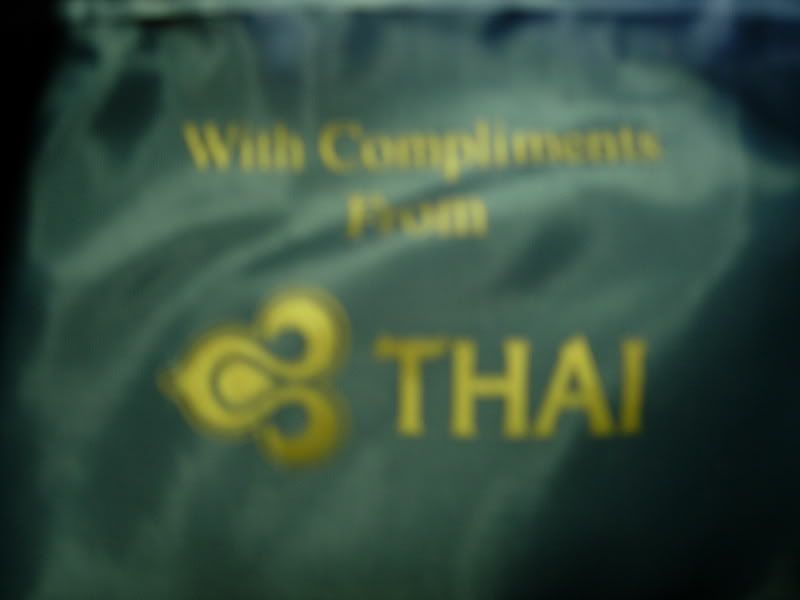 Safety Card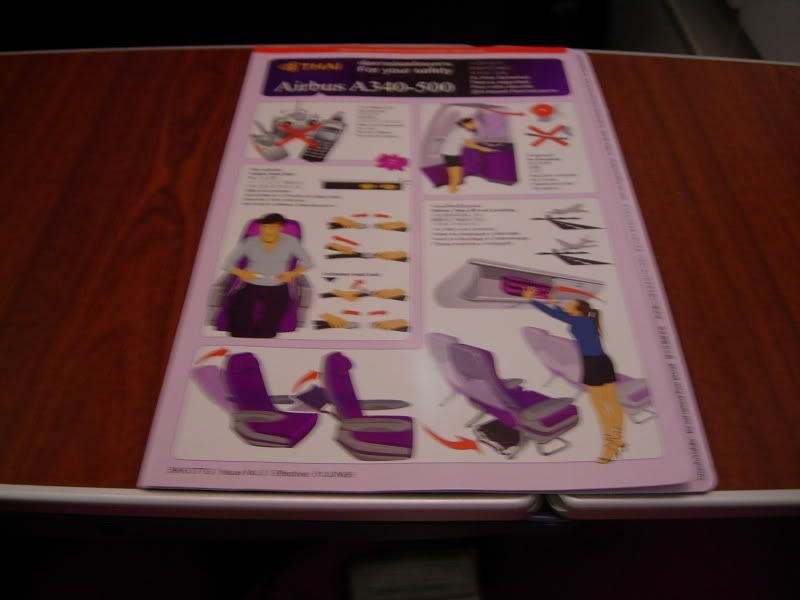 Table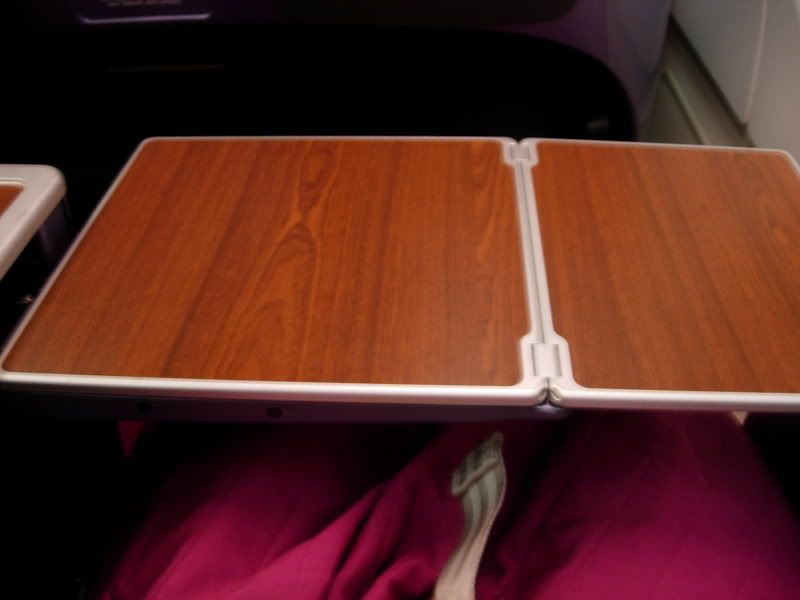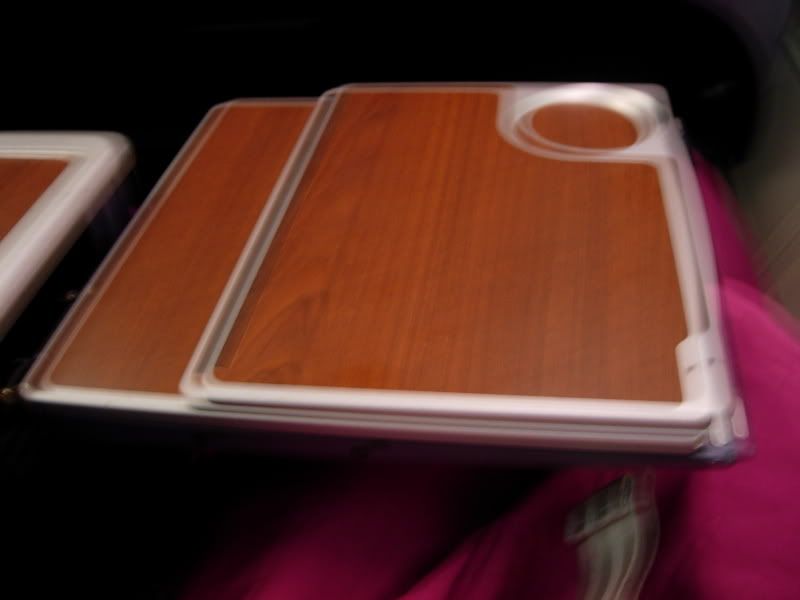 A little way to go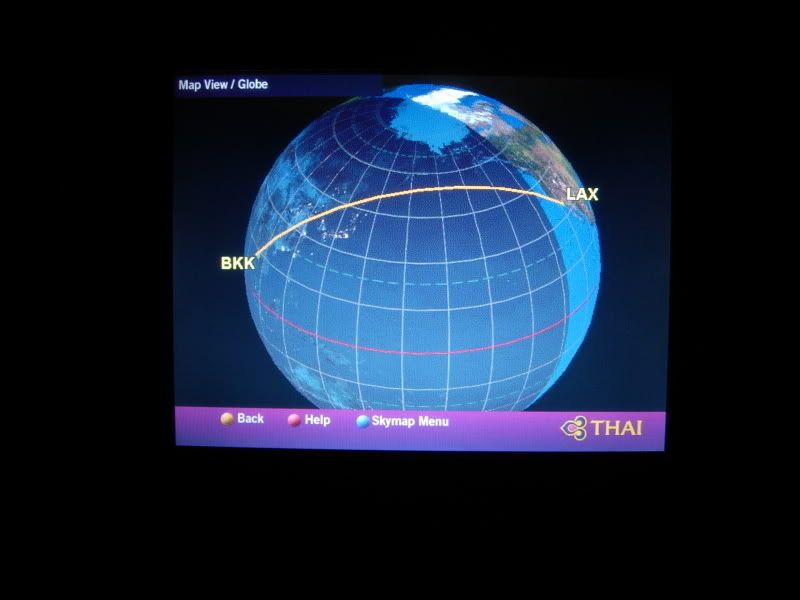 Bathroom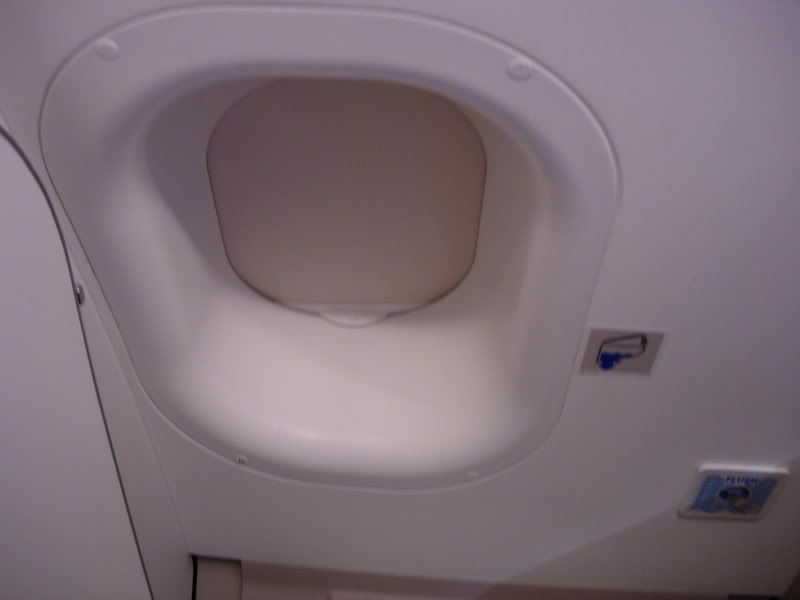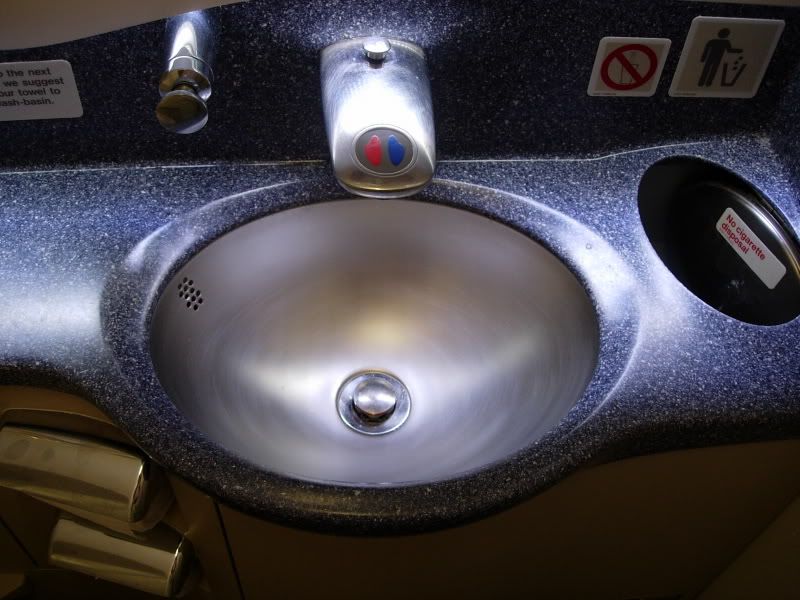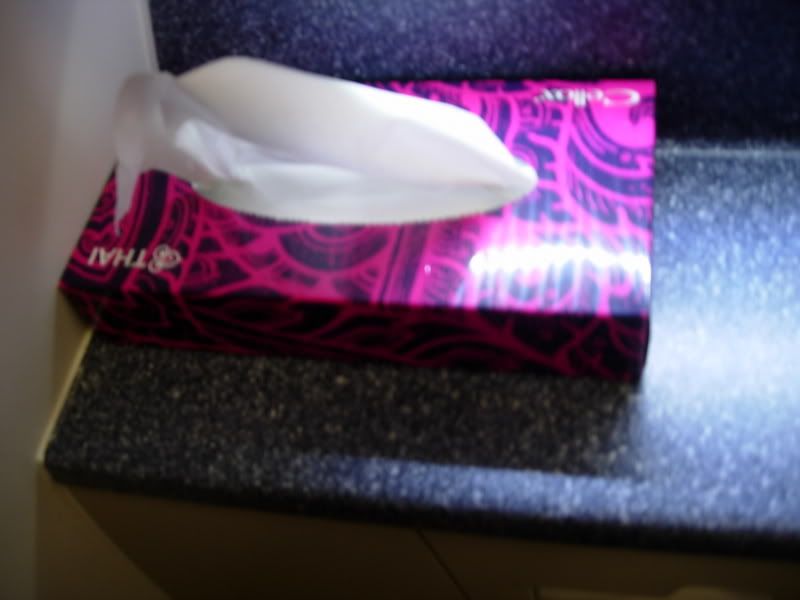 When we were over china, I took a walk around the aircraft, to the back galley and back.
A few hours before landing, they served the Third meal.
First course
Mixed Green Salad with Olive Oil and Vinegar Dressing
Main Course
Stir-fried Vermicelli with Shrimps, Woodear Mushroom, Tomato, Egg
Steamed Thai Hom Mali Rice
With: Roll, Butter, Fresh Fruits
Dessert: Assorted Petit Fours
Instead of:
Florentine Lasagna and Sauce with Cheese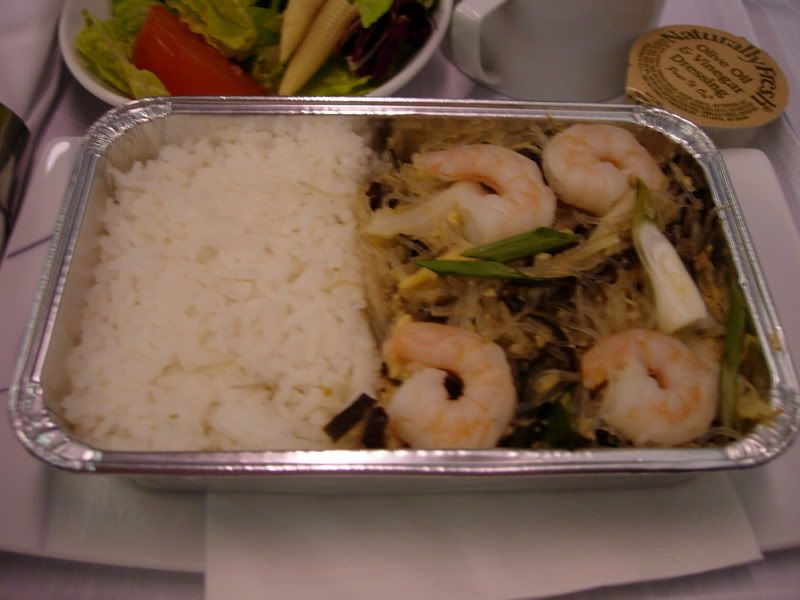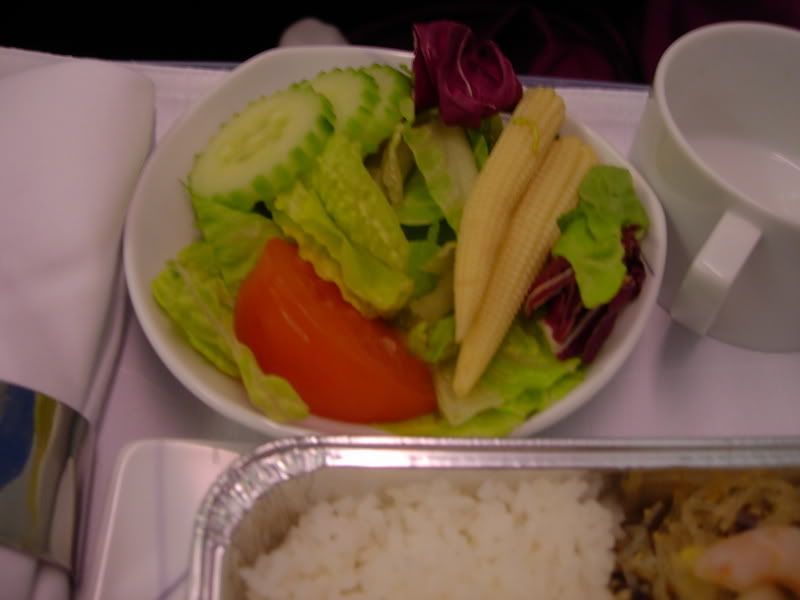 It was getting close to decent.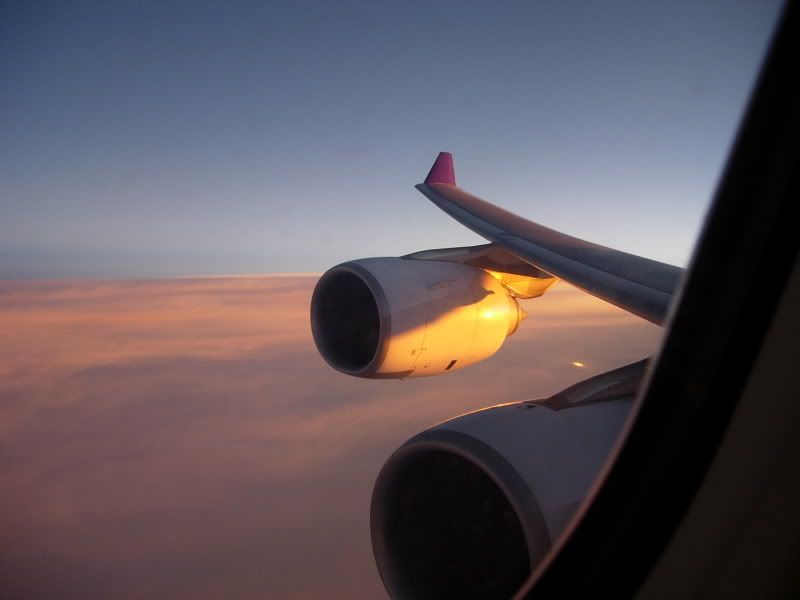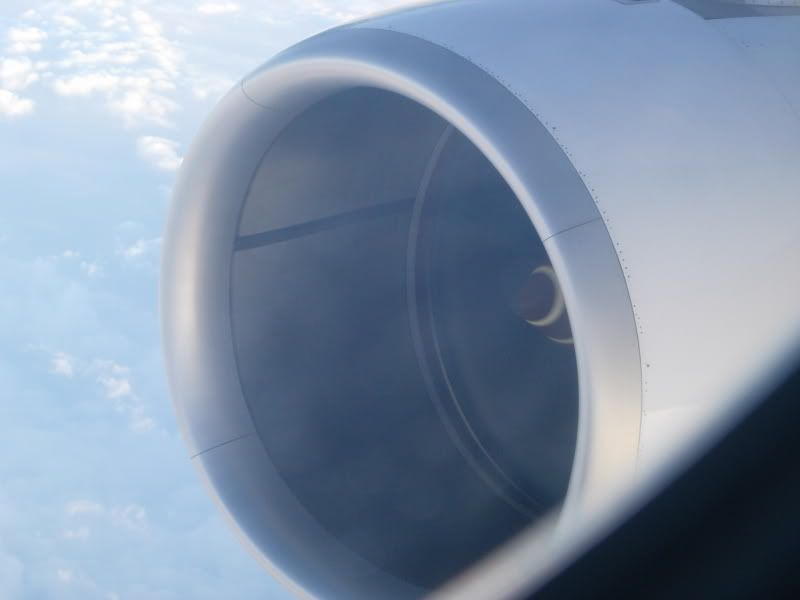 The decent was long and there wasn't much too see other than clouds. We came in the North side of Bangkok and landed on 19R. It was a very smooth landing and we exited the runway. Touch down at 07:13 local. The Captain announced that we would be parked at Gate D4. We arrived at D4 after a short taxi. Blocks on at 07:26 local. My Uncle told us to wait at the Duty Free shop inside so we could by some cheap liquor. Our family friend who works for Thai came to pick us up at the Duty Free. We went through the VIP Customs line and waited for the luggage. It took around 10 minuets to get the bags.
March 13, 2007
TG209 BKK-HKT
Departure Scheduled: unknown - Actual: 10:44AM
Arrival Scheduled: unknown - Actual: 12:01PM
Aircraft: A330-300 - HS-TEK
View Large
View Medium


Photo © Mark Tang - HKAEC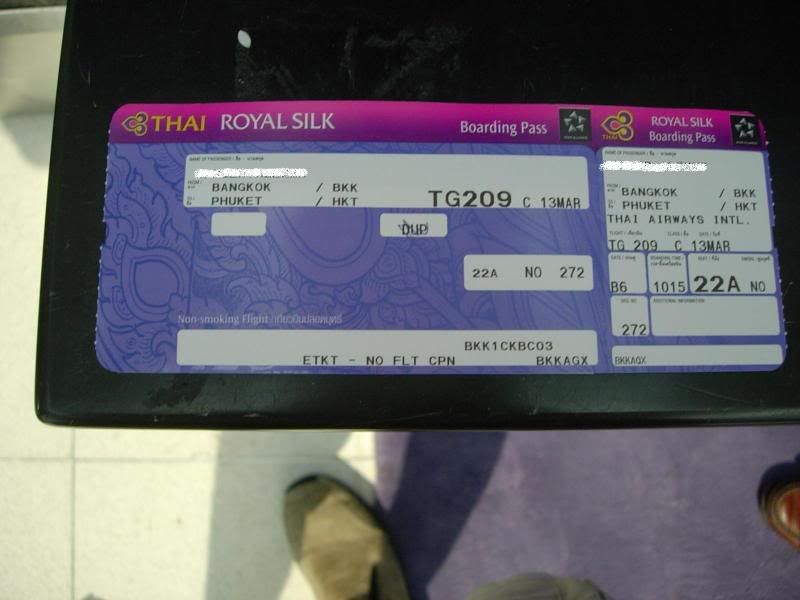 We drove back to the airport to go to Phuket. My grandparents treated us all to Royal Silk seats to Phuket. Usually we would fly in Economy, but my grandmother never used any of her miles. We checked in and got a wheelchair for my grandmother and off we went. The gate was B6, not too far to walk. We flew on HS-TEK, the Royal Barge A330-300, the last Royal Barge in the fleet.
We boarded early and found our Royal Silk seats, 22A for me. This flight was a continuation of an International flight. A pre-departure beverage and hot towel were handed out and the rest boarded. We pushed back at 10:44 local.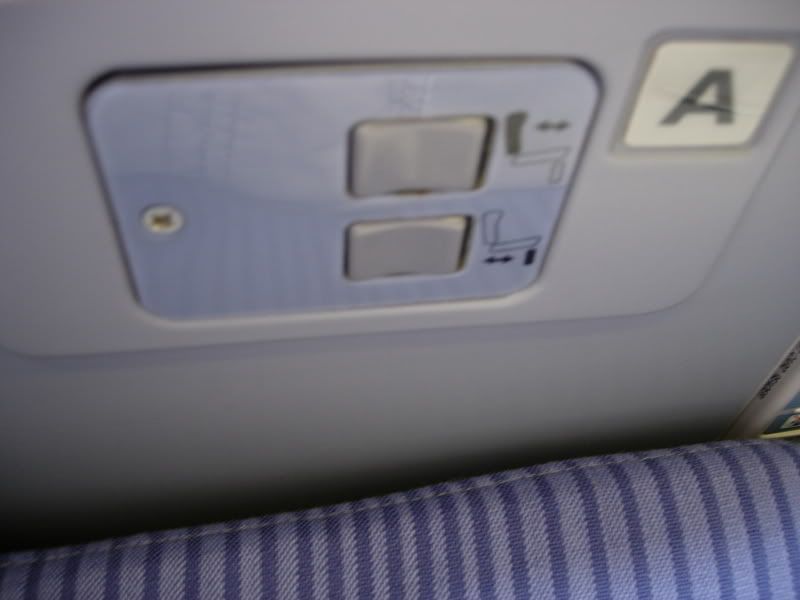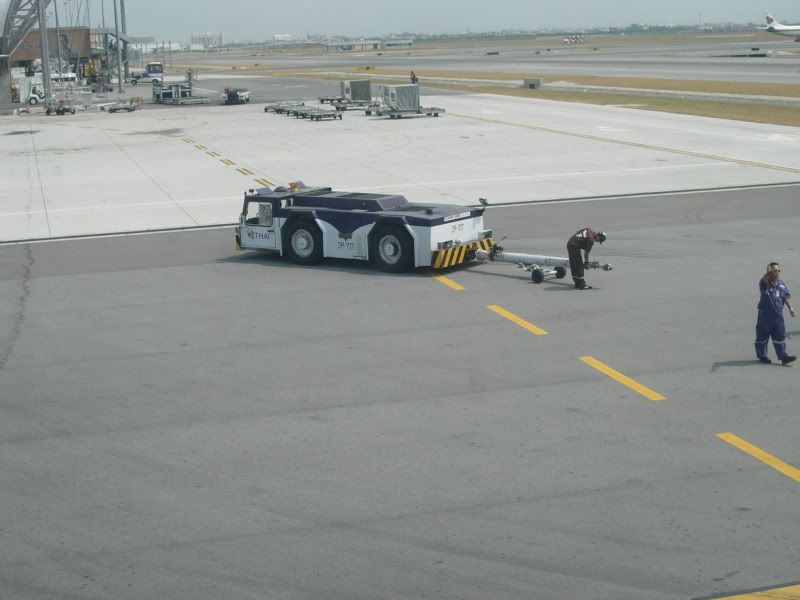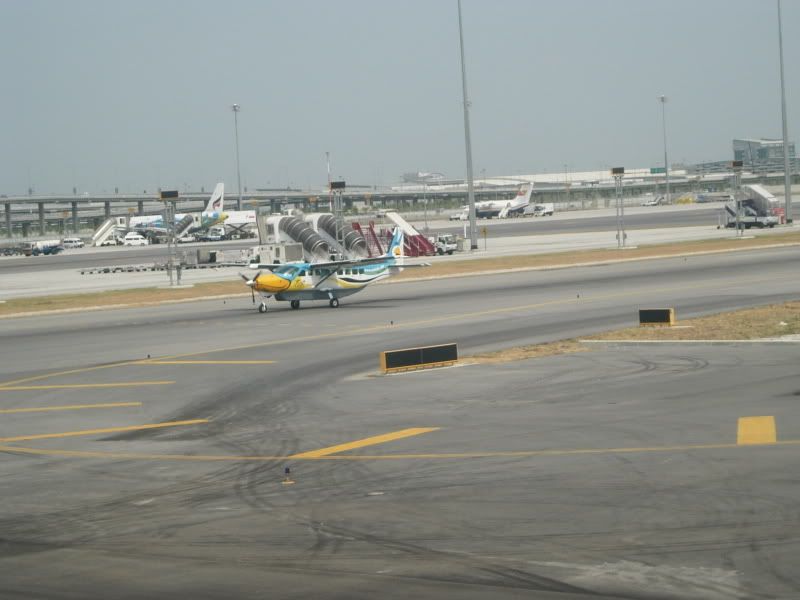 Just a short taxi to runway 19L. We took off after an Air Asia B737 and made a slight turn to the right after takeoff. Takeoff at 10:56 local.
Once we reached cruise, the crew started their service.
Everybody got a ham and cheese sandwich in a croissant and a fruit "jelly".
Cruise was short so the decent came up quickly. We approached over the ocean, flying due south, then turning to the east to line up with runway 9. We touched down at 11:54 local. The landing was smooth but we used up most of the runway, so we had a long taxi.
Dragon Air A320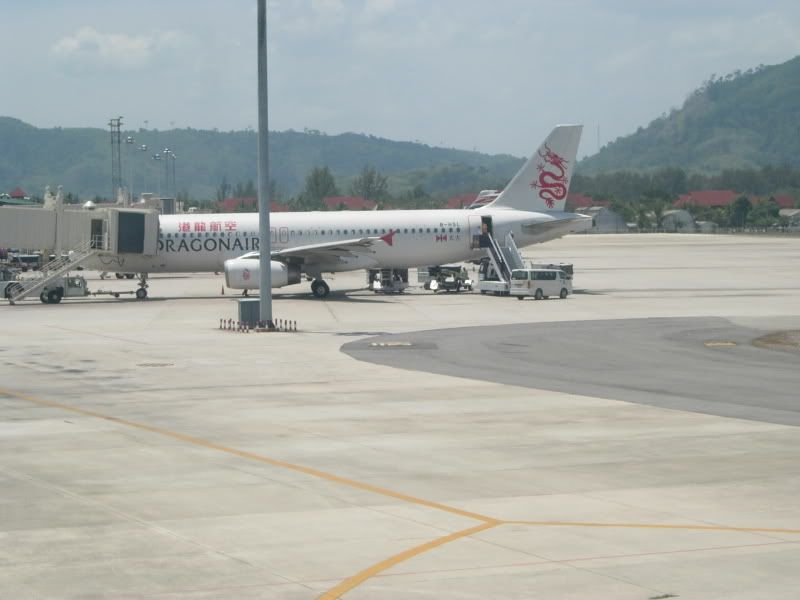 We parked at Gate 10 at 12:01 local. After all the other passengers de-planed, we got the wheelchair and got off as well.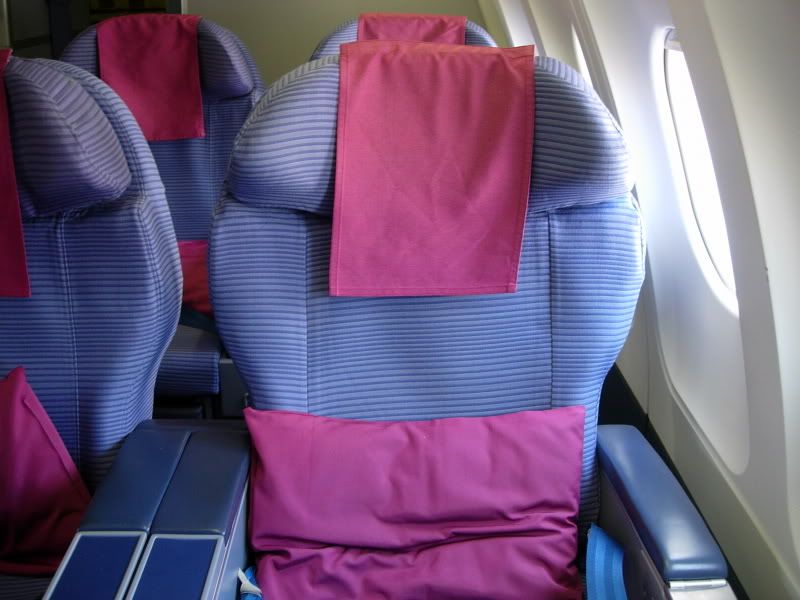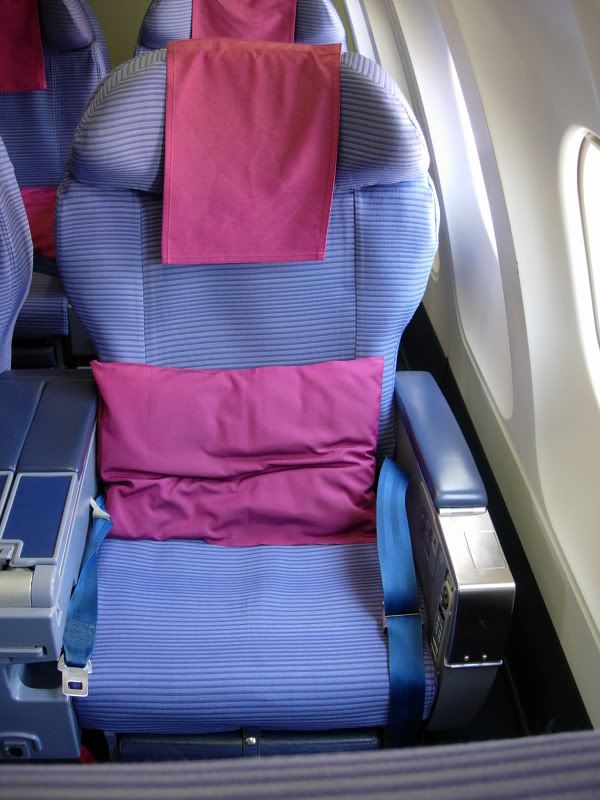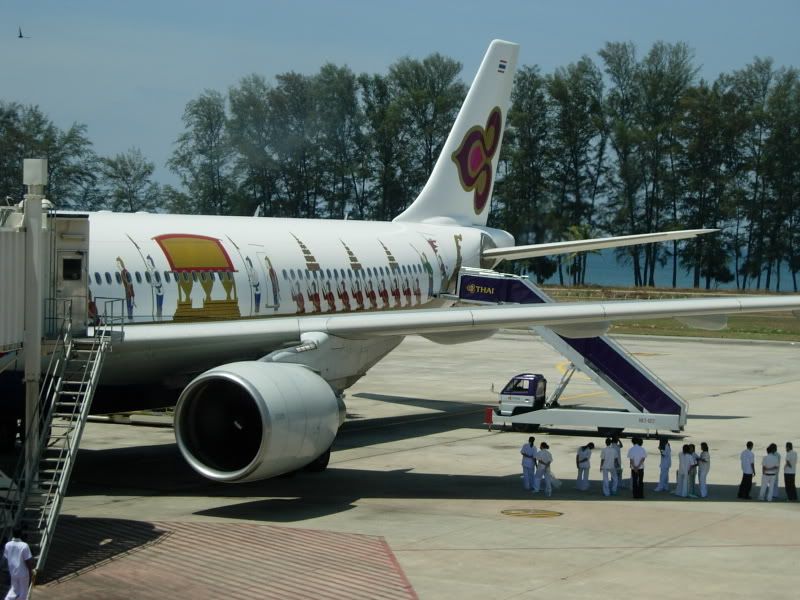 The bags arrived shortly, and we got the car to the Dusit Laguna Resort in Phuket.
This is only Part 1 of 2, stay tuned.
And here's part 2.
MKE-MSP-LAX-BKK-HKT On NW And TG Part 2
(by
VTBDflyer
Apr 11 2007 in Trip Reports)
Thanks
VTBDflyer
[Edited 2007-04-11 03:27:06]
[Edited 2007-04-11 03:43:33]