Continuation from part 1.
MKE-MSP-LAX-BKK-HKT On NW And TG Part 1
(by
VTBDflyer
Apr 11 2007 in Trip Reports)
March 18, 2007
TG200 HKT-BKK
Departure Scheduled: unknown - Actual: 1:59PM
Arrival Scheduled: unknown - Actual: 3:24PM
Aircraft: A300-600 - HS-TAE
View Large
View Medium


Photo © Je89 W.
After a short drive from the Dusit Laguna Resort in Phuket, we arrived at Phuket International Airport. We checked in and got a wheelchair, then went to the Thai Restaurant on the second floor above check in. If I could have my way, I would fly to Phuket just to get Thai's curry puffs. I love those things.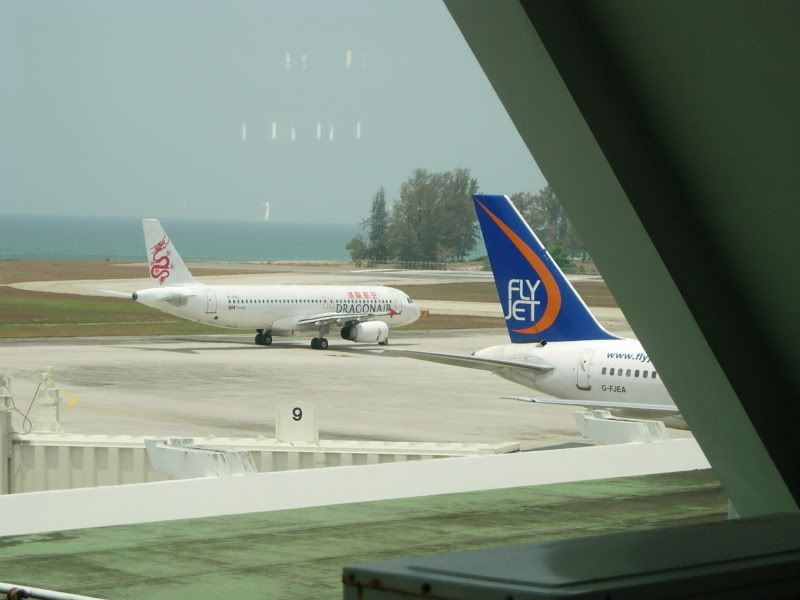 Don't think I've ever heard of Fly Jet, I guess it's British.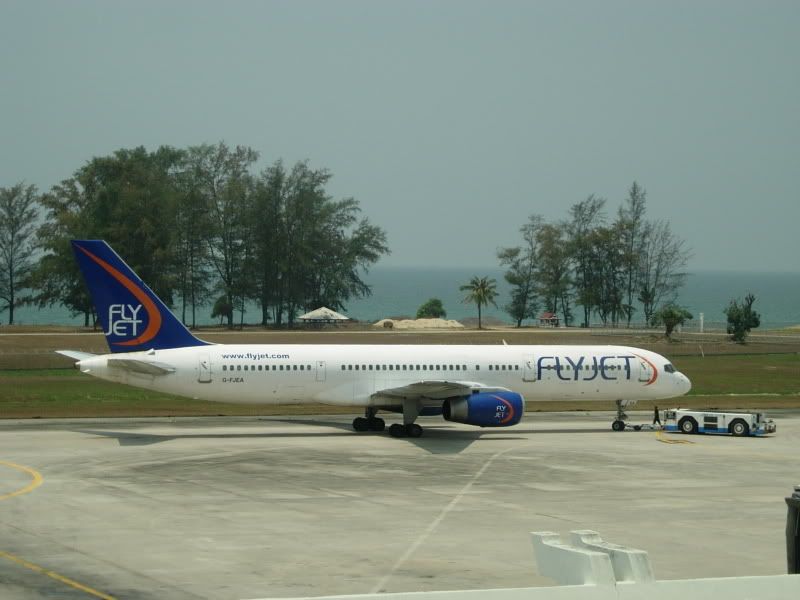 I saw a Bangkok Airways A320, Thai A330-300, Air Asia B737, and our Thai A300, HS-TAE, while waiting and eating in the Thai Restaurant. Soon it was time to head to Gate 10.
The check in area.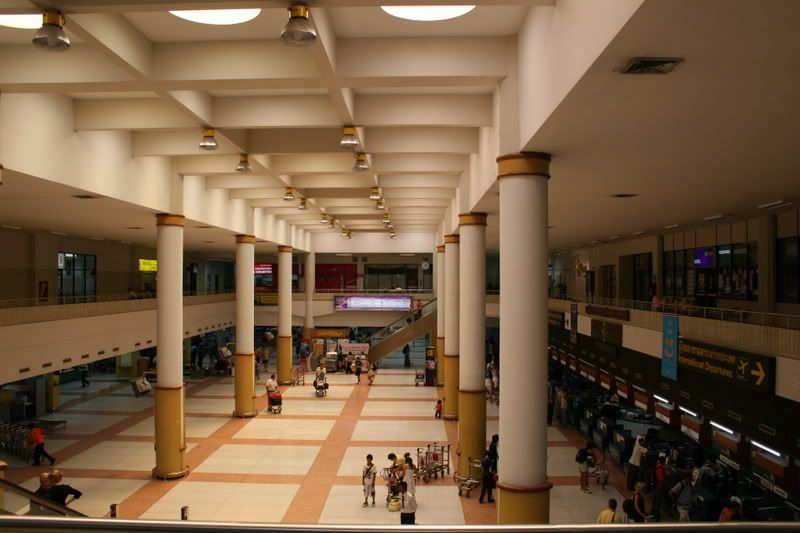 After going through security, we waited for 10 minuets as boarding was delayed a few minuets. We got on early again and found our seats, I got 12K. The cabin crew served the pre-departure drinks and hot towels. Slowly, Business class filled up to 100% full.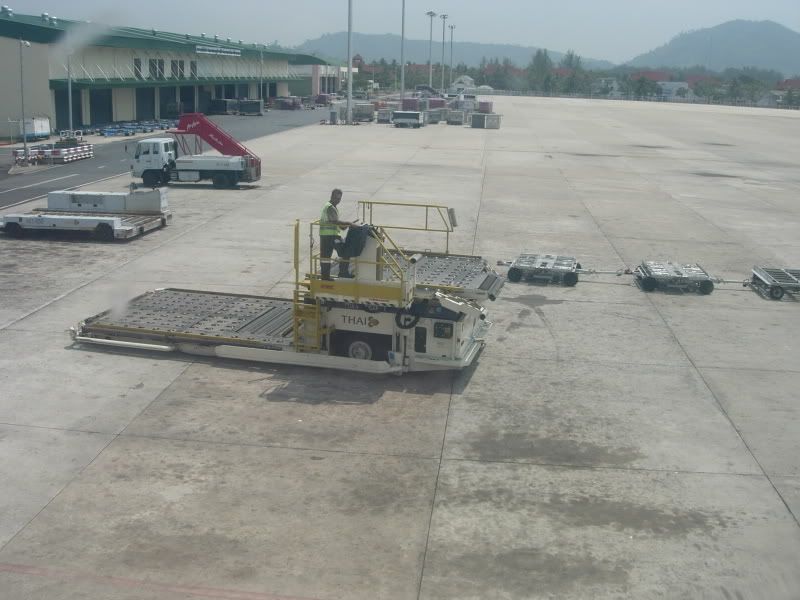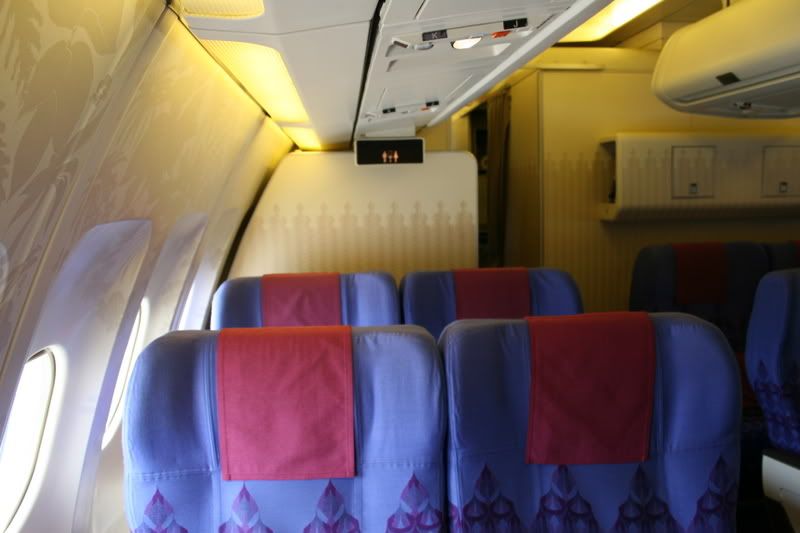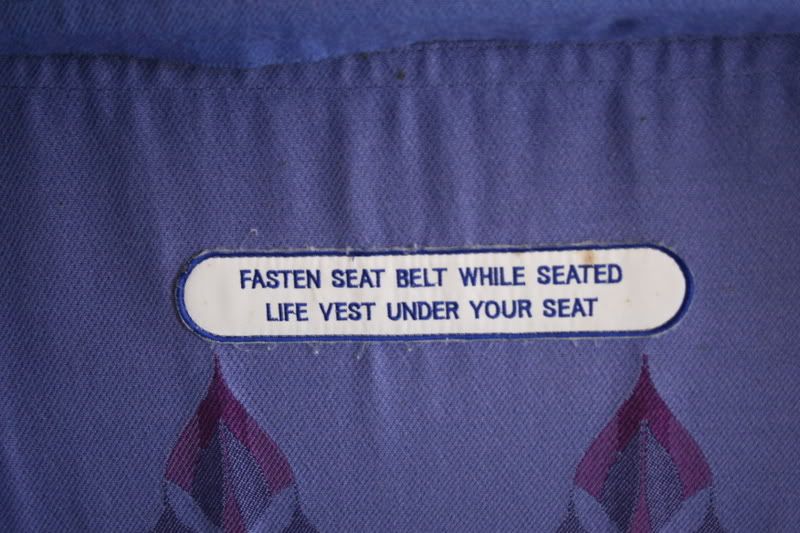 Seat controls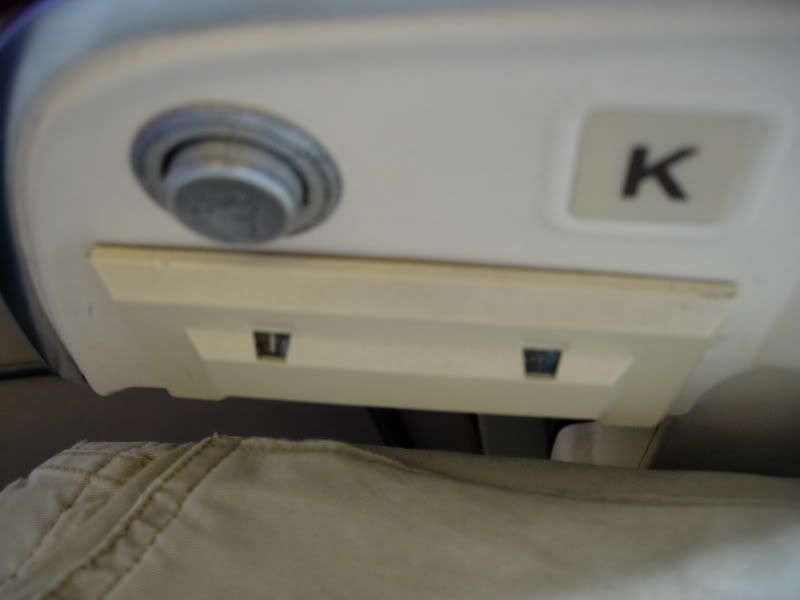 We pushed back at 13:59 local. Row 12 is just behind the nose gear, so when we turned, you could see the tug.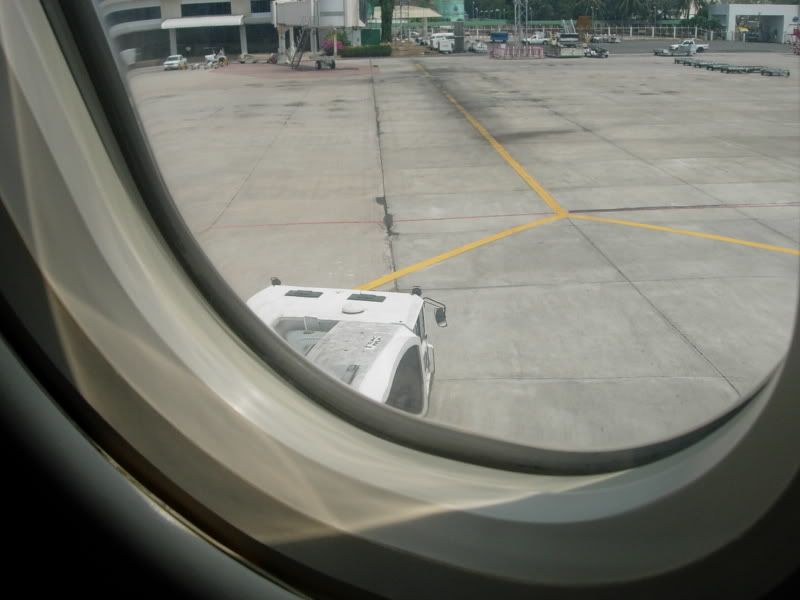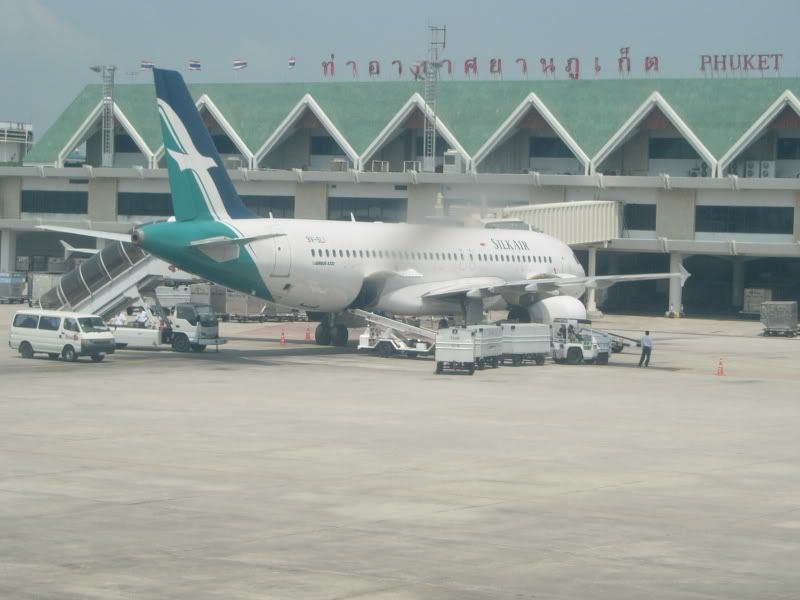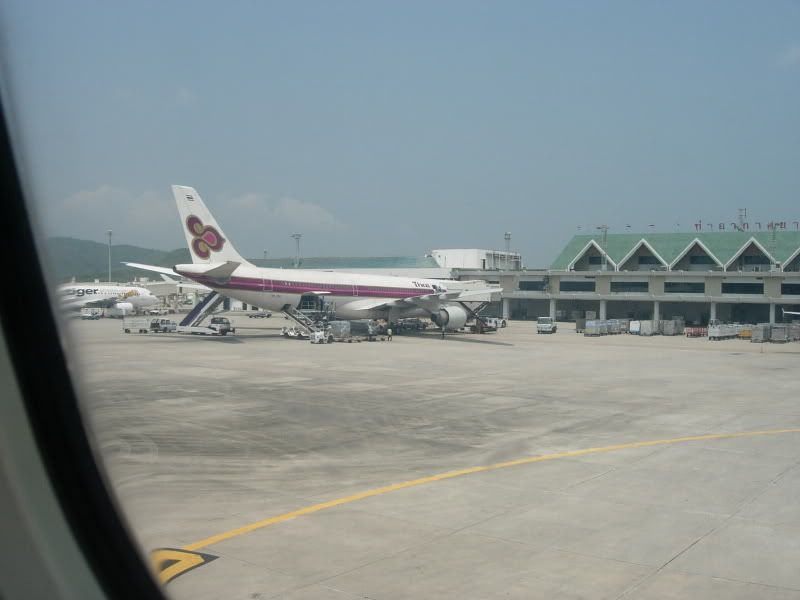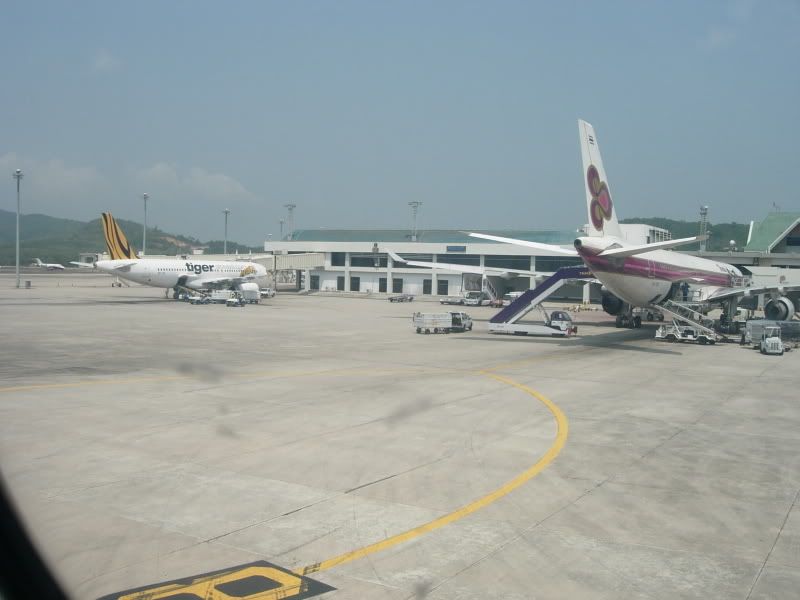 A few private jets on the ramp, and one landing.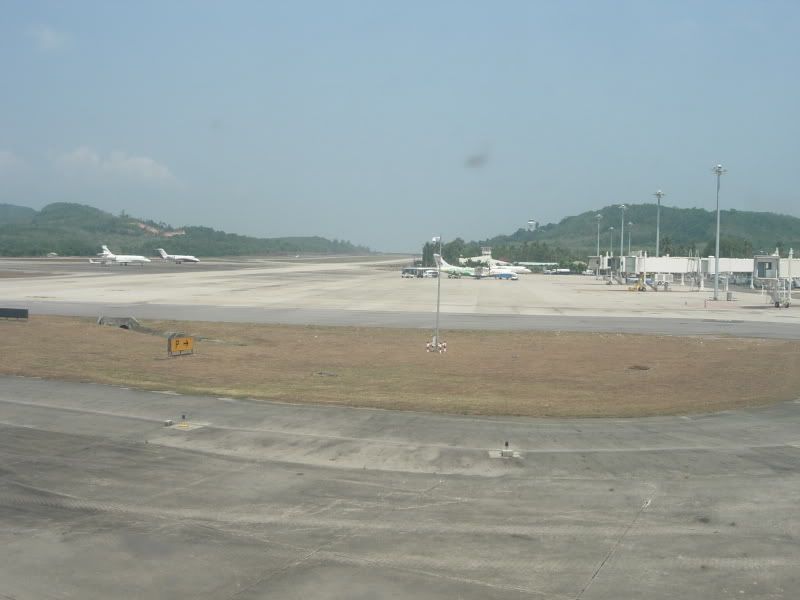 We taxied to runway 27.
Control tower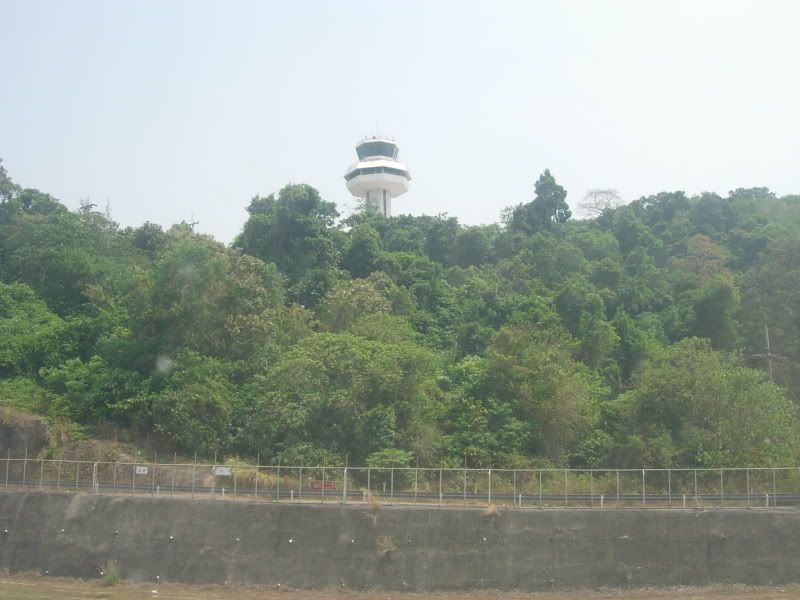 Motorcycle following us.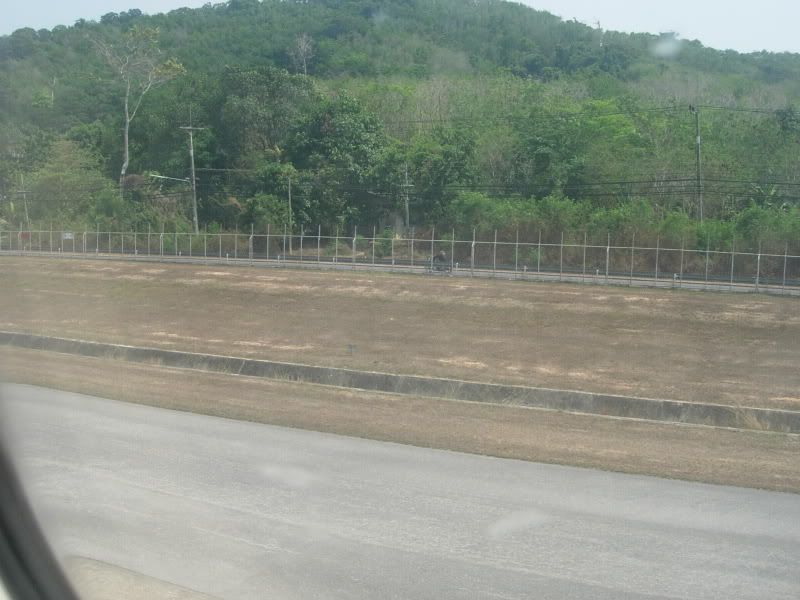 Once we reached the end of the taxiway, we entered the runway. I was hoping that we would back track down the runway, but we were light and took off anyway at 14:10.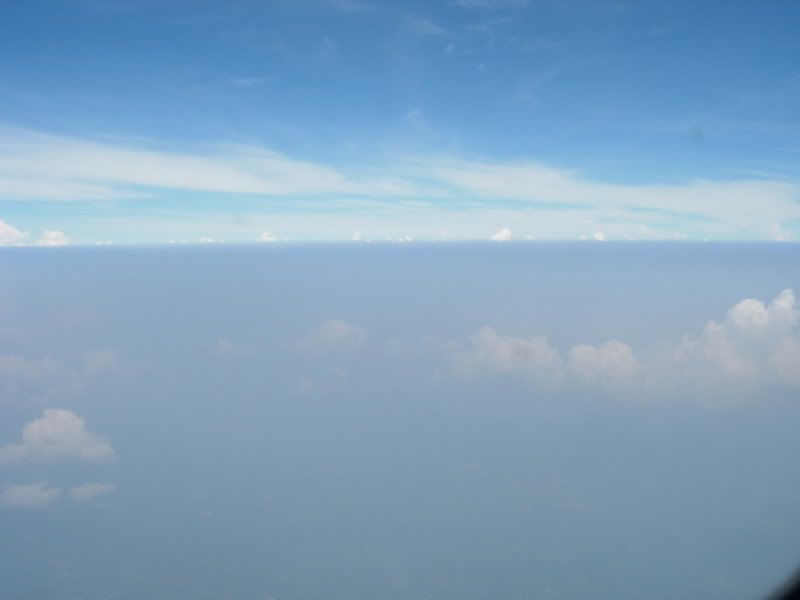 Right after take off, the two Indian men in front of us reclined their seats. These seats were much worse than any US airline, by far. We couldn't even put out the table. Then the man in front of my dad got angry when we asked him to move his seat forward to get the table out. I couldn't even see my camera bag under the seat.
The cabin crew came around and served the snack and drinks.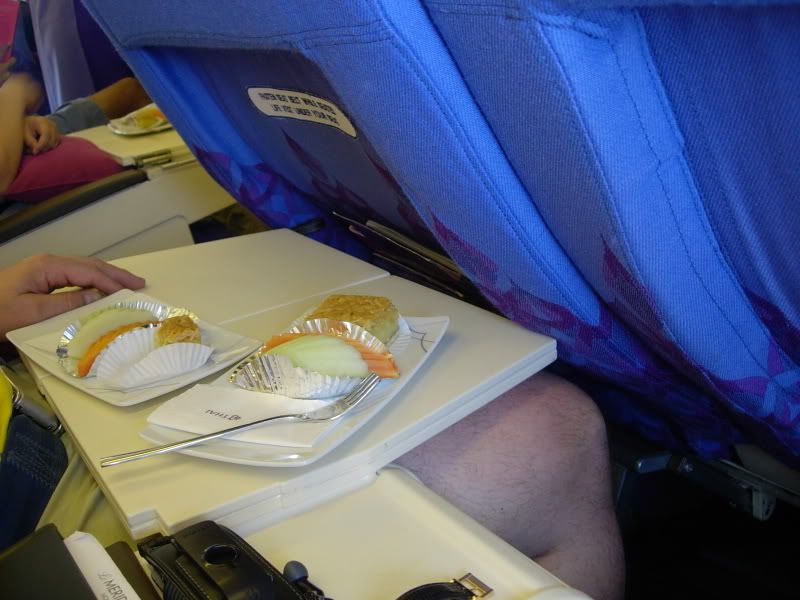 It was so bad, I could read the guys comics.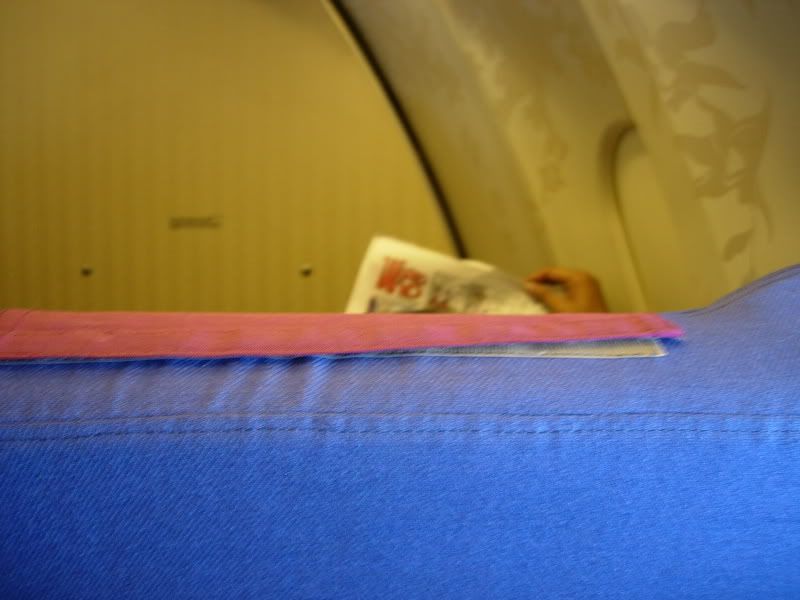 But luckily, it's a short flight and we approached and passed Suvarnabhumi.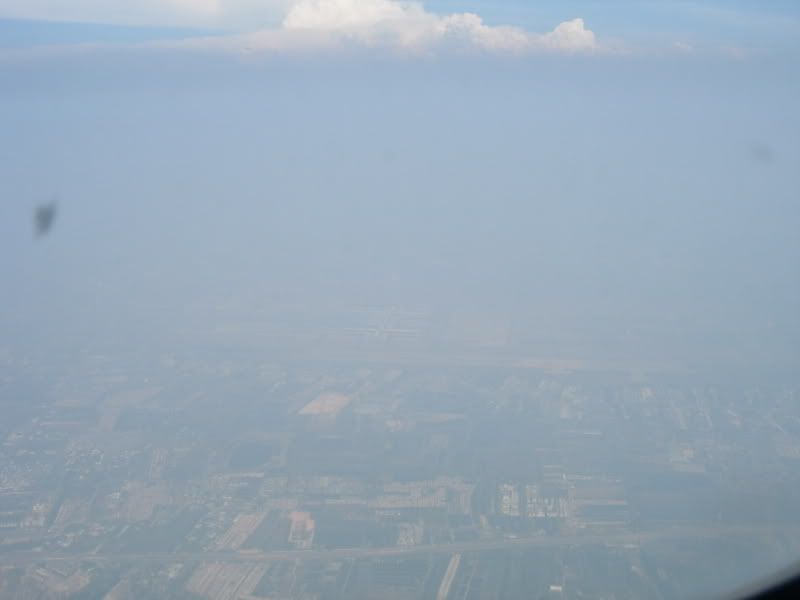 We turned around and came back to land on 19L at 15:17.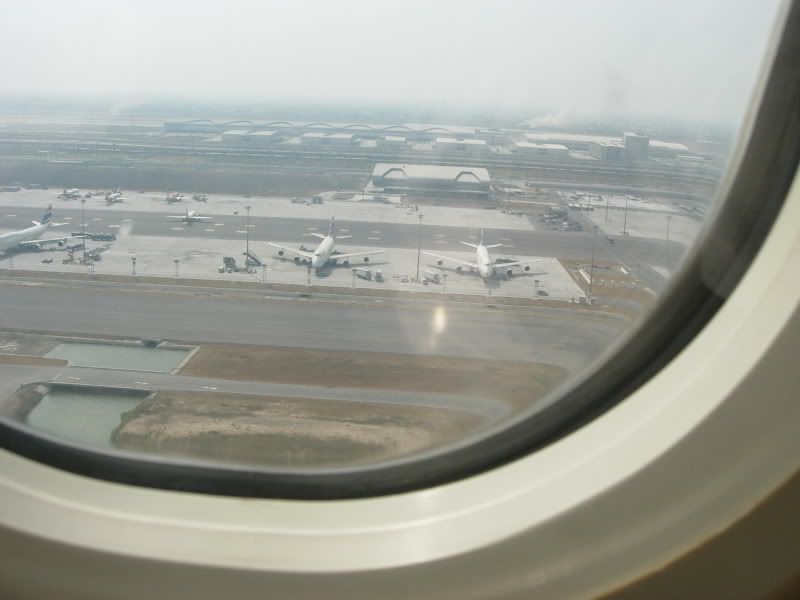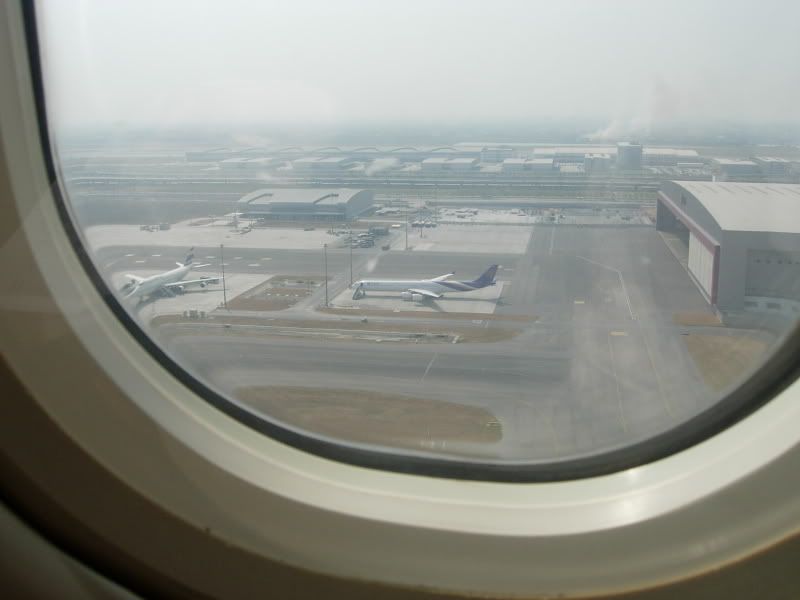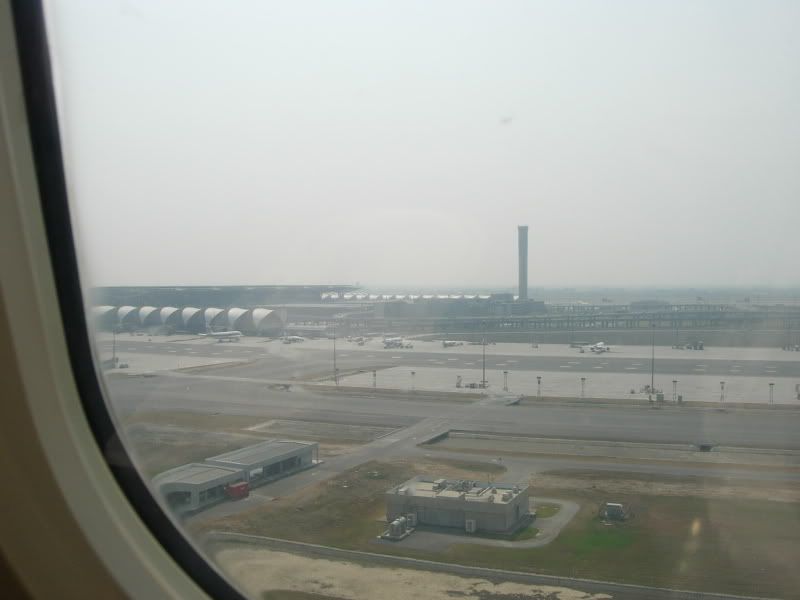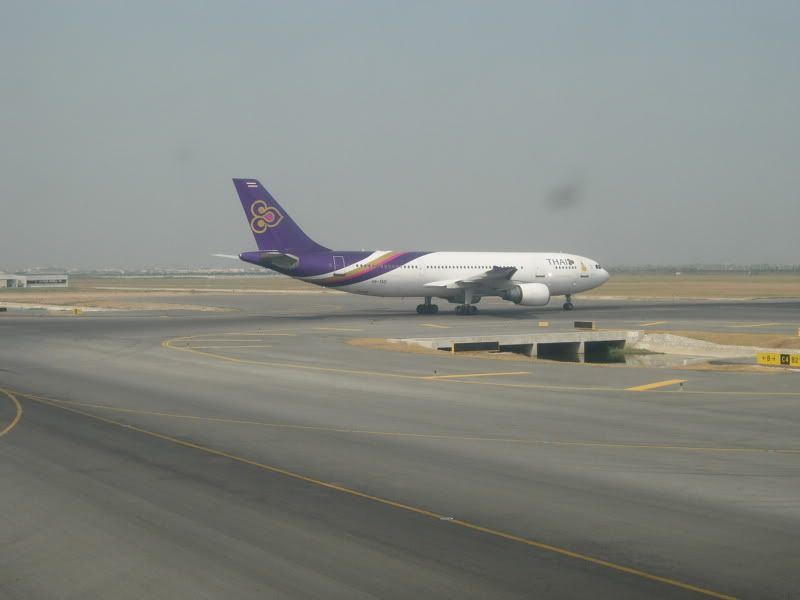 We parked at Gate A1 at 15:24. Once everybody was off, the wheelchair came and we got off. It took a while for the bags, but they were one of the first.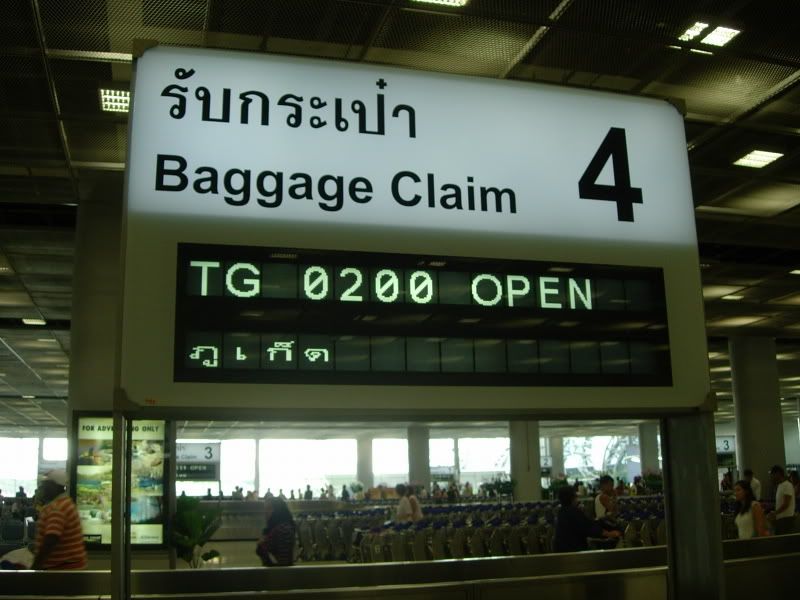 March 30, 2007
TG794 BKK-LAX
Departure Scheduled: 7:40PM - Actual: 7:55PM
Arrival Scheduled: 9:10PM - Actual: 8:37PM
Aircraft: A340-500 - HS-TLC
View Large
View Medium


Photo © Giovanni Verbeeck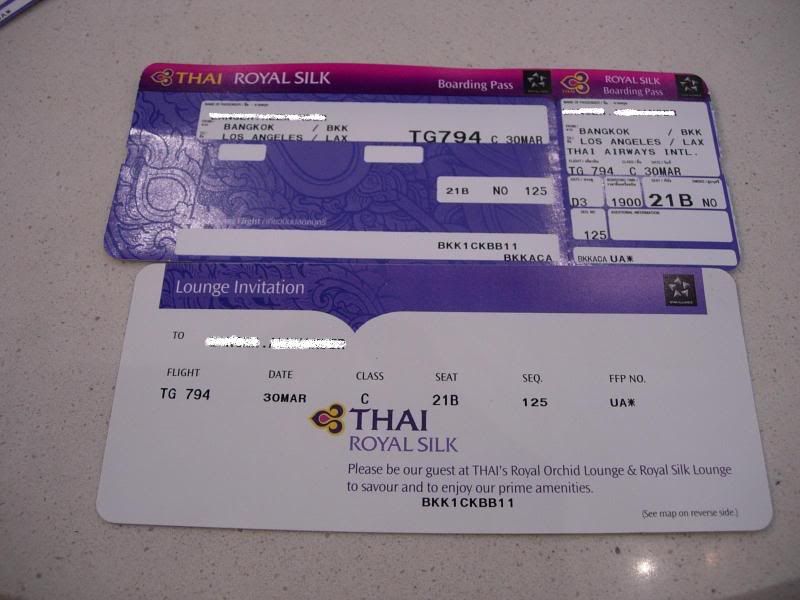 Time to head back from spring break. We were worried that traffic would be very bad since it's the last Friday of the month.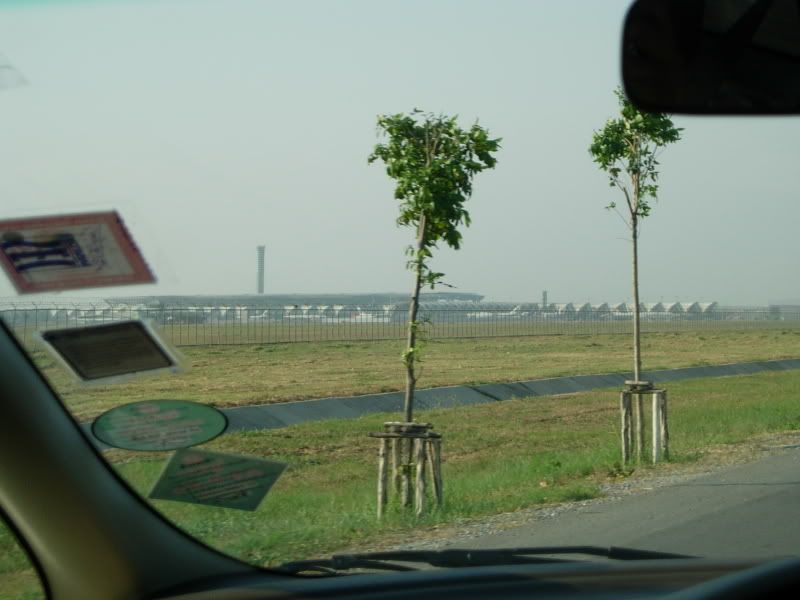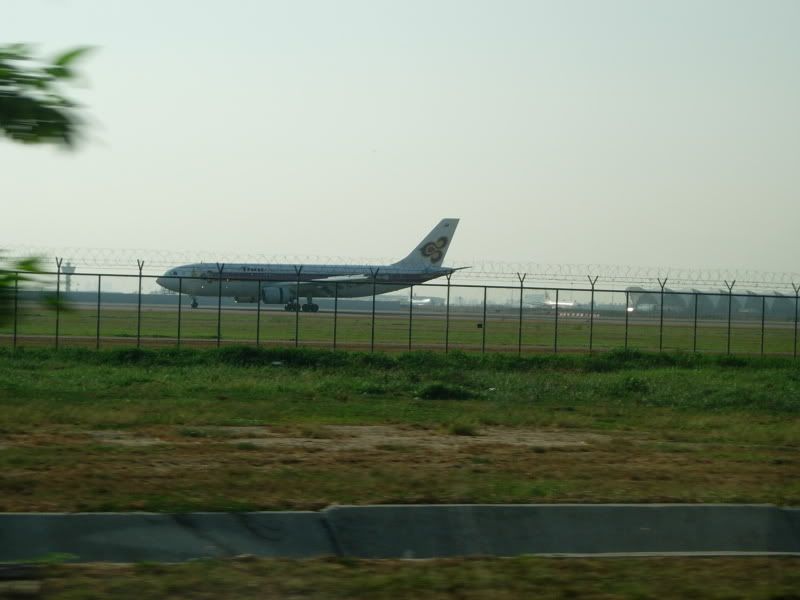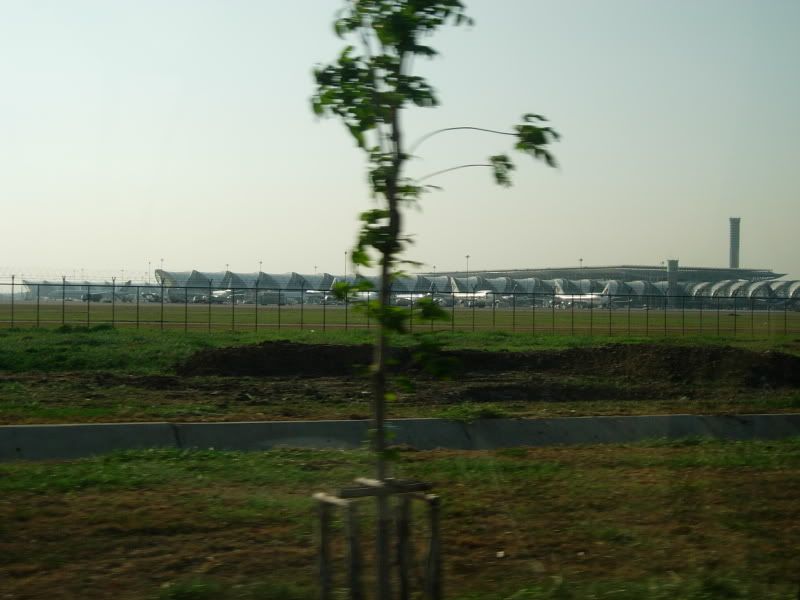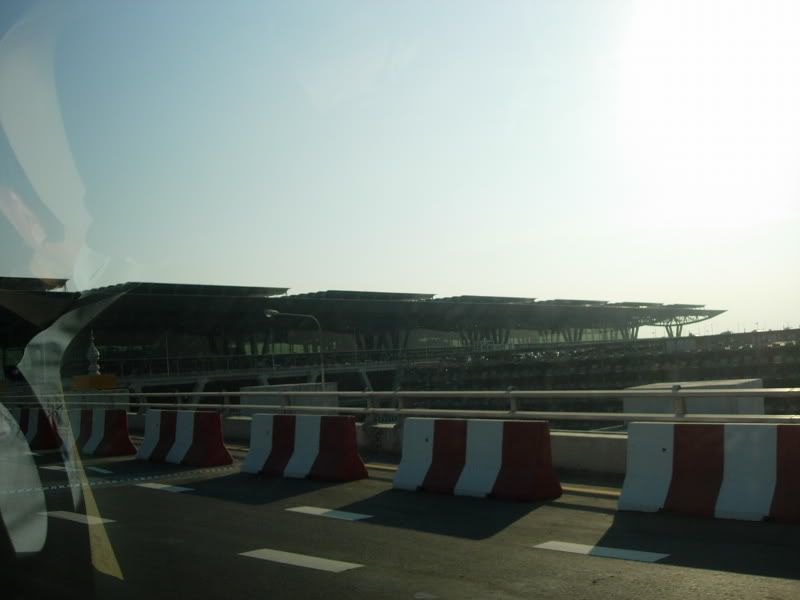 So we set off for the airport around 16:00. Traffic was very good so once we checked in; we had lots of time left. My mom and I spent more time with my grand parents since we only see them twice a year.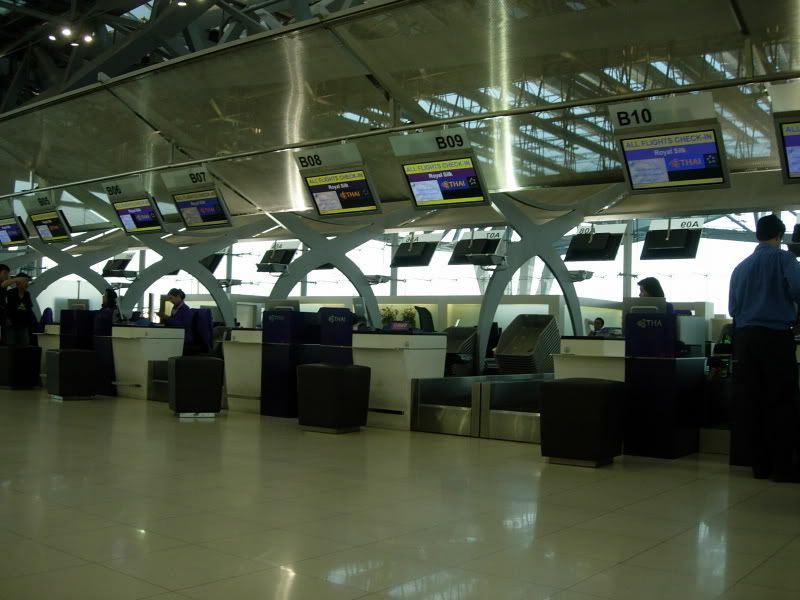 Once the time came to say goodbye, we went in to the Fast Track Passport Control. Then down to the Thai lounge. We got some curry puffs and other food at the lounge. The lounge was very comfortable, lots of food, nice bathrooms, and good service. We went through security and to the gate. Before we could enter the gate area, we had to go through second screening. Only flights to the US and Australia need to have the second screening.
Boarding was quick and smooth. We found our Royal Silk seats 21A and B in the second section, over the wing.
17 hours to LA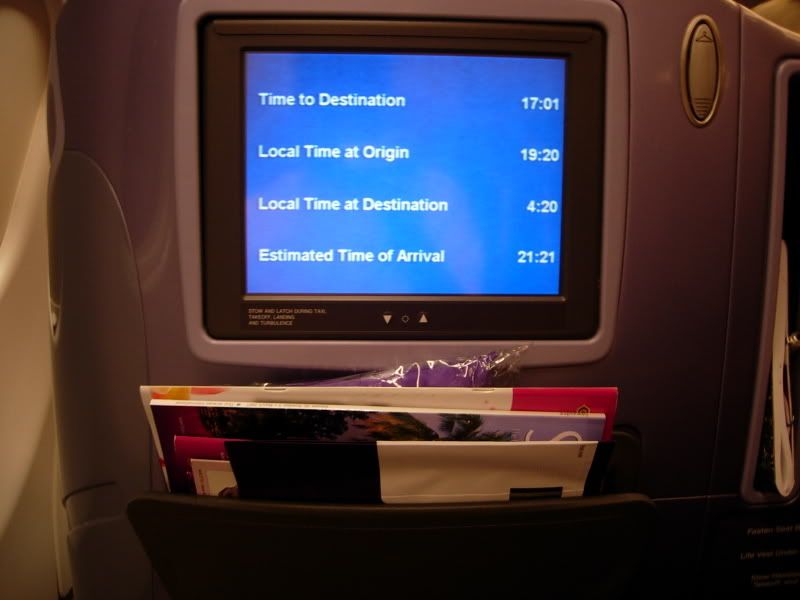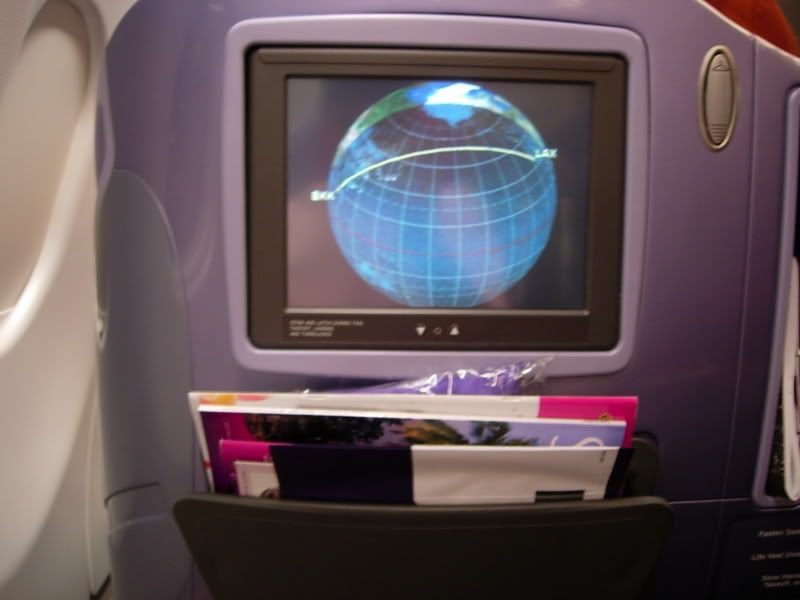 We were parked next to HS-TEK, the Royal Barge A330-300. They pushed back before us, then once they left, we pushed.
We pushed at 19:55 and taxied to 19L. We waited for an Air Asia B737 and Malaysian B737 to take off before us. We took off at 20:09. Climb was so slow, but it is a fully loaded A340-500. We reached 33,000 feet and the captain made the usual cruise announcement.
For the first meal I had:
First Course
King Prawn Medallions and Ceasar Dressing
Bouquet of Tender Garden Green with Tiziano Italian Dressing
Main Course
Fillet of Beef with Fresh Green Peppercorn Sauce
Potatoes au gratin, Carrot and Spinach
Garlic Bread
Dessert
Marjolaine with Oranges Sauce, Blueberry, and Raspberry
Fresh Fruits
Instead of:
Pan-fried Snow Fish with Thyme Beurre Blanc Sauce
Saffron Rice, Ratatouille (Nicoise)
Or
Pork Sparerib with Black Bean Ginger Sauce
Steamed Thai Hom Mali Rice, Sautéed Taiwan Cabbage
Or
Stir-fried Tab-Tim with Thai Herbs
Steamed Thai Ho Mali Rice, Vegetables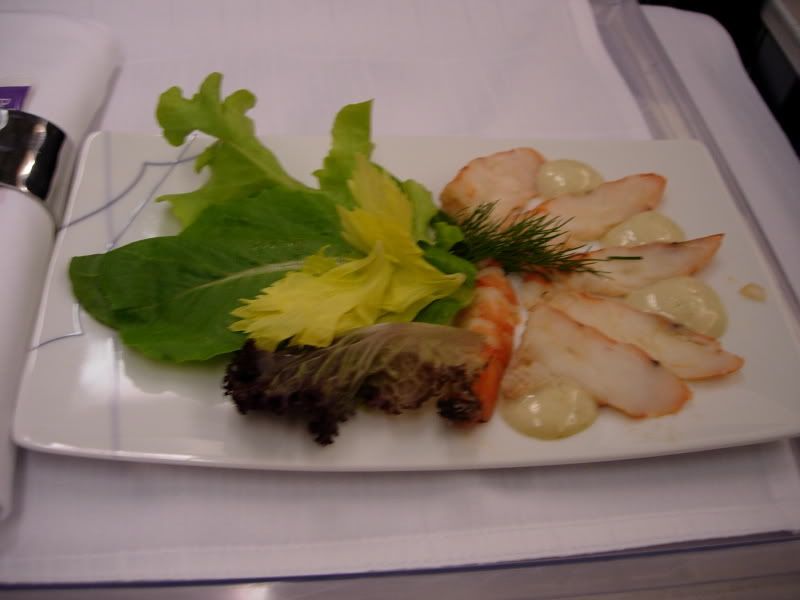 I was too hungry, and I forgot to take a picture of the Beef. After this, I watched "Stranger than Fiction" which I thought was pretty good. Then I took a good long nap.
When I woke up we had the second meal:
Fresh Fruits
Fruit Yoghurt
Main Course
Stir-fried Flat Rice Noodles with Egg, Seafood in Dark Soya Sauce
Taiwanese Cabbage
Croissant
Instead of:
Pan-cake and Maple Syrup, Chicken Sausage
Or
Iri-tamago on Cabbage, Vegetables
Steamed Japanese Rice Roll with Sesame Seeds, Vegetables
The rest of the flight was uneventful.
We approached over L.A. and came in from the East. We landed on 24R at 20:34 local. Once we left the runway, it was a very short taxi to our stand. We parked at the stand next to 115. Blocks on at 20:37 local. After we de-planed, we got on the bus back to the terminal. The immigration area was absolutely full. We waited in line around 15 minuets, and then grabbed our bags on claim 3. It was a short walk to customs and then to the road way. We caught the shuttle bus to the Westin LAX Hotel. I didn't sleep one minuet at the hotel, after all, it was right in the middle of the day. But before my mom went to bed, we got some room service. I'm sure it cost more than the room it self, either way, it filled us up.
At three in the morning, I checked the NW website for our flight status. Flight NW302 from LAX to MSP was on-time, but NW218 from MSP to MKE was canceled. We went to the airport anyway, but my mom said not to check-out since we might be back. Once we got to the airport, we checked at the counter about our flights. They already rebooked us on later flights, NW312 and NW122. We sent our bags through screening and went back to the hotel. We spent a few hours at the hotel, saw Wunala Dreaming and a lot of other heavies through the window, and then headed back to the airport.
March 31, 2007
NW312 LAX-MSP
Departure Scheduled: 12:15PM - Actual: 12:11PM
Arrival Scheduled: 5:52PM - Actual: 5:46PM
Aircraft: B757-300 - N582NW
View Large
View Medium


Photo © Adam Wright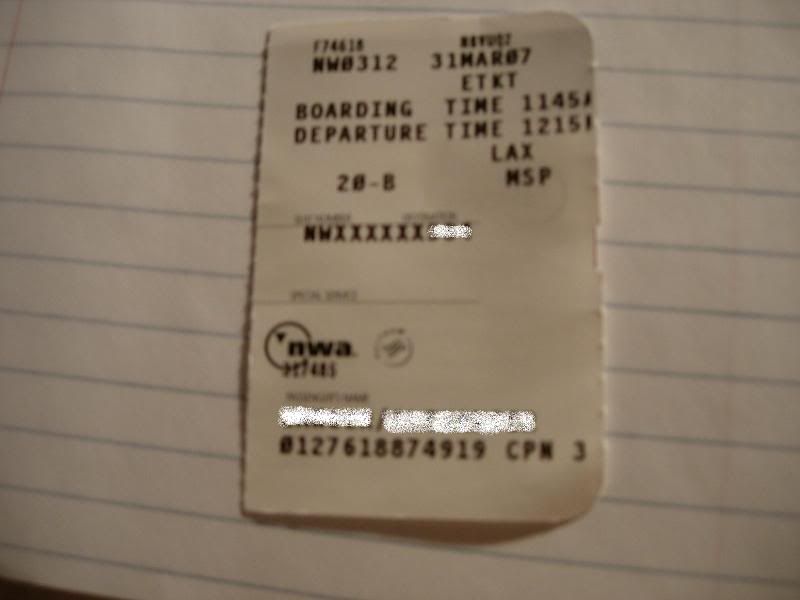 Security was a breeze and we went to Gate 22. We were on N582NW, "The Bernie Epple", in the old livery, and ETOPS certified.
Boarding was on-time and we made our way to 20 A and 20 B. Push back was at 12:11 local. During push back, I saw a NW B747-400 in the new livery, a China Eastern A340 in a special livery, a JL B747-400 JA8074, and an Asiana B747-400 really plant his landing. We made our way to runway 24L and took off at 12:21. We climbed over the Pacific and turned to the left/south and continued until we were pointed to the northeast.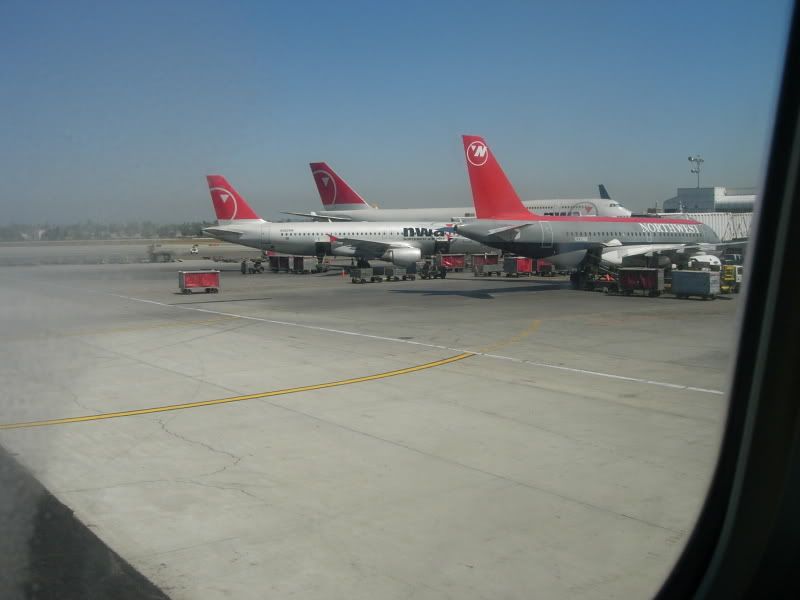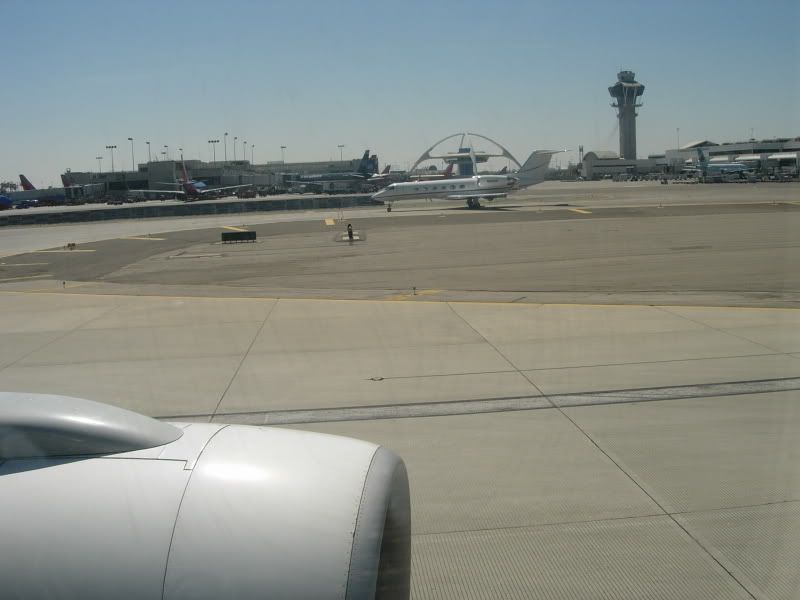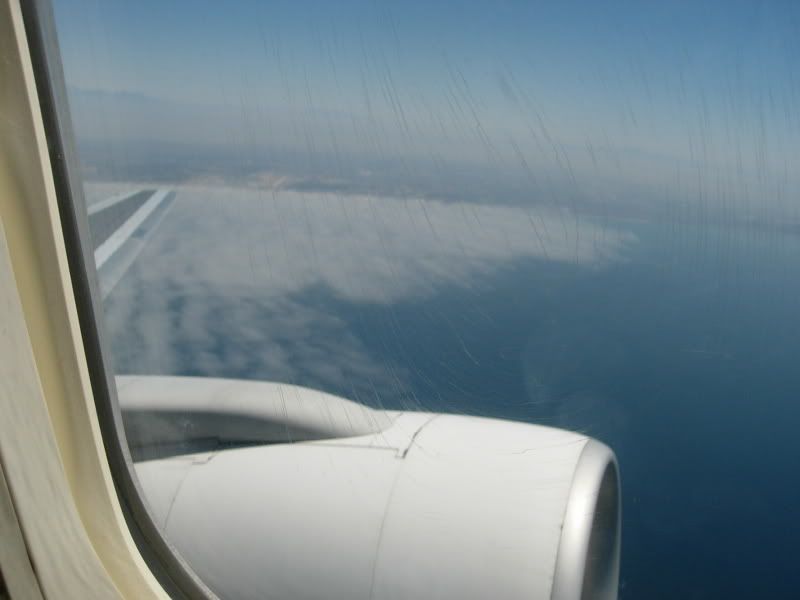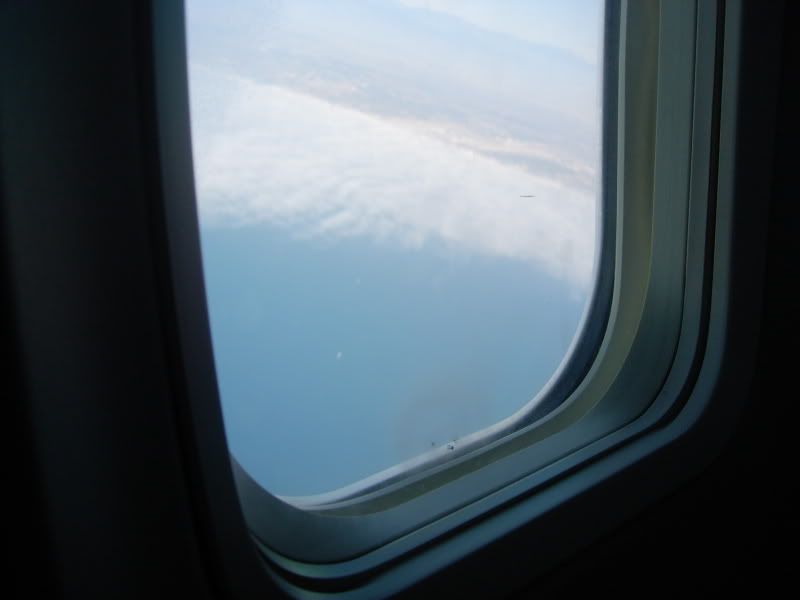 Climb was uneventful and we reached cruise quickly. We got our drinks and I took a nap. I was asleep the whole flight until we started to descend. The weather was very bad in the Midwest then, so there was some very heavy turbulence. It was raining very heavily. We landed at 17:41 on runway 12R. Then arrived at Gate G22 at 17:46 local. Our next gate was across the airport so we began to take the walk.
March 31, 2007
NW122 MSP-MKE
Departure Scheduled: 7:25PM - Actual: 8:38PM
Arrival Scheduled: 8:36PM - Actual: 9:50PM
Aircraft: B757-200R - N556NW
View Large
View Medium


Photo © Airwim
We got to the gate and it was delayed about 30 minuets. Just the way to finish a trip. Then the flight was delayed even longer. Once the plane arrived from Las Vegas they started to de-plane quickly. It was still raining, we finally boarded and found seats 38 A and 38 B. We pushed back at 20:38 local and taxied to 12L. There was no wait to take off, so we got off the ground at 20:50 local.
I was asleep the whole flight since I had been awake for at least 24 hours already. The flight was very bumpy, at one point I thought we would need to divert, as the weather was so bad. I couldn't see the back of the engine from my seat. But the pilots made a great landing on 19R at 21:45 local. The plane was noticeably fish tailing down the runway. We taxied to Gate E67 and shut down at 21:50. The bags took a while, around 20 minuets. Then we drove home in the driving rain.
Thanks for reading. Comments Appreciated.
VTBDflyer
[Edited 2007-04-11 03:45:23]