My first Trip Report of the new year! For my annual Easter trip this year, I decided to fly to Krakow, Poland and Prague, Czech Republic. A little off the "beaten path" for most tourists, however with past trips including Rome, Madrid, and Barcelona, I figured a trip to some less traveled destinations would be a cultural experience for me...however when i got my itinerary from the tour company, I realized my flights going over would give me more of a tour than I expected (im sure many of you A.Netters would love this flight routing) JFK-FRA-MUC-KRK.
LH 405
JFK-FRA
Boeing 747-400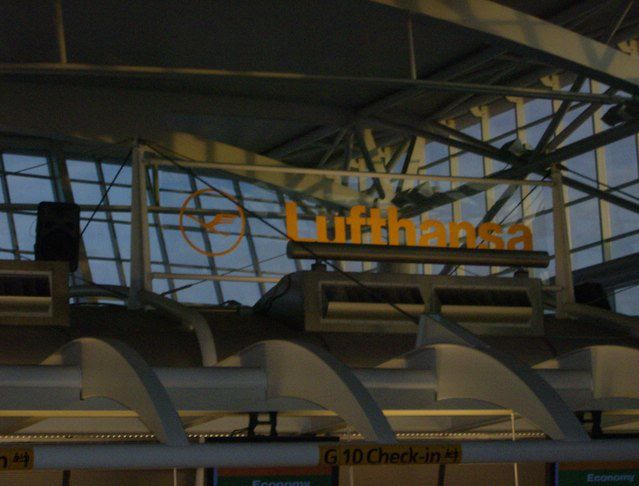 The check in desk at Lufthansa JFK.
Check in was a breeze, however when i spoke with LHUSA about my flight loads earlier in the week, I knew the flight was overbooked and panicked when some of my fellow tour members got the dreaded ***** in their seat selection. Luckily, though the flight was sorted out and in every class, 100% full. As I walked down to our gate, I suddenly
remembered that Food Choices in T1 were rather dismal, and had to settle for everyone's favourite: Panini Express.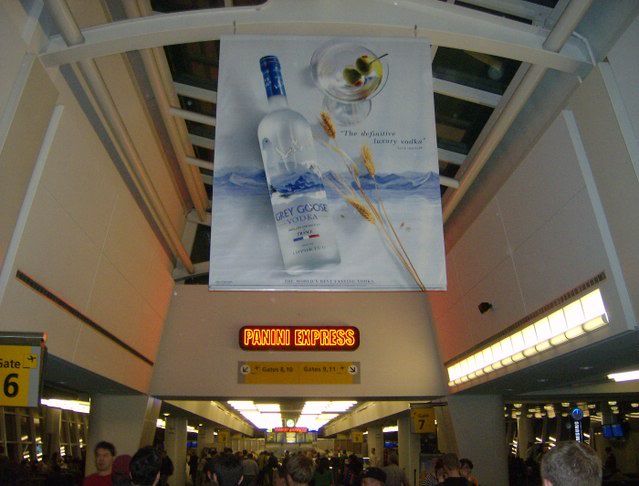 As the flight was scheduled to depart at 9:15PM, I was disappointed because that meant I would not be able to do
some spotting, thus my one photograph from the gate is what I have to show you for my stay at JFK: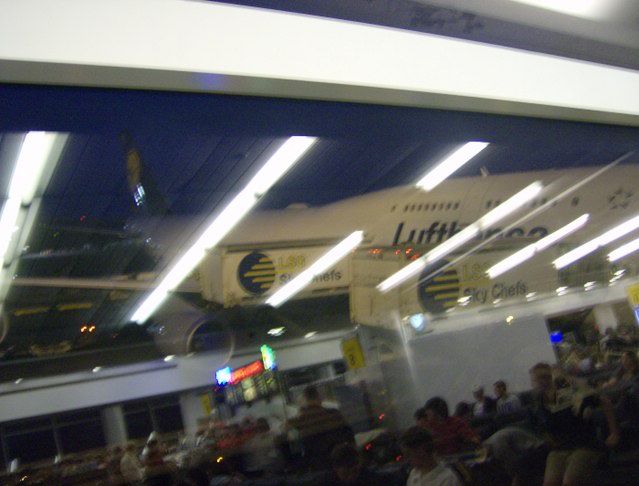 A rather poor photograph of our plane at the gate.
We boarded and took off on time, keeping the typical stereotype that all German things, especially LH, are always on time. Sadly, however I did not get many photographs on the plane because I was exausted, however I can tell you that the selection was Chicken or Pasta and I had the chicken, which resembled this:
The inflight movie was "Rocky Balboa", which I drifted in and out of sleep to. Flight Attendants came around every half hour with some water and wine to top of glasses.
We landed 10 minutes early at FRA, and quickly arrived at the gate.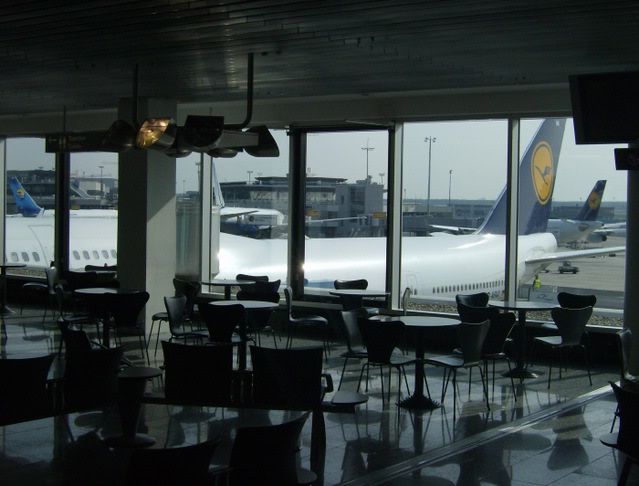 Our plane at the gate.
LH 968
FRA-MUC
Airbus A320-200
Transfer to the flight to MUC was easy, however FRA is not one of my favourite airports simply because it is literally one long, congested line to get to your gate. However, I arrived at the gate with an hour to spare, and did a little spotting.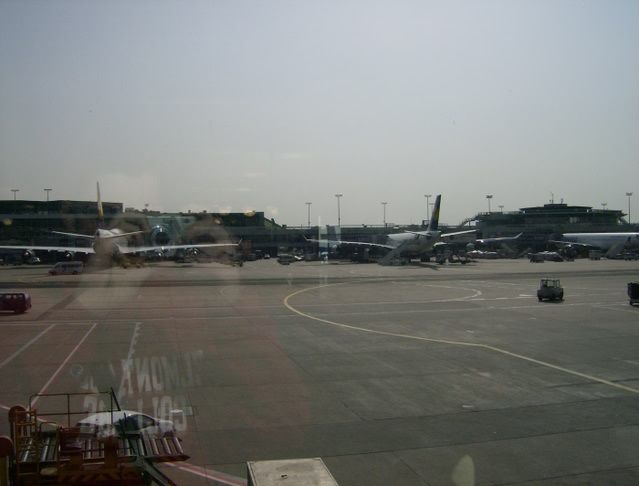 Some LH Widebodies at the gate... if you look closely, my reflection in the glass is something I overlooked while taking these photos
A Condor 767 at the gate with a 744 tail across from it.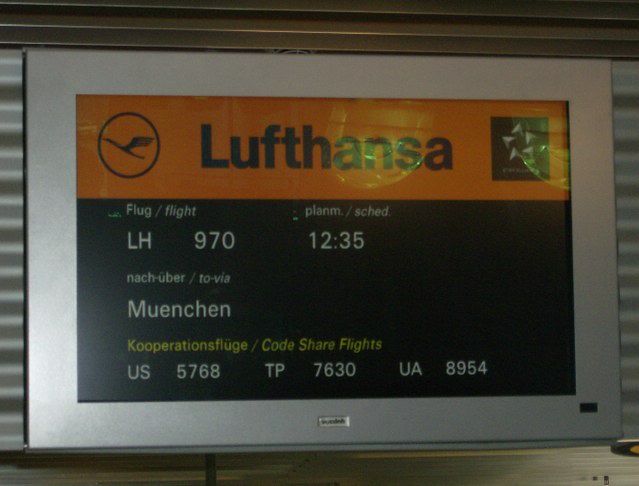 I arrived back at the gate with 15 minutes until boarding.
Boarding here was a little confusing, and I found out why when I got closer to the door: we were using "Self Check In" for this flight, and people were having trouble putting their boarding passes through the machine. Sure enough, a gate agent realized the problem and stopped self check in and did it herself.
The flight was rather short, however the crew were lightening quick and got drinks out to everyone ontime. Did I mention how much I love LH's new Y seats? Im 6'6 and I had ample legroom on the flight. Coming right from the 744, it seemed as if these birds had more room than the JumboJet! We landed at MUC on time and proceeded through passport checks, again, and walked down MUC's long corridor to our gate.
LH 3334
Avro 85
Operated by Cityline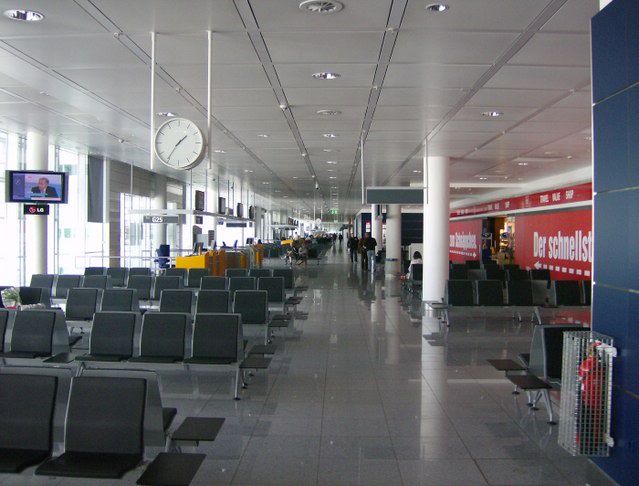 This must be purgatory. One long airport terminal that never seems to end!
Walking down the eternal path, I passed an A340-300: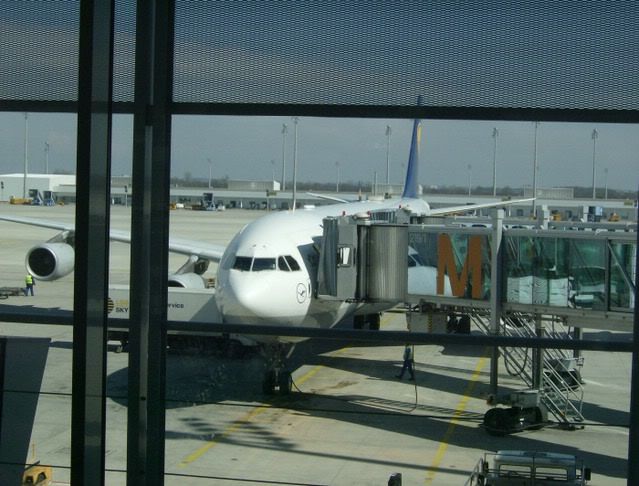 When we got to our gate, I realized that there was something I have never seen before at a boarding area: a coffee machine and tea kettle! It was appreciated by the weary traveler after a good 10 hours traveling. While I was at our gate, I snapped some photos: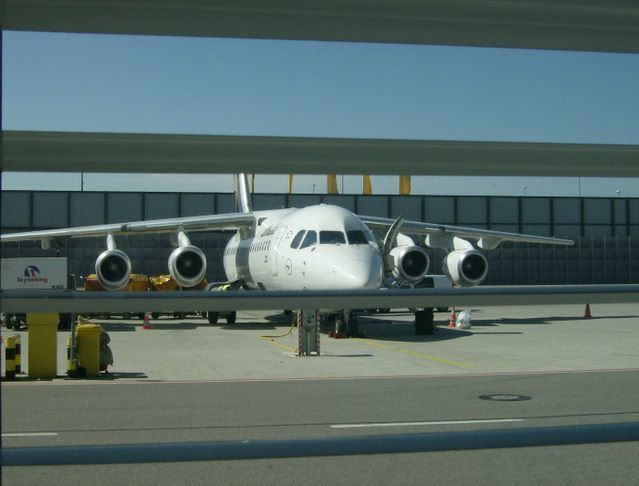 Through the shades, another Avro awaited boarding.
Soon enough, our flight was called and we all boarded a bus to head out onto the tarmac to board our flight.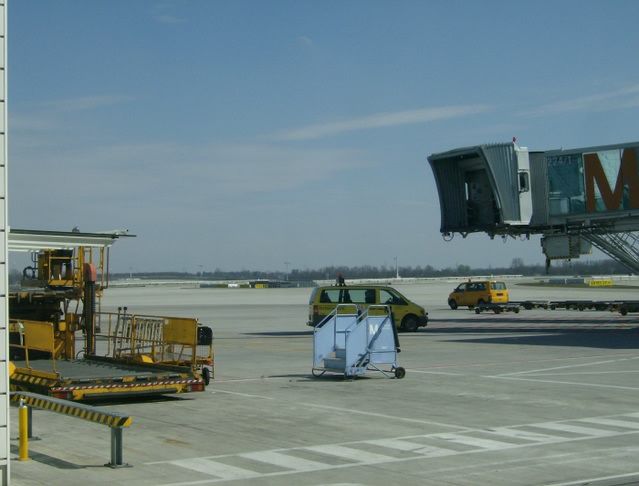 A view from the bus.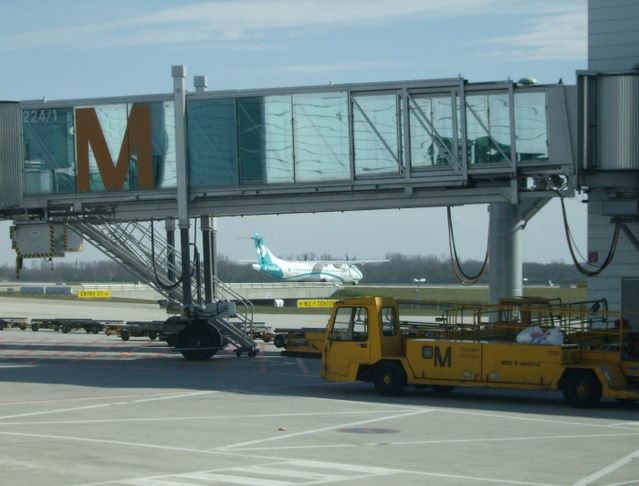 What airline is that ATR42 in the background?
Approaching our plane, I realized how large of a Regional operation LH had at MUC: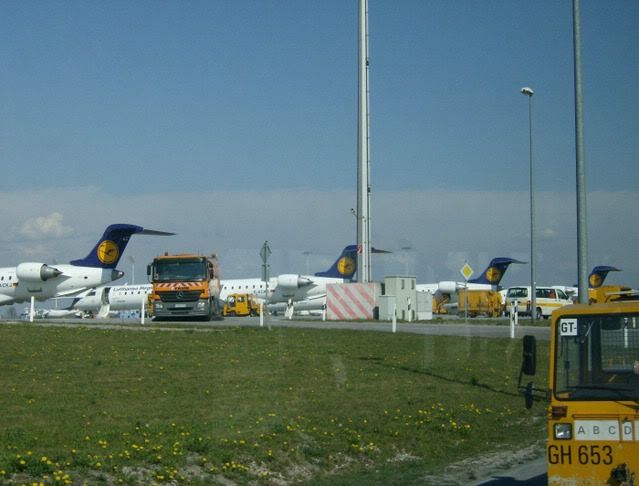 We arrived at our Avro for boarding, and while I was on the mat I looked around and grabbed even more photos:
A CRJ-700(?) awating boarding.
Looking back at the terminal: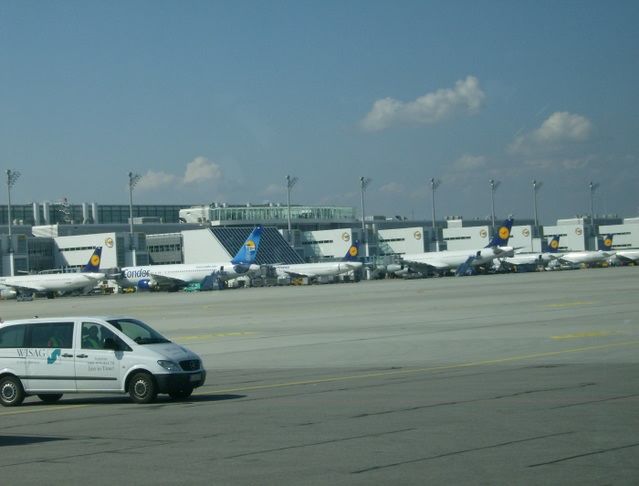 A 735 in the distance on the mat: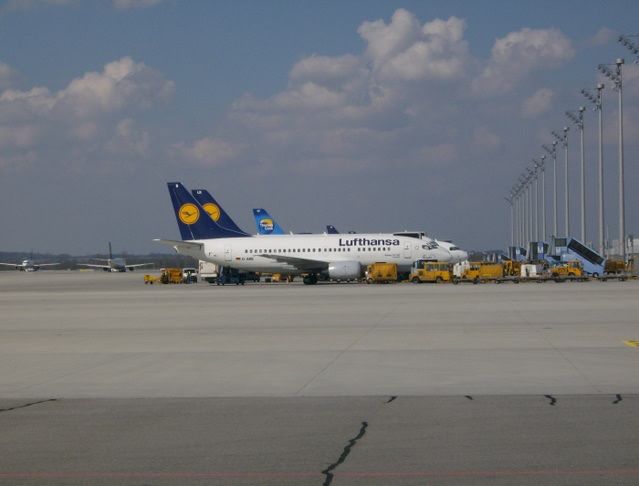 Looking up at the elegant LH Crane:
Getting onto the Avro: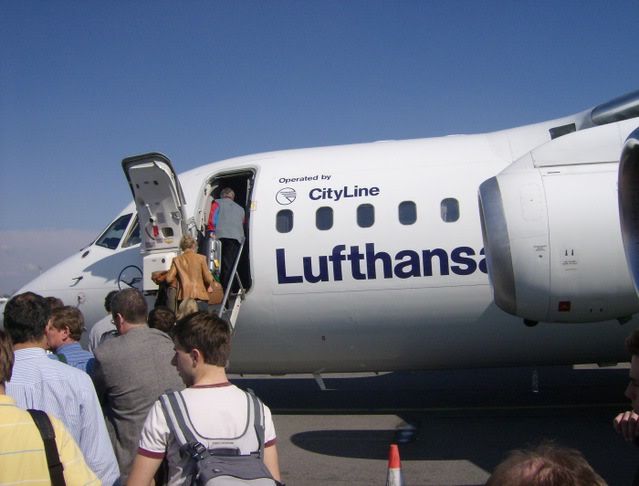 My excitement for riding the fabled beast that is the AVRO quickly diminished when I saw the interior: old, warn leather seats with poor legroom quickly turned the tables for this flight. In addition to this, the Flight Attendants seemed indifferent and uncaring, which is not what I have come to expect on LH flights. We were delayed 20 minutes because the flight was one seat overbooked, and the woman who had no seat was tearfully escorted off the plane by the pilot. To make up for lost time, the pilot drag raced down the empty taxiway to the runway, and we quickly took off. Shortly after leveling off, the FAs came around with a drink and cheese sandwich:
Which seems to be the typical LH short haul fare these days.
A view from cruising altitude.
We descended and landed at JP II (Krakow) Airport 15 minutes late, collected our bags and were on our way.
Part 2 PRG-FRA-JFK coming soon; hope you enjoyed this TP!